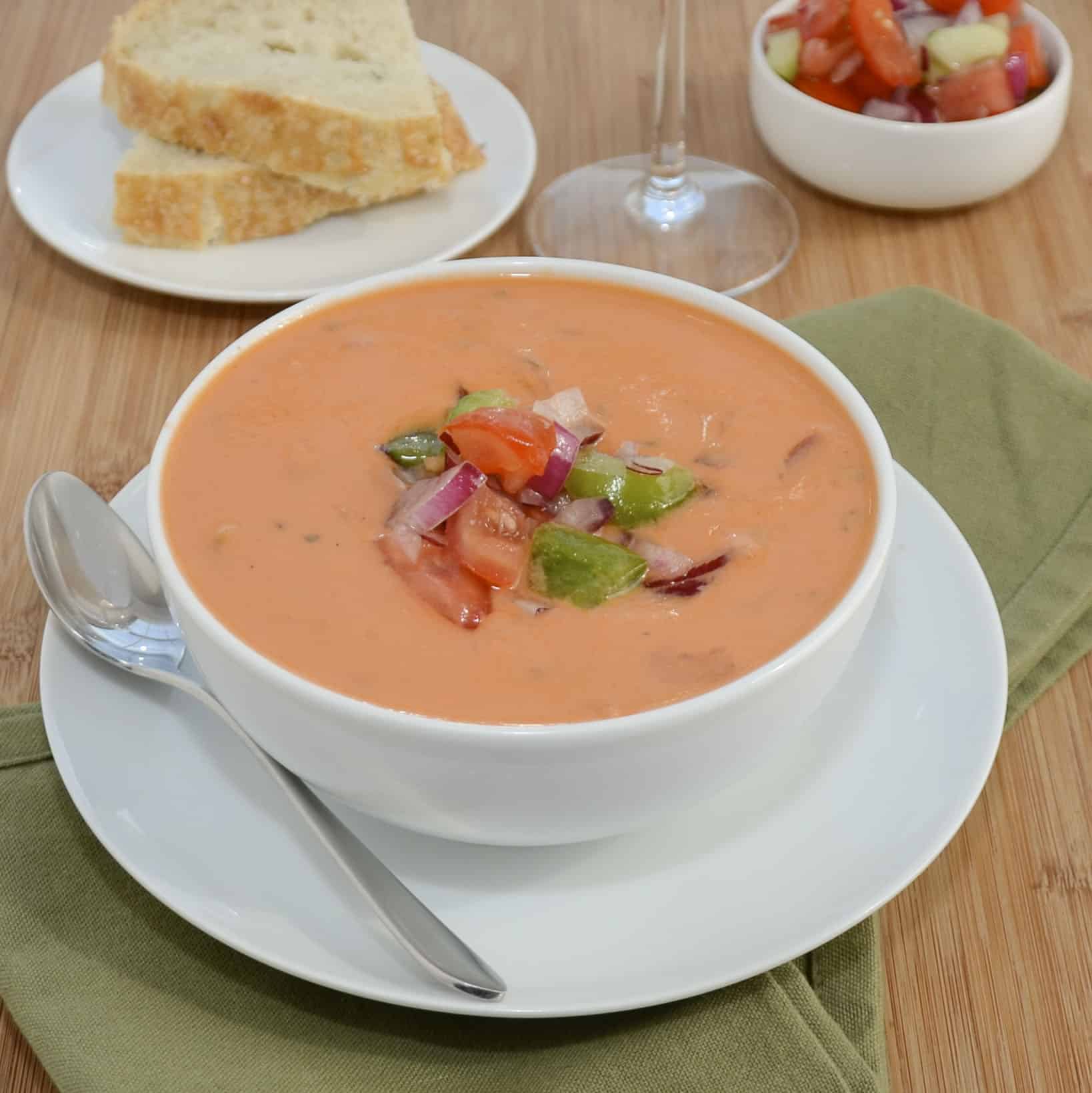 When it feels like the surface of the sun outside, the last thing I want to do is turn on the oven or fire up the grill. Instead, this time of year one of my favorite meals to make is ceviche served with a big pitcher of sangria to wash it down with. Unfortunately, since I am pregnant this summer, I am not allowed to eat ceviche! Oh well, there is always next summer! 😀
Yesterday was absolutely unbearable outside, the heat index reached 103 degrees and we haven't seen rain since last Saturday. You should see the grass in my backyard…it is sad! No matter how much we try to water the lawn it is still a crispy, yellow mess. With no motivation to turn on the oven or grill in this heat, I turned to one of my other favorite summer meals, a creamy gazpacho soup. Gazpacho is a tomato-based, vegetable soup traditionally served cold, originating in the southern Spanish region of Andalucía. In the hot summertime, it's incredible!
It can be made several hours ahead of time and aside from the chopping up all of the vegetables, it's super easy to make. So silky, creamy and rich, it makes the perfect summertime meal!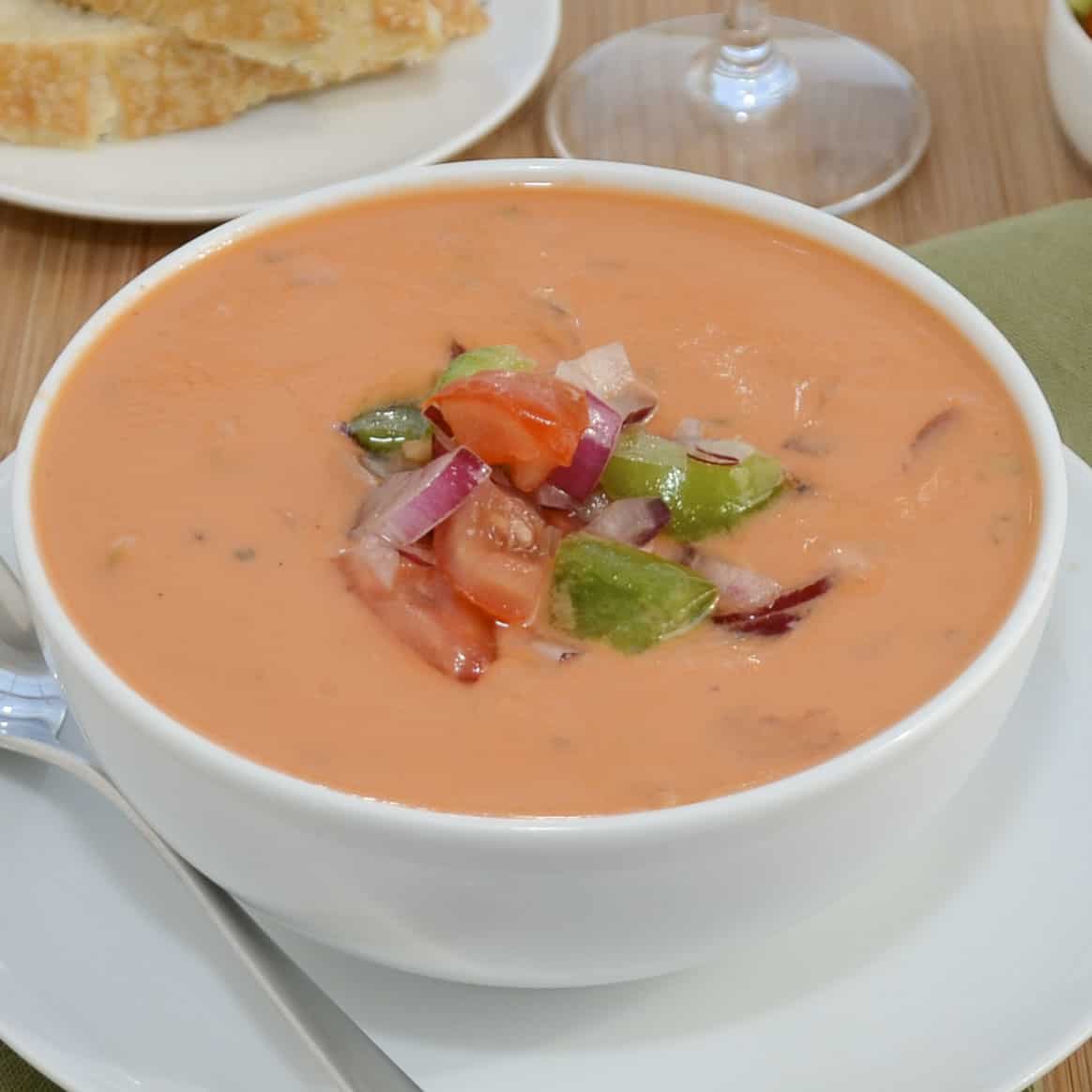 Pin this recipe now to remember it later
Ingredients
3

pounds

about 6 medium ripe tomatoes, cored, divided

1

small cucumber

,

peeled, halved, and seeded

1

medium green bell pepper

,

halved, cored and seeded

1

small red onion

,

peeled and halved

2

medium garlic cloves

,

peeled and quartered

1

small serrano chile

,

stemmed and halved lengthwise

1

slice

high-quality white sandwich bread

,

crust removed, torn into 1-inch pieces

1/2

cup

extra virgin olive oil

,

divided, plus extra for serving

2

tablespoons

red wine vinegar

,

plus extra for serving

2

tablespoons

finely minced basil leaves
Want to save this recipe? Enter your email below and we'll send the recipe straight to your inbox!
NOTE: By saving this recipe, you agree to join our weekly recipes newsletter.
Instructions
Roughly chop 2 pounds of tomatoes, half of cucumber, half of bell pepper, and half of onion and place in large bowl. Add garlic, serrano chile, and 1½ teaspoons kosher salt; toss until well combined. Set aside.

Chop remaining tomatoes, cucumber, and pepper into ¼-inch dice and place in a medium bowl. Mince remaining onion and add to diced vegetables. Toss with ½ teaspoon kosher salt and transfer to fine-mesh strainer set over medium bowl. Set aside to drain 1 hour.

Transfer drained diced vegetables to medium bowl and set aside. Add bread pieces to exuded liquid (there should be about ¼ cup) and soak 1 minute. Add soaked bread and any remaining liquid to roughly chopped vegetables and toss to combine.

Transfer half of vegetable-bread mixture to a blender and process 30 seconds. With blender running, slowly drizzle in ¼ cup oil and continue to blend until completely smooth, about 2 minutes. Strain soup through a fine-mesh strainer into a large bowl, using back of a rubber spatula to press soup through strainer. Repeat with remaining vegetable-bread mixture and 1/4 cup olive oil.

Stir vinegar, minced basil, and half of diced vegetables into soup and season to taste with salt and black pepper. Cover and refrigerate overnight or for at least 2 hours to chill completely and develop flavors. Serve, passing remaining diced vegetables, olive oil, sherry vinegar, and black pepper separately for diners to season and garnish their own bowls as desired.
Follow me on Pinterest for daily delicious recipes!
Source: adapted from Cook's Illustrated, July 2010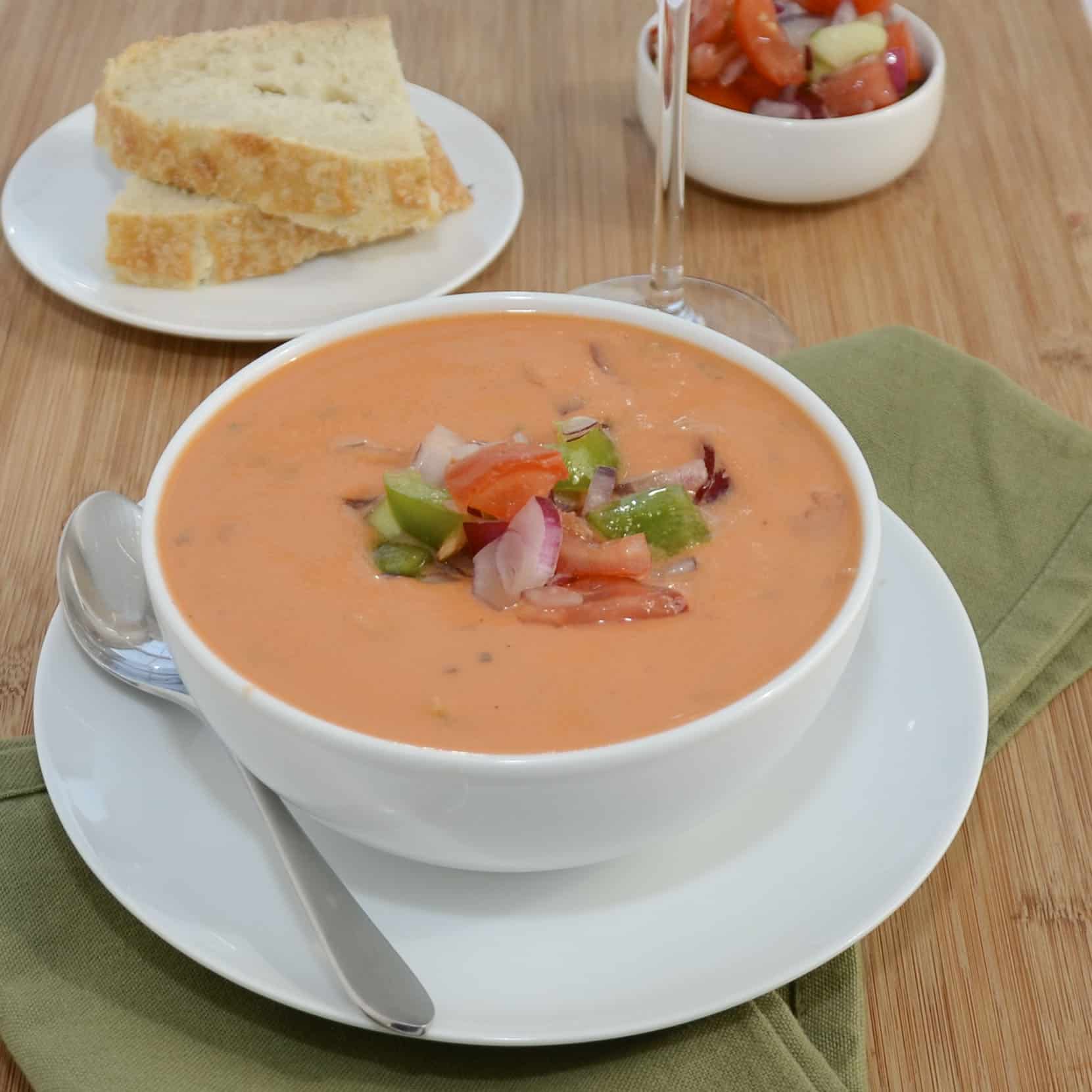 Get new recipes weekly plus our FREE ebook!