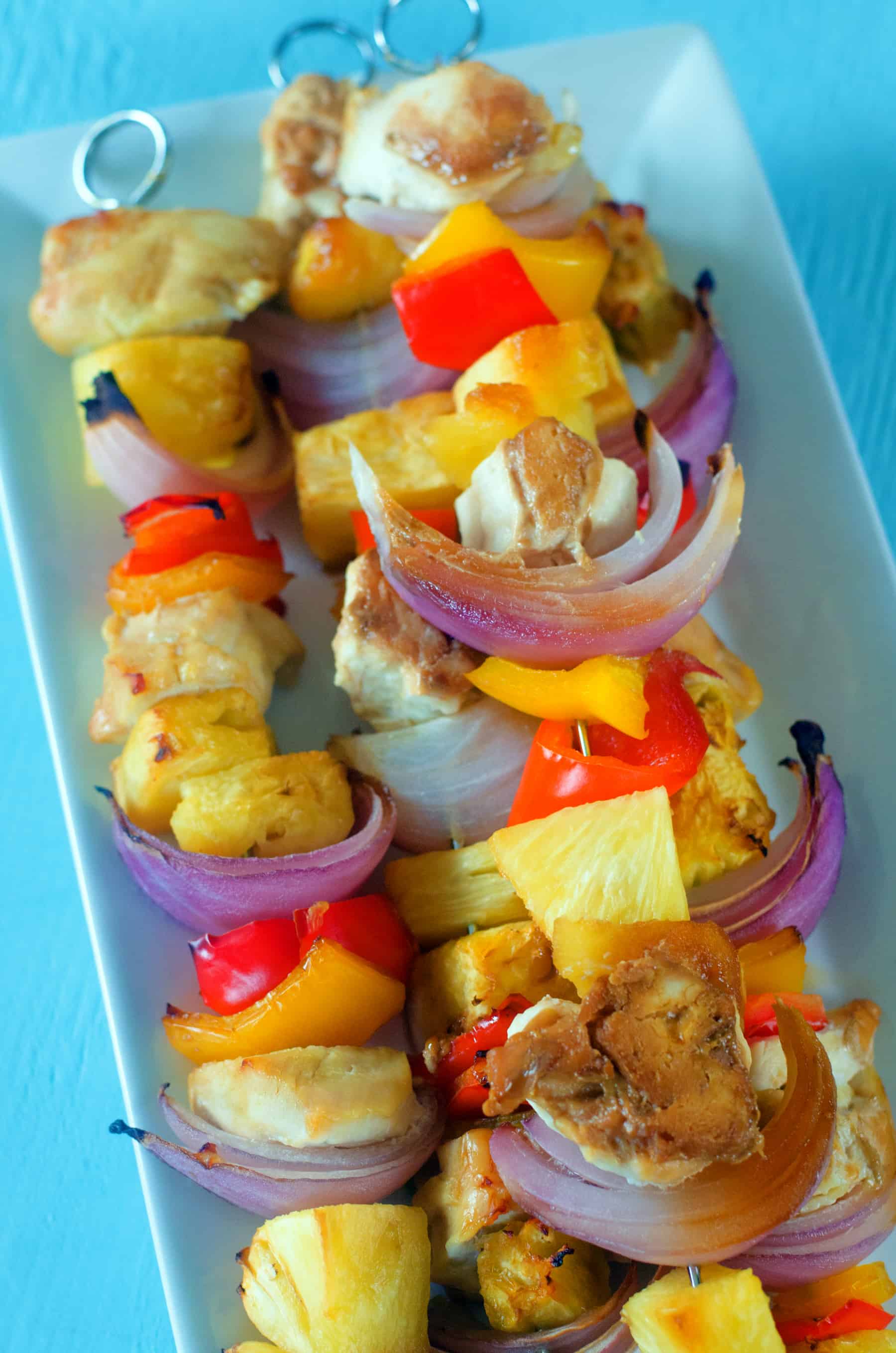 This Hawaiian chicken kabobs recipe is perfect for those hot summer evenings when you want to relax. Make them for your next barbecue, and you will not be disappointed.
These grilled Hawaiian chicken kabobs are great because you don't even have to heat up the kitchen or turn on the oven.
I think the one thing I love the most about the chicken kabobs is that you can make so many different varieties. Everyone in my house has different tastes so that we can whip some up for each person. But who am I kidding? I love all kabob recipes! I have a feeling you are going to love these chicken skewers just as much as I do when you bite into that amazing teriyaki flavor.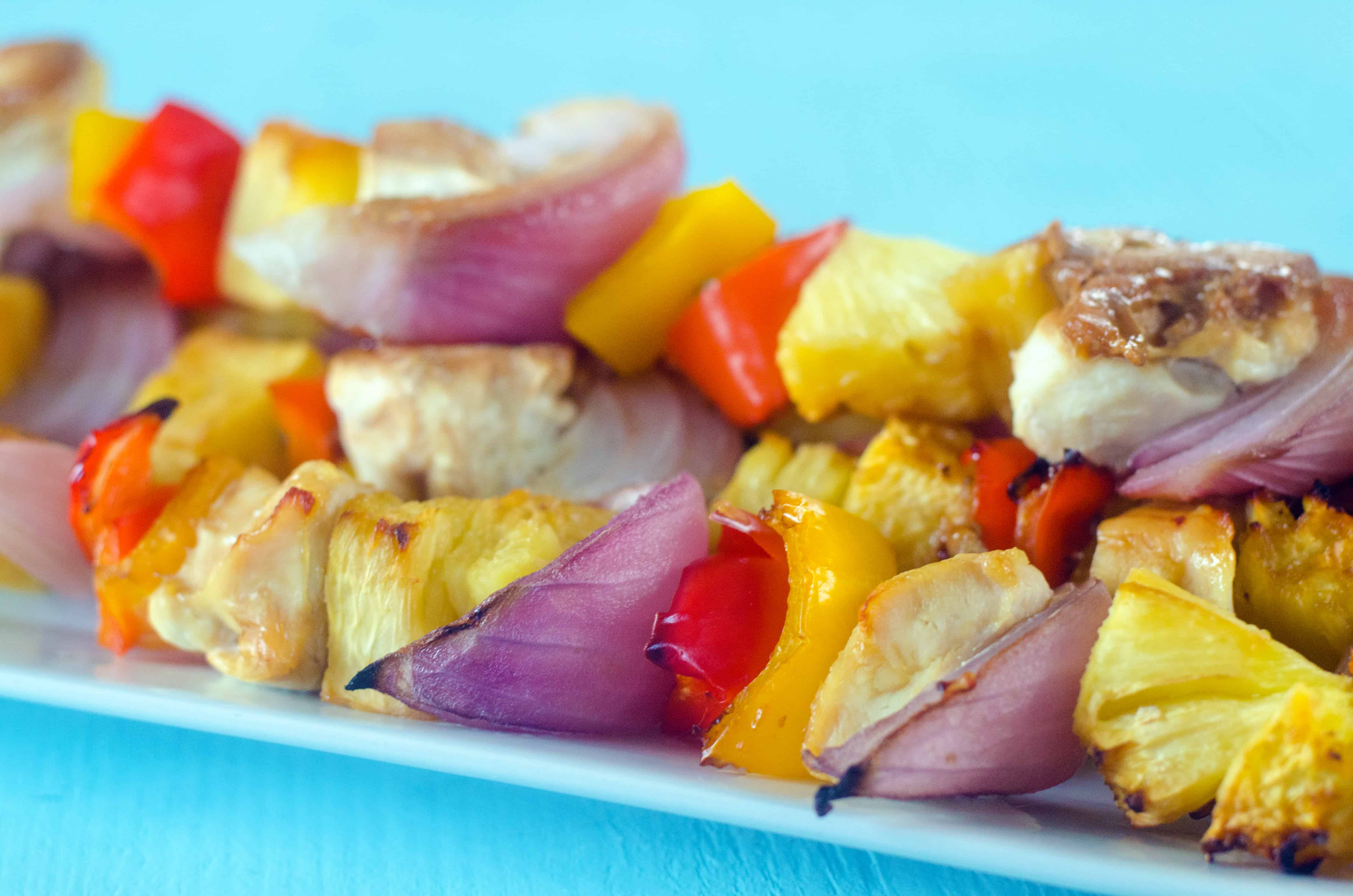 Scroll to bottom for printable recipe card.
How To Make Grilled Hawaiian Chicken Kabobs
The hardest part of making most kabob recipes is smelling them while they are grilling and having to wait to gobble them up! Thankfully these grilled chicken skewers don't take very long at all. Here are the super simple steps to get you started:
First Step: Slice and cut the entire pineapple. It's best to cut them into 1-inch pieces.
Second Step: Dice the chicken tenders into bite-sized pieces. Quarter the red onion and slice the bell pepper.
Third Step: Grab the skewers and begin alternating chicken and veggies until each one is filled up, and all the ingredients are on the kabob. It's important to note that the veggies and chicken should not be touching each other. You want to allow air and heat to get in between each piece of food. This will allow them to cook more evenly.
Fourth Step: Place the skewers on a hot grill and brush with teriyaki sauce. Then grill for 30 minutes until the veggies and chicken are done.
Fifth Step: Sprinkle with salt and pepper to taste and eat them right up!
Kabob Recipe Variations
As I mentioned earlier, one thing I love about kabobs is all the different things you can make. I like to eat and try all kinds of food and wanted to share some of the things that worked well:
Steak – Who doesn't love some juicy steak every now and again? Cut bite-sized pieces of steak and either omit the chicken entirely or do a little bit of both. I would stick to all steak on one kabob and all chicken on the other, so it cooks evenly.
Shrimp – I'm sure it's not a surprise to anyone how much I love shrimp! It seemed pretty apparent to me that I had to try this recipe with shrimp, and it works! Very well, I must say. If you are a seafood fanatic, you should really give it a try.
Mushrooms – Oh, how I love big hearty mushrooms with my chicken pineapple skewers. They taste great with the teriyaki sauce too.
Zucchini – Cut some larger pieces of zucchini and add them to the skewer. Don't go too small; otherwise, it will cook super fast.
Cherry Tomatoes – Not cutting or dicing necessary, just pop those babies on the skewer and cook them. They are sweet and full of flavor.
Lemon – After the Hawaiian chicken skewers have finished cooking, drizzle them with some fresh lemon juice. It's tangy and makes them taste even more delicious.
Do I Have To Use Fresh Pineapple?
My recipe for grilled Hawaiian chicken kabobs calls for fresh pineapple. However, you can use canned chunk pineapple if you fresh isn't available or in season. Canned doesn't have precisely the same effect or flavor as fresh, but it's a great alternative. So don't worry, you can still grill these up year round if you want to.
Can I Bake Grilled Hawaiian Chicken Kabobs?
Yes, you can actually bake them instead of grilling them. Sometimes I do this if I am not in the mood to start the grill and run outside in the winter. I have found that when I bake them at 350 degrees F. for 30 minutes and then broil them for 8-10 more, I have the best results. When you are broiling them, keep a close eye, so they do not burn. Every stoves broiler is a little different, and some tend to cook way faster than others.
How To Prepare Skewers For Kabobs
I learned very early on when I started grilling that you can just toss food on a skewer and expect it to turn out good. Now, if you are using reusable metal skewers, you won't have any problems at all. But if you are using wooden or bamboo, you will need to prep them first. Otherwise, you may have a lot of unnecessary flames and smoke.
First, you will need to fill a bowl or baking dish with cold water. Place the wooden skewers into the container and let them soak for at least 10-15 minutes. Right before you are ready to actually start grilling, dry the skewers with paper towels lightly. Then add on your food and cook like normal.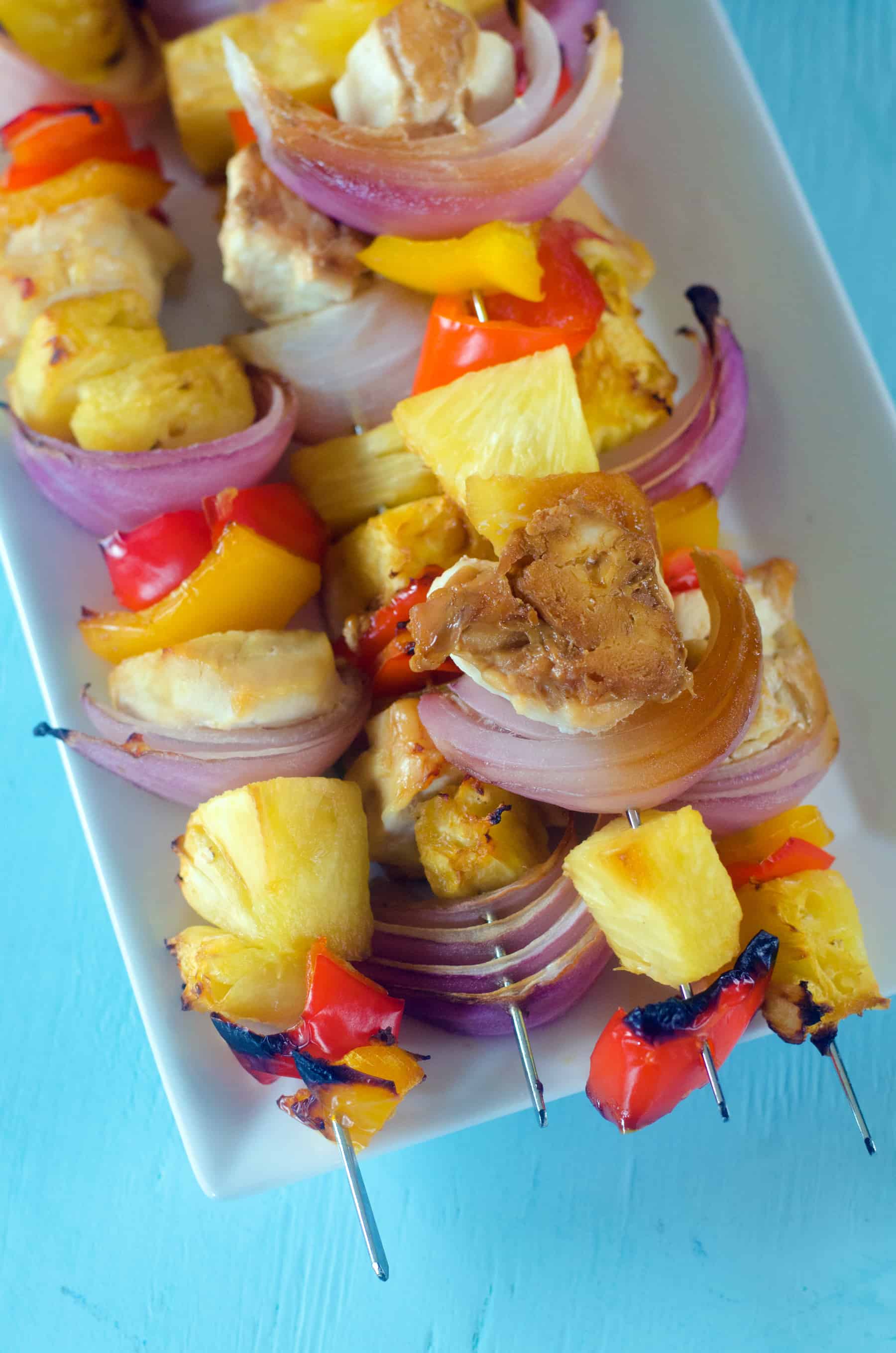 How To Store Grilled Chicken Skewers
If you end up with leftover chicken and veggies, you can store them in the fridge and eat them later. For best results, I find it's way easier to remove the chicken and vegetables off the skewer while they are still warm. Then once everything has cooled, you can place it in an airtight container. It will last 3-4 days in the fridge. I love this because then I can grab them and enjoy them for an easy lunch.
To warm the leftovers up, just place them in a microwave-safe dish and cover with a moist paper towel. This will keep them nice and moist, and they won't be dried out. Cook them for in 30-second intervals until they are hot enough. They heat up pretty quickly.
Can I Freeze Leftover Hawaiian Chicken Kabobs?
Yes, you can freeze the leftover Hawaiian chicken and grilled vegetables. Again, I always recommend taking them off the skewer before freezing. Place the vegetables and chicken in a freezer bag or another airtight container. The vegetables don't always have the same texture after you freeze them, so the best thing to do is heat them up in the oven. They will be much more crispy and flavorful that way. I usually do 350 degrees F. for 15-20 minutes until they are hot.
Now, remember to Pin this recipe for later 🙂

Pin this recipe now to remember it later
Hawaiian Chicken Kabobs
Easy Hawaiin chicken Kabobs that offer that sweet and savory aspect. Toss these kabobs on the grill and serve them up.
Ingredients
3

cups

pineapple chunks; fresh is best

2

yellow bell pepper; chopped

2

red bell pepper; chopped

6

boneless

,

skinless chicken tender strips

3

tablespoons

teriyaki sauce
Want to save this recipe? Enter your email below and we'll send the recipe straight to your inbox!
NOTE: By saving this recipe, you agree to join our weekly recipes newsletter.
Instructions
Slice whole pineapple and cut into chunks. Quarter the red onion. Slice the peppers.

Place each item on the skewer rotating out until skewer is full.

With grill brush, brush chicken and vegetables with teriyaki after placing on the grill. Grill for 30 minutes until chicken is cooked and browned and vegetables are roasted. If baking just bake for 30 minutes at 350 F. Broil for another 8 to 10 minutes.

Top with salt and pepper. Serve!
Nutrition
Follow me on Pinterest for daily delicious recipes!
Check Out These Other Chicken Recipes:
Crock Pot Chicken with Summer Veggies – Delicious and easy, this crock pot whole roasted chicken is the dinner of your dreams!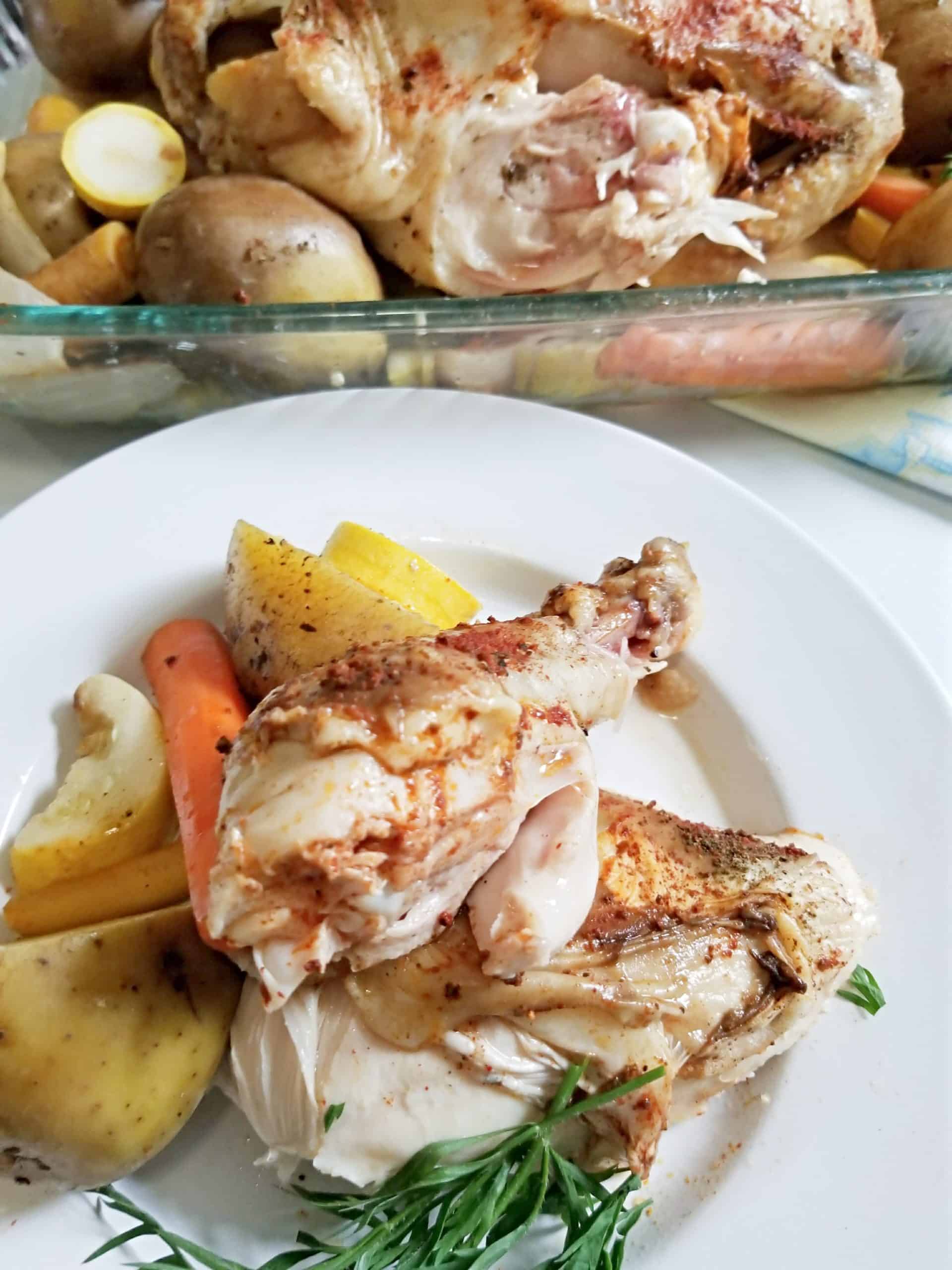 Garlic Chicken Stir Fry – You can make this garlic chicken stir fry recipe in less than 30 minutes!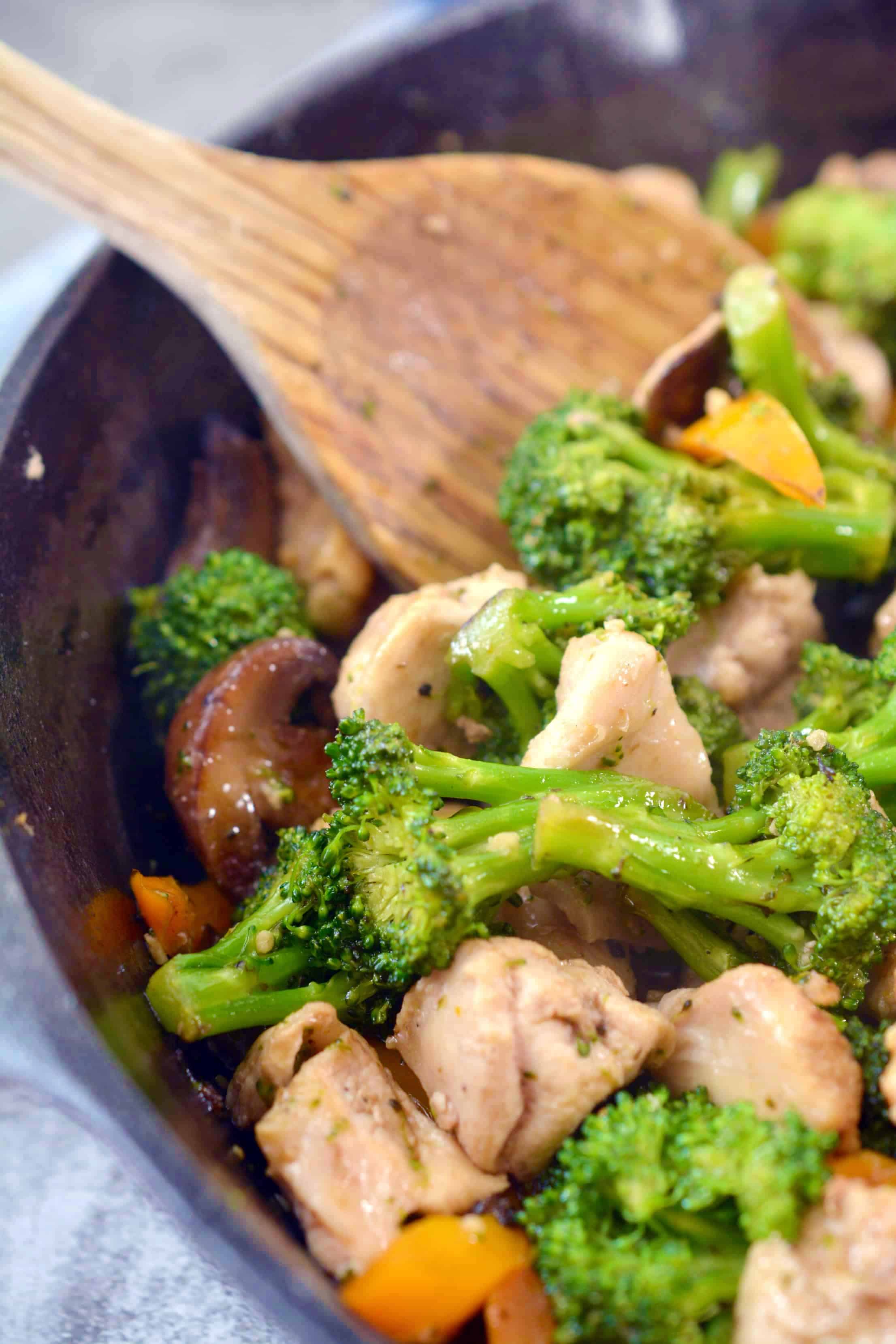 Easy Chicken Caprese – 30 Minutes or Less Meal is a surprisingly simple meal that's perfect for any night of the week.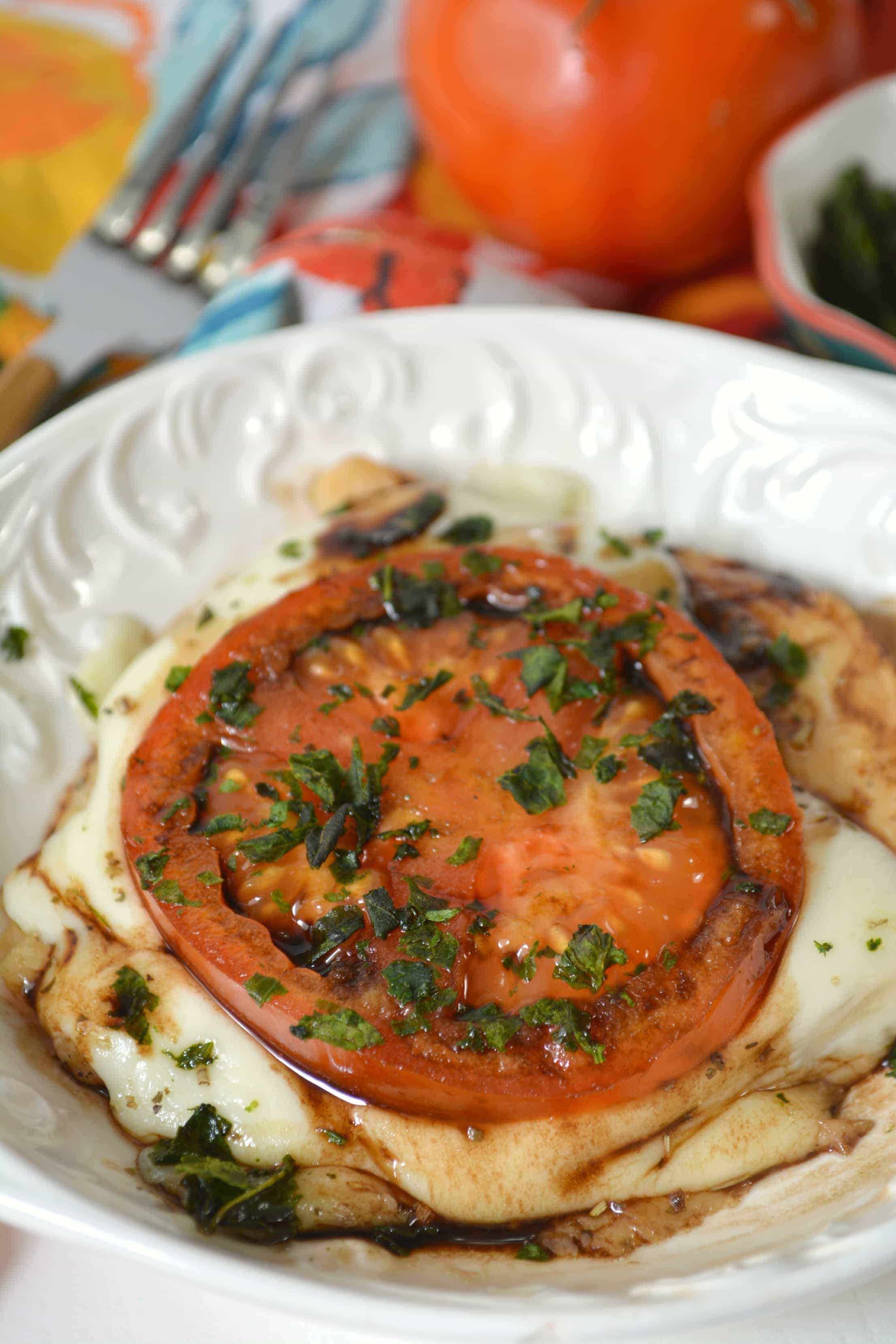 Get new recipes weekly plus our FREE ebook!