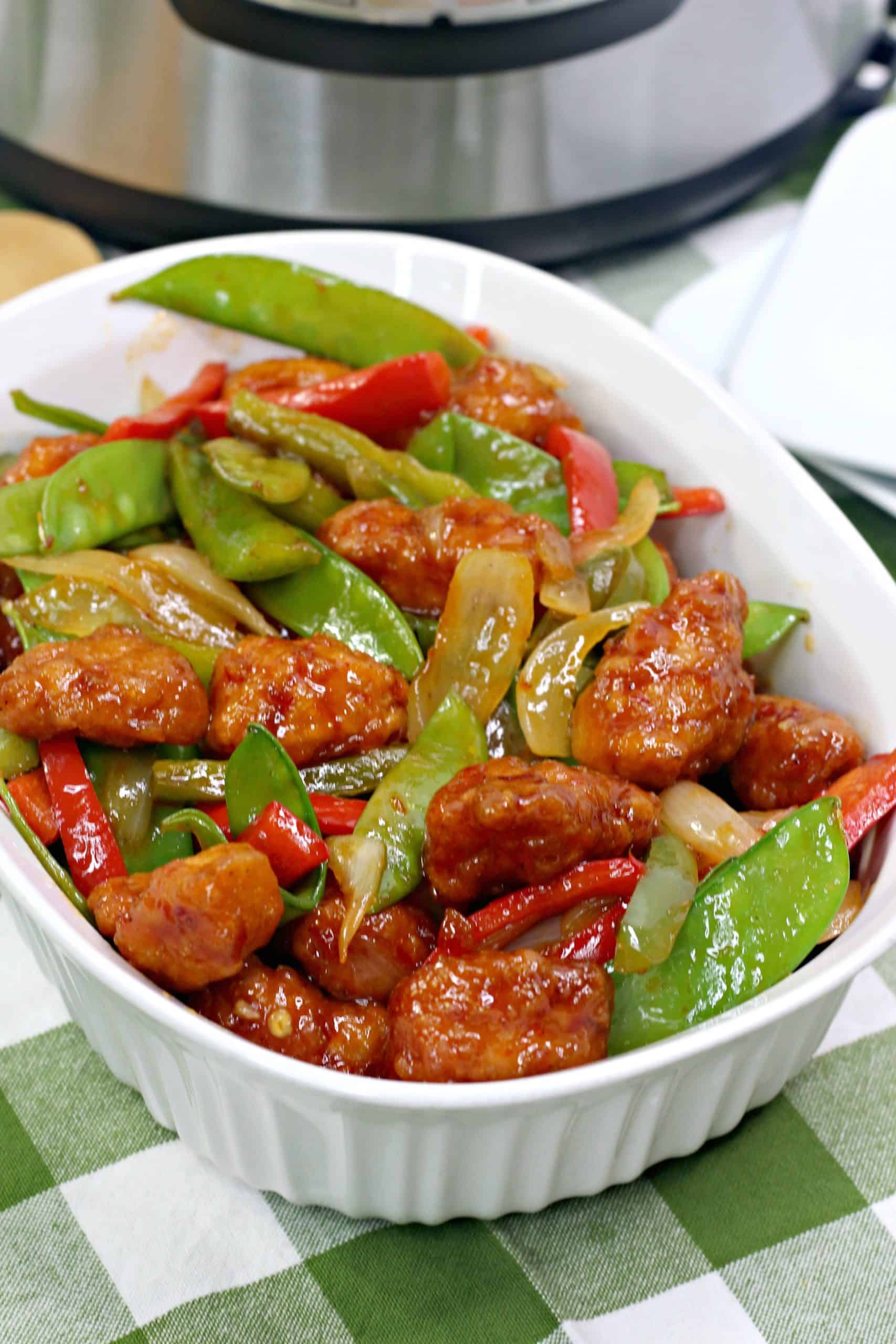 This Easy Firecracker Chicken In Instant Pot recipe is packed with flavors and the perfect amount of heat in every bite. The chicken is succulent and juicy, while the veggies are cooked to perfection. The sauce is spicy but also has some delicious sweetness to it too.
Scroll to bottom for printable recipe card.
Instant Pot Firecracker Chicken Recipe
I know there are plenty of people that don't love hot things, but I am not one of those! This firecracker chicken is just spicy enough to make me happy and please my taste buds. Plus, making firecracker chicken at home is going to save you money instead of going out to eat at a local Chinese restaurant. I know that eating out is convenient, but I promise once you make this chicken in your Instant Pot, you will see how convenient it is too.
The secret to the texture and flavor of this chicken dinner recipe is that you will be cooking the chicken pieces in the air fryer for a short time. This gives them that wonderful crispy texture that we all love when it comes to firecracker chicken.
Cooking this flavorful chicken in the Instant Pot locks in the moisture and keeps the chicken juicy and tasting great. The vegetables add so much color to the dish as well as nutrients and flavor. But the sauce is truly the star of this show. Everything about it is amazing, and I seriously could eat it with a spoon because it's that fantastic.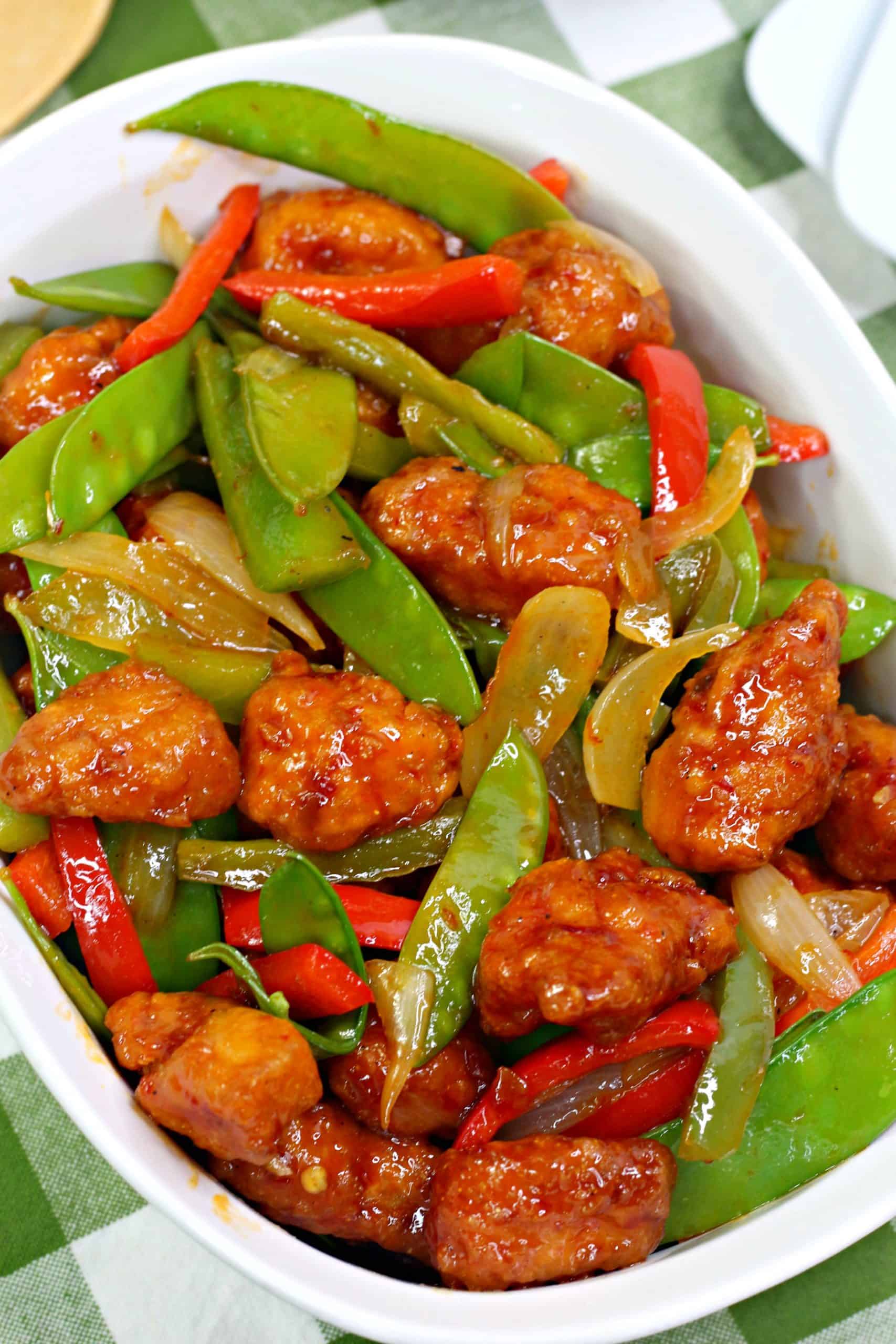 Can I Use Chicken Thighs for This Recipe?
Yes, you can easily swap out boneless skinless chicken breasts for chicken thighs. Chicken thighs tend to be a lot cheaper than breasts, so if you are trying to be frugal, they are a lovely option. Make sure to get boneless skinless thighs to save yourself a huge headache later. Keep in mind that chicken thighs are a much fattier meat than the breasts. So the flavor and texture are going to be a little bit different. There are many people out there who prefer chicken thighs, and of course, there are a lot of people who prefer breasts. It all just depends on what you like the best, and that is all that matters.
Can This Be Made on the Stove Top Instead?
Yes, you can make this firecracker chicken on the stovetop if you'd rather. You will need to either use an air fryer to fry it first, or you can bake it. Another option would be to pan fry it in a skillet with some oil. The chicken tastes best when it has a crispy breading, so you don't want to skip that part. After you cook the chicken, you can cook all the vegetables by sauteing them in a pan with a little bit of oil. Dredge everything in sauce and continue to cook until the chicken and veggies are done, then enjoy!
Can I Turn This Into Firecracker Chicken Wraps?
Yes, of course, you can turn this firecracker chicken recipe into wraps. Just cook everything as directed then spoon the mixture onto your favorite wrap. You can choose a plain wrap or go with something with more flavor like spinach, tomato, or whole wheat. I prefer to toss the wrap in the microwave for 10-15 seconds before filling it with all the yummy goodness because it's easier to bend and fold when it's warm.
Ingredients
You only need 13 ingredients to make this super easy Instant Pot chicken recipe. You'll be amazed at how you can transform these ingredients into something so incredible.
Boneless skinless chicken breasts cut into 1-inch pieces
Corn flour
All-purpose flour
Eggs – They should be at room temp for the best results.
Olive oil
Buffalo hot sauce
Brown sugar
Rice vinegar
Red pepper flakes – You can add more as you prefer.
Sliced green onions
Snow peas
Sliced red pepper
Onion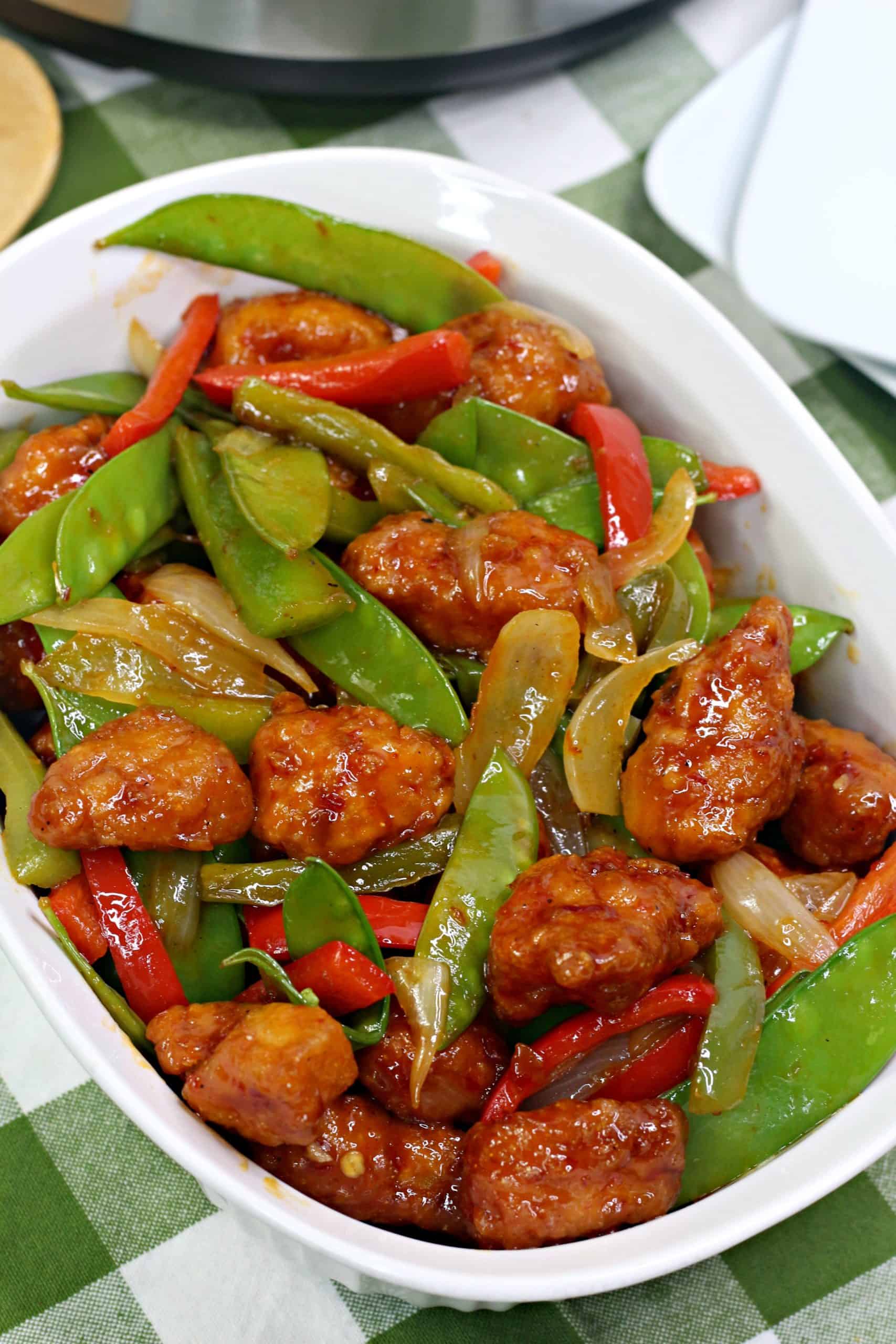 How to Make Instant Pot Firecracker Chicken Recipe
Making this Instant Pot firecracker chicken looks like a lot, but it's really very simple. You shouldn't have any problems whipping it out and indulging in this terrific meal. I love it so much because it's a meal in one and also because it makes great leftovers too.
First Step: Cut up the boneless skinless chicken breasts, so they are all around 1 inch to 1 1/2 inch chunks. Set them aside for later.
Second Step: Use a small bowl to hold your beaten eggs. Then get another bowl for the all-purpose flour and another for the cornflour, so you have an assembly line of three bowls.
Third Step: Lightly spray your air fryer with some oil, so the food doesn't stick. You don't need to spray a lot.
Fourth Step: Begin dipping the chicken into the bowl with the eggs, then in the flour, and lastly into the cornflour until it's well coated.
Fifth Step: After coating all the pieces of chicken breast, place them into the air fryer. If you have a smaller air fryer, you may need to work in batches to get it all cooked.
Sixth Step: Turn on the air fryer to 400 degrees F. and begin cooking the chicken for 5 minutes. The chicken will not be completely done; you are just trying to get a crispy coating on the outside. It will finish cooking when it is in the Instant Pot.
Seventh Step: Begin making the sauce by whisking the buffalo sauce, brown sugar, rice vinegar, and red pepper flakes together until well combined. Set aside.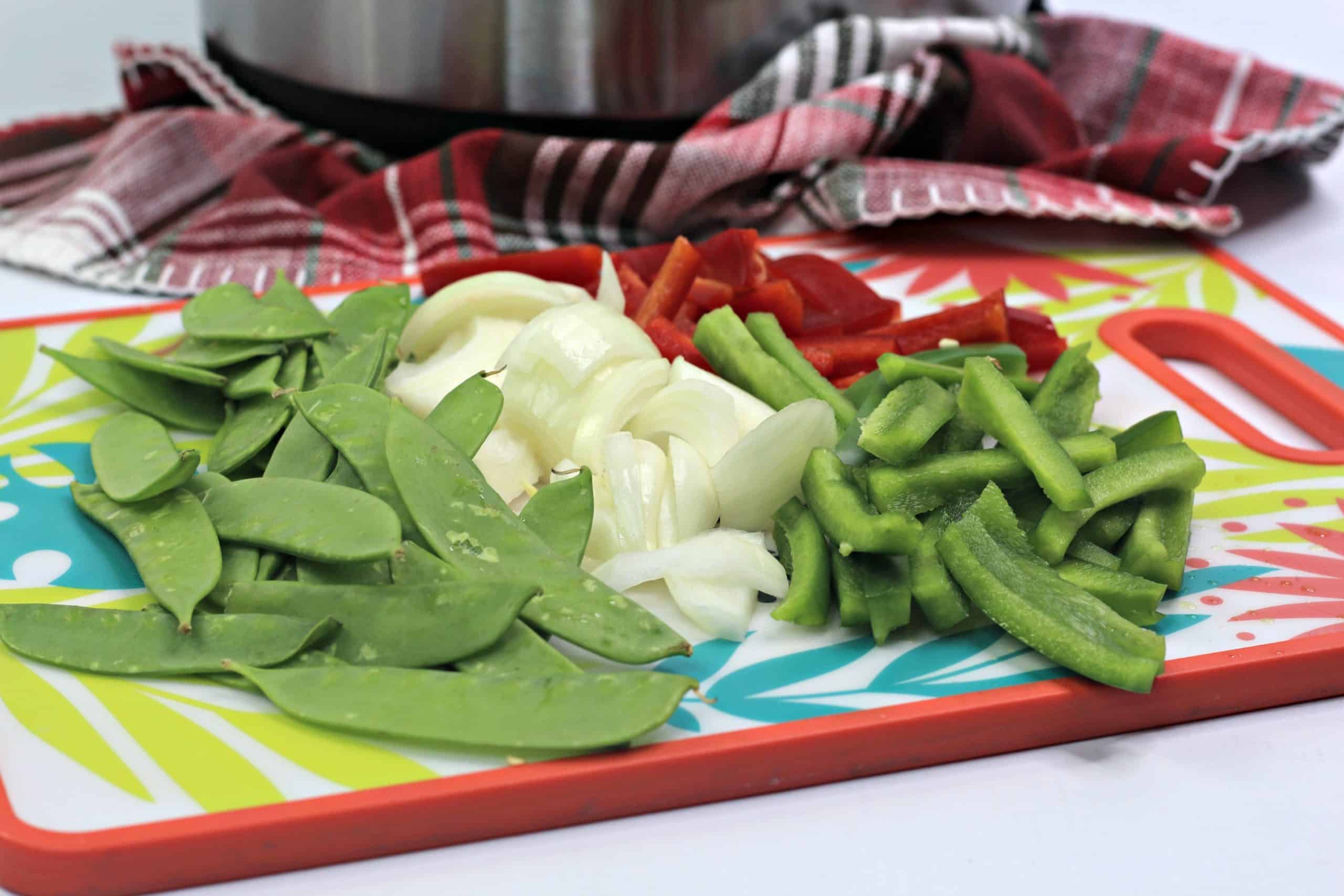 Eighth Step: Place the olive oil and vegetables in the Instant Pot. Turn it to saute and begin sauteeing and stirring for 5 minutes.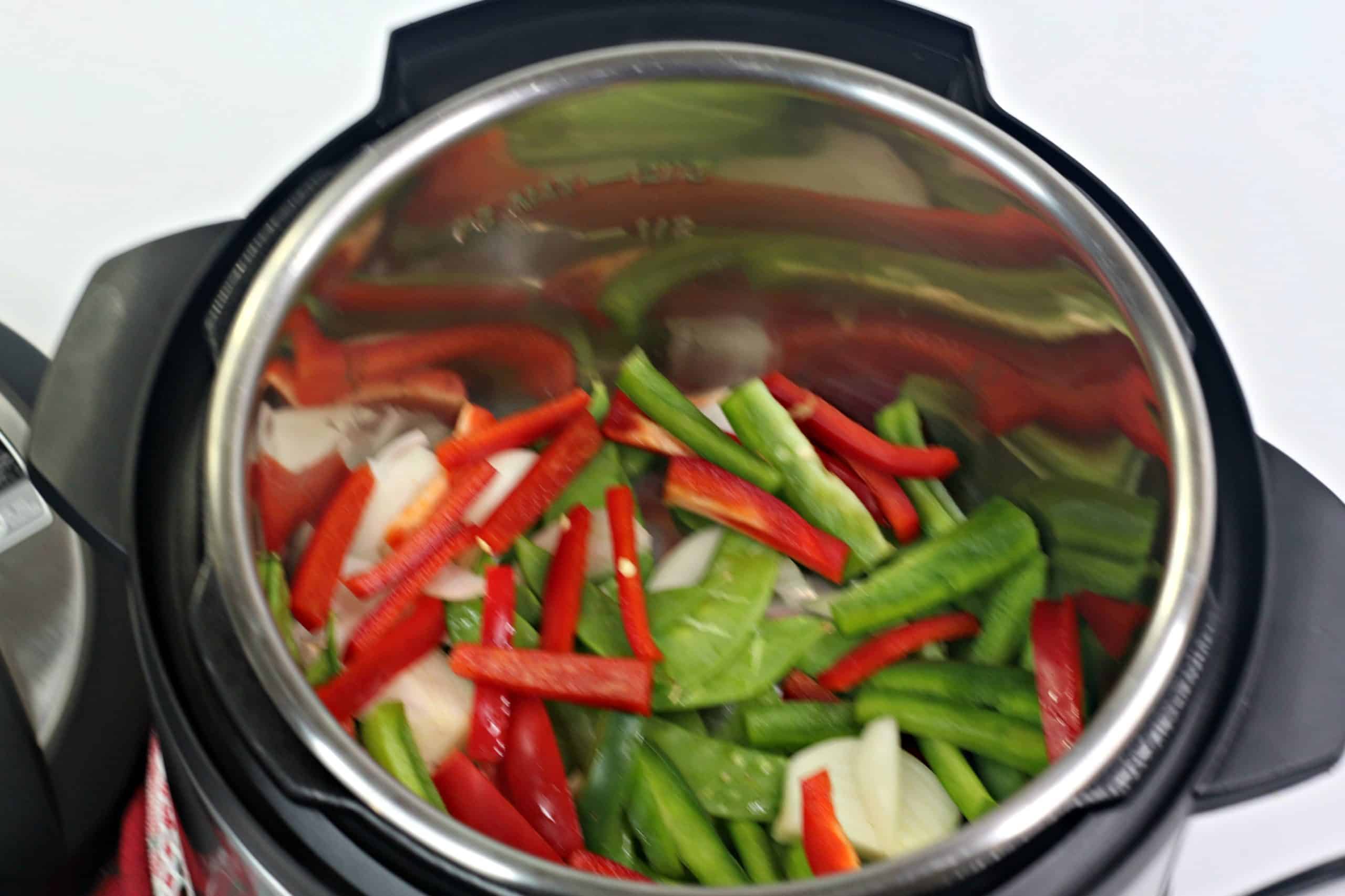 Ninth Step: Put the chicken pieces in the Instant Pot and stir it in with the veggies.
Tenth Step: Turn off the pressure cooker and add the sauce to the chicken and vegetables. Stir well.
Eleventh Step: Add the lid to the Instant Pot and make sure the vent is turned to the sealed position.
Twelfth Step: Cook for 4 minutes on the manual setting.
Thirteenth Step: After the 4 minutes are up, do a quick-release on the pressure and take off the lid. Serve hot as is or over a bed of white rice. Enjoy!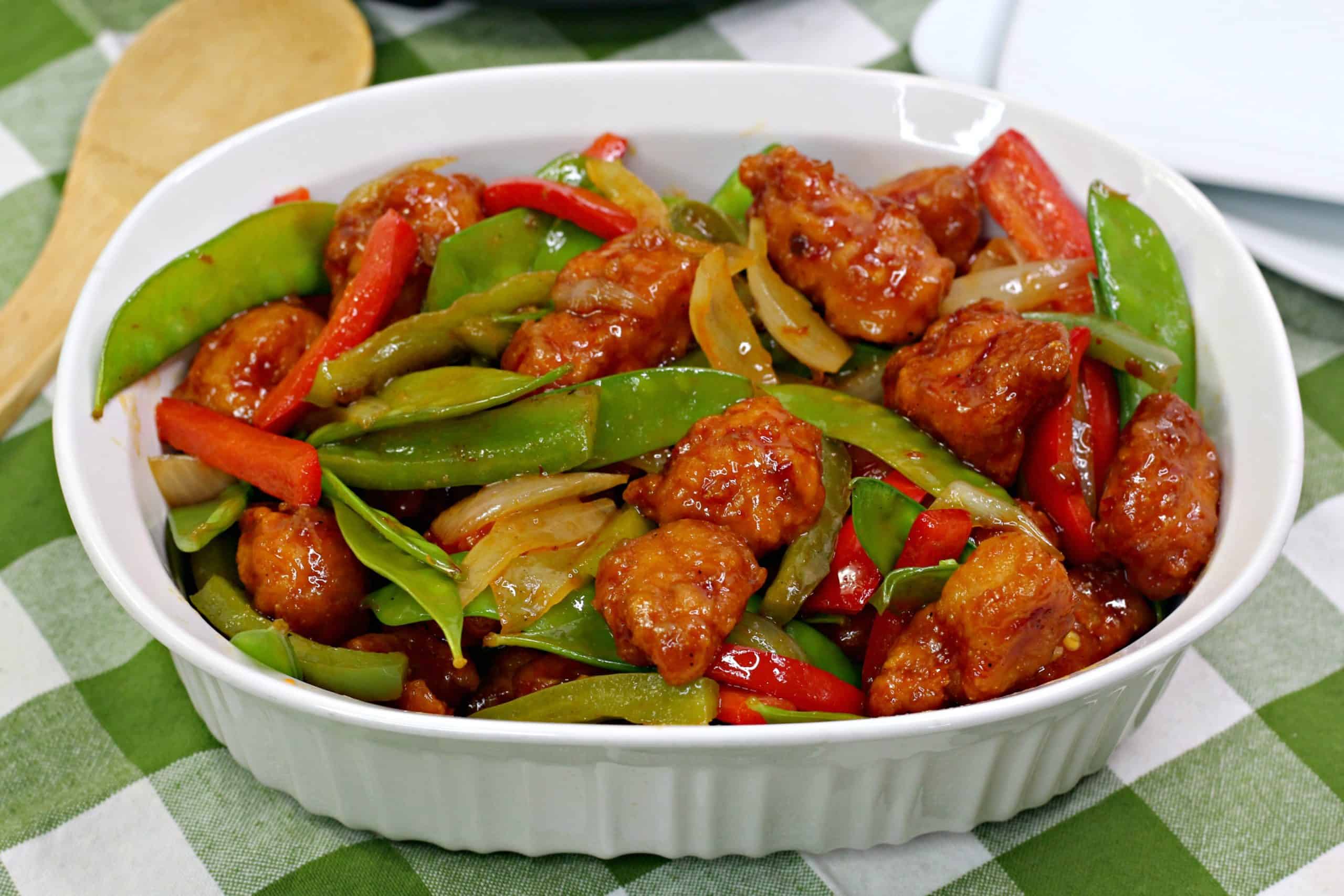 Now, remember to save this recipe on Pinterest for later 🙂

Pin this recipe now to remember it later
Instant Pot Firecracker Chicken
This Easy Firecracker Chicken In Instant Pot recipe is packed with flavors and the perfect amount of heat in every bite.
Ingredients
1 ¼

pounds

boneless skinless chicken breasts cut into 1 inch pieces

¼

tsp.

red pepper flakes or more to taste

¼

cup

sliced green onions
Want to save this recipe? Enter your email below and we'll send the recipe straight to your inbox!
NOTE: By saving this recipe, you agree to join our weekly recipes newsletter.
Instructions
Cut up your chicken breasts into 1″ to 1.5″ chunks and set them aside.

Set up your station with one bowl holding your beaten eggs, and the other holding your flour, and corn flour.

Spray the inside of your air fryer lightly with some oil.

Dip your chicken cube into the egg washl, then place it into your coating.

Make sure your chicken is well coated and place it into the air fryer.


Repeat until your air fryer is full.

Set your air fryer to 400F and cook your homemade chicken for 5 minutes.

You do not want to fully cook as we will use the Instant Pot next.

In a small bowl, whisk together the buffalo sauce, brown sugar, rice vinegar and red pepper flakes.

Set to the side.

Add the olive oil and the veggies to the instant pot turned on to saute' high.

Stirring frequently for 5 minutes.

Add the chicken to the instant pot.

Toss to combine.

Turn the instant pot off / cancel.

Pour the sauce over the chicken.

Place the lid on the Instant Pot and seal the vent.

Turn on manual for 4 minutes.

Once the timer is up release the pressure from the Instant Pot.

Remove the lid and serve.
Follow me on Pinterest for daily delicious recipes!
If you love this firecracker chicken recipe, you should check out some of these tasty meal ideas: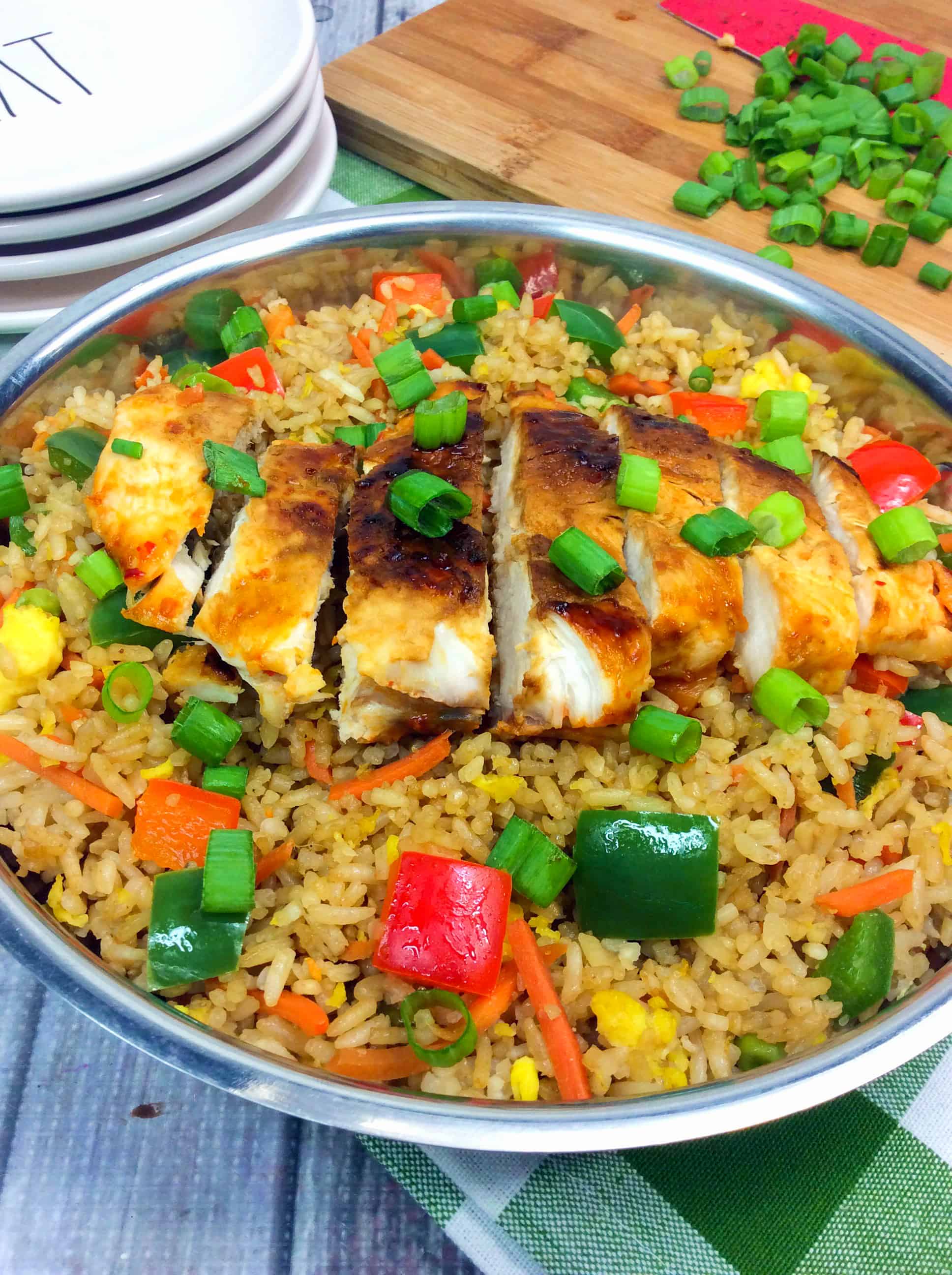 Garlic Chicken Stir Fry Recipe – Broccoli, mushrooms, chicken, and peppers are the perfect combination in this easy to make stir fry. It's so darn, amazing!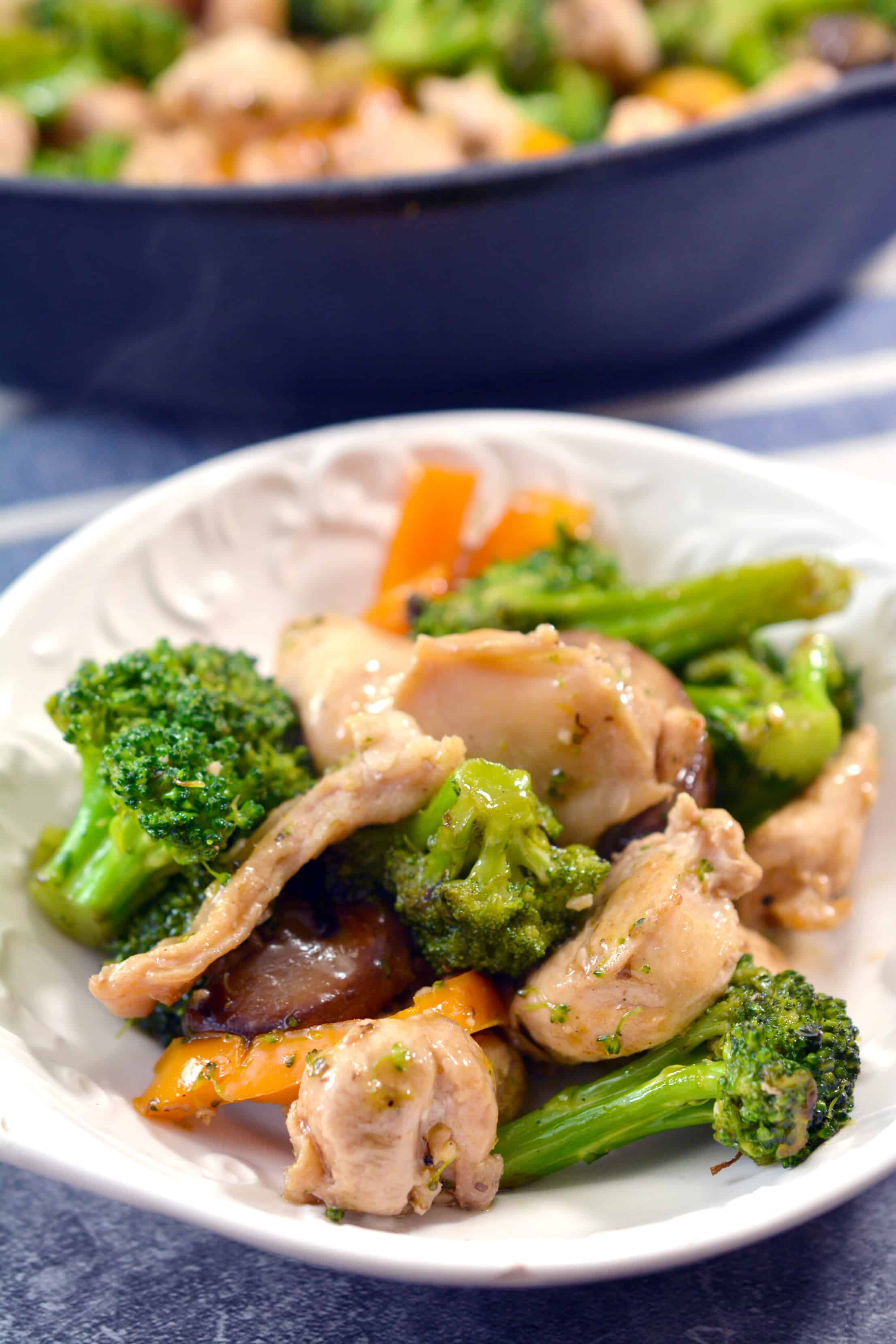 Instant Pot Orange Chicken – The tangy sauce in this orange chicken is incredible! One bite, and you are going to be happy you made it.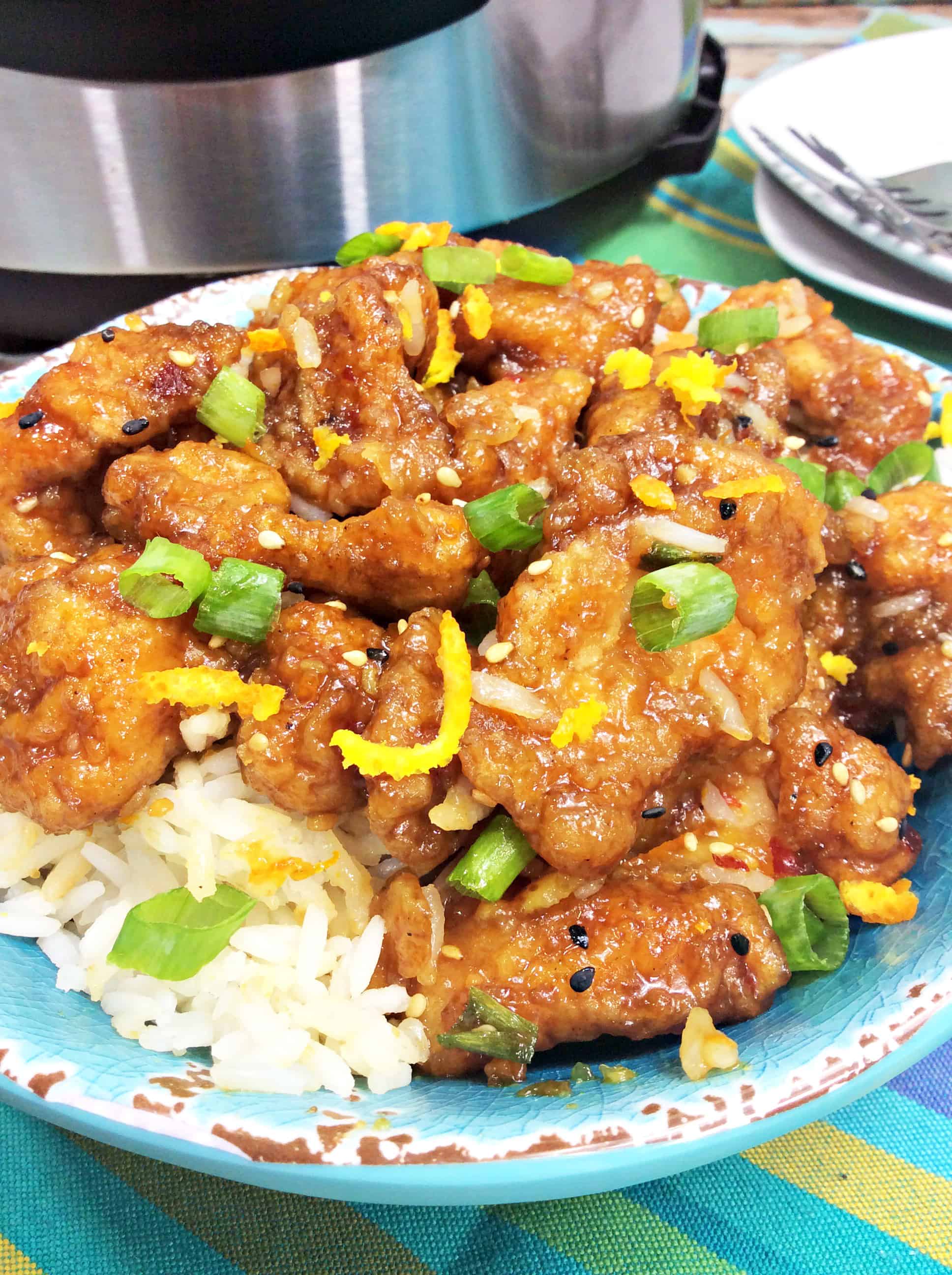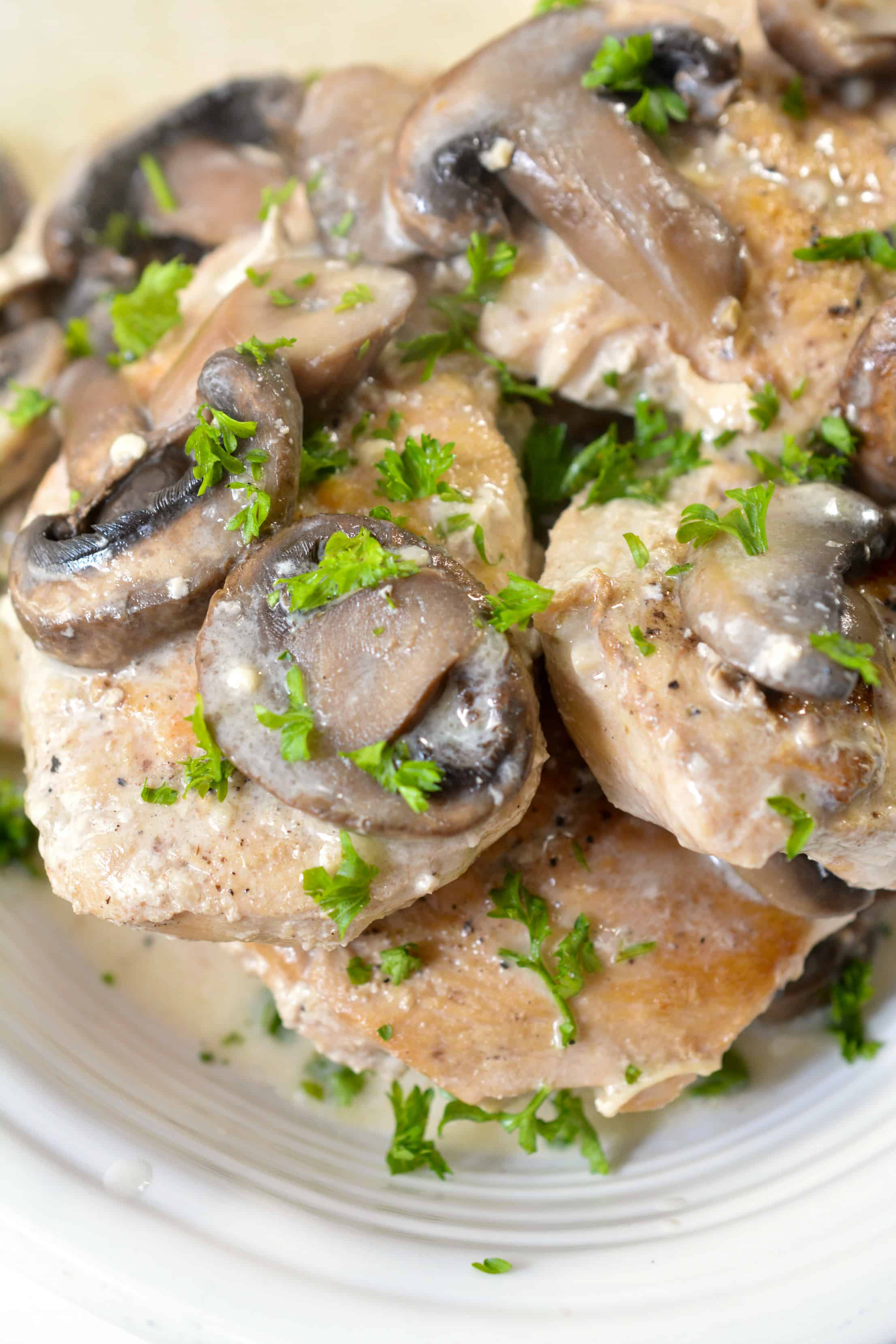 Get new recipes weekly plus our FREE ebook!