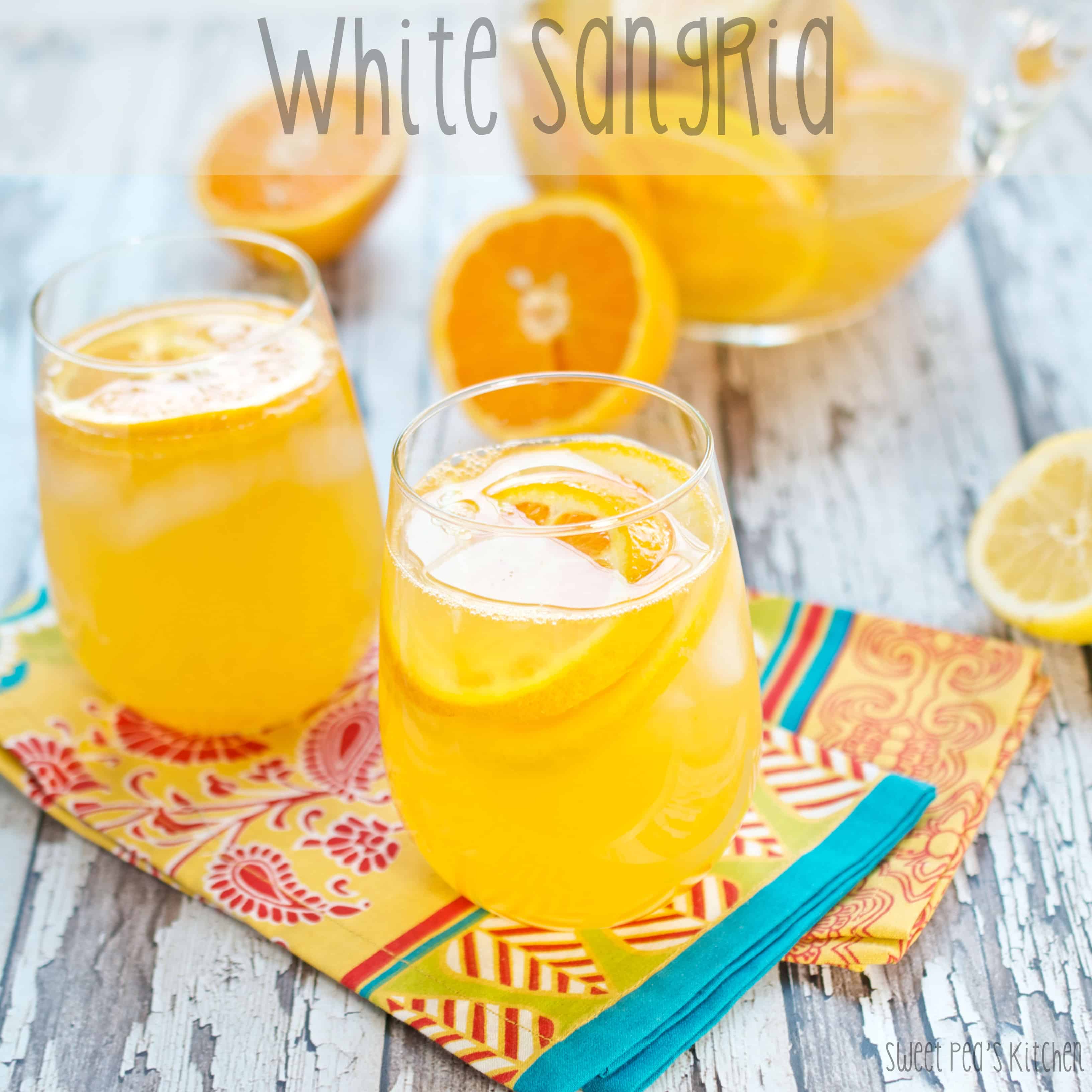 Sip on a glass of your new favorite summer cocktail, this White Sangria! It's made with lemons, oranges, triple sec, and a little bit of sugar to sweeten the deal. This fruity sangria is hard to put down because it's so cool, refreshing, and delicious.
Scroll to bottom for printable recipe card.
White Sangria
You guys! I am THRILLED to be sharing this easy white sangria recipe with you today. I know you are going to fall head over heels for it and will want to serve it soon. It's my go-to summer drink, and I also enjoy making it for brunch on Christmas morning. I had even served it for New Year's when we wanted something a little bit extra special.
The flavors go so beautifully together that it's bound to be your new favorite sangria recipe ever. It's also nice to relax in the evenings when it's hot with a cold sangria in your hand. We drink them often because they are so yummy.
For fun, sometimes we make a kid friendly version, but instead of wine, we use pop. They love the fizzy texture and feel like they are pretty fancy drinking it. I recommend using a clear pop like Sprite or even Ginger Ale. Or you could use a fruit juice like apple juice if you'd rather. Either way, the kids will love having their own party drinks. Just make sure the kids don't get into the adult drinks, or you may have a disaster. 😉
What Fruit To Use
I love to use a combination of juicy oranges and tangy lemons. They go so well with the triple sec and the wine. Plus, when you add the sugar, it takes away the tartness from the citrus fruit. I think you will enjoy the flavor too!
Best Wine For White Sangria
I highly recommend using a cheap bottle of wine that's medium bodied. You don't need a fancy or excessive bottle to create a tasty white sangria. Pinot Grigio or Chardonnay are good choices too. Be sure to keep the wine cool before you make the drink. It just tastes better when the wine is cold.
White Sangria Variations
While I like oranges and lemons, you can actually try out a variety of fruits for this sangria recipe. Here are a few ideas to consider:
Berries – Any kind of berries would be lovely. We like strawberries, blueberries, raspberries, and blackberries in the sangria a lot. Plus, it will give the drink a vibrant fruity color too.
Kiwi – Another fun fruit that is tropical and bound to make a great sangria is kiwi. It has such a unique and delicious flavor. It's perfection!
Apples – We like to cut up apples and add them to the sangria sometimes too. Plus, the fruit always tastes good when you drink it all and need a little snack. 🙂
Grapefruit – Another idea that many people may not think of is grapefruit. Sometimes we will add some with the oranges and lemons. It's a summery flavor that is amazing.
Mango – Enjoy some fresh or frozen mango in the sangria. It's pretty vibrant and tropical. You are for sure going to want to try it sometime.
Peaches – One of my favorite fruits is peaches. They go well in wine too. That's why on occasion, I will add them to my white sangria. Yummy!
How to Store Sangria
You can keep leftover sangria in the fridge for up to one day. The flavors really blend together even more as it sits. Just be sure to stir it really good before you serve it so that all the chunks of fruit and any pulp is mixed in. No one wants to see a bunch of chunks at the bottom of their glasses.
Can I Make This Sangria In Advance
Yes, you can make this white sangria up to one day in advance. I wouldn't make it much farther ahead than that. But you can keep it in a glass or plastic pitcher until you are ready to serve. Again, you will need to be sure to stir it well before serving.
Ingredients
All you need is five ingredients to make this cooling white sangria. You can also make adjustments to the ingredients if you want. This is also a great recipe to make multiple batches of if you are serving a lot of people.
Oranges – Use large oranges with lots of juice.
Lemon
White sugar
Triple Sec
Bottle fruity white wine – Make sure the wine is cold before you begin.
How to Make White Sangria
Thankfully, there are only two steps that are incredibly easy to follow to make this homemade sangria recipe. No need to do all sorts of steps! Let's take a look:
First Step: Put the orange slices, lemon slices, and white granulated sugar inside of a large pitcher. Take a wooden spoon and gently press on the fruit to release the juice. You don't want to completely crush the fruit; just lightly press on it. Mix until the white sugar has dissolved, and then add in the orange juice. Mix in the white wine and the triple sec as well. Place the pitcher in the refrigerator so it can chill, and the flavors can develop for two – eight hours.
Second Step: Right before you serve the sangria, go ahead and stir it with a wooden spoon. This will incorporate any pulp or fruit that has settled. Serve the drink over ice and enjoy!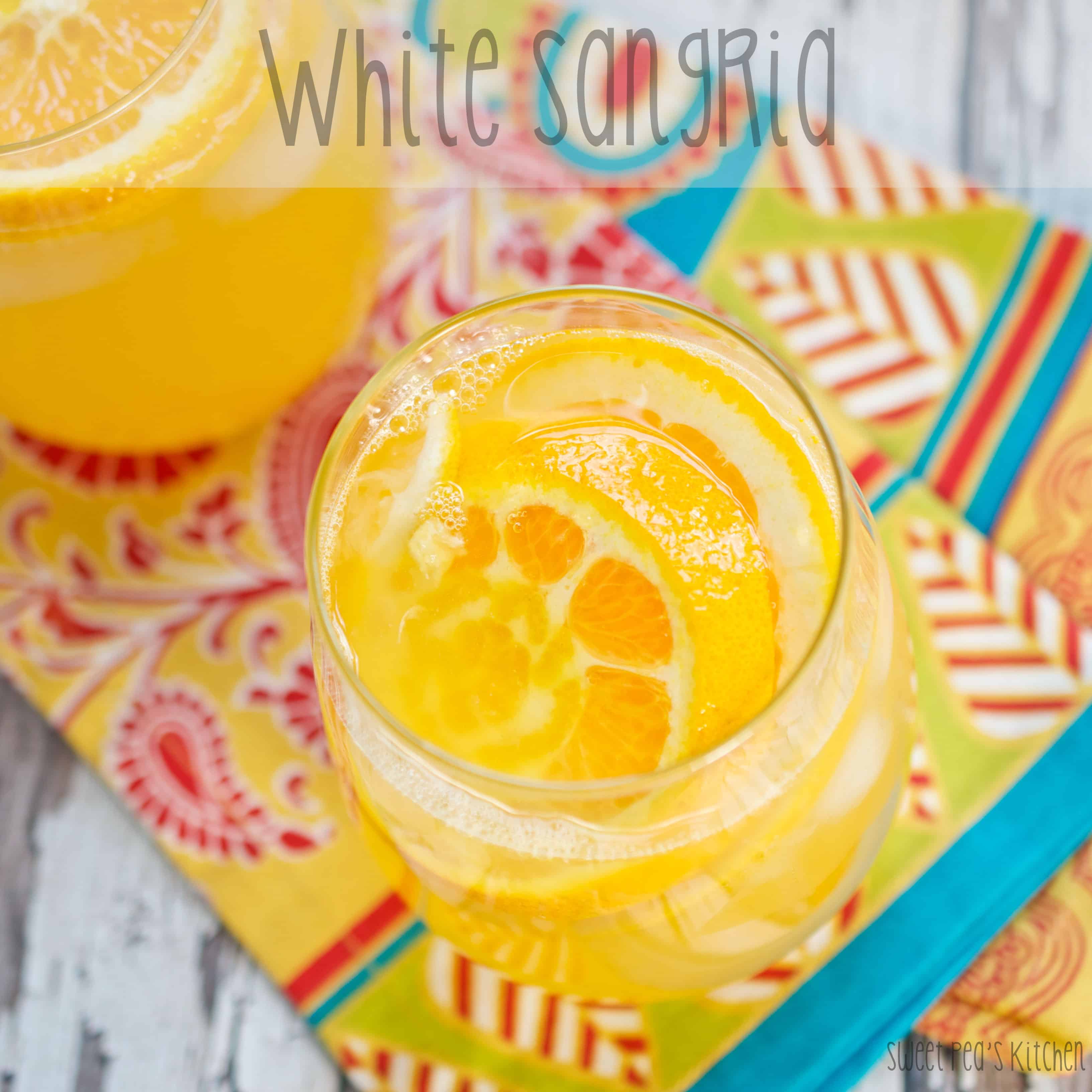 My mouth is watering thinking about sipping on one of these drinks. Check them out, and you will have some happy houseguests for your next party.
Triple Berry Cocktail – Blueberries, blackberries, and strawberries are awesome together. Give this drink a try, and you will want it all the time.
Mango Margarita with Habanero Pepper – Another drink that is always a hit at parties is this mango margarita. The habanero pepper takes it to the next level.
Easy Blackberry Vodka Smash – The fresh blackberries steal the show in this game-changing cocktail. You will have to try it to see how good it is.
Boozy Strawberry Watermelon Drink – Made with watermelon, strawberries, and tequila, this slushy drink is the BOMB!
Pin this recipe now to remember it later
White Sangria
This version of sangria take only seconds to make and requires only a handful of ingredients: lemons, oranges, sugar, inexpensive wine, and triple sec.
Ingredients
2

large juice oranges

,

1 cut into 1/4-inch-thick slices, 1 juiced

1

large lemon

,

cut into 1/4-inch-thick slices

1

750-ml. bottle fruity white wine (a medium-bodied Pinot Grigio or an un-oaked Chardonnay), chilled
Want to save this recipe? Enter your email below and we'll send the recipe straight to your inbox!
NOTE: By saving this recipe, you agree to join our weekly recipes newsletter.
Instructions
1. Add sliced orange, lemon, and sugar to large pitcher; mash gently with wooden spoon until fruit releases some juice, but is not totally crushed, and sugar dissolves, about 1 minute. Stir in orange juice, Triple Sec, and wine; refrigerate for at least 2, and up to 8, hours.


2. Before serving, stir briskly to distribute settled fruit and pulp; serve immediately over ice if desired.
Follow me on Pinterest for daily delicious recipes!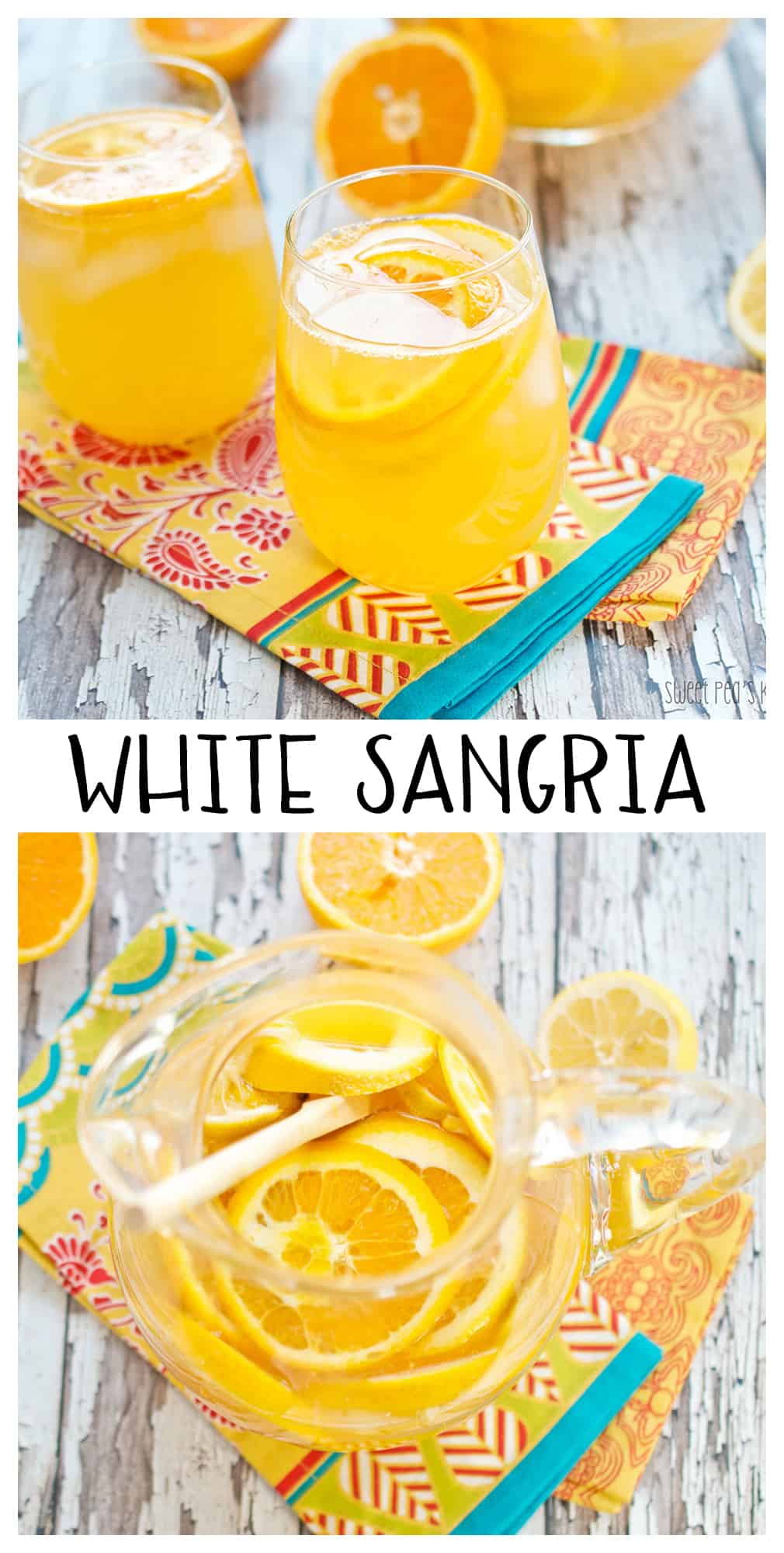 Get new recipes weekly plus our FREE ebook!