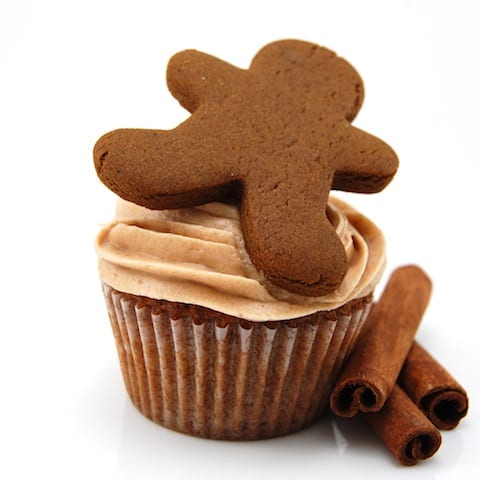 Moist, spicy and delicious gingerbread cupcakes with cinnamon cream cheese frosting are perfect for this holiday season. Nothing conjures up great memories of baking holiday goodies in the kitchen with my mom more than gingerbread. The spicy, house warming smell that emanates from the oven while these are baking is incredible. Cupcakes have the ability to bring a smile to everyone's face, they are everyone's favorite little indulgences. These festive cupcakes are sure to be a hit with adults and children at your next holiday gathering.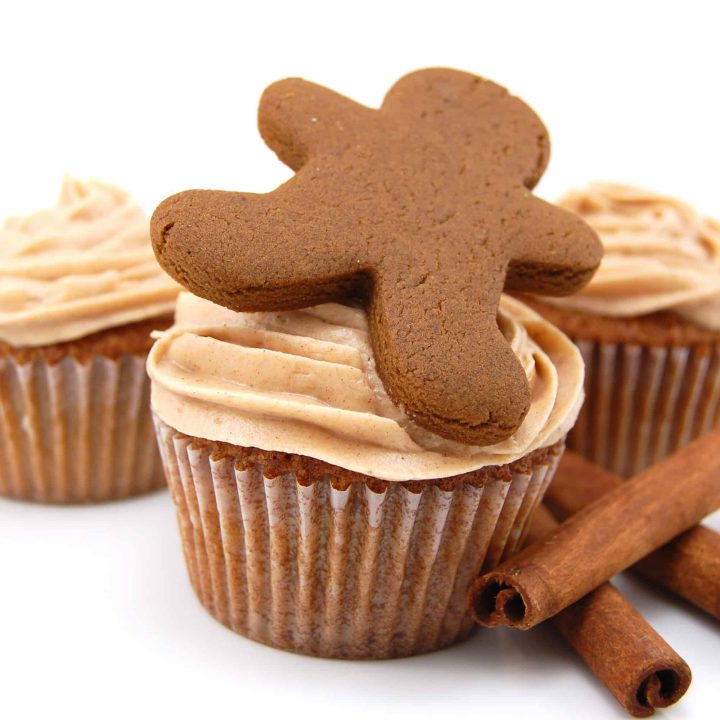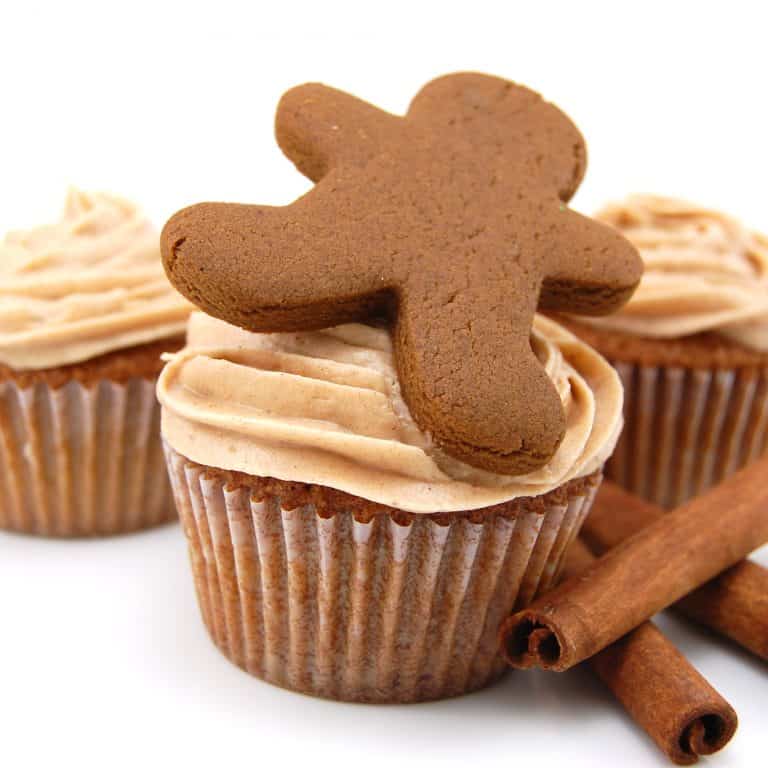 Gingerbread Cupcakes with Cinnamon Cream Cheese Frosting
Ingredients
For the Cupcakes:
1 1/2 cups all-purpose flour
2 tablespoons ground ginger
2 teaspoons ground cinnamon
1/4 teaspoon ground cloves
1/4 teaspoon ground nutmeg
1 1/2 cups unsalted butter (3 sticks), room temperature
1 1/2 cups sugar
3 tablespoons unsulphered molasses
4 large eggs, room temperature
1 teaspoon vanilla extract
22 3-inch gingerbread men
For Cinnamon Cream Cheese Frosting:
8 ounces cream cheese, softened
3 cups powdered sugar
2 teaspoons vanilla extract
2 teaspoons cinnamon
Instructions
Adjust oven rack to lower-middle position and preheat to 350 degrees F. Line muffin pan with baking cup liners.
In a large bowl, sift together flour and spices; set aside.
In the bowl of a stand mixer fitted with the paddle attachment, cream the butter and sugar until light, about 3 minutes. Beat in the molasses until incorporated. Beat in eggs one at a time. Beat in vanilla. Add flour and mix on low speed until just combined.
Fill the cupcake papers three-quarters full, making sure that the batter is divided evenly. Bake cupcakes until a toothpick inserted in the center of them comes out clean, about 30 minutes. Let cupcakes cool on a wire rack 10 minutes, then transfer cupcakes to a wire rack to cool completely.
To make the cinnamon cream frosting: In the bowl of a stand mixer fitted with the paddle attachment, combine the cream cheese and powdered sugar until smooth. Add cinnamon and vanilla extract and beat until combined.
Place frosting into a large decorators decorating bag fitted with the 1M decorating tip and approximately 1/4″ above cupcake top at a 90° angle to cupcake surface, pipe a spiral of icing, beginning at the outer edge and working inward. Top with a gingerbread man.
Source:
Martha Stewart's Cupcakes