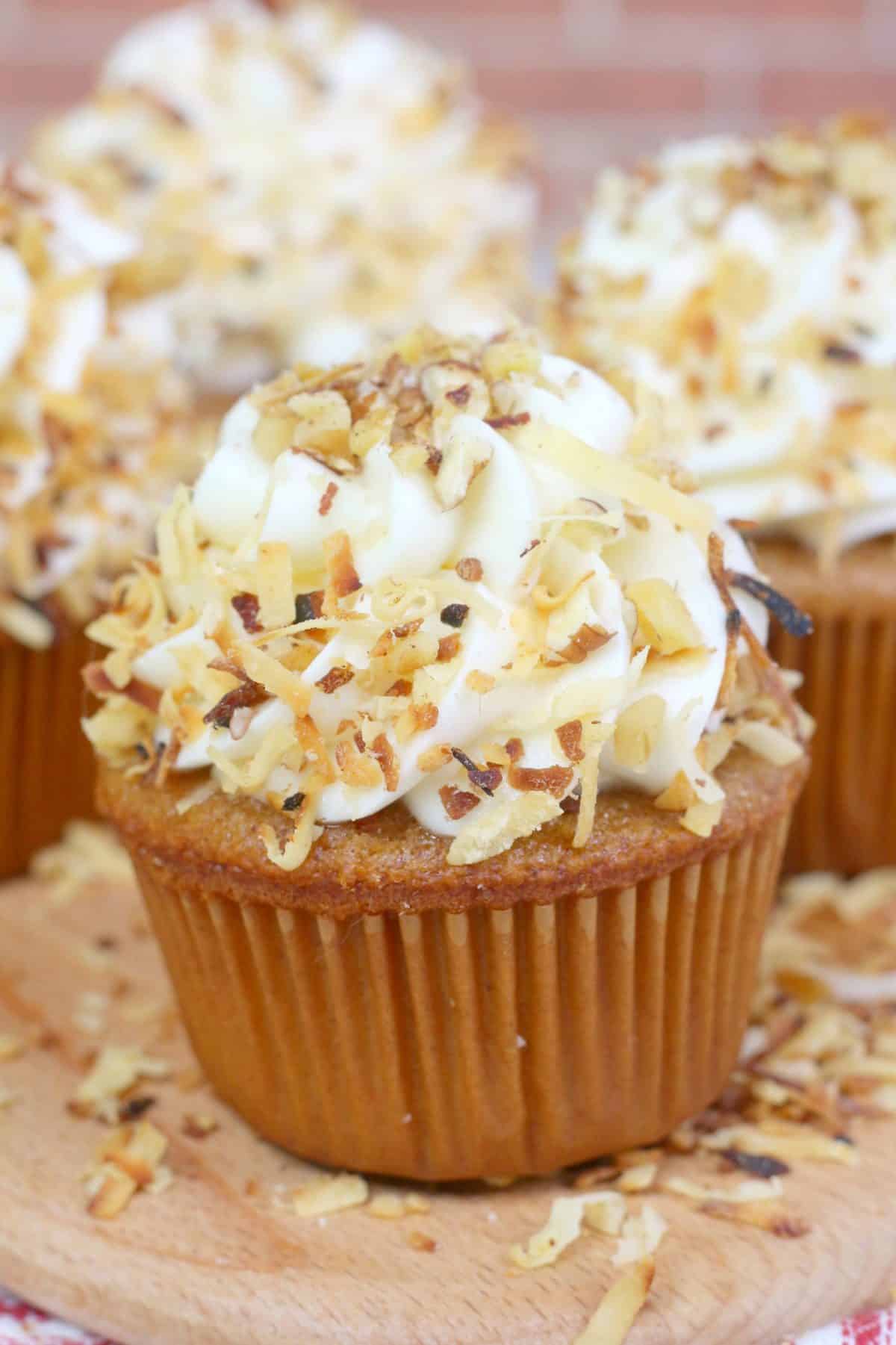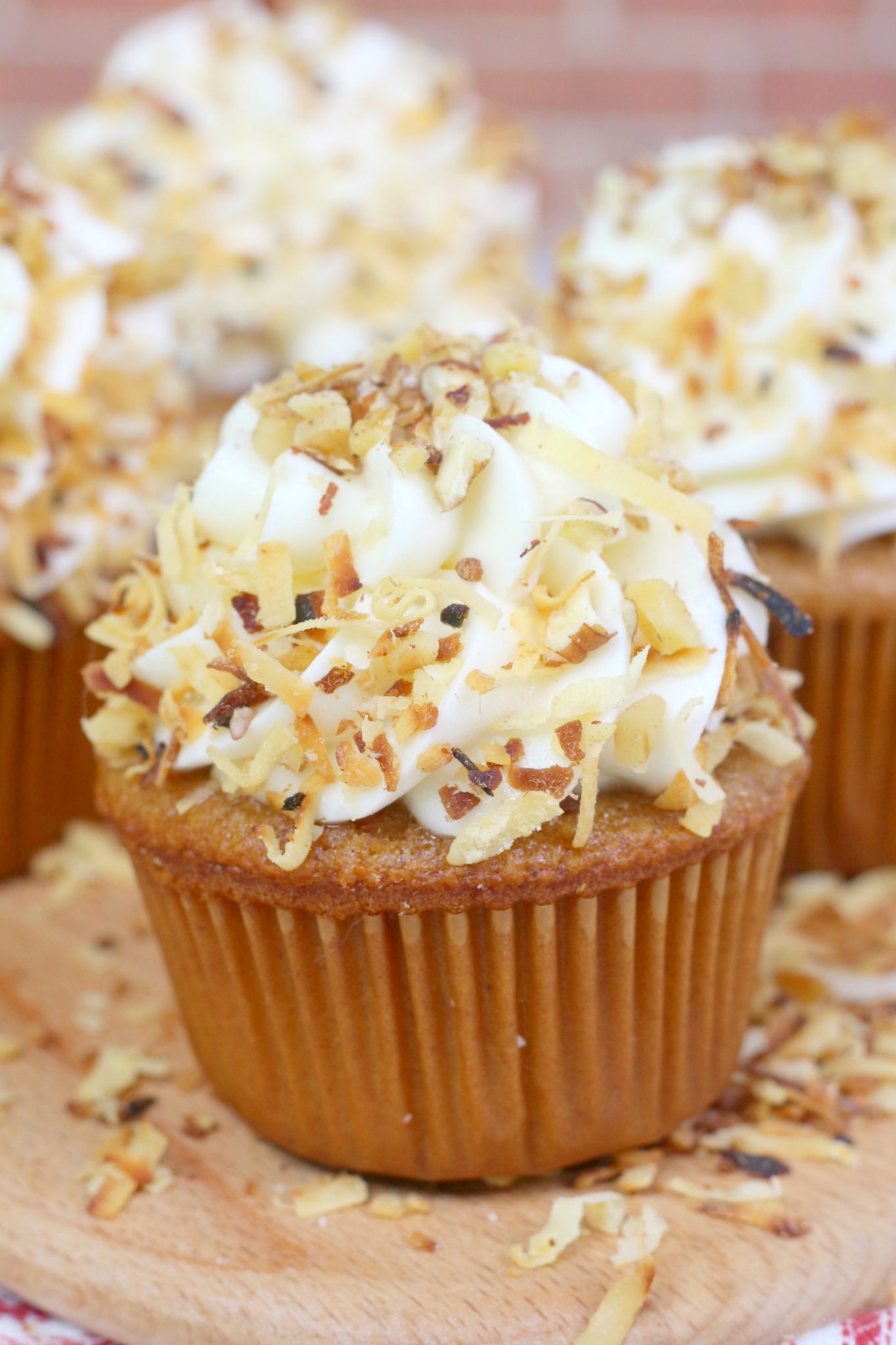 This delicious Southern Hummingbird Cupcakes Recipe is outstanding! Each bite will give you a homemade southern flavor. Plus, they are perfect cupcakes that have been made from scratch.
The homemade frosting is mind-blowing good and has the ideal amount of cinnamon, sweetness, and toasted shredded coconut.
Scroll to bottom for printable recipe card.
Southern Hummingbird Cupcakes Recipe
If you've never had Hummingbird cupcakes before now is the perfect time to get started. They are absolutely delicious, easy, and you'll be so proud of your work when you're done with them. Recently I was going to a party and I wanted to make something special. I say special, but I really needed something extraordinary. That is what I came up with the idea of making these homemade hummingbird cupcakes. Let me tell you what everybody tried them; they were blown away by how amazing they are. I didn't have a single crumb leftover, and that was a great sign.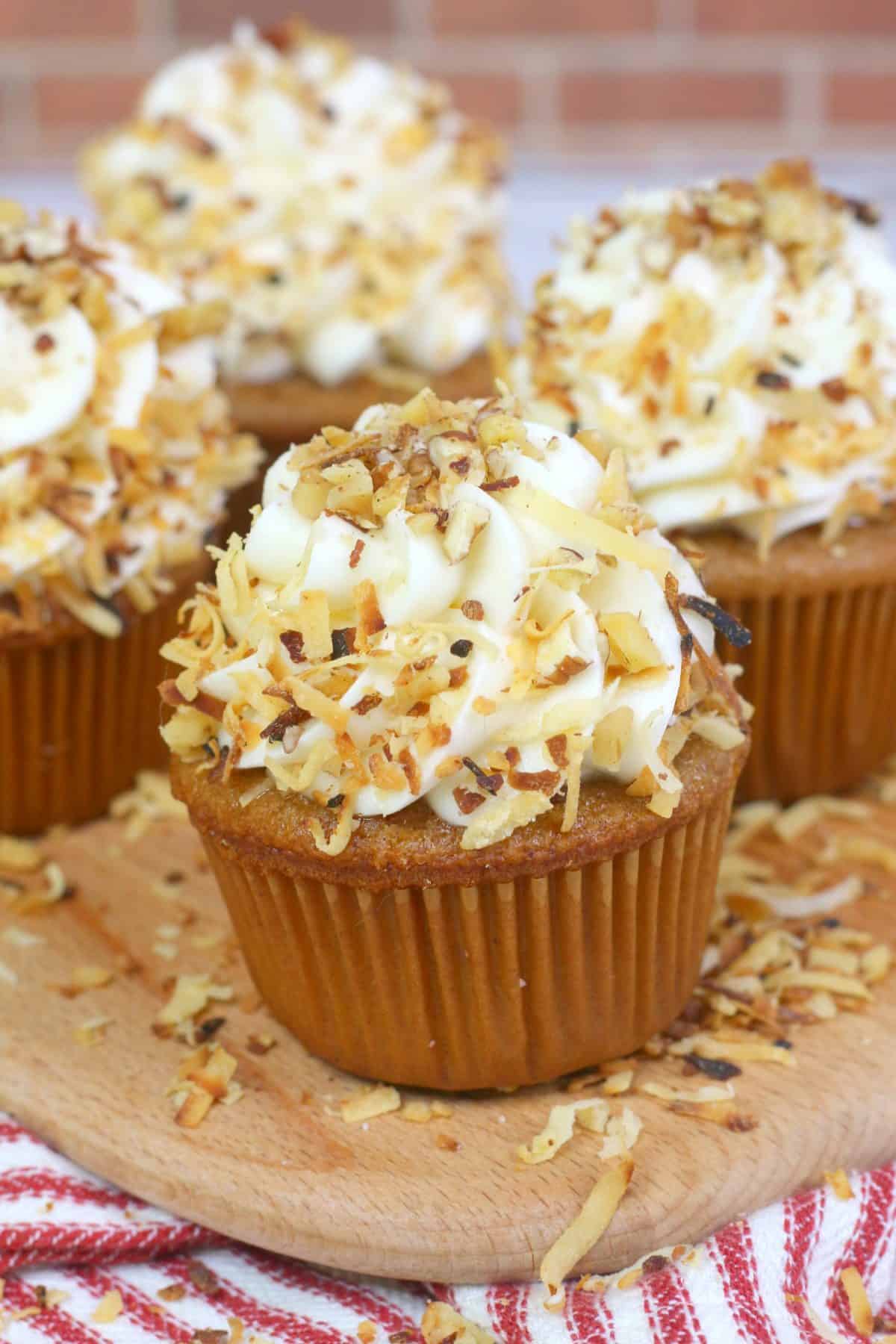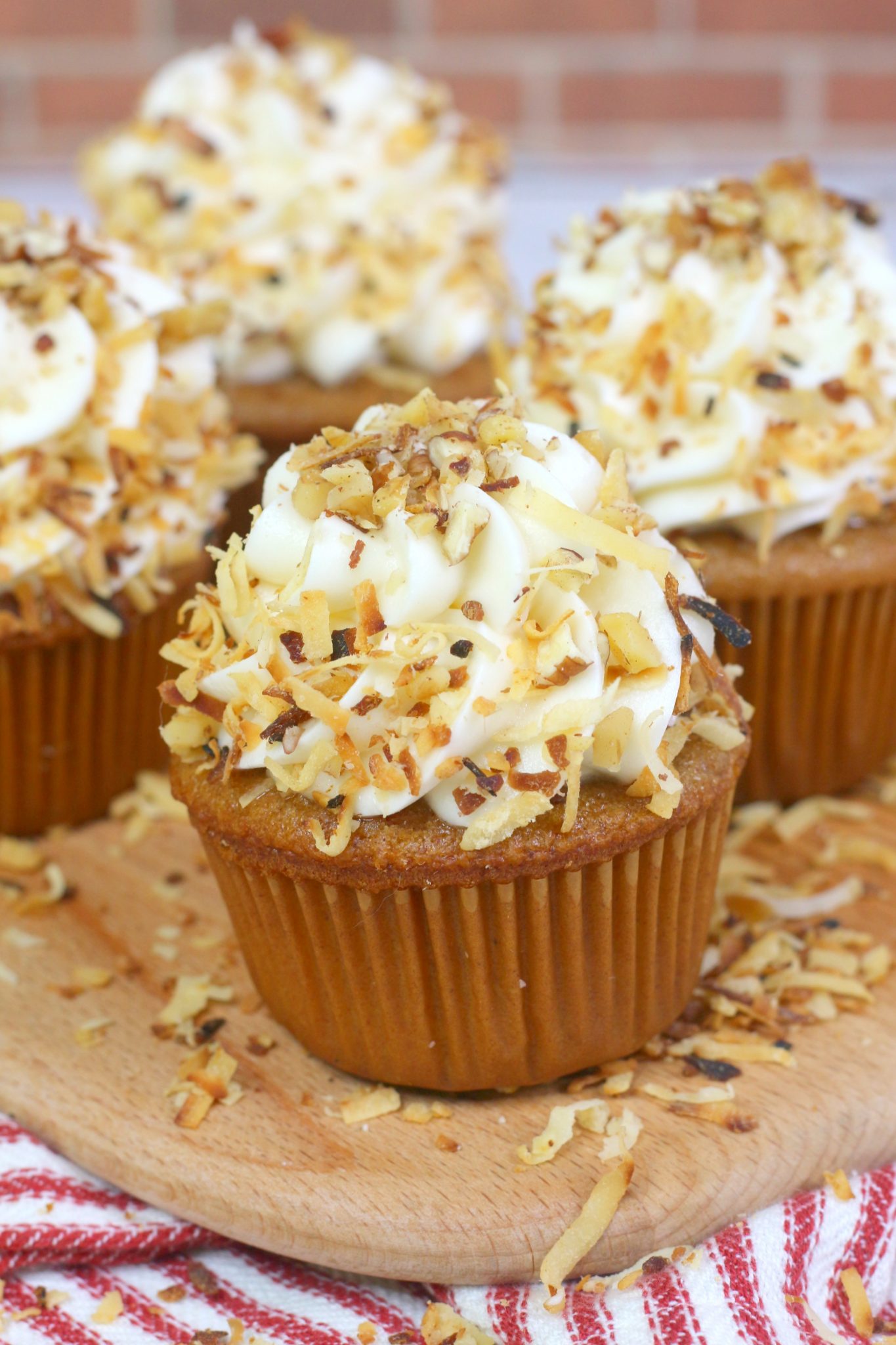 What is a hummingbird cake?
Hummingbird cake got its name because of the national bird in Jamaica. In Jamaica, another name for a hummingbird cake is called the doctor Bird cake. A hummingbird cake is a moist cake with lots of flavors and a homemade delicious cream cheese frosting with cinnamon and other spices.
What flavor is hummingbird cupcakes
Hummingbird cakes are known for they're spicy flavors; everything from cinnamon to pumpkin pie spice can be found in a hummingbird cake. My recipe calls for cinnamon and lots of fruits as well as nuts.
Storing Cupcakes
The best way to store hummingbird cupcakes is by keeping them in an airtight container in the refrigerator for up to 5 days. They should never sit out for longer than 2 hours at a time due to the cream cheese frosting. If you know that the homemade hummingbird cupcakes are going to sit out longer than 2 hours, you should keep them on ice to keep them fresh and prevent bacteria from growing.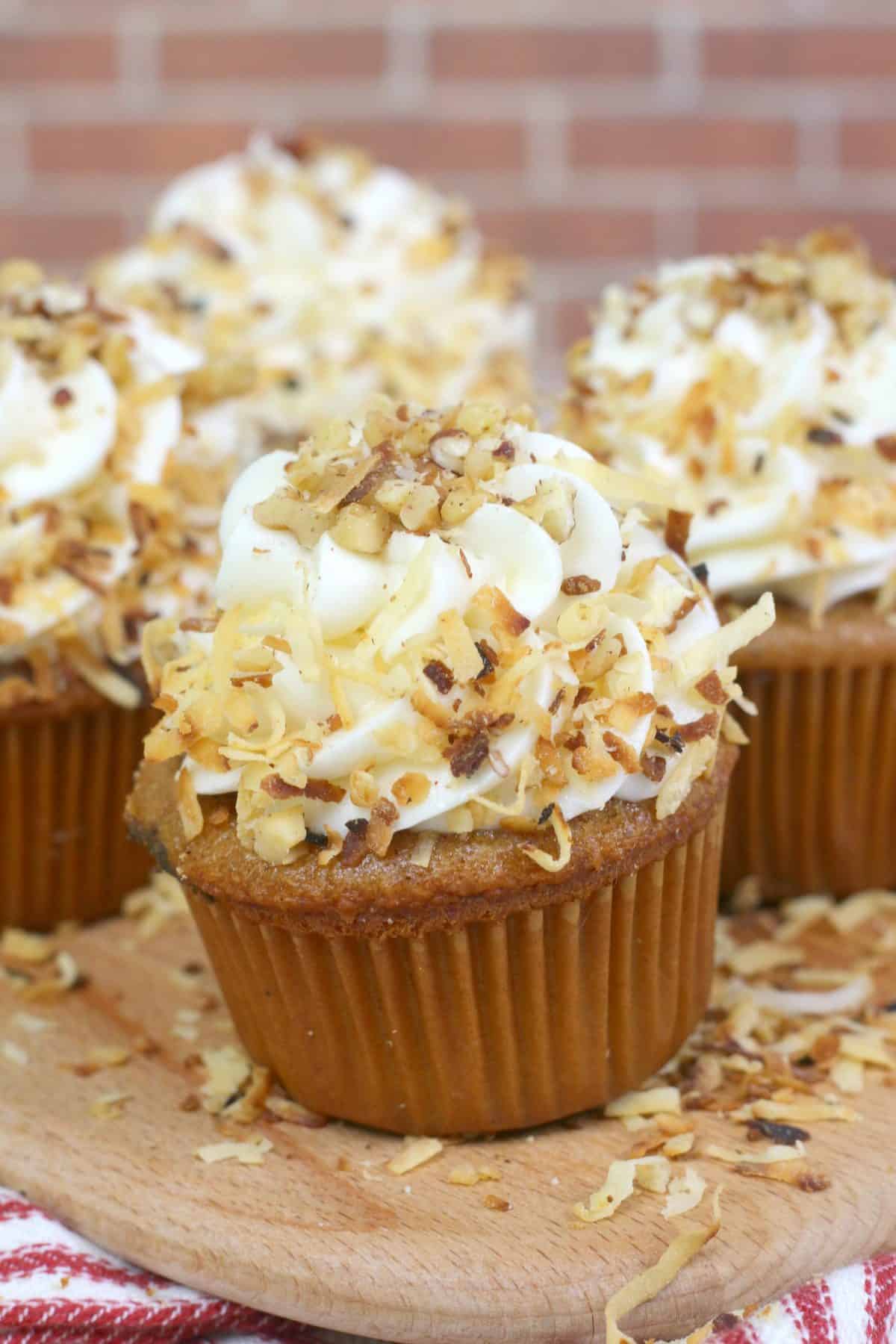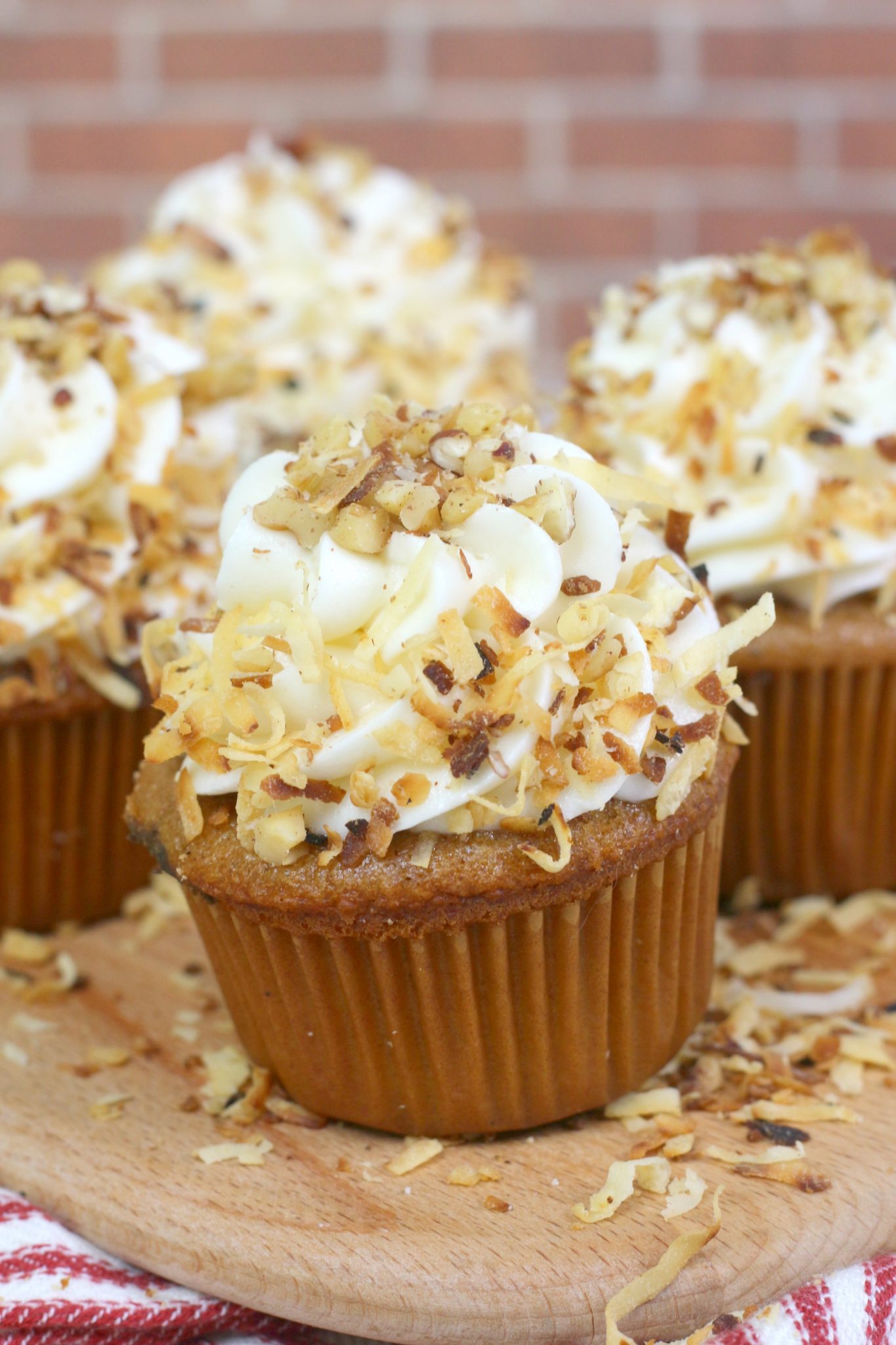 Can These Cupcakes Be Frozen
You can store the cupcakes in the freezer, but do not frost them before you freeze. For best results, make the frosting right before you're ready to serve the cupcakes. Then frost them and enjoy! They will last up to two months in the freezer.
Making Homemade Frosting Tips
When you are making these hummingbird muffins, it's crucial that the homemade frosting is prepared a certain way to have the best results possible. You should always allow the butter and cream cheese to be softened before you begin. If you don't, they will not combine evenly, and you may end up with lumps in your frosting. It's best to let the butter and cream cheese sit out for two to three hours before you begin baking. If you're unable to do that, then you can microwave them for 30 seconds or so or until they're softened. It's very important that you do not allow the butter or cream cheese to melt. If you do, it will not work properly. Additionally, allow the butter and cream cheese cool for a few minutes after they've been microwaved.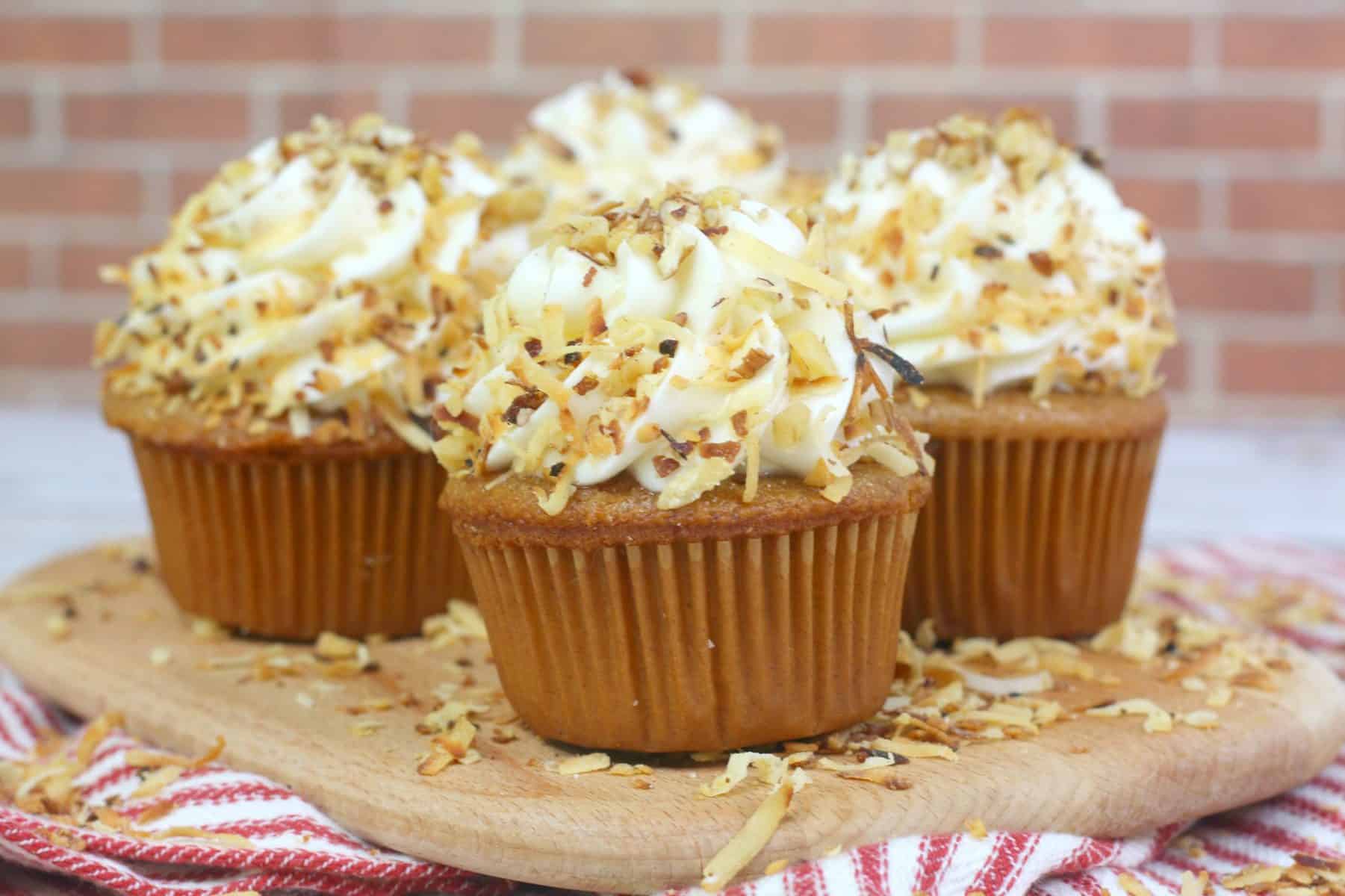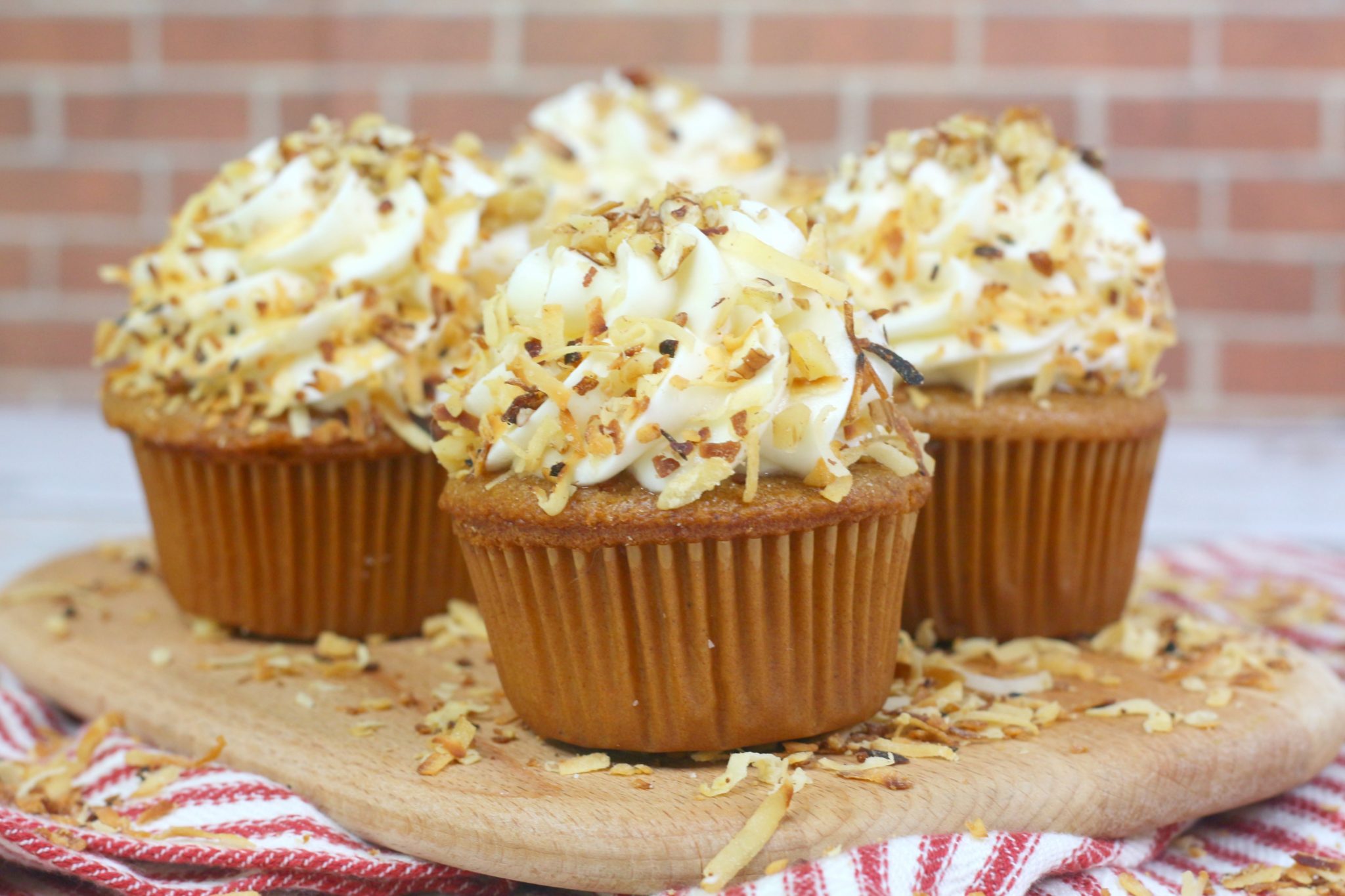 Ingredients
You find two sets of ingredients lists for this recipe. The first list is for the hummingbird cupcakes themselves. The second set of ingredients is for the homemade cinnamon cream cheese frosting. Don't worry; all of the ingredients are super simple to work with, and we'll give you the best cupcakes ever!
All-purpose flour
Baking powder
Kosher salt
Ground cinnamon
Sugar
Unsalted butter softened
Large eggs
Pure vanilla extract
Large bananas, mashed
Crushed pineapple with juices
Shredded sweetened coconut
Chopped pecans
Cinnamon Cream Cheese Frosting:
Unsalted butter softened
Cream cheese softened
Pure vanilla extract
Ground cinnamon
Powdered sugar
Toasted shredded coconut
Chopped pecans
One large piping bag fitted with a star tip
How to Make Hummingbird Cupcakes
Let's get started on the step by step process so you can make your own southern-style hummingbird cupcakes as soon as possible.
Step 1: preheat the oven to 350 degrees Fahrenheit. Then line the cupcake pan with liners and set aside for later.
Step 2: add the flour, baking powder, salt, and ground cinnamon to a large bowl and whisk thoroughly.
Step 3: beat the butter and sugar in a stand mixer for two to three minutes until it is fluffy, creamy, and well combined.
Step 4: add the eggs one at a time in the mixing bowl until combined.
Step 5: Pour in the vanilla and mix well.
Step 6: add in the flour mixture a little bit at a time until it is well combined.
Step 7: Next, you'll need to add in the mashed bananas, crushed pineapple, coconut, and the chopped nuts until combined.
Step 8: Using a large cookie scoop plays the batter into the muffin tin until each muffin is 3/4 full.
Step 9: Hummingbird muffins for 18 to 22 minutes or until they have become golden brown, and you can insert a toothpick into the center, and it comes out clean.
Step 10: Once the cupcakes are done, baking let them cool on a wire rack until they have cooled all the way down.
Cinnamon cream cheese frosting
Step 1: Now, it's time to prepare the cinnamon cream cheese frosting. Add the butter, cream cheese, vanilla, and cinnamon in a stand mixer bowl until creamy and soft.
Step 2: Beat in the powdered sugar gradually until you notice stiff peaks forming.
Step 3: Add the frosting to a Piping Bag.
Step 4: Gently begin piping the frosting on to the hummingbird cupcakes.
Step 5: Add toasted coconut and chopped pecans to the tops of the cupcakes.
Serve and enjoy!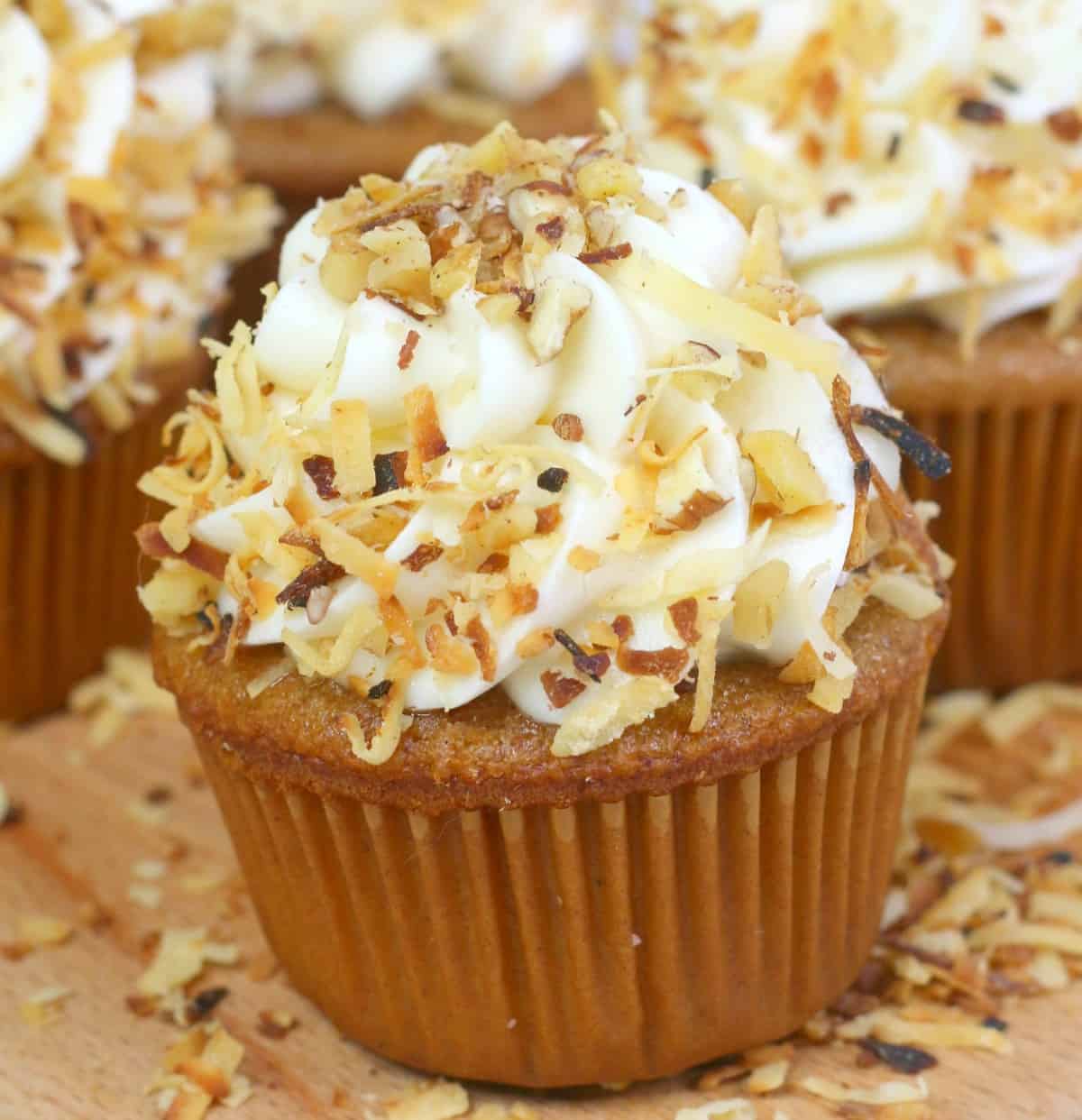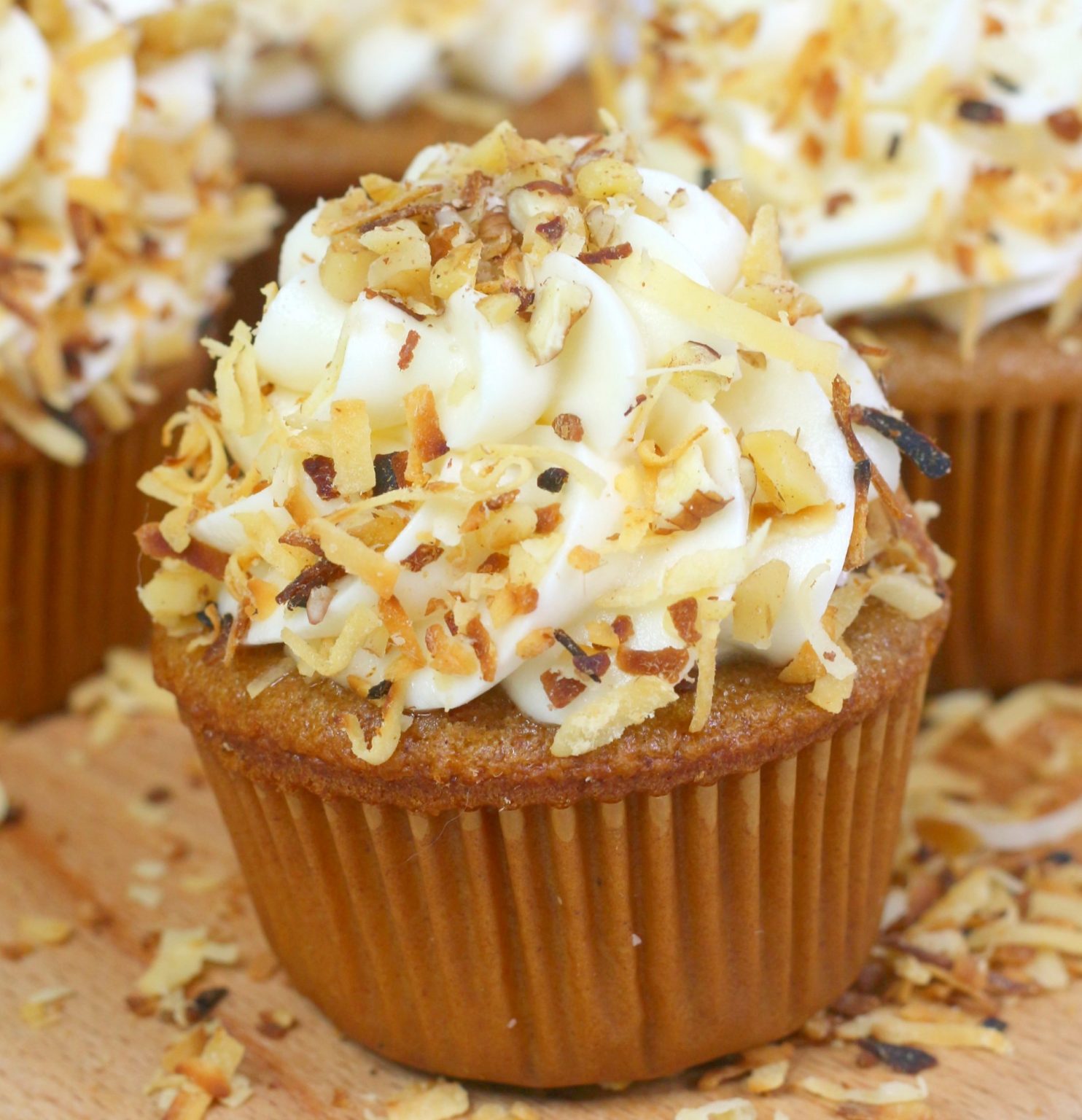 Now, remember to save this recipe on Pinterest for later 🙂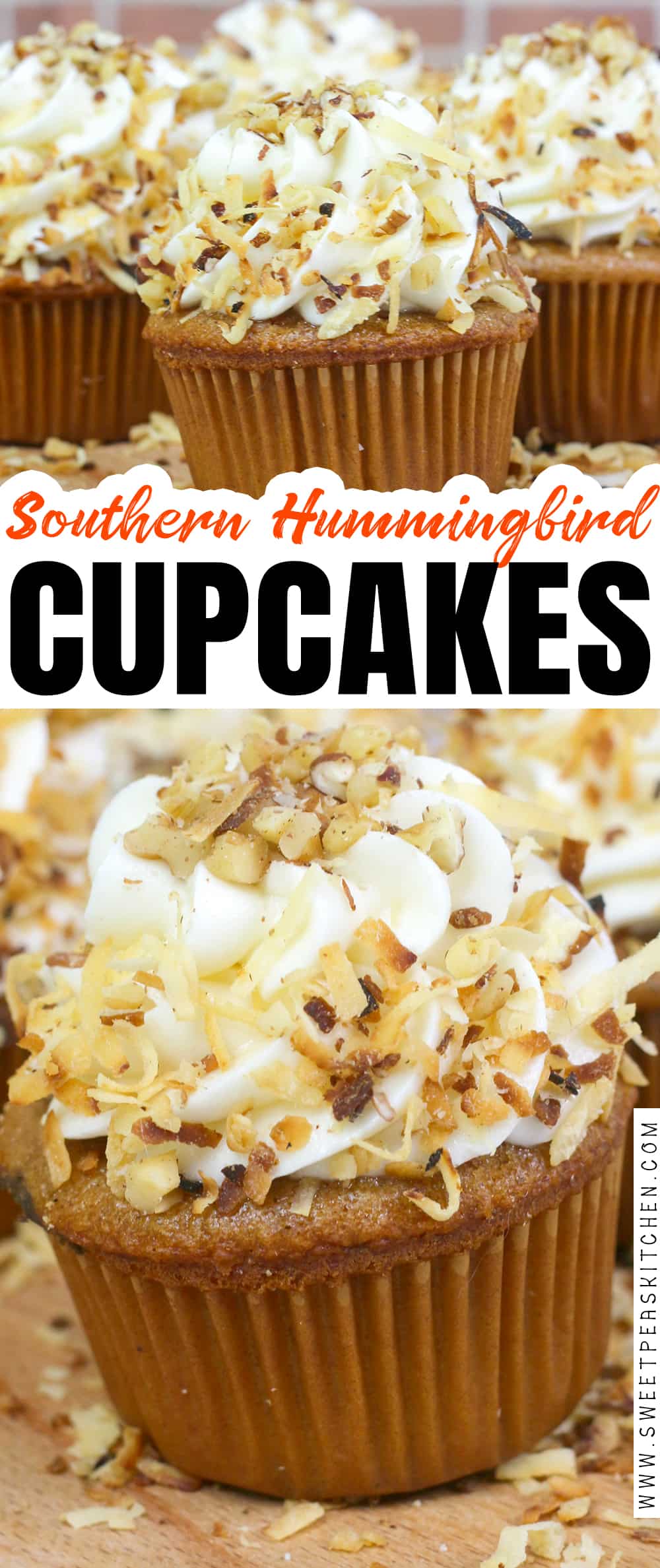 Pin this recipe now to remember it later
Southern Hummingbird Cupcakes
Southern Hummingbird Cupcakes are a hummingbird cupcake that is similar to the famous southern hummingbird cake. Give this cupcake recipe a try today.
Ingredients
1

C

unsalted butter

,

softened

1

tbsp

pure vanilla extract

1

C

crushed pineapple with juices

1

C

shredded sweetened coconut
Cinnamon Cream Cheese Frosting:
1 ½

C

unsalted butter

,

softened

1 - 8

oz

cream cheese

,

softened

1

tsp

pure vanilla extract

2

C

toasted shredded coconut

1

large piping bag fitted with a star tip
Want to save this recipe? Enter your email below and we'll send the recipe straight to your inbox!
NOTE: By saving this recipe, you agree to join our weekly recipes newsletter.
Instructions
Preheat oven to 350 degrees and line cupcake pans with paper liners, then set aside.

Using a large bowl whisk together the flour, baking powder, salt, and ground cinnamon.

Using a standing mixer, beat together the butter and sugar until combined and fluffy, this takes about 2-3 minutes.

Beat in the eggs one at a time until combined on low setting.

Beat in the vanilla until combined.

Gradually beat in the flour mixture ding a little at a time.

Fold in the mashed bananas, crushed pineapple, coconut, and chopped pecans until combined.

Scoop the cupcake batter into the liners, filling the liners ¾ full.

Bake in the oven for 18-22 minutes or until the tops of the cupcakes are a light golden brown and lightly bounce when you touch the tops of them.

Allow hummingbird cupcakes to cool on a cooling rack.
Cinnamon cream cheese frosting
Using a standing mixer, whisk together the butter, cream cheese, vanilla, cinnamon until combined. Make sure you are working with softened cream cheese and butter.

Gradually beat in the powdered sugar until stiff with peaks form.

Scoop frosting into piping bag.

Pipe frosting onto the hummingbird cupcakes.

Top the cupcakes with the chopped pecans and toasted coconut.
Follow me on Pinterest for daily delicious recipes!
If you are looking for more delicious cupcake recipes, I have got the best list for you! Take a look at these tasty treats to get inspired.
Homemade Chocolate Coconut Cupcakes – These cupcakes will wow all of your guests because they're so full of flavor and taste like they were made in a gourmet bakery.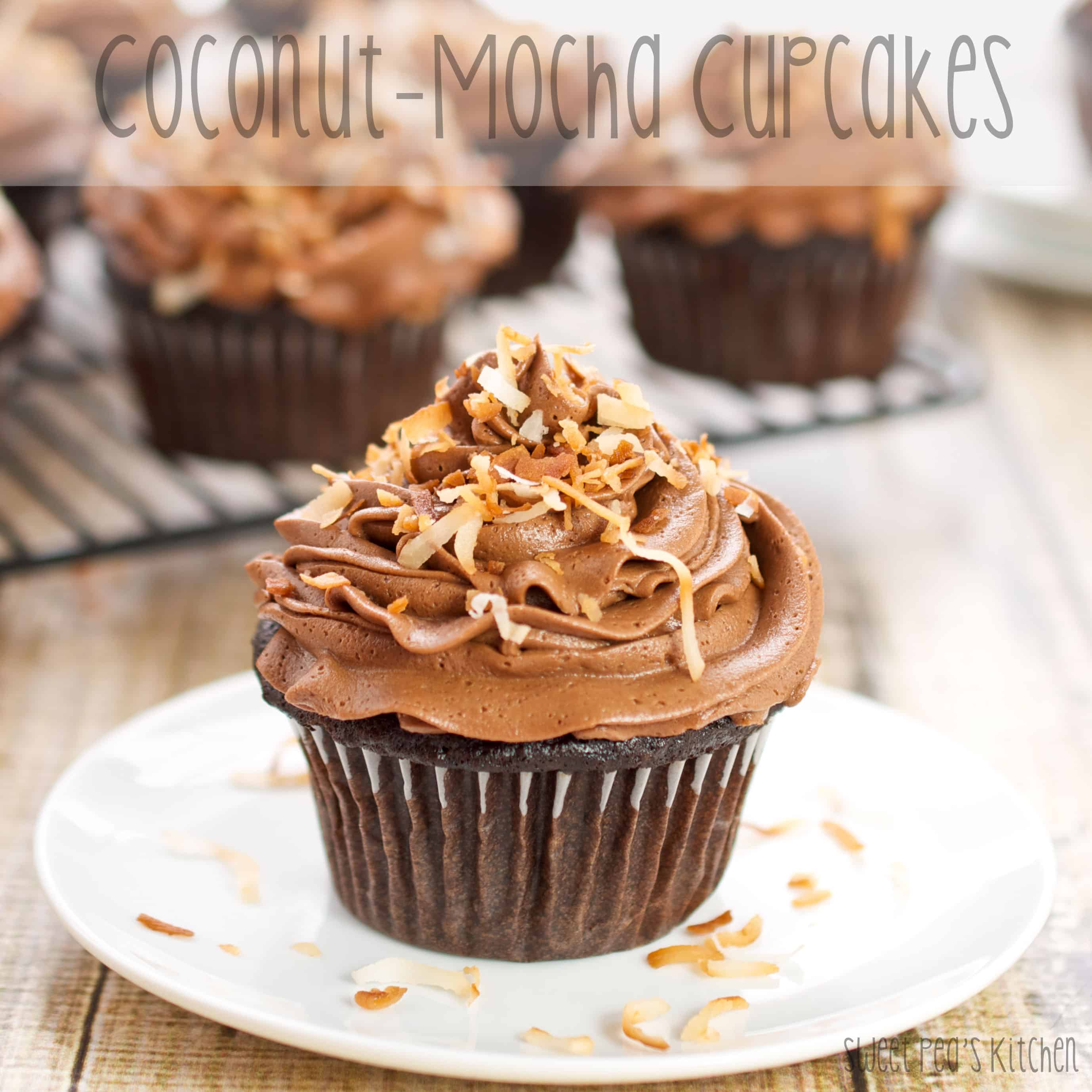 Chocolate Cherry Cake Cupcakes – If you love chocolate and cherries, you really need to try these cupcakes. The chocolate and cherries in these cupcakes are the perfect combinations for any occasion imaginable.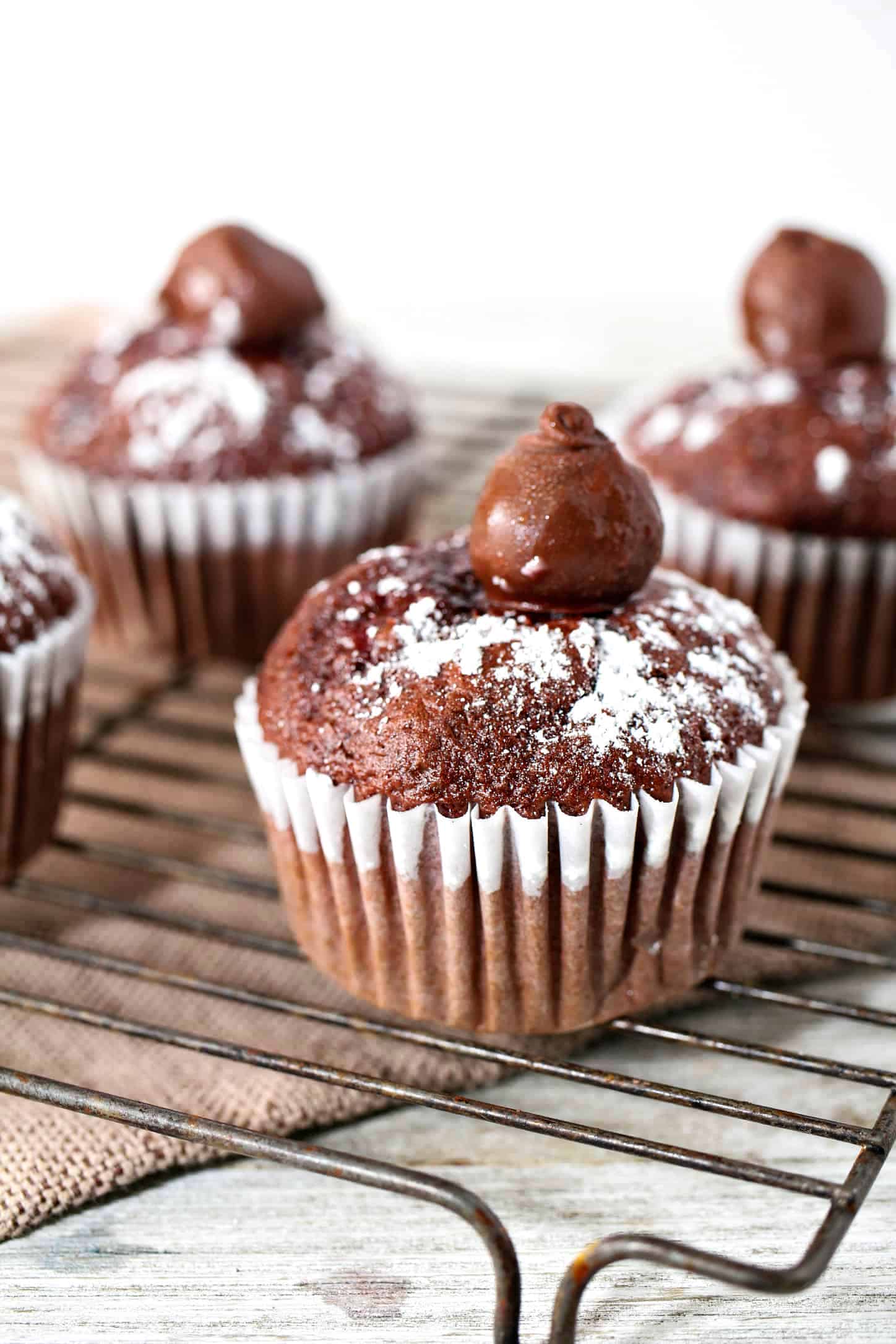 Best Ever Snickers Cupcakes – Snickers bars are my ultimate favorite candy bar. It makes sense that these cupcakes are so spectacular. Try them and see for yourself.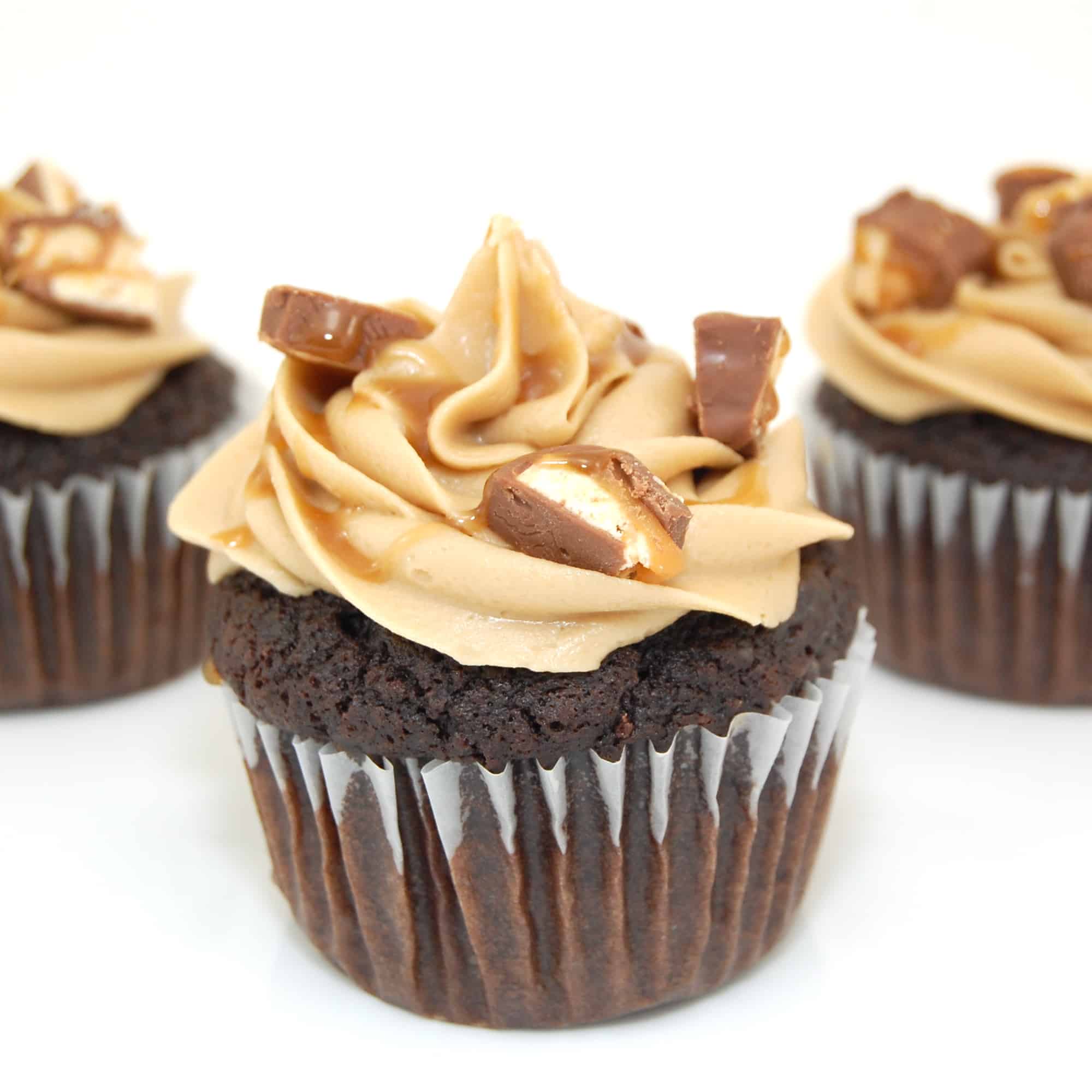 Pumpkin Caramel Latte Cupcakes – I feel like you can never have too many pumpkin recipes. Combining pumpkin and caramel is what your taste buds dream about at night.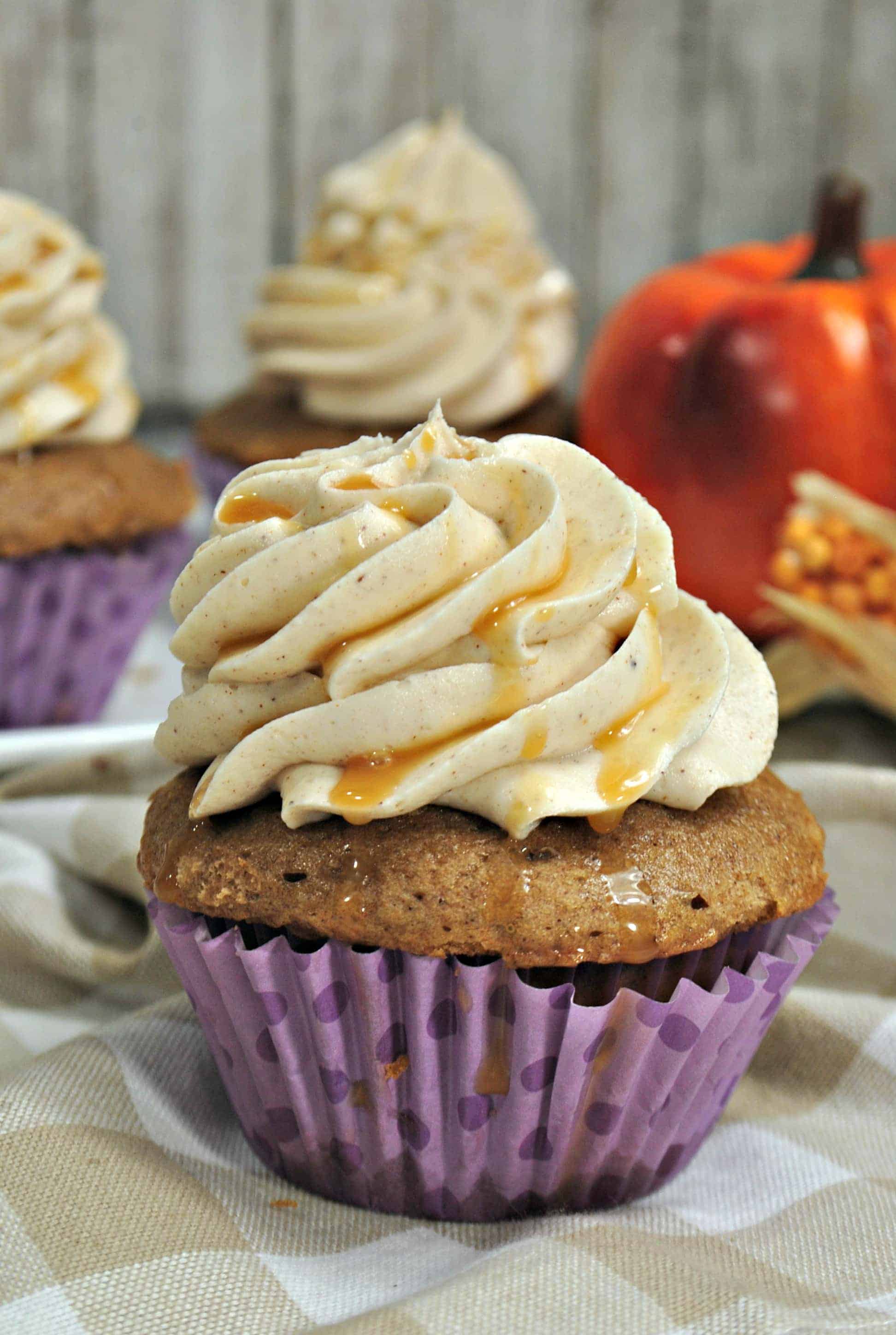 Get new recipes weekly plus our FREE ebook!