Happy St. Patrick's Day everyone!! I made some delicious Guinness and Bailey's Irish Cream Cupcakes to celebrate! Moist Guinness cupcakes bursting with a decadent Bailey's ganache and topped with creamy Bailey's buttercream frosting. If you are not a big Guinness fan, don't worry, the flavor is very subtle. The pudding-like Bailey's ganache is rich and silky smooth-a very pleasant surprise! 🙂
Today is a big day in Indianapolis. Every year they kick off St. Patrick's Day by turning the downtown canal green followed by a parade, parties, dancing and live music. People celebrate by wearing green, eating Irish food, and drinking. In fact, 13 million pints of Guinness will be consumed today! You couldn't ask for a better day either-sunny and 70 degrees! That is a heatwave here in Indy where the average high in the middle of March is only 50 degrees! So whether you are Irish or not, St. Patrick's Day is a great excuse to party. 🙂
How to make Guinness and Bailey's Irish Cream Cupcakes: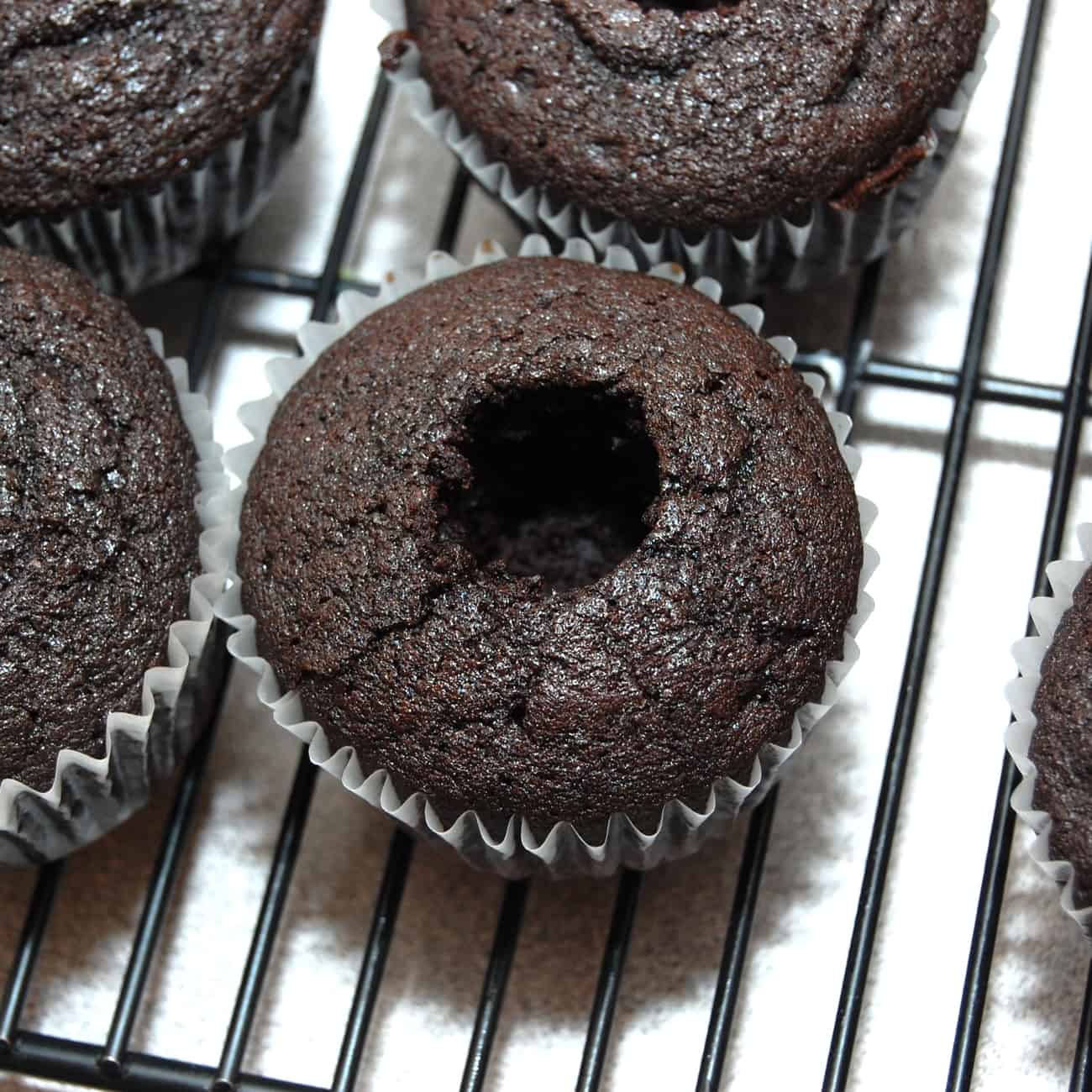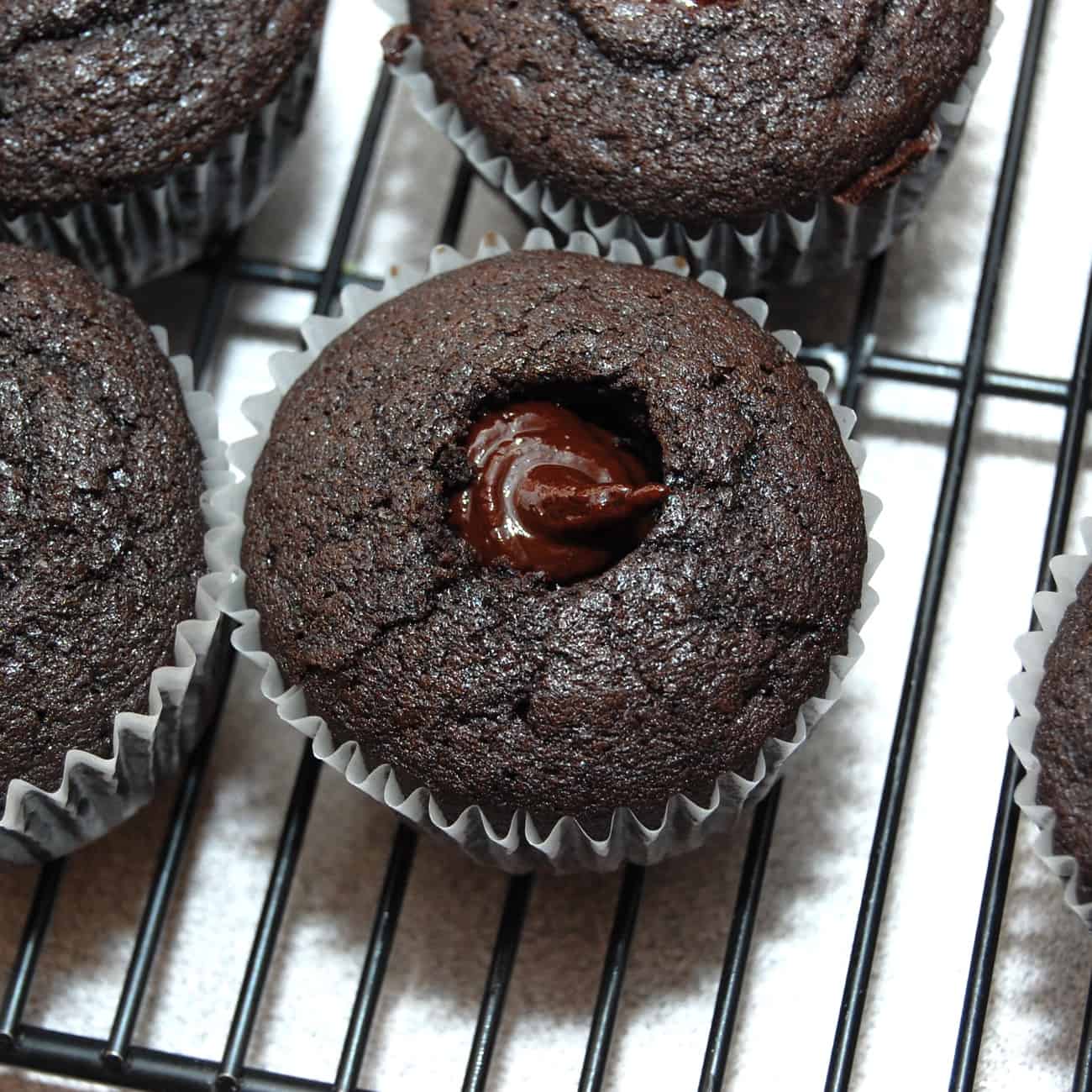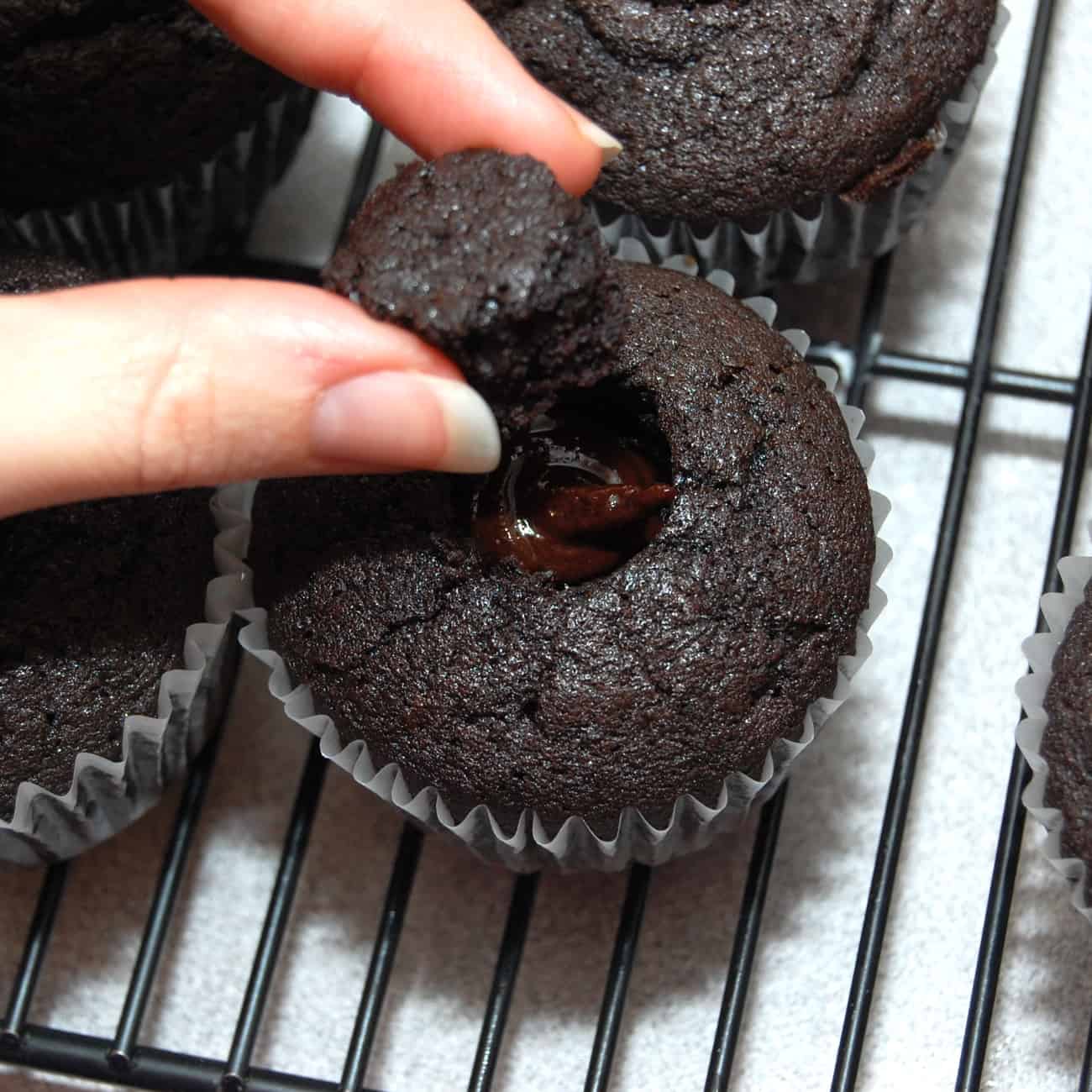 Pin this recipe now to remember it later
Guinness and Bailey's Irish Cream Cupcakes
Ingredients
1 cup Guinness 16 tablespoons (2 sticks) unsalted butter 3/4 cup unsweetened cocoa 2 cups flour 2 cups sugar 1 1/2 teaspoons baking soda 3/4 tsp. salt 2 large eggs 2/3 cup sour cream For the Ganache Filling: 8 oz. bittersweet chocolate, finely chopped 2/3 cup heavy cream 2 tablespoon butter, room temperature 2 teaspoon Bailey's Irish cream For the Bailey's Buttercream Frosting: 8 tablespoons (1 stick) unsalted butter, room temperature 3-4 cups powdered sugar, sifted 4-8 tablespoons Bailey's Irish cream
16

tablespoons

2 sticks unsalted butter

3/4

cup

unsweetened cocoa

1 1/2

teaspoons

baking soda
8

oz.

bittersweet chocolate

,

finely chopped

2

tablespoon

butter

,

room temperature

2

teaspoon

Bailey's Irish cream
8

tablespoons

1 stick unsalted butter, room temperature

3-4

cups

powdered sugar

,

sifted

4-8

tablespoons

Bailey's Irish cream
Want to save this recipe? Enter your email below and we'll send the recipe straight to your inbox!
NOTE: By saving this recipe, you agree to join our weekly recipes newsletter.
Instructions
Preheat oven to 350 degrees. Line muffin pan with paper liners.

In a medium saucepan over medium heat, combine Guinness and butter. Add the cocoa; whisk until smooth. Remove from heat and allow to cool slightly.

In a large mixing bow, whisk together the flour, sugar, baking soda and salt; set aside.


In the bowl of a stand mixer fitted with the paddle attachment, beat together the eggs and sour cream until combined.

Add Guinness mixture and beat to combine. Mix in dry ingredients on low speed until incorporated.

Fill the cupcake papers about 2/3 full, making sure that the batter is divided evenly. Bake until an inserted toothpick comes out clean, about 15-17 minutes. Cool completely on wire rack.

To make the ganache filling, place chocolate in heatproof bowl; set aside.


In a medium saucepan over medium heat, heat cream until simmering. Pour over chocolate, let sit for 1 minute, then stir until smooth.

Add butter and Bailey's; stir until smooth and combined. Set aside until cool and thick enough to be piped. stirring occasionally.

Once cupcakes have cooled, use a paring knife or apple corer to cut out a small circle in the center of each cupcake. Remove the core and trim leaving the core just big enough to be used to plug the hole once it is filled.

Transfer ganache filling to a decorating bag fitted with a small round tip (about ¼ inch). Pipe the filling into each hollowed cupcake.

Once the filling is in place, place the trimmed core of the cupcake back into place.

To make the frosting, in the bowl of a stand mixer fitted with the paddle attachment, beat butter on medium high until light and fluffy.

Add powdered sugar and beat until incorporated. Add Bailey's a few tablespoons at a time until you reach your desired consistency.

Transfer frosting into a large decorators decorating bag fitted with the

1M decorating tip

and approximately 1/4″ above cupcake top at a 90° angle to cupcake surface, pipe a spiral of icing, beginning at the outer edge and working inward.
Follow me on Pinterest for daily delicious recipes!
Source: Une-deux Senses
Get new recipes weekly plus our FREE ebook!