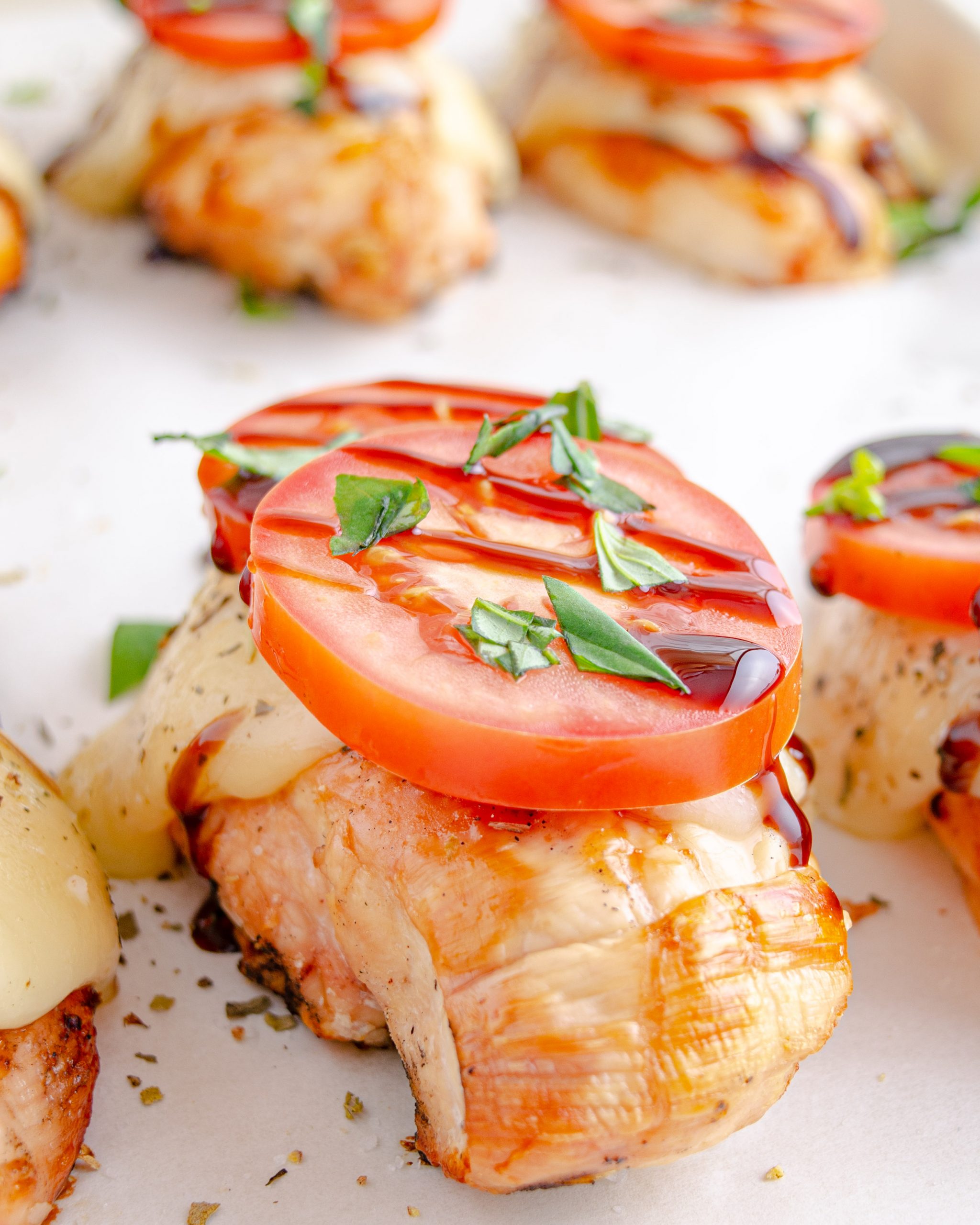 Chicken Caprese – 30 Minutes or Less Meal is a surprisingly simple meal that's perfect for any night of the week. And, if you serve it to guests, everyone will be so impressed by the flavor they'll never realize how easy it was to make! Caprese chicken is a home run recipe.
Since starting this blog, I've really been working on coming up with some excellent 30-minute meals. Meals that can actually be ready and on the table in 30 minutes, not the ones that have just 30 minutes of prep time but take two hours to cook. With this chicken Caprese recipe, I've found a real star. This Caprese chicken recipe is a 30-minute recipe I not only want to make for myself but share with guests. Why? Because baked chicken Caprese is lip-smacking good!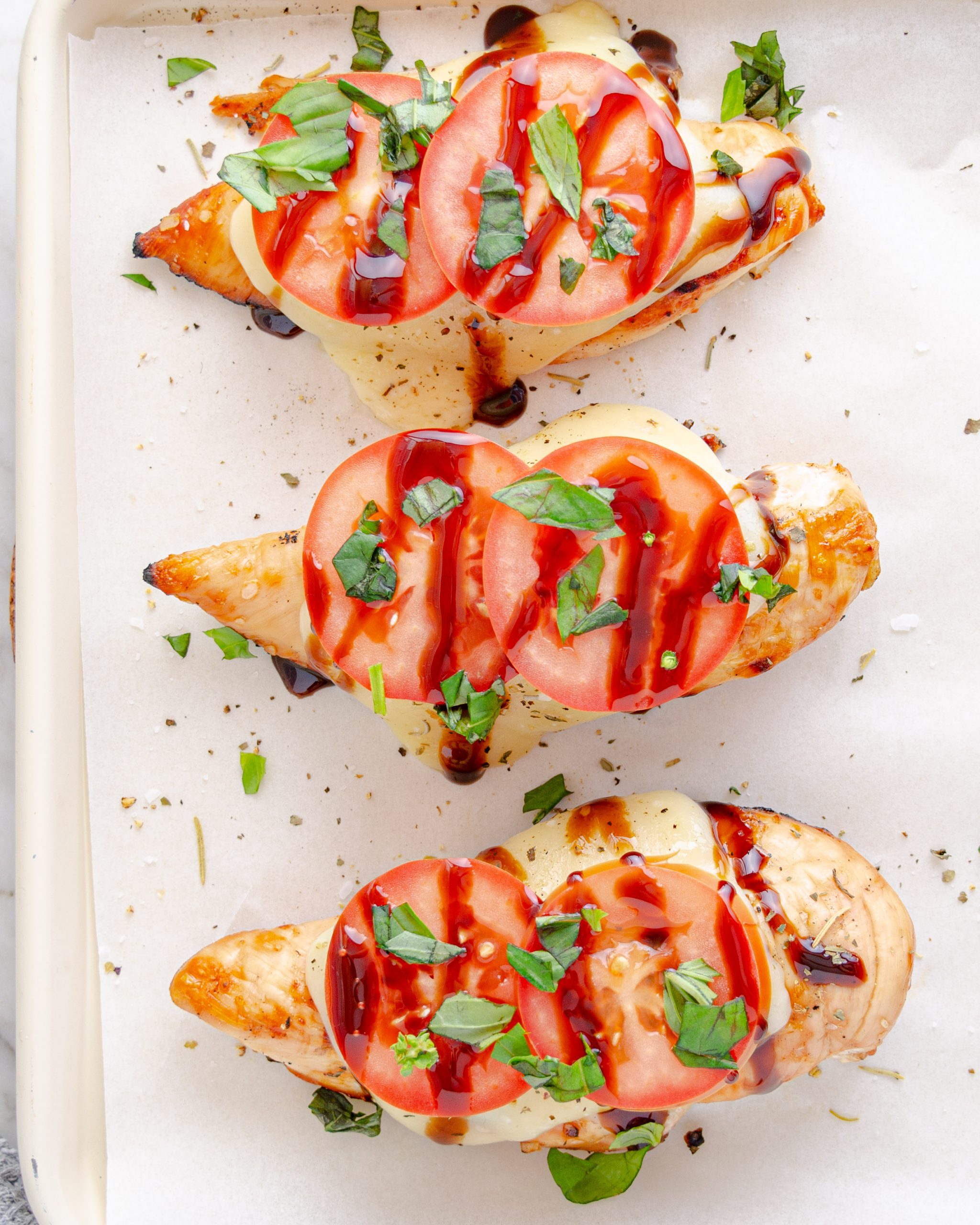 Caprese is a simple concept. Mozzarella. Tomato. Herbs. It's a flavor combo that's refreshing and works in so many different ways. I've been at parties where they've served just those ingredients on a stick as an appetizer and Caprese bagels are becoming popular at cafes and delis.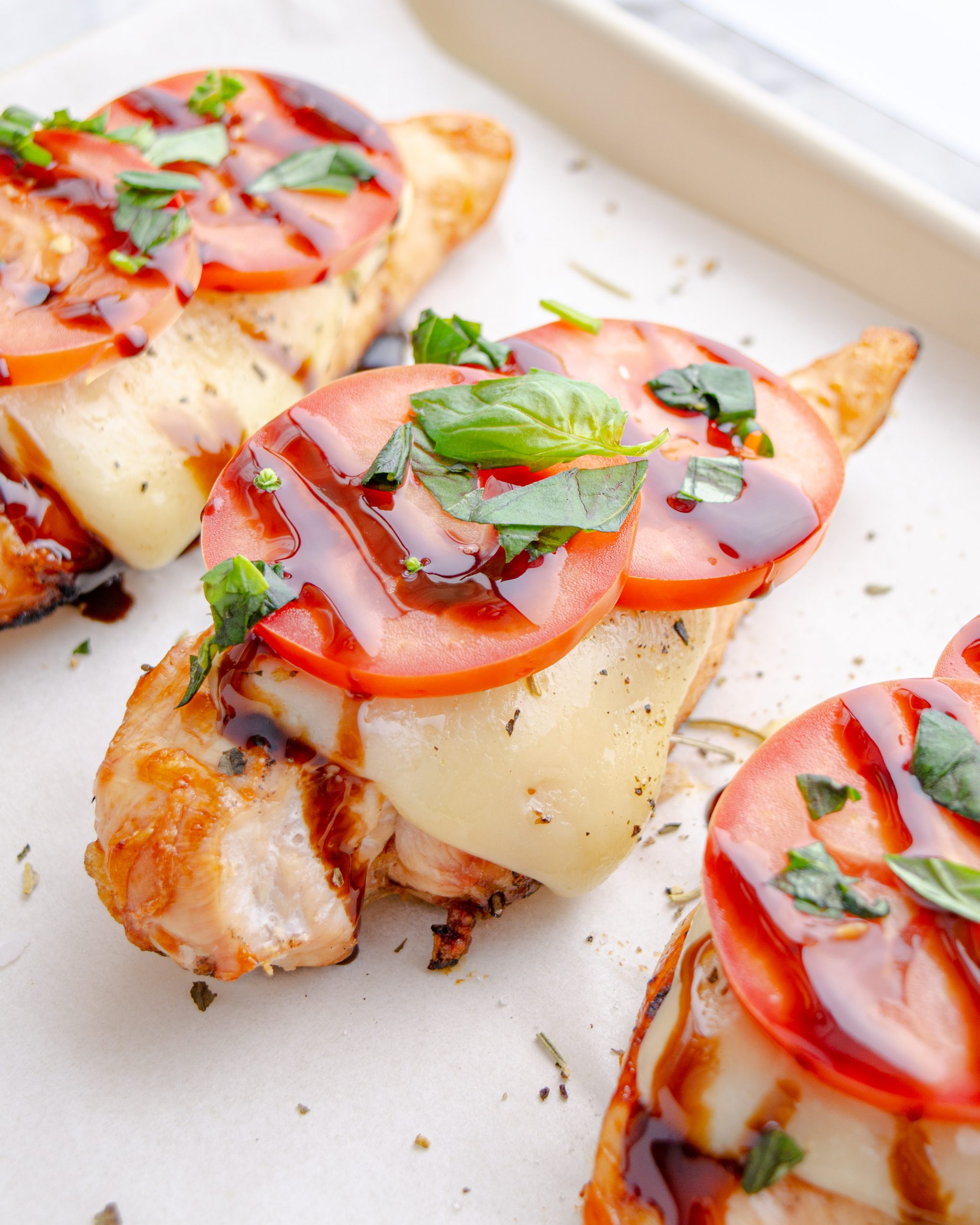 Not to mention the fact that this is an elegant and classy meal that will put a smile on everyone's face. Just a warning, everyone is going to be begging you for the recipe too!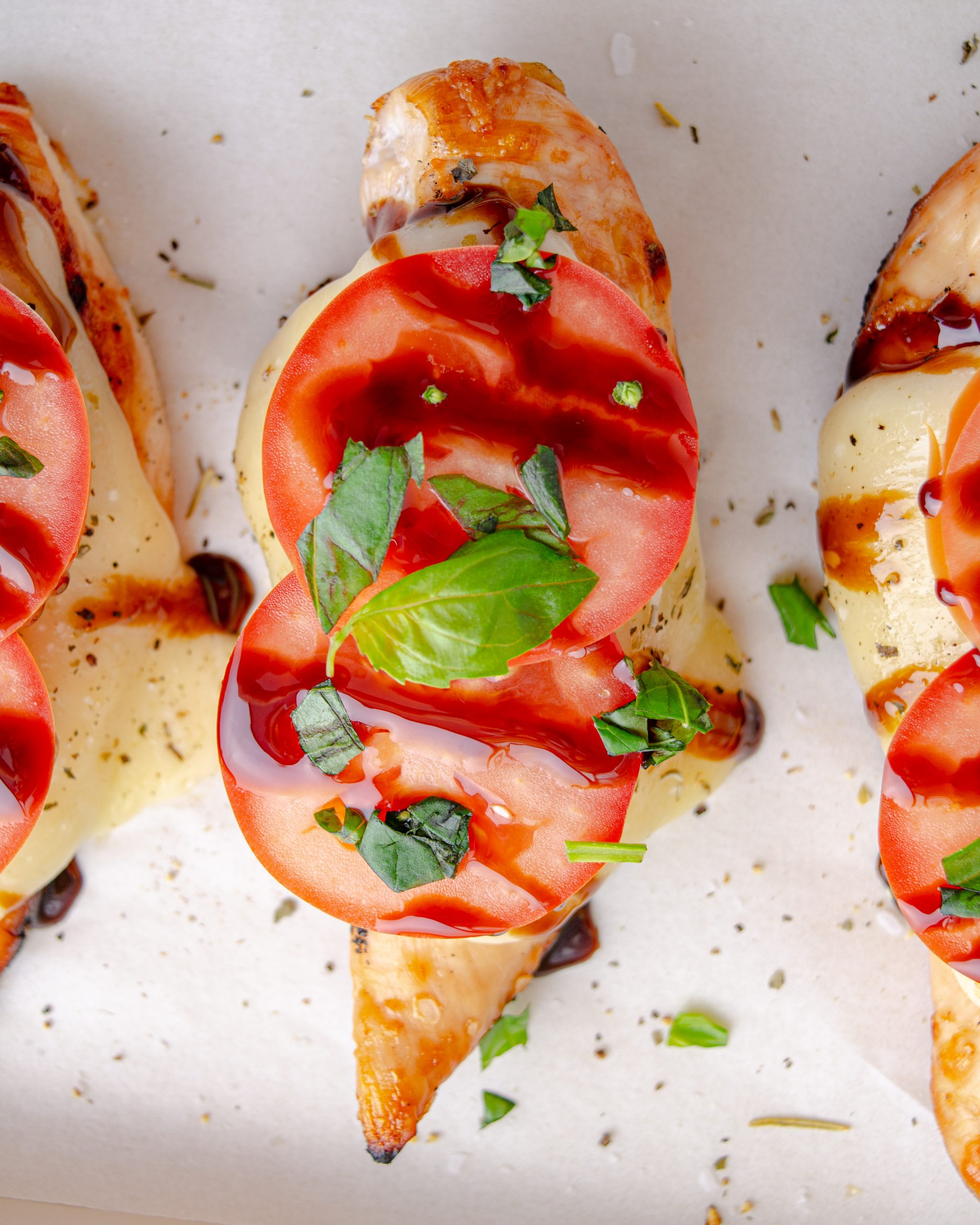 Scroll to bottom for printable recipe card.
Chicken Caprese
To make that flavorful but straightforward combo into a meal, it only felt natural to serve it atop chicken breast. The end result was a cheesy, flavorful dinner ready in just under 30 minutes. And even though it's topped with mozzarella, baked chicken caprese is still a light meal, especially using grilled chicken breasts.
Since there are so few ingredients in this caprese chicken – 30 Minutes or Less Meal, it's essential that the ones you use are high quality. It has grilled chicken breasts over breaded or plain frozen breasts. Fresh mozzarella, never ever the processed kind – you WILL be able to tell the difference, and it won't be a good one! A big, juicy tomato. When working with so few ingredients, it's just important that each one is of the best quality possible because that will give you the best flavor possible.
If you're looking for a quick, healthy 30-minute dinner, then this balsamic glazed caprese chicken is the dinner for you! You'll be adding it to your dinner recipe rotation for sure!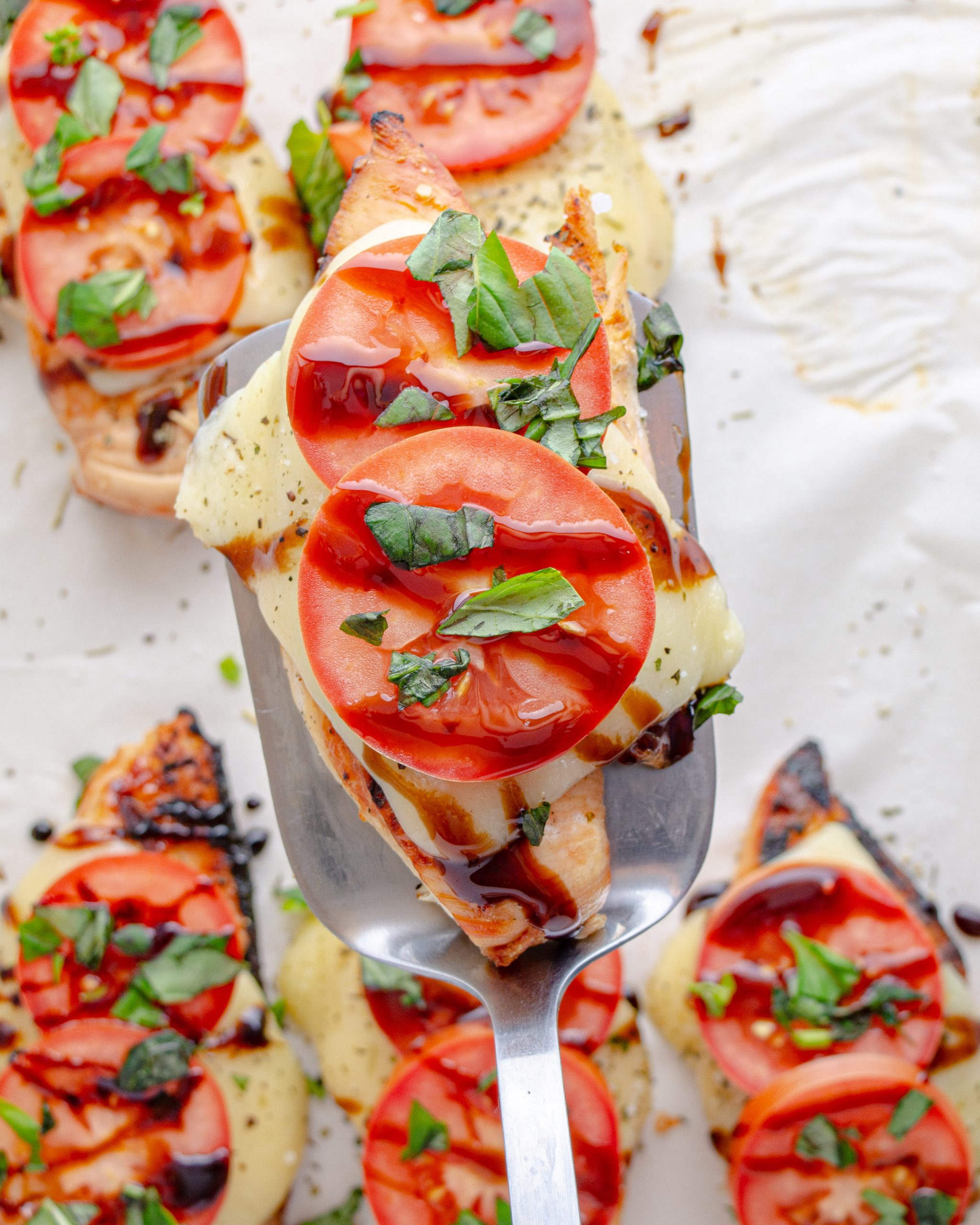 What Is Chicken Caprese?
Traditionally Caprese chicken is an Italian-inspired dish that uses thick, juicy grilled chicken breasts, fresh mozzarella cheese, oven-roasted tomatoes, and tangy balsamic vinegar. There are different versions out there, but no matter how you make grilled chicken Caprese it's going to be full of flavor and makes an excellent meal.
Oven-baked chicken Caprese is fancy enough to serve at dinner parties, and it's been a staple at weddings for years. If you are looking for a classy meal for an event, grilled Caprese chicken is sure to be a hit.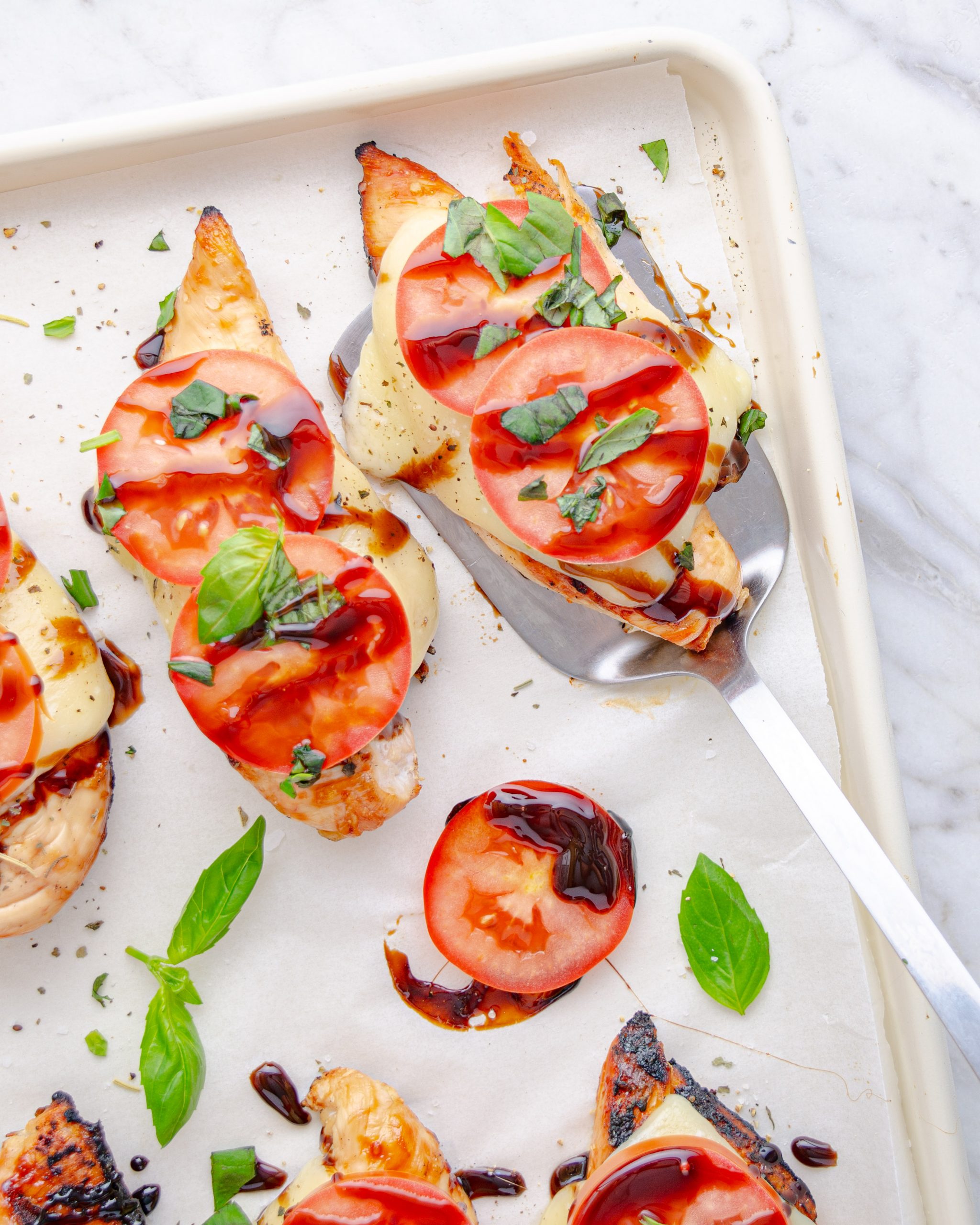 Is Caprese Chicken Healthy?
Yes, Caprese chicken is healthy! You will get lots of yummy nutrients, and you can feel good about serving grilled chicken Caprese to your family and friends. Here is a breakdown of some of the nutrients, vitamins, and minerals you get.
Grilled chicken – When you eat chicken breast, you get loads of protein. You also get vitamin B6, phosphorus, selenium, and vitamin B12.
Tomatoes – There are so many wonderful qualities that tomatoes provide like lycopene, folate, potassium, vitamin K, and vitamin C. So eat up!
Fresh Mozzarella Cheese – You don't always think of cheese when it comes to healthy food, but you might be surprised to know that it has protein, calcium, zinc, vitamin A, phosphorus, and vitamin B12.
Balsamic Vinegar – Has calcium, manganese, iron, potassium, and phosphorus in this yummy vinegar!
Chicken Caprese Ingredients
Cooked Frozen Grilled Chicken Breasts
Fresh Mozzarella cheese
Large tomatoes
Herbs de Provence
Fresh chopped basil
Balsamic vinegar
Brown sugar
Salt and pepper to taste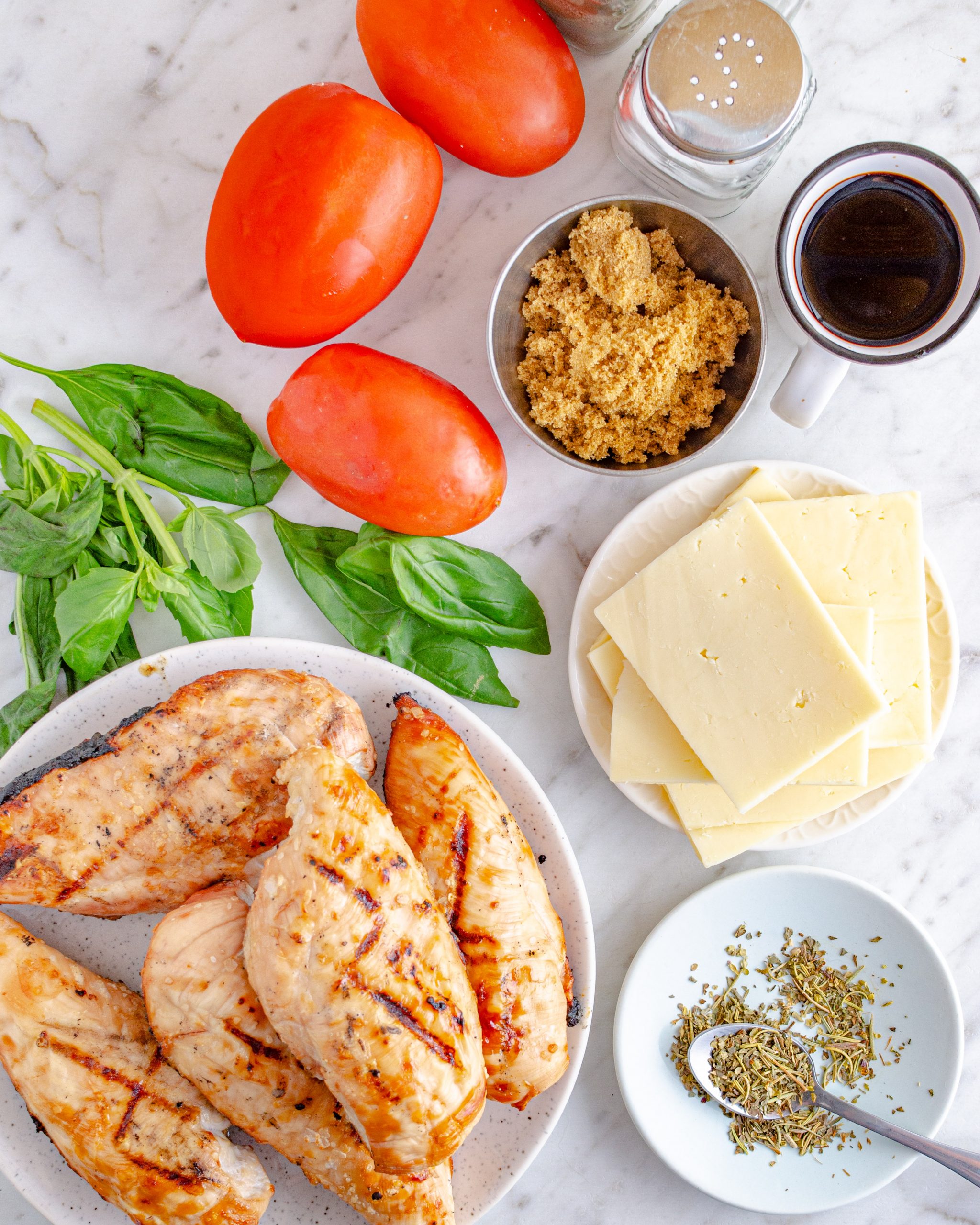 How To Make This Caprese Chicken Recipe
First Step: Begin by baking your grilled chicken breasts in the oven, which will take around 15 minutes.
NOTE: If the chicken breasts are pretty thick, you can thin them out with a meat mallet. To keep it from making a mess, place the chicken in a plastic bag or between some plastic wrap. Then bake it as directed.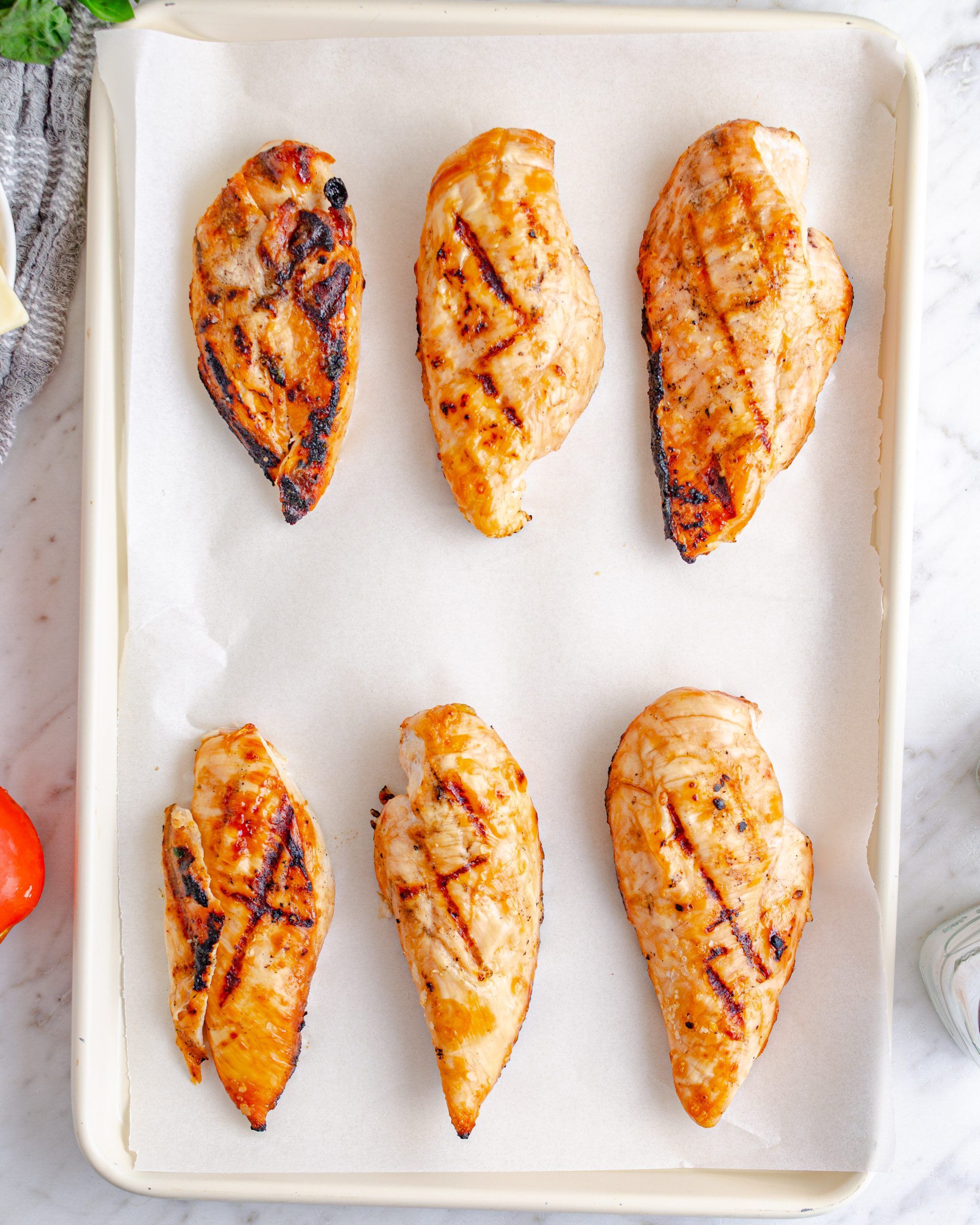 Second Step: While the chicken breasts are baking, make the sauce that will be drizzled over the chicken Caprese before serving.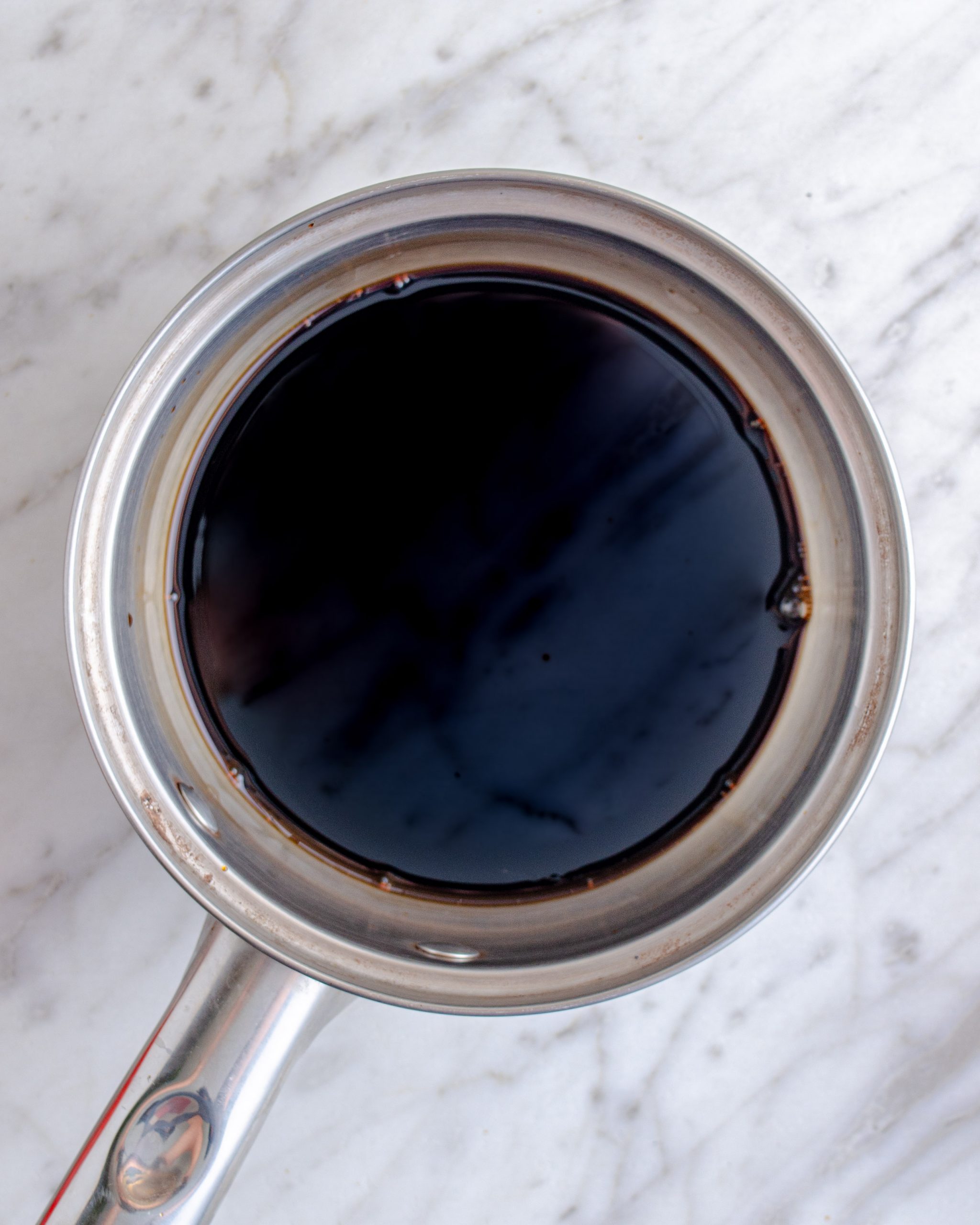 Third Step: Whisk together balsamic vinegar and brown sugar in a saucepan. Then boil and simmer for 10 minutes.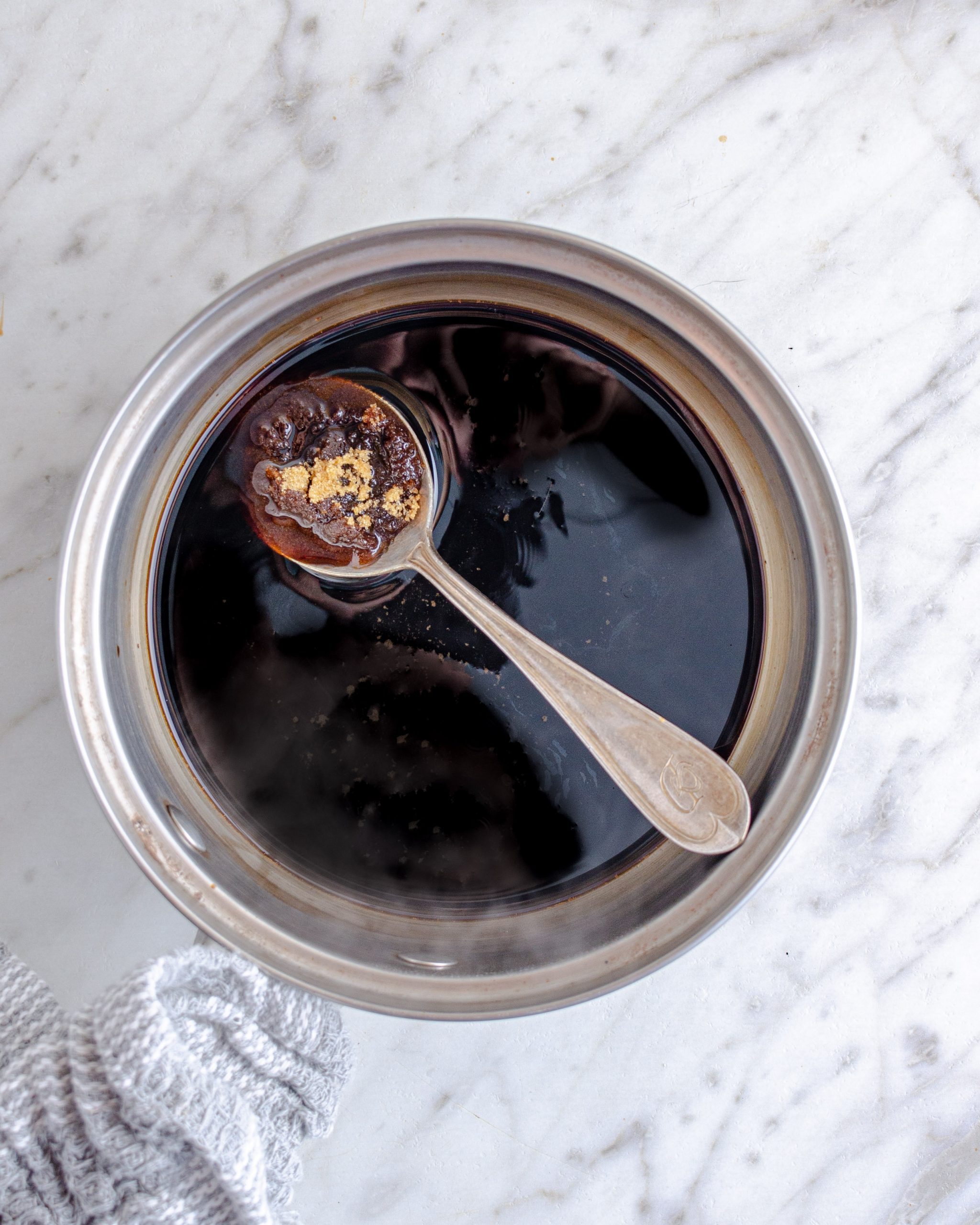 Fourth Step: Thickly slice tomatoes and fresh mozzarella cheese.
Fifth Step: Place a piece of fresh creamy mozzarella on top of each grilled chicken breast.
Sixth Step: Top chicken breasts with salt, pepper, and Herbs de Province.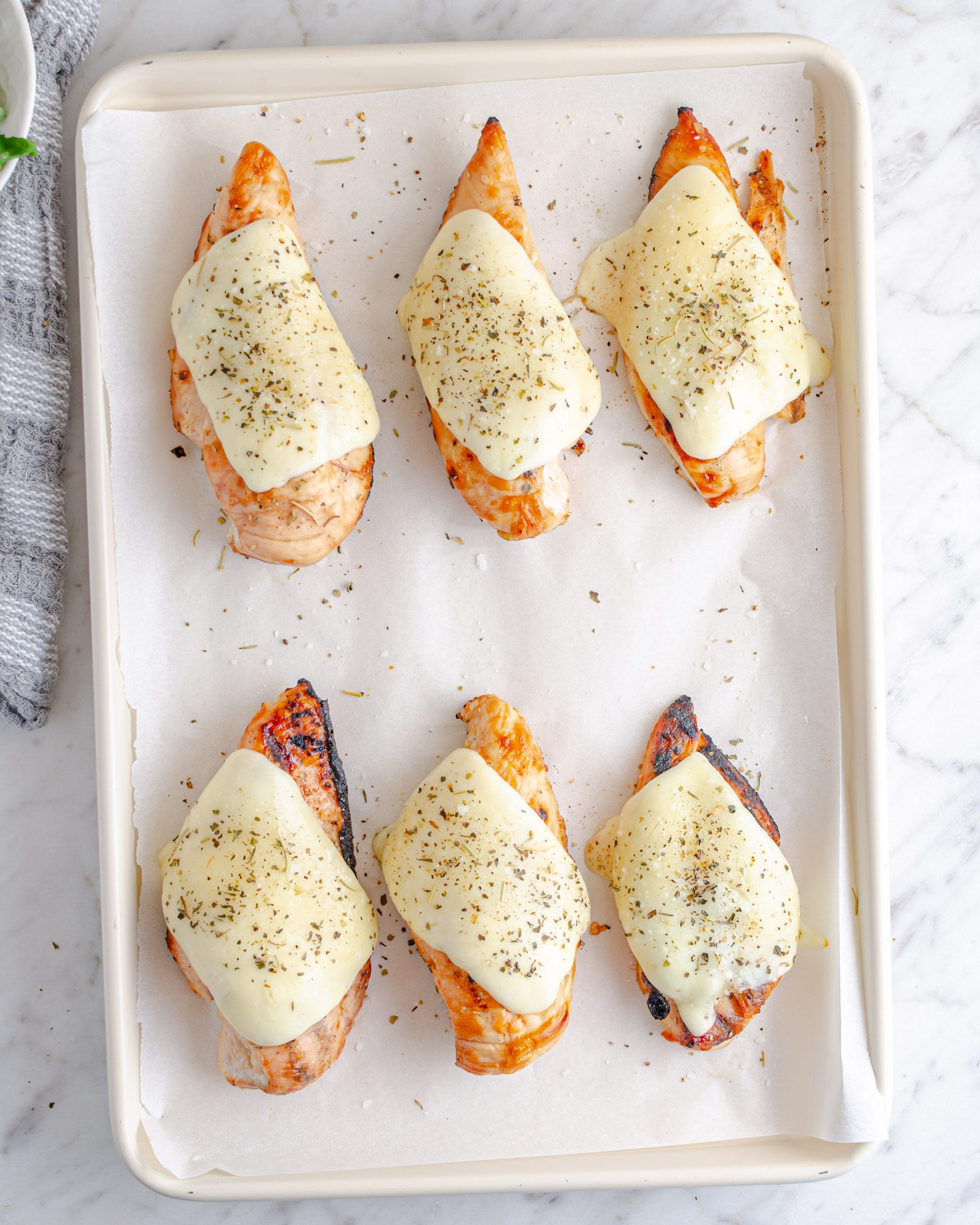 Seventh Step: Return to oven until cheese is melted.
Eighth Step: Top each chicken breast with a thick slice of tomato.
Ninth Step: Top with fresh herbs and drizzle with balsamic dressing.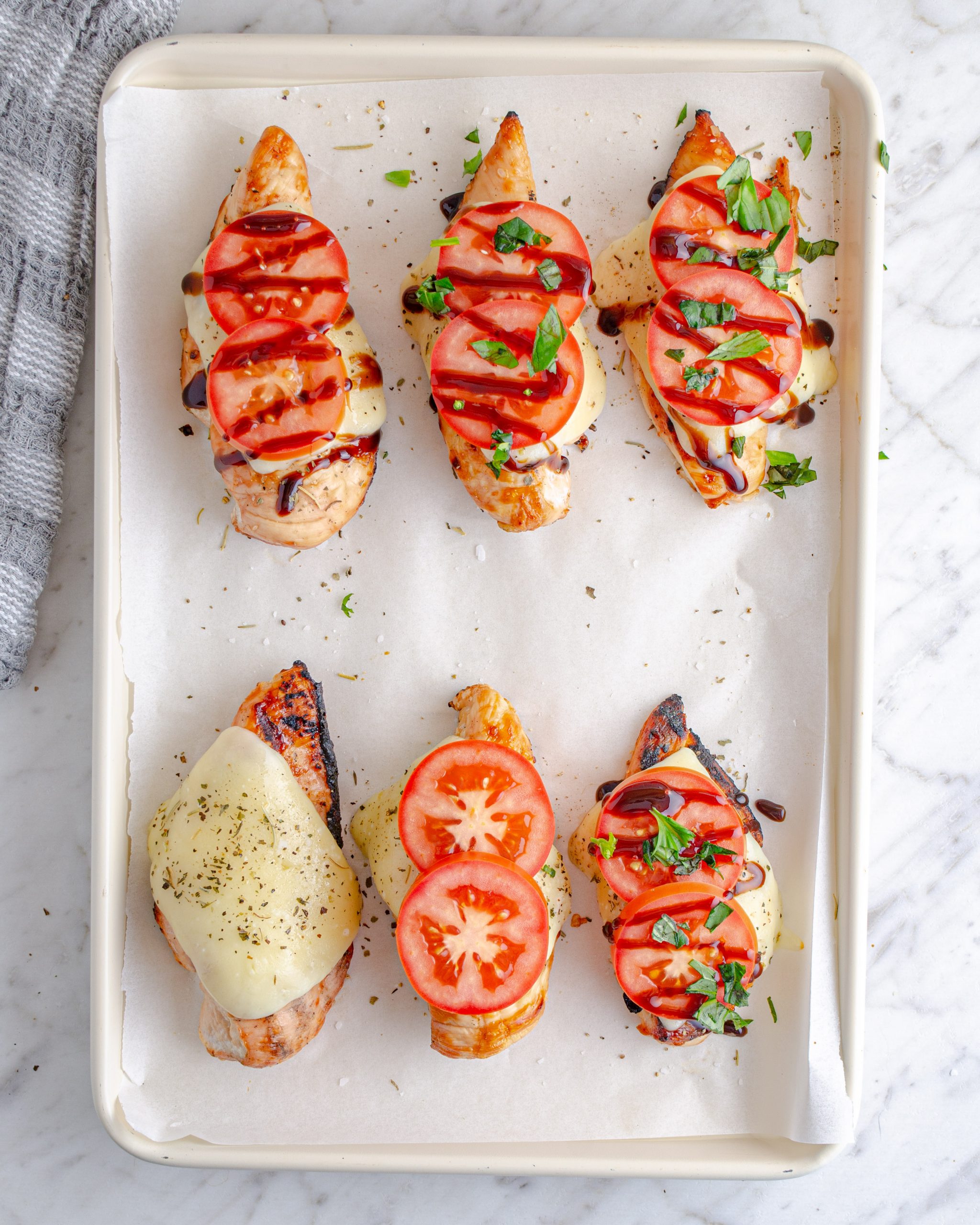 Baked Chicken Caprese Variations
There are so many versions of this Caprese chicken recipe, so I wanted to give you a few ideas you can try. Here are some yummy ideas to try:
Oregano – Sprinkle the baked Caprese chicken with oregano. Yum!
Slit the Chicken – Instead of topping the chicken with the ingredients, place a large slit in the middle and fill it with the tomato, herbs, seasonings, and mozzarella. Close with a toothpick and bake as directed. Then drizzle the balsamic sauce on top.
Sun-Dried Tomatoes – If you don't have fresh tomatoes that are in season or you simply want to try some new flavors, give sun-dried tomatoes a try.
Pesto – Pour some pesto on top of the easy Caprese chicken. It adds a fantastic flavor and gives a lovely presentation.
Spinach – Add some spinach leaves to the top of the chicken. I love the flavor of the warmed spinach with mozzarella and tomatoes. Drool-worthy!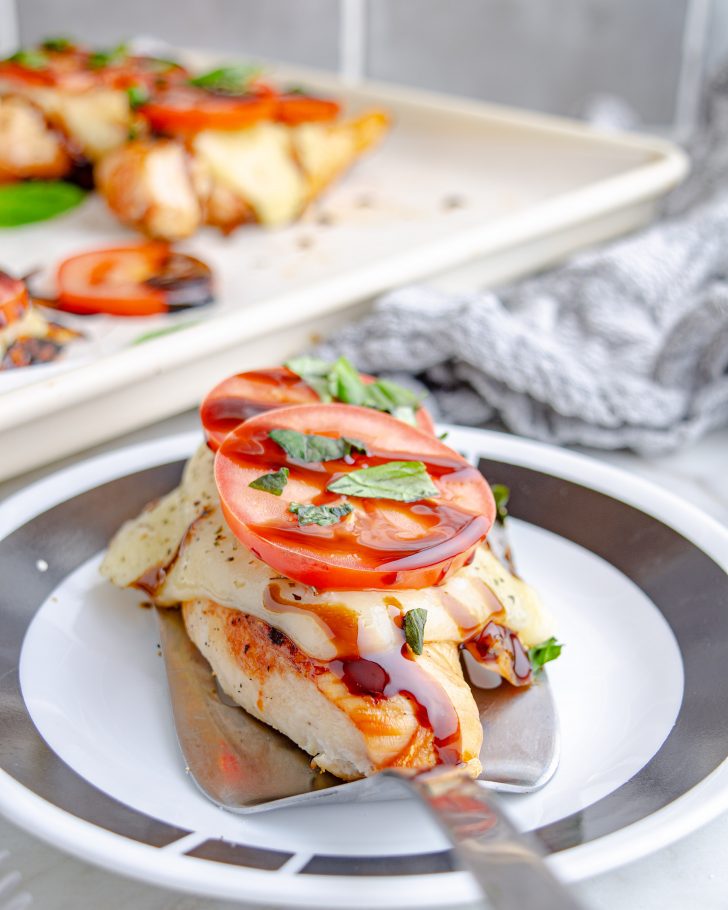 How Do You Know When Chicken Is Done?
If you are just starting out in the kitchen and aren't sure when chicken is cooked all the way, don't worry, you aren't alone! Chicken is a meat that is beyond amazing when it's cooked correctly, but when it's overcooked, then it becomes dry and loses flavor. Look over the chicken and see if the meat is white. You shouldn't notice any visible blood or pink areas. Sometimes the chicken can have a light pink tint and still be cooked all the way.
Check the internal temperature with a meat thermometer. It should read 165 degrees F. Sometimes; I will remove it at 160 degrees F. and let it rest because it will continue heating up as it rests.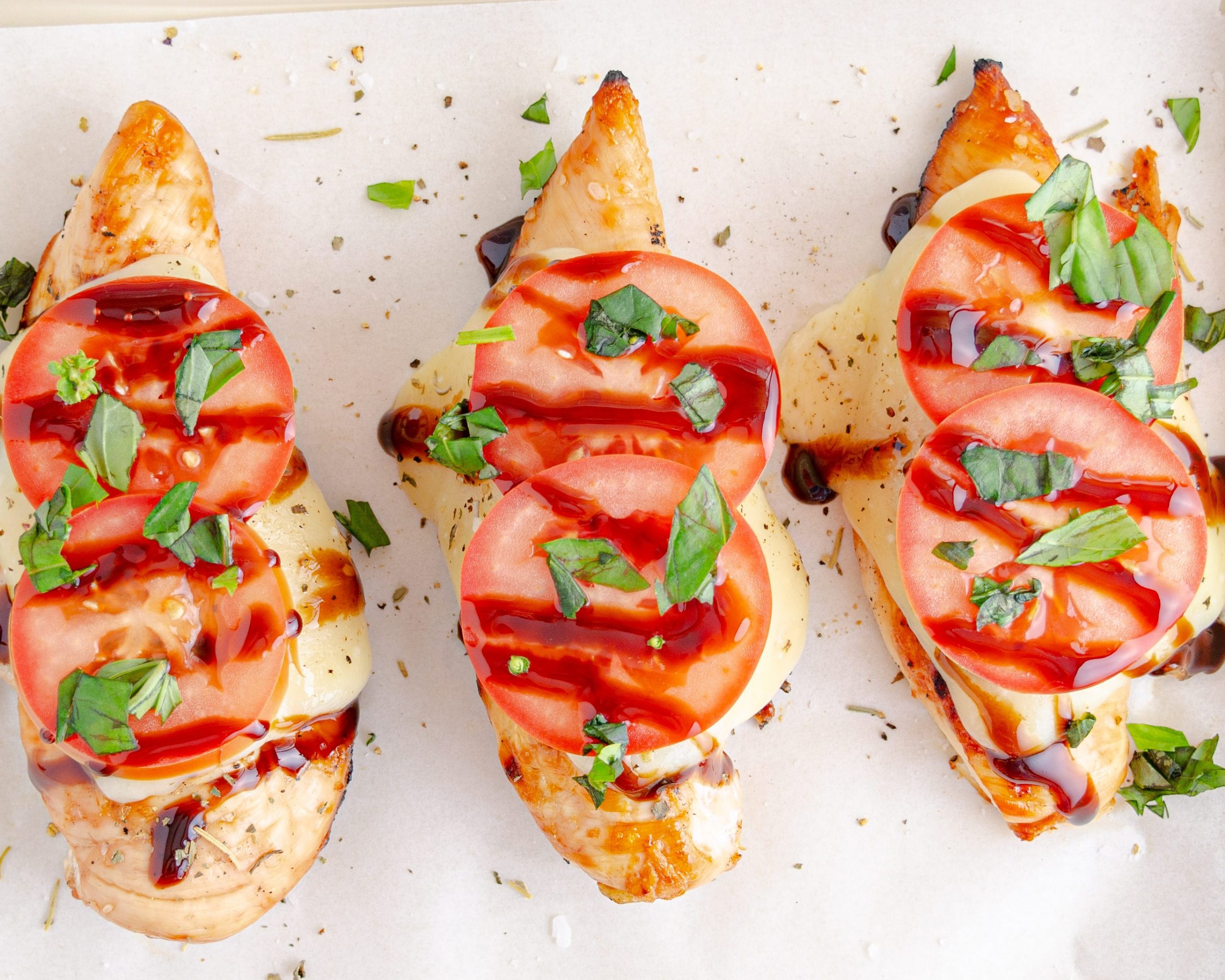 What To Serve With Caprese Chicken
This chicken Caprese recipe is a classy meal that looks fancy and can be served on its own, but I like to make a few things to go with it. Here are some tasty ideas to complete your dinner table.
Salad – Serve the baked chicken Caprese with a big garden salad. I love to use arugula, tomatoes, and mozzarella and sprinkle with a little bit of balsamic vinegar.
Rice – Make a nice-sized bed of fluffy white rice and place the Caprese chicken on top. So delicious!
Potatoes – Whether you want roasted, mashed, or baked potatoes, they all go perfectly with Caprese chicken.
Pasta – Cook your favorite pasta as directed and add it to your homemade chicken Caprese.
Dinner Rolls – Yummy some freshly baked dinner rolls with melted butter paired with chicken Caprese is out of this world.
Fruit – The sweetness of the balsamic vinegar sauce and fresh fruit is an amazing combination. Try my tomato and watermelon salad because it enhances the flavors even more.
Can I Make This Chicken Caprese Recipe On The Stovetop?
Yes, you can make this chicken Caprese recipe on the stovetop. Instead of baking it in the oven, you will cook the chicken in a cast ironed skillet with a little bit of olive oil. Then add in the balsamic vinegar, brown sugar, herbs, salt, and pepper. Once the sauce is thickened, add place slices of tomatoes and mozzarella on top of the chicken. Cover with a lid for a few minutes until the cheese is melty and gooey.
Another option is to use cherry or grape tomatoes and toss them in the sauce while they are cooking too. They taste amazing when they cook in the balsamic reduction. Seriously so delicious!
How Do You Store Baked Chicken Caprese?
Store leftover balsamic chicken caprese in the refrigerator. Place it in a glass or plastic storage container. Make sure it's airtight, and it will last 3-4 days in the fridge. It makes a nice lunch that you can quickly grab or it's ideal for leftover night.
Store the grilled chicken caprese in the freezer if you can't eat it within 3-4 days. You can store it in a freezer bag, plastic container, or glass container depending on what you have on hand. It will last 1-2 months in the freezer.
If you like to make meals ahead for meal planning, add this balsamic caprise chicken to your go-to list. You can reheat it in the microwave or bake it at 350 degrees F for 10-15 minutes until it is warm.
You will know the balsamic glazed Caprese chicken has gone bad if it has a weird odor, mold, or it's overly dried out. Once it's no longer suitable, then throw it out.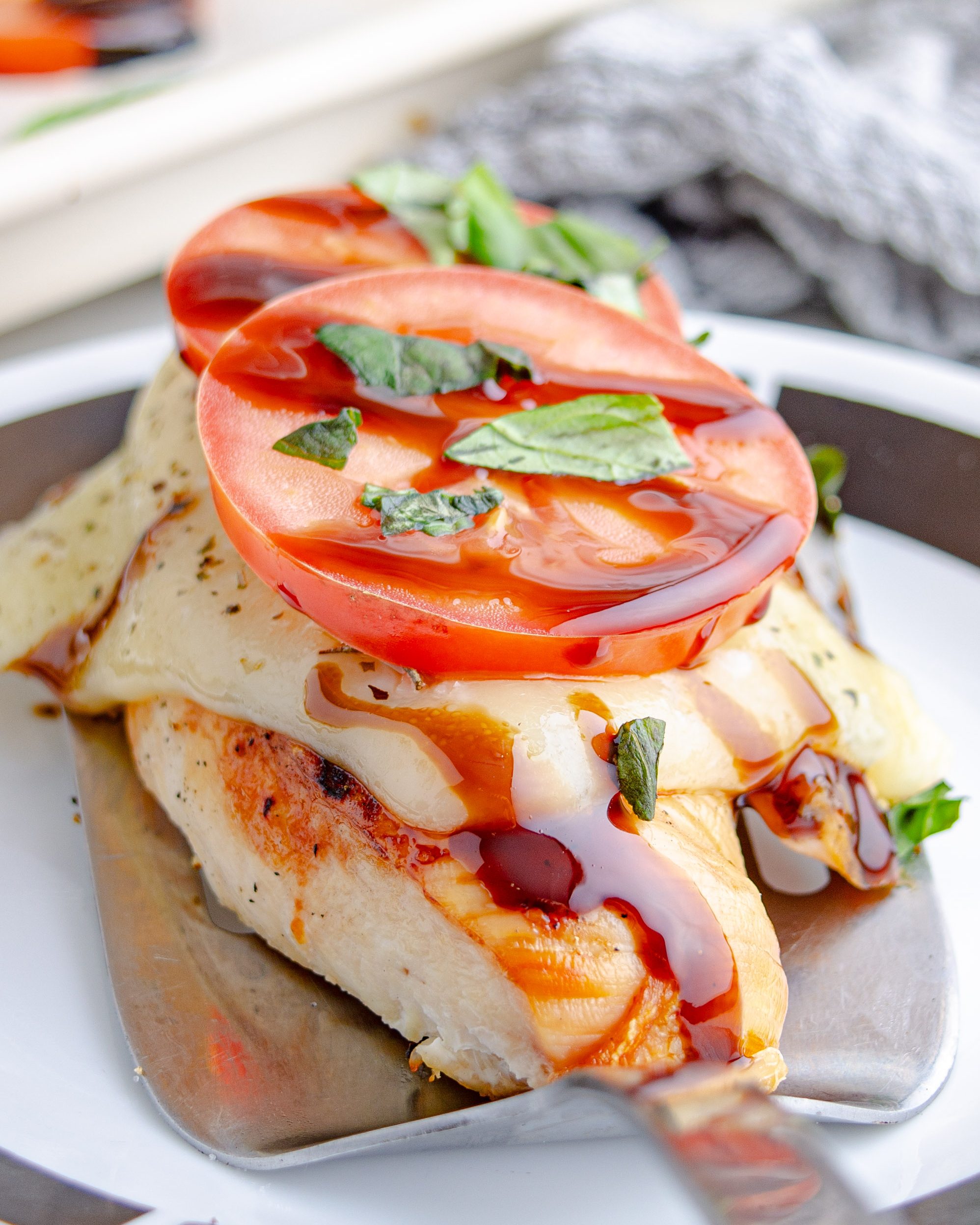 Want to save this recipe? Enter your email below and we'll send the recipe straight to your inbox!
NOTE: By saving this recipe, you agree to join our weekly recipes newsletter.
Pin this recipe now to remember it later
Chicken Caprese – 30 Minutes or Less Meal
Chicken Caprese – 30 Minutes or Less Meal is a surprisingly simple meal that's perfect for any night of the week. And, if you serve it to guests, everyone will be so impressed by the flavor they'll never realize how easy it was to make!
Ingredients
6

Fully Cooked Frozen Grilled Chicken Breasts

8

oz.

Fresh Mozzarella cheese
Want to save this recipe? Enter your email below and we'll send the recipe straight to your inbox!
NOTE: By saving this recipe, you agree to join our weekly recipes newsletter.
Instructions
Preheat your oven to 375 degrees.

Place 6 fully cooked frozen grilled chicken breasts onto a baking sheet, and cook uncovered in the oven for 15 minutes.

While the chicken is baking, place 1 cup of balsamic vinegar into a small pot over medium-high heat, and bring it to a boil.

Once boiling, add ¼ cup of brown sugar to the small pot, and reduce heat to a simmer. Simmer the glaze mixture on low heat for 10 minutes.

Remove the chicken from the oven, and place a slice of fresh mozzarella cheese on top of each chicken breast.

Add salt and pepper to taste on top of the chicken.

Sprinkle some herbs de provence on top of the chicken.Return the chicken to the oven for 1-2 more minutes until the cheese has begun to melt.

Top each piece of chicken with a thick slice of tomato, and pour some of the balsamic glaze on top.
Nutrition
Serving:
2
peices
|
Calories:
953
kcal
|
Carbohydrates:
38
g
|
Protein:
125
g
|
Fat:
29
g
|
Saturated Fat:
13
g
|
Polyunsaturated Fat:
3
g
|
Monounsaturated Fat:
9
g
|
Cholesterol:
352
mg
|
Sodium:
756
mg
|
Potassium:
1247
mg
|
Fiber:
1
g
|
Sugar:
34
g
|
Vitamin A:
1266
IU
|
Vitamin C:
11
mg
|
Calcium:
479
mg
|
Iron:
5
mg
Follow me on Pinterest for daily delicious recipes!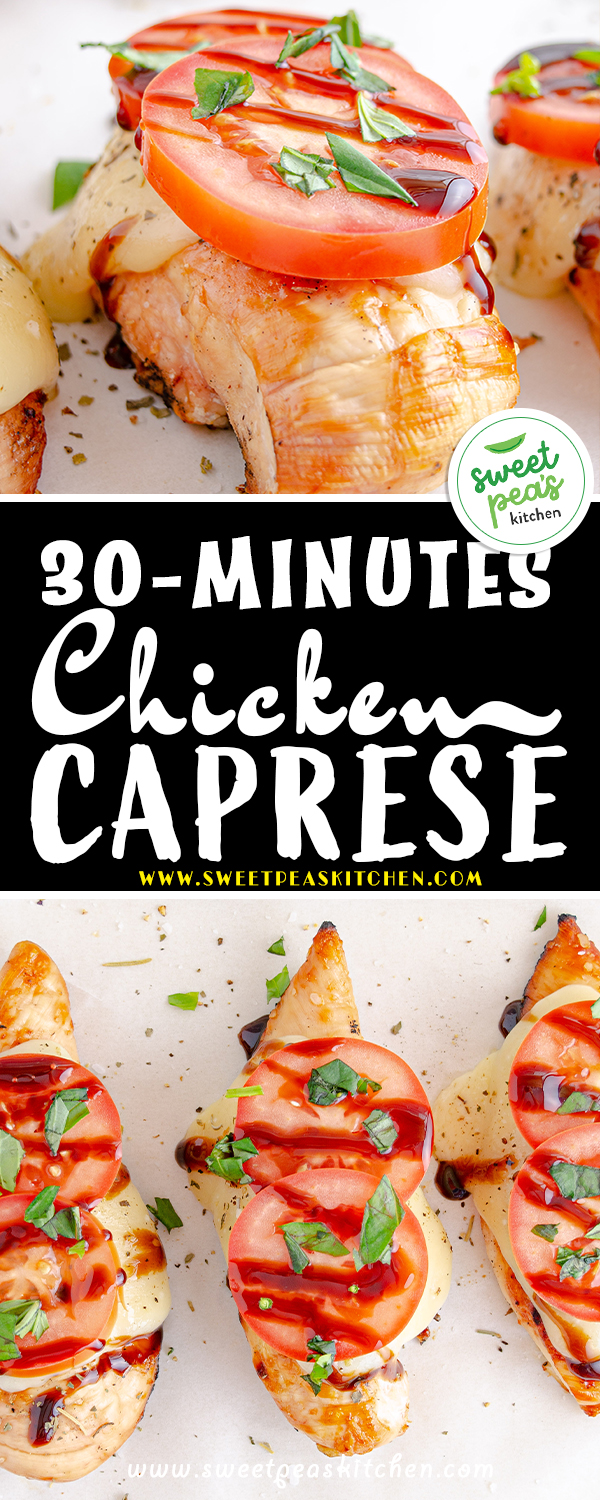 More chicken recipes to try:
Garlic Butter Chicken with Parmesan Cauliflower Rice – Flavorful, and delicious and easy meal the entire family will love.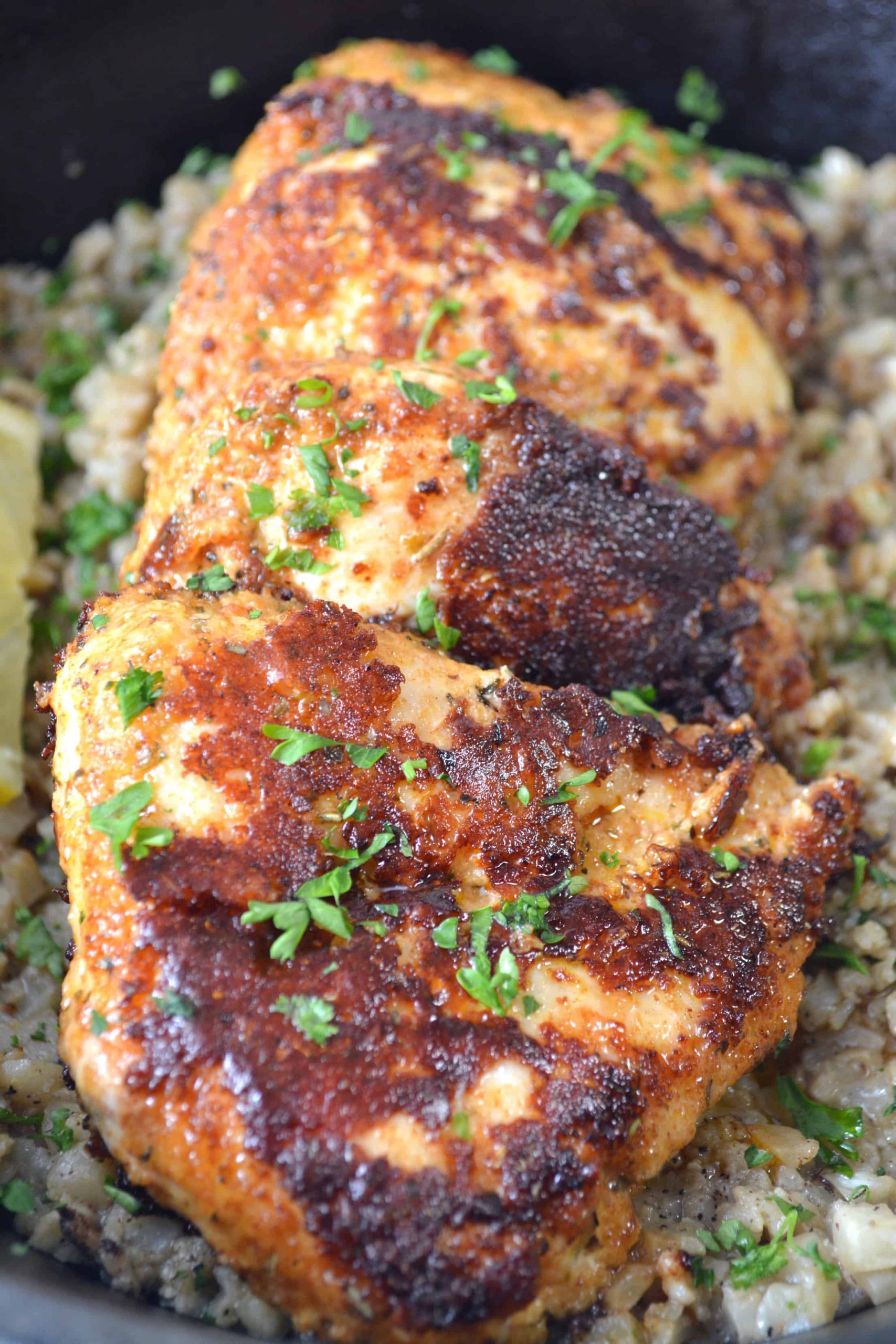 Baked Sweet and Sour Chicken – A flavorful dish easy to make!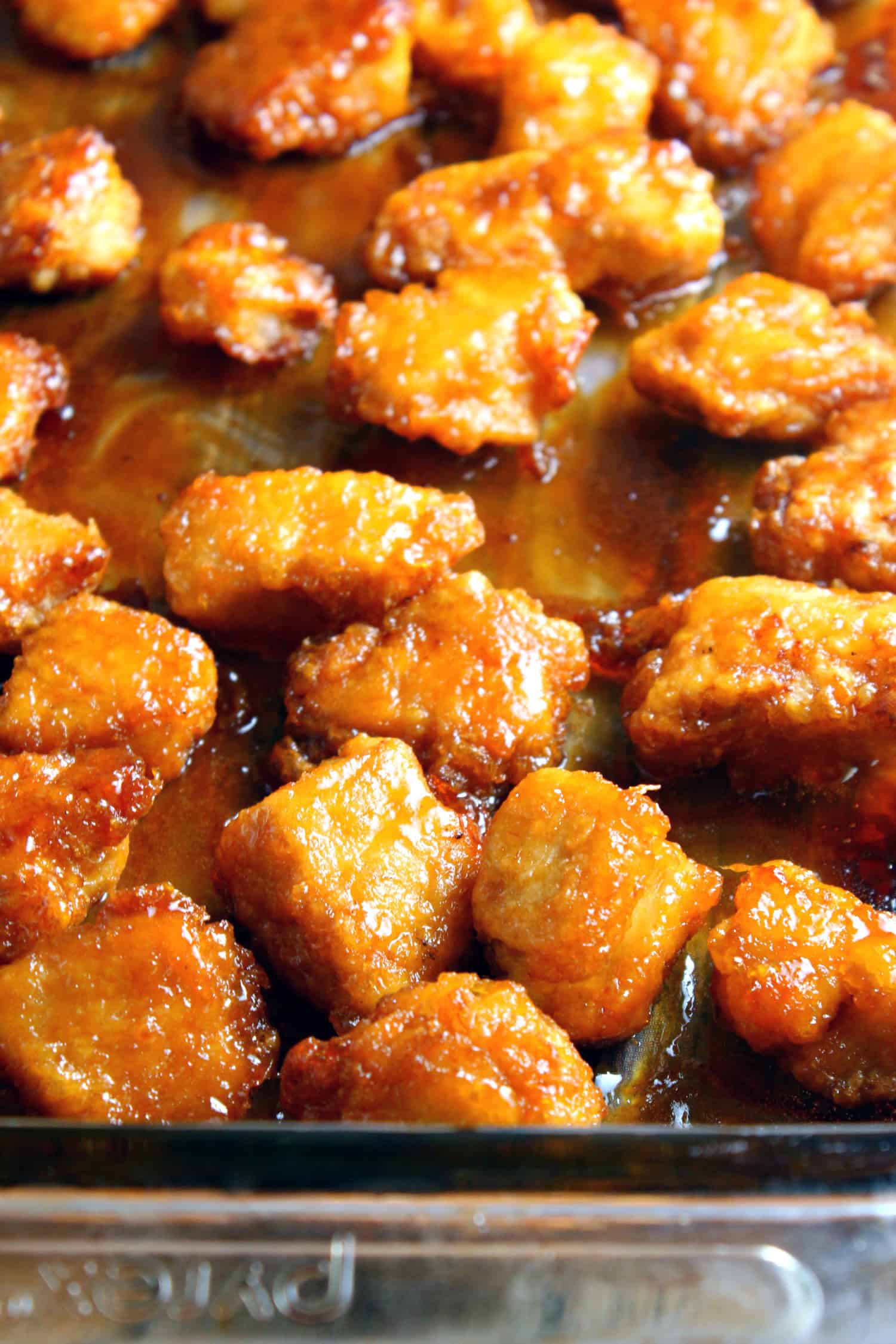 Ranch Chicken Wraps – Your go-to lately has been easy chicken wraps for lunch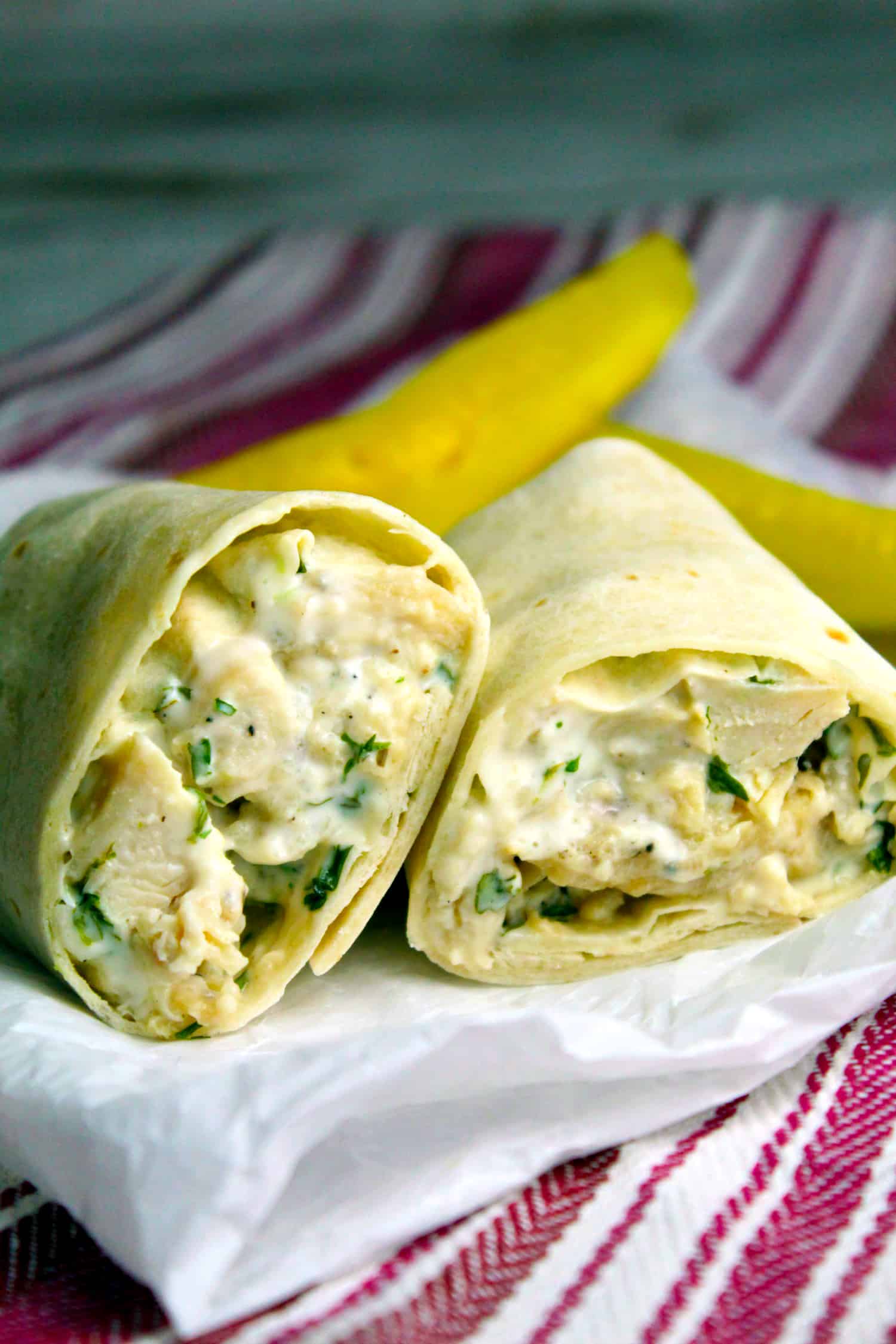 Instant Pot Chicken Noodle Soup – With this pressure cooker soup recipe, there's no need to wait hours for a flavorful soup.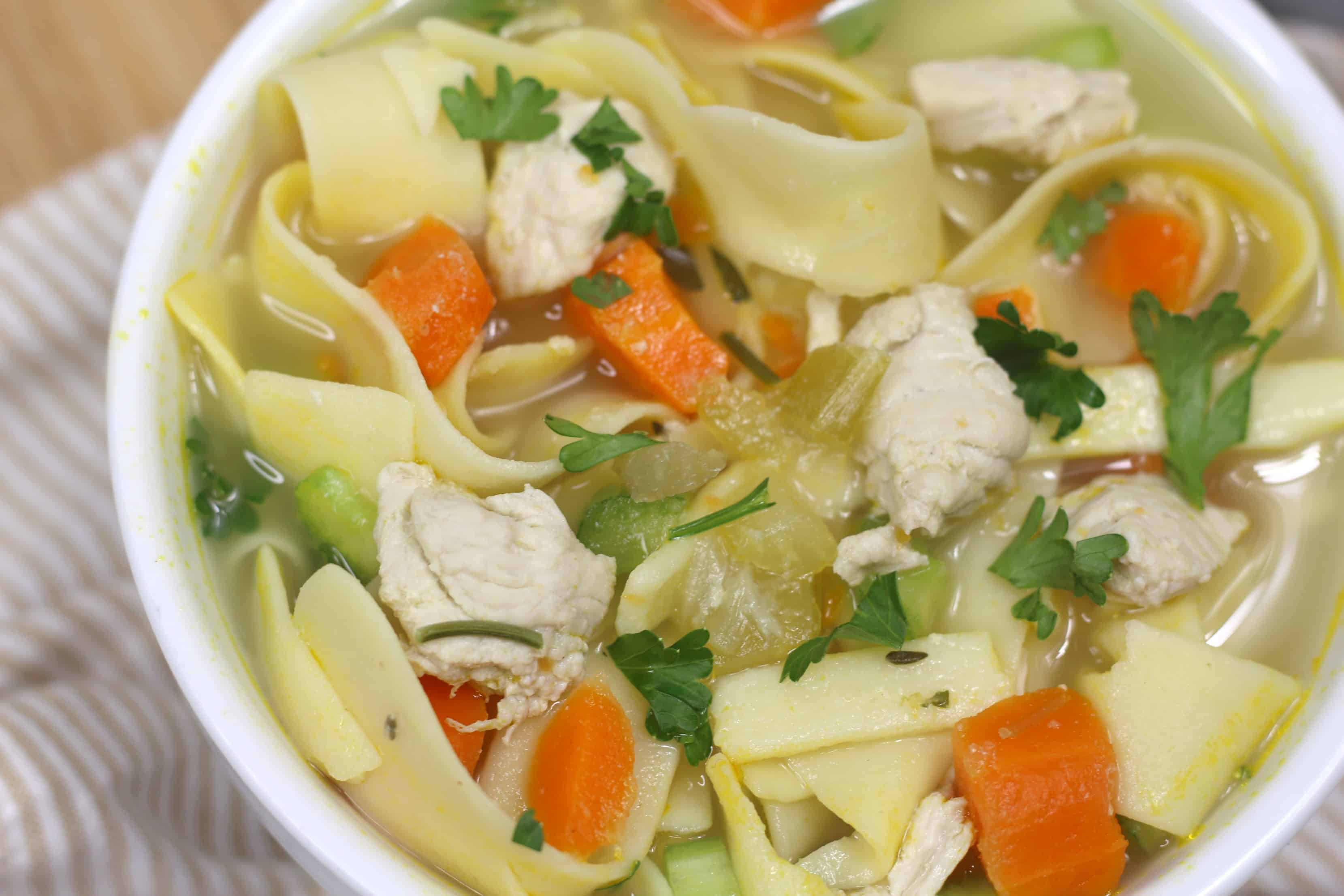 Get new recipes weekly plus our FREE ebook!