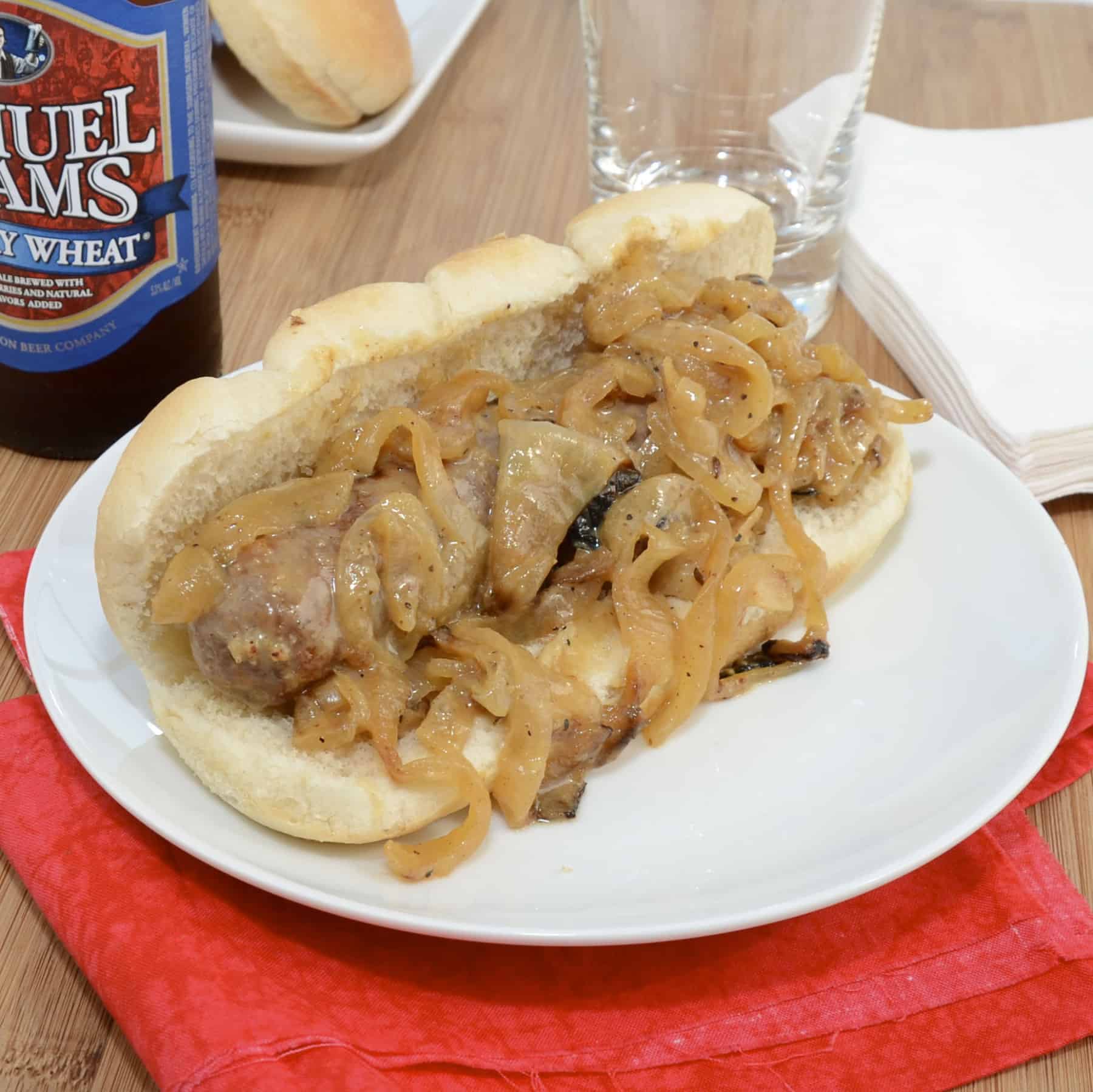 Learn How To Grill Brats In Beer, and you will have a new favorite meal idea. Summer barbecues are intended to have lots and lots of yummy FOOD! These beer brats are a summer party favorite, and it's sure to be yours too. There is no way to not fall in love with them. The refreshing flavor of the beer, grilled onions, and dijon mustard in these brats are the BOMB!
Scroll to bottom for printable recipe card.
How to Grill Brats in Beer
I actually will make these beer brats even in the wintertime because they are seriously so amazing. Sometimes we will cook them on the grill, or we will make them indoors just because we can't wait any longer until summer or tailgating season. We serve these at movie nights, anytime we watch a game on the TV or whenever we want something fun to eat.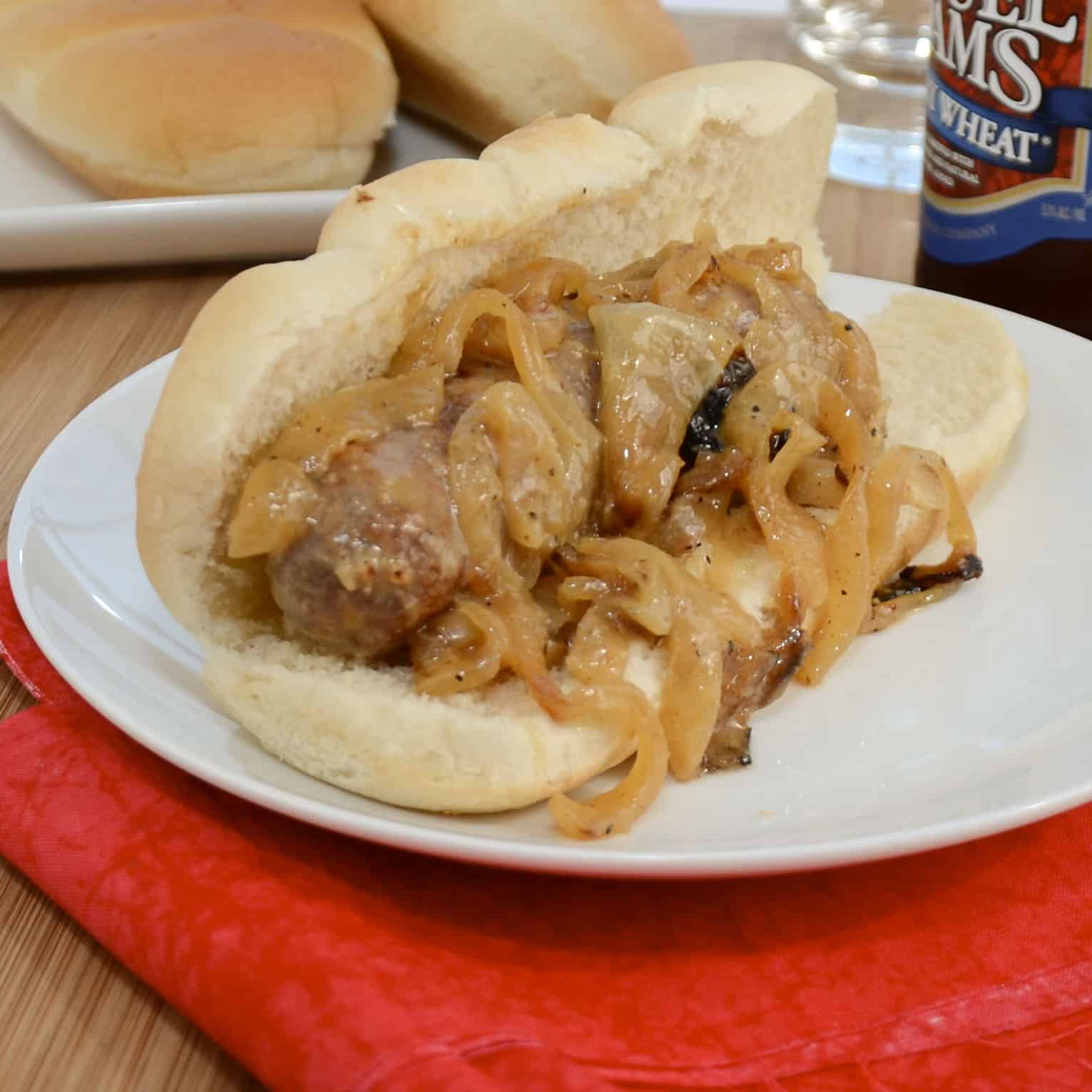 What's the Best Beer to Go With Brats?
We are HUGE fans of Samual Adams beer, so that is almost always what we end up using. We pretty much always have some bottles around the house, so it makes sense that it's our go-to beer of choice. You could use any kind of beer that you want. Something that has a strong beer flavor would be great, but you could even go with an option of fruity-flavored beer too. Apple beer is wonderful and goes well with this brat recipe too.
Can I Cook These on the Stove Top?
Yes, you can cook the brats on the stovetop if you want. Just saute the onions in a skillet then cook the brats in the same skillet. You can remove the onions before cooking the brats, or leave them in there; it's totally up to you. Either way, beer brats are great in a skillet or on the grill, so you can't go wrong.
What Should I Top My Beer Brats With?
You can top your beer brats with anything you want. We top ours with grilled onions, but the options are unlimited. Here are a few ideas that you may love.
Grilled Peppers – If you decided to included grilled onions, saute them with the onions. They are especially good when topped with cheese.
Mustard – The recipe already has Dijon mustard, so you can add more of that or opt for yellow mustard instead.
Honey Mustard – The subtle sweetness in honey mustard is dreamy.
Ketchup
Cheese – Your favorite slice of cheese or even shredded will do the trick.
Cheese sauce
Sauerkraut – You can't find a more classic topping than sauerkraut!
Tomatoes
Pickle Relish
Chili
Pulled Pork With Barbecue Sauce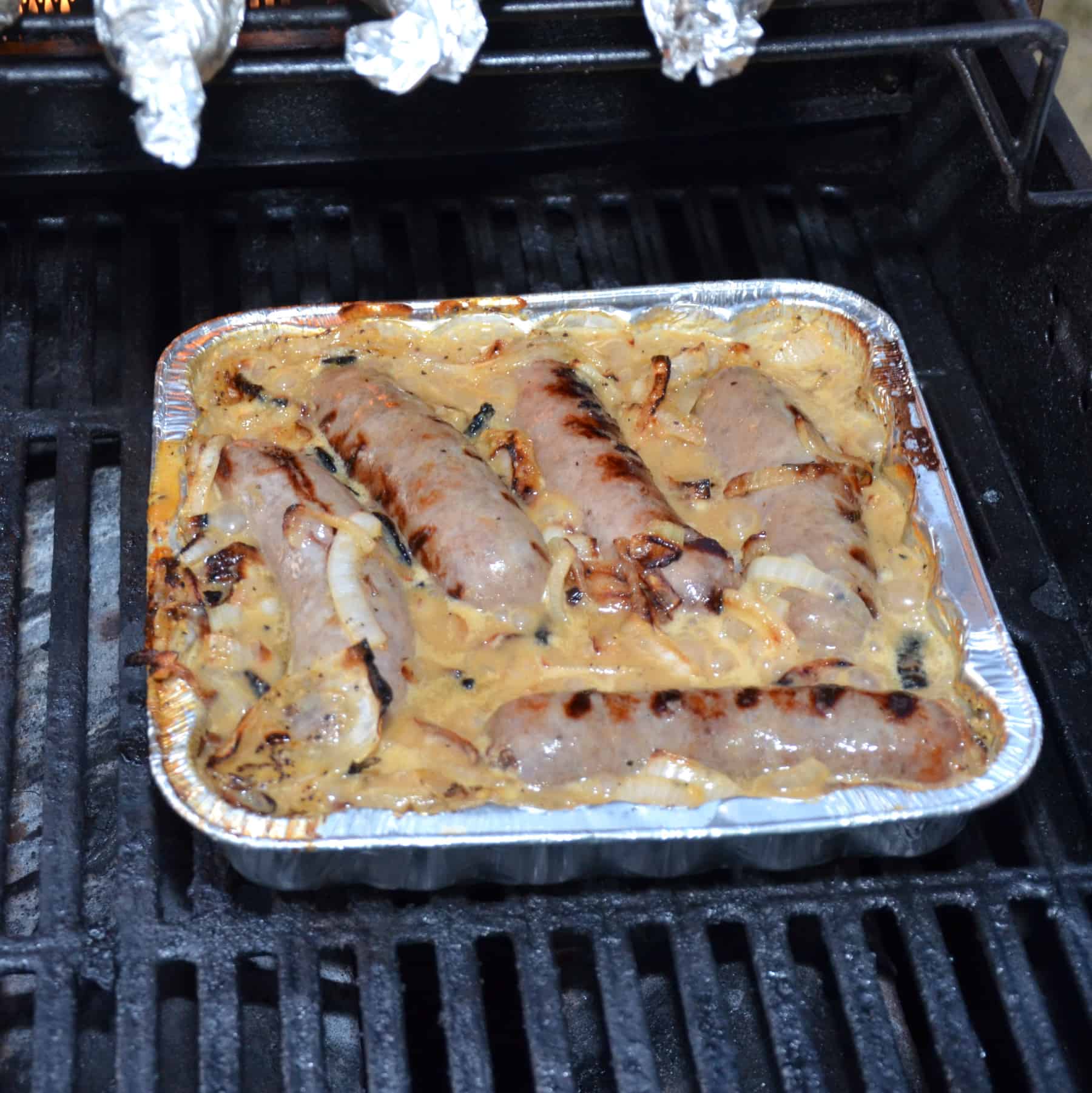 Ingredients
The ingredients are simple and will leave you with some of the most amazing brats you have ever tasted. Adding beer takes them from ordinary to extraordinary.
Onions, sliced into 1/2 inch rounds
Vegetable oil
Ground black pepper
Bottle beer
Dijon mustard
Caraway seeds
Disposable 9X9 inch aluminum pan
Bratwursts
How to Grill Brats in Beer on a Gas Grill
Cooking brats on a gas grill couldn't be any easier. The flavor and texture are out of this world. Adding these beer brats to your weekend and party menu is a must. They are that good! Let's get started so you can throw together your own batch of drool-worthy brats.
First Step: Warm your grill by turning all the burners to medium-high. Keep the lid down and let it warm up all the way for 15 minutes. Then clean the grate using a brush made for cleaning it.
Second Step: Chop the onions and toss them in the vegetable oil. Then season with salt and pepper. Grill the onions on the grill until they have developed a light char, which takes around 6-10 minutes. Place the onions in an aluminum pan.
Third Step: During the time the onions are grilling, gather a 9×9 inch aluminum pan then add in the beer, mustard, caraway seeds, and cayenne pepper. Set the pan on the grill.
Fourth Step: Grill the brats until they are brown on all sides, then add them to the simmering beer mixture. The onions should go on the bottom, then brats on top. Cover the pan with tin foil really tightly. Allow them to cook for 15 minutes. Take the beer brats out of the pan and place them back on the grill to char for around 4 minutes. Keep simmering the beer mixture until you notice the onions are tender. The sauce should thicken slightly. Serve hot and top with onions if desired.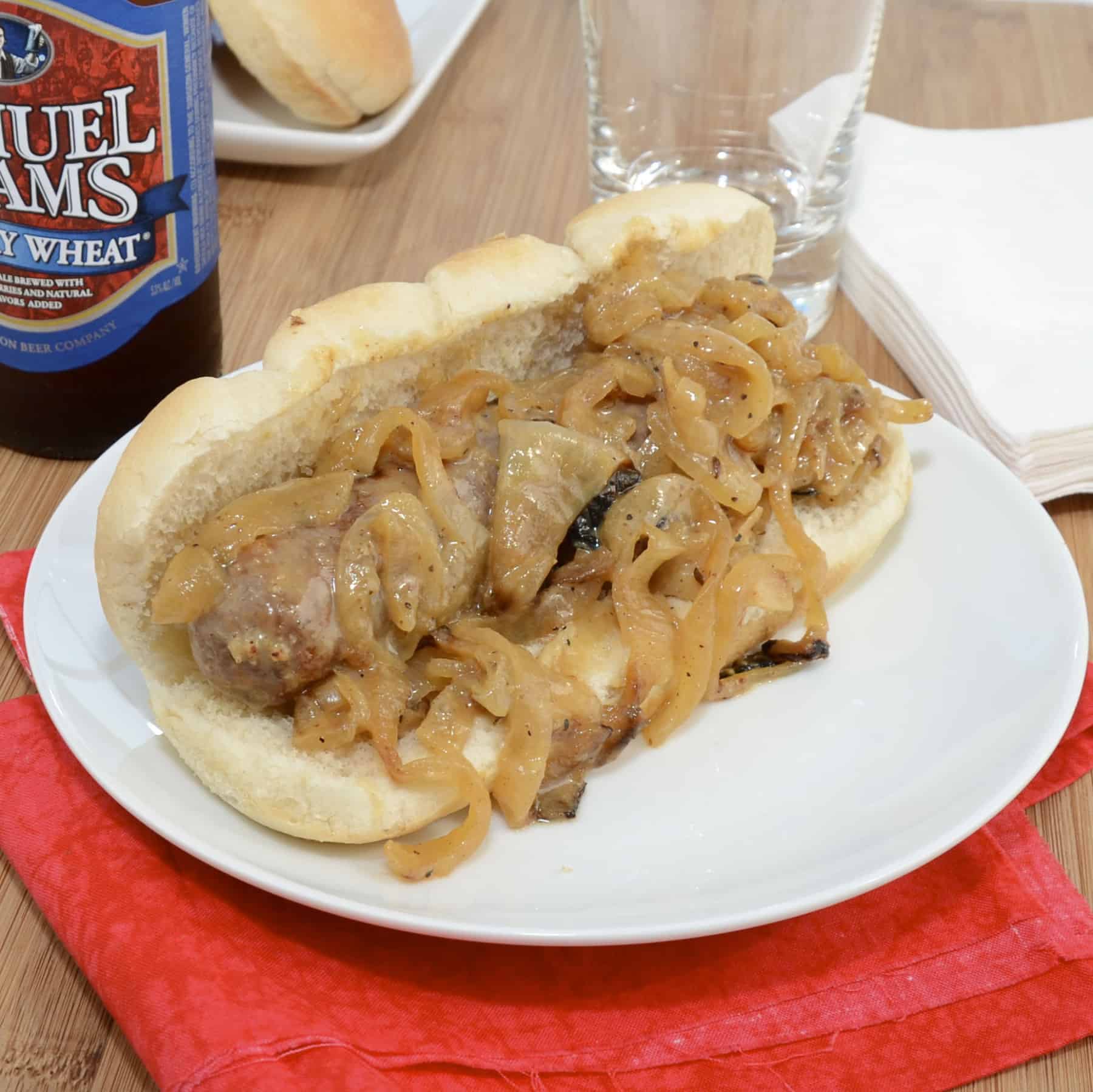 Now, remember to save this recipe on Pinterest for later 🙂

Pin this recipe now to remember it later
How to Grill Brats in Beer
Learn How To Grill Brats In Beer, and you will have a new favorite meal idea. Summer barbecues are intended to have lots and lots of yummy FOOD! These beer brats are a summer party favorite, and it's sure to be yours too.
Ingredients
2

onions

,

sliced into 1/2 inch rounds

1 1/2

tablespoons

vegetable oil

,

plus more for cooking grate

1/2

teaspoon

ground black pepper

1/2

teaspoon

caraway seeds

disposable 9X9 inch aluminum pan
Want to save this recipe? Enter your email below and we'll send the recipe straight to your inbox!
NOTE: By saving this recipe, you agree to join our weekly recipes newsletter.
Instructions
Turn all burners to medium-high and heating grill with lid down until very hot, about 15 minutes. Scrape grate clean with grill brush.

Toss onions with vegetable oil and season with the pepper. Grill onions on hot grill until lightly charred, about 6-10 minutes. Transfer onions to the aluminum pan.

While the onions are grilling, in a disposable 9X9 inch aluminum pan whisk together beer, mustard, caraway seeds and pepper. Place roasting pan in the center of the grill.

Grill sausages until browned on all sides. When the beer mixture is simmering, place sausages in a single layer over the onions and wrap roasting pan tightly with foil. Cook for 15 minutes. Remove brats from beer bath and return to grill just to rechar, about 4 minutes. Continue to simmer the beer mixture, until onions are tender and sauce is slightly thickened, about 5 mins. Serve sausages, passing onions separately.
Follow me on Pinterest for daily delicious recipes!
Party food never tasted so good! These beer brats are unforgettable and will quickly become a favorite recipe. Check out some of our other easy dinner ideas.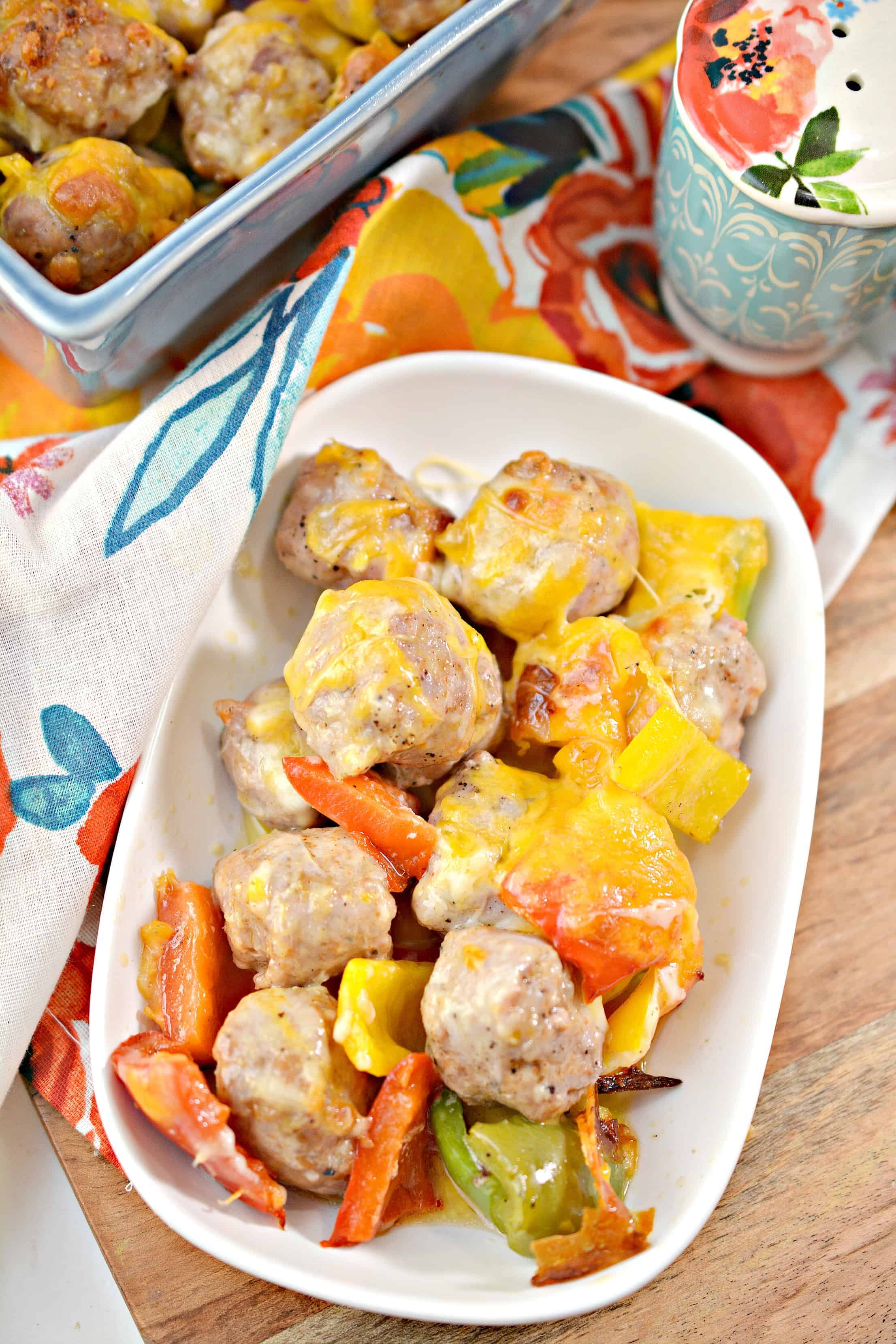 Instant Pot Risotto With Chicken – You've never had risotto this good before! Adding chicken makes it a home run every time. Plus, it's a bonus you can make it in your pressure cooker.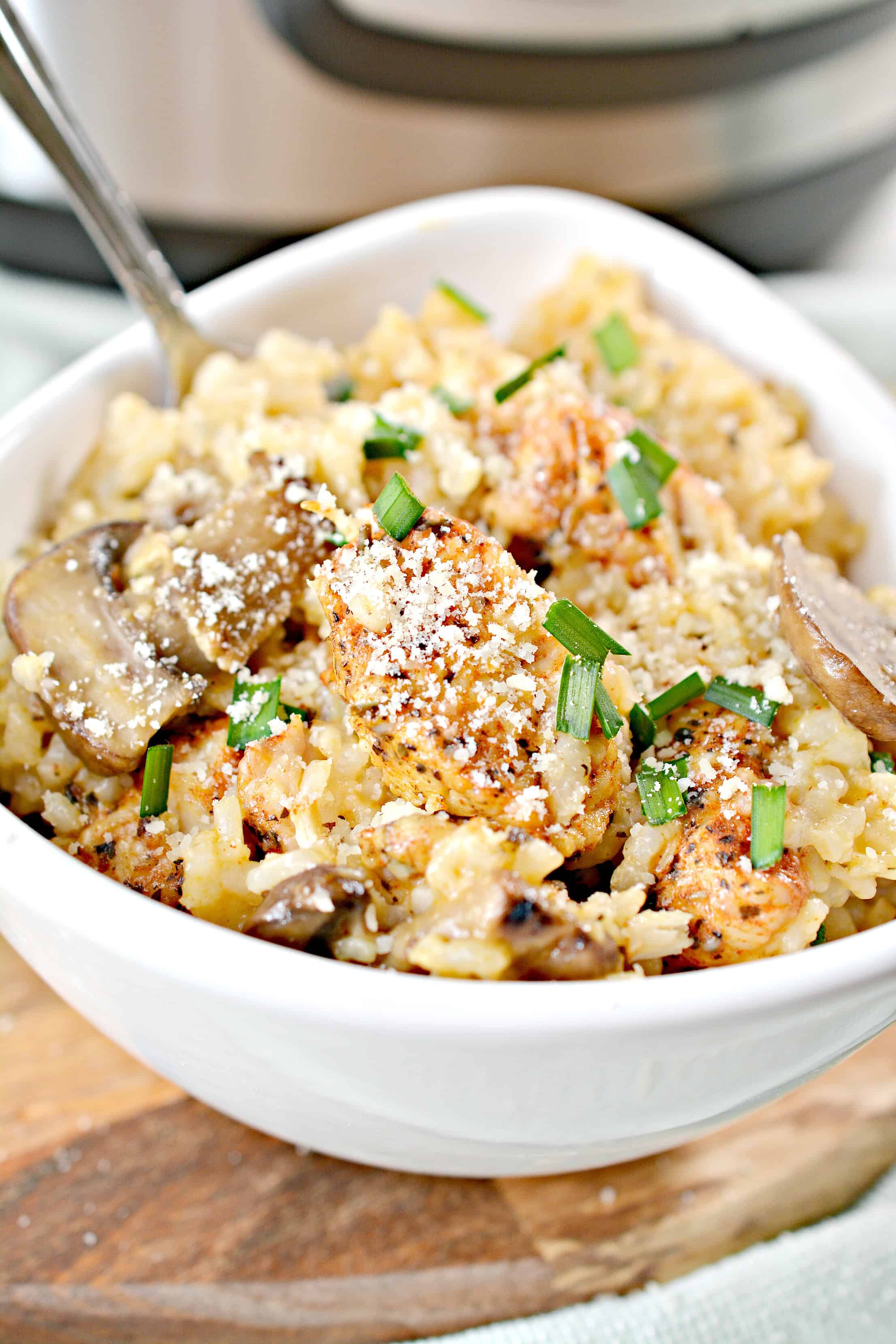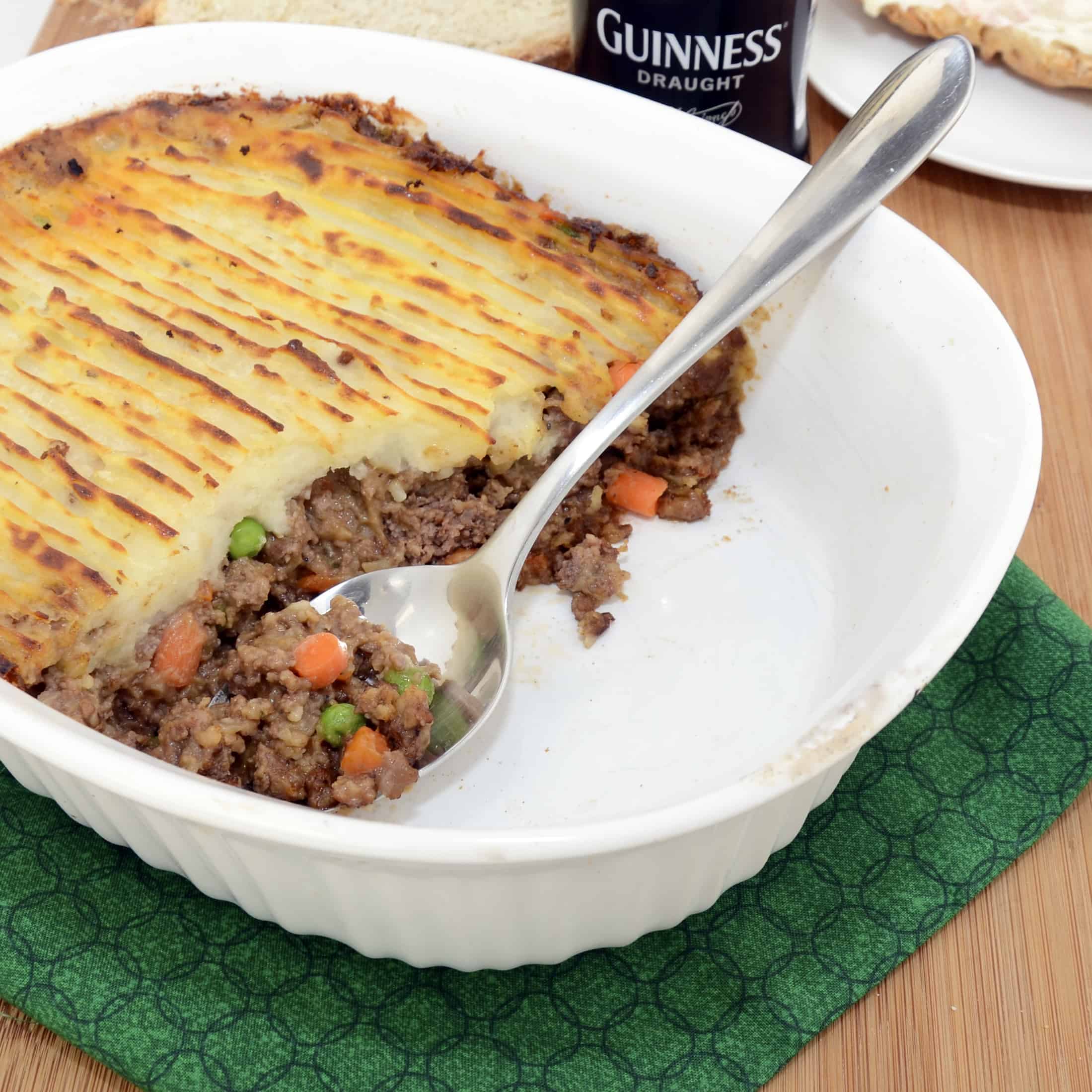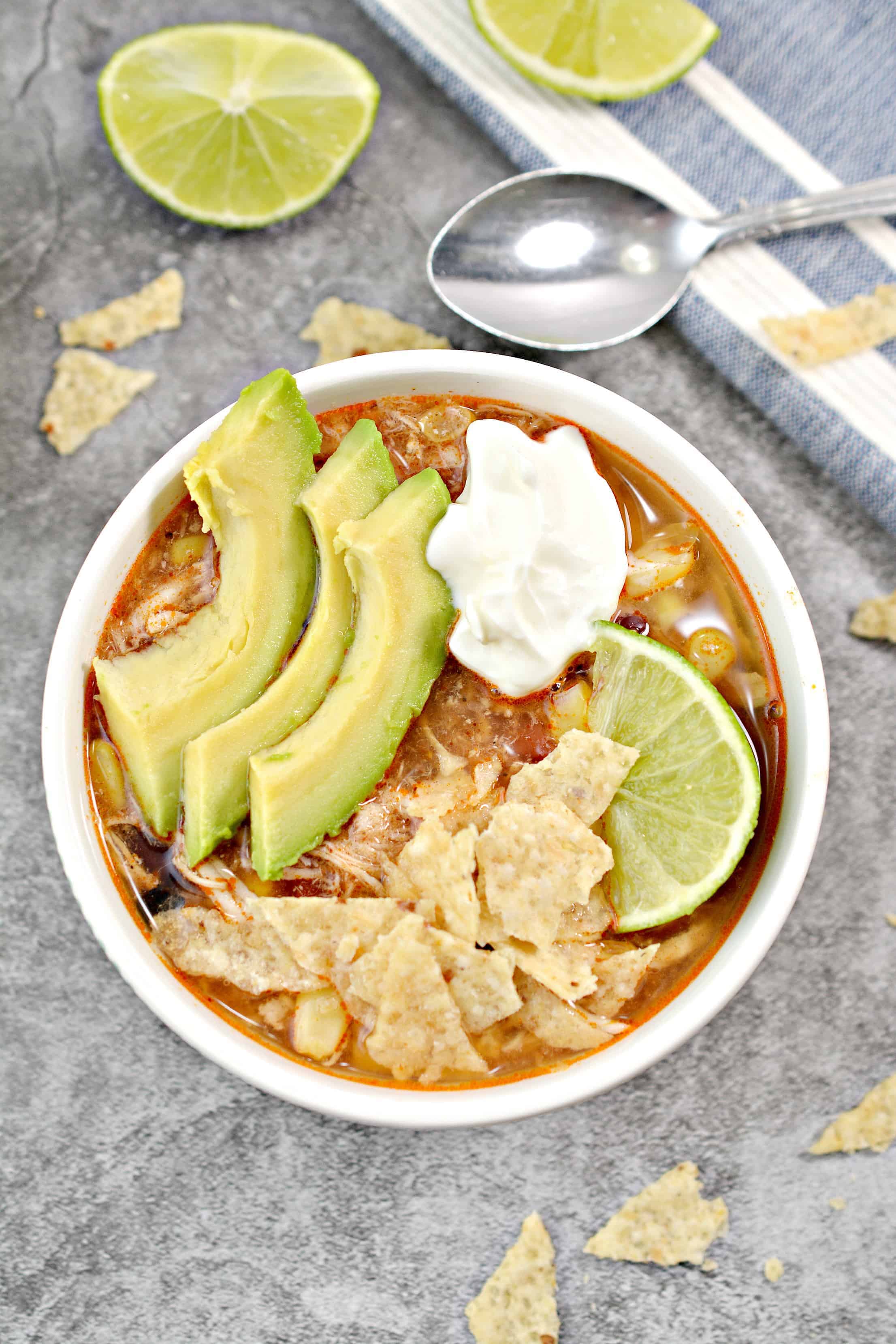 Get new recipes weekly plus our FREE ebook!