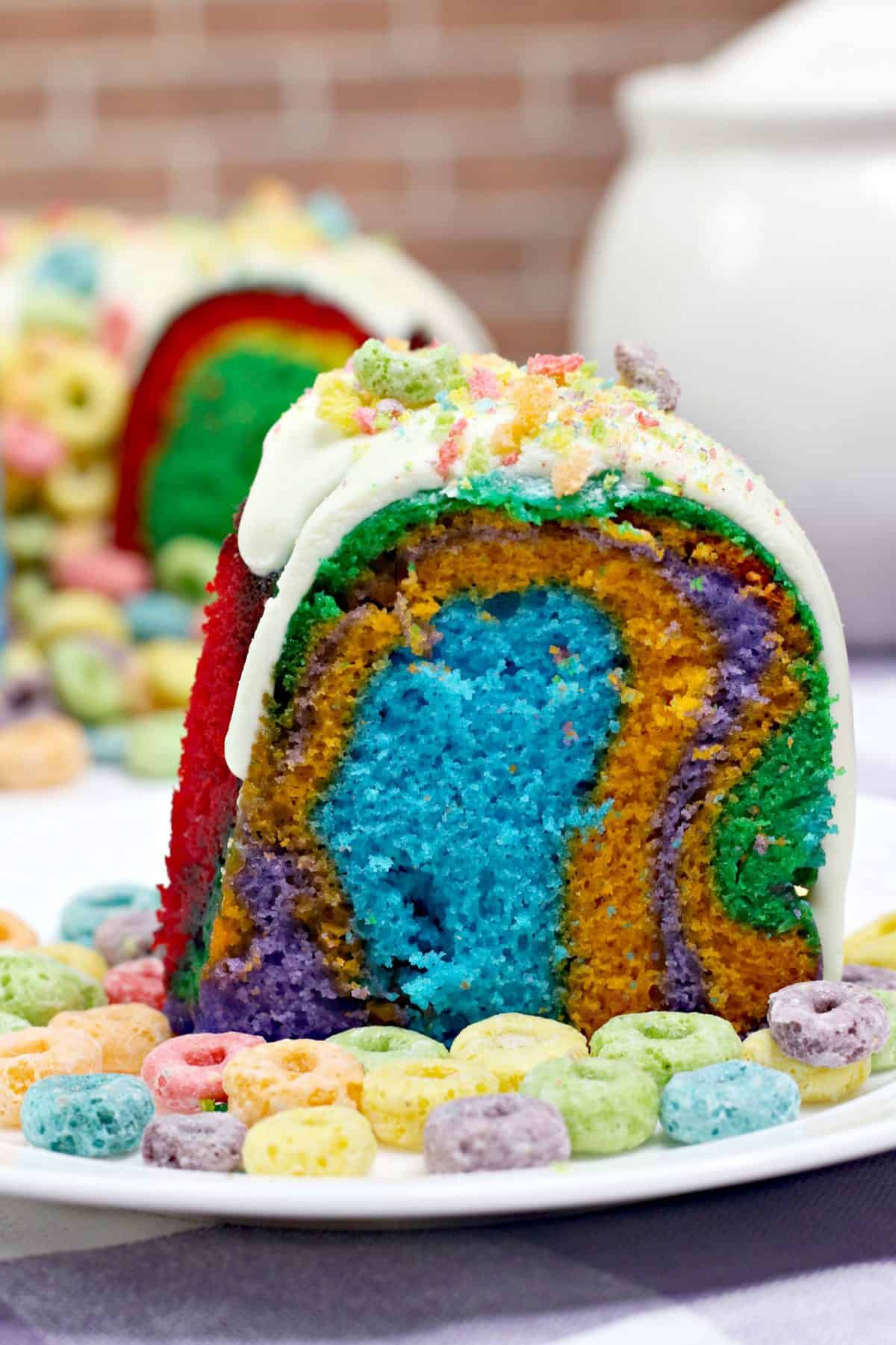 This gorgeous Instant Pot Fruit Loop Cake Recipe is unforgettable.
This vibrant instant pot bundt cake recipe is perfect for all occasions! Kids and adults will enjoy everything about this fruit loop cake. Because it has so many bright colors, it would be excellent for a birthday cake, potluck dinner, or whenever you're just craving something sweet.
Scroll to bottom for printable recipe card.
Instant Pot Fruit Loop Cake Recipe
At our house, we love everything about Fruit Loops cereal.
I've been eating it since I was a kid, and I'm more than happy to allow my kids to eat it too. Not only does it taste good for breakfast, but it also makes a fast and easy snack for road trips or when you're sitting at your desk at work. But my favorite way to serve Fruit Loops is on top of this instant pot cake recipe.
I am really excited for you to bite into this rainbow Bundt Cake because you'll see how moist it is and what a nice touch the crunchy Fruit Loops to the texture of the cake.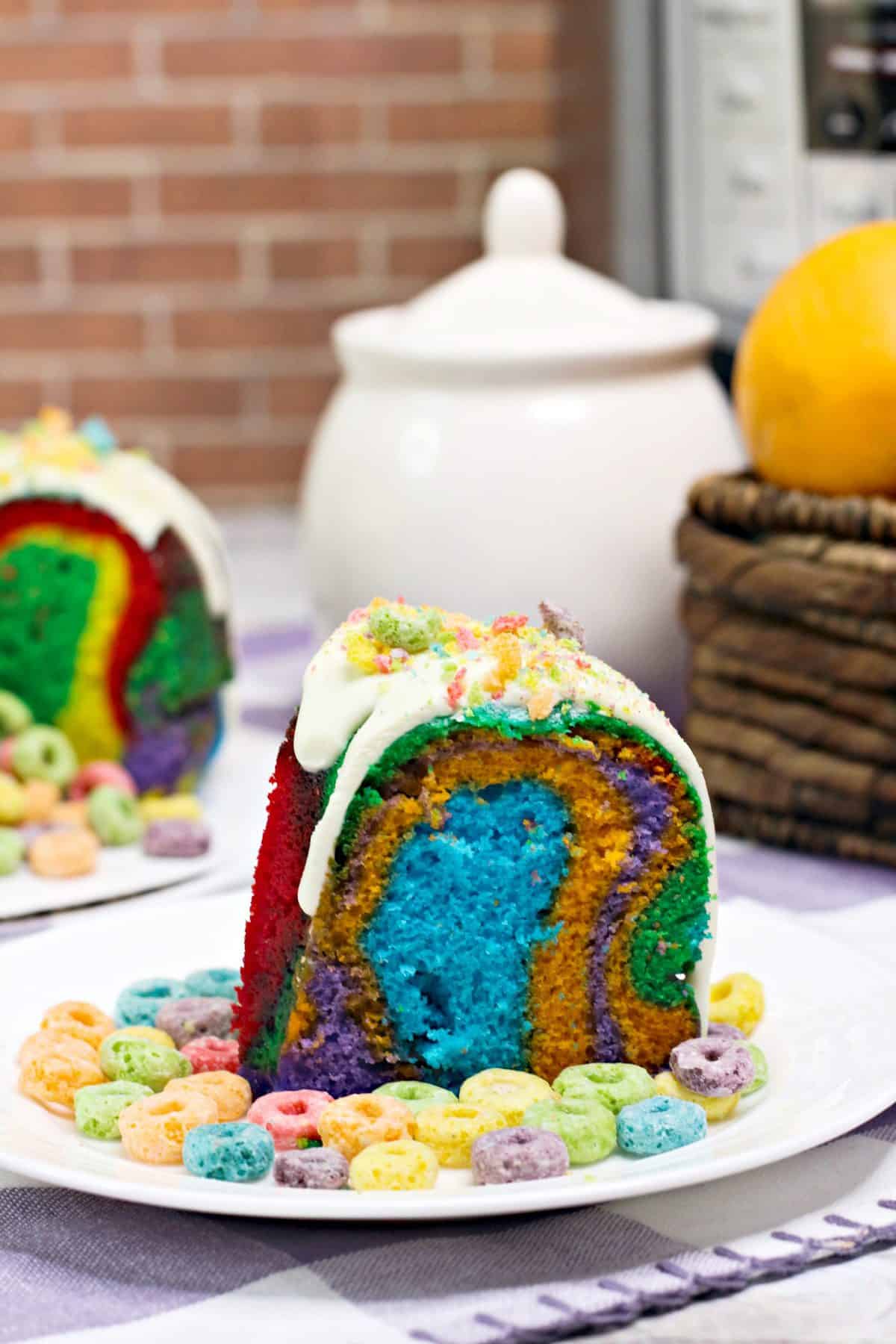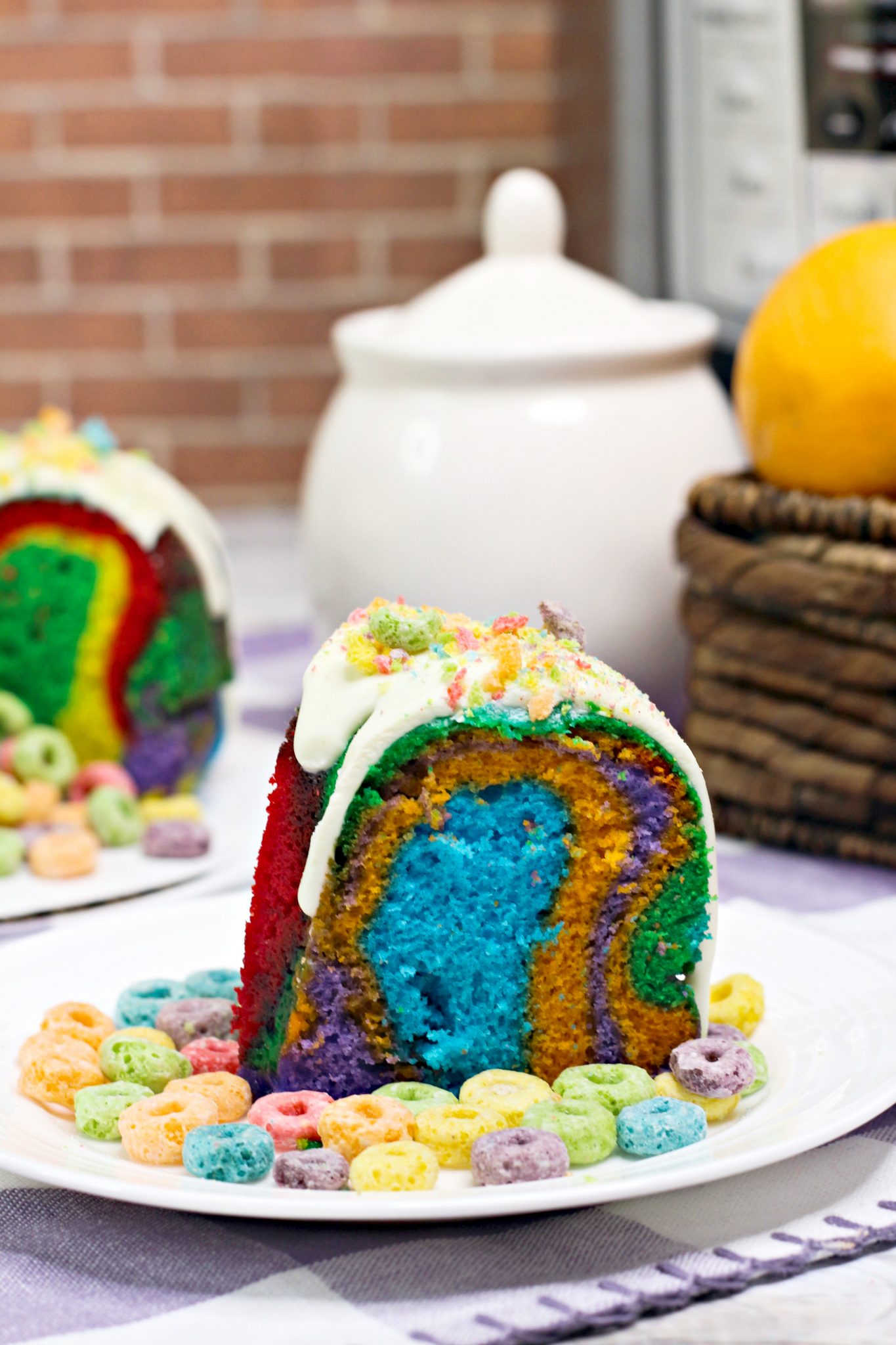 So next time you want to surprise your friends with something extra special, you should definitely consider making this instant pot fruit loop cake.
Plus, what's better than making an instant pot cake? Making cake in your instant pot seriously could not be any easier. Now's the time to head into the kitchen and start making this fruit loop cake.
How To Store Instant Pot Cake?
For the best results, you should always let the cake cool down completely before storing it. If you try to keep the cake while it is still warm, you will develop water droplets due to condensation.
This can also make your cake extra mushy and almost unappealing. After the cake at school, go ahead and place it inside of a food storage container. You can store the cake at room temperature or put it in the refrigerator, depending on your preference.
The cake will last three days at room temperature and up to four days in the refrigerator.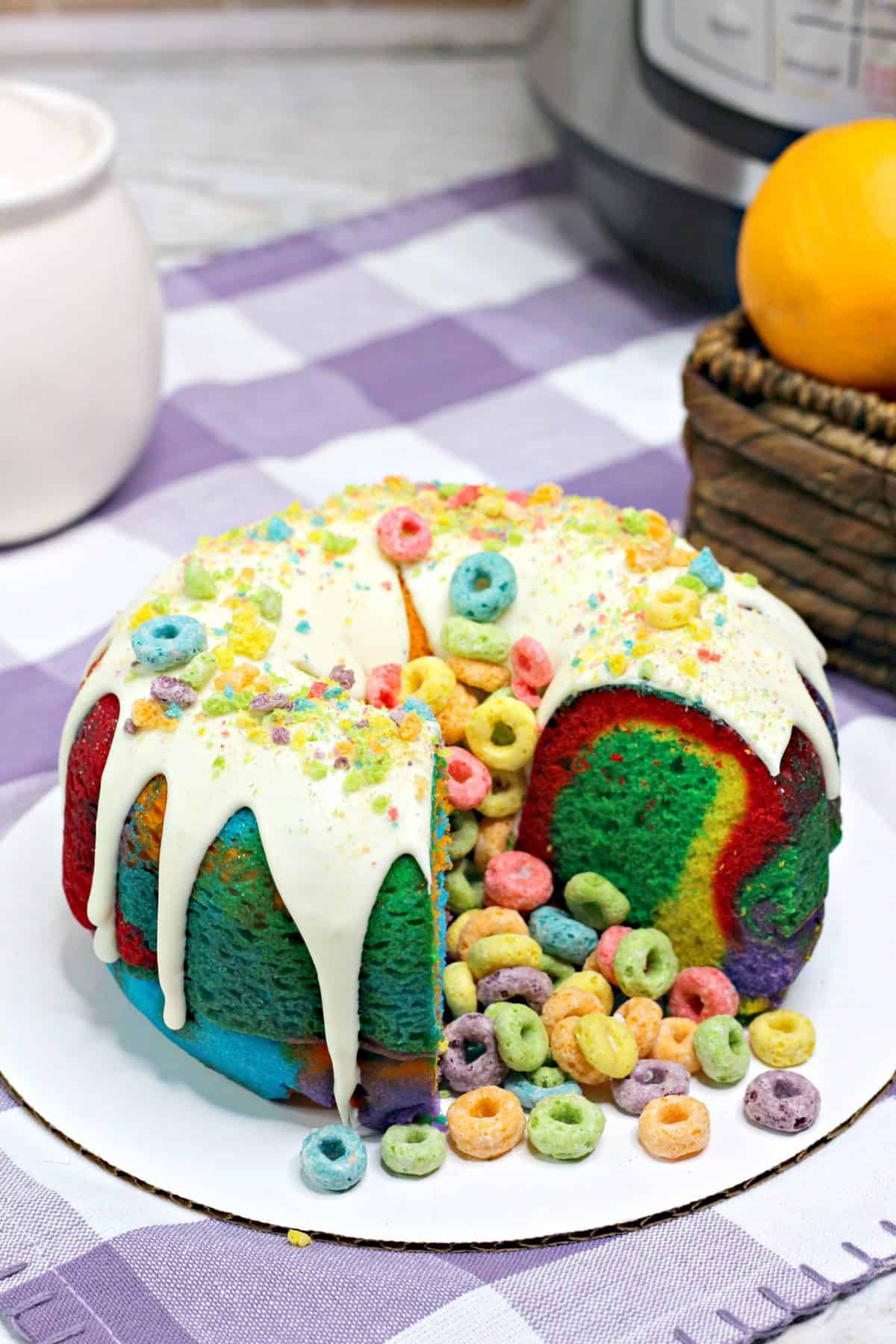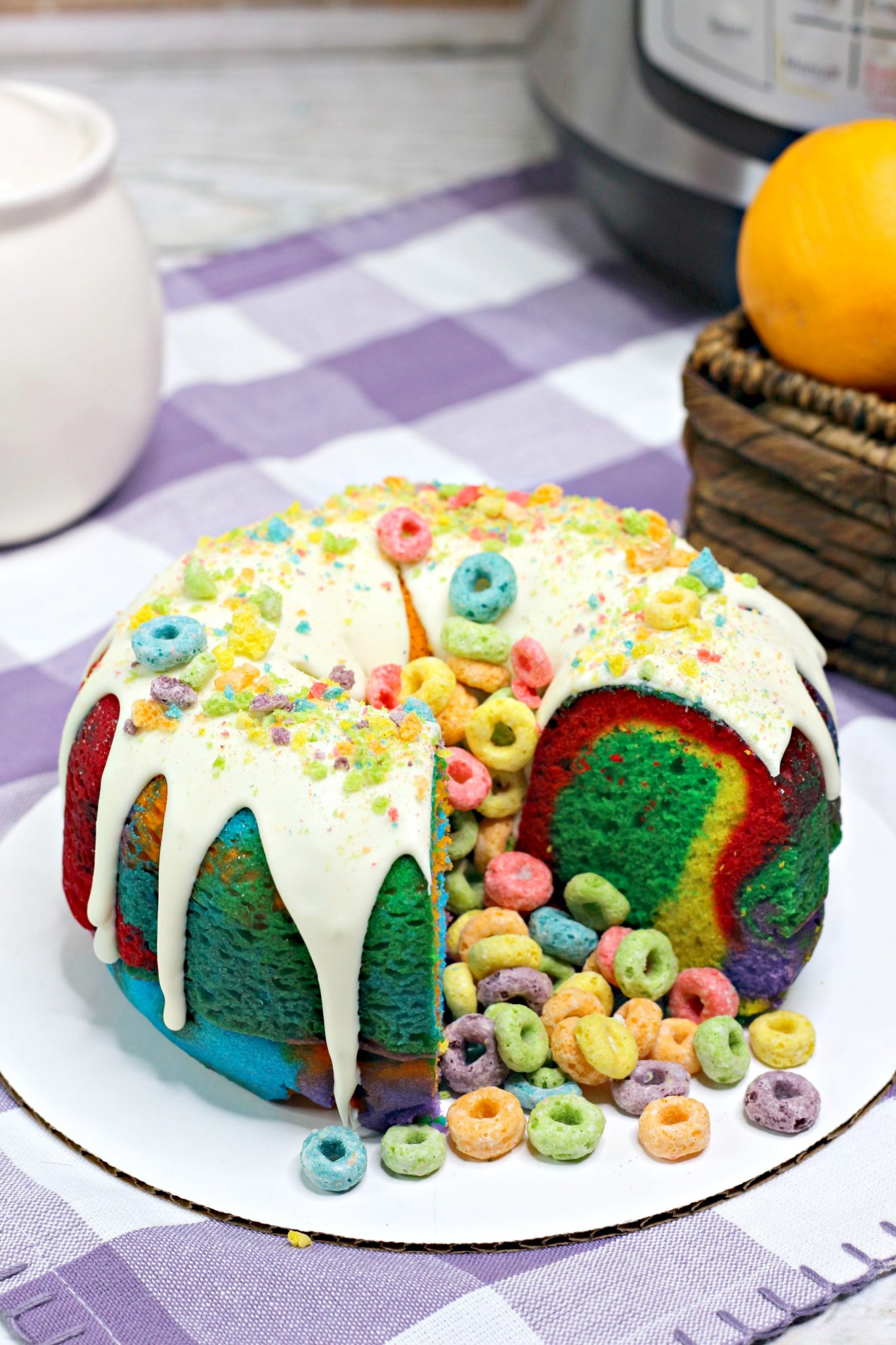 Can You Change Colors?
Yes, you can easily swap out the colors to fit your knees. Because I was making a fruit cake for a birthday party, I wanted it to be very bright and cheery. That is why I chose bright purple, blue, orange, green, yellow, and red colors.
However, you can easily choose one or two colors make it to match your event or party. Go wild, and make this cake anything you want.
Can You Use Different Cereal?
Yes, you can absolutely use a different kind of cereal if you want. I would choose a cereal that has a lot of color to it instead of something that is more bland or brown.
Lucky Charms or Fruity Pebbles would also be fantastic options.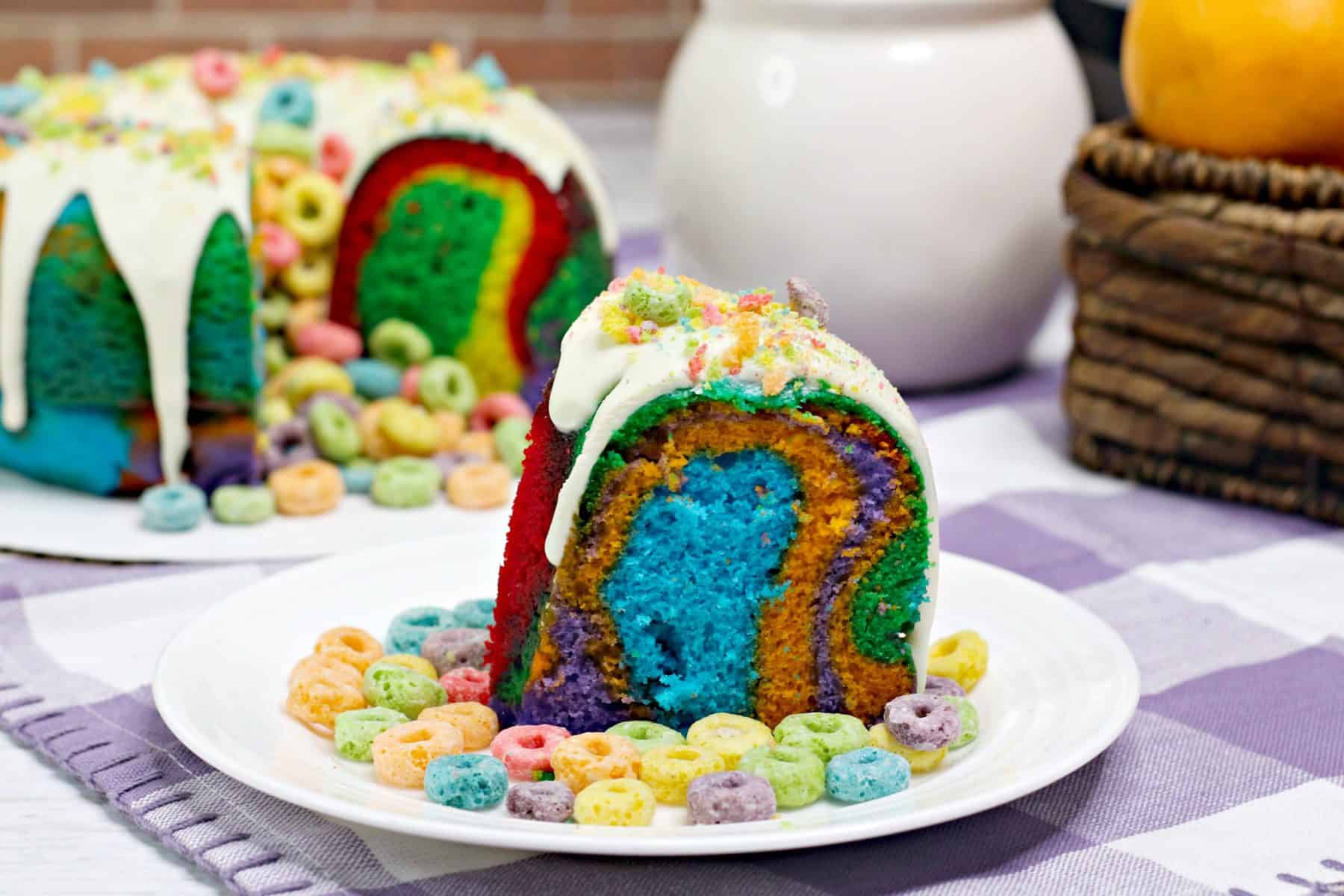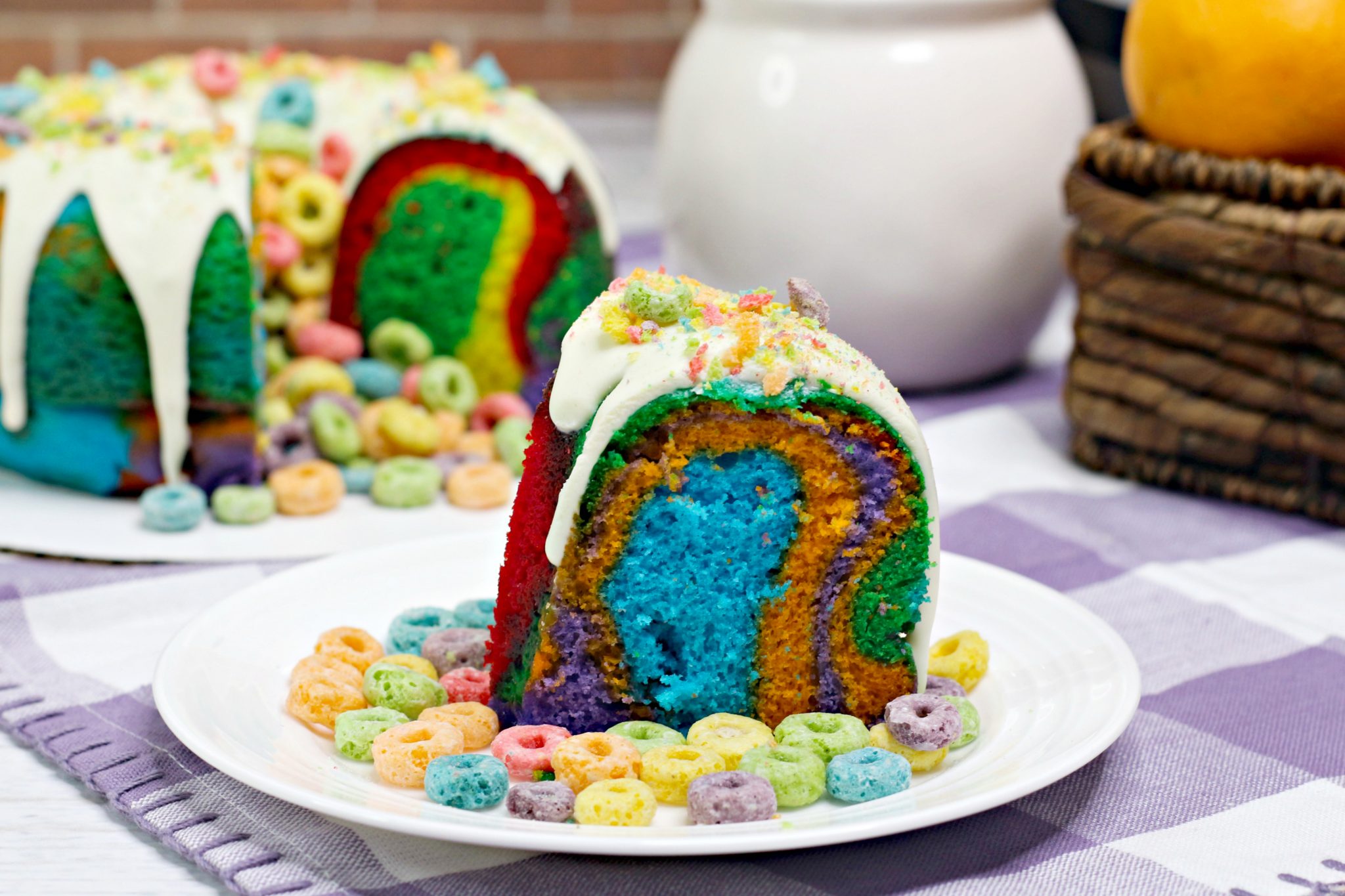 Is This Fruit Loop Cake Freezer-Friendly?
Yes, super this cake is freezing friendly. After the cake has cooled, go ahead and place it in a freezer-safe container. The cake will actually last three months in the freezer.
When you are ready to serve the cake, you can play sit at room temperature or an hour or so or until it's defrosted. Or if you're not in a hurry, you can place the cake in the refrigerator overnight for it to thaw out.
Ingredients
I think you'll be pleasantly surprised to find out that there are only six ingredients for this rainbow Bundt cake. The great thing is you don't have to have tons of ingredients to make something incredible. Take a look at what you need to get started.
1 box french vanilla cake mix
3 eggs
1 cup of water
1/3 cup oil
Purple, Blue, Orange, Green, Yellow, and Red Gel Food coloring
½ C crushed fruit loop cereal
How To Make This Rainbow Bundt Cake
This pretty cake is so simple to make. I honestly am so excited for you to taste it because I really think you're going to love this recipe. Let's get started with easy to follow directions so you can make your own rainbow Bundt cake.
Step 1: Using a large bowl, combine the vanilla cake mix, eggs, water, and oil together.
Step 2: Take the batter and divide it evenly among six smaller bowls. Add a few drops of food coloring to each of the bowls and combine well with a wooden skewer or spoon.
Step 3: Add some grease and flour to a 7 inch bundt pan. Take drops of the various colors of batter and add them to the bundt pan. You want to alternate the colors, so you have a beautiful and fun, vibrate pattern.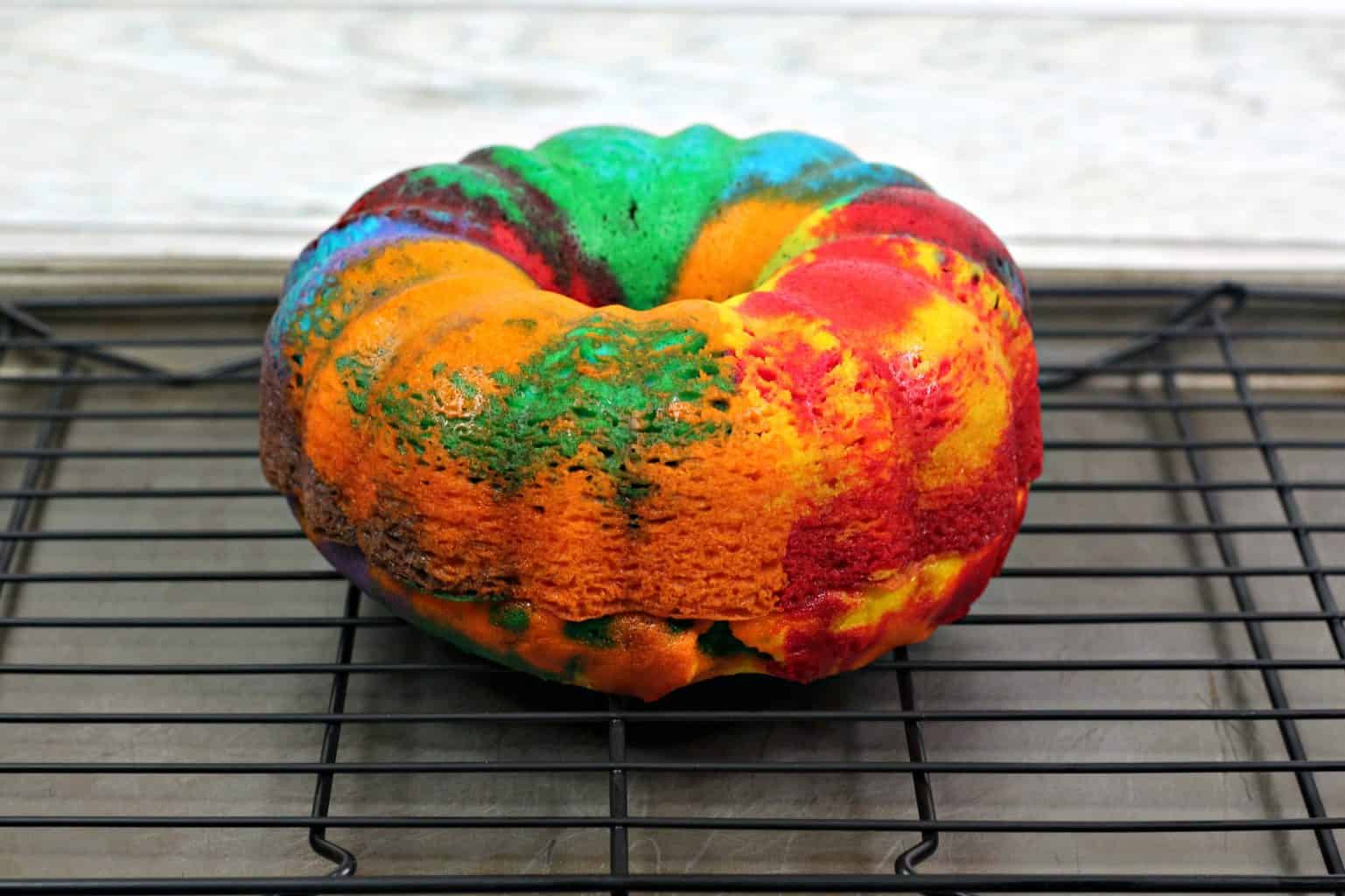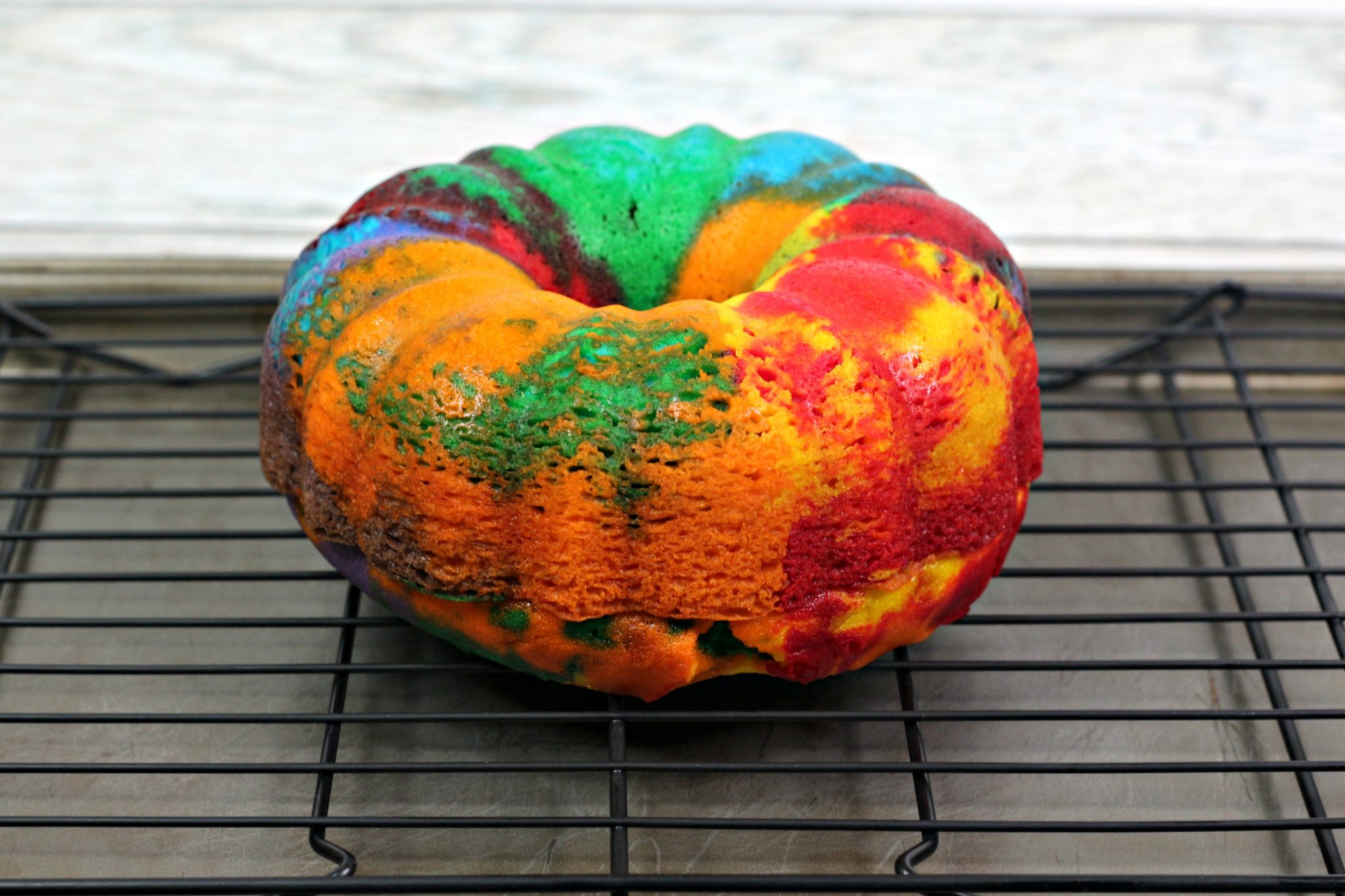 Step 4: Add in 1 cup of water into the instant pot then add the trivet on top. After you prepare a sling with aluminum foil, you'll need to lower the cake on top of the trivet. Be sure to add a piece of aluminum foil on top of the bundt cake.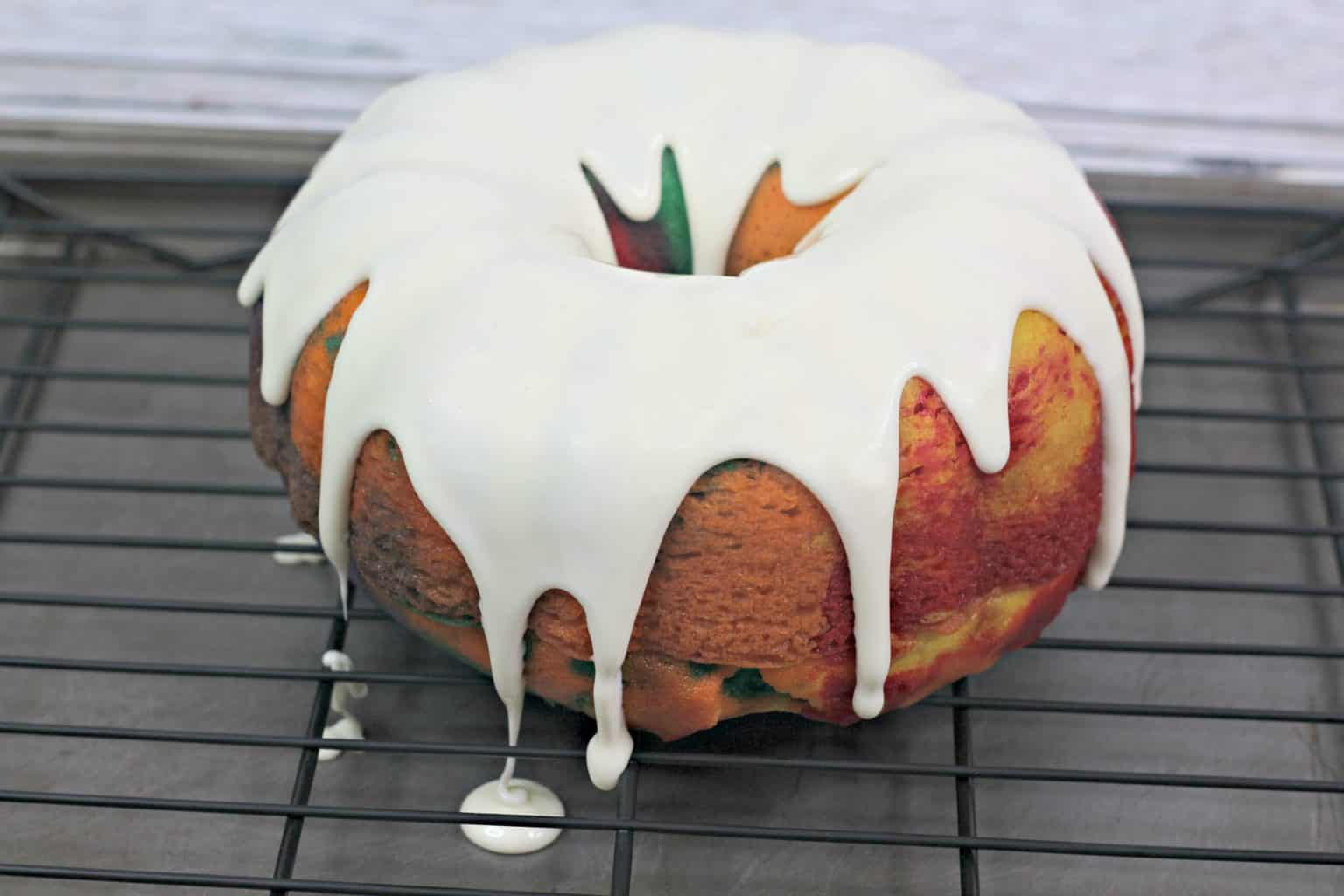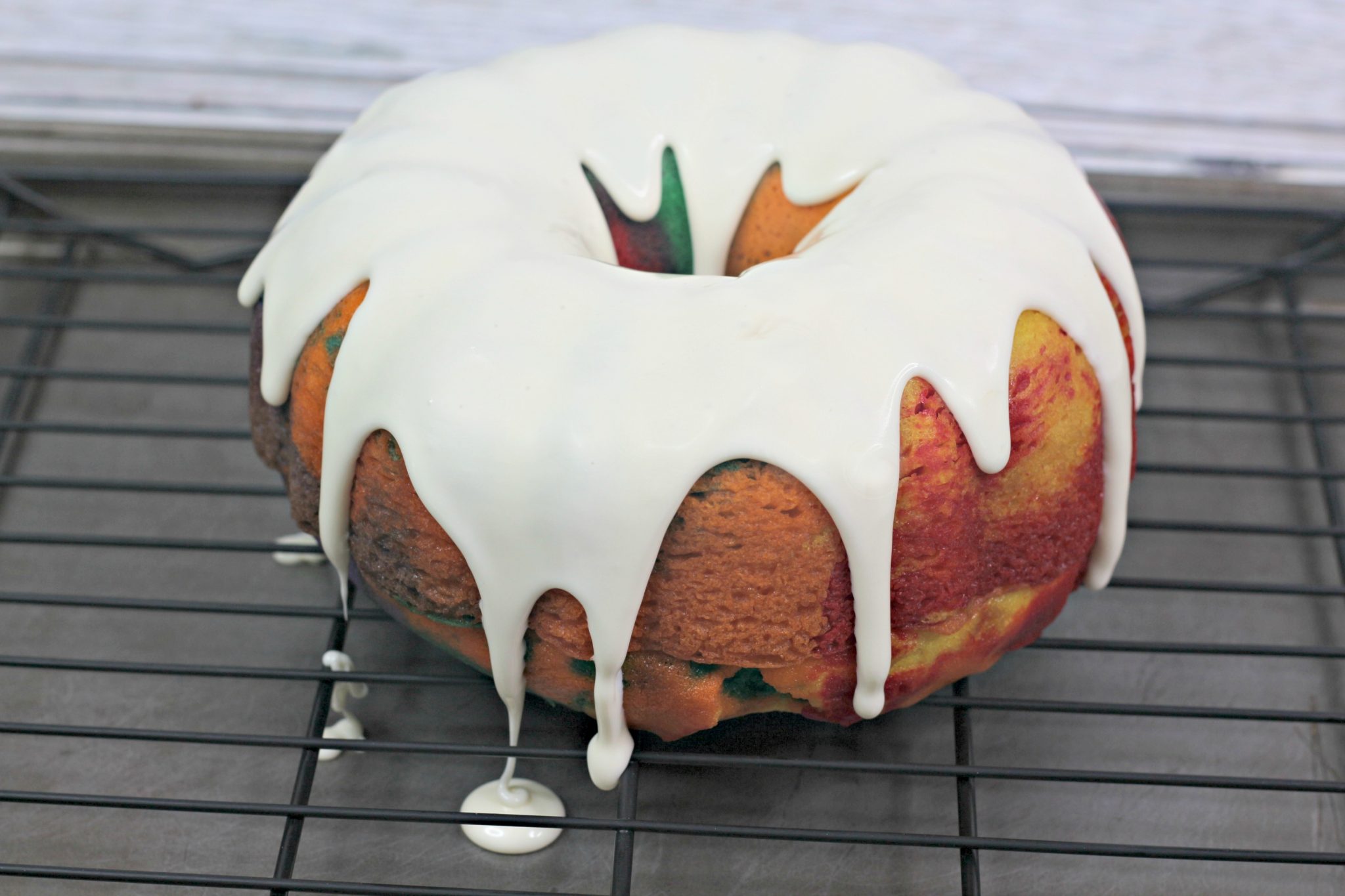 Step 5: Add the lid to the instant pot and turn it to the sealed position. Cook the bundt cake on high for 35 minutes. Then do a quick release and place the cake on a cooling rack for 30- 60 Minutes.
Step 6: Turn the cake upside down, so it comes out of the bundt pan smoothly. You may need to take a knife and gently rub around the edges of the cake to help loosen it out. Add your favorite frosting along with crushed Fruit Loops cereal to the top of the bundt cake. Enjoy!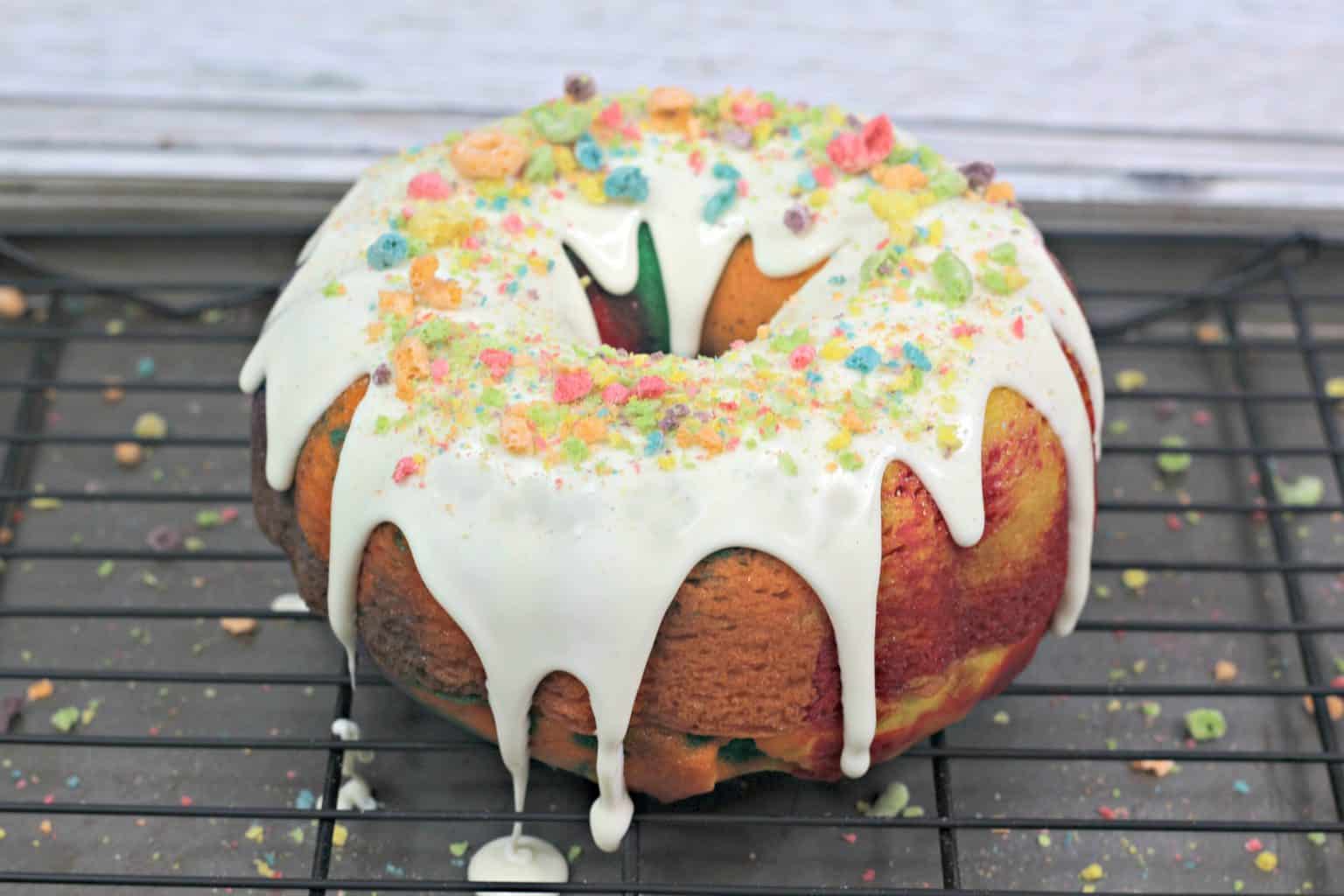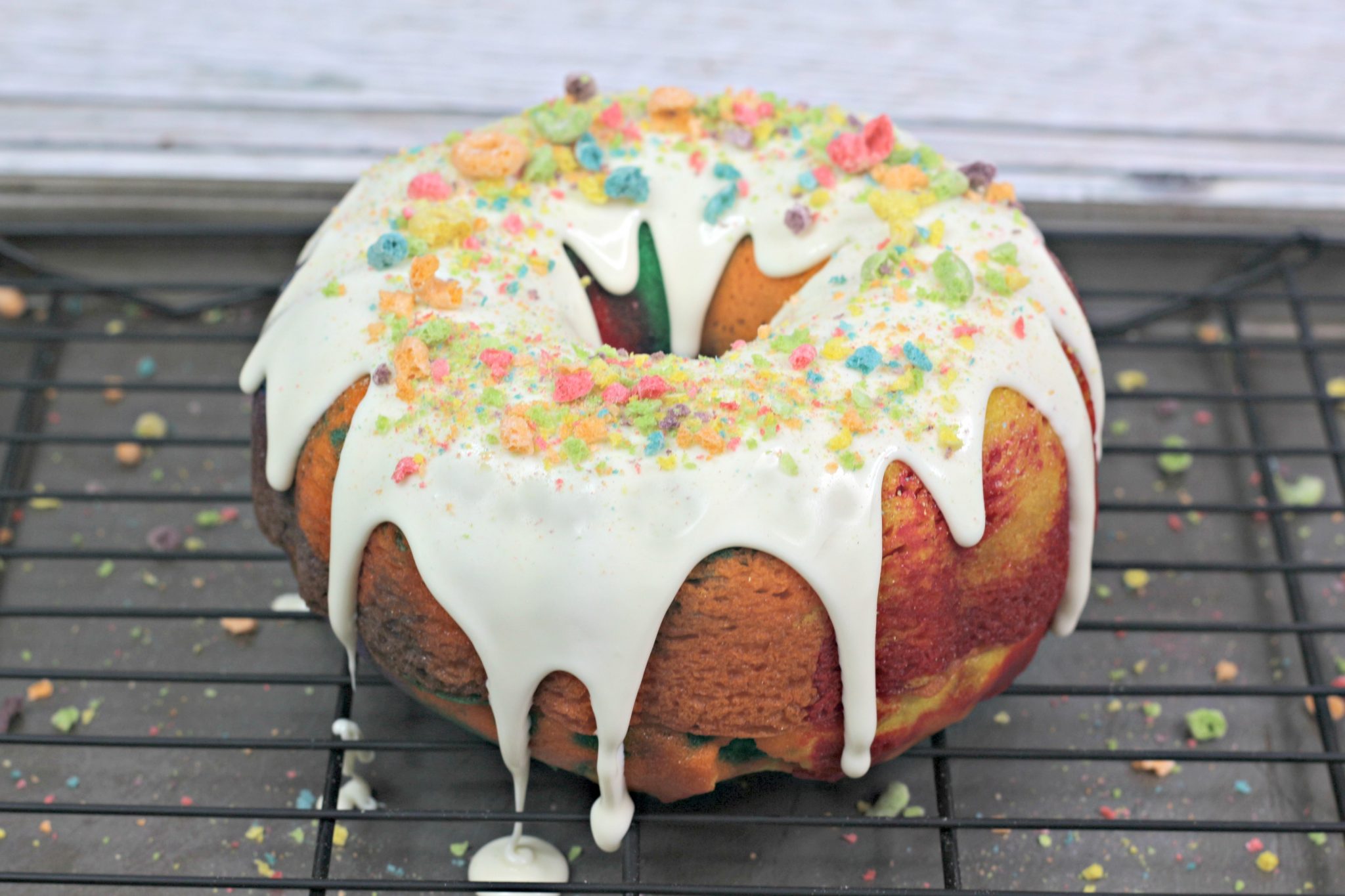 Enjoy!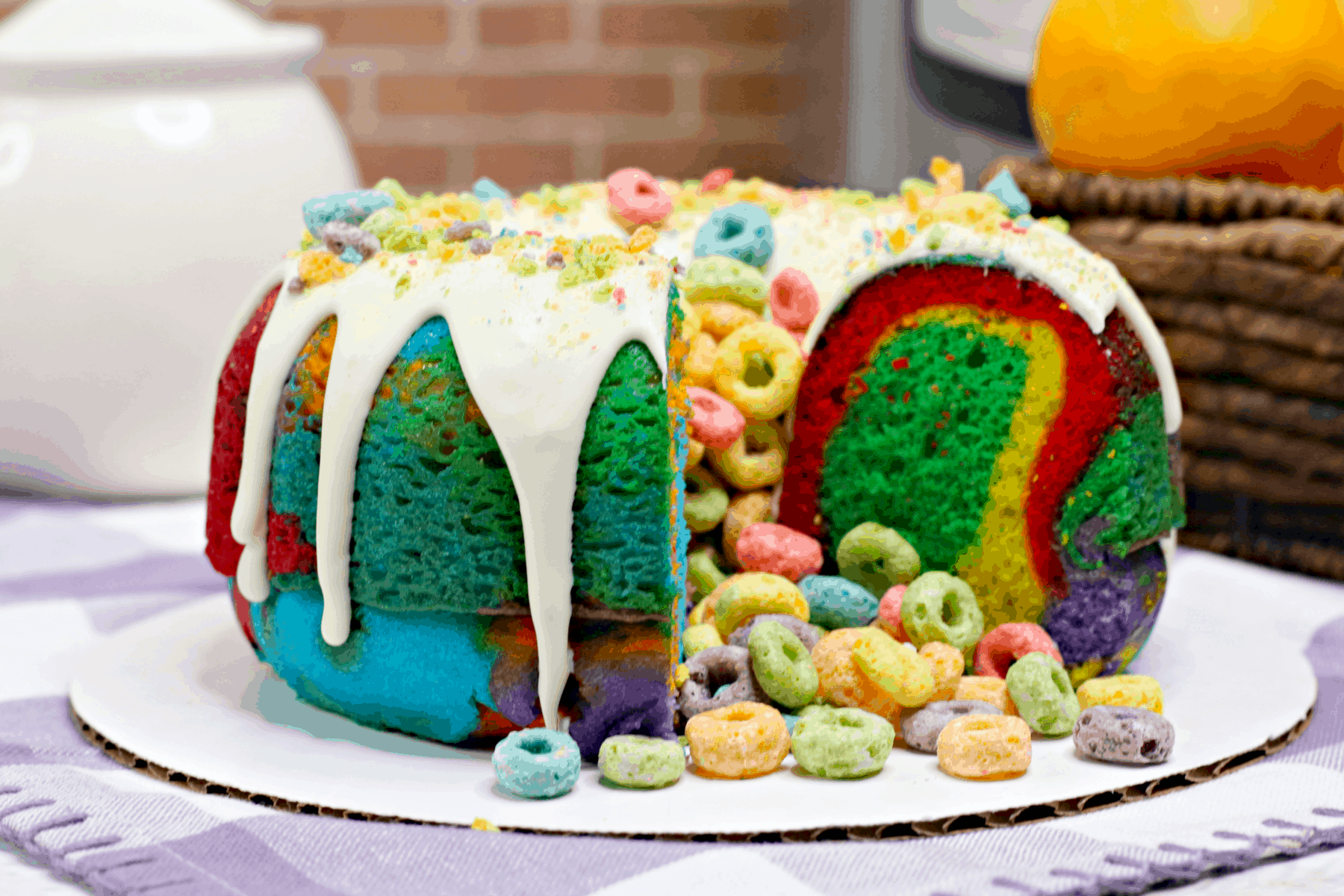 Now, remember to save this recipe on Pinterest for later 🙂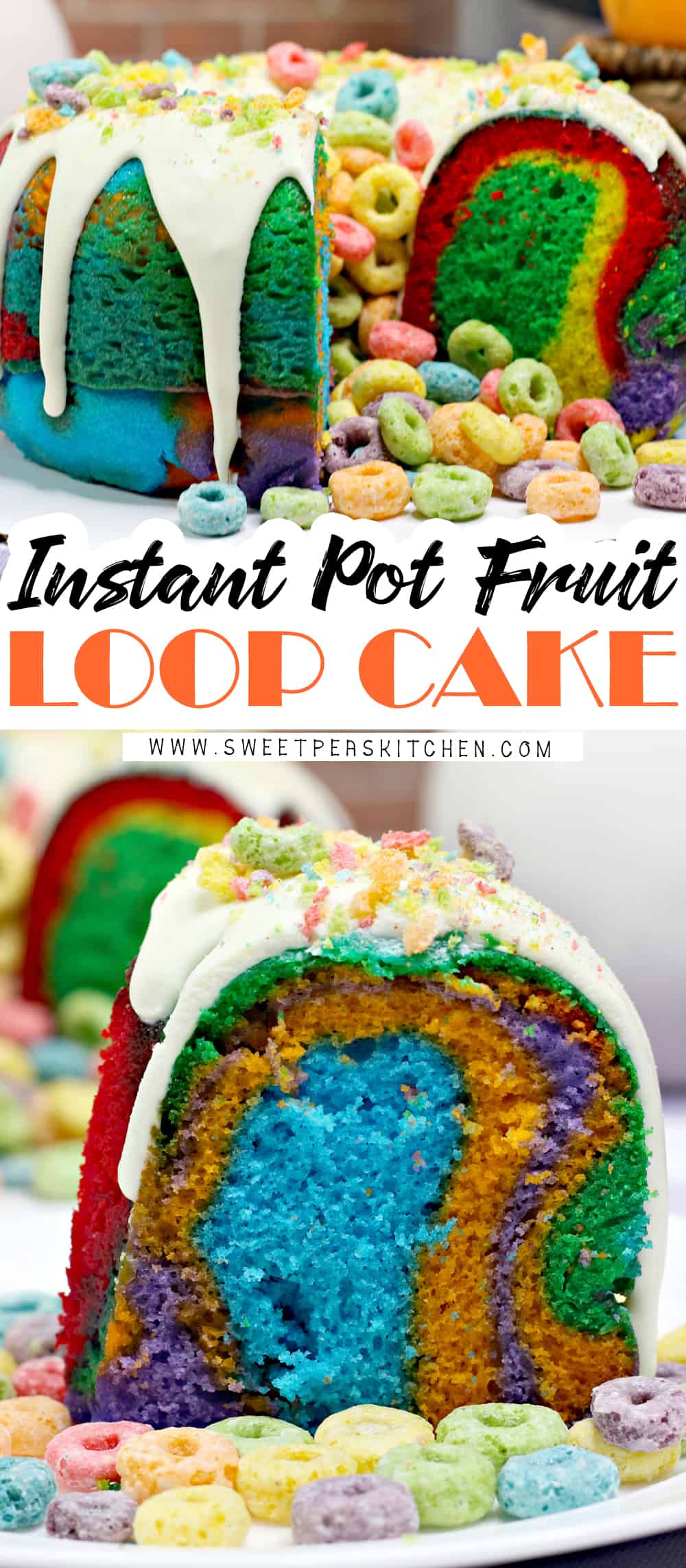 Pin this recipe now to remember it later
Instant pot Fruit Loop bundt cake
Instant Pot Fruit Loop Cake is a rainbow bundt cake that is bursting with flavor. Drizzled with icing and topped with crunchy fruit loops. Kids and adults will love this fruit look cake.
Ingredients
1

box french vanilla cake mix

Purple

,

Blue, Orange, Green, Yellow and Red Gel Food coloring

½

C

crushed fruit loop cereal
Want to save this recipe? Enter your email below and we'll send the recipe straight to your inbox!
NOTE: By saving this recipe, you agree to join our weekly recipes newsletter.
Instructions
In a large bowl, mix together the vanilla cake mix, eggs, water, and oil.

Divide the batter between 6 bowls so you can create all different colors.

Mix a few drops of blue gel food coloring into one of the bowls.

Mix in a few drops of color into one of each of the remaining bowls creating a rainbow effect of colors.

Grease and flour a 7 inch bundt pan.

Scoop drops of each colored batter into the bundt pan until all batter is used up.

Add 1 cup water to the inner bowl of the instant pot. Place trivet inside.

Make a foil sling or use a silicone sling, and carefully lower the filled bundt pan on top of trivet in the instant pot. Loosely fold foil sling over the top of the bundt pan.

Close lid and set to sealing.

Cook on high pressure for 35 minutes.

Quick pressure release.

Let cool on a cooling rack for 30-60 minutes.

Use a knife to gently separate the cake from the sides of the bundt pan and empty the cake onto a plate.

Frost as desired and top with crushed fruit loop cereal.
Follow me on Pinterest for daily delicious recipes!
If you love making desserts in your instant pot, I have several recipes I know you're going to enjoy. Let's take a look so you can put your instant pot to work.
Instant pot Oreo cheesecake – if you are in the mood for chocolate and want to indulge in a little, this Oreo cheesecake is absolutely fantastic.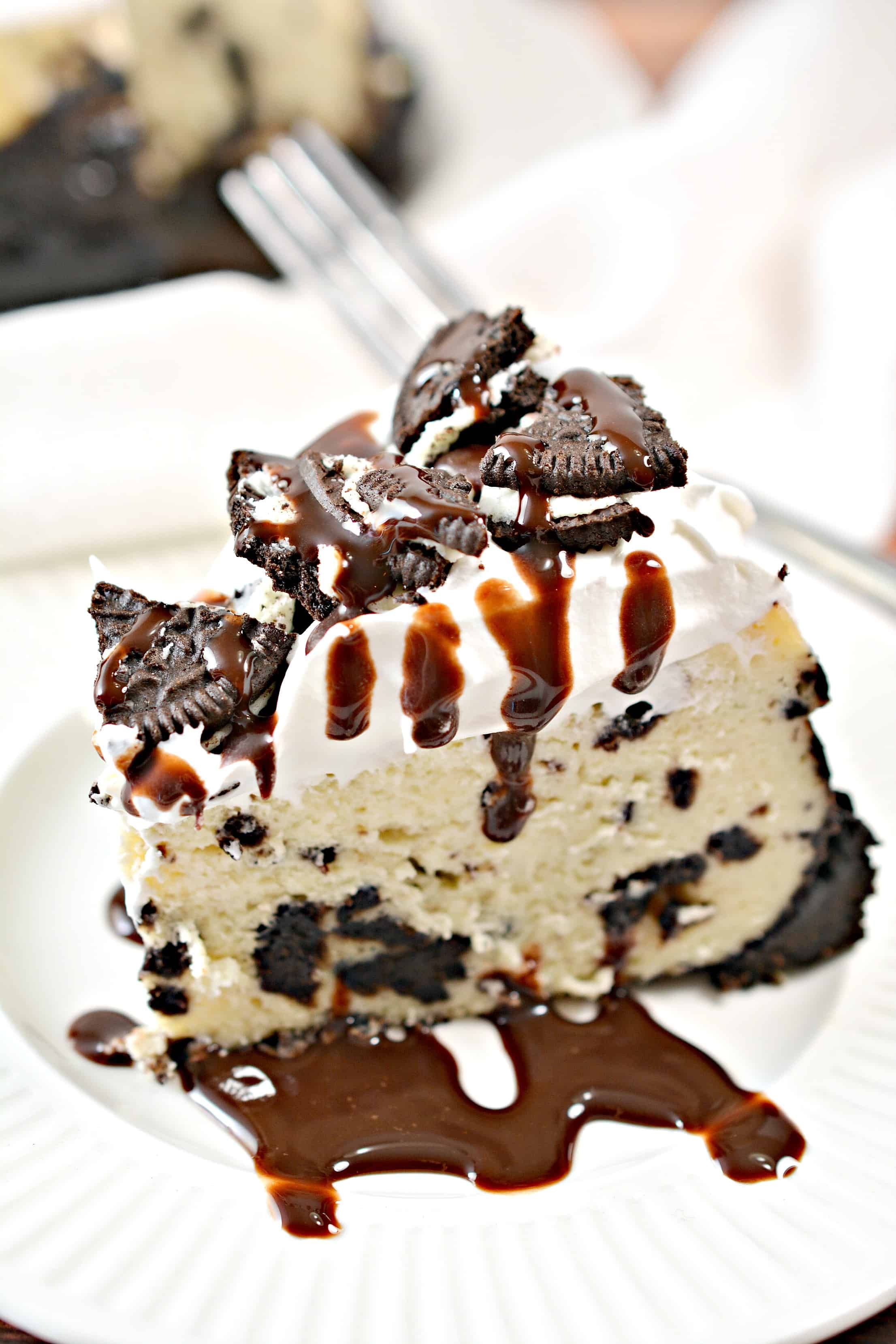 Triple chocolate instant pot cheesecake – everything about this cheesecake is decadent, rich, and velvety. It's a chocolate lover's dream!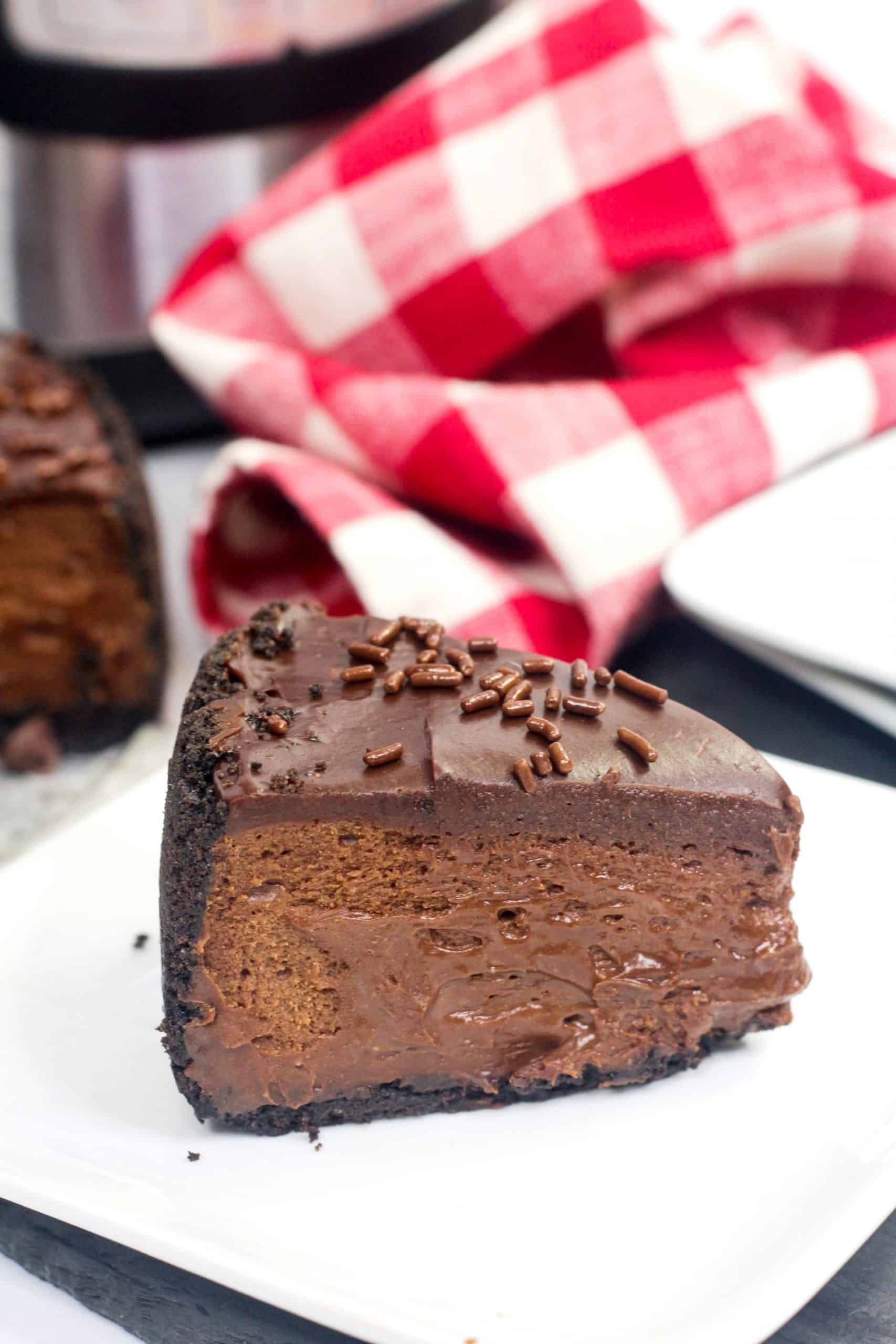 Pumpkin apple instant pot cake – the combination of pumpkin and apples is perfect for cooler weather and fall gatherings.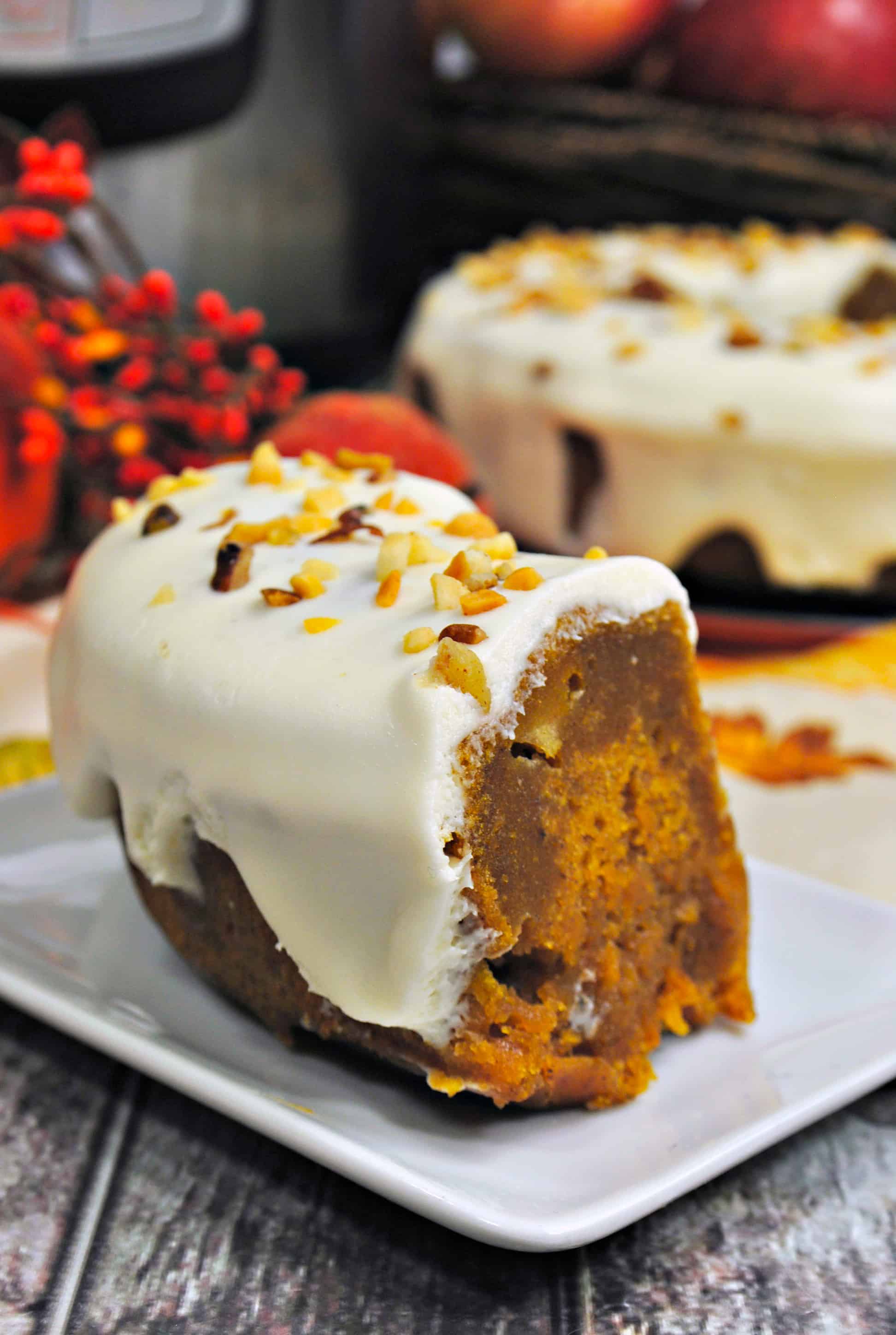 Instant pot black forest cheesecake – this cake has a little bit of everything—lots of rich chocolate, cherries, and a luscious whipped topping.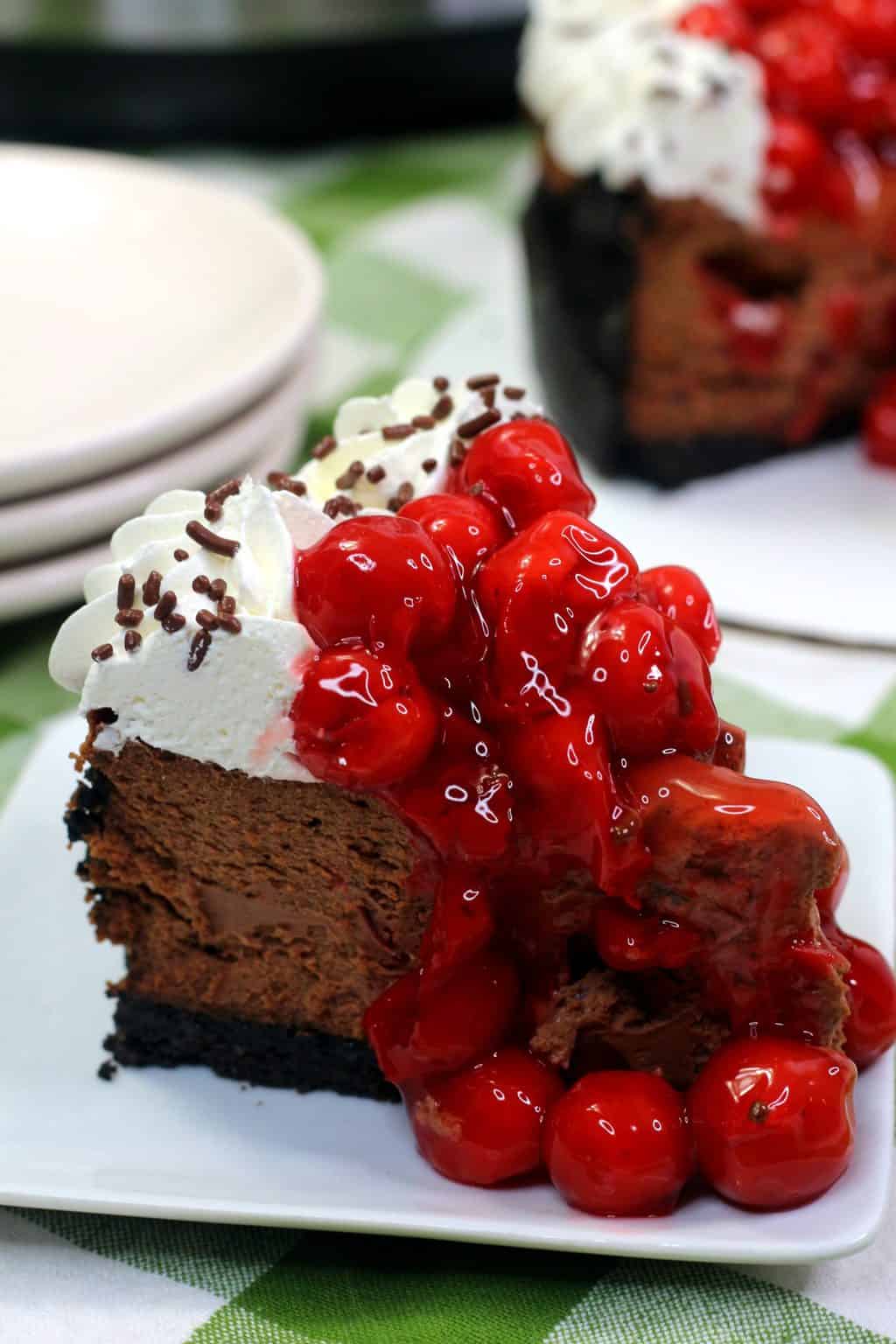 Get new recipes weekly plus our FREE ebook!