These succulent Instant Pot garlic parmesan chicken wings are finger-licking good! Juicy, tender garlic parmesan wings are super easy to make too! Plus, I love that my pressure cooker does the hard work while I work on other things like dessert!
I was looking for a simple meal to serve to some friends. We were going to have a few drinks and eat some great food, so I was trying to figure out what to serve. I wanted something fun, but full of flavor. This garlic parmesan wings Instant Pot recipe is just that. Everyone seriously devoured them as soon as they were served, and my friends were begging for the recipe. These garlic parm wings were a true hit.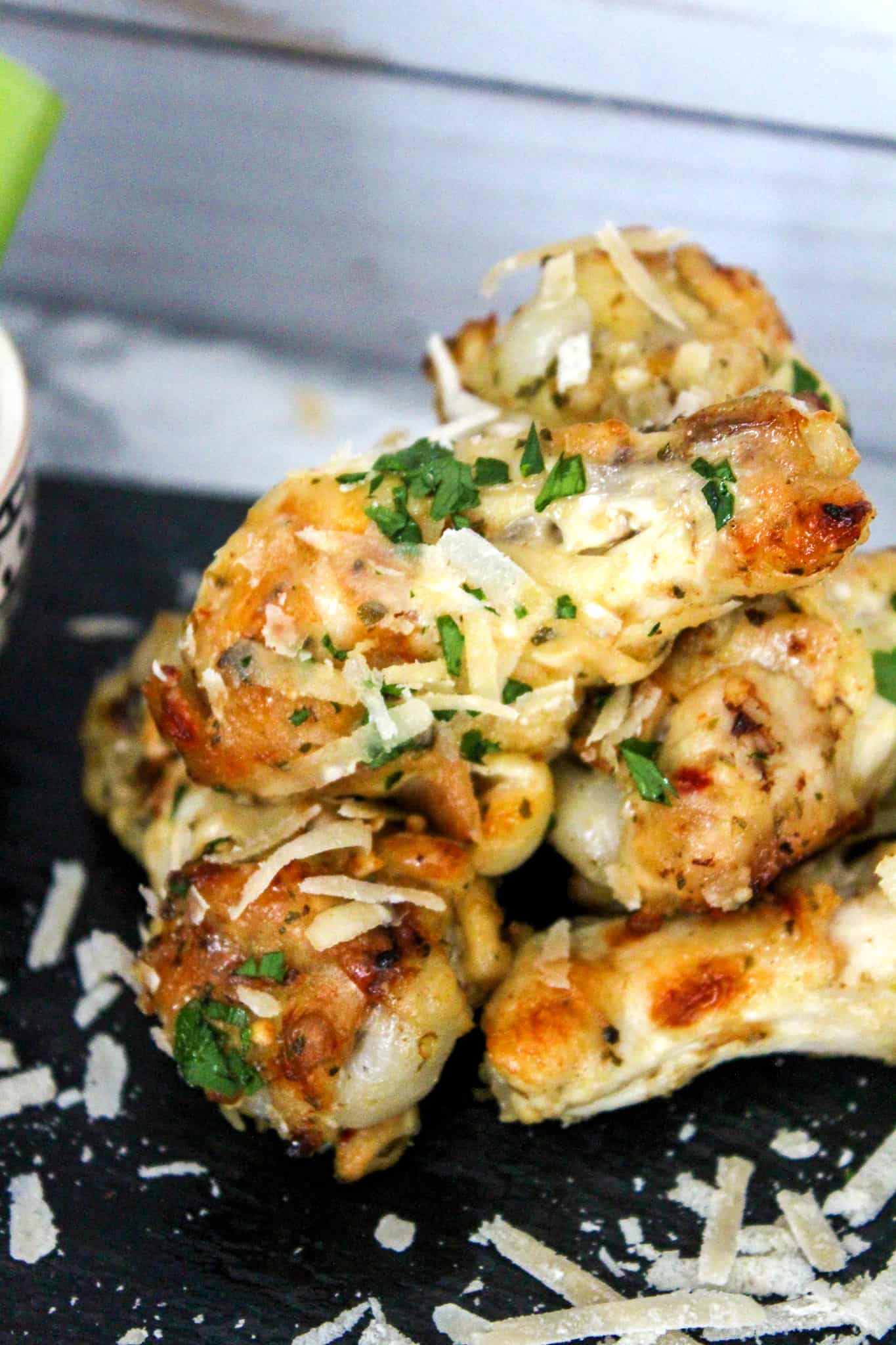 How To Make Instant Pot Garlic Parmesan Chicken Wings
I know you may be wondering how you can possibly make the perfect wings in the pressure cooker, but you can! You are just a few steps away from sinking your teeth into the best chicken wings ever!
First Step: Begin by prepping your wings.  Wash, dry, and cut them.
Second Step: Add the garlic to the bottom of the Instant Pot.
Third Step: Add two tablespoons of liquid smoke and 1/2 cup of water.
Fourth Step: Coat the chicken wings with 1 tablespoon of garlic and have of the garlic parmesan wing sauce. The best way is to add the wings and sauce to a bowl and gently flip until completely covered.
Fifth Step: Toss the sauced wings into the pressure cooker.
NOTE: It's essential to not go above the max fill line with the wings. If you have too many, you can always make separate batches or use a second Instant Pot.
Sixth Step: Place the lid on the pressure cooker and make sure the valve is closed in the sealing position.
Seventh Step: Turn the Instant Pot to the poultry setting or the manual setting. If you choose the manual setting, you can set it for 4 minutes if you like them tender. If you prefer the meat to literally fall off the bone, then go 5 minutes.
Eighth Step: Once the timer beeps, let the pressure release naturally for 5-10 minutes.  Then release the rest of the pressure by moving the valve to the venting setting.
Ninth Step: Place the cooked wings on a baking dish and cover with the rest of the garlic parmesan sauce. Broil for 2 minutes, turn then broil for 2 additional minutes.
Tenth Step: Sprinkle with freshly grated parmesan cheese.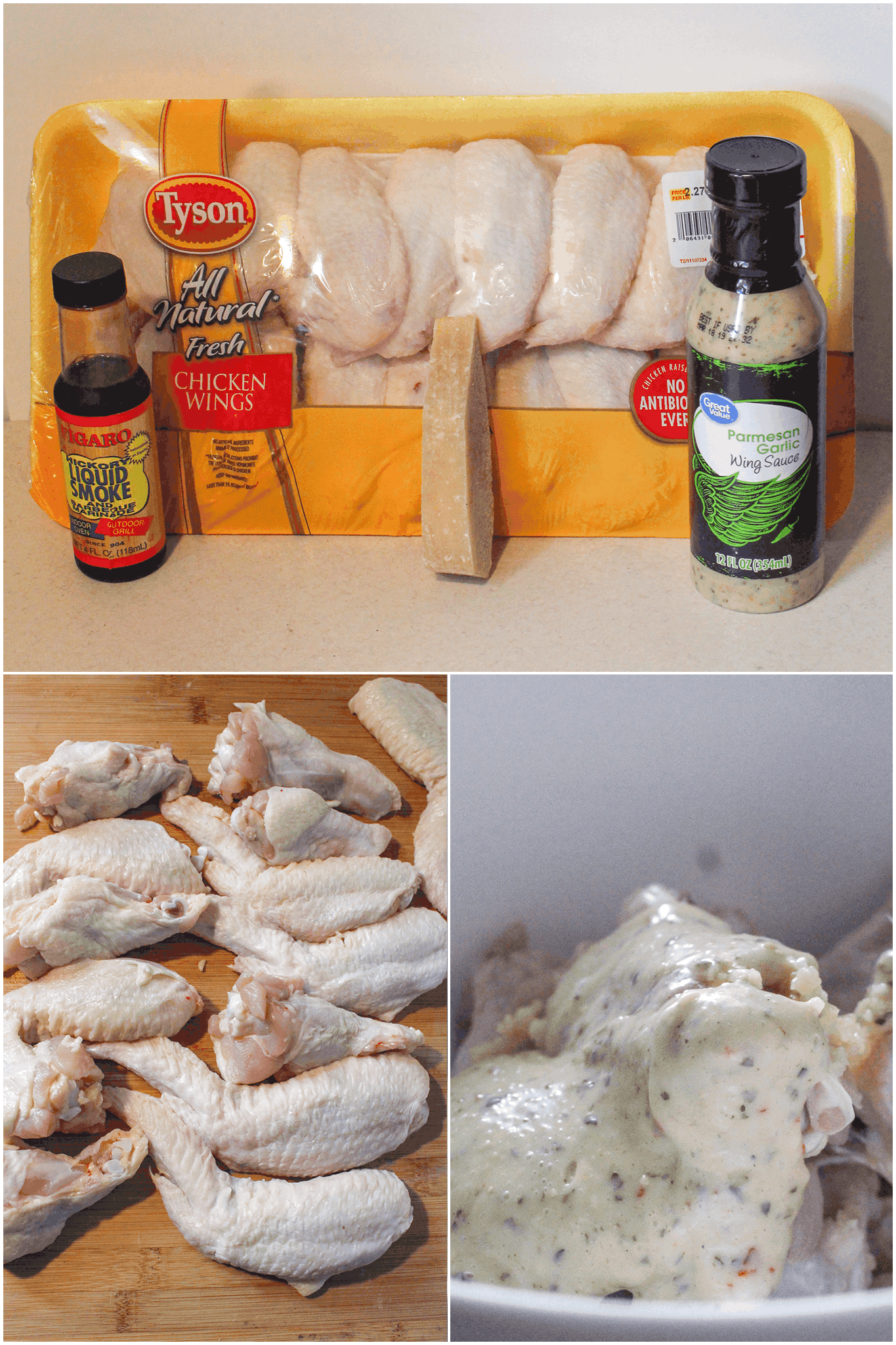 How To Prepare Chicken Wings For Cooking
If you don't have a ton of experience in the kitchen, preparing chicken wings can be a little intimidating. First, let me start by saying that they do sell bags of frozen pre-cut chicken wings if you don't want to cut them. You will just need to thaw them out in cold water before cooking. Take a look at these easy steps to prep the wings:
Make two cuts on the wing. You need to cut off the wingtip (which you can throw away or save for homemade broth), then you cut the wingette and drumstick. Once they are cut, they will look just like what you are used to seeing wings look like.
Next, you will want to rinse them off with cool water. You don't need to go crazy, just making sure there is not germs or chunks of feathers anywhere.
Then you should pat them dry with a paper towel. That's it! Now you are ready to cook these yummy garlic parm wings.
How Do You Know If Chicken Wings Are Done?
First, you will notice that the chicken wings have clear fluid, not bloody. Then you will see the meat itself is usually white and not raw looking. The best way to tell if they are completely done is by using a meat thermometer. You can guess, but that isn't the safest way. The internal temperature of the Instant Pot chicken wings should be 165 degrees F.
Can I Make Instant Pot Garlic Parmesan Chicken Wings Ahead?
Yes, you can make these garlic parmesan wings ahead of time. They are ideal for meal planning, so if you like to batch cook, then you are in luck. Make them as directed in the recipe, then let them cool completely. Store them in the refrigerator in an airtight container up to 4 days.
Can I Freeze Instant Pot Chicken Wings?
Yes, these Instant Pot wings can easily be frozen. I prefer to freeze them by first laying them on a baking sheet, so they aren't touching. Then place the sheet in the freezer for 1-2 hours until the garlic parm wings are pretty frozen. After that, you can add them to a freezer bag or airtight container. They will last in the freezer for 3-4 months.
How To Reheat Instant Pot Wings
This garlic parmesan wings Instant Pot recipe is great because you can easily reheat them and they taste as great as the first time! The best way to reheat these easy wings is by placing them on a baking sheet that has been covered with tin foil. Then place them in a preheated oven at 350 degrees F. Bake the garlic parm wings for around 15-18 minutes until they are all the way hot.
You can also microwave them too. Just place them on a plate, so they are touching and cover with a paper towel. Heat them for 2 minutes or so until they are completely hot.
What To Serve With Instant Pot Garlic Parmesan Chicken Wings
You can eat the wings as an appetizer or as the main course. Either way, you may or may not want to serve them with anything. Here are some ideas to try:
Bleu Cheese Dressing – Perfect for dipping these simple chicken wings in.
Ranch Dressing – Ranch goes with everything.
French Fries – Make a batch of your favorite french fries, and you have an easy dinner idea!
Salad – If you are eating the wings as the main course, you should serve a nice garden salad with lots of fresh veggies as the starter.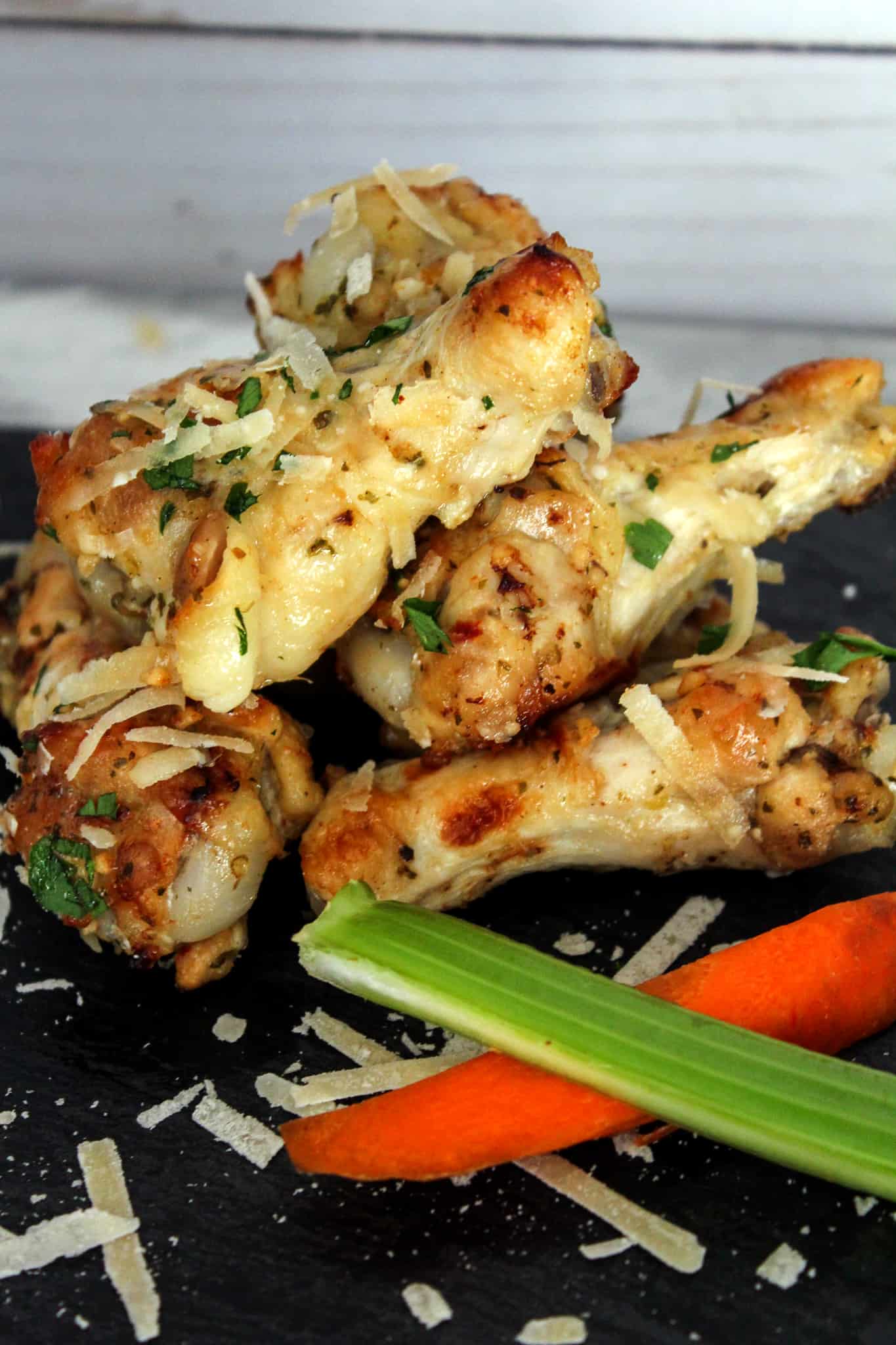 Check out these other chicken recipes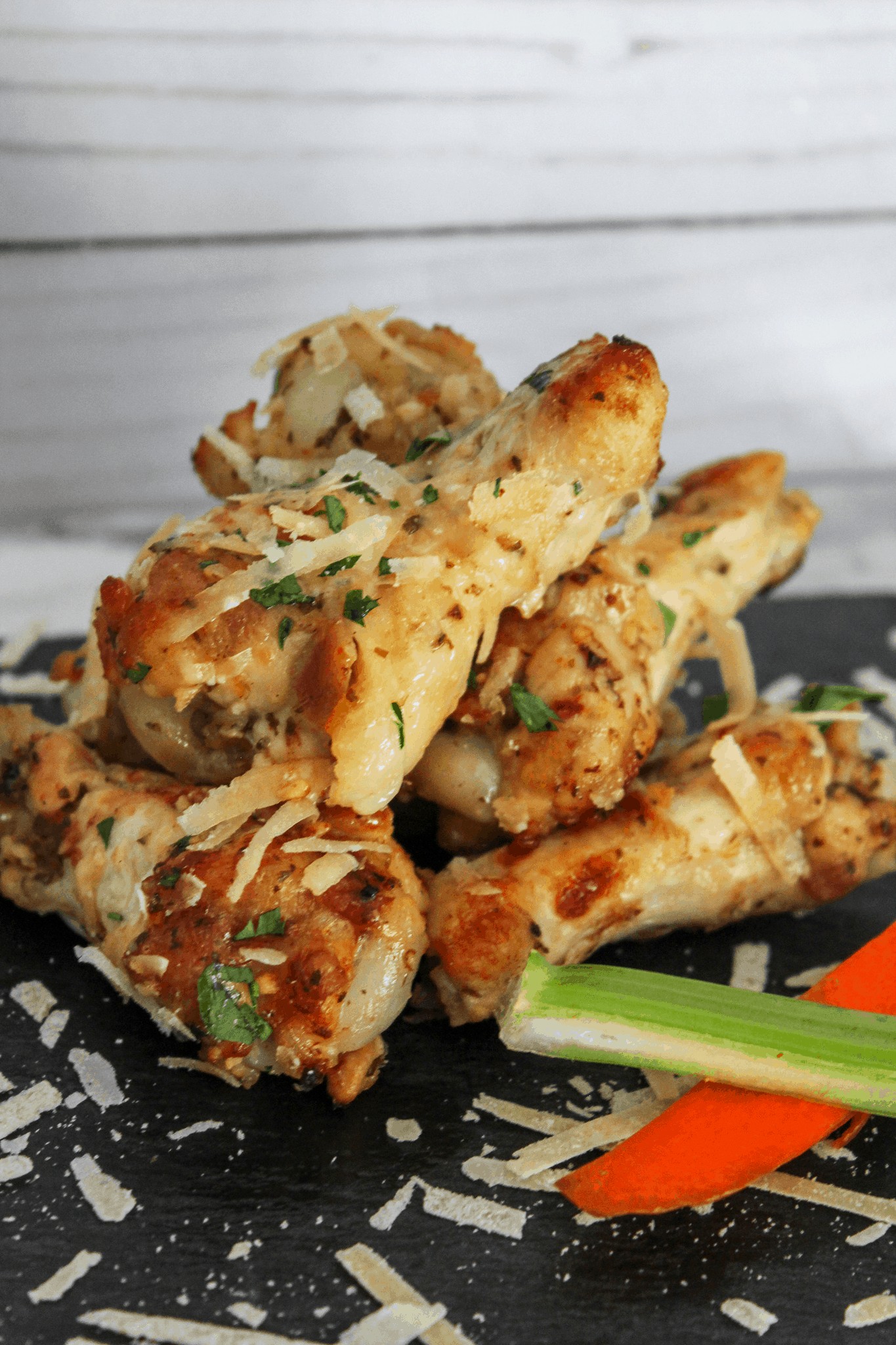 Garlic Parmesan Instant Pot Wings
Serve up these Instant Pot garlic parmesan chicken wings! Juicy tender Instant Pot wings with a tasty flavor. Great for a game day appetizer.
Ingredients
1 bottle garlic parmesan wing sauce
½ cup water
2 tbsp liquid smoke
1 tsp garlic + 1 tbsp garlic
3 pounds chicken wings
Parmesan Cheese block - as needed (At our house we load them up!)
Instructions
Prep your wings. Wash, dry and cut them.
In your Instant Pot, add 1 tsp garlic to the bottom.
Pour in 2 tbsp liquid smoke and ½ cup of water.
In a large bowl, coat your chicken in 1 tbsp garlic and half a bottle of garlic parmesan wing sauce.
Place in the Instant Pot. Make sure you don't go over the max fill line.
Cover the pot and secure the lid. Be sure that the valve is set to sealing.
Cook on the poultry setting. If you want to cook on the manual settings, set for 4 minutes for tender wings or 5 minutes if you want fall off the bone wings. When the timer beeps, let the pressure release naturally for 5-10 minutes. Then release the rest of the pressure by moving the valve to the venting setting.
Remove from the Instant Pot and place on a baking sheet. Broil for 2 minutes on each side.
Sprinkle with fresh grated parmesan cheese.
Serve
Now, time to Pin this recipe for later 🙂