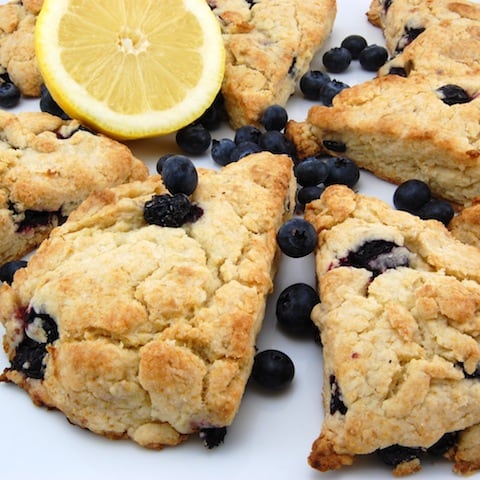 I made these delicious scones yesterday morning for Labor Day. I wanted something quick, easy and satisfying so that I could get out and enjoy the beautiful day. It was such a gorgeous day, a wonderful end to a fun-filled summer. 🙂
Lately I have been making scones like crazy! They are so fast and delicious! You can even freeze a few and pop them into the oven to have freshly baked scones on a busy morning. If you are one of those people who think making your own food is too time consuming, think again! You can have these delicious scones on the table in less than 30 minutes. Make them over the weekend and eat them for your busy weekday breakfast and save yourself $4 a day by not buying them at a coffee shop.
Don't have fresh blueberries? No worries, you can use frozen, just throw them into the batter and shape! No need to thaw. Try these sweet and tangy scones bursting with blueberries and a hint of lemon, topped off with a drizzling of lemon icing.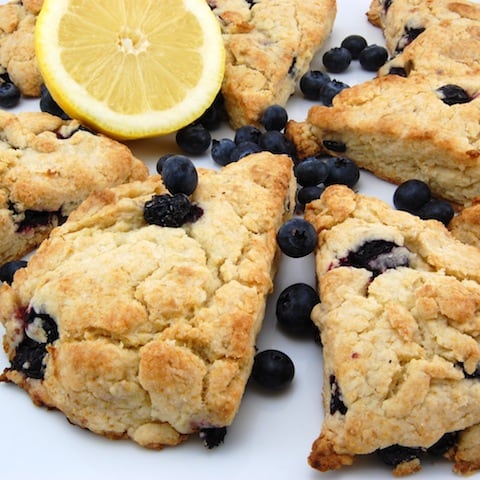 Lemon-Blueberry Scones
Ingredients
2 cups unbleached all-purpose flour
1 tablespoon baking powder
3 tablespoons sugar
1/2 teaspoon salt
5 tablespoons cold unsalted butter, cut into 1/4-inch cubes
1 teaspoon grated lemon zest
1/2 cup blueberries
1 cup heavy cream
1 tablespoon lemon juice
3/4 cup confectioners' sugar, sifted
Instructions
Preheat oven to 425 degrees F.
Place flour, baking powder, sugar, and salt in the bowl of a food processor fitted with a metal blade. Process with six 1-second pulses.
Remove cover of food processor and sprinkle the butter evenly over the dry ingredients. Add the grated lemon zest. Cover and process with 12 1-second pulses.
Transfer dough to a large bowl. Mix in blueberries with your hands. Add heavy cream and mix with your hands until dough begins to form.
Gently knead dough by hand until it comes together into a rough ball, about 10 seconds.
To shape the scones, lightly dust an 8-inch cake pan and press dough into the pan, then turn the dough onto a lightly floured work surface. With a sharp knife, cut the dough into 8 wedges.
Place wedges on an ungreased baking sheet and bake in preheated oven 12 to 15 minutes or until tops of scones are a light brown. Transfer to a wire rack for at least 10 minutes before serving.
While the scones are cooling, make lemon glaze. Combine lemon juice and confectioners' sugar until you achieve a thick, opaque icing. Drizzle over scones.