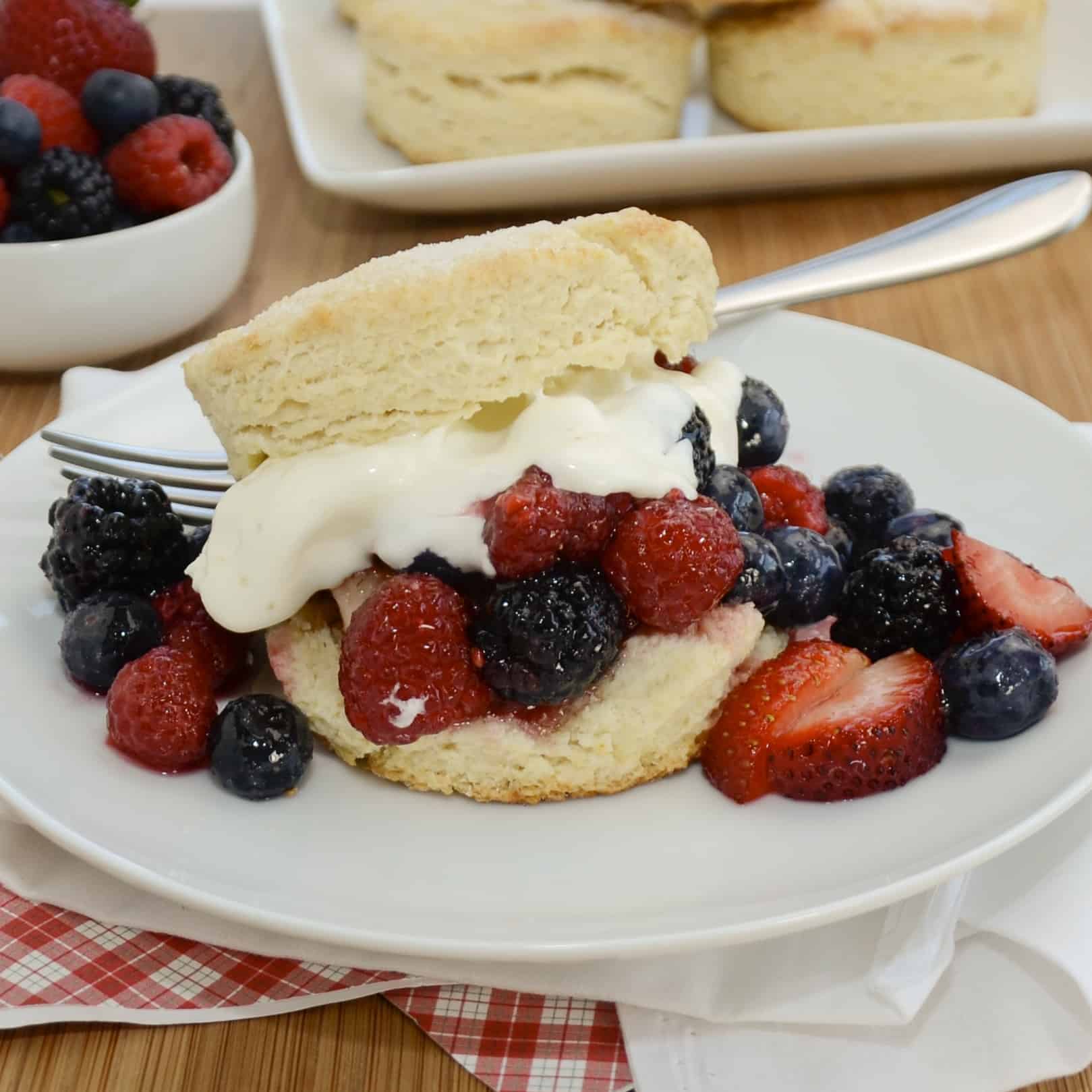 You will be drooling when you see how incredible this Mixed Berry Shortcake Recipe is! The sweet plump berries, flavorful biscuit, and homemade whipped cream are out of this world. This shortcake recipe comes together in less than an hour and will leave you wanting more and more. It's the perfect way to end a hectic day too.
Scroll to bottom for printable recipe card.
Mixed Berry Shortcake Recipe
I love this time of year! The days are long, warm, and perfect for spending your evenings outside. In my book, no summer night is complete without firing up the grill for a delicious dinner. Whether it is chicken, hamburgers, shrimp, or fish, a perfect summer meal calls for a perfect summer dessert. Strawberry shortcake is, without a doubt, one of my favorite summer desserts. Is there really any other dessert that screams summer as much as a berry shortcake? 🙂 I like to serve this dessert while the shortcakes are still warm from the oven. The contrast of cool berries and whipped cream sandwiched between a warm cakelike biscuit is incredible.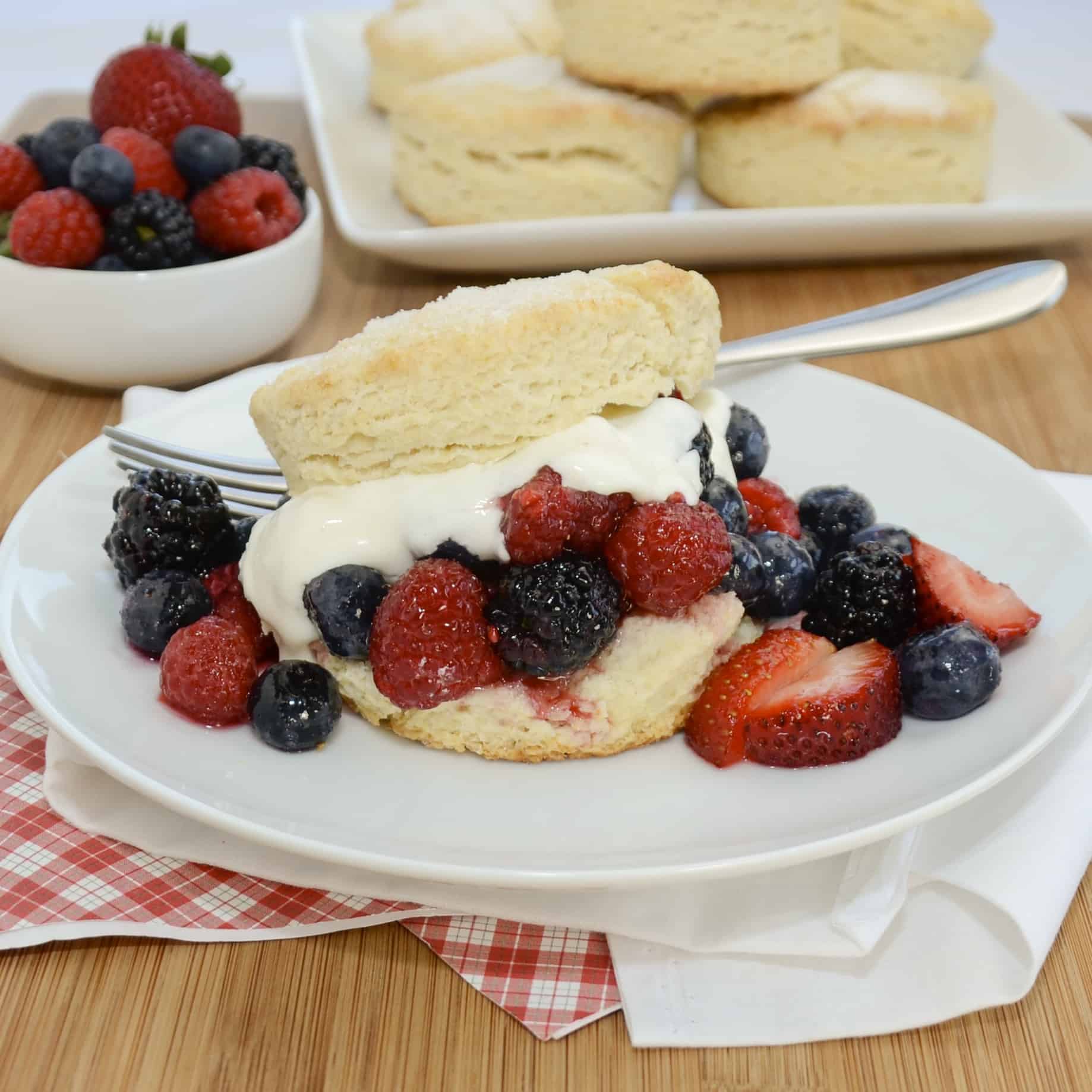 Is a Shortcake Just a Biscuit?
The shortcakes for this mixed berry shortcake recipe is very similar to a biscuit. The texture and look of the shortcake resemble a biscuit very much. However, these shortcakes are much sweeter than a biscuit and go perfectly with the fruit and whipped topping. If you were to just use biscuits instead of the shortcake recipe, you will find that biscuits are much more savory than sweet—especially, ones that have a lot of butter to them.
Can I use Frozen Berries?
Yes, if you want to use frozen berries, go for it! I love how gorgeous this mixed berry shortcake recipe looks with fresh, plump berries, but frozen is always an option. The main thing is that if you use frozen berries, the look is going to be different, as well as the texture. Frozen berries break down a lot faster and have a lot more moisture as they melt. That wetness will add some sweetness to the shortcakes too. Feel free to make this recipe your own and do what works for you.
Will Ready-Made Whipped Cream Work for This Shortcake Recipe?
Yes, using commercially prepared whipped cream is an option for this shortcake recipe. If you don't have the ingredients or the time, it's completely fine to use canned if you want. My preference is always homemade whipped cream because I think the flavor and texture are incredible and hard to beat. But I understand that sometimes time doesn't allow for handmade. Keep in mind when you make it yourself, it does whip up really quickly in case that is a worry you have.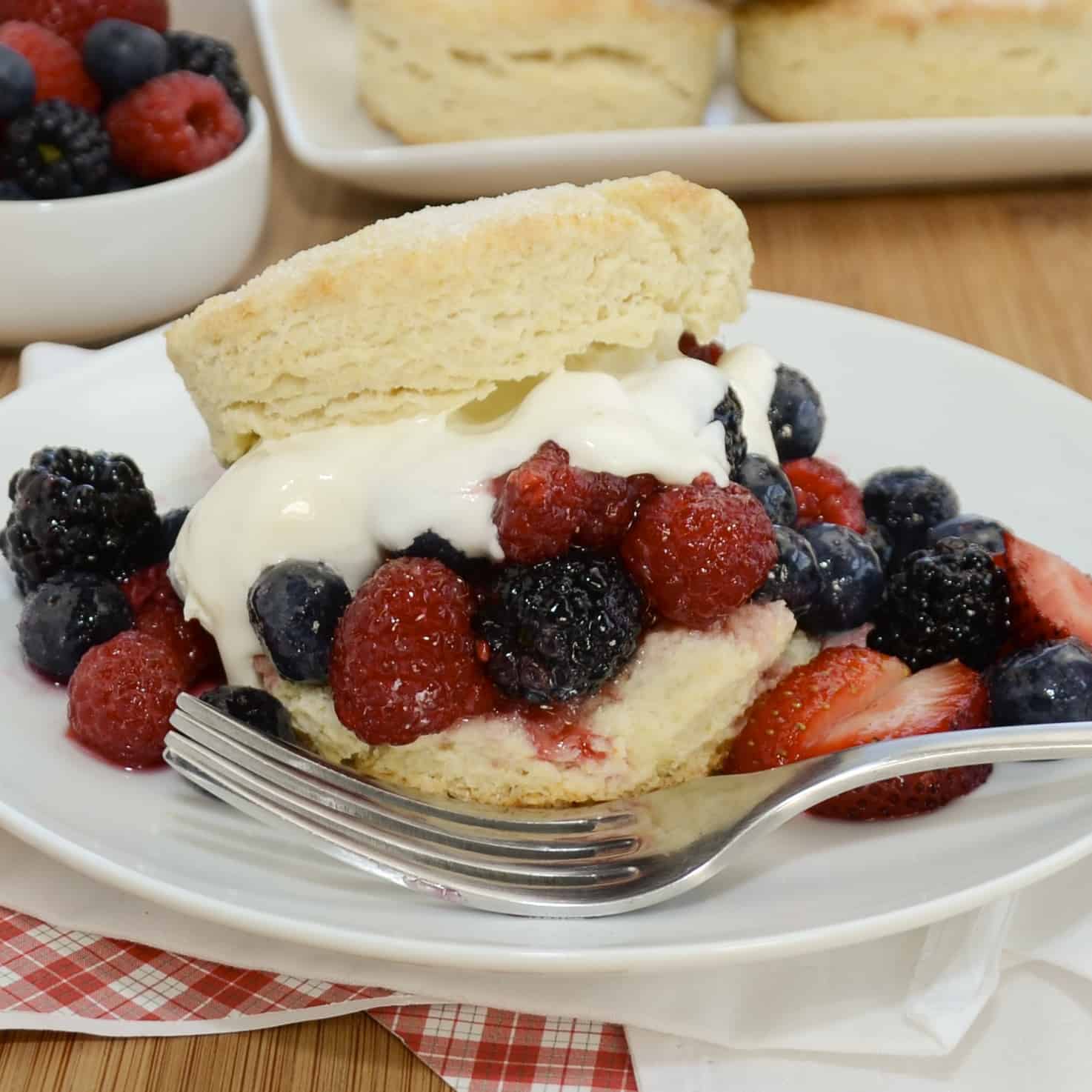 Ingredients
There are three sets of ingredients for this mixed berry shortcake recipe. The topping, shortcakes, and of course, the whipped cream. They are all really easy to work with.
For the Topping:

Fresh berries (blackberries, raspberries, blueberries and/or strawberries, cut into bite-size pieces)
Granulated white sugar
For the Shortcakes:

Bleached all-purpose flour
Table salt
Baking powder
Granulated sugar
Unsalted butter
Eggs
Half-and-half
For the Whipped Cream:

Heavy cream, chilled
Granulated sugar
Vanilla extract
How to Make a Shortcake Recipe
I am thrilled to be sharing this awesome recipe for mixed berry shortcakes with you. Take a look so you can be enjoying them soon.
First Step: Turn on the oven to 425 degrees F. and adjust the oven racks to the lower middle position.
Second Step: Add the berries to a large bowl and mix in the sugar. Begin preparing the biscuits and allow the fruit to set for 15 minutes all the way up to 2 hours, then mash the berries.
Third Step: Use a food processor and add the flour, salt, baking powder, and 3 tablespoons of sugar. Use the metal blade and pulse until combined. Then add in the butter and pulse until you notice the mixture looks like cornmeal with pea-sized pieces of butter. Add this mixture to a mixing bowl.
Fourth Step: Put together the egg and the half and half. Then pour it into the flour mixture. Using a rubber spatula mix until everything comes together. Then place the dough on a floured surface and knead it lightly until it comes together.
Fifth Step: Shape the dough into a rectangle that is 3/4 inches thick and 9×6. Then using a biscuit cutter cut six biscuits. Put the shortcakes one since apart on the baking sheet. Then use some egg white to lightly brush the tops of the shortcakes and sprinkle with some sugar. Knead the rest of the dough and repeat the process to make more biscuit shapes. Bake them for 12-14 minutes or until they are golden brown. Put them on a wire rack and allow to cool for 10 minutes.
Sixth Step: During the time that the biscuits are baking, prepare the whipped cream. Place the nonreactive 1 – 1 1/2 quart bowl for at least 20 minutes in the freezer. Then mix the cream, sugar, and vanilla to the cold bowl and begin beating on low speed until you notice bubbles forming. Then increase the speed to medium. Keep beating until you notice the beaters leave a trail, and soft peaks begin to develop.
Seventh Step: Cut each of the shortcakes in half and add the berries and whipped cream on each cake. Then add the top and serve right away. Enjoy!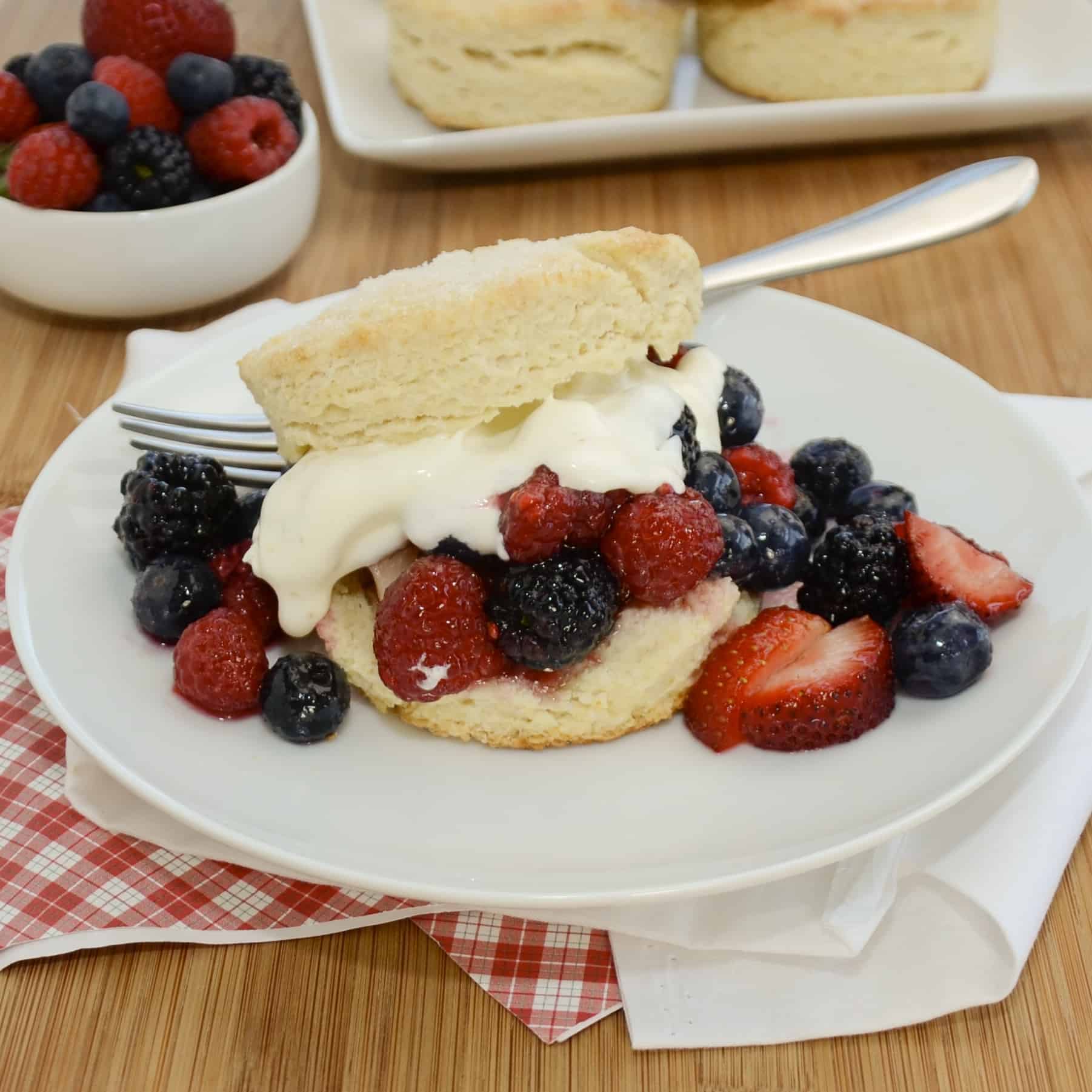 Now, remember to save this recipe on Pinterest for later 🙂

Pin this recipe now to remember it later
Mixed Berry Shortcakes
You will be drooling when you see how incredible this Mixed Berry Shortcake Recipe is! The sweet plump berries, flavorful biscuit, and homemade whipped cream are out of this world.
Ingredients
1 1/2

pounds

fresh berries

,

blackberries, raspberries, blueberries and/or strawberries, cut into bite-size pieces

2

– 4 tablespoons granulated white sugar

,

or to taste

2

cups

bleached all-purpose flour

,

plus more for work surface and biscuit cutter

1

tablespoon

baking powder

3

tablespoons

granulated sugar

2

tablespoons

granulated sugar for sprinkling

1

stick unsalted butter

,

8 tablespoons, frozen, cut into ½ inch pieces

1

tablespoon

half-and-half

1

egg white

,

lightly beaten

1

cup

heavy cream

,

chilled

1

tablespoon

granulated sugar

1

teaspoon

vanilla extract
Want to save this recipe? Enter your email below and we'll send the recipe straight to your inbox!
NOTE: By saving this recipe, you agree to join our weekly recipes newsletter.
Instructions
Adjust oven rack to lower middle position; heat oven to 425 degrees.

Place the berries in a large bowl. Add the sugar, stir well and set aside while preparing biscuits. Let sit for a minimum of 15 minutes or up to 2 hours, then mash the berries a bit to release their juices before topping.

In the bowl of a food processor fitted with the metal blade, pulse flour, salt, baking powder, and 3 tablespoons sugar until combined, about five 1-second pulses. Add the butter and toss with a fork to cover in flour mixture. Pulse until mixture looks like coarse cornmeal flecked with pea-sized bits of butter, about 10 to 12 pulses. Transfer mixture to a large mixing bowl.

Add egg with half-and-half; pour into flour mixture. Mix with a rubber spatula until mixture comes together. Turn mixture onto floured work surface and lightly knead until it comes together.

Pat dough into 9- by 6-inch rectangle, 3/4 inch thick. Flour 2 3/4-inch biscuit cutter; cut 6 dough rounds. Place 1 inch apart on small baking sheet; brush dough tops with egg white and sprinkle with remaining sugar. (Can be covered and refrigerated up to 2 hours before baking.) After cutting six perfect rounds of dough, you can reknead the scraps and repeat the cutting process to get one or two more rounds. These shortcakes will be a little tougher and less attractive than those from the first cutting. Bake until golden brown, 12 to 14 minutes. Place baking sheet on wire rack; cool cakes until warm, about 10 minutes.

While the biscuits are baking, make the whipped cream: Chill nonreactive, deep, 1- to 1 1/2-quart bowl and beaters for a handheld mixer in freezer for at least 20 minutes. Add cream, sugar, and vanilla to chilled bowl; beat on low speed until small bubbles form, about 30 seconds. Increase speed to medium; continue beating until beaters leave a trail, about 30 seconds more. Increase speed to high; continue beating until cream is smooth, thick, and nearly doubled in volume, about 20 seconds for soft peaks or about 30 seconds for stiff peaks. If necessary, finish beating by hand to adjust consistency. (Can be transferred to fine sieve or strainer set over measuring cup and refrigerated up to 8 hours).

Split each cake crosswise by hand and spoon a portion of the berries and then a dollop of whipped cream over each cake bottom. Cap with cake top; serve immediately.
Follow me on Pinterest for daily delicious recipes!
If you are still hungry for more berry recipes, you are in luck. These beautiful berry dishes are just what you have been waiting for.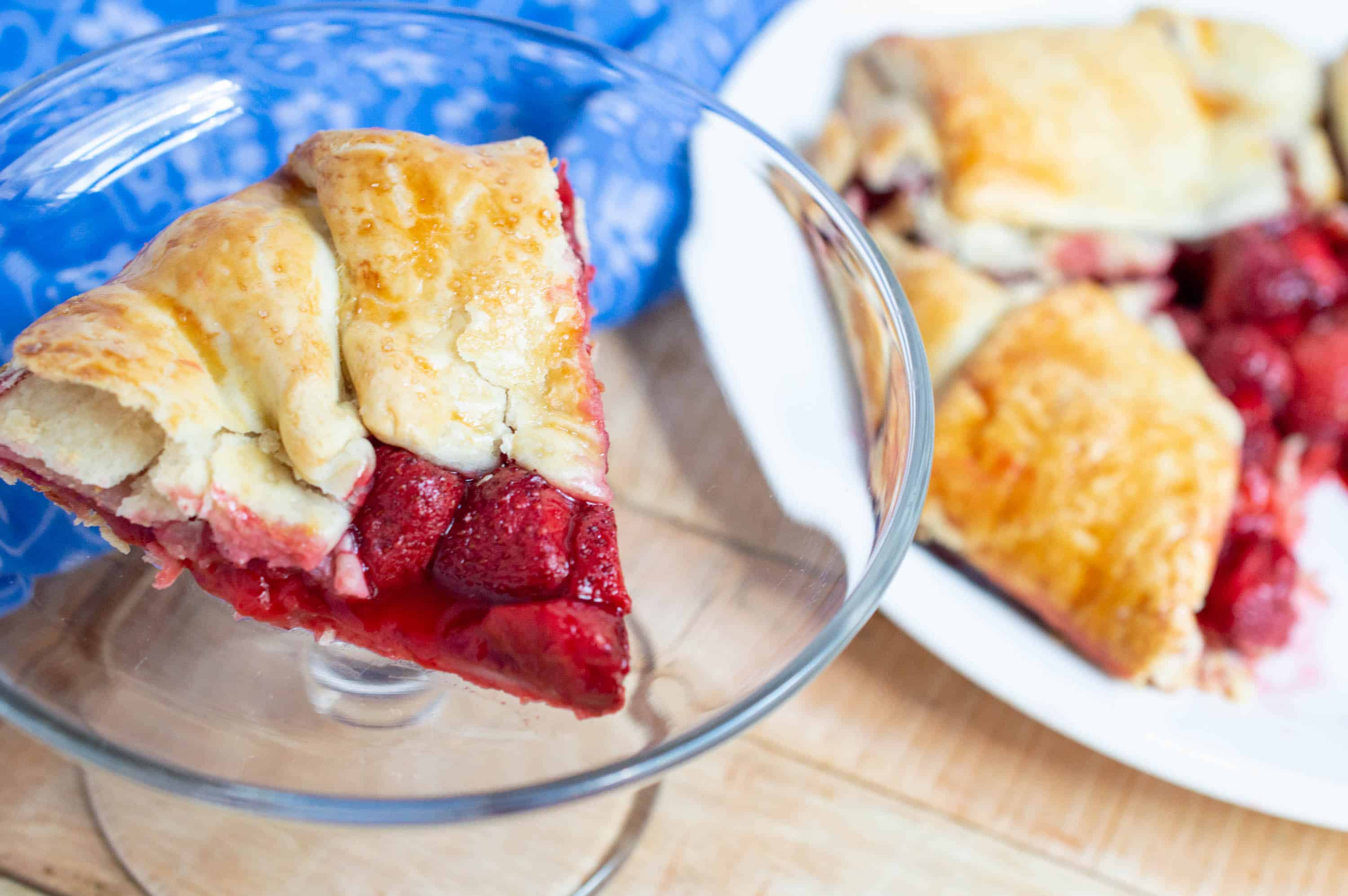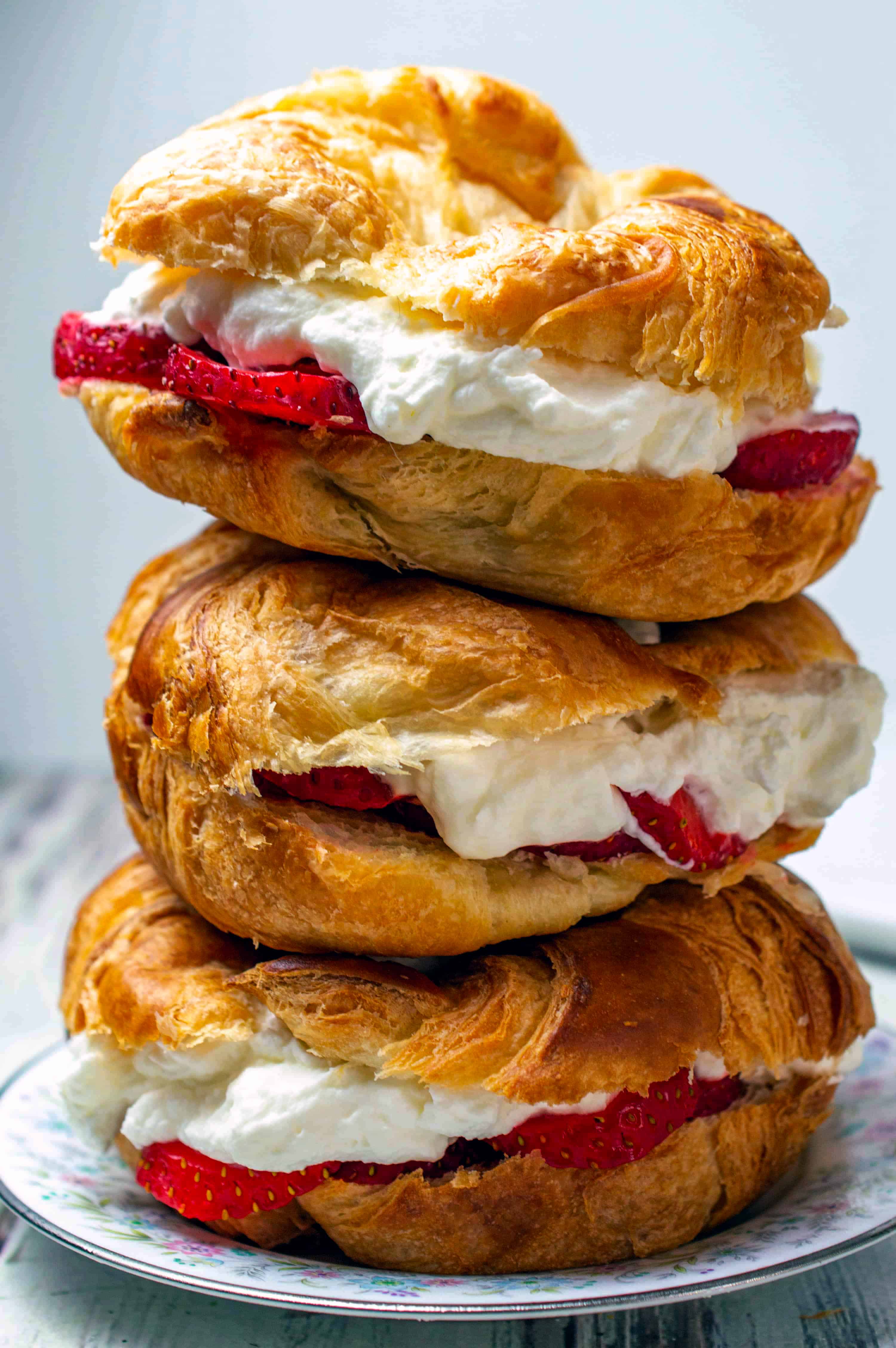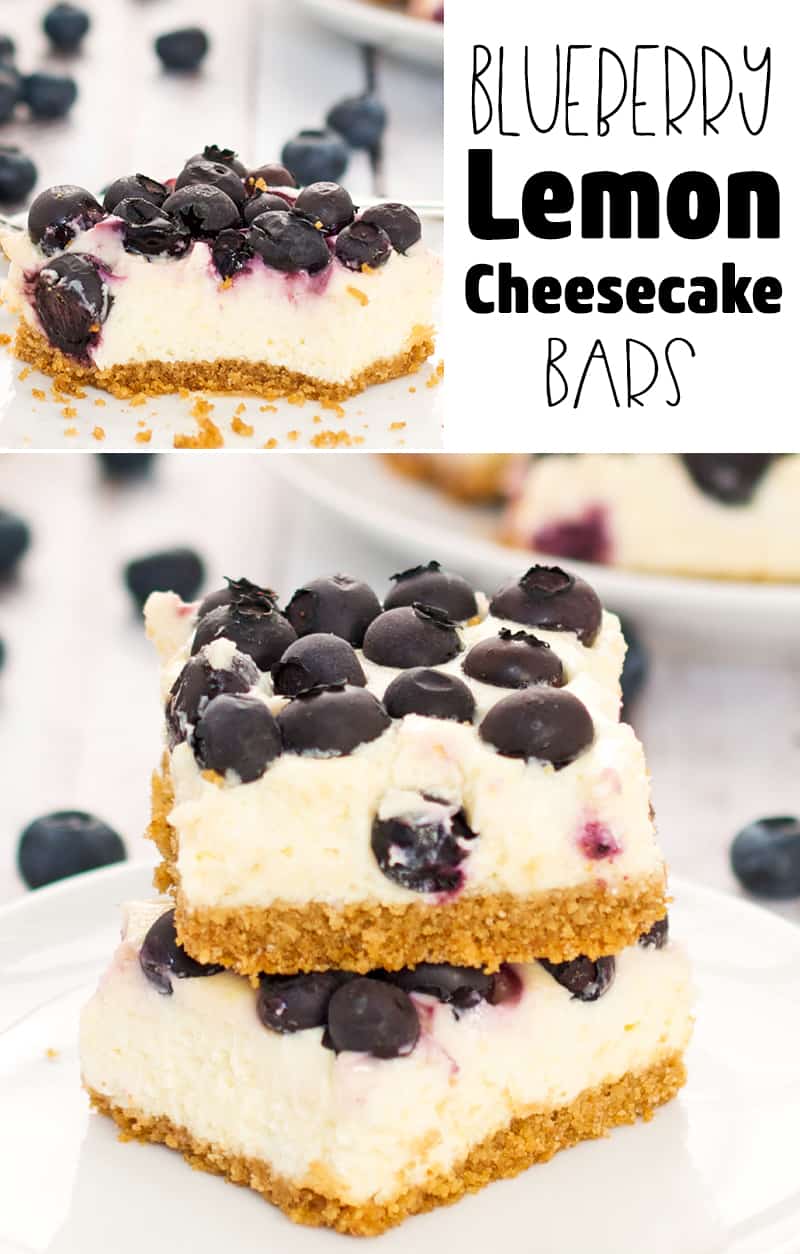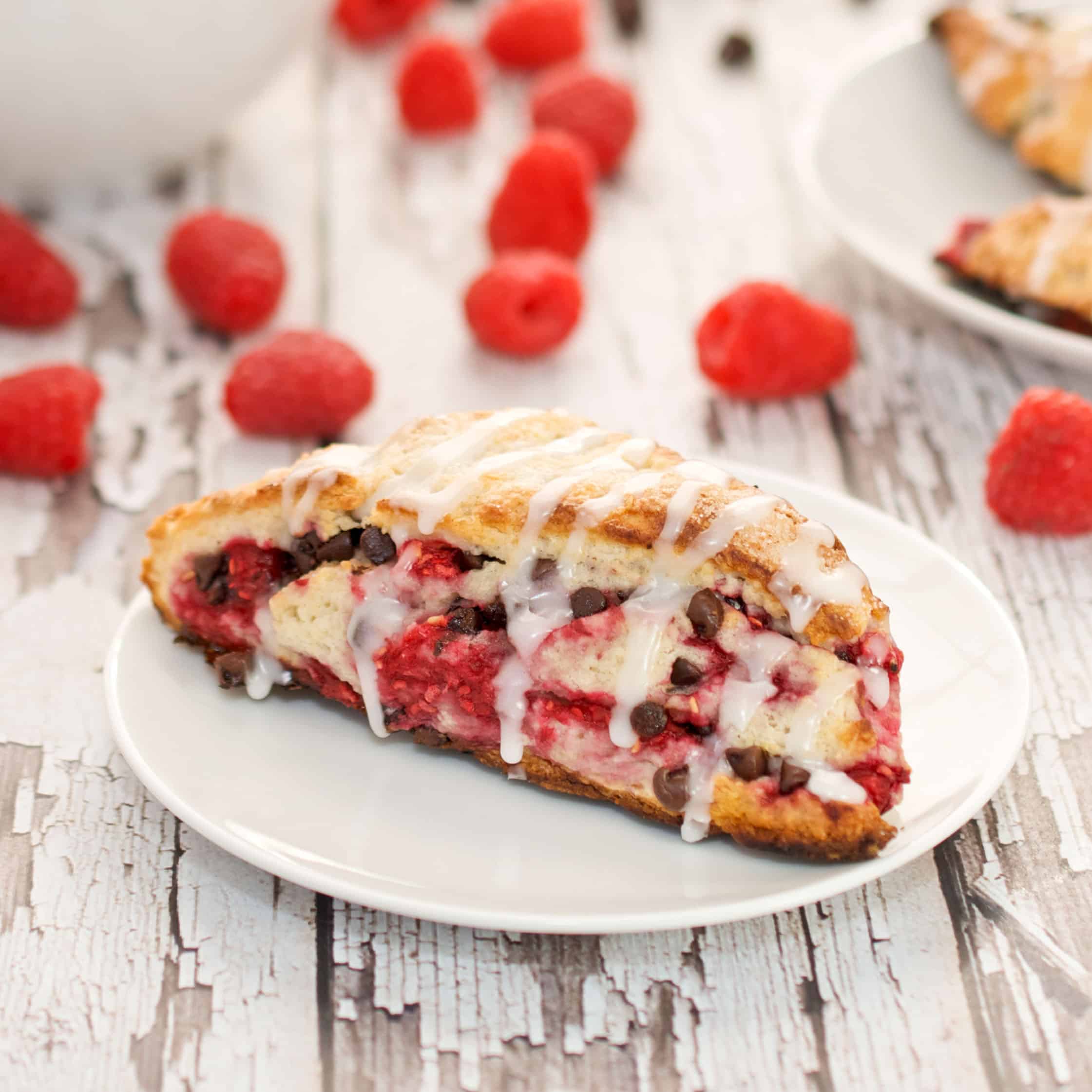 Get new recipes weekly plus our FREE ebook!