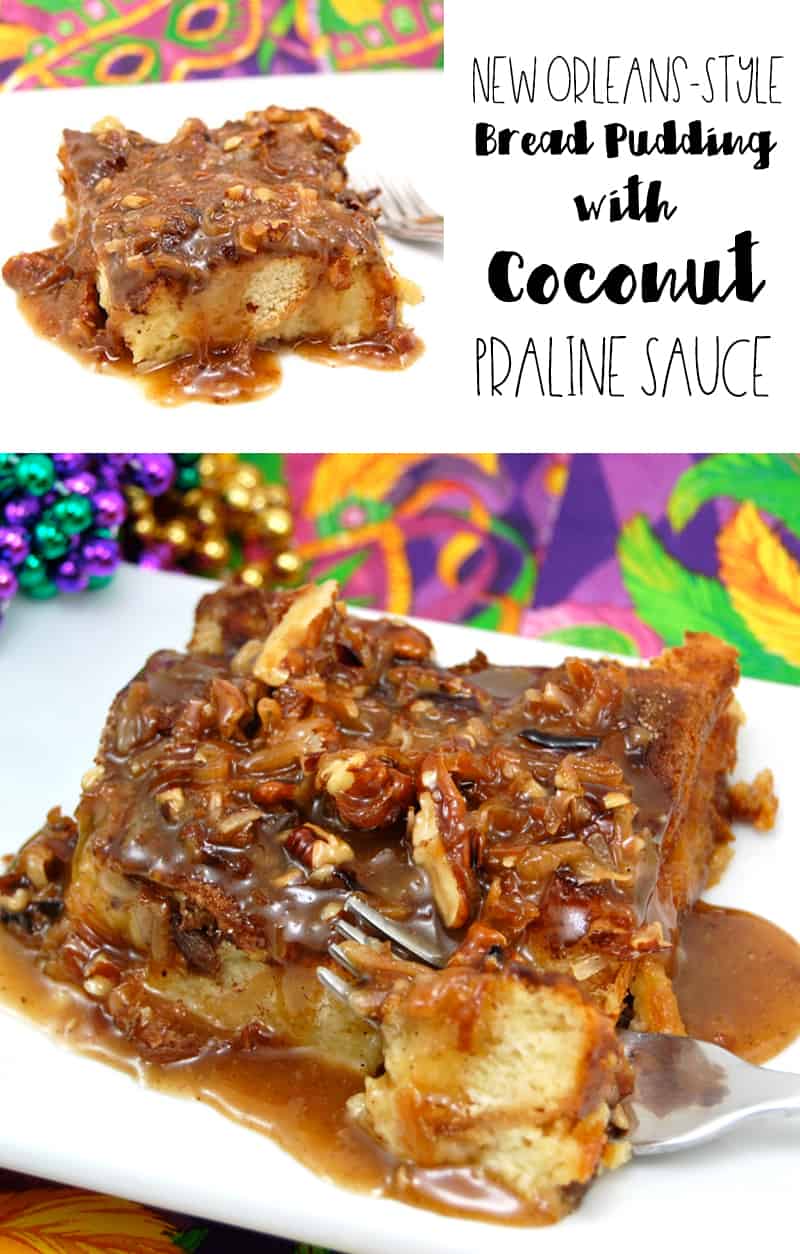 Dig into a helping of New Orleans bread pudding, and you'll have a new favorite dessert. It's so easy to make, and the soft bread pudding is covered in a deliciously sweet coconut praline sauce. This is truly the best bread pudding recipe ever! I've eaten homemade bread pudding most of my life, so it's always been a go-to for me. The hardest part of this easy bread pudding is waiting for it to finish baking. The aroma is enough to make you drool. You only need 10 ingredients for the bread pudding and 10 ingredients for the coconut praline sauce for this simple bread pudding.
Watch out because it's going to become your new addiction!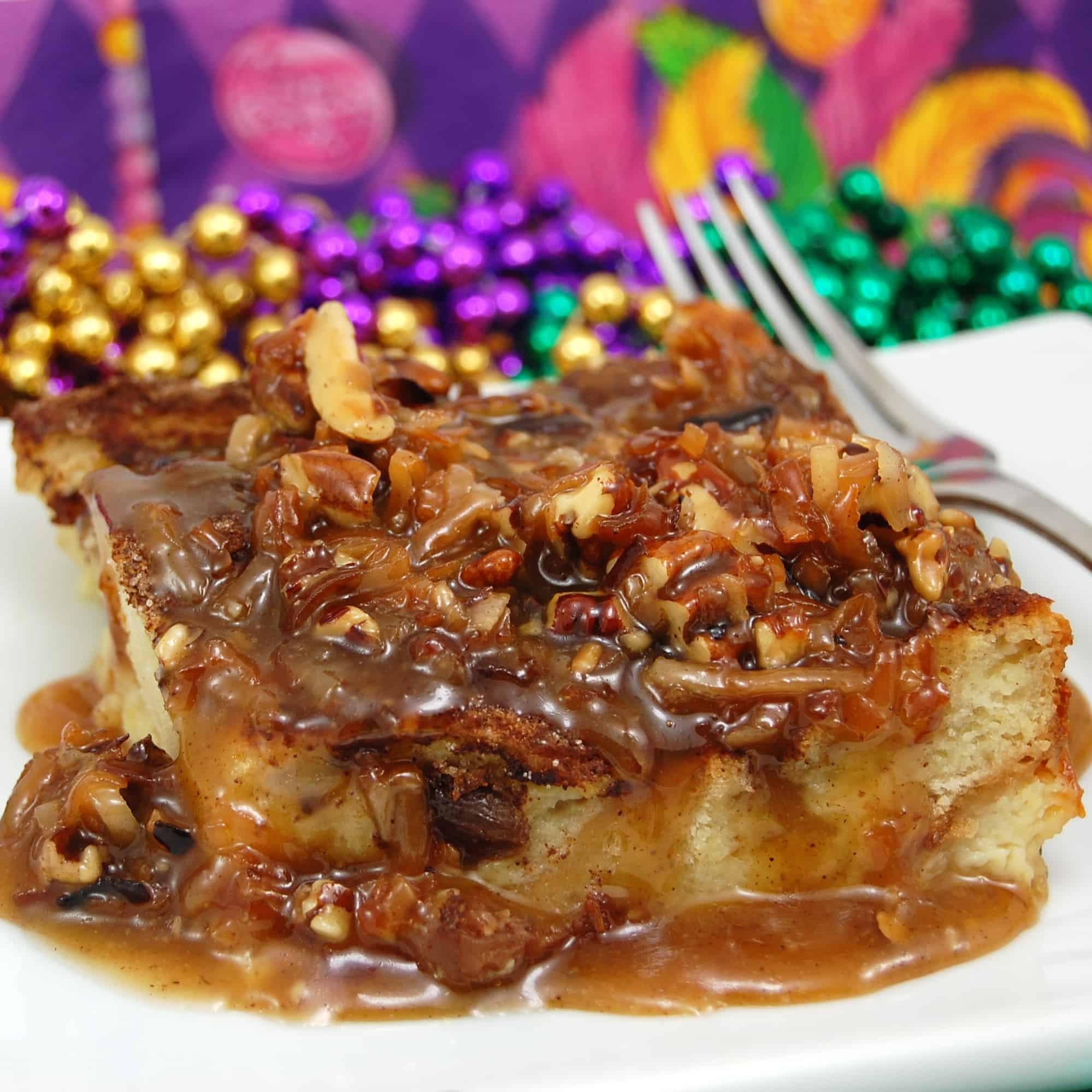 Scroll to bottom for printable recipe card.
New Orleans Bread Pudding with Coconut Praline Sauce
If you've never been to New Orleans before, no worries! You can bring a little bit of The Big Easy right to your own kitchen when you make this New Orleans style bread pudding. It tastes so great; you may end up wanting to plan a trip just to try the rest of their fantastic cuisine.
What Is Bread Pudding?
Bread pudding is a dish that is made from bread that is stale. It's chopped into cubes and has a custard-like sauce that the bread soaks up. It's baked and usually has some type of hot sauce that's filled sweet.
My french bread pudding recipe calls for rum in the sauce, and it takes knocks it out of the ballpark when it comes to flavor and texture. You can eat it as a dessert or even as a breakfast item.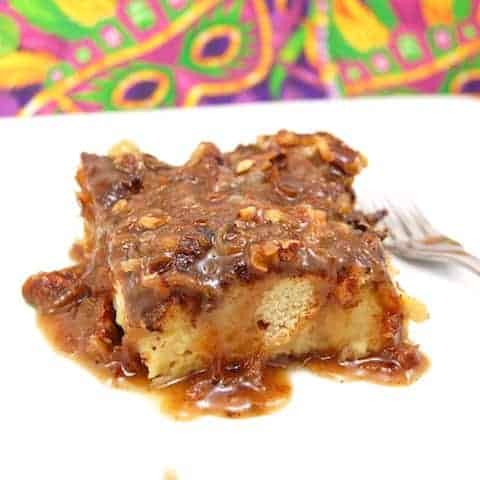 Bread Pudding Ingredients
For the Bread Pudding:
Eggs
Whole milk
Coconut milk
Sugar
Dried currants
Vanilla extract
French bread, cut into 1-inch cubes, staled
Butter
Sugar
Cinnamon
For the Caramel Sauce:
Butter
Brown sugar
Heavy cream
Spiced rum
Ground cinnamon
Salt
Pecans, toasted
Shredded coconut
Vanilla
Fresh lemon juice
How To Make Bread Pudding
I love to make this southern bread pudding recipe for potlucks. It goes over well, and you'll never end up with leftovers because it's that good. Take a look at these steps to make this homemade bread pudding.
First Step: Add the eggs, milk, coconut milk, sugar, currants, and vanilla into a large bowl. Whisk the ingredients together then stir in bread crumbs until they are covered. Make sure that all the bread is covered with the milk mixture and allow it to sit at room temperature for 45 minutes.
Second Step: Once in a while, go check on the bread and push it down to ensure that it's soaking up the liquid well.
Third Step: Grease a 9 x 13-inch baking dish using butter, then preheat the oven to 350 degrees F.
Fourth Step: Pour in the bread and milk mixture to the baking dish and sprinkle with cinnamon and sugar. Bake for approximately 1 hour until the center is set and doesn't jiggle.
Fifth Step: After removing the bread pudding from the oven, allow it to cool for 20-30 minutes on a cooling rack.
Sixth Step: During the time, the homemade bread pudding is cooling melt butter and brown sugar together in a saucepan over medium heat. It will be smooth and will take around 2 minutes.
TIP: Stir the butter and sugar mixture constantly, or it may burn to the pan.
Seventh Step: Add in the heavy cream, rum, cinnamon, and salt, and whisk. Simmer until the sauce has thickened and reduced to 1 1/2 cups of liquid. This should take around 5 minutes, then remove from heat.
Eighth Step: Add in pecans, toasted coconut, vanilla, and fresh lemon juice. Serve on top of the bread pudding and enjoy!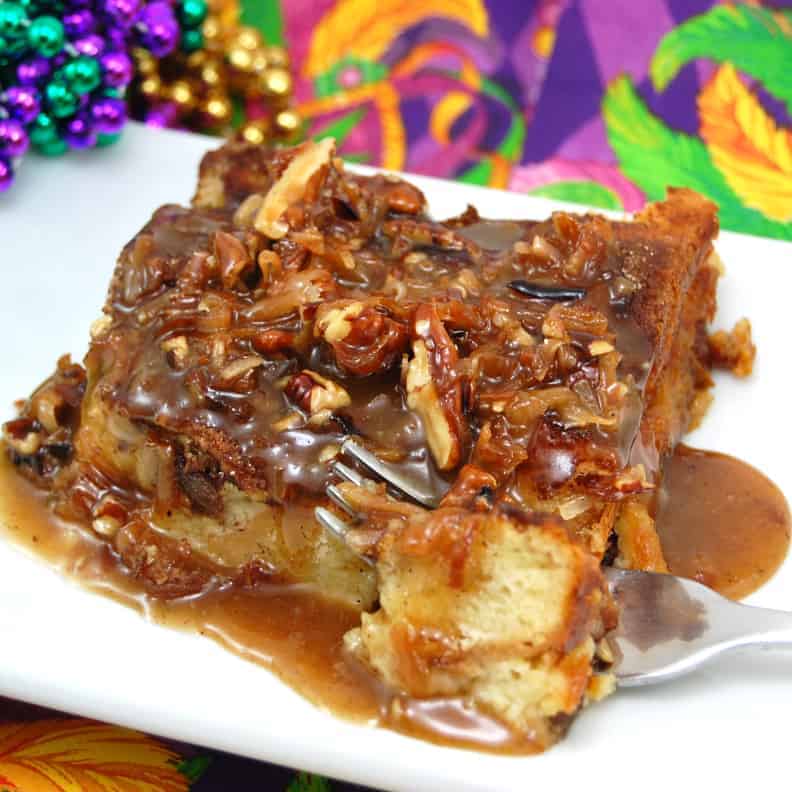 How Do You Know When Bread Pudding Is Done?
The sides of the bread pudding are going to be golden brown, and the center should not jiggle. If it seems eggy or wet, then it needs a few more minutes of baking time. You can also insert a knife or toothpick in the center too. If it comes out with liquid or chunks of food on it, then it's not all the done baking yet. Just cook it a little bit longer and test again.
What If I Don't Have Stale Bread?
It's okay if you don't have stale bread. Most of us toss the bread as soon as it tastes stale, so it's not something we usually keep around unless we are planning on a recipe that requires it. If you are planning to make homemade bread pudding, I recommend sitting the bread on the counter uncovered for a few hours. This will dry it out enough and will still be entirely usable.
Worst case scenario, you don't have time to set it out, and you use it fresh. It's still going to taste good. The reason stale bread was ever used was so that it didn't have to be wasted. Back in the day, they very rarely threw out any sort of food, and instead of eating unflattering stale bread, they turned it into bread pudding. Either way, you can use whatever you have on hand, and it will turn out great.
Can I Use Whiskey Instead Of Rum?
Yes, you can easily swap out whiskey instead of rum when making this best ever bread pudding recipe! It's going to taste fantastic no matter which alcohol you use. The options are endless, really. You could even use a coffee-flavored liquor instead of rum if you wanted to. Try out a few options and stick with what you like best. I mean it's got alcohol in it, so it's bound to be good, right?
How Do You Store New Orleans Bread Pudding?
It's best to store it with a lid on it and place it in the refrigerator. It will last 4-5 days, so it's perfect for making ahead of time. If you want to eat it warm, you can toss it in the microwave for a few seconds or bake it in the oven. If you opt to bake it in the oven, turn the heat up to 350 degrees F. and warm it for 10-12 minutes until it's hot.
Can You Freeze Homemade Bread Pudding?
Yes, you can freeze it! Just cover it and keep it in an airtight sealed container. It will last up to 3 months in the freezer. When you are ready to serve, place it in the refrigerator so it can defrost. Then enjoy it cold or warm.
Now, remember to save this recipe on Pinterest for later 🙂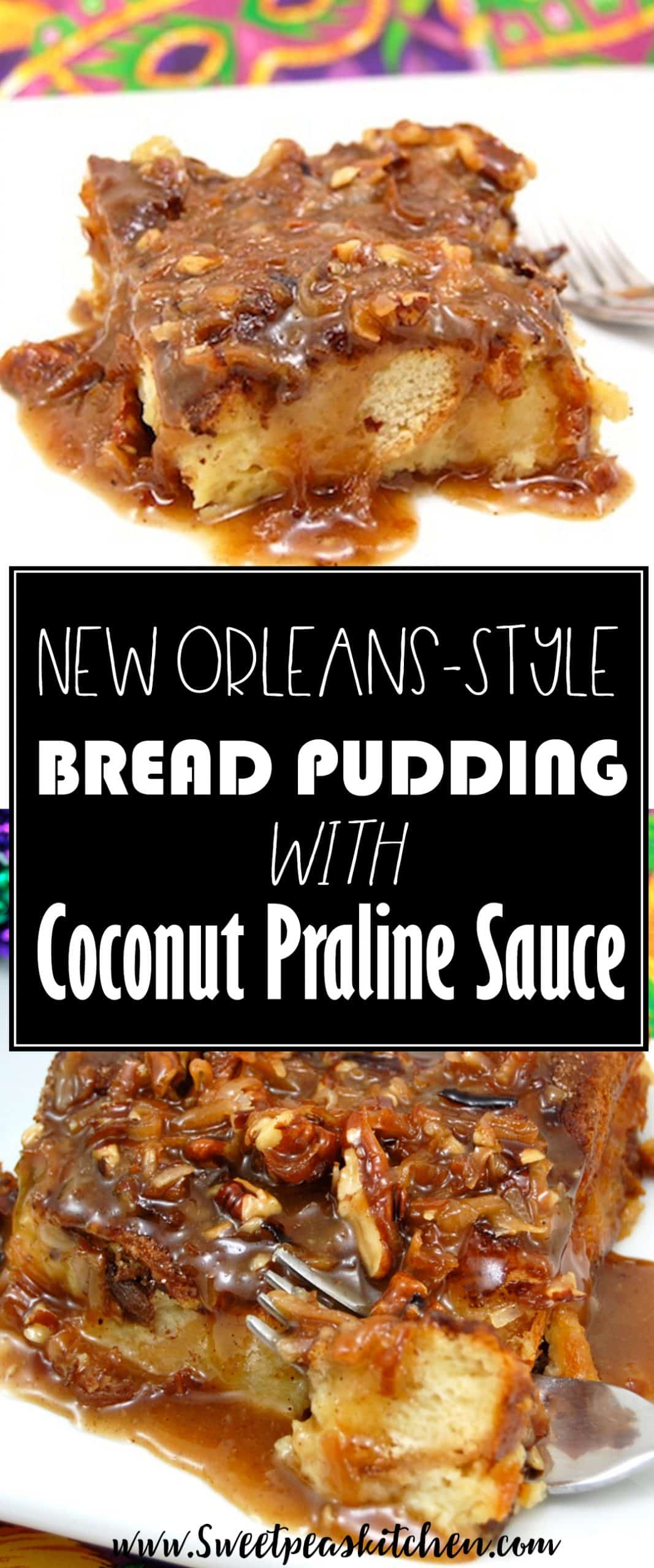 Pin this recipe now to remember it later
New Orleans-Style Bread Pudding with Coconut Praline Sauce
New Orleans bread pudding is amazing and has a coconut praline sauce that's out of this world. This is the best bread pudding recipe and is sinfully delicious.
Ingredients
For the Bread Pudding:
1 13.5-

oz

can coconut milk

1

tablespoon

vanilla extract

1 1-

lb

loaf French bread

,

cut into 1-inch cubes, staled
For the Caramel Sauce:
1/2

teaspoon

ground cinnamon

1/2

cup

chopped pecans

,

toasted

1/2

cup

sweetened shredded coconut

,

toasted

1/2

teaspoon

fresh lemon juice
Want to save this recipe? Enter your email below and we'll send the recipe straight to your inbox!
NOTE: By saving this recipe, you agree to join our weekly recipes newsletter.
Instructions
In a large bowl, whisk together the eggs, milk, coconut milk, sugar, currants, and vanilla. Stir in bread cubes until combined and gently press down, submerging the layers in the liquid. Let it sit at room temperature for 45 minutes,

pressing down occasionally to make sure the top layers of bread are soaked through.

Preheat oven to 350 degrees. Grease a 9×13-inch baking dish with 2 teaspoons of butter. Transfer the bread mixture to the prepared baking dish.

In a small bowl, combine the sugar and cinnamon and sprinkle it over the bread pudding. Bake it until the center is set, about 1 hour. Let it cool on a wire rack 20-30 minutes before serving.

While the bread pudding is cooling, melt butter and brown sugar in a saucepan over medium heat until melted and smooth, whisking constantly, about 2 minutes.

Whisk in the cream, rum, cinnamon, and salt. Bring it to a simmer and cook until it thickens and is reduced to about 1 1/2 cups, about 5 minutes. Remove from heat.

Stir in the pecans, coconut, vanilla, and lemon juice. Serve sauce warm over bread pudding
Follow me on Pinterest for daily delicious recipes!
If you love this recipe, check out some of my other delectable desserts you should try:
Samoas Cookie Cupcakes – You will feel like you are munching on a Girl Scout cookie, but only better!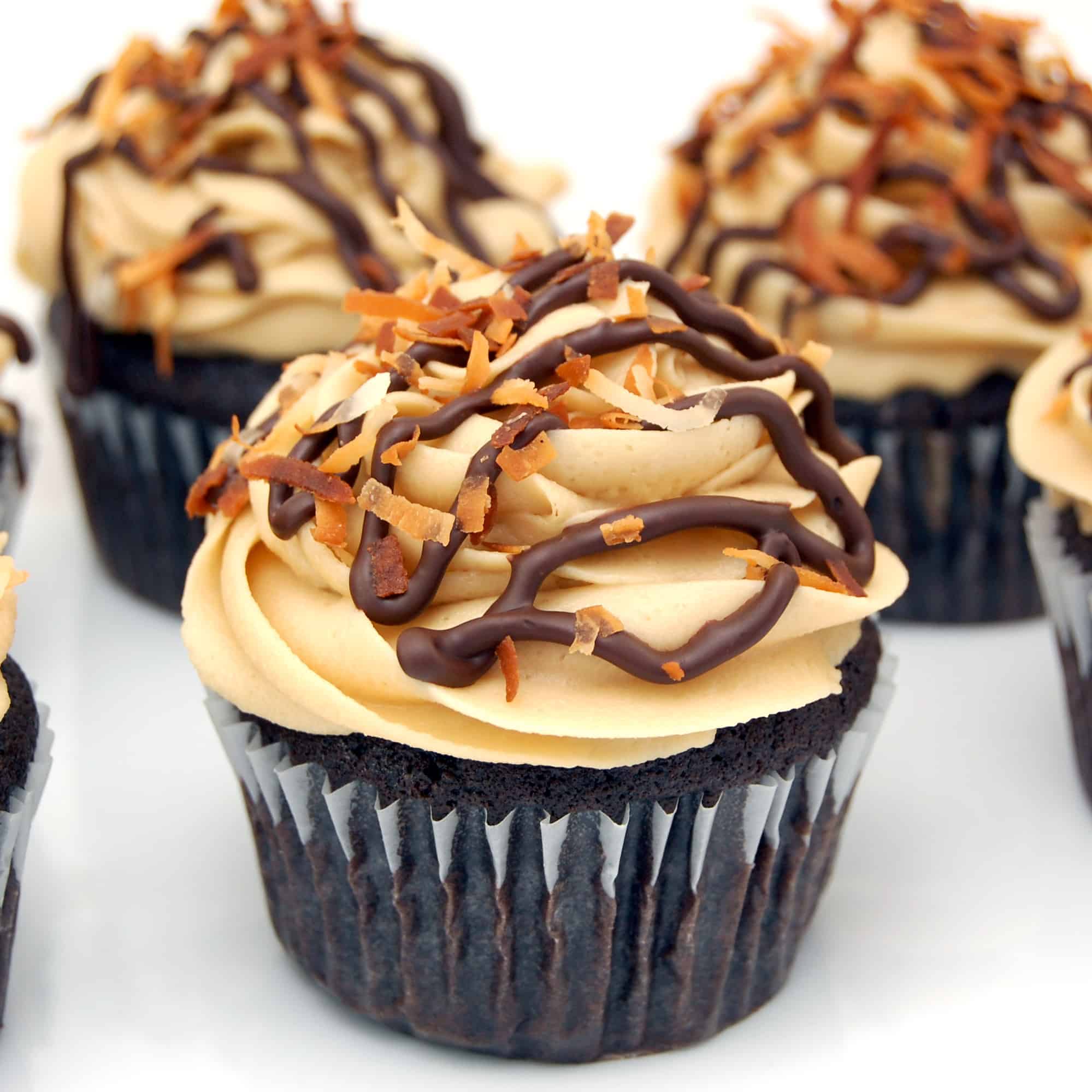 Pumpkin Bars With Cream Cheese Frosting – Oh Em Gee! These are the best pumpkin bars ever! You really need to try them.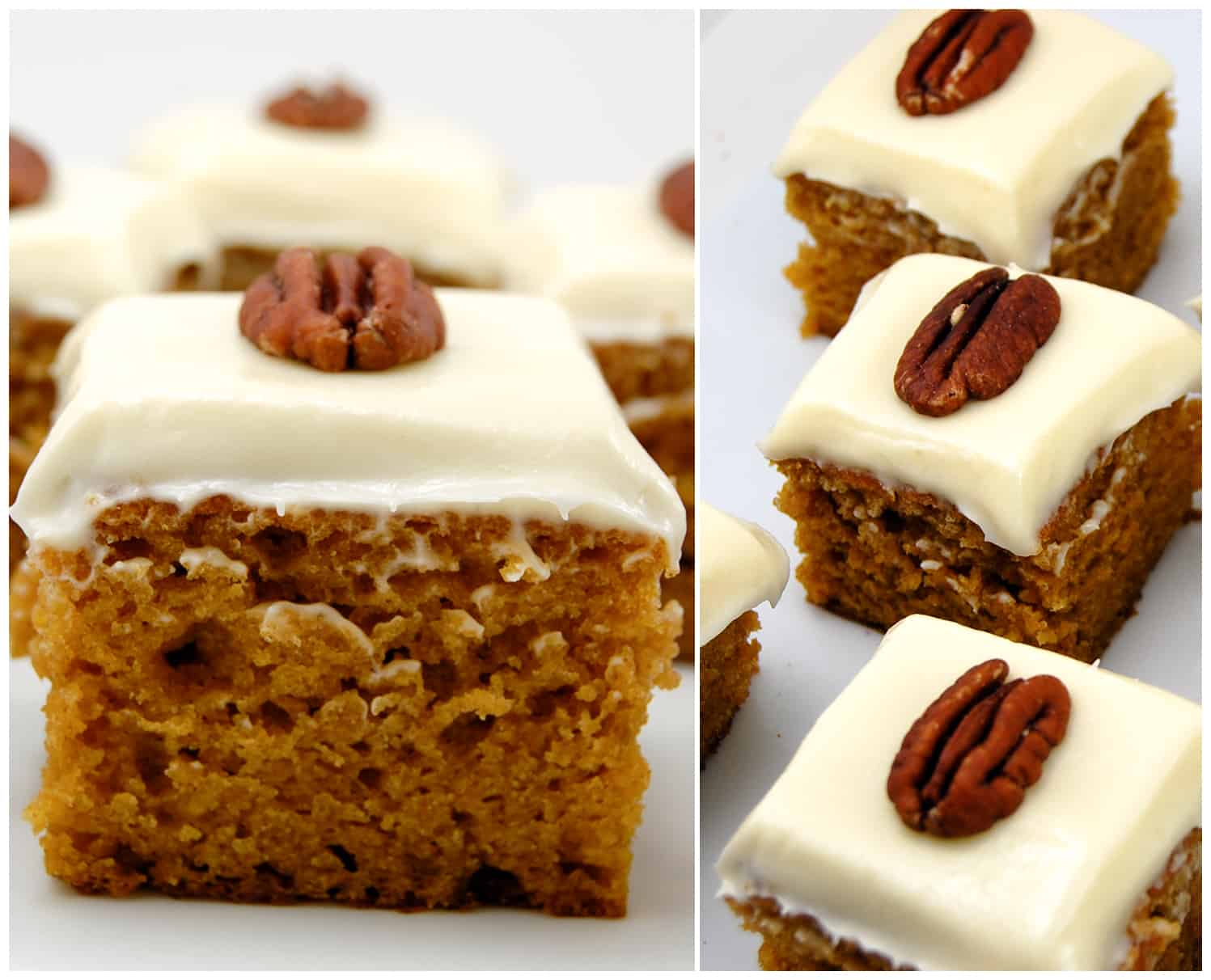 Easy Strawberry Galette – Eat this as a fun and playful dessert or even serve it at your next brunch. Either way, it's a winner.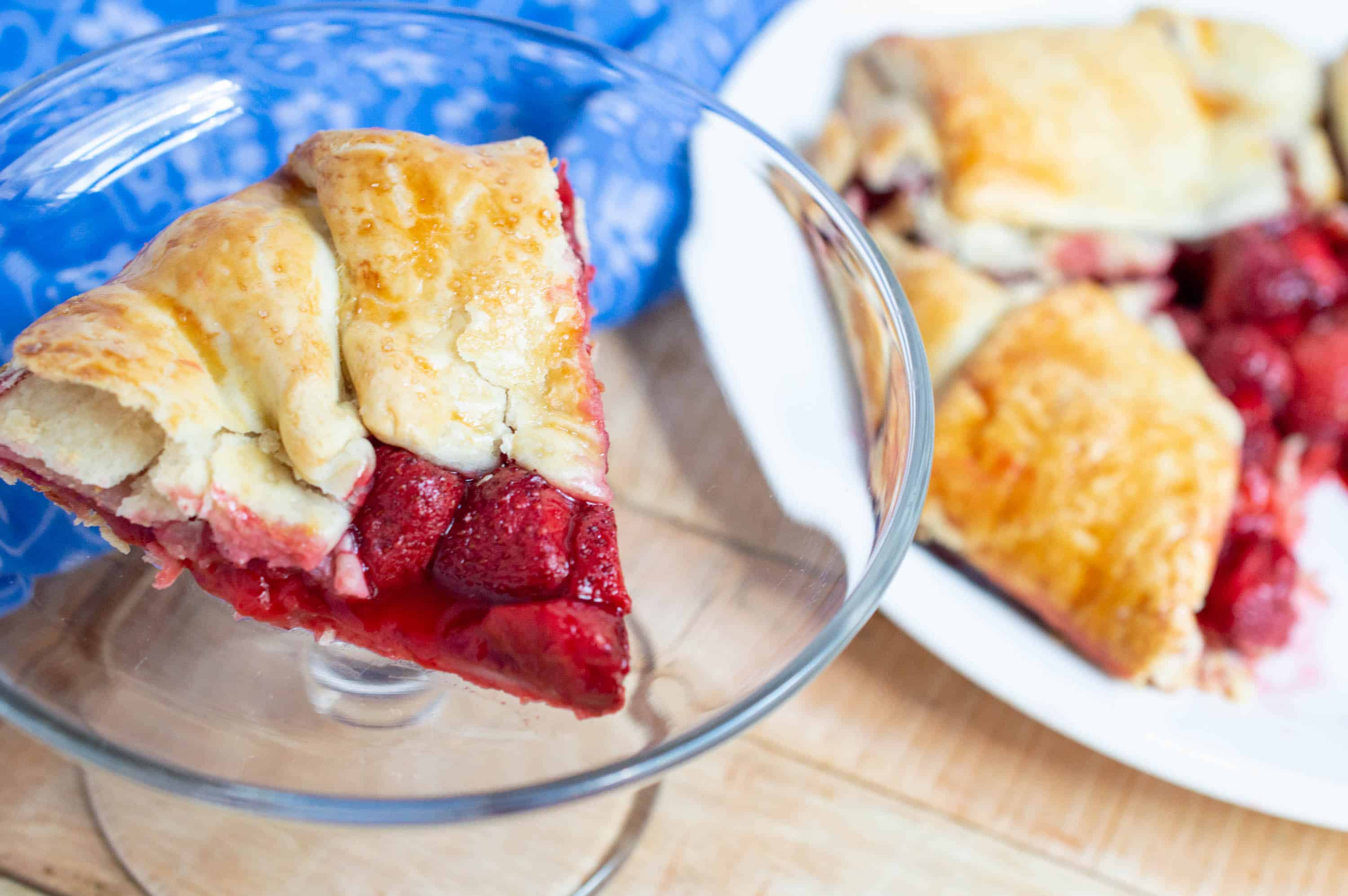 Sweet Breakfast Bake With Chocolate Croissants – You are going to fall in love with this dish. It's sweet enough to be served as breakfast or dessert.
Get new recipes weekly plus our FREE ebook!