Oatmeal Creme Pies are one of those amazing desserts that almost everyone has had but never thought to make before. They are so easy to make and in my opinion, so much tastier than the boxed Little Debbie Oatmeal Creme Pies. I am not quite sure what the attraction to this dessert is…the cookies or the yummy filling. Both are fabulous! Every time I go to the grocery store and pass a box of those Little Debbie Oatmeal Creme Pies, my mouth begins to water. I can never quite bring myself to ever buy a box, but I remember how wonderful these little pies are. It was a trip last weekend to the grocery store that convinced me to make homemade oatmeal creme pies. I made one batch that I was planning on bringing to school with me to share with the other teachers. However, my husband convinced me to send a few to work with him as well. Everyone that tried them gave them rave reviews. Two delicious oatmeal cookies with a luscious creme filling layered in between. Double the batch, they won't last long!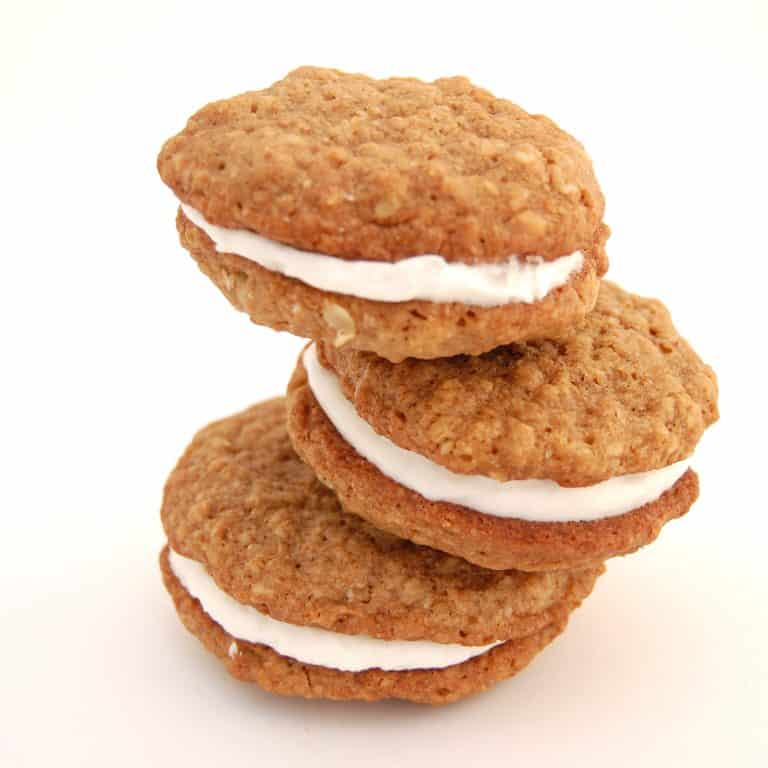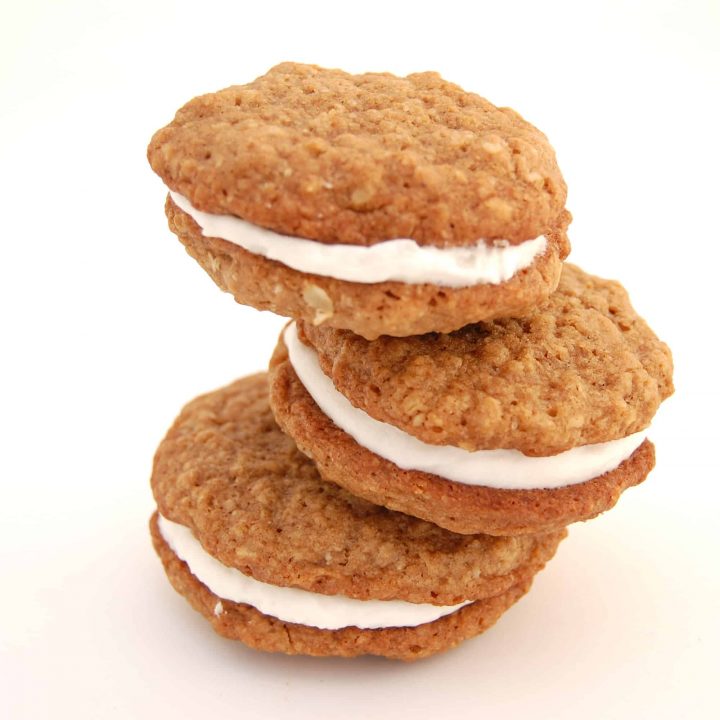 Oatmeal Creme Pies
Ingredients
1 cup butter
3/4 cup brown sugar
1/2 cup sugar
1 teaspoon vanilla
2 eggs
1 1/2 cups flour
1/2 teaspoon salt
1 teaspoon baking soda
1/4 teaspoon cinnamon
1 tablespoon cocoa powder
1 1/2 cups quick oats
Instructions
In the bowl of an electric mixer, cream together butter, sugar, and brown sugar.
Add eggs one at a time, and beat until well combined; add vanilla.
Whisk together flour, salt, baking soda, cocoa powder, cinnamon and oats. Add to the creamed mixture. Refrigerate for 15 minutes.
Drop by tablespoons of dough on cookie sheet, 1 inch apart.
Bake at 350 degrees F for about 10-12 minutes, or until they are just starting to brown around the edges.
While the cookies are baking make the filling and set aside.
Place cookie sheet on wire rack to cool for 2 minutes, then using a spatula remove cookies and place on wire rack to cool.
Turn half of the cooled cookies upside down, flat side facing up.
Use a tablespoon to drop a large dollop of filling onto the flat side of the cookie. Place another cookie, flat side down, on top of the filling. Press down slightly so that the filling spreads to the edges of the cookie. Repeat until all cookies are used. Place oatmeal creme pies into the refrigerator for 30 minutes to firm up before serving.

Filling:

1/2 cup vegetable shortening
1 1/2 cups marshmallow cream
2 cups powdered sugar
1 tsp vanilla
1-2 tablespoons milk
In the bowl of a stand mixer, cream shortening with marshmallow cream until combined. Add powdered sugar, vanilla, and milk; beat on low for 1 minute.
Source:
adapted from
Honey & Jam