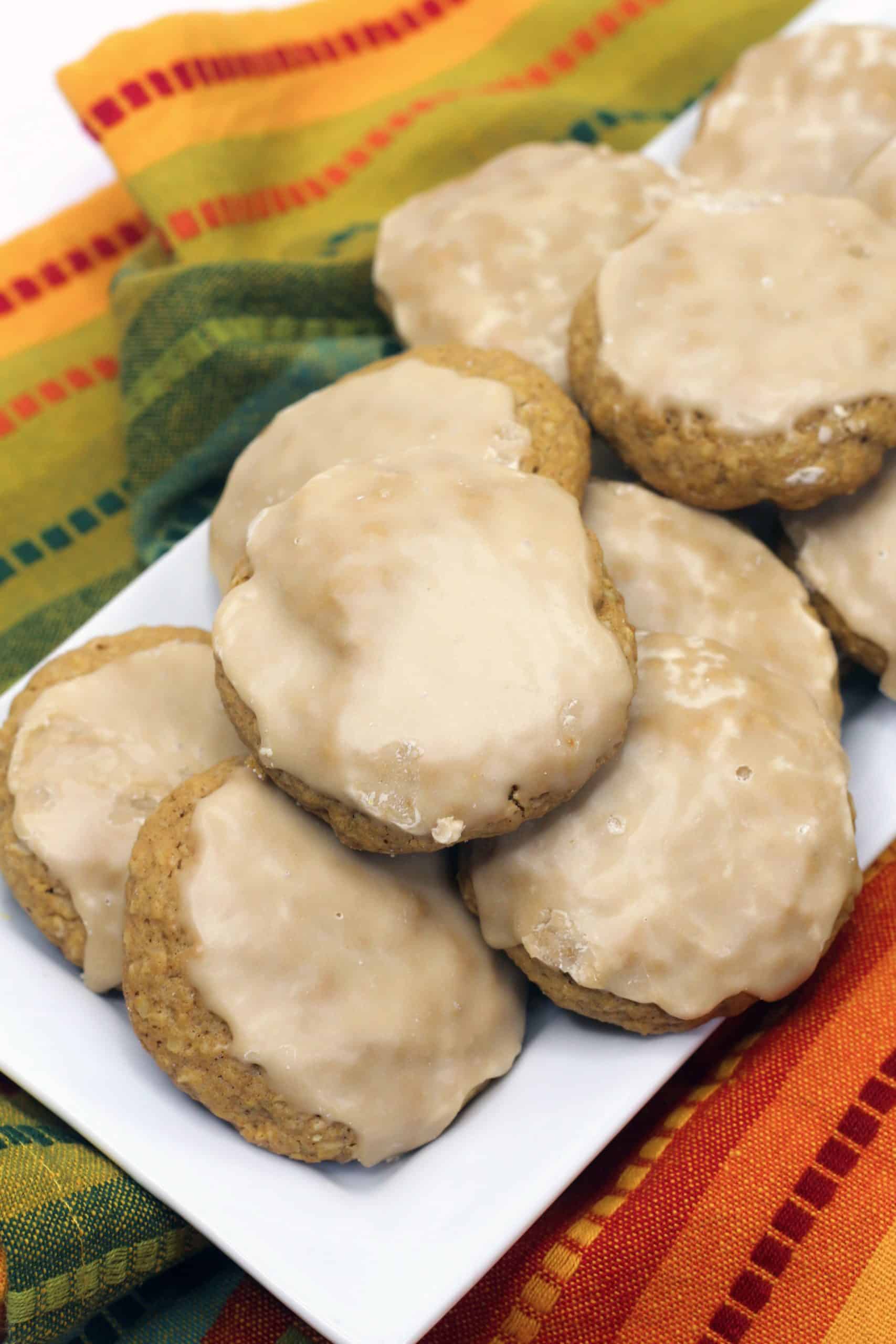 One thing about my childhood that stands out is eating the most delicious Iced Oatmeal Cookies. I remember biting into the best oatmeal cookies I've ever tasted and thought that I could eat them forever.
As an adult, I knew that I had to find a way to replicate the chewy oatmeal cookies I grew with. I knew it wasn't going to be easy to get the cookies and icing just right, but I'm happy to report I have finally done it! So it's time to celebrate because I'm sharing the oatmeal cookie recipe with you so you can enjoy them too.
These are easy oatmeal cookies, so you won't have to spend hours and hours baking them.
Scroll to bottom for printable recipe card.
The Best Chewy Homemade Iced Oatmeal Cookies
You know those recipes that you try that are so remarkable that you can't get them out of your head? That is exactly how I feel about these soft oatmeal cookies.
I know they are supposed to be a special treat or a dessert, but honestly, I've found myself munching on them for breakfast here and there! I mean they have oatmeal, so they have to be sort of good for you…right?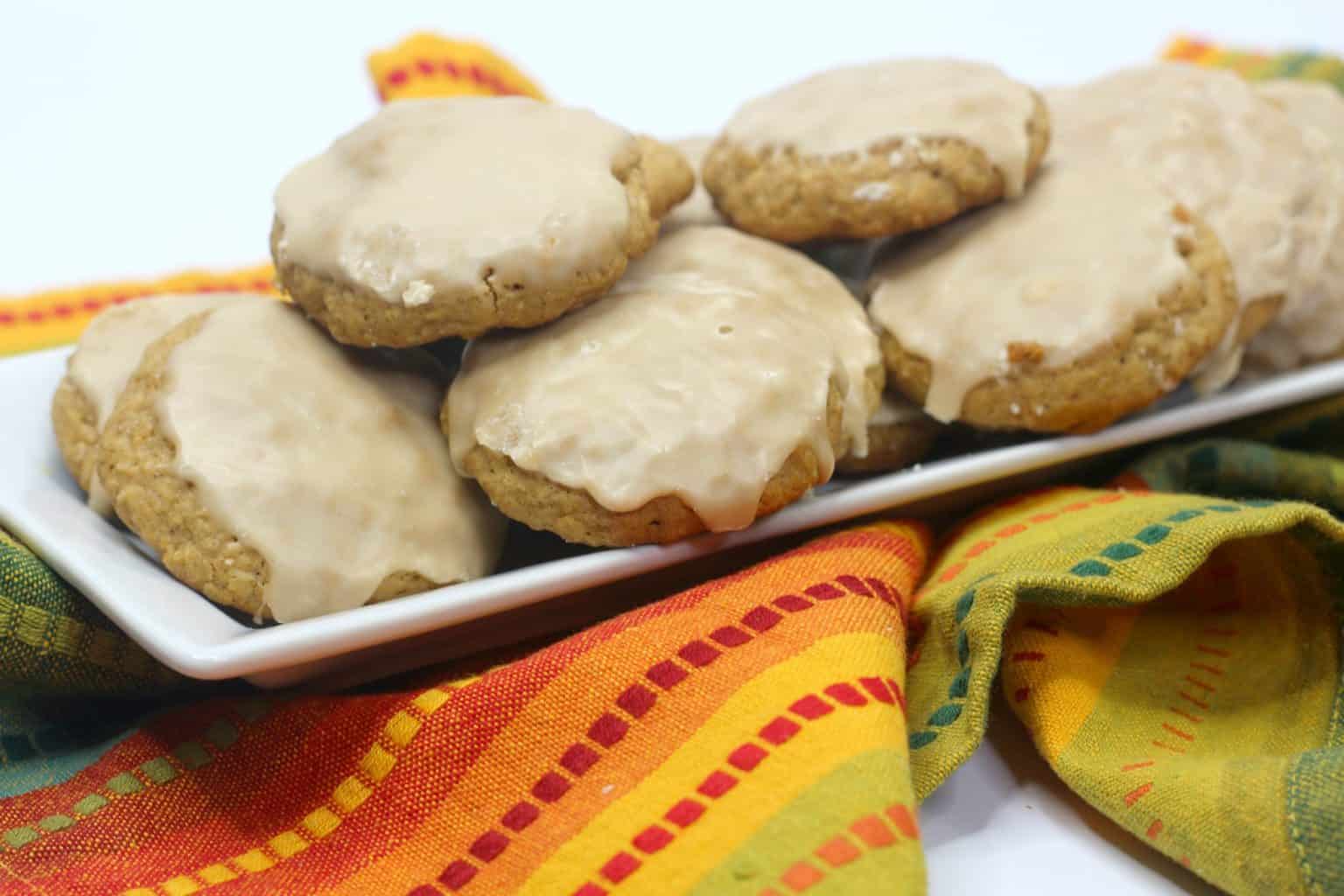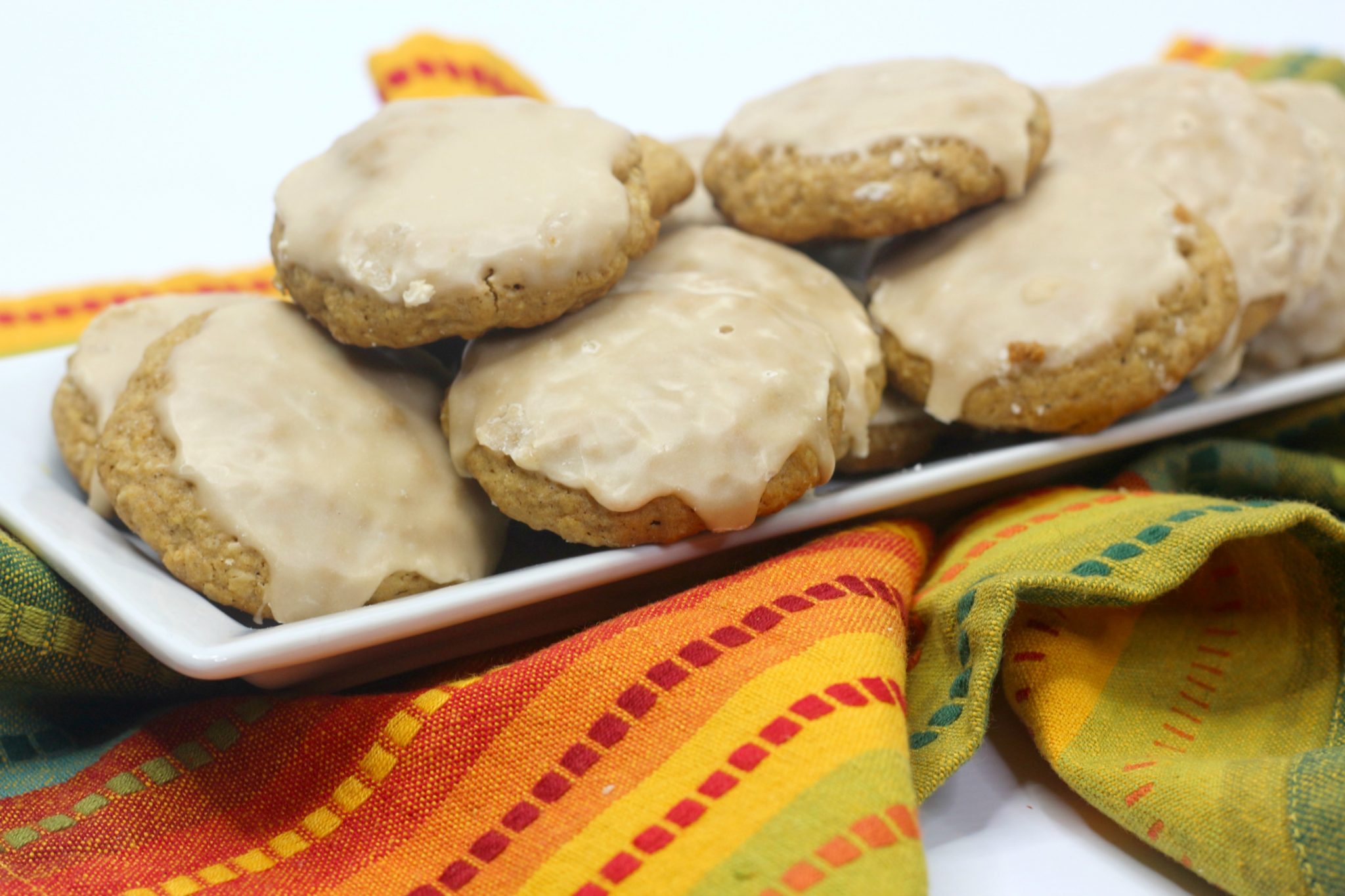 Homemade Oatmeal Cookies Ingredients
You'll be amazed by how incredible these iced oatmeal cookies are. You don't need a ton of ingredients, and most of them are things you probably keep on hand.
Cookie Ingredients
Whole rolled oats
Flour
Baking soda
Salt
Ground cinnamon
Eggs
Ground nutmeg
Unsalted butter
Light brown sugar
Sugar
Dark molasses
Vanilla
Icing Ingredients
Powdered sugar
Vanilla
Whole milk
How To Make Oatmeal Cookies
Because these easy oatmeal cookies are so simple, I usually make them at least once a month. I can't help it; they are my latest addiction! Here are the simple steps to making your own oatmeal cookies.
First Step: Add the whole rolled oats to your food processor and pulse for 10-12 times. It should look like a mixture of chopped oats and some oat flour.
Second Step: Place the chopped oats in a medium-sized bowl. Pour in the baking soda, flour, salt, cinnamon, and nutmeg into the oats and whisk. Set aside.
Third Step: Put the brown sugar, white sugar, and unsalted butter into a bowl and begin beating on medium-high speed. It will take around 2 minutes to make it creamy and soft.
Fourth Step: Turn up the speed on the mixer to high and mix in the eggs, molasses, and vanilla until combined. Scrape down the sides of the bowl as needed.
Fifth Step: While mixing at low speed, slowly add the flour mixture to the wet ingredients. Mix until everything has been combined well.
NOTE: The oatmeal cookie dough is going to be thick and sticky. This is completely normal.
Sixth Step: Using plastic wrap or a towel, cover the cookie dough, and put in the refrigerator for 45 minutes all the way up to 4 days.
Seventh Step: When you are ready to bake the cookies, preheat the oven to 350 degrees F. Then prepare the cookie sheets with parchment paper and set aside.
Eighth Step: Use a small cookie scoop and place cookie dough balls on the baking sheet leaving 3 inches in between each cookie.
Ninth Step: Bake the easy oatmeal cookies for 11-12 minutes, then place the cookie sheet on a wire rack to cool for a few minutes. Then remove the cookies from the pan and let them finish cooling them to the wire rack to cool all the way.
Tenth Step: While the cookies are baking, begin making the icing. Sift the powdered sugar into a bowl, then add the vanilla and 1 tablespoon of milk. Combine the ingredients with a fork. Add 1 tablespoon of milk at a time until it reaches the consistency you like. The icing is supposed to be pretty thick.
Eleventh Step: Take one cookie at a time and lightly dip it into the icing. You only want to ice the tops of the cookies.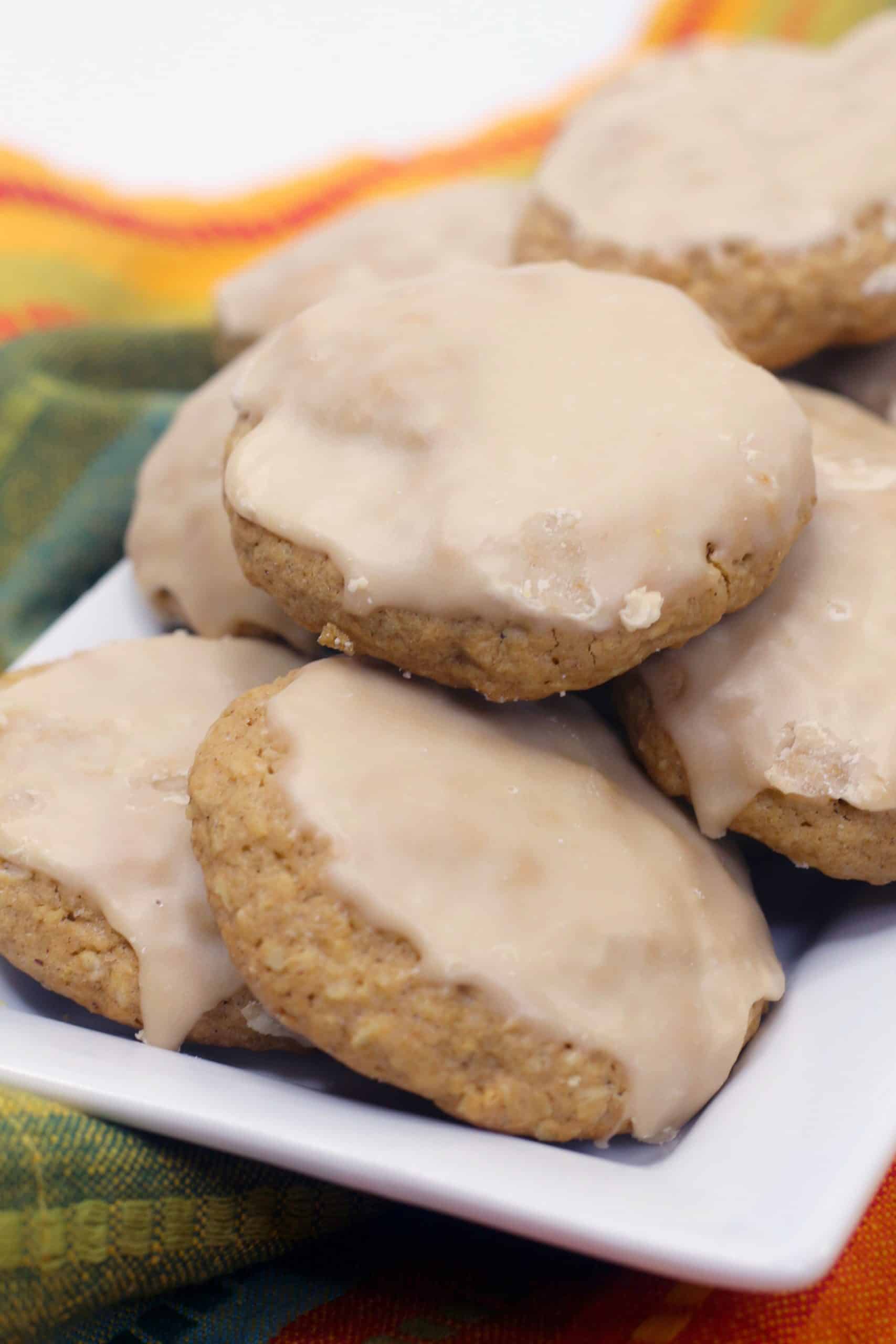 Iced Oatmeal Cookies Variations
Guess what! You can adjust the ingredients in these homemade oatmeal cookies, just like many of my other recipes. I love changing it up from time to time or adding something special. Take a peek at these ideas to try out:
Butterscotch Chips – If you love butterscotch, then it makes sense to add 1/4 – 1/2 cup of butterscotch chips to the cookie dough. After the batter is mixed, just fold in the chips for a sweet treat.
Chocolate – I'm sure you already know, but chocolate and oatmeal are a match made in heaven. Either use your favorite chocolate chips or chop up some semi-sweet chocolate to the dough.
Raisins – I know there are a lot of people that only like oatmeal cookies if there are raisins in them. If you are one of those people, you are in luck! You can easily toss in a few raisins after mixing the batter.
Dried Cranberries – Adding dried cranberries enhances the flavor and texture of these homemade oatmeal cookies.
How Do You Store Chewy Oatmeal Cookies?
You can store the oatmeal cookies on the counter or in the fridge, depending on your preference. If you opt to keep them on the counter or in the pantry, they will last around 3 days as long as they are airtight.
A refrigerator is an excellent option if you want the cookies to last a really long time. Put them in an airtight bag or container and refrigerate them for up to 10 days. They are perfect if you are hosting a party and need to be able to make them ahead of time.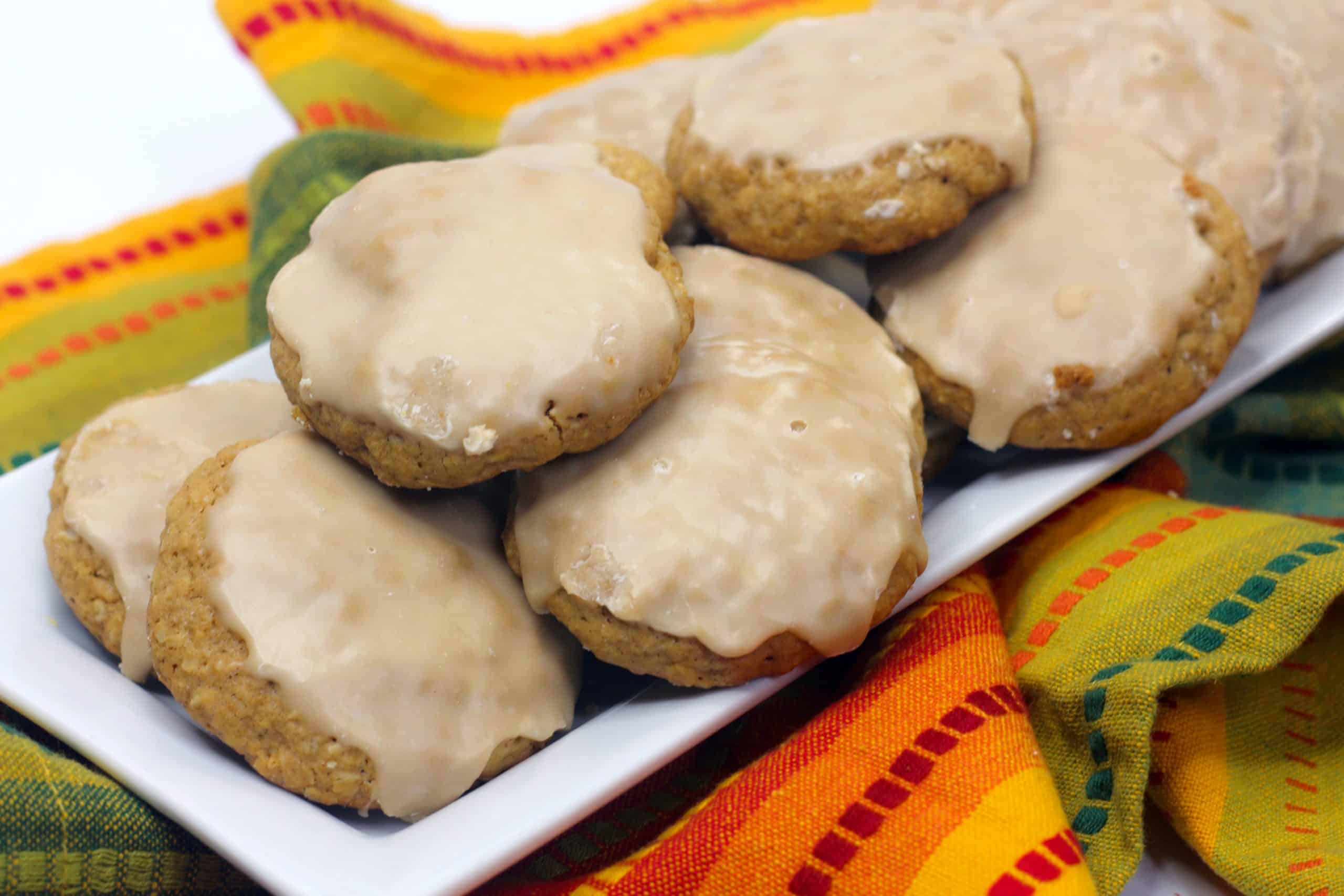 Even More Delicious Desserts
If your sweet tooth is craving something amazing, these dessert recipes are what you need. Each one is the perfect treat to indulge in!
Best Snickers Cupcakes – Your taste buds will do a little happy dance when you bite into these scrumptious Snickers cupcakes. They are great for parties and events too.
Graham Cracker S'mores Cookies – If you love s' mores, you have to try these. They are out of this world! The only bad thing is that they practically vanish before your eyes because everyone gobbles them.
Easy Red Velvet Whoopie Pies – Looking to impress your friends? These whoopie pies are just what you need to do it. Yum!
Chocolate Peanut Butter Cookies – These dreamy cookies are soft, chewy, and scrumptious. Make them for an easy dessert or take them to your next potluck.
Now, remember to save this recipe on Pinterest for later 🙂

Pin this recipe now to remember it later
The Best Chewy Homemade Iced Oatmeal Cookies
You'll be addicted when you bite into these Iced Oatmeal Cookies. Delicious frosting on top of chewy oatmeal cookies that are out of this world.
Ingredients
Cookie Ingredients:
2

C

flour (spooned / leveled

1 1/2

tsp

ground cinnamon

1

C

unsalted butter

,

room temp

1

C

light brown sugar

,

packed
Icing Ingredients:
1 1/2

C

powdered sugar

,

sifted

electric mixer w/ mixing bowl
Want to save this recipe? Enter your email below and we'll send the recipe straight to your inbox!
NOTE: By saving this recipe, you agree to join our weekly recipes newsletter.
Instructions
Cookie Directions:
Add the oats to the food processor pulsing 10-12 times.

You should have a mixture of chopped oats and oat flour.

Put the oat mixture in a bowl adding the flour, baking soda, salt, cinnamon, and nutmeg, Whisk to combine. Set aside.

Using the electric mixture with the mixing bowl combine the butter and both sugars (Brown and white) beating on medium-high speed. Continue to beat for about 2 minutes or until the ingredients have been creamed.

Increase the mixer speed to high. Add the eggs, molasses, and vanilla for 1 minute. (Or until totally combined) As needed use the spatula to scrape down the sides and bottom of the bowl. Beat until the ingredients are combined.

Reduce mixer speed to low. Slowly add the dry ingredients to the wet ingredients. Continue to mix until all ingredients are combined. (The dough will be thick yet sticky.) Cover the bowl with the cookie dough and put in the refrigerator for at least 45 minutes. (You can keep the cookie dough in the refrigerator for up to 4 days. But prior to baking the cookies you will need for the dough to sit at room temperature for at least 30 minutes.)

Preheat oven to 350 degrees.

Prep cookie sheets with parchment paper.

Set aside.

Using the cookie scoop measure out the dough to be about 1.5 tablespoons per cookie. Place the cookie dough 3 inches apart on the cookie sheet.

Bake at 350 degrees for 11-12 minutes. (Or until the sides of the cookies are lightly browned and the centers soft.)

Transfer the cookie sheet from the oven allowing the cookies to cool before moving them to a wire cooling rack to cool completely.
Icing Directions:
Sift the powder sugar. Add the sugar, vanilla, and 1 tablespoon of milk. Using a fork to combine the ingredients together. This will be thick so you will want to add about 1 tablespoon of milk at a time. Stir to blend.

The icing will still be thick. Lightly dip the tops of the cookies into the icing. It will take a couple of hours for the icing to set.

You can store the cookies by wrapping them in plastic wrap, keeping them at room temperature for 3 days. Or you can store them in the refrigerator to 10 days.
Follow me on Pinterest for daily delicious recipes!
Make sure you check our favorites recipes below:
Best Chicken Marsala Recipe for Slow Cooker – Delicious meal to serve to guests or any night you want to treat yourself.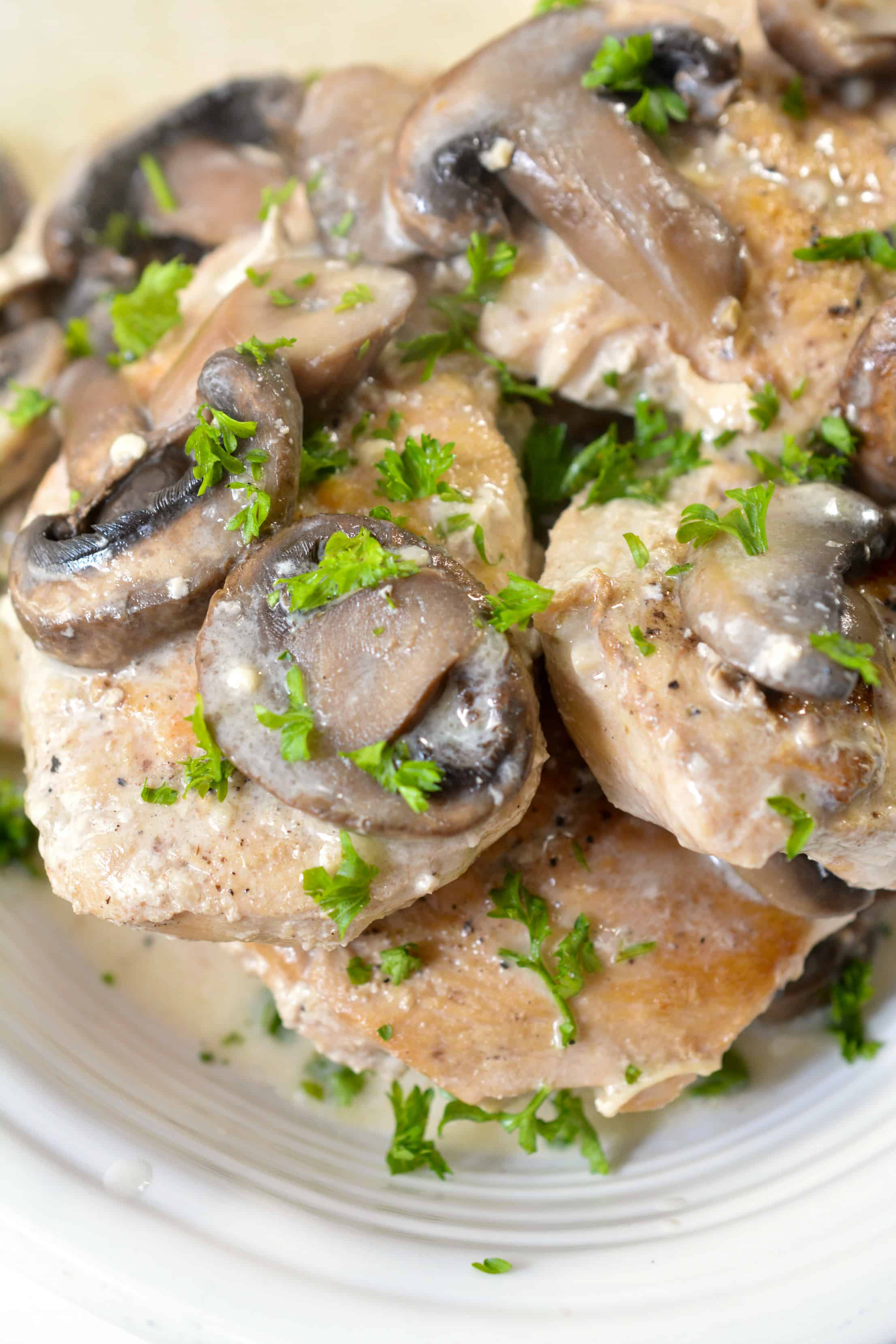 Stuffed Pepper Soup in the Slow Cooker – One of my favorite budget slow cooker meals, Make some tonight or freeze some for later.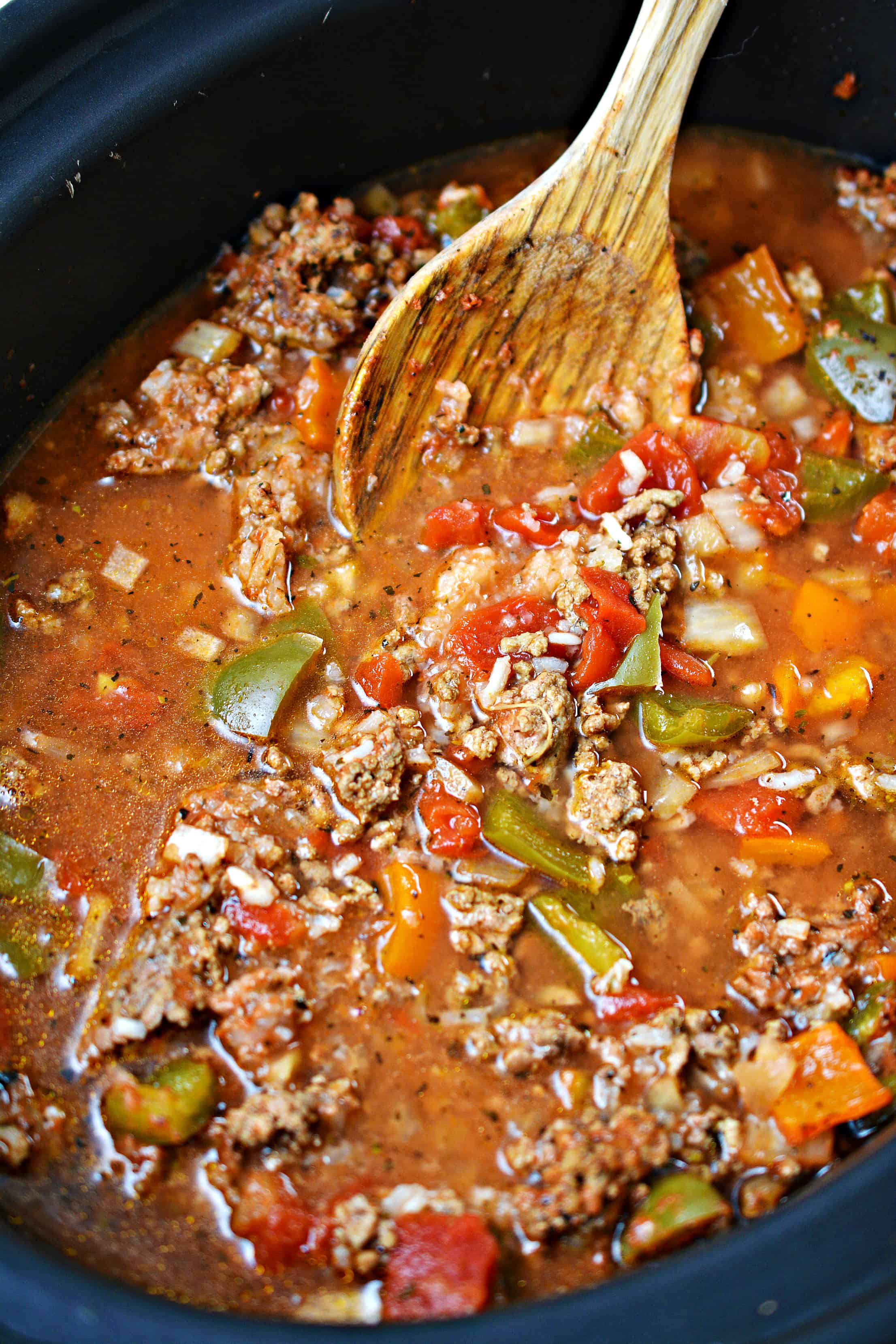 Crock Pot Chicken and Dumplings – traditional chicken and dumplings, you'll love this easy crockpot chicken recipe!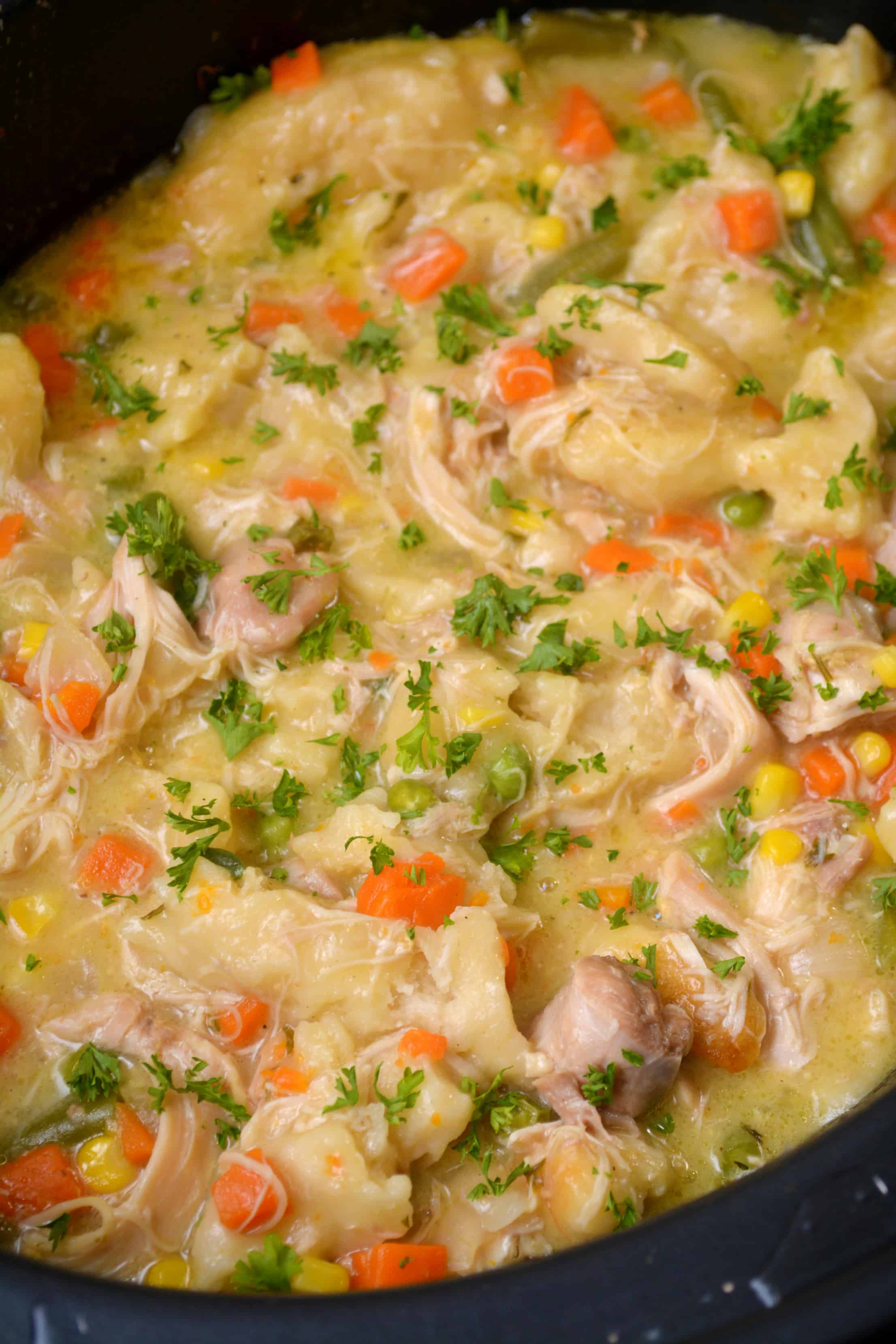 Instant Pot Detox Fat Flush Soup – This soup is not only tasty it is a great soup cleanse.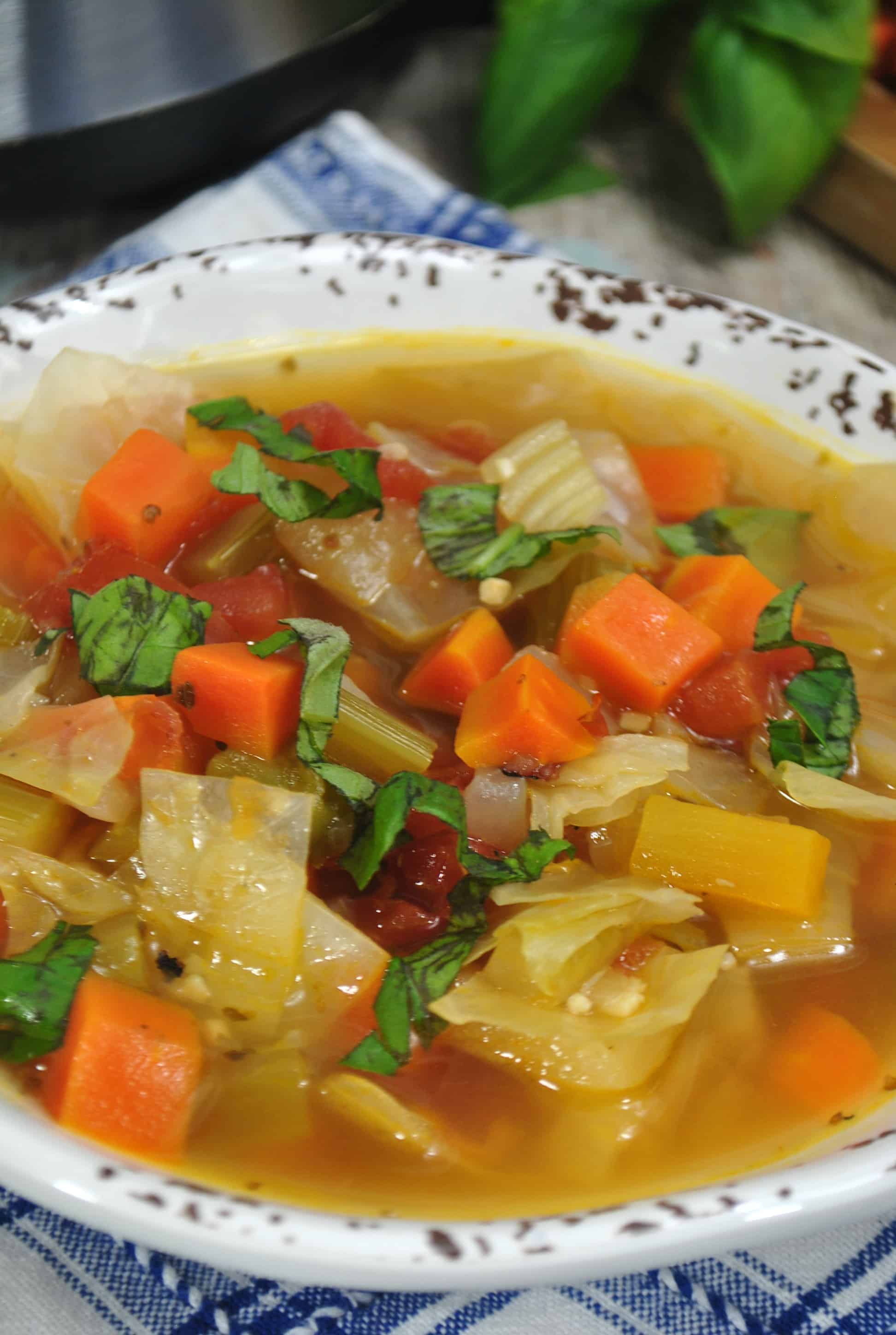 Get new recipes weekly plus our FREE ebook!