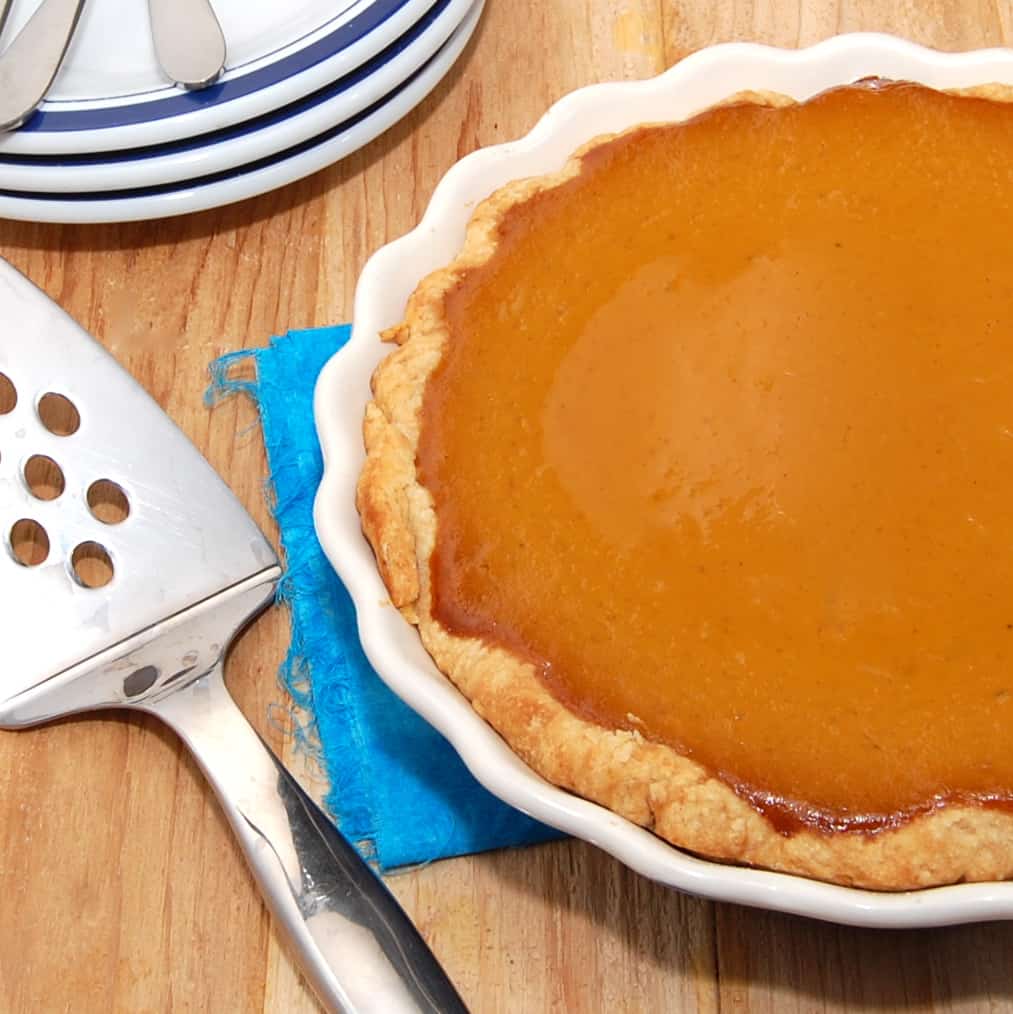 It's always a tradition to serve pumpkin pie at Thanksgiving, but too many times the crust is soggy and the filling curdles and becomes watery and grainy when baked. Perhaps you think you have made a flawless pumpkin pie, only to have it crack as it is cooling. I have been there before and it is always so irritating! Over the past few years I have tried several recipes trying to find the perfect pumpkin pie recipe. I have definitely found it with this one. 🙂 Silky smooth filling baked in a tender, flaky crust.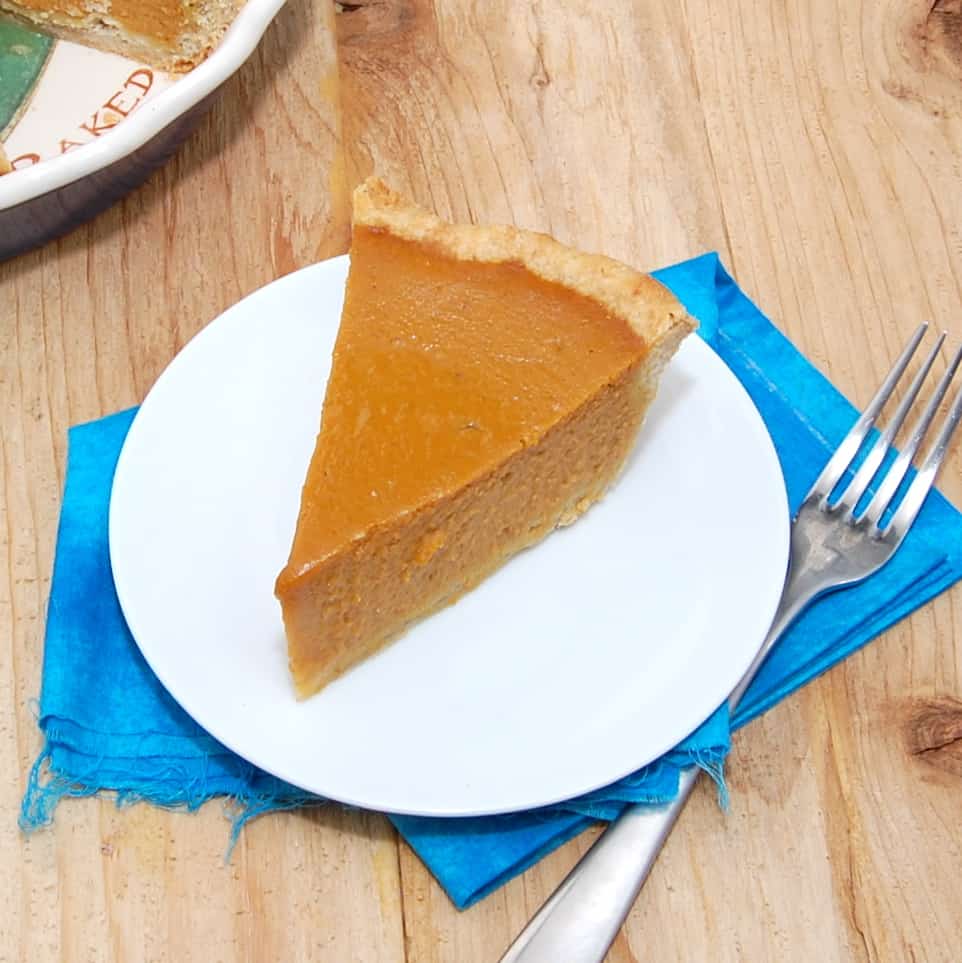 The secret to the incredible flaky and tender crust is vodka. Since gluten forms readily in water, by replacing half of the water with vodka you are left with a dough that stays soft and malleable. Don't worry about using vodka in the crust, the alcohol vaporizes in the oven. The silky smooth filling is like no other pumpkin pie I have ever tasted. The flavor is incredible. The addition of maple syrup boosts the pumpkin's natural sweetness, while the sweet potatoes intensify the pumpkin flavor.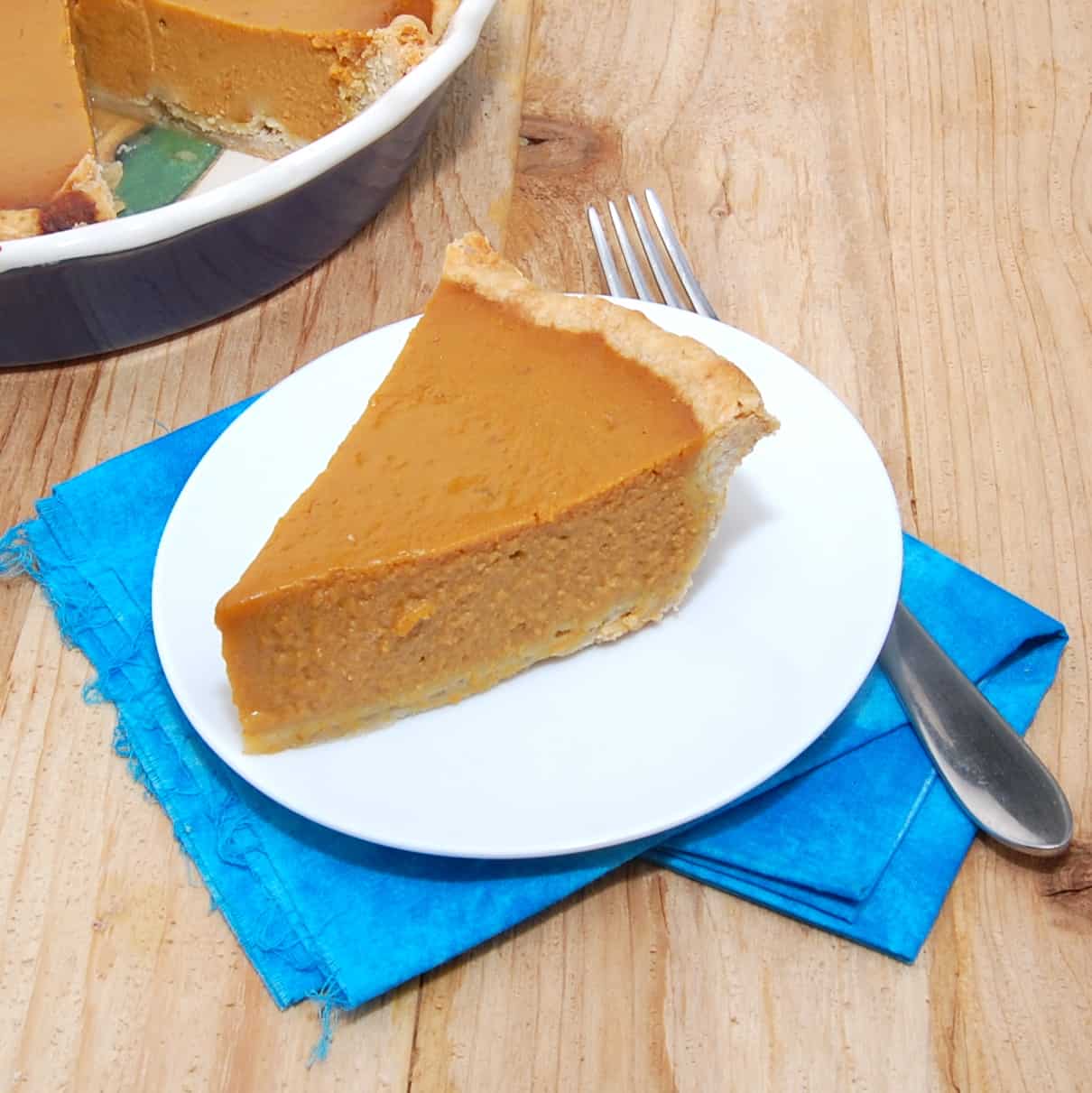 Simmering the filling for this pie might seem like an unusual step, but the benefits are threefold; it concentrates and enhances the flavor, drives off moisture, and prevents the crust from becoming soggy by allowing the filling to firm up quickly in the oven. The best way to judge doneness is to insert an instant-read thermometer into the center and have it register 175 degrees. If you don't have an instant-read thermometer, don't worry, just bake until the edges of pie are set and the center 2 inches of the pie look firm but jiggle slightly.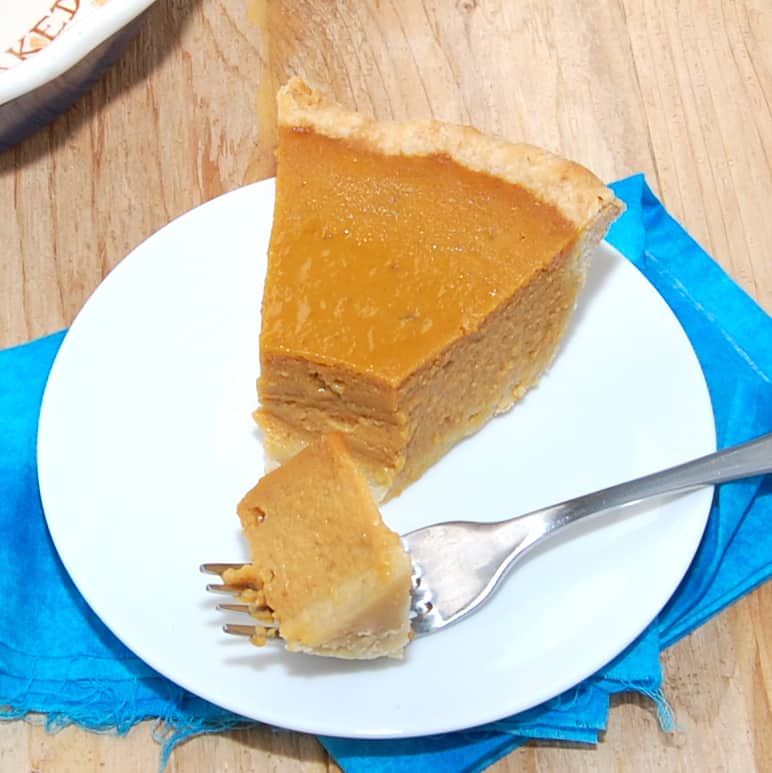 I have noticed after baking this pie several times that the cooking time will vary based on how warm your crust and filling are when you put it in the oven. If you feel that the pie is not finished baking after the recommended time, just watch it closely and bake until the center 2 inches of the pie look firm but jiggle slightly. The pie finishes cooking with residual heat so it is not necessary to bake until the center is completely set. If you bake it to that point, you most likely will have a crack form as it is cooling. Serve this pie with cinnamon ice cream or whipped cream for an incredible Thanksgiving dessert.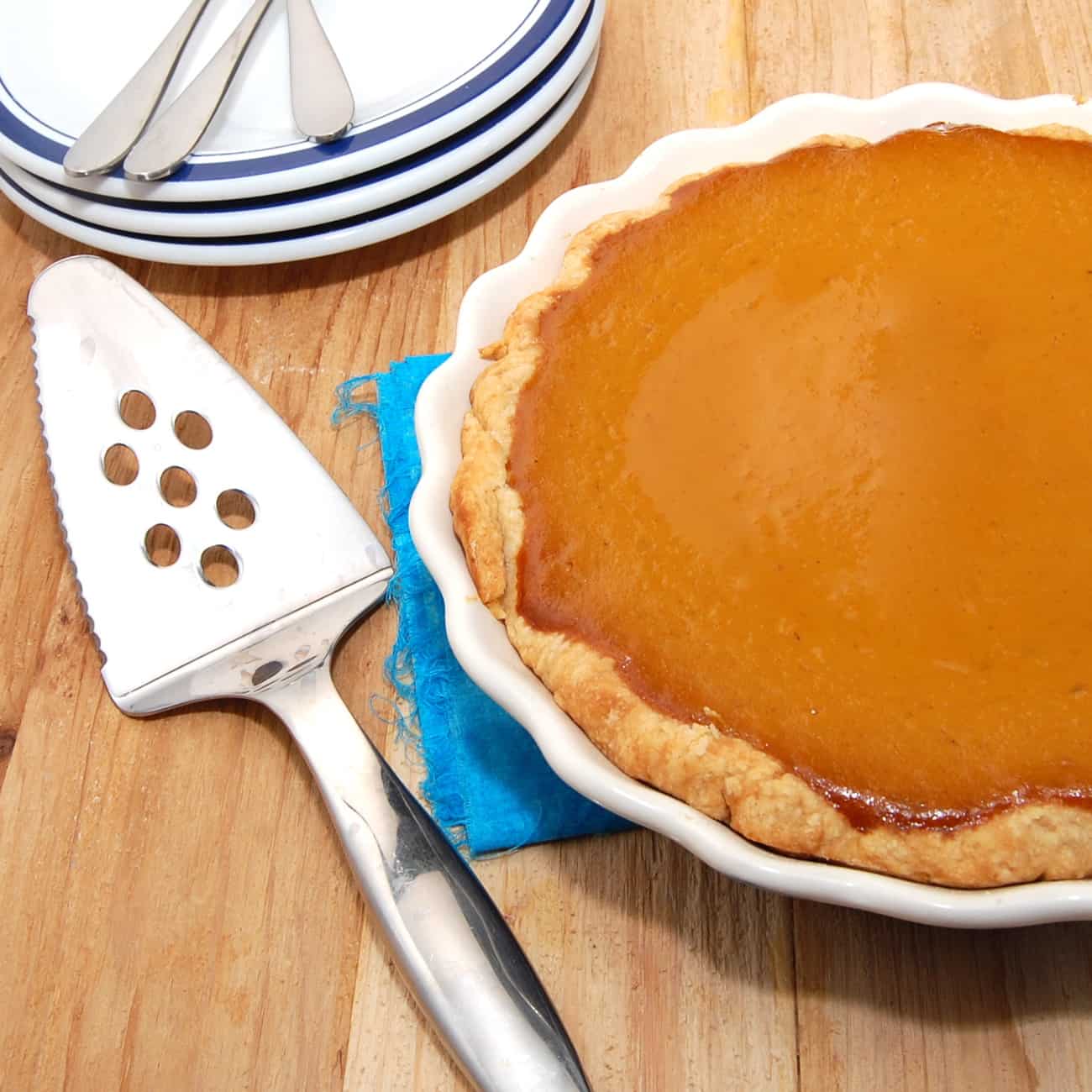 Pin this recipe now to remember it later
Ingredients
For the Crust:
1 1/4

cups

unbleached all-purpose flour

,

6 1/4 ounces

6

tablespoons

3/4 stick cold unsalted butter, cut into 1/4-inch slices

1/4

cup

vegetable shortening

,

cold, cut into two pieces

2

tablespoons

vodka

,

cold
For the Filling:
3

large eggs plus 2 large yolks

1

teaspoon

vanilla extract

1

cup

drained candied yams from 15-ounce can

2

teaspoons

grated fresh ginger

1/2

teaspoon

ground cinnamon

1/4

teaspoon

ground nutmeg
Want to save this recipe? Enter your email below and we'll send the recipe straight to your inbox!
NOTE: By saving this recipe, you agree to join our weekly recipes newsletter.
Instructions
For The Pie Dough: In the bowl of a food processor fitted with the metal blade, process 3/4 cup flour, salt, and sugar until combined, about two 1-second pulses. Add butter and shortening and process until dough just starts to collect in uneven clumps, about 10 seconds; dough will resemble cottage cheese curds and there should be no uncoated flour. Scrape bowl with rubber spatula and redistribute dough evenly around processor blade. Add remaining 1/2 cup flour and pulse until mixture is evenly distributed around bowl and mass of dough has been broken up, 4 to 6 pulses. Transfer mixture into medium bowl.

Sprinkle vodka and water over mixture. Using a folding motion, use a rubber spatula to mix, pressing down on dough until dough is slightly tacky and sticks together. Flatten the dough into 4-inch disk. Wrap in plastic wrap and refrigerate at least 45 minutes or up to 2 days.

Remove dough from refrigerator and roll out on floured work surface to 12-inch circle, about 1/8 inch thick. Roll dough loosely around rolling pin and unroll into a 9-inch pie plate, leaving at least 1-inch overhang on each side. Working around circumference, ease dough into plate by gently lifting edge of dough with one hand while pressing into plate bottom with other hand. Leave dough that overhangs plate in place; refrigerate until dough is firm, about 15 minutes.

Adjust oven rack to lowest position, place rimmed baking sheet on rack, and heat oven to 400 degrees. Remove pie pan from refrigerator and trim overhang to 1/2 inch beyond lip of pie plate. Fold overhang under itself; folded edge should be flush with edge of pie plate. Using thumb and forefinger, flute edge of dough. Refrigerate until firm, about 15 minutes.

Remove pie shell from refrigerator and press a doubled 12-inch piece of aluminum foil inside the pie shell, and fold the edges of the foil to shield the fluted edges. Evenly distribute 2 cups of ceramic or metal pie weights over foil. (you can also use dried beans or pennies if you have no pie weights). Bake on rimmed baking sheet for 15 minutes. Carefully, remove foil and weights by gathering sides of soil and pulling up and out. Place pie shell back into the oven and continue baking until lightly golden brown, about 5 to 10 minutes more. Remove pie plate and baking sheet from oven.

For the Filling: While pie shell is baking, whisk together cream, milk, eggs, yolks, and vanilla in a medium bowl; set aside.

In a large heavy-bottomed saucepan combine pumpkin puree, yams, sugar, maple syrup, ginger, cinnamon, nutmeg, and salt; bring to sputtering simmer over medium heat, 5 to 7 minutes. Continue to simmer pumpkin mixture, stirring constantly and mashing yams against sides of pot, until thick and shiny, 10 to 15 minutes.

Remove pan from heat and slowly whisk in cream mixture until fully incorporated. Strain mixture through fine-mesh strainer set over medium bowl, using back of spatula to press solids through strainer. Rewhisk mixture and transfer to warm prebaked pie shell. Return pie plate with baking sheet to oven and bake pie for 10 minutes. Reduce oven temperature to 300 degrees and continue baking until edges of pie are set, the center 2 inches of the pie look firm but jiggle slightly and an instant-read thermometer inserted in center registers 175 degrees, 20 to 35 minutes longer. Transfer pie to wire rack and cool to room temperature, 2 to 3 hours. Cut into wedges and serve.
Follow me on Pinterest for daily delicious recipes!
Source: Cook's Illustrated, November 2008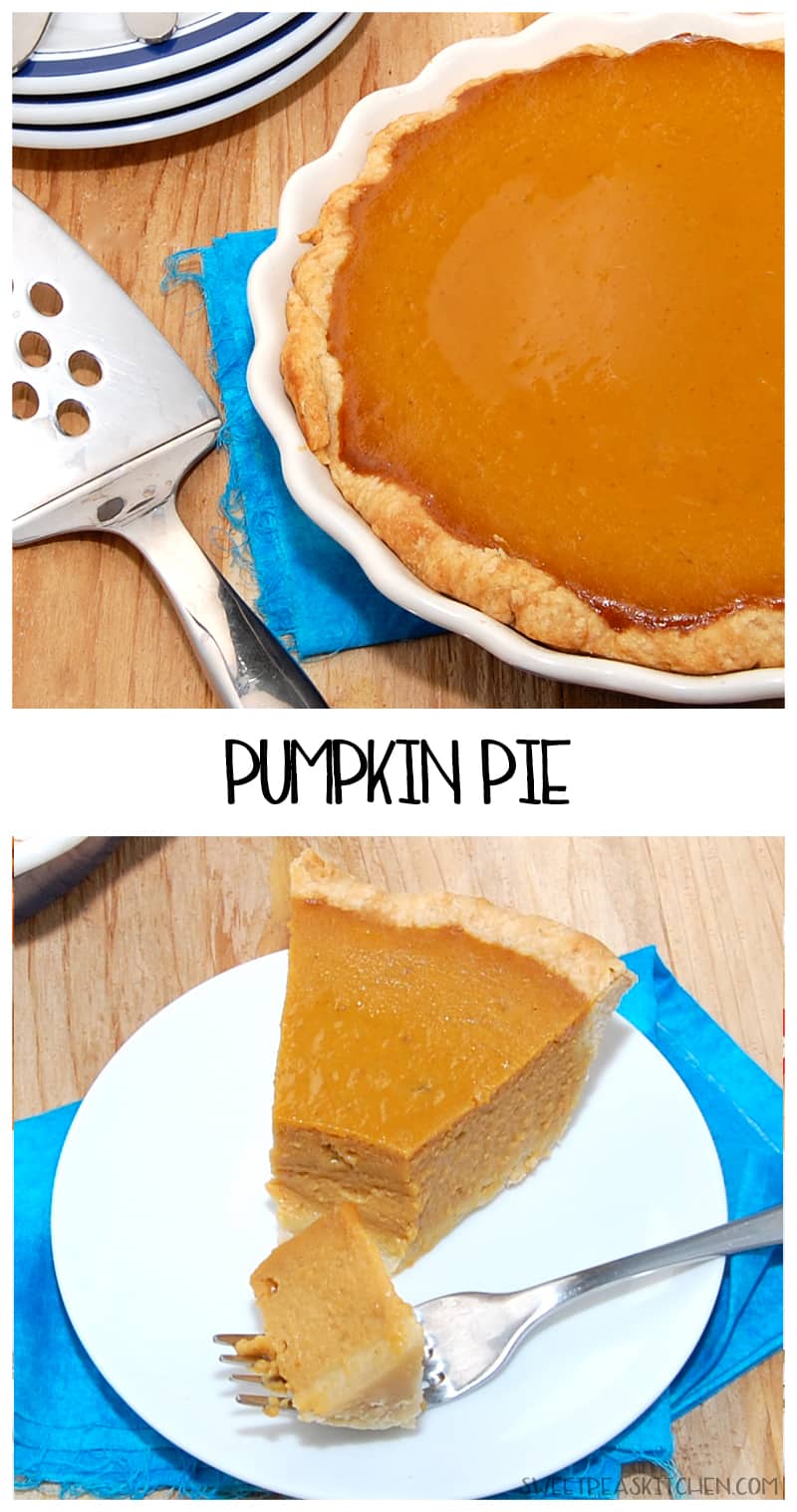 Get new recipes weekly plus our FREE ebook!