This incredible Quinoa and Roasted Pepper Chili is beyond amazing. Every bite is filled with fresh zucchini, peppers, poblano chile, quinoa, beans, and fire-roasted tomatoes. The seasonings blend together beautifully, and you can't resist eating every last drop.
Scroll to bottom for printable recipe card.
Quinoa and Roasted Pepper Chili
I'm so over all of this snow we've been having the past few weeks! The snow, the high winds and freezing temperatures-it's driving me crazy! Oh, what's that? We're supposed to get another 6 inches of snow? Ugh! Is it too much to ask to have my feet buried in the sand right now instead of these snow boots?
When the weather turns cold and snowy, all I want to eat is soup. A big, warm and comforting bowl of soup! This delicious vegetarian take on chili is loaded with fresh vegetables, pinto beans, and quinoa. It has a nice little zing from the poblano chiles and is packed with plenty of chunky wonderfulness. The perfect dinner to chase away those winter blues!
Variations to Recipe
Feel free to add in any of your favorite ingredients that you love. Here are a few ideas I think you may enjoy trying out.
Ground Beef – Brown up some hamburger and add it to the roasted pepper chili. It makes it even heartier and more filling. Keep in mind if you add beef, it won't be vegetarian quinoa chili anymore. 🙂
Black Beans – We always enjoy adding a few black beans to this quinoa vegetable chili. I think more beans are a great way to add more protein and flavor too.
Corn – Adding a little bit of corn will give it some vibrant color, and it also tastes great too. I prefer chili that is really thick and bold versus a watered down chili.
Shredded Chicken – Another meat that pairs well with the ingredients is some shredded chicken. Precook the chicken, shred it, and add it to the soup.
Sweet Potatoes – If you've never added sweet potatoes to your chili, you have been missing out. It's a creamy ingredient that also adds a touch of sweetness too.
Can I Change Out Vegetables In Soup
Oh, of course! You can swap out the veggies with any of your favorites. Corn (I know it's really a grain), carrots, celery, and even mushrooms would all be hearty options. Go wild and add all your favorite veggies.
Topping Ideas For Chili
The toppings take the quinoa and roasted pepper chili to a whole new level. Check out these topping ideas to try out:
Avocado – Add a few slices of fresh avocado. It's so incredible and creamy! Delicious!
Salsa – We like to add a little bit of fresh salsa on top of our chili sometimes. You can use mild or hot.
Cheese – Can you even have chili without some cheese? Okay, maybe you can, but it's one of our go-to toppings. Cheddar, Pepper Jack, or Colby are our preferred cheese.
Green onions – Add a few fresh green onions on top and dig in. You won't be able to resist!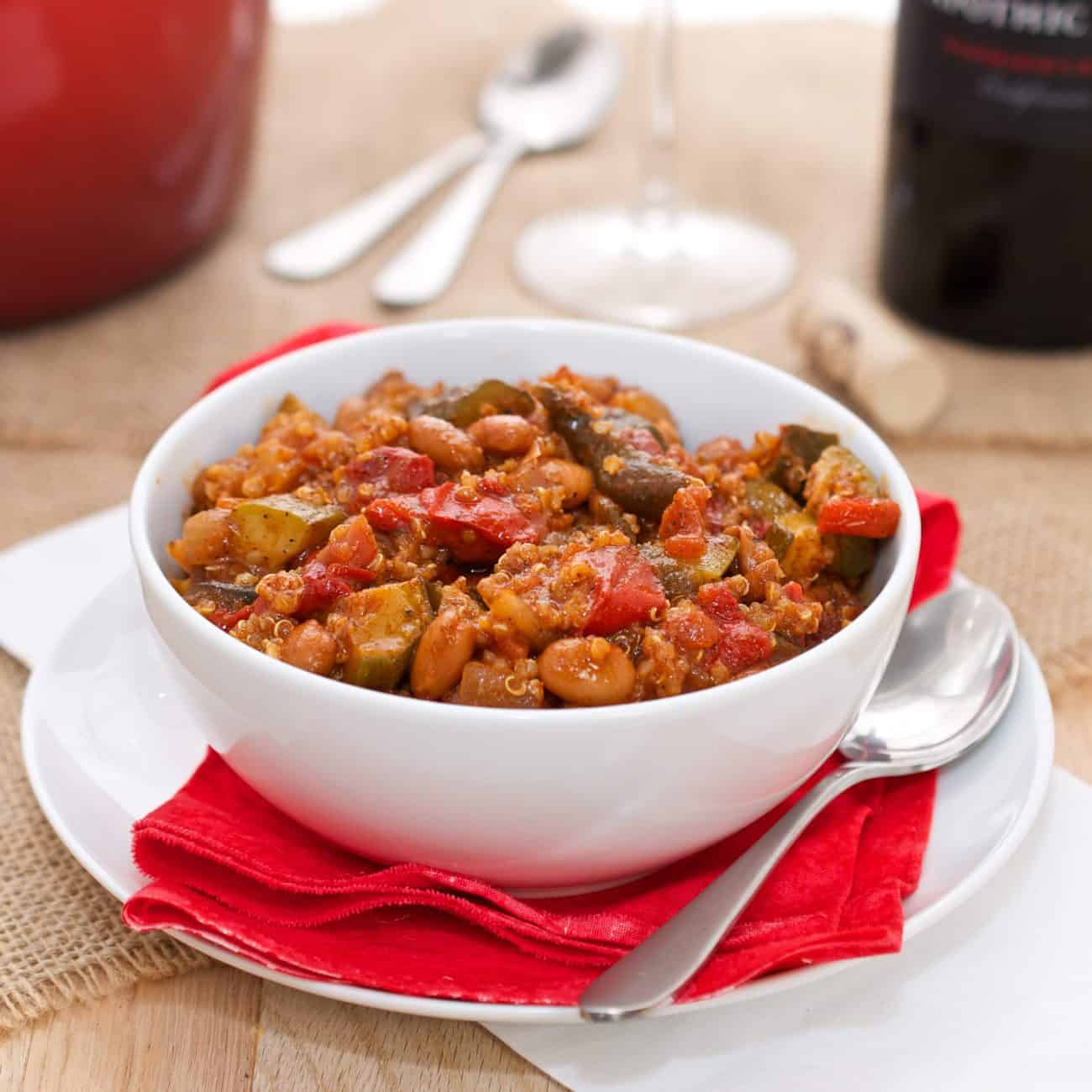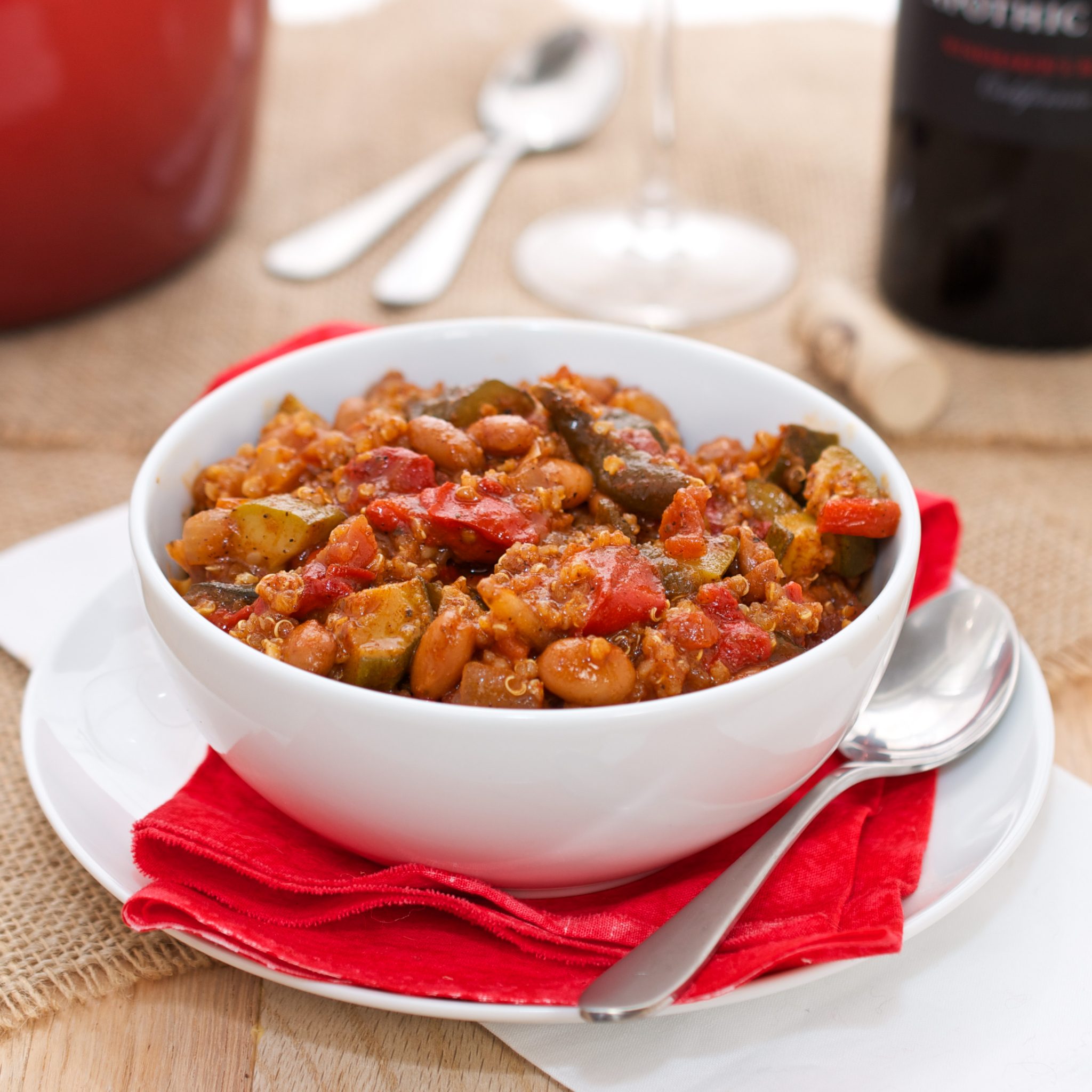 Best Beans to Use
We use pinto beans from a can, but you can also use kidney or black beans as well. Typically we prefer using canned beans, but you can also make them yourself and use them instead of canned, totally up to you and what you like best.
Does This Chili Freeze Well
Yep, it's one of our go-to freezer meals. You can make a huge batch or two ahead of time, pour it in freezer bags, and they are handy whenever you need a quick lunch or dinner. Don't fill the freezer bag more than 2/3 full, so there is plenty of room for the soup to expand as it freezes. It's important to label it, so you know what's in the bag too.
Thaw before reheating. You can reheat it in the microwave or in a saucepan on the stove. Either method works well. Just heat until it's hot and dig in.
Ingredients
Red bell peppers
Large poblano chile
Olive oil
Chopped zucchini
Chopped onion
Minced garlic cloves
Chili powder
Ground cumin
Spanish smoked paprika
Water
Uncooked quinoa, rinsed
Kosher salt
Fire-roasted diced tomatoes with chipotles, undrained
Pinto beans, rinsed and drained
Low-sodium vegetable juice
How to Make Quinoa Chili
First Step: Begin by preheating your broiler.
Second Step: Cut up the bell peppers and chiles lengthwise and take out the membranes and seeds and toss them. Put the pepper halves with the skin up on a baking sheet that has been lined with tin foil. Flatten the peppers using your hand or a spatula. Broil them for ten minutes or until they have blackened. Take the peppers and chiles and put them inside of a paper bag and fold it to keep it closed tight. All them to sit for 10 minutes, then peel off the skin and chop coarsely.
Third Step: Take a dutch oven and add the olive oil and heat it up. Use medium high heat until it begins to shimmer. Add in the zucchini, garlic, and onions to the pan. Stir and saute for 4 minutes or until the onions are soft and brown. Mix in the cumin, smoked paprika, and chili powder together. Stir and continue to saute for an additional 30 seconds. Toss in the roasted peppers and the chiles. Add the water, quinoa, diced tomatoes, salt, pinto beans, and vegetable juice.
Fourth Step: Turn down the heat to medium-low, then add a lid to cover and simmer for 20 minutes or until quinoa is tender.
I'm sure that you are starving and craving this healthy quinoa and roasted pepper chili now! Here are a few other soups I think you will like it too.
Pin this recipe now to remember it later
Quinoa and Roasted Pepper Chili
Ingredients
1

tablespoon

chili powder

1/2

teaspoon

Spanish smoked paprika

1/2

cup

uncooked quinoa

,

rinsed

1

14.5-ounce can fire-roasted diced tomatoes with chipotles, undrained

1

15-ounce can no-salt-added pinto beans, rinsed and drained

1

cup

low-sodium vegetable juice
Want to save this recipe? Enter your email below and we'll send the recipe straight to your inbox!
NOTE: By saving this recipe, you agree to join our weekly recipes newsletter.
Instructions
Preheat broiler. Cut bell peppers and chiles in half lengthwise, discard seeds and membranes. Place halves, skin sides up, on a foil-lined baking sheet, and flatten with your hand. Broil 10 minutes or until blackened. Place bell peppers and chiles in a paper bag and fold to close tightly. Let stand 10 minutes before peeling and coarsely chopping.
In a large Dutch oven, heat olive oil over medium-high heat until shimmering. Add zucchini, onion, and garlic. Sauté 4 minutes or until the onions have softened and browned. Stir in chili powder, cumin, and paprika and sauté for 30 seconds. Add roasted peppers and chiles, 1/2 cup water, quinoa, salt, diced tomatoes, pinto beans and vegetable juice. Reduce heat to medium-low, cover and simmer for 20 minutes or until quinoa is tender.

Amount per serving
Calories: 258 Fat: 6.3g Saturated fat: 0.9g Monounsaturated fat: 3.6g Polyunsaturated fat: 1.2g Protein: 9.7g Carbohydrate: 42.1g Fiber: 9.8g Cholesterol: 0.0mg Iron: 3.7mg Sodium: 430mg Calcium: 108mg
Follow me on Pinterest for daily delicious recipes!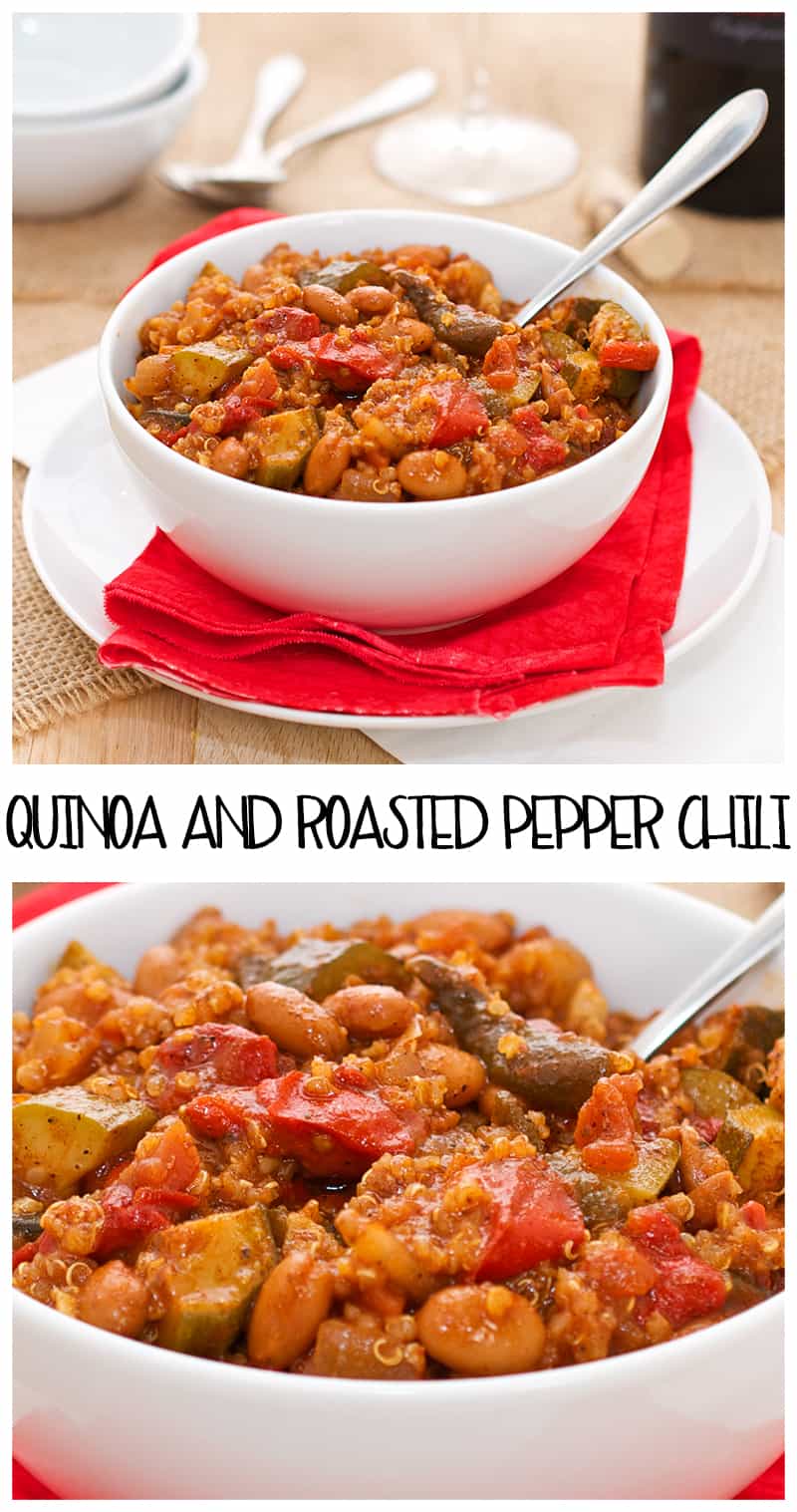 Get new recipes weekly plus our FREE ebook!