Zingy Raspberry Lemon Loaf studded with plump raspberries and bursting with lemony flavor is sure to be a hit anytime of the year. With abundance of raspberries this time of year there is really no reason not to make this loaf. Well I guess that is unless you don't want to indulge in a slice of this super-moist, lemony, melt in your mouth treat. But that wouldn't be the case, would it? 😉
This loaf is based off of two of my absolute favorite bread recipes, the Lemon Blueberry Loaf and the Lemon Loaf. Seriously if you have not tried either of them you are truly missing out! This delicious raspberry lemon loaf is made with plump raspberries, freshly squeezed lemon juice and lemon zest. Once it comes out of the oven we hit it with another blast of lemony goodness by lightly brushing it with a lemon syrup. Serve this loaf anytime of the day for a treat that will keep you coming back for more.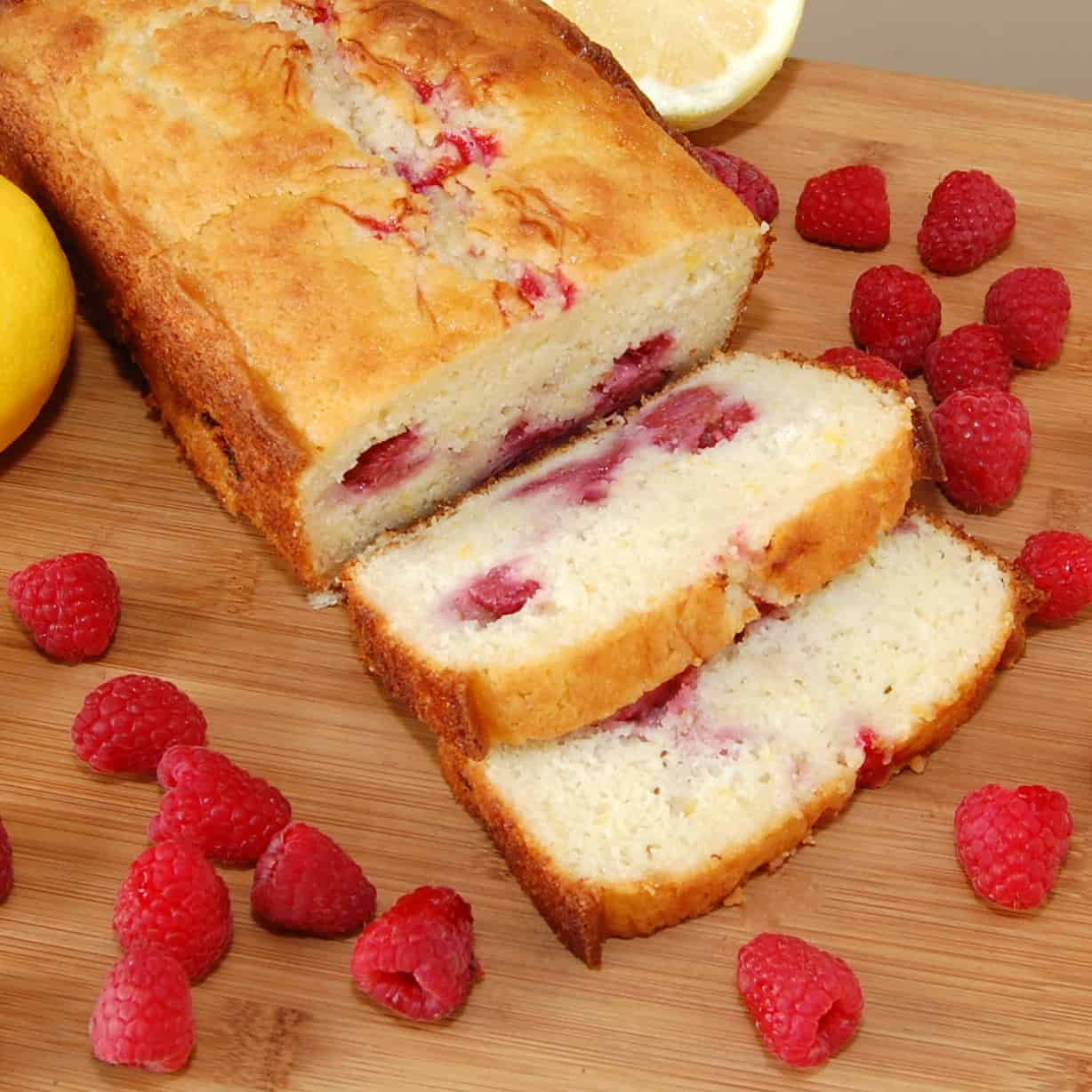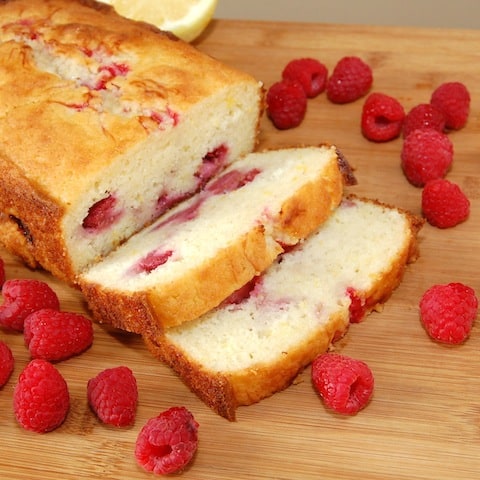 Raspberry Lemon Loaf
Ingredients
For the Loaf:
1 ½ cups all-purpose flour + 1 tablespoon all-purpose flour, divided
2 teaspoons baking powder
1/4 teaspoon kosher salt
1 cup low-fat buttermilk
1 ¼ cups sugar
3 large eggs
2 teaspoons grated lemon zest (approximately 2 lemons)
1/2 teaspoon vanilla extract
1/2 cup vegetable oil
1 1/4 cups raspberries, fresh or frozen, thawed and rinsed, divided
For the Raspberry Topping:
1/2 tablespoon lemon juice
1/2 tablespoons framboise liqueur or water
1/2 tablespoons sugar
For the Lemon Syrup:
1/3 cup freshly squeezed lemon juice
1/3 cup sugar
Instructions
Preheat the oven to 350 degrees F. Grease bottom and sides of one 9 x 5-inch loaf pans; dust with flour, tapping out excess.
In a medium bowl, sift together flour, baking powder and salt; set aside.
In a large bowl, whisk together the buttermilk, sugar, eggs, lemon zest, vanilla and oil. Slowly whisk the dry ingredients into the wet ingredients.
In a separate bowl, mix 1 cup of raspberries with the remaining tablespoon of flour, and fold them very gently into the batter. Pour into prepared loaf pan.
In a small blender, blend the lemon juice, remaining ¼ cup raspberries, framboise liqueur, and sugar. Blend until smooth. Strain through a fine mesh strainer to remove seeds and drizzle lightly on top of the batter. Use a toothpick to swirl into the batter.
Bake 50 to 55 minutes, or until a toothpick inserted in the center of the loaf comes out clean. Let cool in the pans for 10 minutes before removing loaf to a wire rack on top of a baking sheet.
While the loaf is cooling, make the lemon syrup in a small saucepan over medium heat. Stir together the lemon juice and sugar until the sugar is completely dissolved. Once dissolved, continue to cook for 3 more minutes. Remove from the heat; set aside.
Use a toothpick to poke holes in the tops and sides of the warm loaf. Brush the top and sides of the loaf with the lemon syrup. Let the syrup soak into the cake and brush again. Let the cake cool completely.
Source:
adapted from
Kitchen Confidante
, originally adapted from
Ina Garten