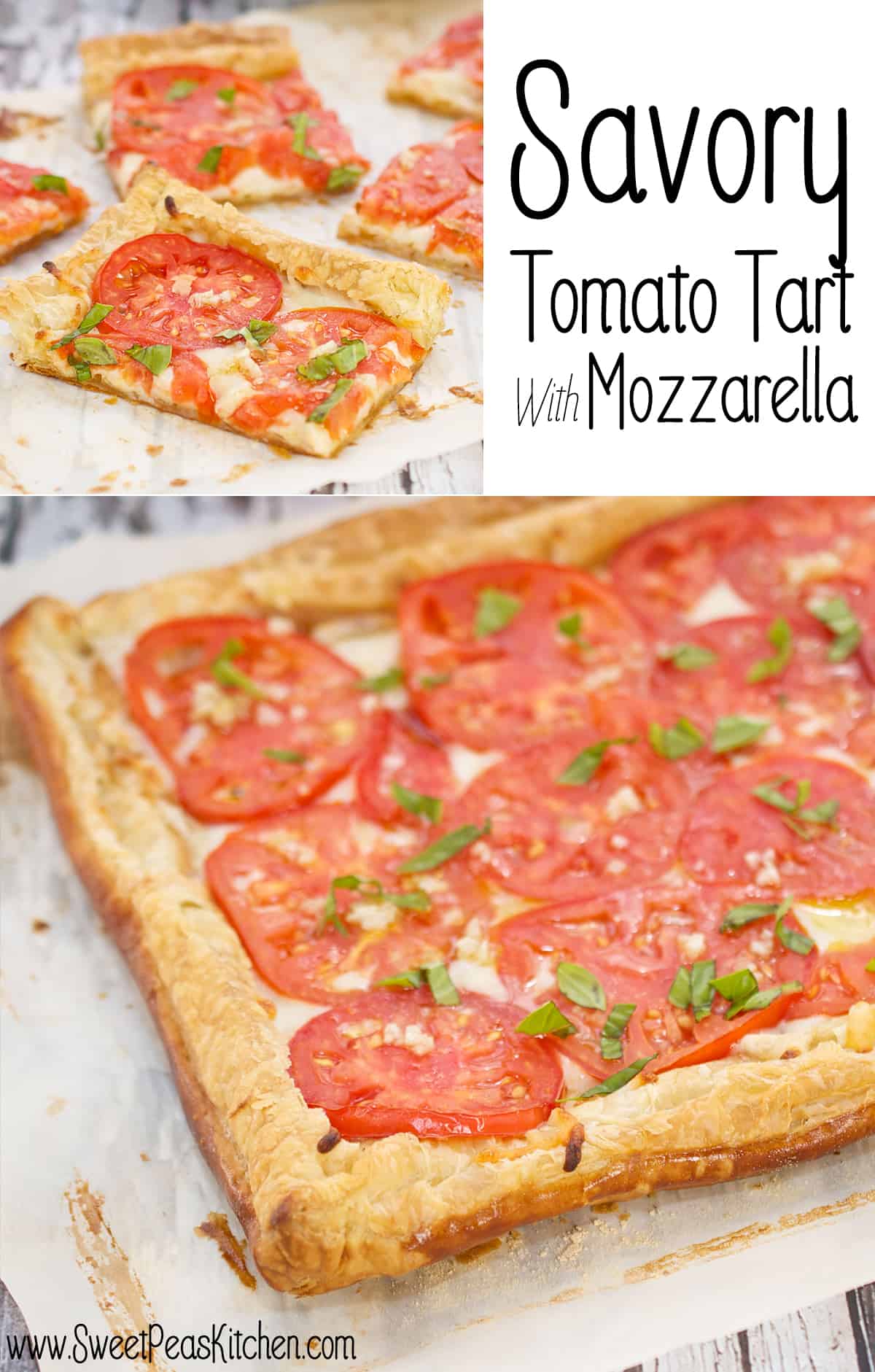 You are going to be intrigued by this incredible Tomato Tart Recipe with mozzarella cheese. I love all sweet things, but I also can't seem to get enough of the fantastic flavors in this savory tart. I've had a lot of tarts that have fruit in them along with cream cheese, but I knew I wanted something different.
Scroll to bottom for printable recipe card.
Savory Tomato Tart Recipe With Mozzarella
I get tired of the same thing and wanted to create a recipe that combined puff pastries, mozzarella cheese, and tomatoes. I hit the nail on the head with this puff pastry tart that's out of this world.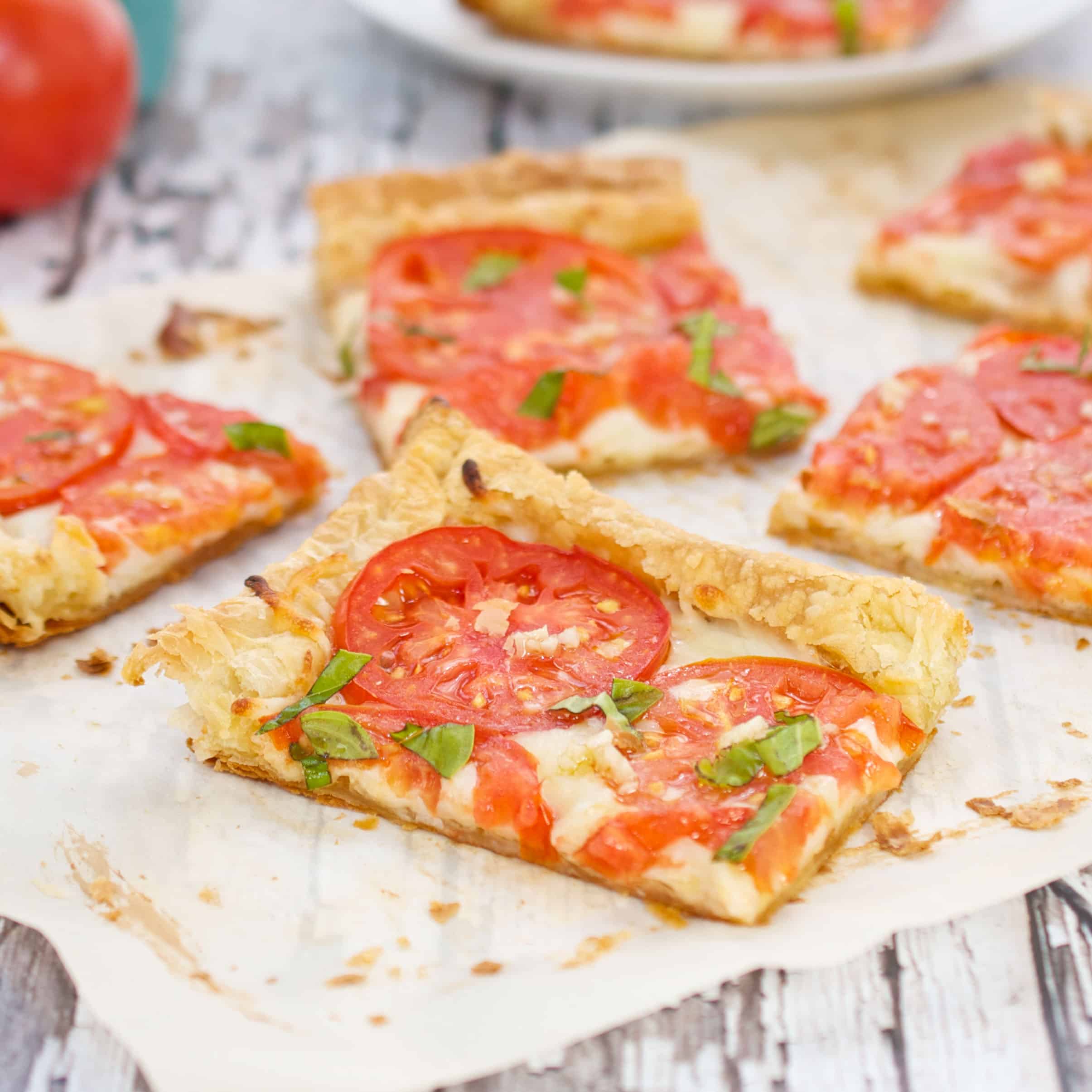 Honestly, you can eat this easy tart recipe any time of day! Brunch, lunch, dinner, or any other reason you want to break it out and devour it.
What Is A Tart?
A tart is a dish that is made from a pastry that doesn't have a top like a pie. It's open, and the filling is often sweet with fruits and jams, or it can have savory ingredients like tomatoes and mozzarella. The options are endless when it comes to tarts, and they are becoming increasingly popular due to how many ways they can be served.
Tomato Tart Recipe Ingredients
All you need is 8 ingredients to make this tomato tart puff pastry! It tastes like you spent the entire day in the kitchen baking away, but in reality, it's a painless process. Here are the ingredients for this tomato tart recipe:
Sheet puff pastry – You should thaw the puff pastry before you begin making the savory tart.
Egg – Beat the egg lightly, you don't have to go too crazy with it.
Grated Parmesan cheese – Adding some parmesan with the other ingredients is amazing! Such a great flavor combination.
Plum tomatoes – While plum tomatoes are my preference, you can also use large heirloom tomatoes too.
Salt – You can add more or less salt, depending on what you like.
Shredded mozzarella cheese – So much flavor from this tomato tart comes from the melted mozzarella cheese.
Olive oil – The olive oil helps give the puff pastry crust a flaky texture and enhances how it tastes too.
Garlic clove – Mince a clove of garlic (or two if you want to go wild) for this tomato tart puff pastry. It makes the dish taste Italian with the other ingredients.
Minced fresh basil – I can never get enough fresh basil. Always try to use fresh whenever possible. It will make a huge difference in the result of this tart recipe.
How To Make A Puff Pastry Tart
I'm sure your stomach is growling thinking about indulging in this savory dish! Let's not waste any more time so you can start munching away at one soon.
First Step: Begin by heating the oven to 425 degrees F. Prepare a baking sheet by lining it with parchment paper, then set aside.
Second Step: Place the unfolded pastry sheet on a lightly floured surface. Roll out the pastry sheet, so it ends up being an 11-inch square. Then place the pastry sheet on the prepared baking sheet, so it's in the center. Fold the edges of the pastry about 1/2 inch, so there is a crust. Use the beaten egg to brush all over the pastry sheet.
Third Step: Add the parmesan cheese all over the dough, so it's even. Then using a fork, poke holes all over. It's essential to get the holes to go all the way through the dough. Bake the crust for 15-20 minutes until it's golden brown, then transfer to a wire rack to cool.
Fourth Step: When the pastry crust is in the oven baking, slice the tomatoes and place them in on a triple layer of paper towels. Sprinkle the tomatoes with salt and allow them to sit for 30 minutes. Then add another double layer of paper towels on top of the tomatoes and press them firmly. You want to dry off extra liquid off tomatoes. Next, combine the garlic, olive oil, salt, and pepper in a small bowl then set aside.
Fifth Step: Add the mozzarella to the baked crust and layer the tomatoes slices evenly. Pour the olive oil mixture on top of the tomatoes and bake until the cheese has melted and the crust is a deep golden brown or for 10-15 minutes.
Sixth Step: Allow the puff pastry tart to cool on a wire rack for 5 minutes then sprinkle with basil. Place the savory tart on a cutting board and use a pizza cutter to slice it into pieces.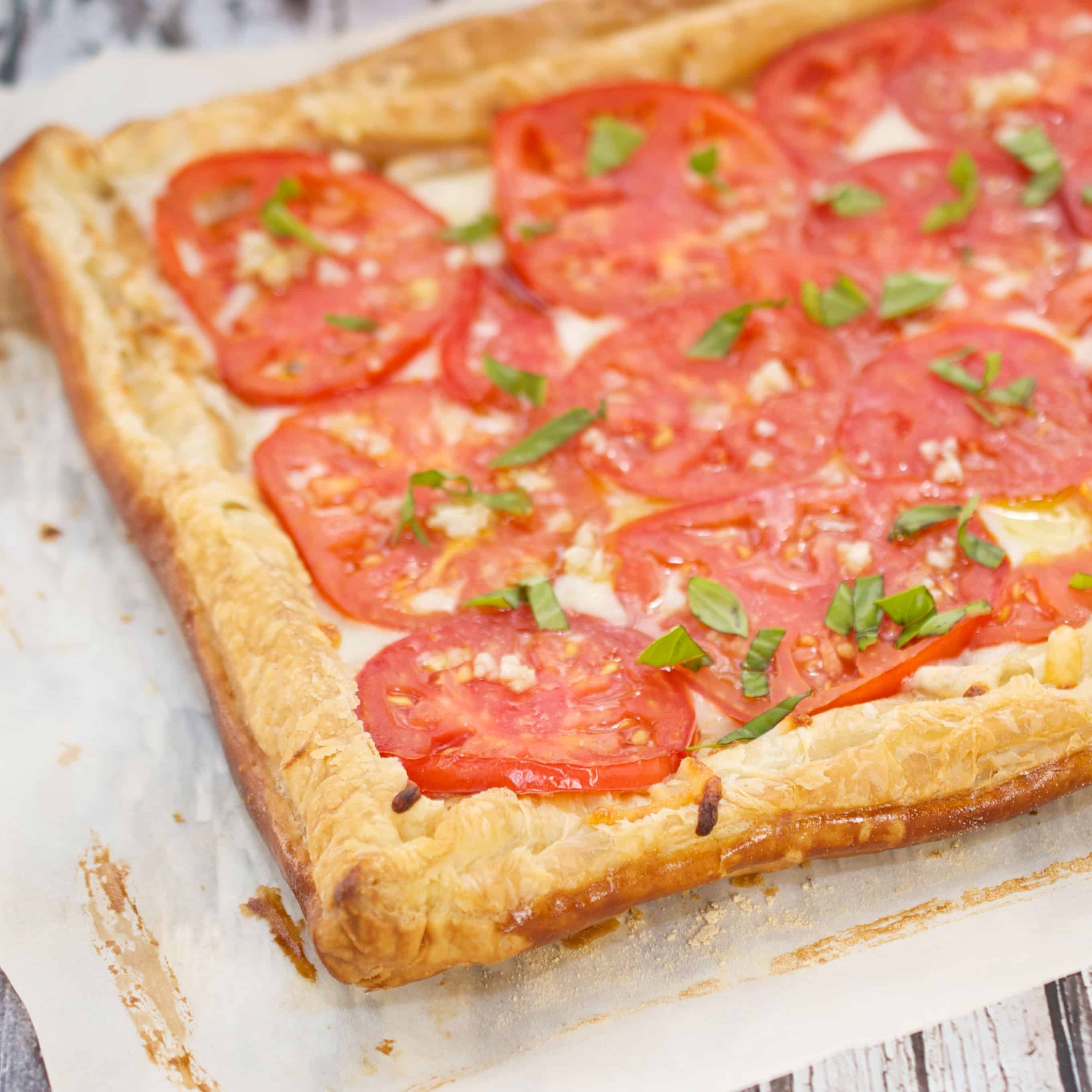 Why Is My Puff Pastry Not Puffing?
If you are trying to make the puff pastry and it's falling flat and not flaky and puffy, it's probably because your oven isn't hot enough. In order for the puff pastry tart to have the perfect crust, it needs to be baked in an oven that is at least 400 degrees. 400 degrees F. is the temperature at which the pasty can puff up.
My recipe is for you to cook it at 425 degrees F. However, if you aren't having luck, there is a strong chance your oven may off. I highly recommend checking your oven temperature and adjusting as needed. It's a good idea to keep an eye on your oven and test it at least once a month to make sure it's heating properly, so your foods turn out correctly.
Does Puff Pastry Need An Egg Wash?
While you don't have to use an egg wash when making the tomato tart, it will turn out so much better if you do. Otherwise, the texture is not going to be as flaky and crispy as it should be. I think to have the egg wash actually makes the savory tart taste even better. It's completely your decision, but I am all for it!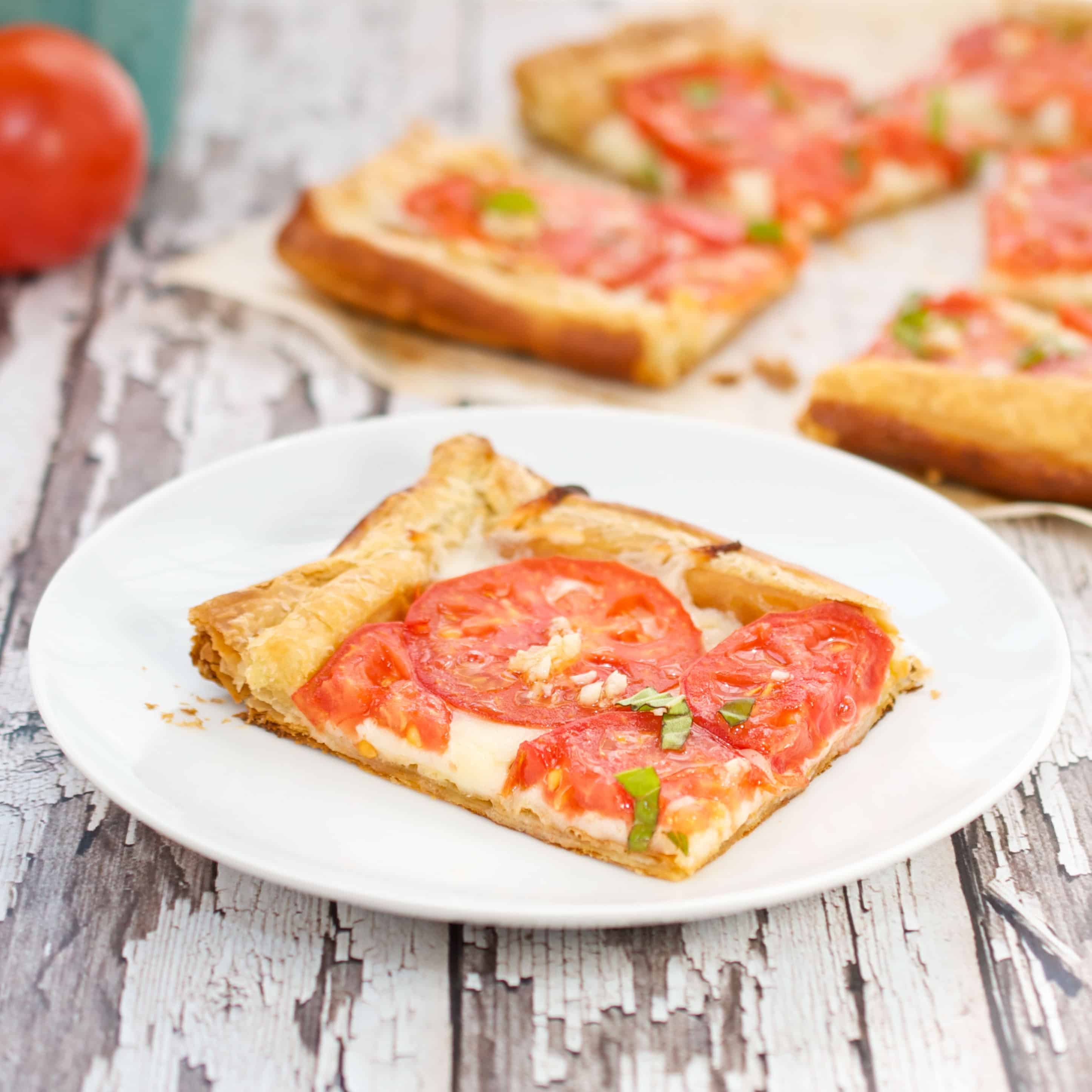 How Do You Store This Tomato Tart Recipe?
Allow the tart pastry to cool down to room temperature, then place it in a covered dish with a tight-fitting lid. You don't' want air to get to it at all, or it will become dry or even soggy. The easy tart will last 3-5 days in the refrigerator, and you can warm it up when ready to eat it.
To warm up the cheese and tomato tart, place it on a baking sheet and warm the oven to 375 degrees. Cook until it's warm, which usually takes 10-15 minutes. Let it sit for a few minutes, then serve.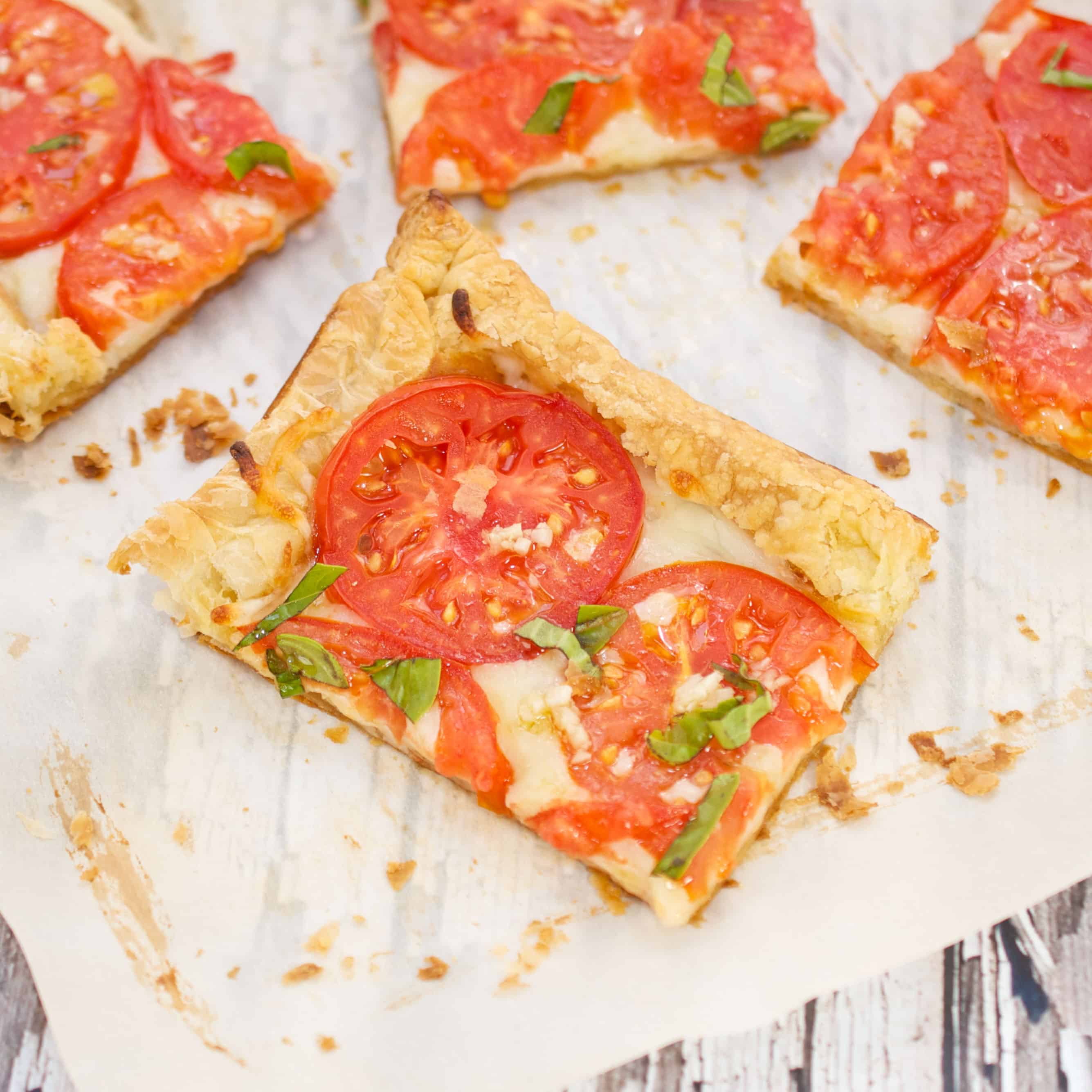 Now, save this recipe on Pinterest for later 🙂

Pin this recipe now to remember it later
Savory Tomato Tart Recipe With Mozzarella
Servings:
2
to 3 servings
You'll be in food heaven when you taste this Tomato Tart Recipe. This savory tart has mozzarella cheese on a puff pastry tart. It's incredible!
Ingredients
1

sheet puff pastry

,

thawed

1/2

cup

grated Parmesan cheese

2

plum tomatoes

,

or 1 large heirloom tomato, cored and cut crosswise into 1/4-inch-thick slices

1

cup

about 4 ounces shredded mozzarella cheese

2

tablespoons

minced fresh basil
Want to save this recipe? Enter your email below and we'll send the recipe straight to your inbox!
NOTE: By saving this recipe, you agree to join our weekly recipes newsletter.
Instructions
Heat oven to 425 degrees F. Line a baking sheet with parchment paper; set aside.

Unfold the pastry sheet on a lightly floured surface. Roll the pastry sheet into a 11-inch square and place in the center of the prepared baking sheet. Form a crust by folding over the edges about a ½ inch, then brush the edges with egg. Brush all over with the beaten egg.

Sprinkle the Parmesan cheese evenly with the dough, then poke the dough all over with a fork, making sure to go the whole way through the dough. Bake until golden brown, about 15 to 20 minutes.

Transfer to a wire rack and let cool.

While the crust is baking, place the tomato slices on a triple layer of paper towels. Sprinkle salt and let sit for 30 minutes. Place second double layer paper towels on top of tomatoes and press firmly to dry tomatoes. In a small bowl, combine garlic, olive oil, and pinch each of salt and pepper; set aside.

Sprinkle mozzarella evenly over the bottom of the crust and layer the tomato slices evenly over the mozzarella. Drizzle olive oil mixture evenly over the tomatoes. Bake until the crust is deep golden brown and cheese is melted, 10 to 15 minutes.

Let cool on a wire rack for 5 minutes before sprinkling with basil. Transfer the tart to a cutting board and using a pizza cutter, slice into pieces and serve.
Follow me on Pinterest for daily delicious recipes!
More Savory Dishes:
I'm confident that you will enjoy everything about this savory tart recipe, and I can't wait to share some more savory dishes. Check these out so you can try them too:
Greek Chicken With Feta Tomato Salsa – This flavorful dish is going to please the toughest food critics. Try it for yourself.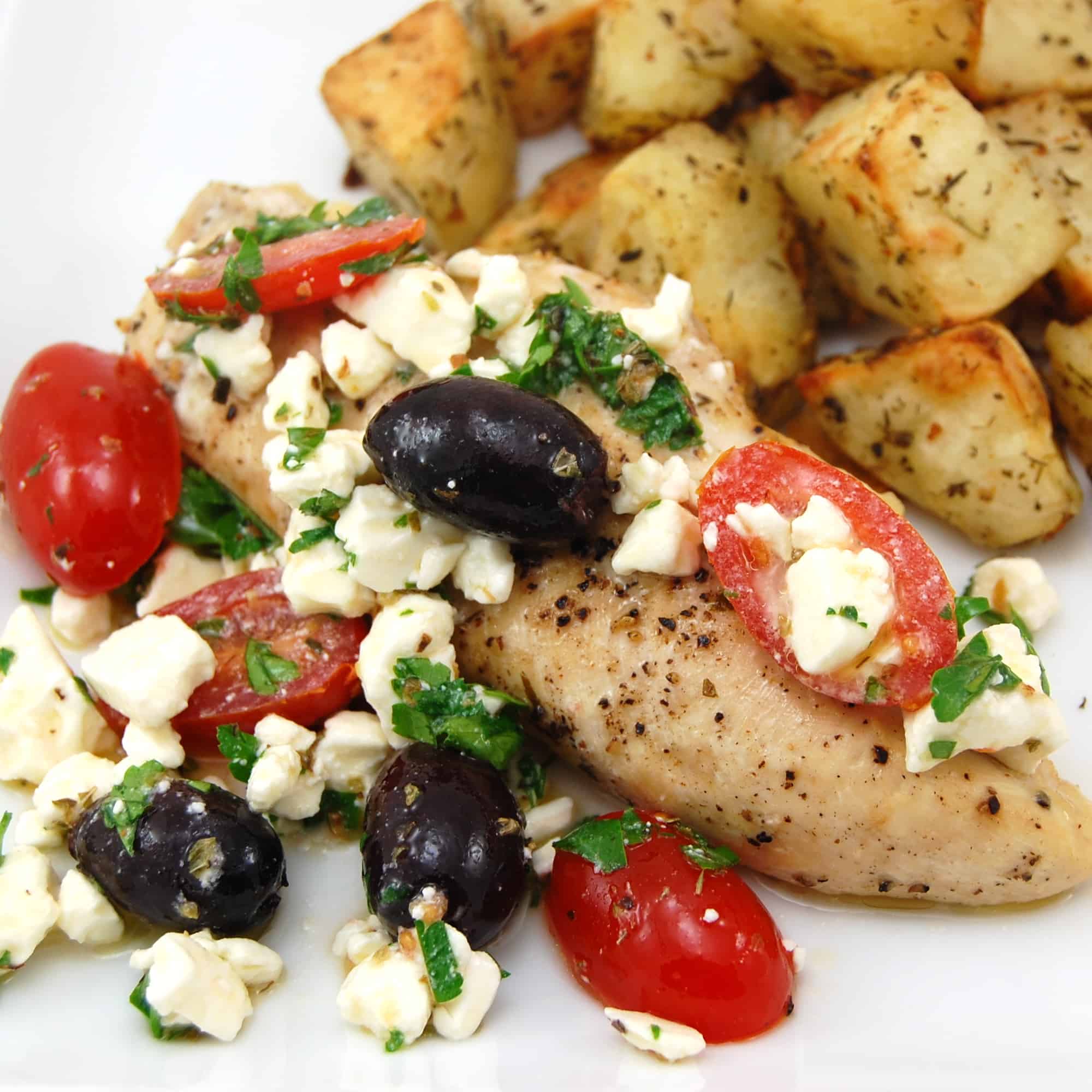 Western Omelet Egg Scramble With Cheese Sauce – I can never get enough of this savory breakfast omelet. It's so yummy!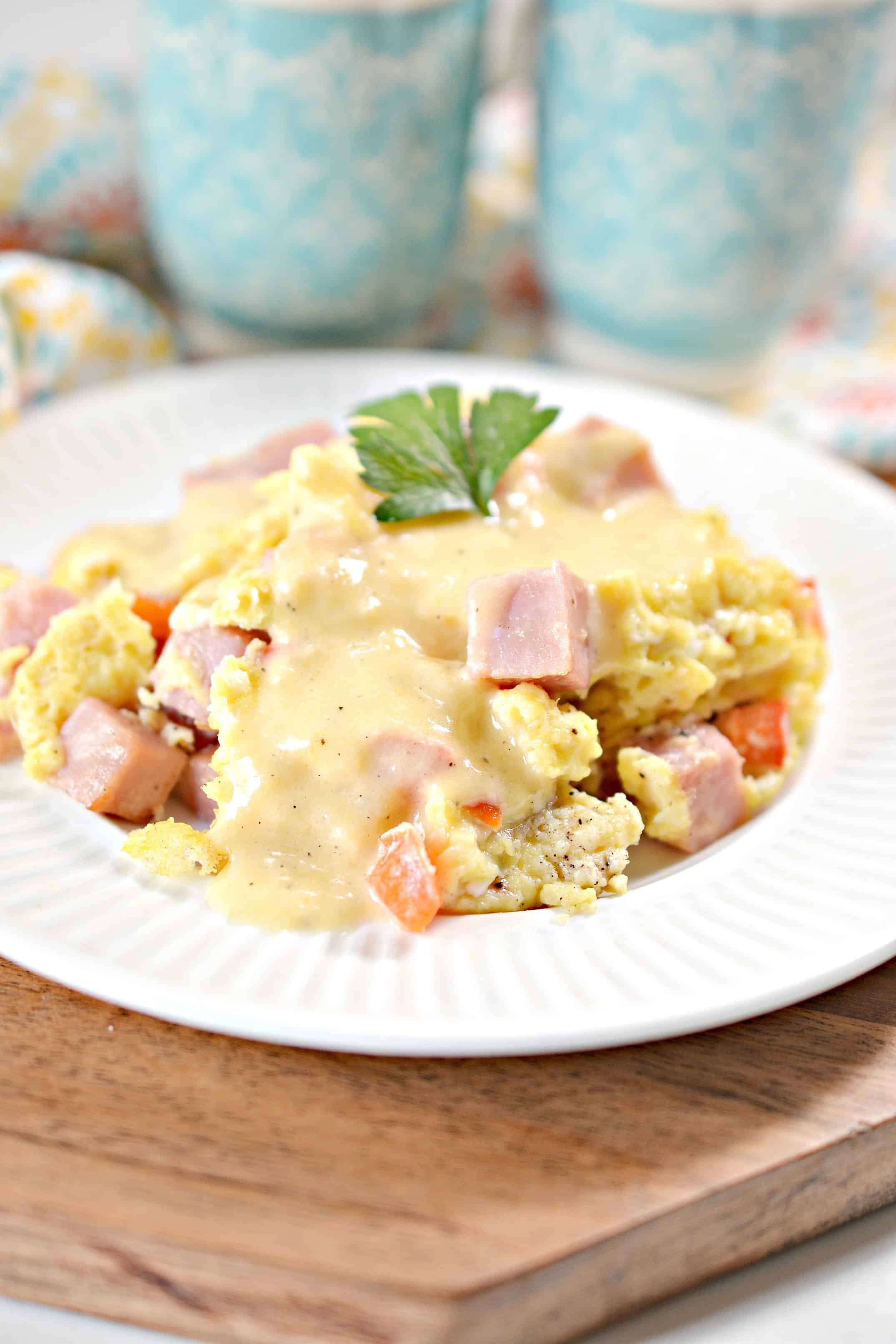 Crustless Ham and Cheese Quiche – No crust needed for this filling and easy breakfast or brunch idea. It's so good that sometimes I even eat it for dinner!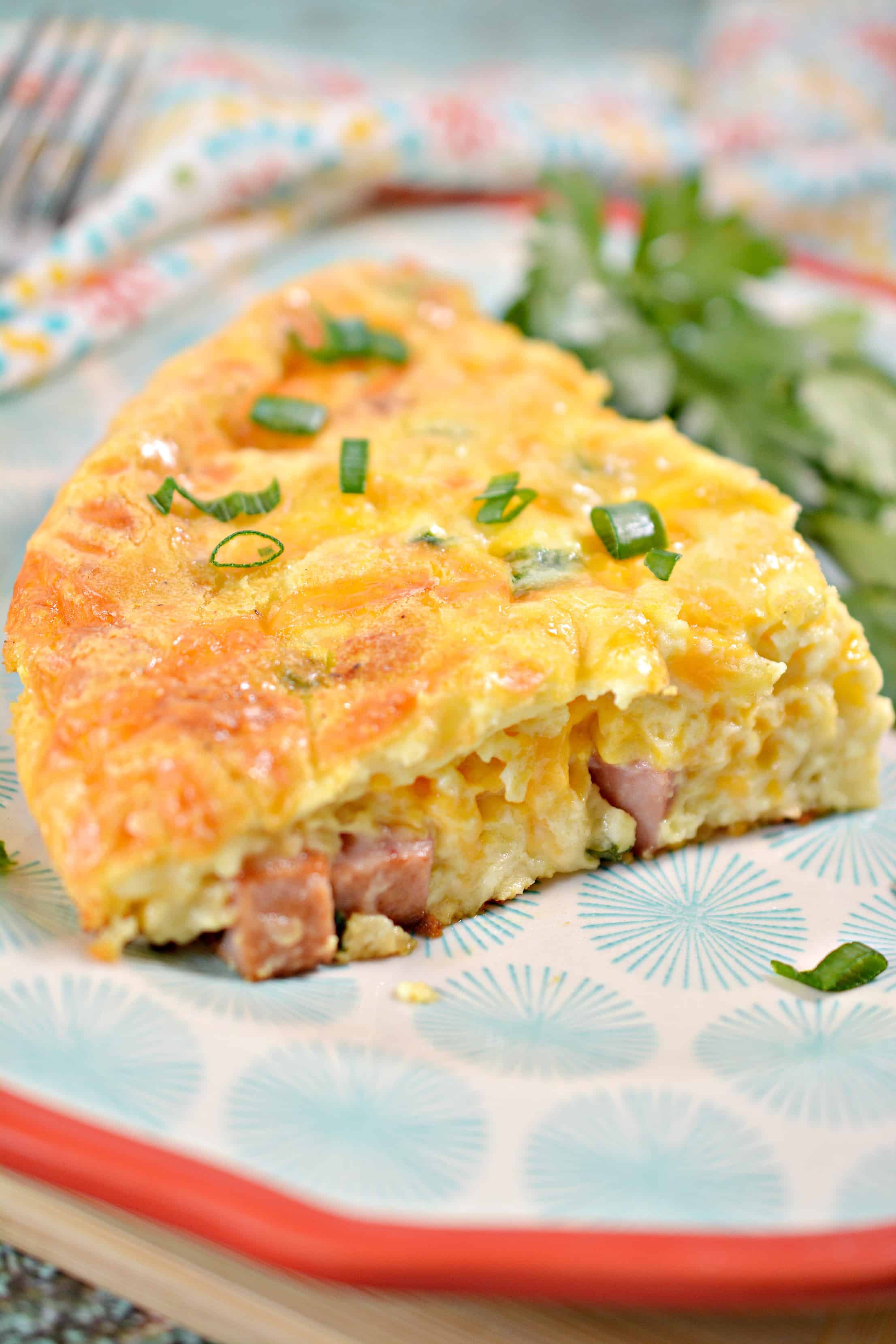 Get new recipes weekly plus our FREE ebook!