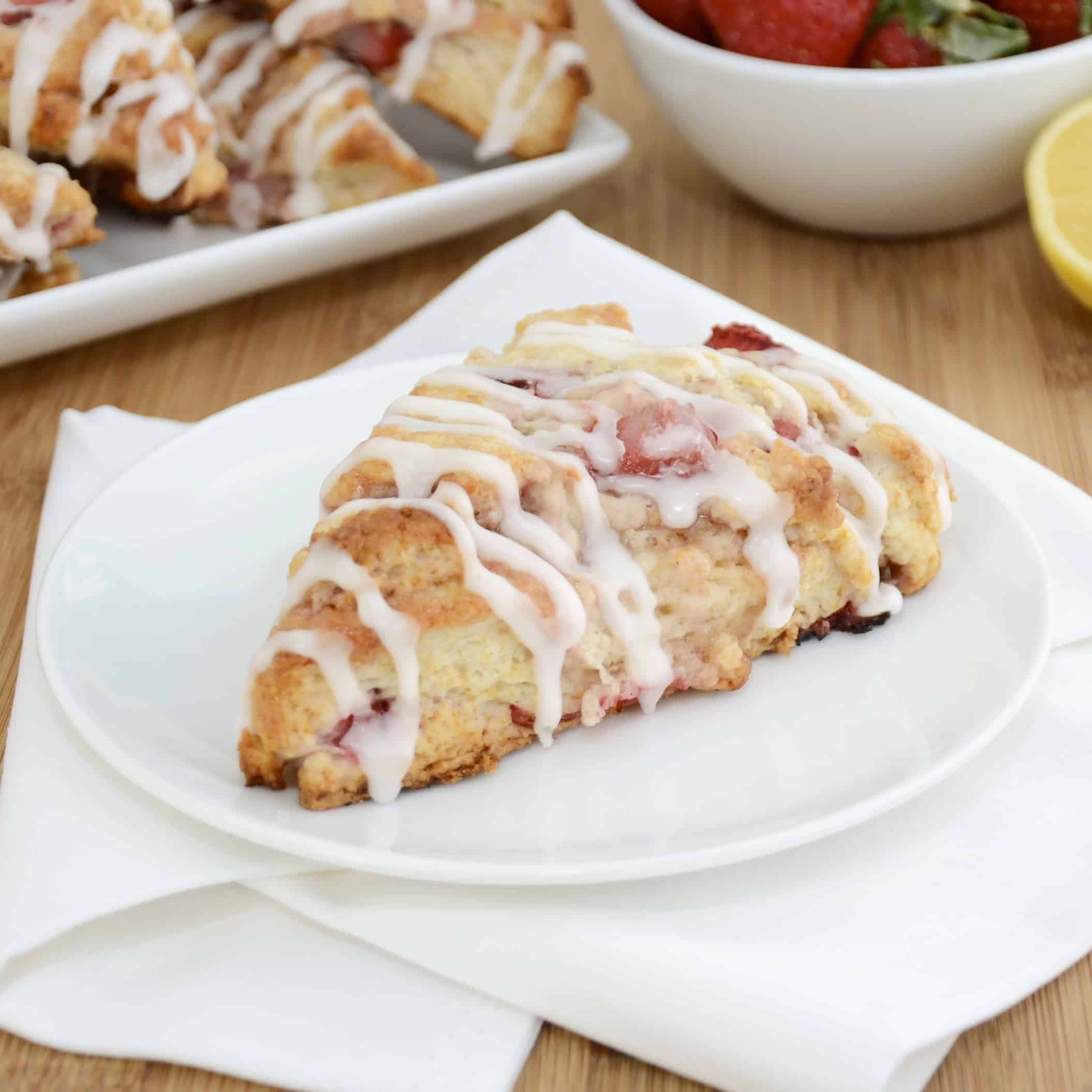 It isn't quite strawberry season here in Central Illinois, but you wouldn't know that by walking through the produce department at the grocery store. The other day I was greeted by numerous containers of plump, bright red strawberries just begging me to buy them.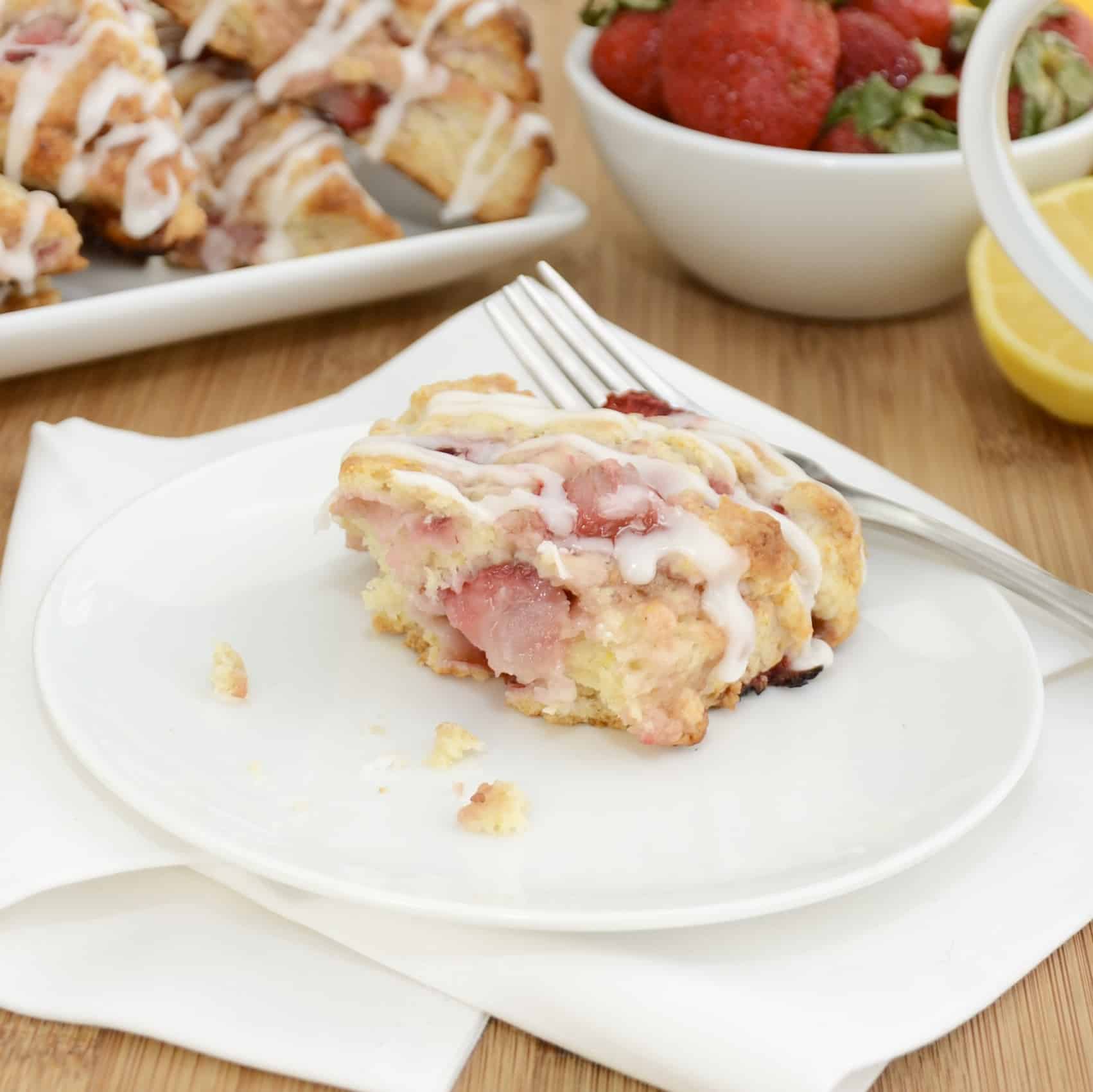 I won't go into how many containers I picked up, but let's just say I won't be running out of them anytime soon! 🙂 I love strawberries, not only thrown into baked goodies but sliced with a sprinkle of sugar. Or how about atop some strawberry shortcake? Oh yeah, now we're talking! The second I picked up those strawberries I thought bask to the Raspberry Lemon Scones I made last summer and I couldn't wait to try them as a strawberry version. Homemade scones are one of my favorite breakfast pastries to indulge in.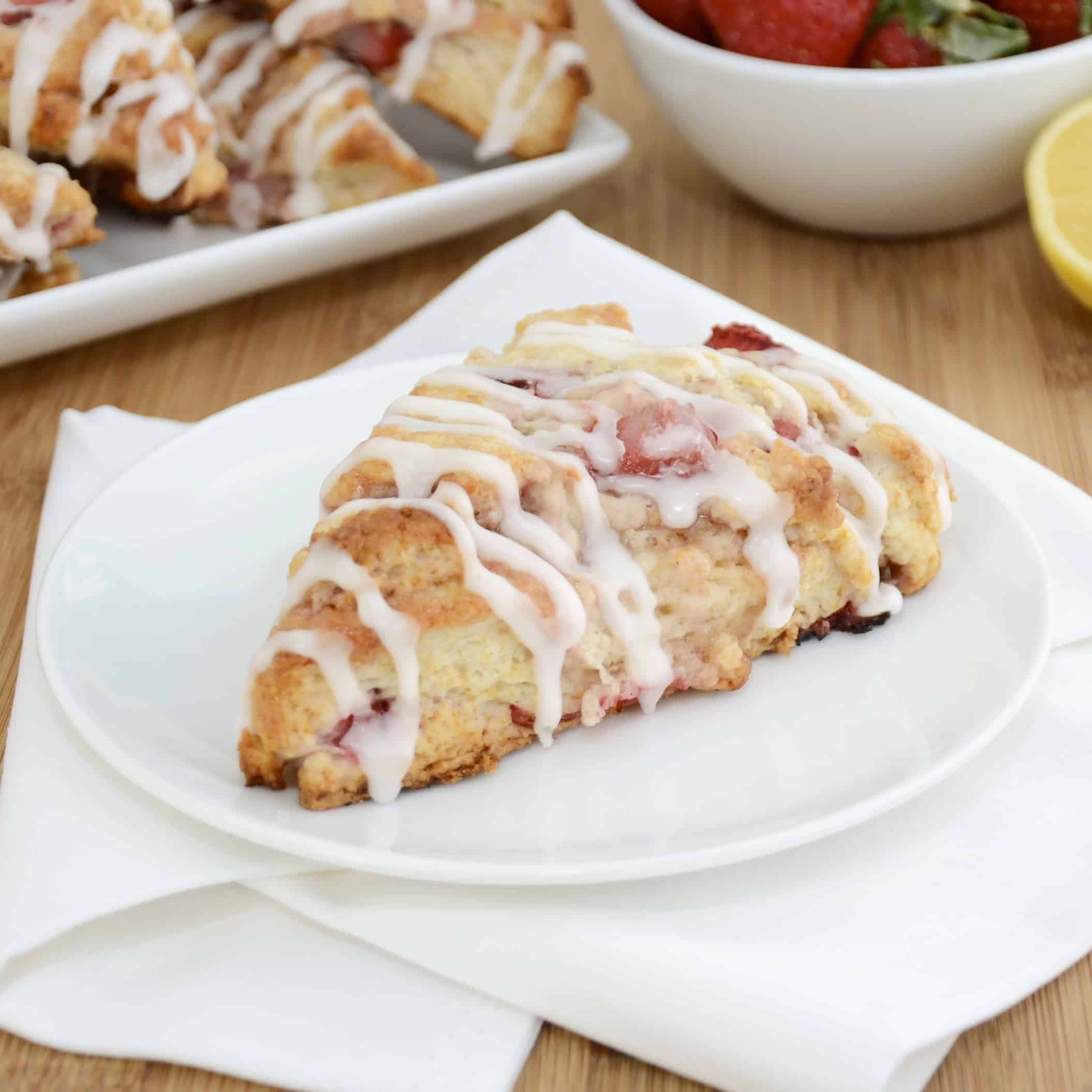 If you have always assumed that scones are dry and bland then you have never tried one of my scone recipes. Just whip up a batch of these babies and I swear you will change your mind forever about scones. These moist and tender scones are studded with fresh strawberries and topped off with a drizzling of lemon icing. These scones are best served warm straight out of the oven or warmed up in the microwave for a few seconds.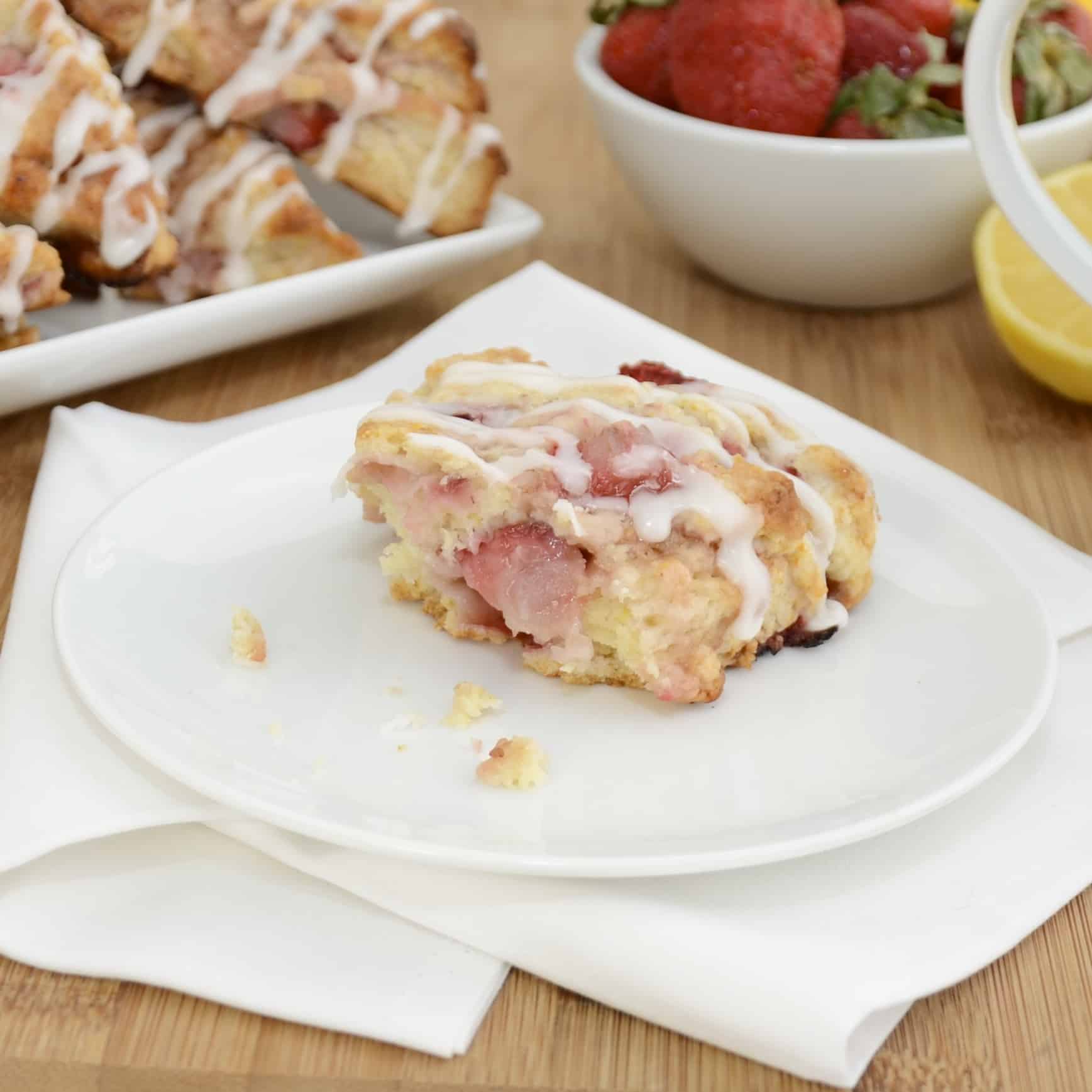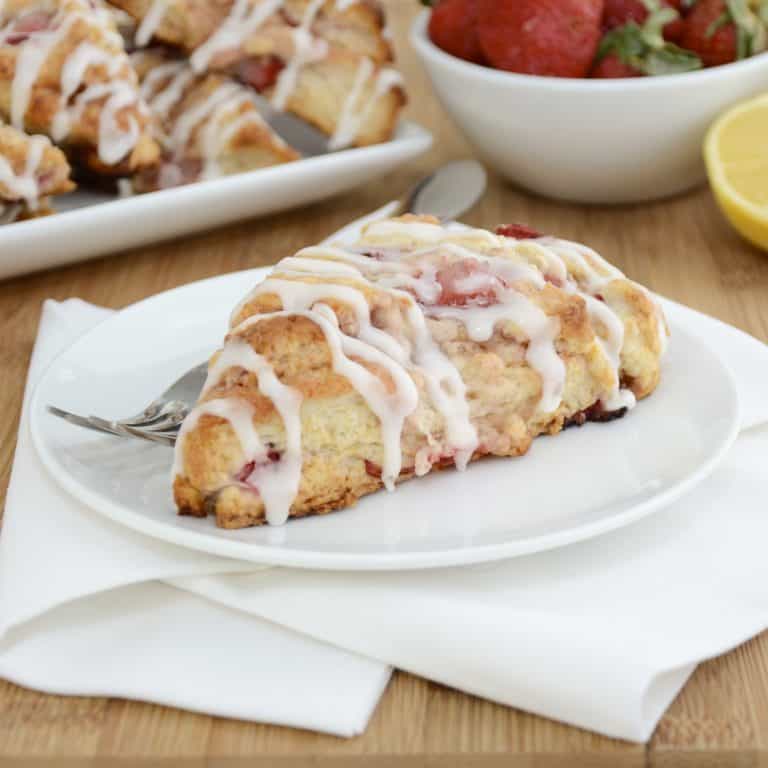 Strawberries 'n Cream Scones
These moist and tender scones are studded with fresh strawberries and topped off with a drizzling of lemon icing.
Ingredients
2 cups unbleached all-purpose flour
1 tablespoon baking powder
3 tablespoons sugar
1/2 teaspoon salt
5 tablespoons cold unsalted butter, cut into 1/4-inch cubes
1 teaspoon grated lemon zest
1 cup diced strawberries
1/4 cup strawberry preserves
1 cup heavy cream
1 tablespoon lemon juice
3/4 cup confectioners' sugar, sifted
Instructions
Preheat oven to 425 degrees F.
Place flour, baking powder, sugar, and salt in the bowl of a food processor fitted with a metal blade. Process with six 1-second pulses.
Remove cover of food processor and sprinkle the butter evenly over the dry ingredients. Add the grated lemon zest. Cover and process with 12 1-second pulses.
Transfer dough to a large bowl. Mix in strawberries with your hands. Add heavy cream and mix with your hands until dough begins to form.
Gently knead dough by hand until it comes together into a rough ball, about 10 seconds. Divide dough into two equal pieces.
To shape the scones, with lightly floured hands press dough into two 8-inch rounds. Spread strawberry preserves over one of the rounds, leaving 1/2-inch plain border. Place the other round atop of the preserve covered round and seal edges. With a sharp knife or pizza cutter, cut the dough into 8 wedges.
Place wedges on an ungreased baking sheet and bake in preheated oven 12 to 15 minutes or until tops of scones are a light brown. Transfer to a wire rack for at least 5 minutes before serving.
While the scones are cooling, make lemon glaze. Combine lemon juice and confectioners' sugar until you achieve a thick, opaque icing. Drizzle over scones and serve.
Nutrition Information:
Yield:

8
Serving Size:

1
Amount Per Serving:
Calories:

373
Total Fat:

18g
Saturated Fat:

11g
Trans Fat:

0g
Unsaturated Fat:

6g
Cholesterol:

53mg
Sodium:

329mg
Carbohydrates:

49g
Fiber:

1g
Sugar:

22g
Protein:

4g