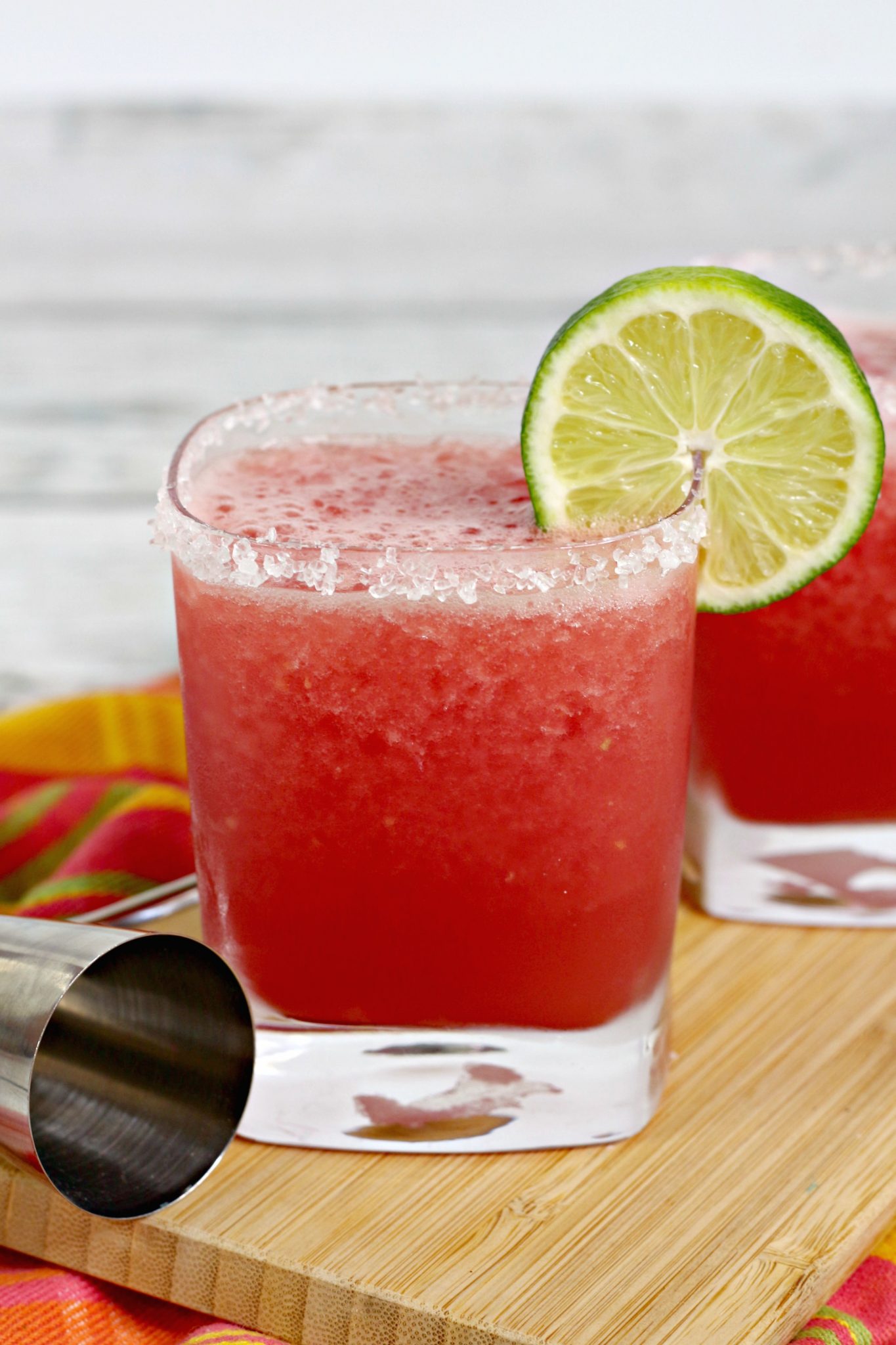 This Famous Watermelon Margarita Recipe is the perfect summer-inspired drink! It's super quick and easy to make and is filled with delicious fresh watermelon, tequila, and Schnapps. There is sweet and sour in this frozen margarita to give you a touch of tart goodness that's impossible to resist.
Scroll to bottom for printable recipe card.
Famous Watermelon Margarita Recipe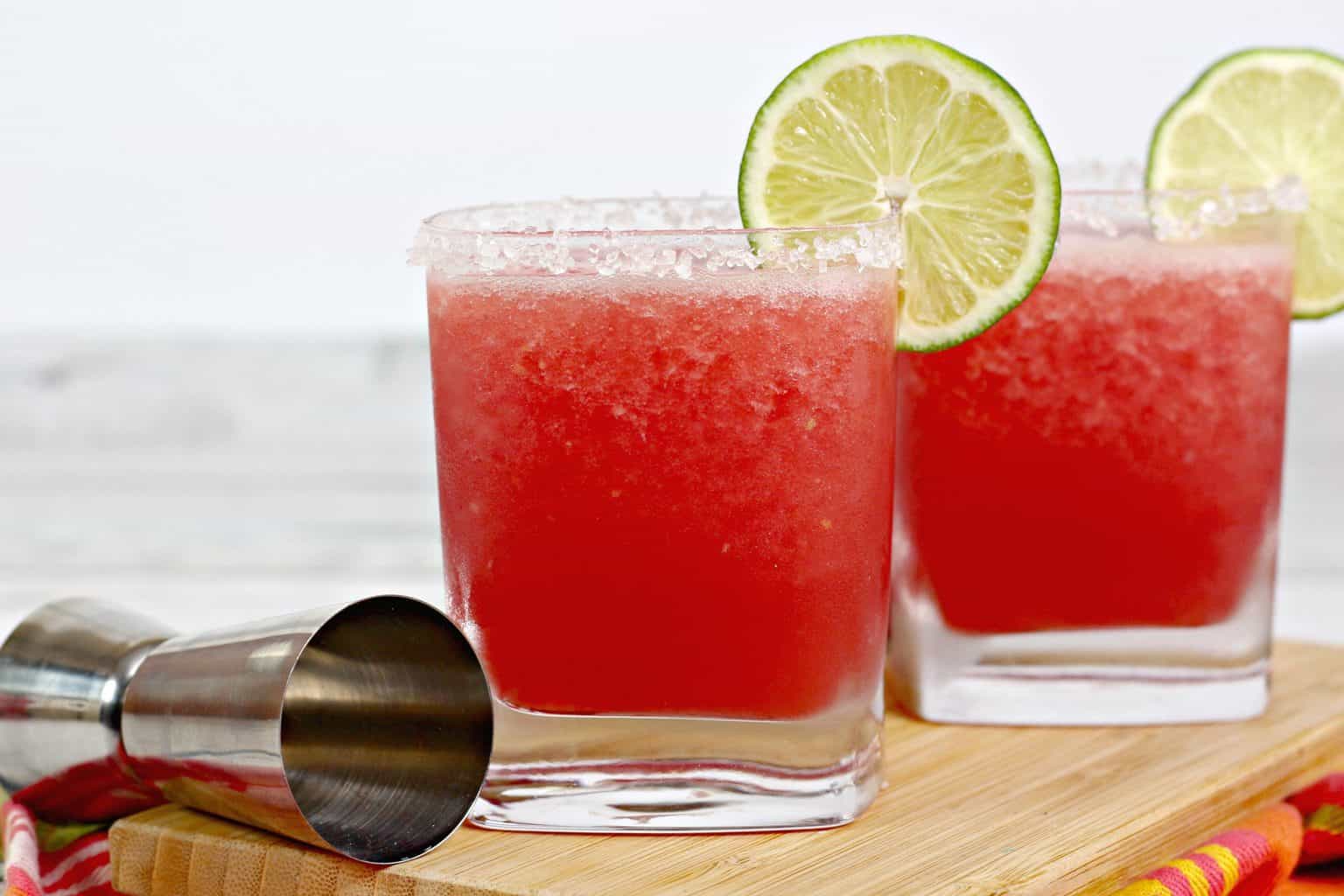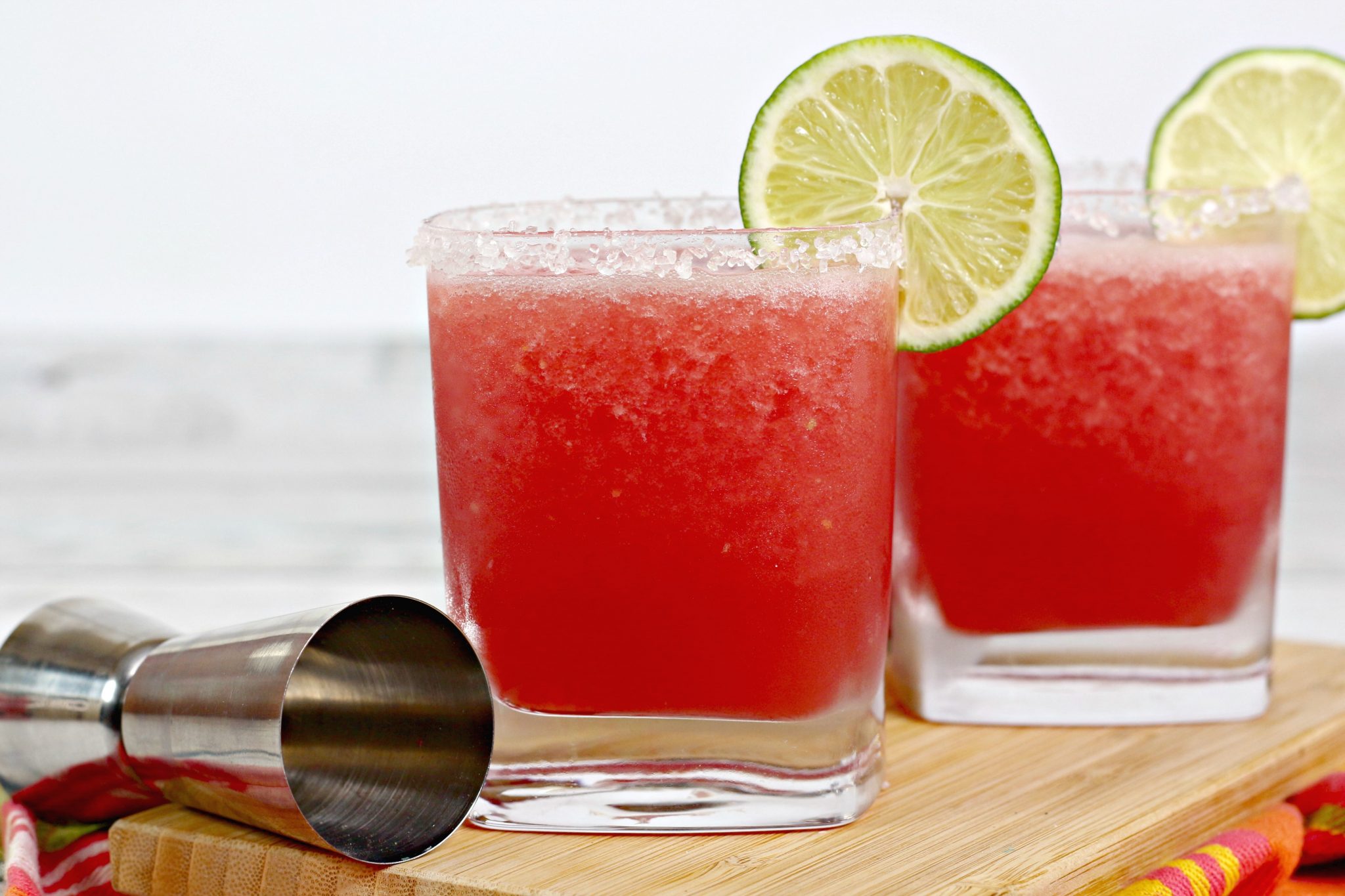 I have become well known among my friends for this watermelon cocktail. It's quickly become my signature drink over the years, and everyone is more than happy to spend an evening sipping on this boozy drink. We love to host pool parties, and nothing screams summer more than a good old fashioned fruit margarita, friends, and good food.
Making a drink with the flavors of watermelon, tequila, and sweet and sour gives you the ultimate flavor experience. We love how refreshing it is and that it's naturally sweet. I will never grow tired of this sweet watermelon drink, and I have a feeling you are going to feel the same as I do.
How to Remove Seeds from Watermelon
Adding fresh watermelon is a must for this homemade watermelon margarita, but you don't want to have to deal with seeds. Obviously, you can opt to buy a seedless watermelon, but those typically do not have the same deep sweet flavor that one with seeds has.
Start off by slicing the ends off of the watermelon. Stand the watermelon up on its end and slowly and carefully cut the rind off. Cut from top to bottom, and be careful not to cut off the actual watermelon flesh.
Begin slicing the watermelon vertically. Break those pieces in half and scrape the seeds into a bowl. Don't worry about the white seeds, just the large black ones. Once the seeds are gone, you can use it for the frozen margarita. Yum!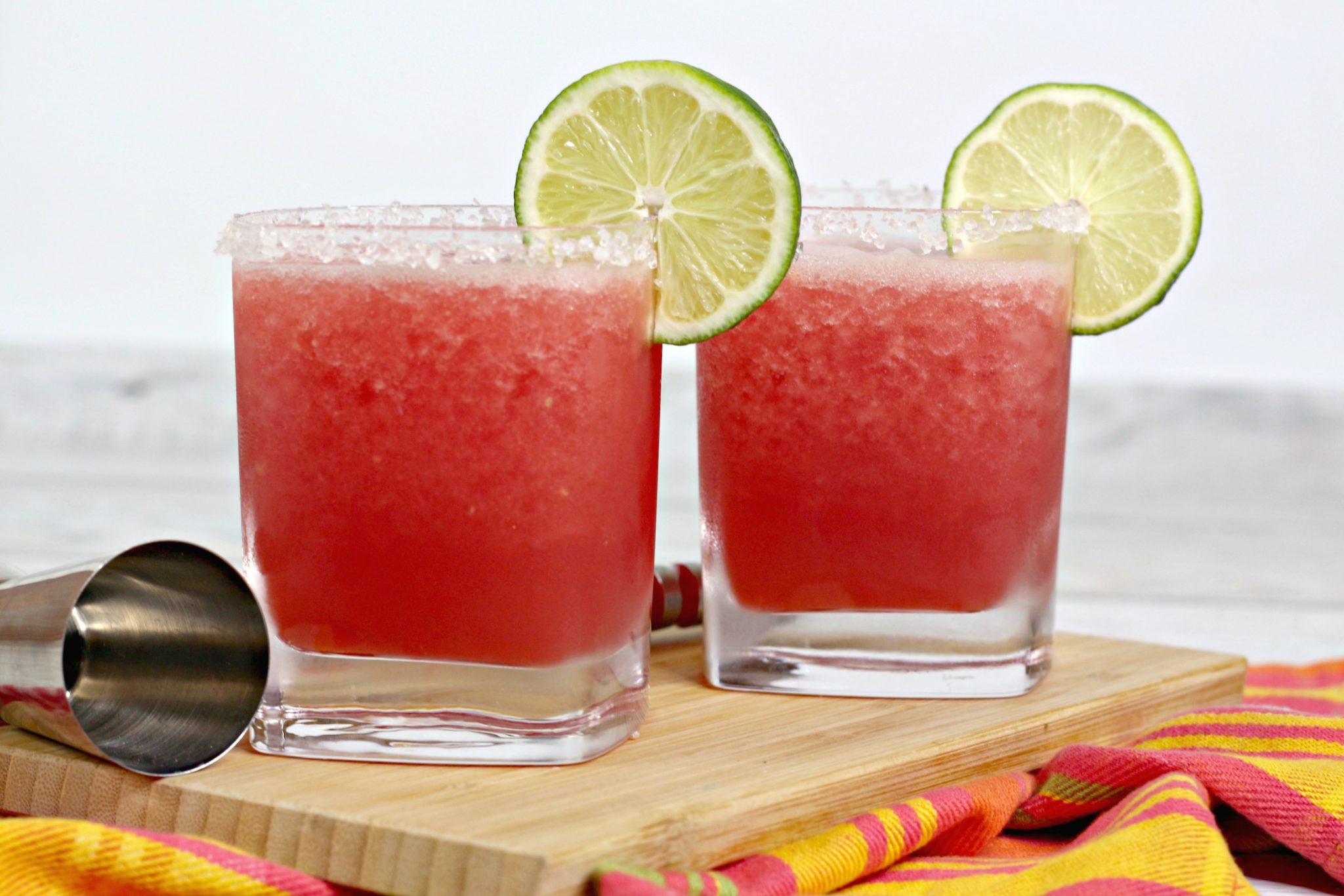 Tips For Picking A Ripe Watermelon
We have all been there when you thought you picked a good watermelon only to figure out it's not flavorful or mushy. These tips will help you pick the right melon.
First of all, pick up the watermelon. If it's ripe, it should feel extra heavy for the size of it. This means that there is lots of juicy goodness in it, and it's going to be sweeter.
Then look at the spot where the watermelon was laying as it grew. If you notice the spot is a pale color, keep looking for one that's bright. You want a big bright yellow splotch. That means it ripened on the vine longer and had a chance to be at its prime.
Another sign to look for is that if there is a web of lines on the watermelon. The ones that have a lot of webbing means that the bees had pollinated the flowers as it was growing, which ends up giving you a sweeter watermelon.
Can I Adjust The Strength of Margaritas
Yes, you can easily adjust the strength of this watermelon cocktail. Simply use a little bit less alcohol and some more watermelon to lessen the strength. Once you have it the way you want it, kick back and enjoy your fresh watermelon margarita.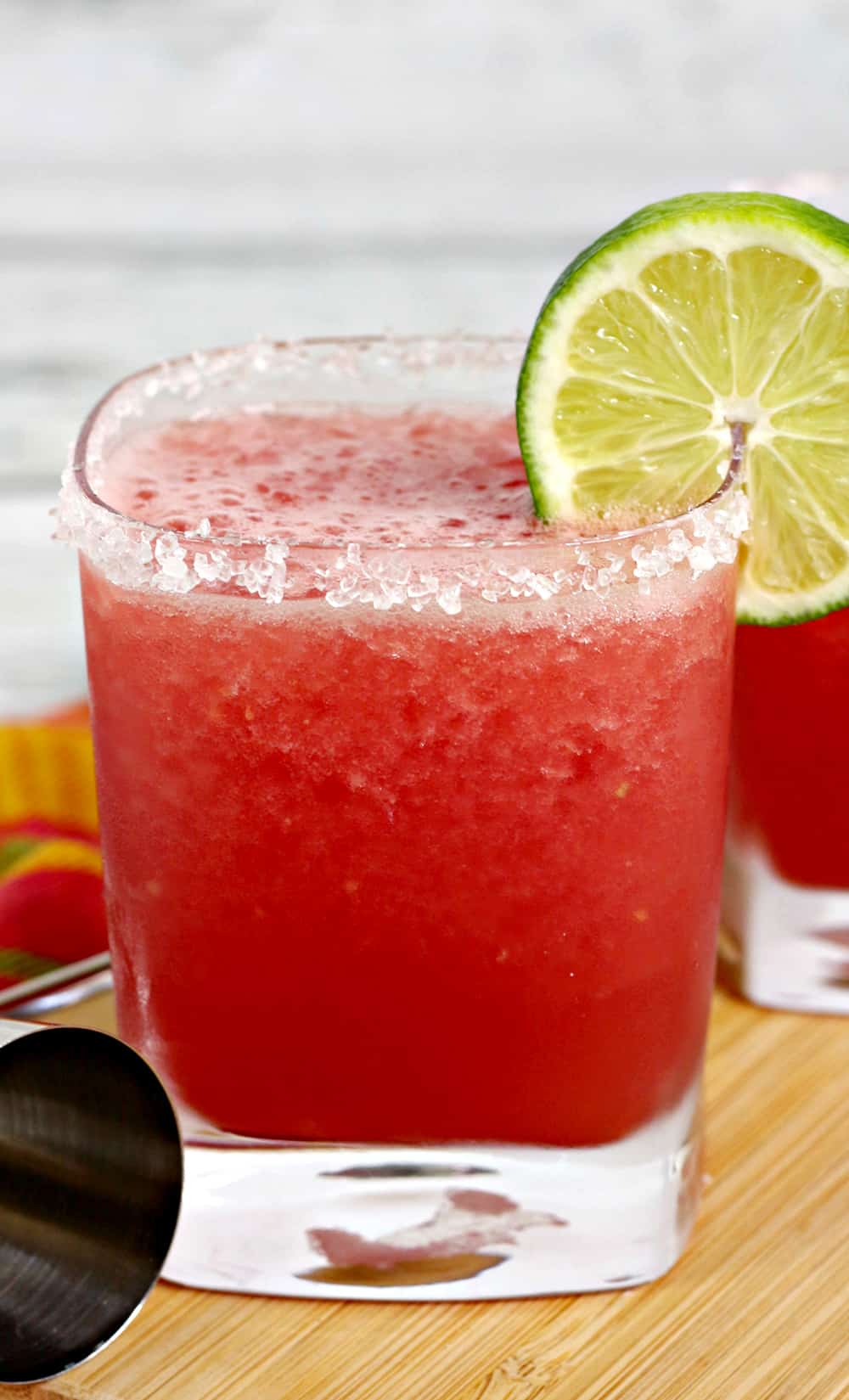 Can I Make This Cocktail in Advance
Yes, you can make this cocktail in advance if you want. The main thing is because it's slushy, you will need to freeze it. Make sure you keep it covered in the freezer and serve within 24 hours for best results.
Variations to Recipe
We love to add in a few variations with this cocktail because it's so yummy with other flavors too. I wanted to take a couple of minutes to give you some fun ideas to try out.
Cantaloupe – Add some fresh cantaloupe to the margarita to give a lovely summertime flavor that's unbeatable.
Jalapeno – Sometimes, we get in the mood for a spicy cocktail, and adding some jalapenos is a great way to turn up the heat. Use fresh peppers without seeds and use them in the margarita itself or as a garnish.
Strawberries – Cut up some strawberries and toss them into the blender with the other ingredients. There is something about the combination of strawberries and watermelon that gets my heart pumping.
Pineapple – Another fun flavor is adding some pineapple to the mix. It's sweet, delicious, and a lovely tropical taste that is always welcomed at our house.
Ingredients
There are a million reasons why I love this watermelon margarita, but one of them is that it takes only a handful of ingredients. That is a huge time saver, and we can easily whip up as many as we need to keep our crowd happy.
Tequila
Watermelon Schnapps
Splash Triple Sec
Splash Grand Marnier
Sweet and sour
Fresh Watermelon, seedless and chopped
Ice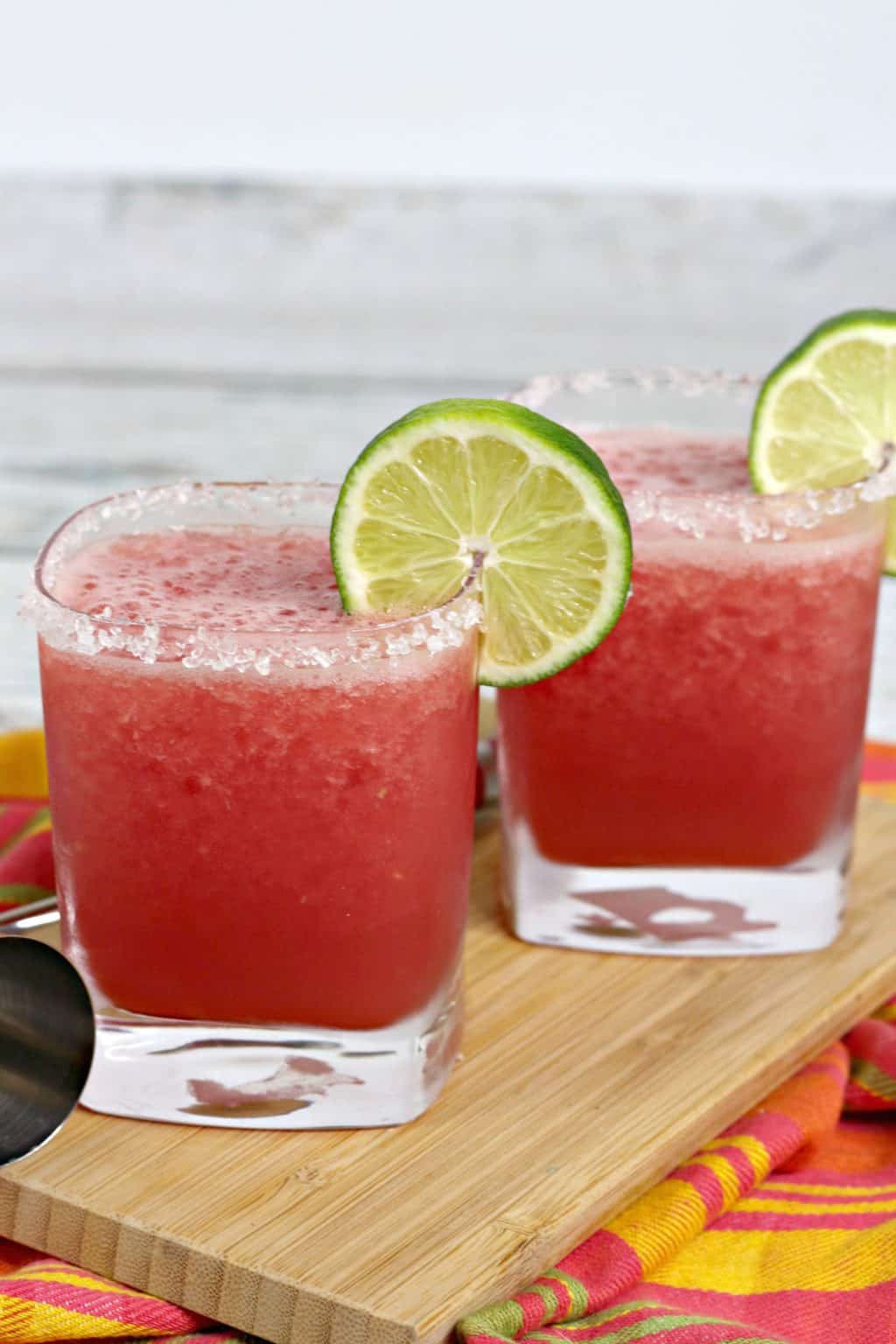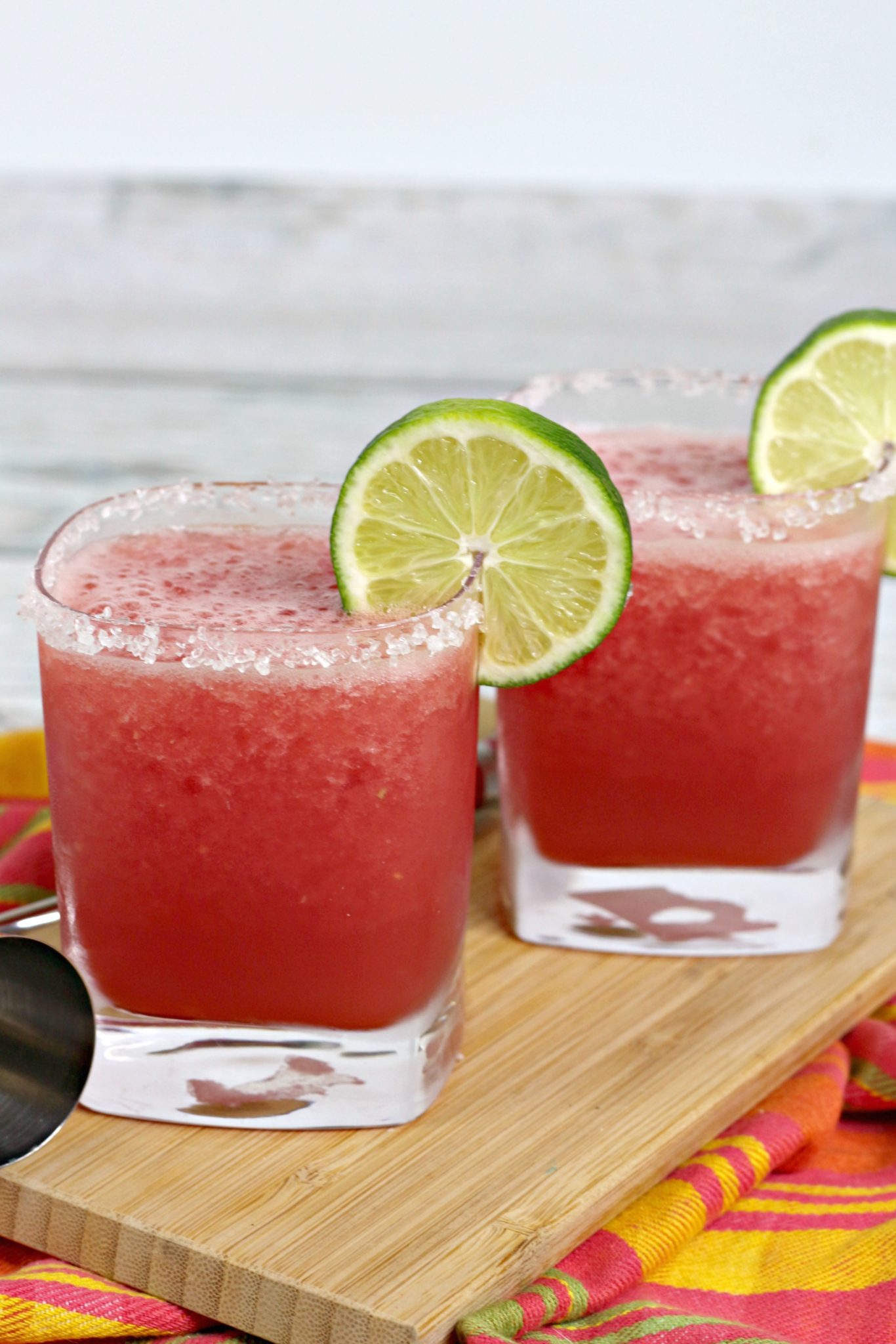 How To Make
Get ready for four simple steps to make this watermelon cocktail. You won't find a much easier drink, and when you taste it, you are sure to be hooked on it. Let's get started.
First Step: Add all the ingredients to a high-quality blender except for the Grand Marnier.
Second Step: Blend the ingredients until they are nice and smooth. This usually takes about 1 minute.
Third Step: Pour the margarita mix into a cocktail glass and top it with a splash of the Grand Marnier.
Fourth Step: Add your favorite garnish like a lime slice or a watermelon wedge.
Enjoy!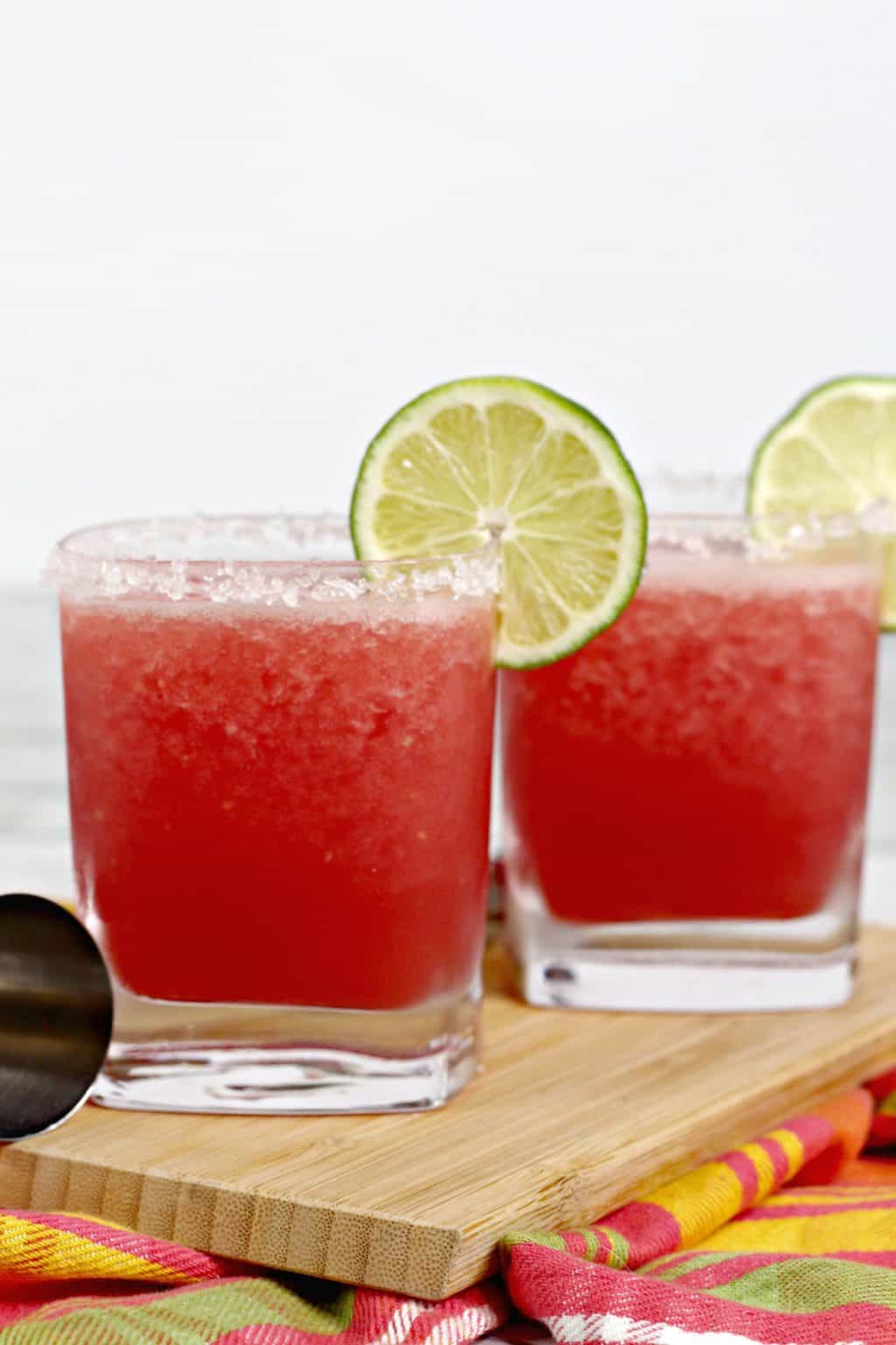 Now, remember to save this recipe on Pinterest for later 🙂

Pin this recipe now to remember it later
Watermelon Margarita
Serve up this homemade Watermelon Margarita. A frozen margarita that is loaded with fresh watermelon flavor and a kick of Tequila. A great summer drink recipe to try out.
Ingredients
1

cup

Fresh Watermelon

,

seedless and chopped
Want to save this recipe? Enter your email below and we'll send the recipe straight to your inbox!
NOTE: By saving this recipe, you agree to join our weekly recipes newsletter.
Instructions
In your blender you will add all your ingredients for the watermelon margarita except the Grand Marnier.

Blend it up until it is nice and smooth. This takes around 1 minute.

Now you will pour your margarita mix into a glass and top with a splash of the Grand Marnier.

Garnish your boozy watermelon margarita with lime or a watermelon wedge. This margarita is thinner in texture, not super thick.
Follow me on Pinterest for daily delicious recipes!
In the mood for some more summery treats? Take a look at these, and you will be drooling in no time.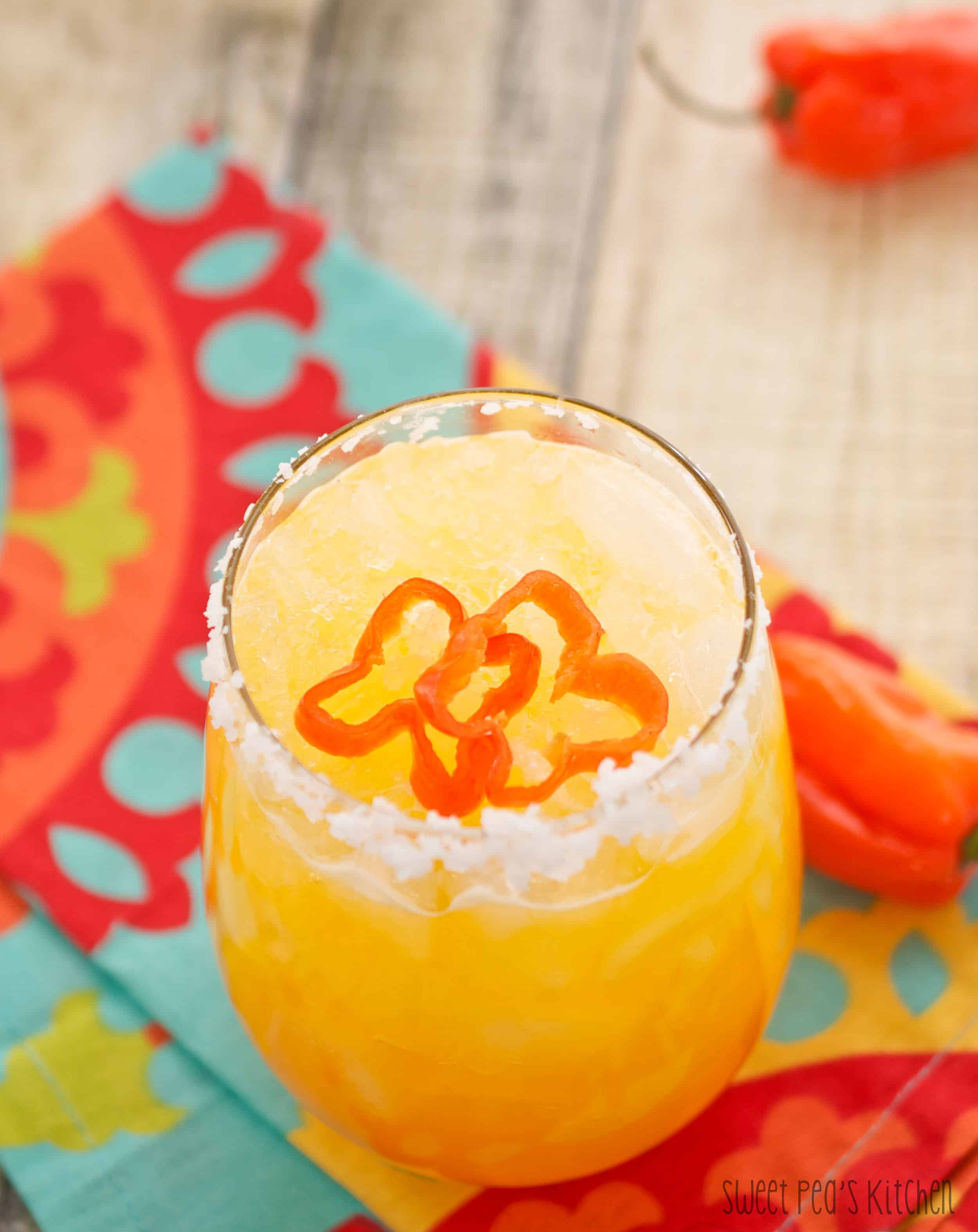 Sugar-Free Peach Lemonade – While this refreshing drink isn't a cocktail, it's incredible. Drink this beauty all summer long!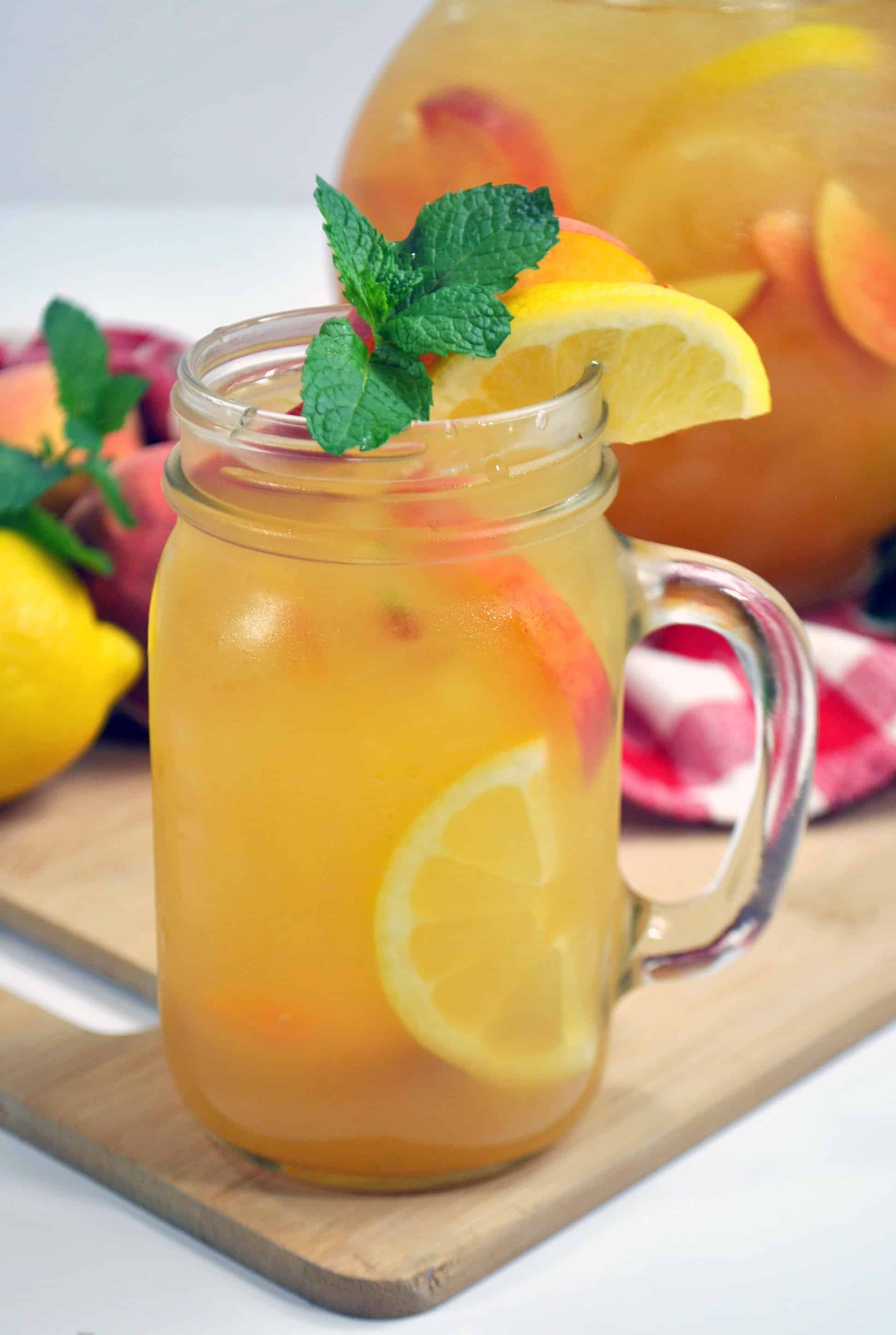 Blackberry Bramble – I love how fun and delightful this drink is. It's wonderful in the winter or summer. Your friends and family are sure to be impressed with the look and way this adult drink tastes.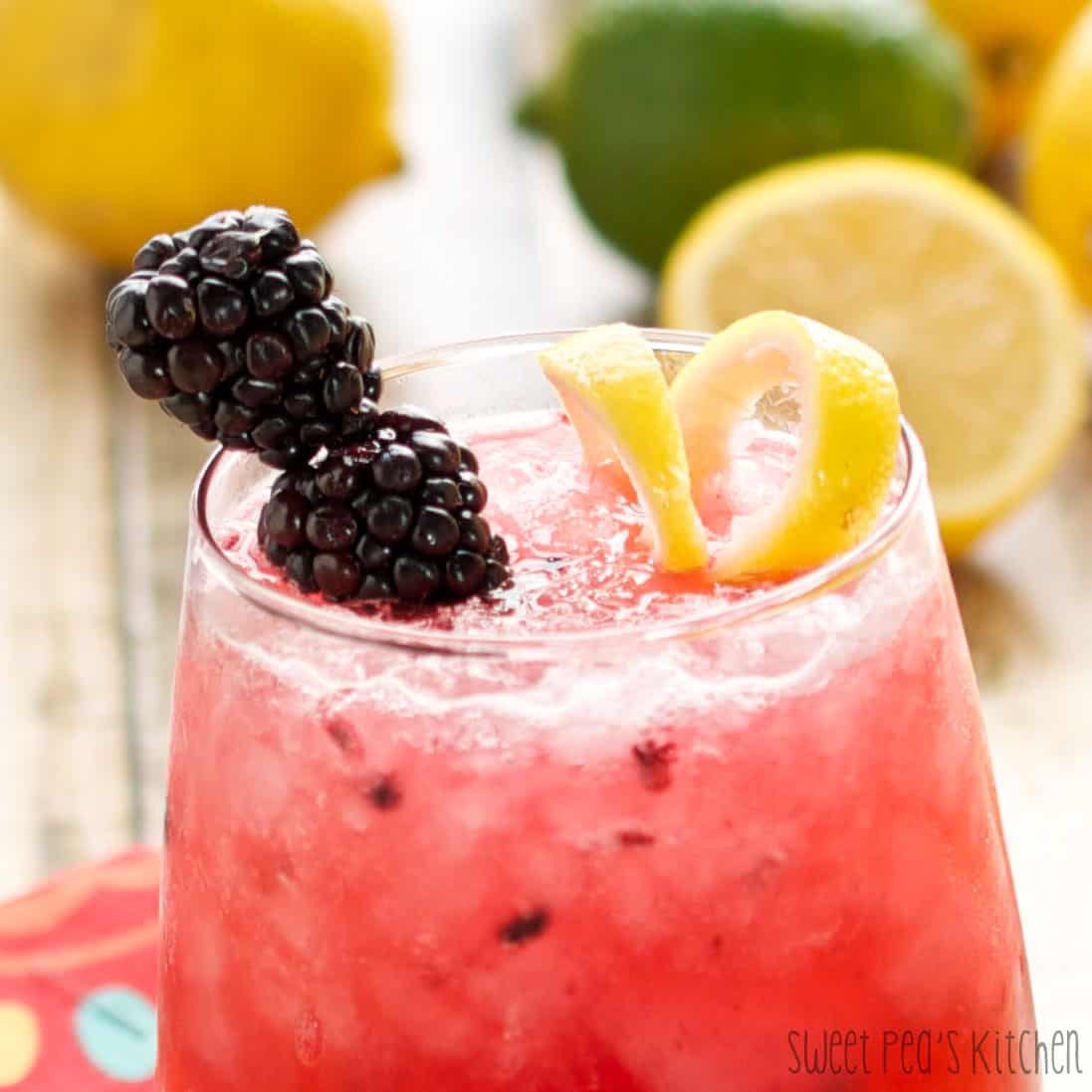 Boozy Watermelon Drink – Here is another lovely watermelon drink that will leave you wanting another. So good, and it's also slushy too.
Get new recipes weekly plus our FREE ebook!