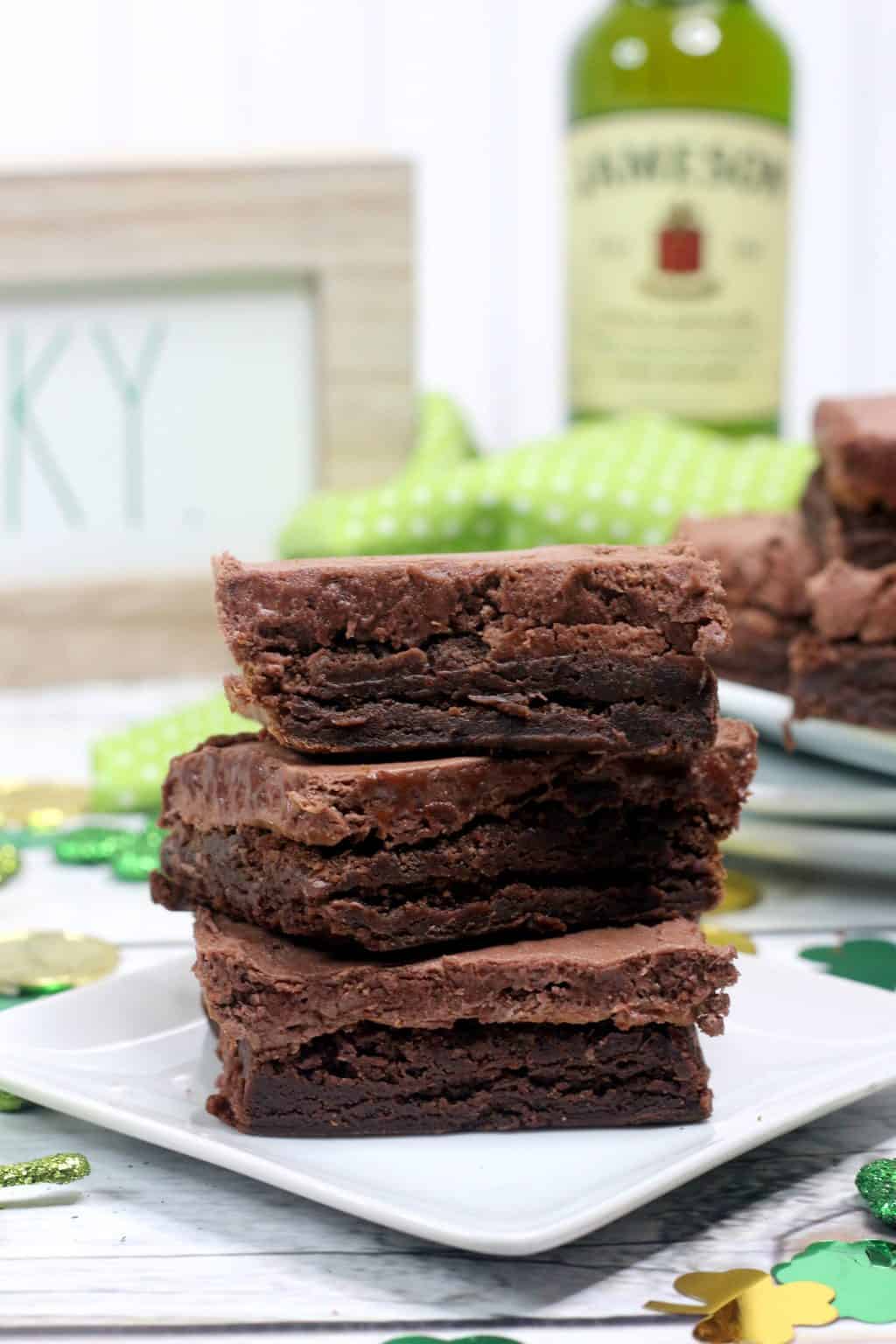 If you are ready to wow your friends and family, you should serve them this Irish Whiskey Brownies Recipe.
You start with a box brownie mix; then you transform it into the most incredible Jameson Whiskey brownies you've ever tasted. Adding whiskey to brownies is so easy, and it makes a significant impact on the flavor. I'm so excited for you to try the St. Patty's Day brownie recipe for your next party!
Scroll to bottom for printable recipe card.
Irish Whiskey Brownies Recipe
It's no secret how much I love to make food for St. Patrick's Day. I feel like it's just a little luck of the Irish to create a tasty dessert and meal for Saint Patrick's Day. When you bite into these decadent brownies, you will immediately get a fantastic chocolatey flavor that is rich and unforgettable.
I have been making these whiskey brownies for years and years, and I have a feeling once you make them, you will want to do the same thing.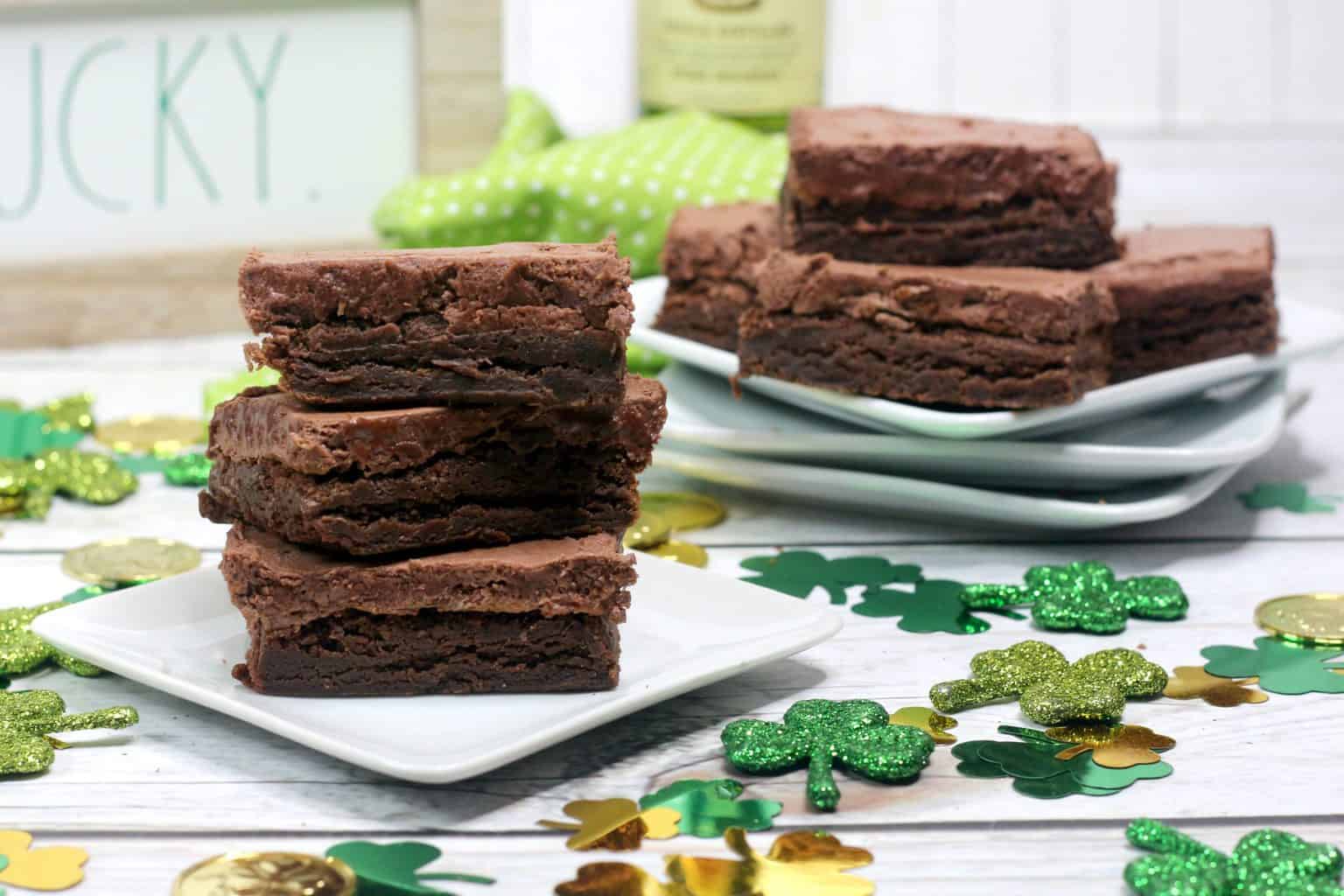 Because of the Irish whiskey in the frosting, I don't recommend you allow children to eat these brownies. You can always whip up a batch that doesn't have whiskey in it to make it kid-friendly for your events.
Don't worry, they won't even realize the difference in the kid-friendly version of these brownies. Save the whiskey for the adults!
How Do The Brownies Taste With A Whiskey Frosting
These Irish whiskey brownies taste absolutely amazing with the whiskey frosting. Adding a little bit of whiskey to the frosting seriously takes it to the next level of Awesome! You only need to add one tablespoon of Irish whiskey to the frosting, and it makes a huge impact. If you aren't a fan of whiskey in general, you may or may not like these brownies. I recommend preparing them and tasting a little bit, then you'll know for sure if you love them or not.
Even if you aren't a huge fan, everybody else who loves whiskey is going to be more than happy to gobble up every last crumb.
Storing Brownies
After the brownies have baked and cooled, put them inside of an airtight container. The brownies will last up to five days in the refrigerator. Plus, they taste a lot better when they have been chilled for a while. You can serve them at room temperature if you'd rather, but the frosting is going to age better if it is cold when you serve it.
The brownies will only last one to two days at room temperature.
Can I Freeze These Brownies
Yes, you can freeze these Irish whiskey brownies. I recommend not frosting them until you're ready to serve them. So go ahead and whip up the brownie mix then freeze the brownies in an airtight container. The brownies will last in the freezer for up to two months. When you're ready to serve the brownies, take them out of the freezer and let them thaw on the counter or in the refrigerator. After the brownies have thought, I'd go ahead and whip up the whiskey frosting and add them to the brownies.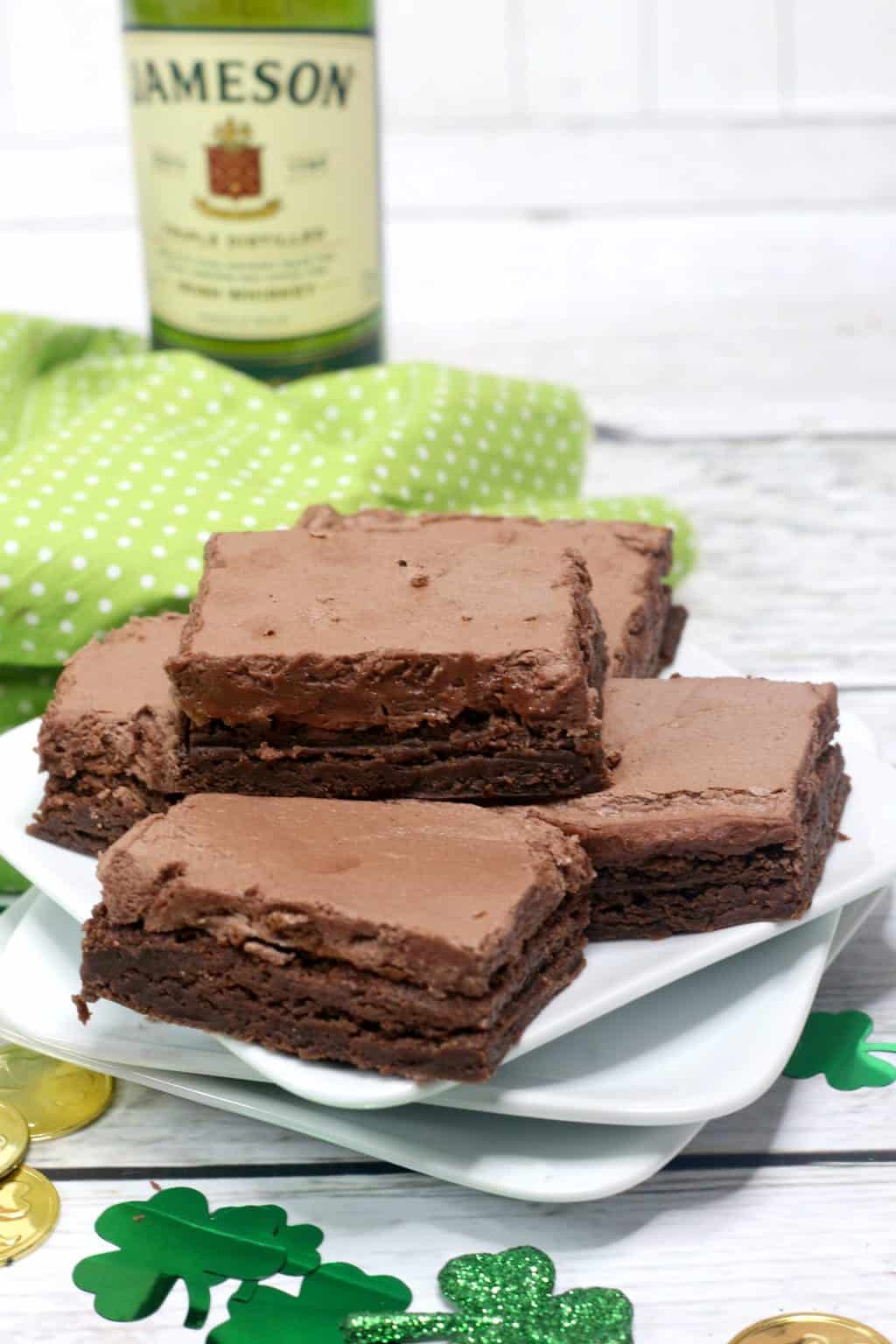 Tips For Slicing Brownies Properly
Slicing brownies can be a massive headache when they don't slice smoothly and in straight lines. Here are a few tips to help you get started to make sure that your brownies look gorgeous every single time.
Use a plastic knife. Whenever possible, using a plastic knife makes it, so the brownies do not stick to the knife is often. This will give you a much better look.
Be sure to wipe the knife off after every passing. This will ensure that bits a brownie does not stick to the knife.
Allow the brownies to cool down all the way before you attempt to cut them. I know it's tempting to get in a hurry and cut them quickly; however, this will not give you beautiful evenly cut brownies.
Can I Use Homemade Brownies Instead of Box
Yes, absolutely! If you have a really great homemade brownie recipe, then go ahead and use it. If you have a really great homemade brownie recipe, then go ahead and use it. A lot of times, I use a boxed brownie mix because it just saves me some time and energy. With as busy as life gets sometimes, I don't always have time to make everything from scratch. However, it would taste even more decadent and rich using a homemade brownie recipe.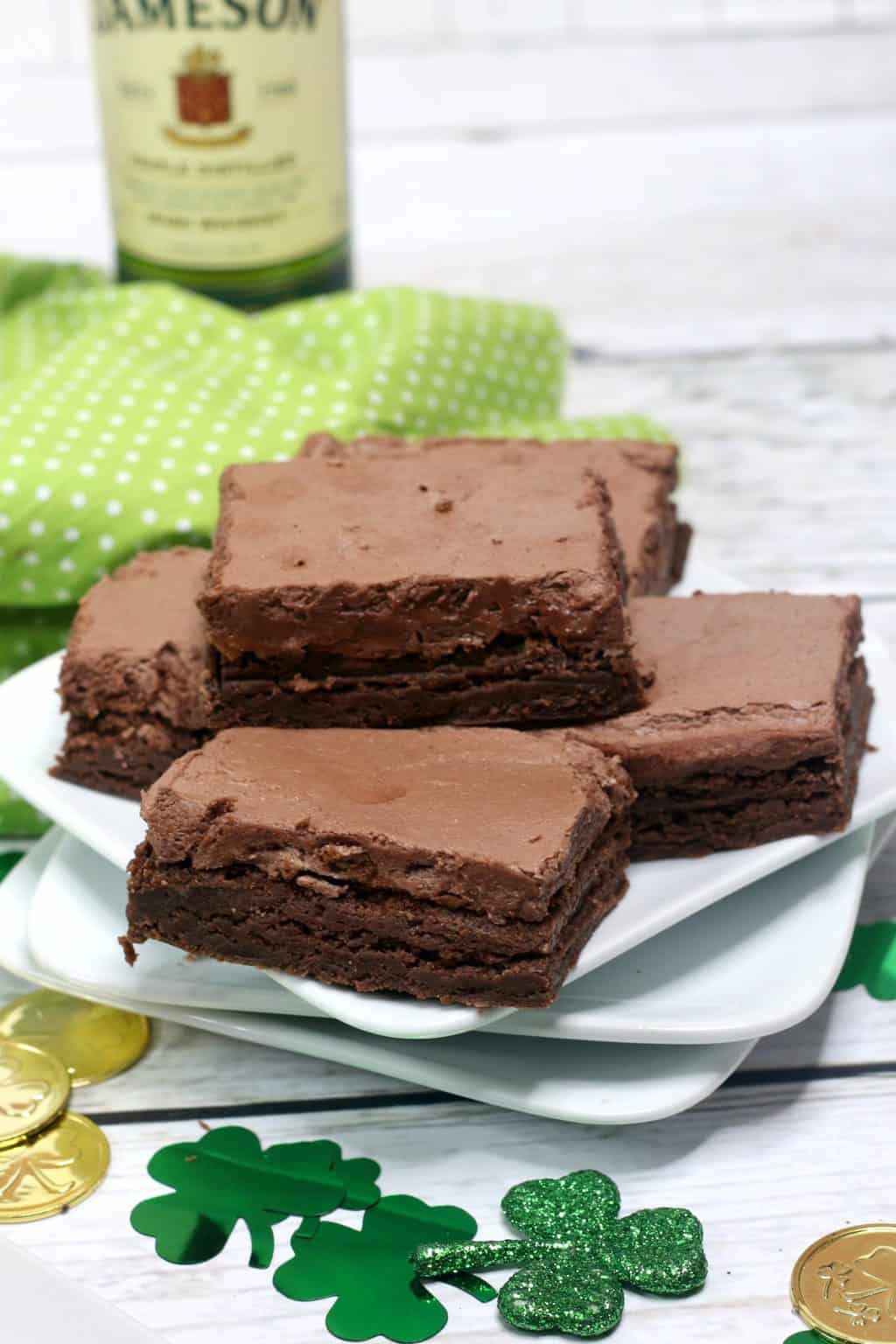 Ingredients
There are two sets of ingredients for these whiskey brownies. One set of ingredients is for the brownies themselves, and the other set is for the whiskey frosting. You truly do not need very many ingredients, and the flavor is going to rock your world!
1 box fudge brownie mix
1/4 C water
2/3 C canola oil
2 eggs
Frosting:
1 1/2 ounces unsweetened chocolate
1/4 cup unsalted butter, 1/2 stick
2 C powdered sugar
3 TBSP half and half
1 TBSP Irish whiskey
1/2 TSP vanilla extract
How to Make Brownies
Let's get started so you can whip up a batch of the Irish whiskey brownies.
Step 1: Begin by preheating the oven to 350 degrees Fahrenheit. Then take a 9×9 inch brownie pan and line it with parchment paper. It's okay to allow some of the parchment paper to hang over the edges of the pan. That will make it easier to remove the brownies later.
Step 2: Mix up the brownie batter according to the package, in a stand mixer or bowl.
Step 3: Pour the brownie batter into the pan and bake the brownies as directed on the box. After the brownies are done baking, place them on a wire rack so they can cool. Then prepare the whiskey frosting.
How to Make Whiskey Frosting
Step 1: Begin making the whiskey frosting by melting the butter and chocolate together in a saucepan. Whisk until they are smooth and creamy.
Step 2: In a bowl that you will need to combine the powdered sugar, half and half, whiskey, and vanilla. Then, you'll slowly pour in the chocolate and butter mixture and combine well.
Step 3: After the brownies have cooled all the way down, you can put the frosting on top of the brownies. Slice, and enjoy!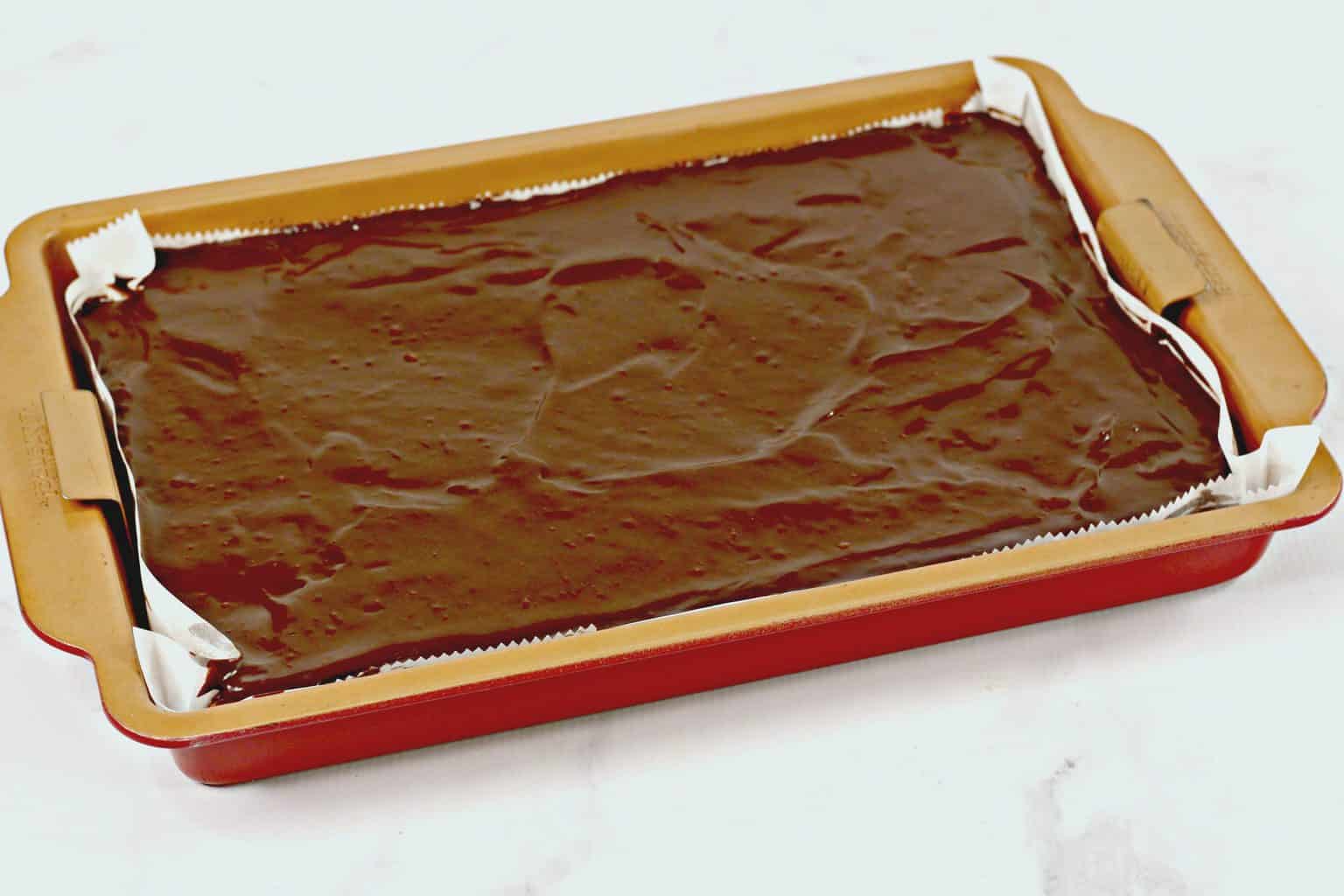 Now, remember to save this recipe on Pinterest for later 🙂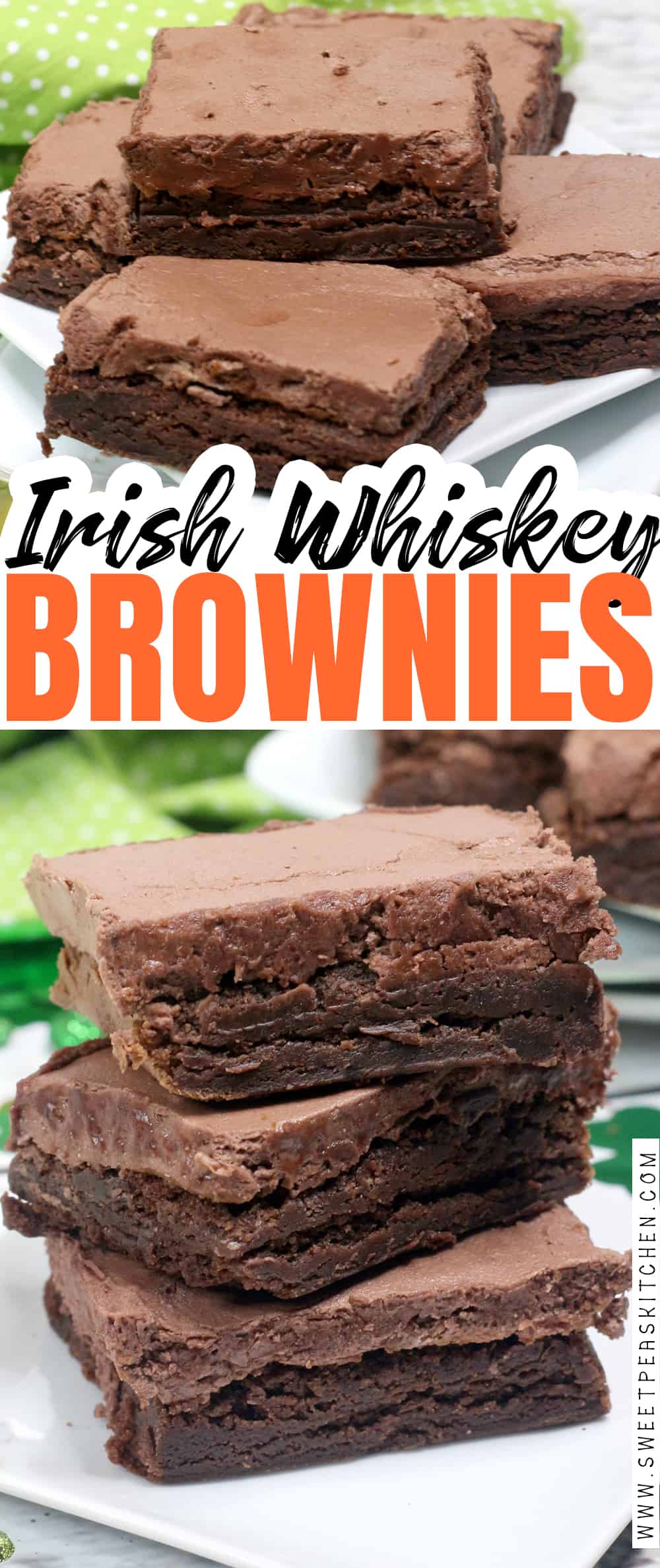 Pin this recipe now to remember it later
Irish Brownie Whiskey
Irish Whiskey Brownies are a brownie that is topped with a whiskey frosting. Jameson whiskey brownies are so popular and perfect for a St. Patrick's Day dessert.
Ingredients
Frosting:
1 1/2

ounces

unsweetened chocolate

1/4

cup

unsalted butter

,

1/2 stick
Want to save this recipe? Enter your email below and we'll send the recipe straight to your inbox!
NOTE: By saving this recipe, you agree to join our weekly recipes newsletter.
Instructions
Preheat the oven to 350 degrees and line a 9x9 brownie pan with parchment paper.

Then in a bowl or stand mixer, you want to mix up your brownie batter, according to the package.

Pour brownies into the pan, and bake as directed on your box.

While your brownies are cooling off on a baking rack, work in your whiskey frosting.

Melt butter and chocolate together and whisk until they are smooth.

IN a bowl add your powdered sugar, half and half, whiskey and vanilla. Slowly mix in the chocolate and butter mixture.

Once brownies are cooled pour frosting over the brownies.
Nutrition
Serving:
1
g
|
Calories:
223
kcal
|
Carbohydrates:
18
g
|
Protein:
2
g
|
Fat:
16
g
|
Saturated Fat:
4
g
|
Polyunsaturated Fat:
12
g
|
Cholesterol:
36
mg
|
Sodium:
24
mg
|
Sugar:
15
g
Follow me on Pinterest for daily delicious recipes!
I have some more delicious and decadent dessert recipes you are going to want to try.
Instant pot chocolate raspberry cheesecake – It's incredible this rich dessert can be made in your pressure cooker!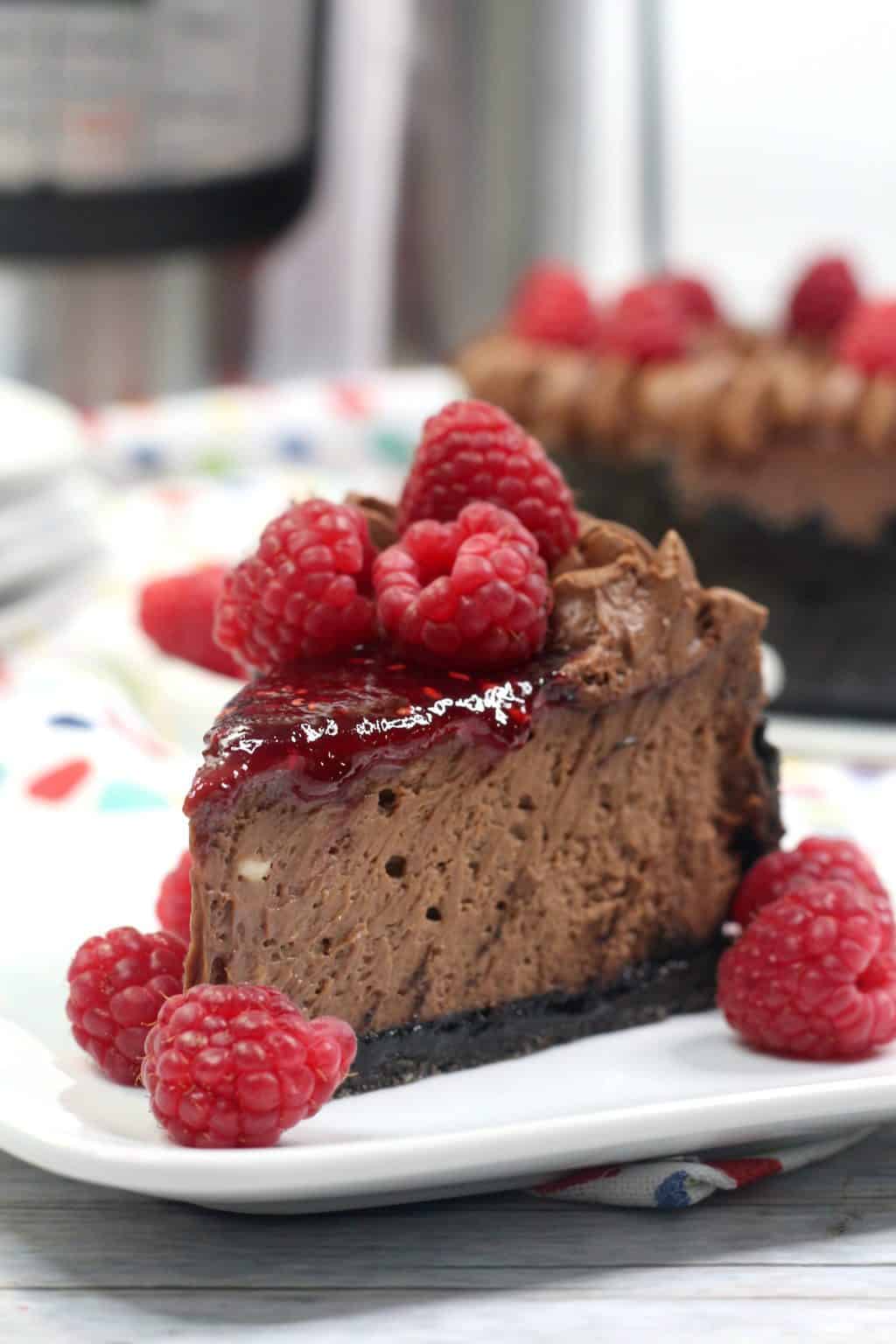 Banana peanut butter cookies – Bananas and peanut butter go hand in hand. That's why I wanted to make this yummy cookie recipe.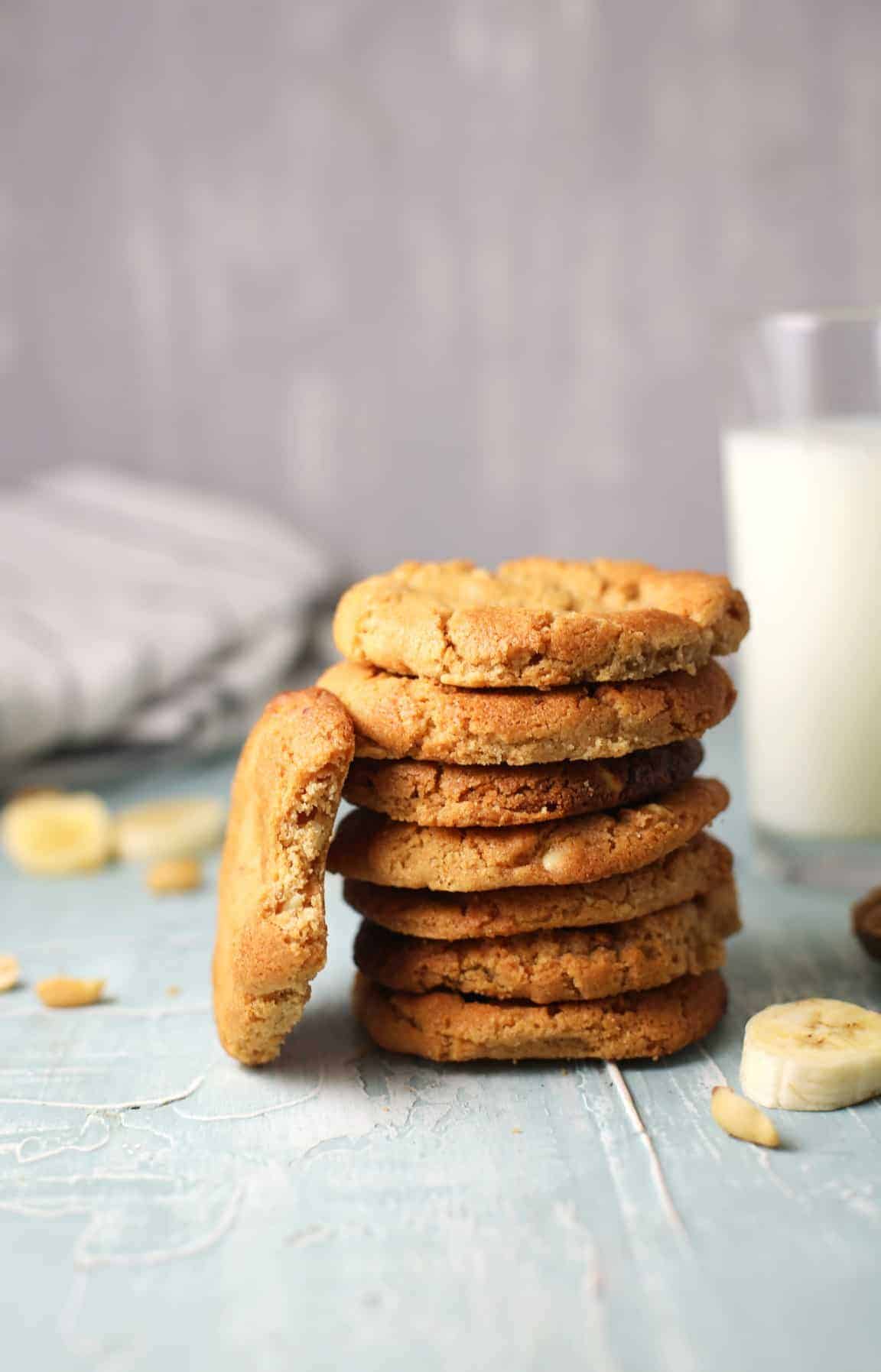 Bailey's pound cake – If you love cooking with alcohol, then be sure to add this Bailey's pound cake to your list of recipes to try. It's insanely good.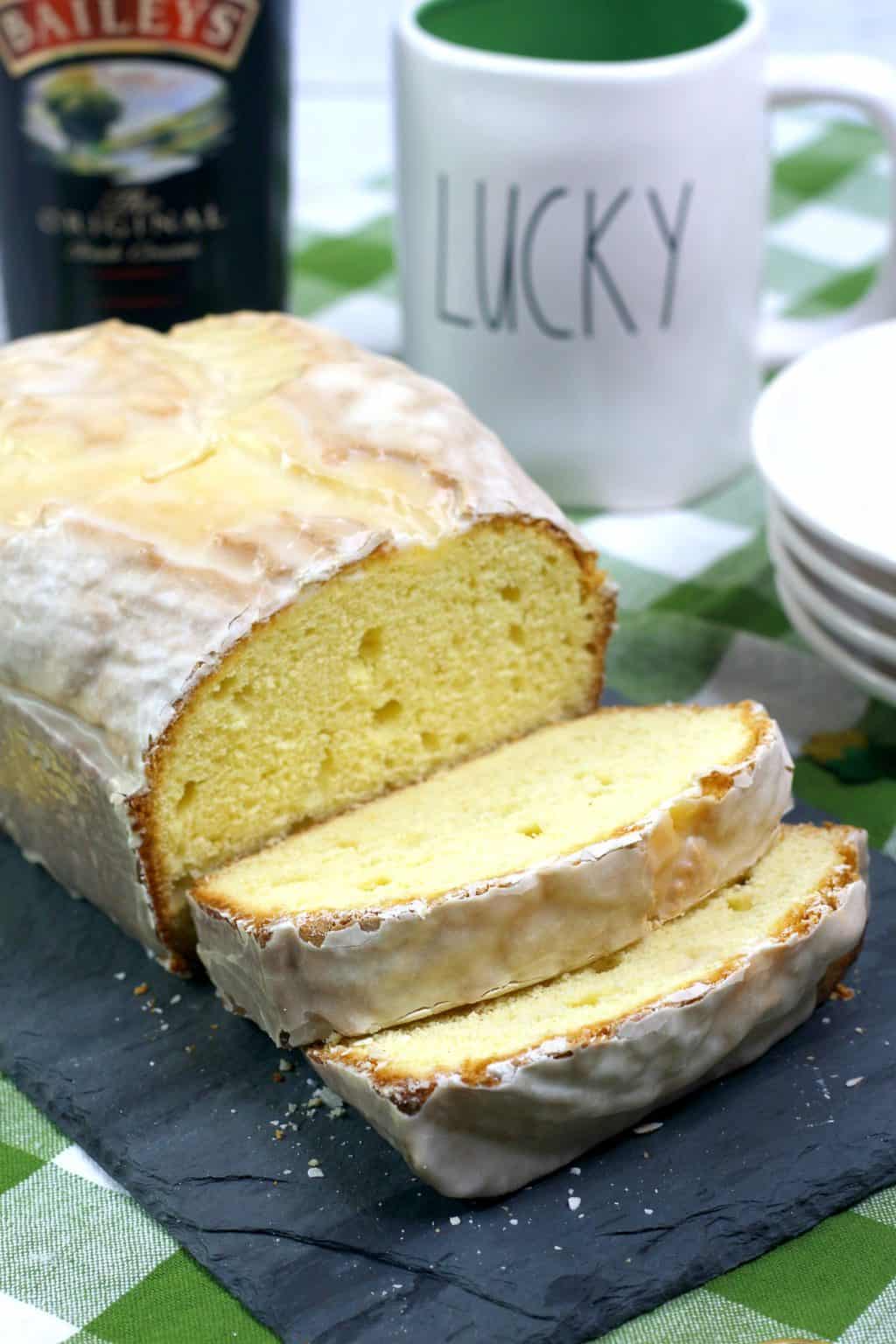 Banana cake with marshmallow frosting in caramel drizzle – If you have been looking for a dessert to leave an impact on anyone that tries it, this banana cake is the answer to your thoughts.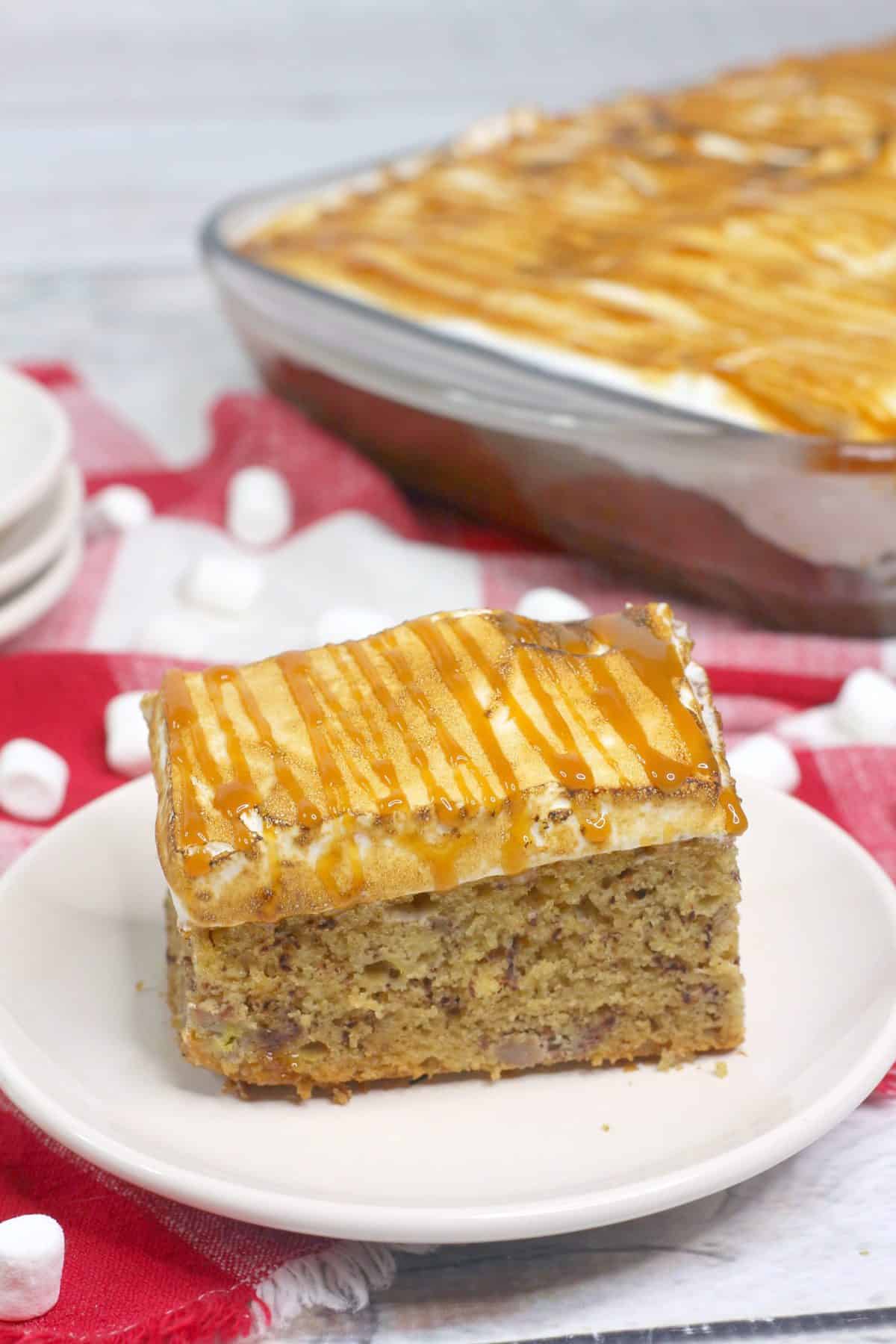 Get new recipes weekly plus our FREE ebook!