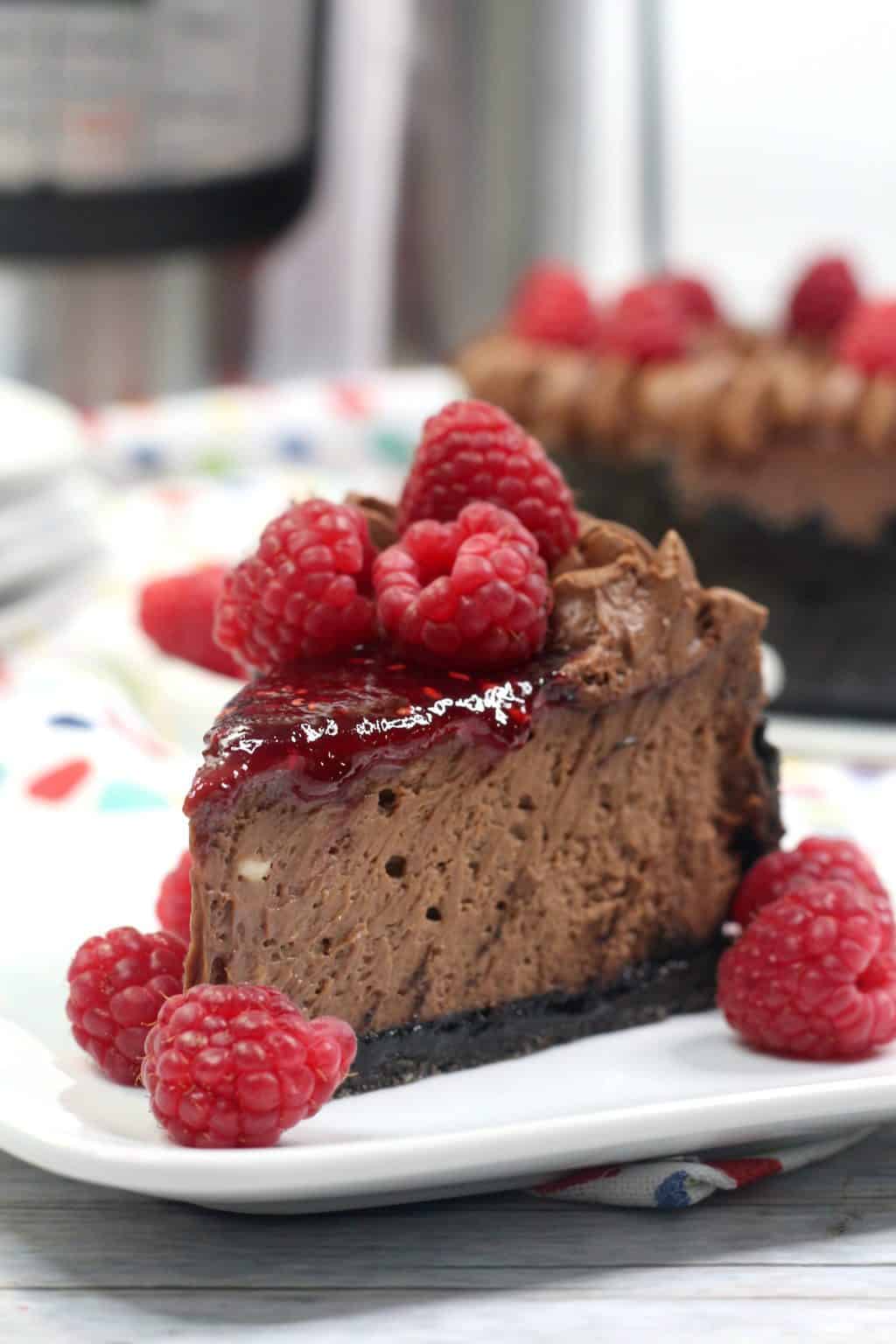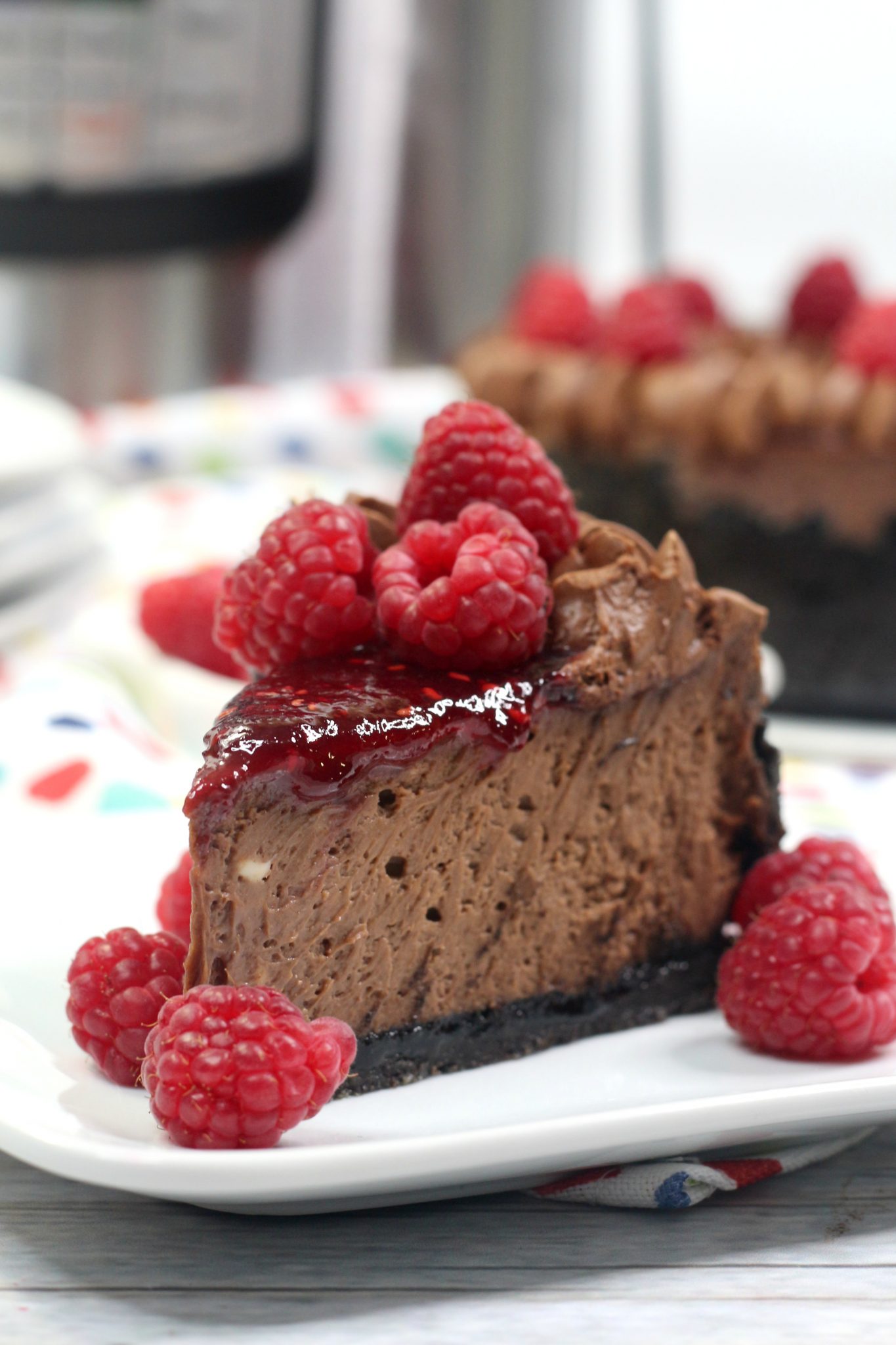 Indulge in this rich Instant Pot Chocolate Raspberry Cheesecake! This is the best raspberry cheesecake ever and it's perfect for holidays, parties, or potlucks. Each bite is filled with a creamy chocolate cheesecake filling, raspberries, and a rich chocolate crust. This is the ultimate pressure cooker chocolate raspberry cheesecake and you won't want to lose this recipe.
Scroll to bottom for printable recipe card.
Instant Pot Chocolate Raspberry Cheesecake Recipe
I am a sucker for pretty much all kinds of cheesecake. It doesn't matter much what the filling or topping is made of if it has the word "cheesecake" in the title you can bet money I am going to be in love with it. This raspberry chocolate cheesecake is seriously one of the very best I have ever sunk my teeth into. I have a pretty good feeling you are going to feel the same way. Let's get started so you can whip up your own Instant Pot Chocolate Raspberry Cheesecake.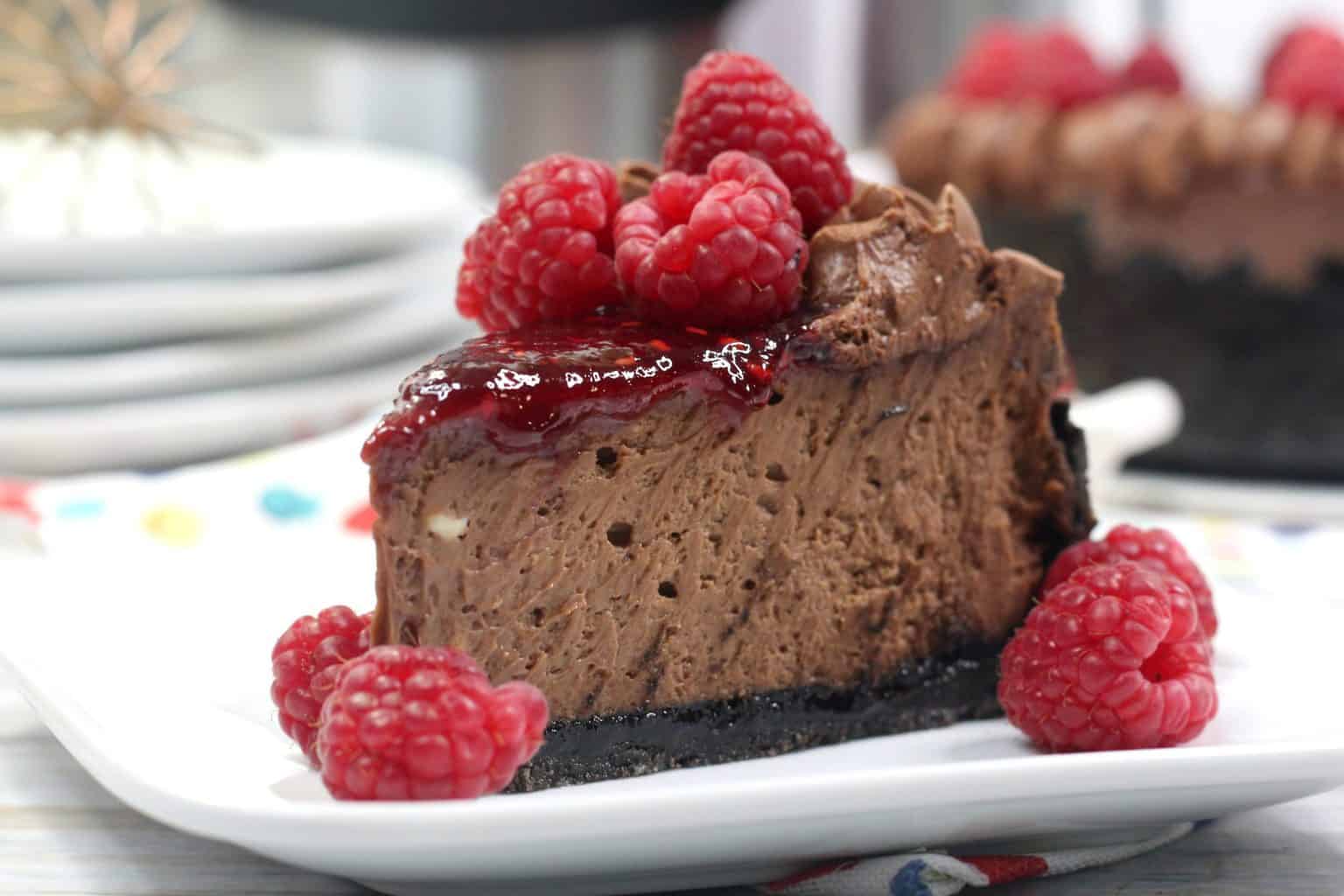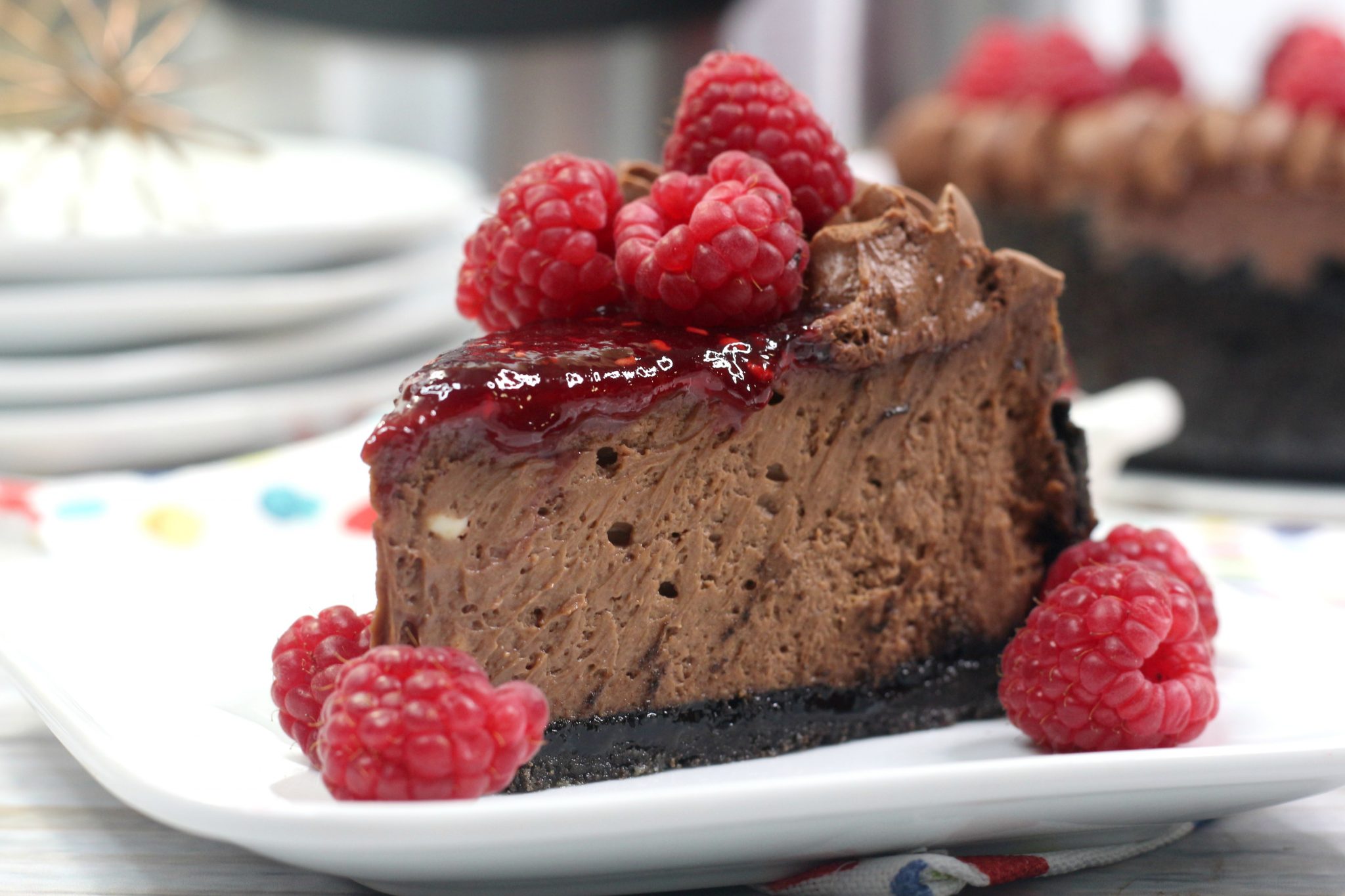 Can I Swap Out The Chocolate Crust In This Cheesecake
Absolutely! You can use any kind of cookies or graham crackers that you want. You'll simply need two cups of crushed cookies and butter. Then you will have a delicious dessert and it's completely customizable.
Can I Use Homemade Raspberry Preserves
Yep! Using homemade raspberry preserves is a great way to enhance the raspberry cheesecake even more. We use commercially bought preserves because it's a time saver and I can just grab them at the store. Easy peasy! But homemade preserves are delicious and if you have some on hand, use it up.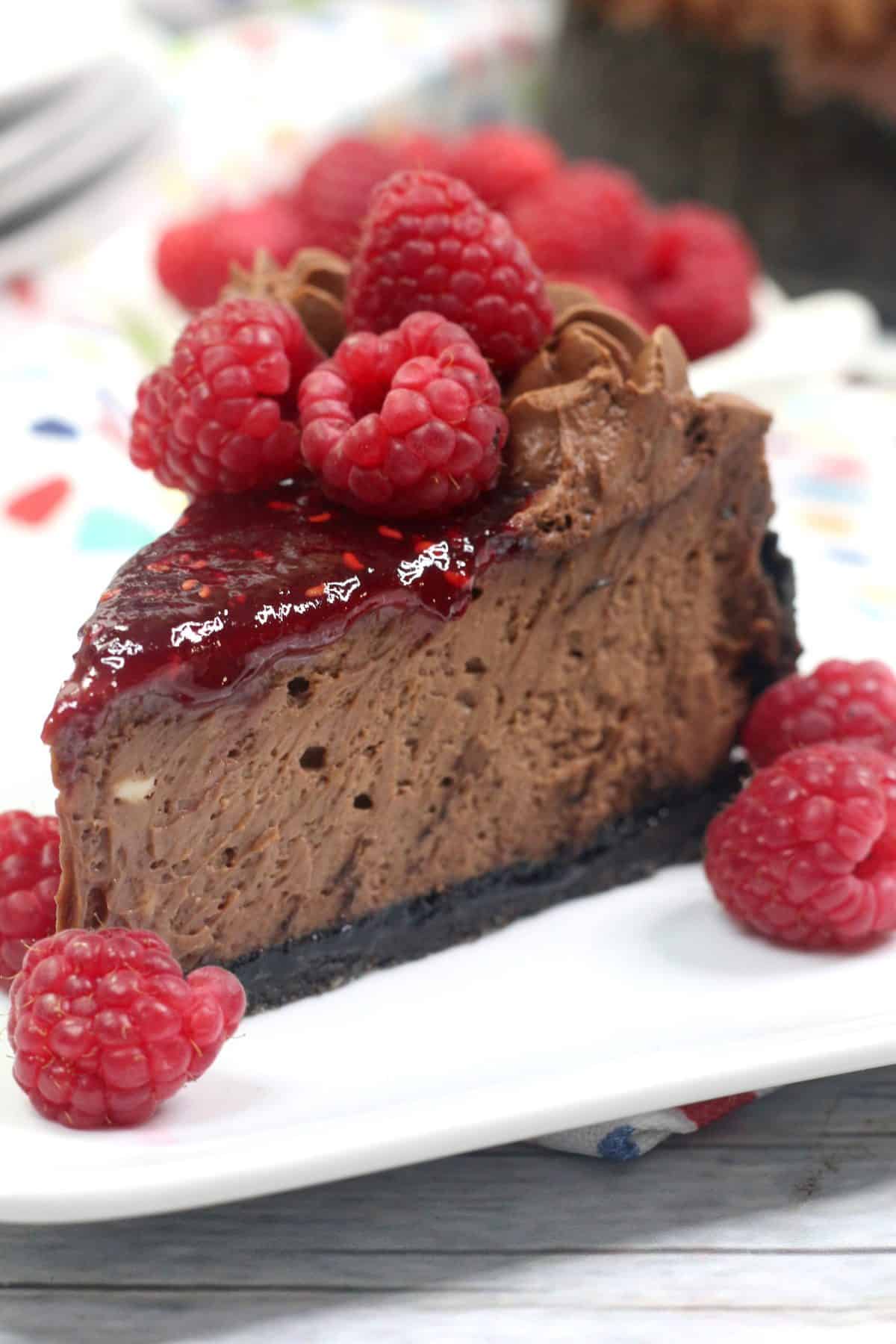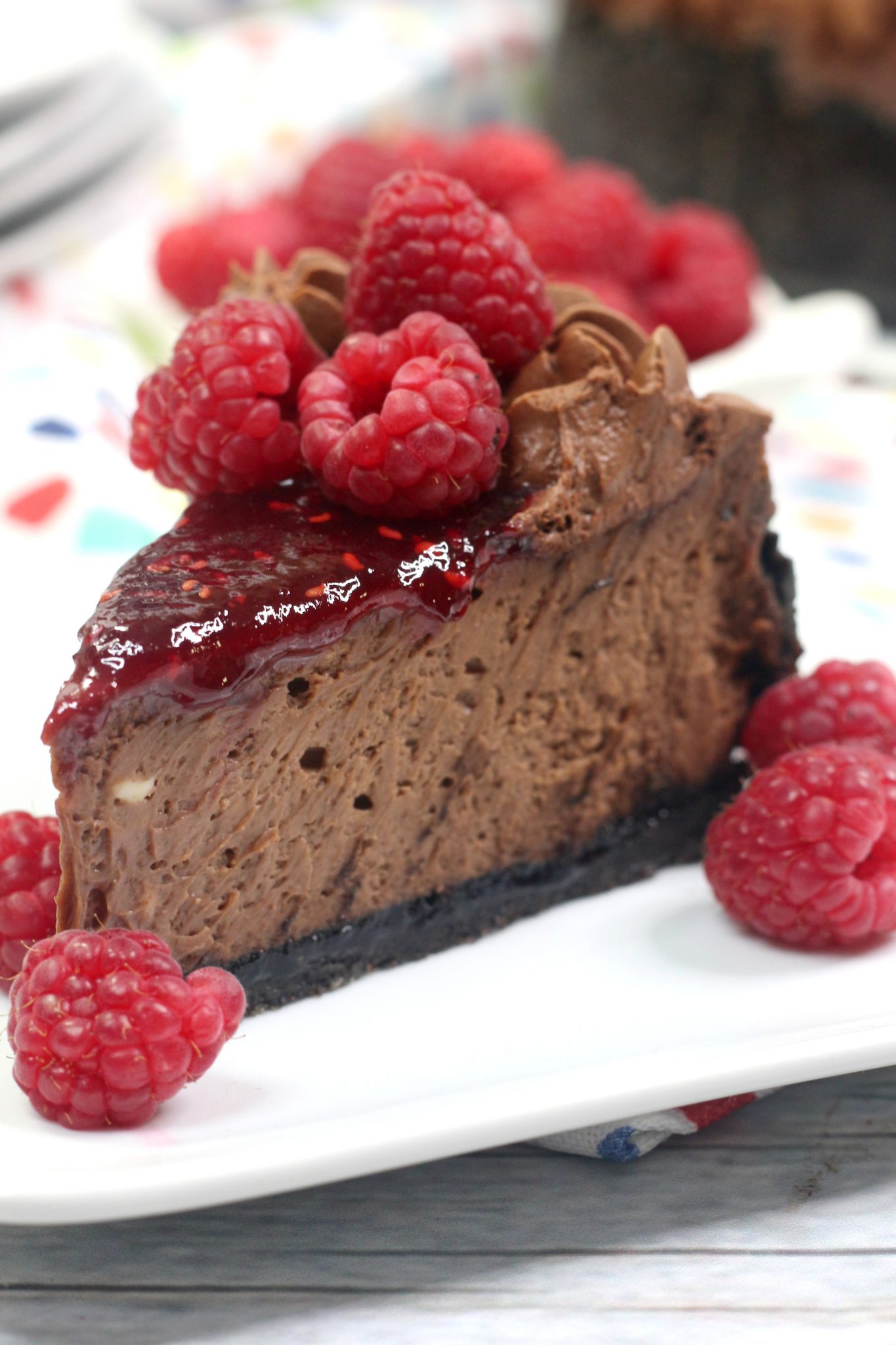 Variations To Recipe
There are lots of lovely things you can do to this pressure cooker cheesecake recipe to make it a little different each time. Add any of these ingredients in the batter or on top as a topping:
White Chocolate
Peanut Butter Chips
Nuts
Crushed Candy Bars, Hersey, Reese's or anything else you like
Strawberry preserves
Blueberry preserves
Can You Freeze Cheesecake with Raspberry Preserves on Top
Yes, you will simply need to wrap the raspberry cheesecake up tightly with plastic wrap. Then place the cheesecake in an airtight container and it will last 2-3 months. Thaw in the fridge until it's ready to eat. It's good when it's still a little frozen, but it's up to you when you want to indulge in it!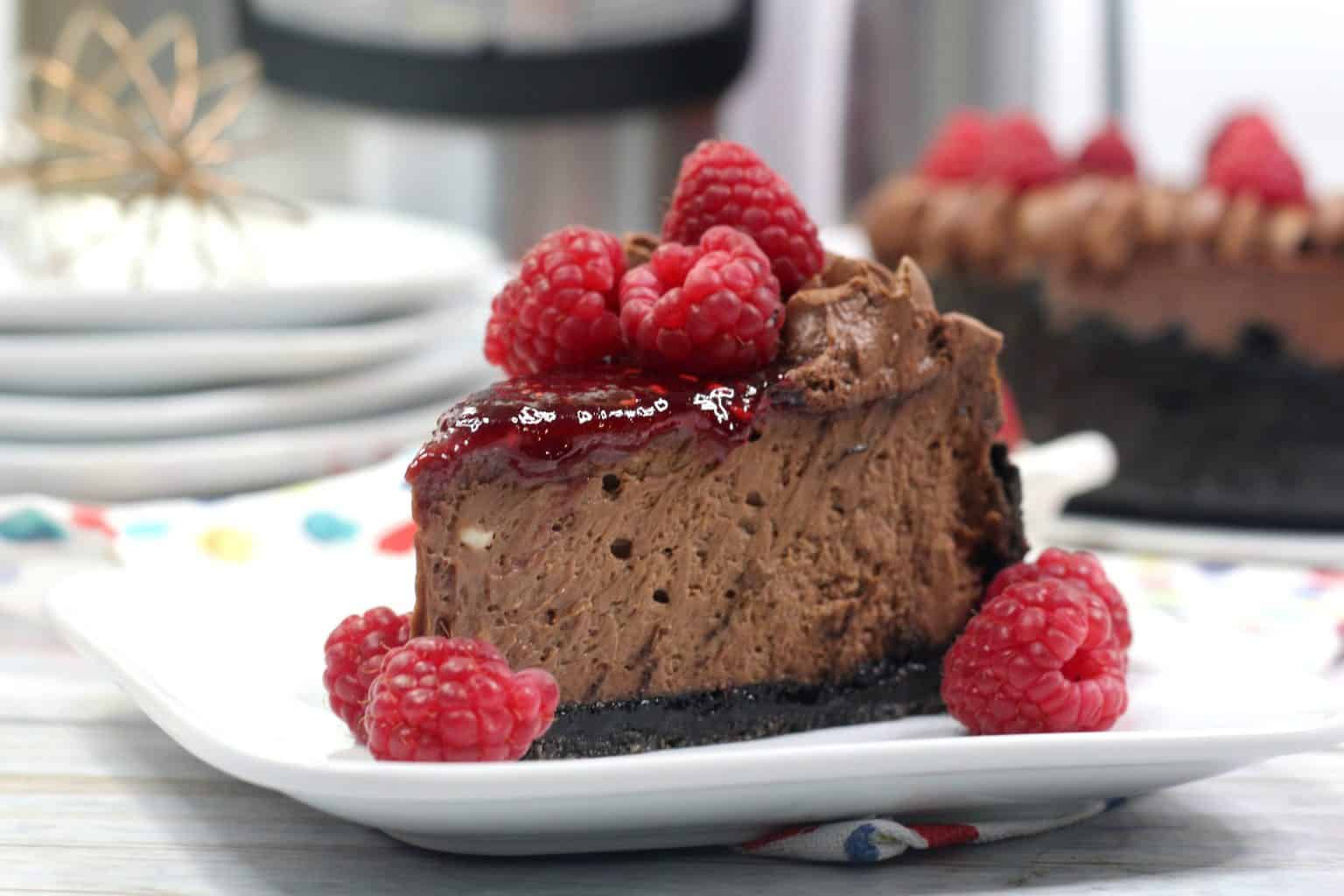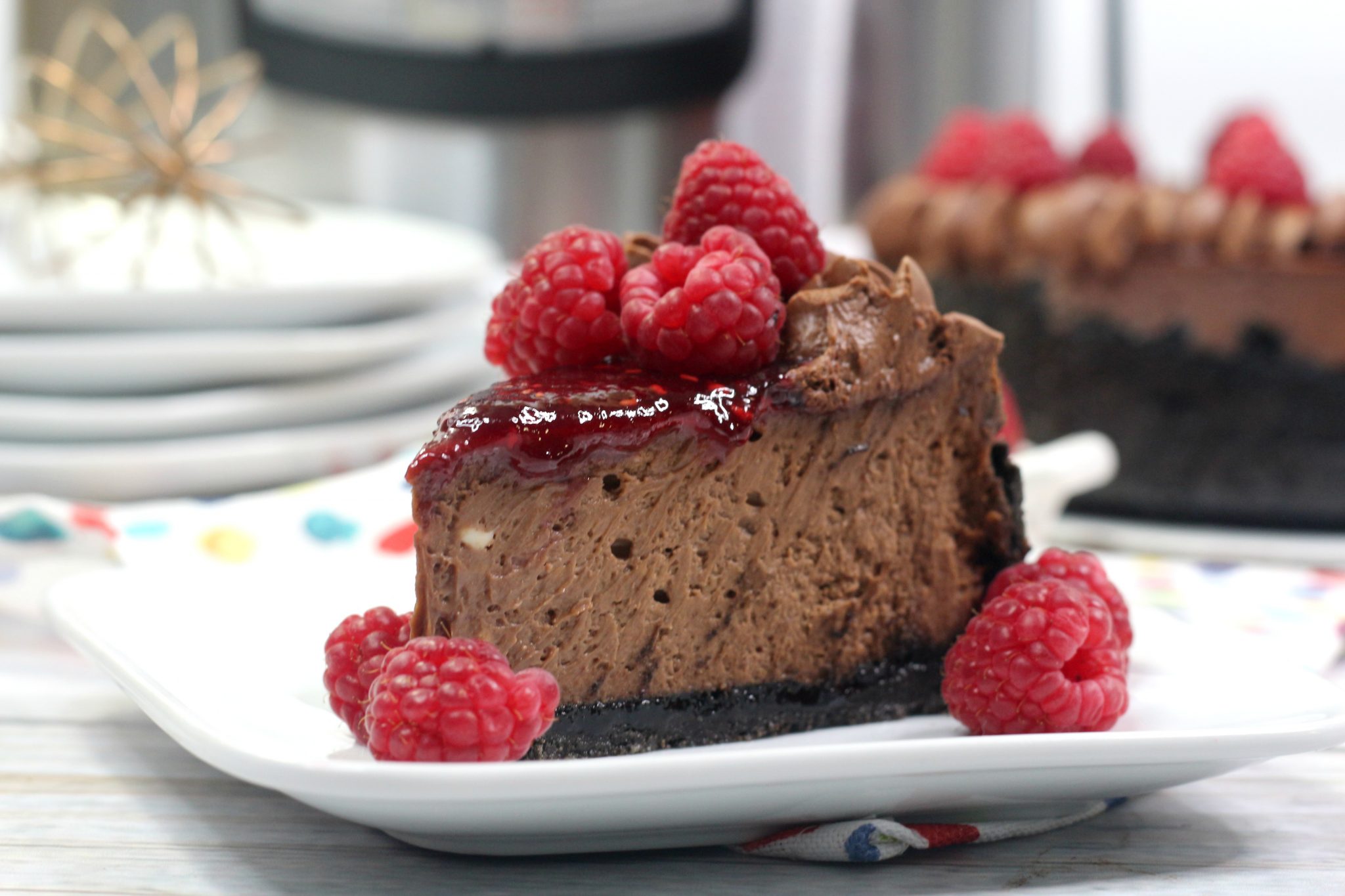 Occasions to Serve Up This Cheesecake
It's great to serve this cheesecake for family reunions, anniversary dinners, weddings, birthday parties, dinner parties, community events, or literally any other reason or occasion is great for this Instant Pot chocolate raspberry cheesecake.
Why Do You Have To Let Cheesecake Sit in Fridge Overnight
It's vital to allow the cheesecake to sit up overnight because it gives it time to finish setting up. If you skip this step then you will end up with a cheesecake that falls apart and it's near as appetizing.
Ingredients
Crust ingredients
Crushed Oreos
Unsalted butter, melted
Chocolate cheesecake ingredients
Cream cheese, softened
Sour cream
Sugar
Cocoa powder
Large eggs
Semi sweet chocolate chips, melted
Vanilla
Chocolate Whipped Cream ingredients
Heavy whipping cream
Cocoa powder
Powdered sugar
Medium piping bag fitted with a star tip
Topping ingredients
Smuckers Raspberry Preserves
Fresh raspberries for topping
How To Make
Crust Directions
Step 1. Begin with lining the bottom of a 6-inch springform pan with parchment paper. Then spray the sides with non-stick baking spray.
Step 2. Crush up the Oreo cookies until they are like sand texture. It works great to put them in a food processor or use a rolling pin to crush them.
Step 3. Pour in the melted butter to make the cookie crust.
Step 4. Gently press down the crushed Oreos using your fingers and then place mixture in freezer while you are working on the cheesecake.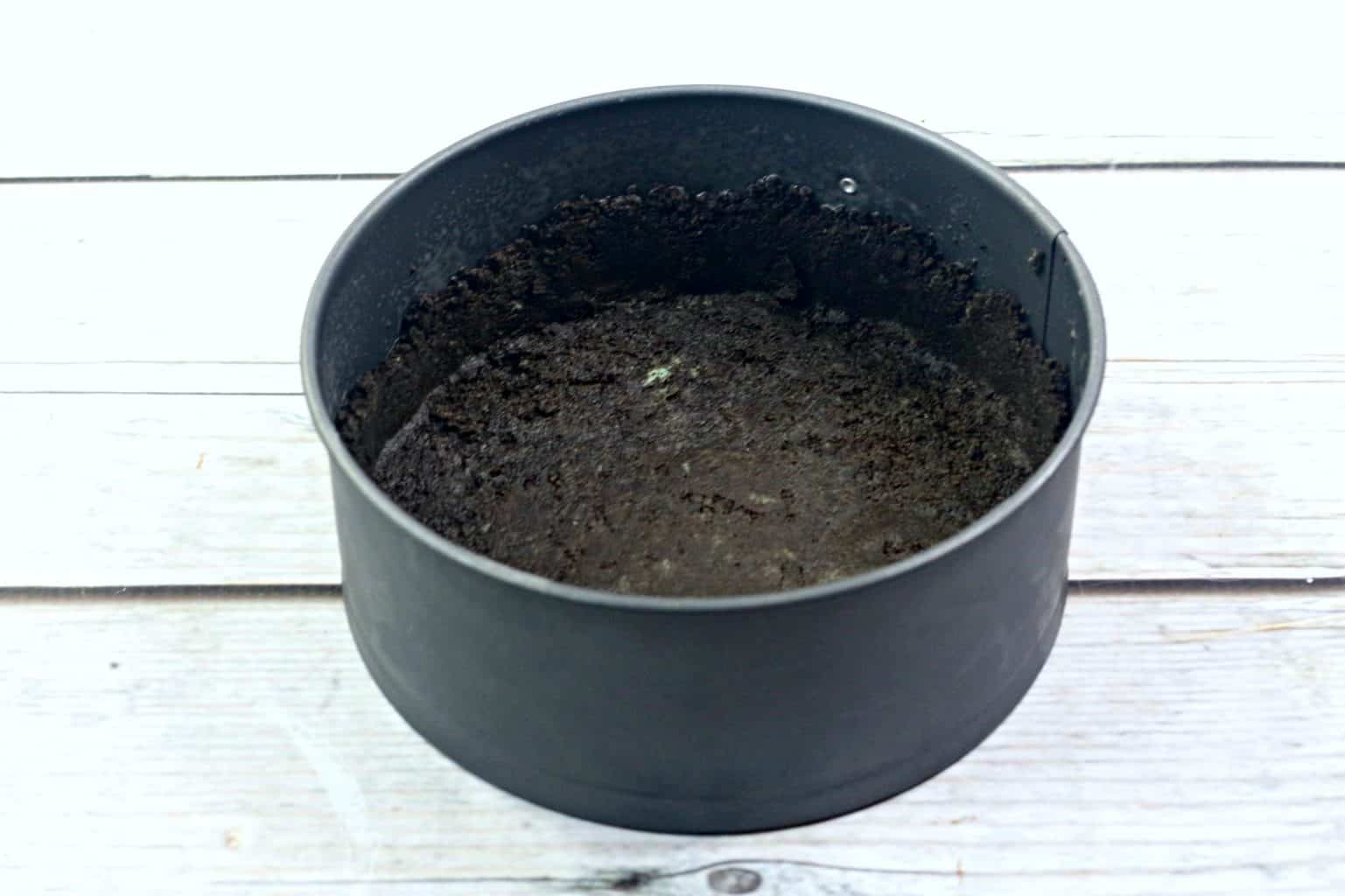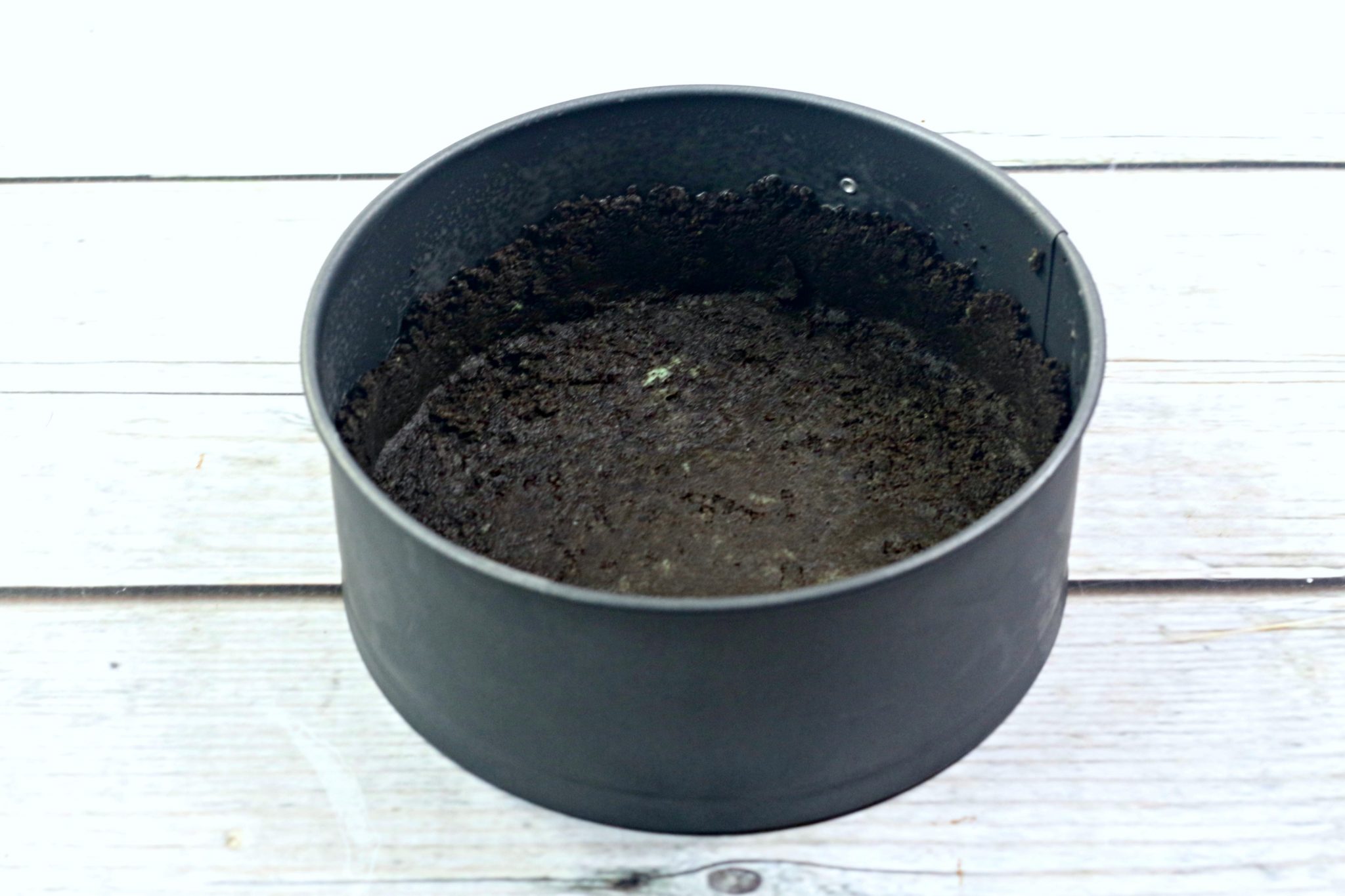 Chocolate cheesecake Directions
Step 1. Beat together the cream cheese, sugar, and sour cream in a mixing bowl until combined and smooth.
Step 2. Beat in the cocoa powder, melted chocolate and vanilla slowly. Mixing until it is combined.
Step 3. Slowly beat in 1 egg at a time until combined after each egg. Be sure not to overmix as it will create air in the cheesecake.
Step 4. Pour your cheesecake batter into the springform pan, and cover tightly with foil.
a.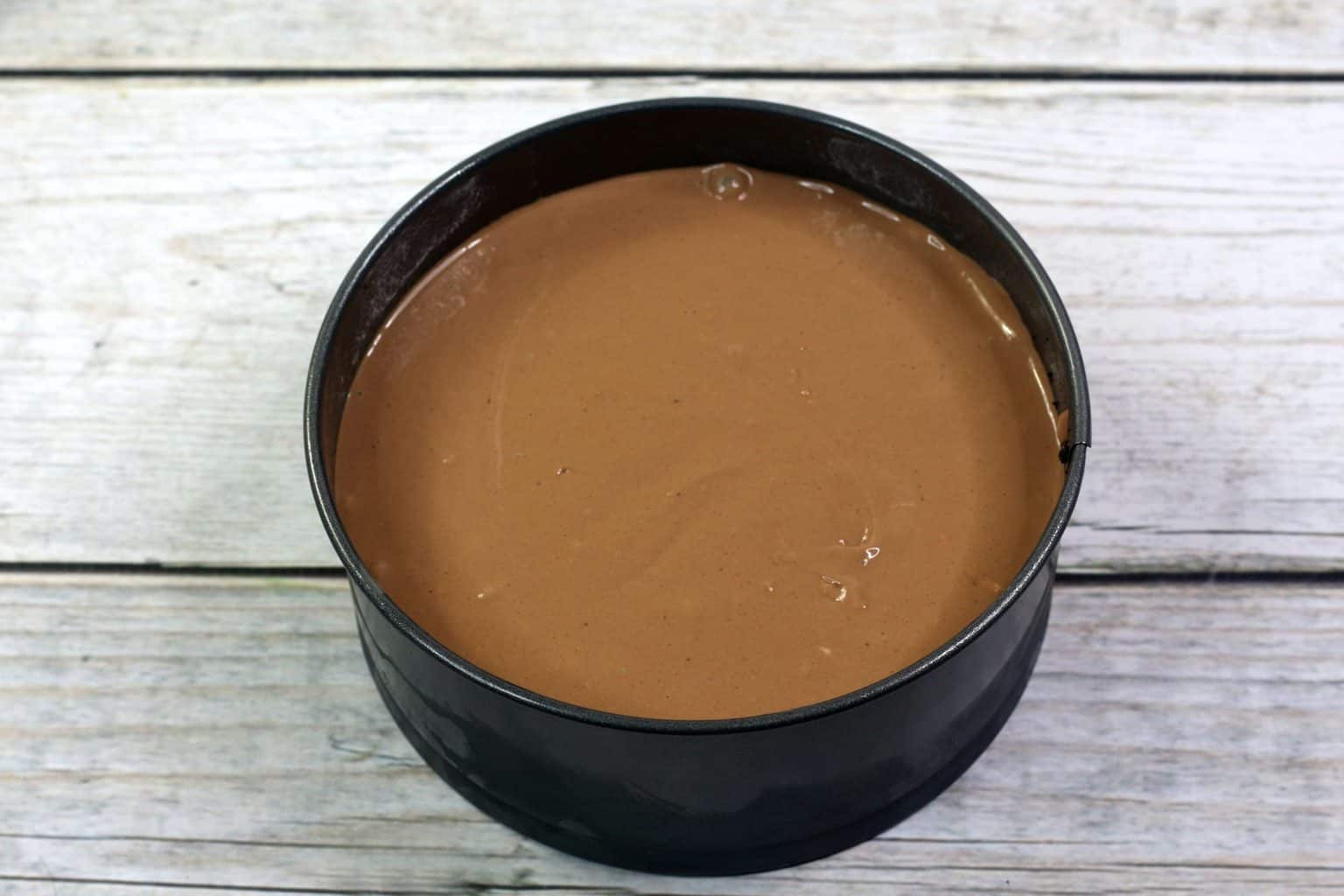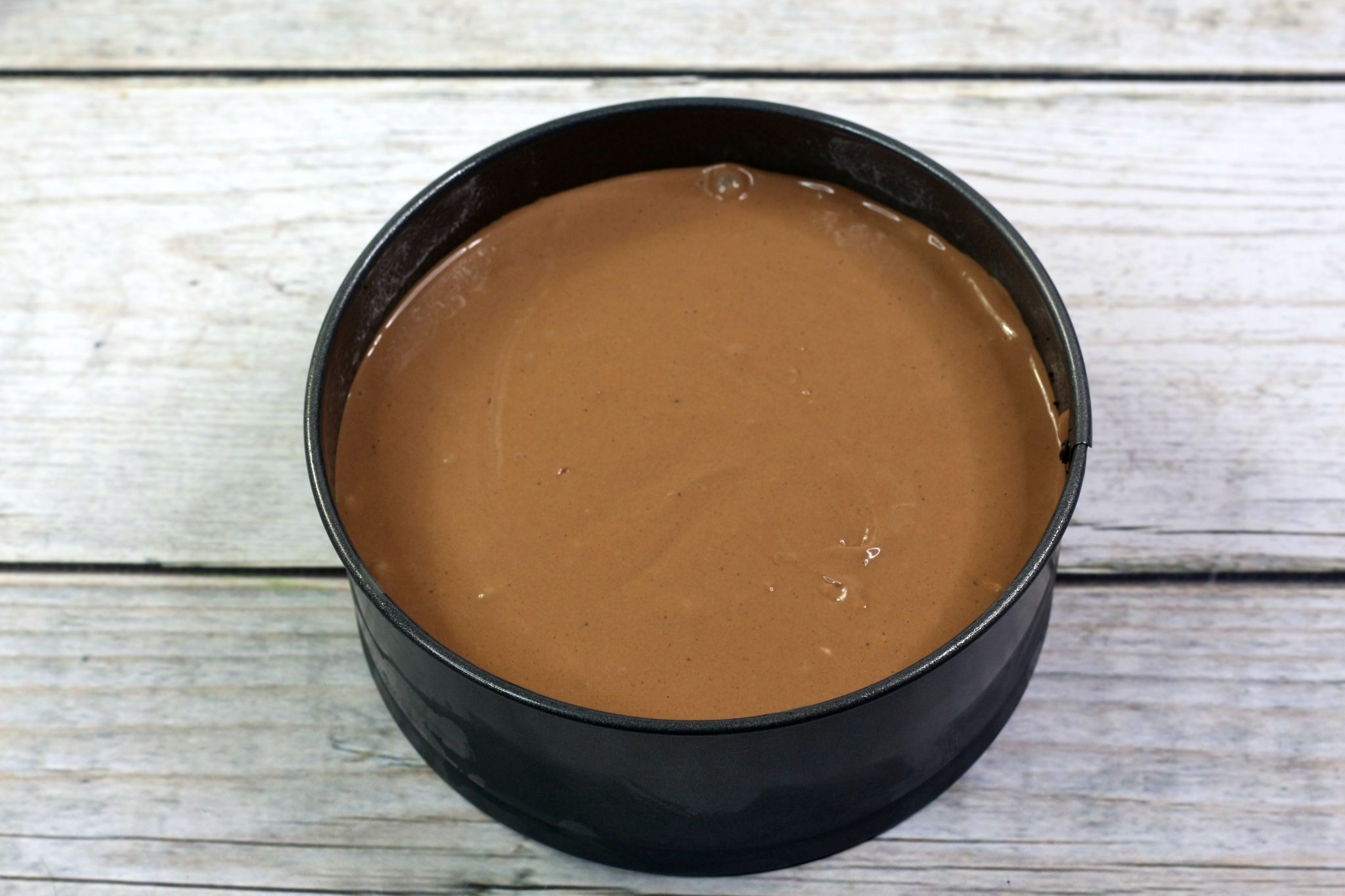 b.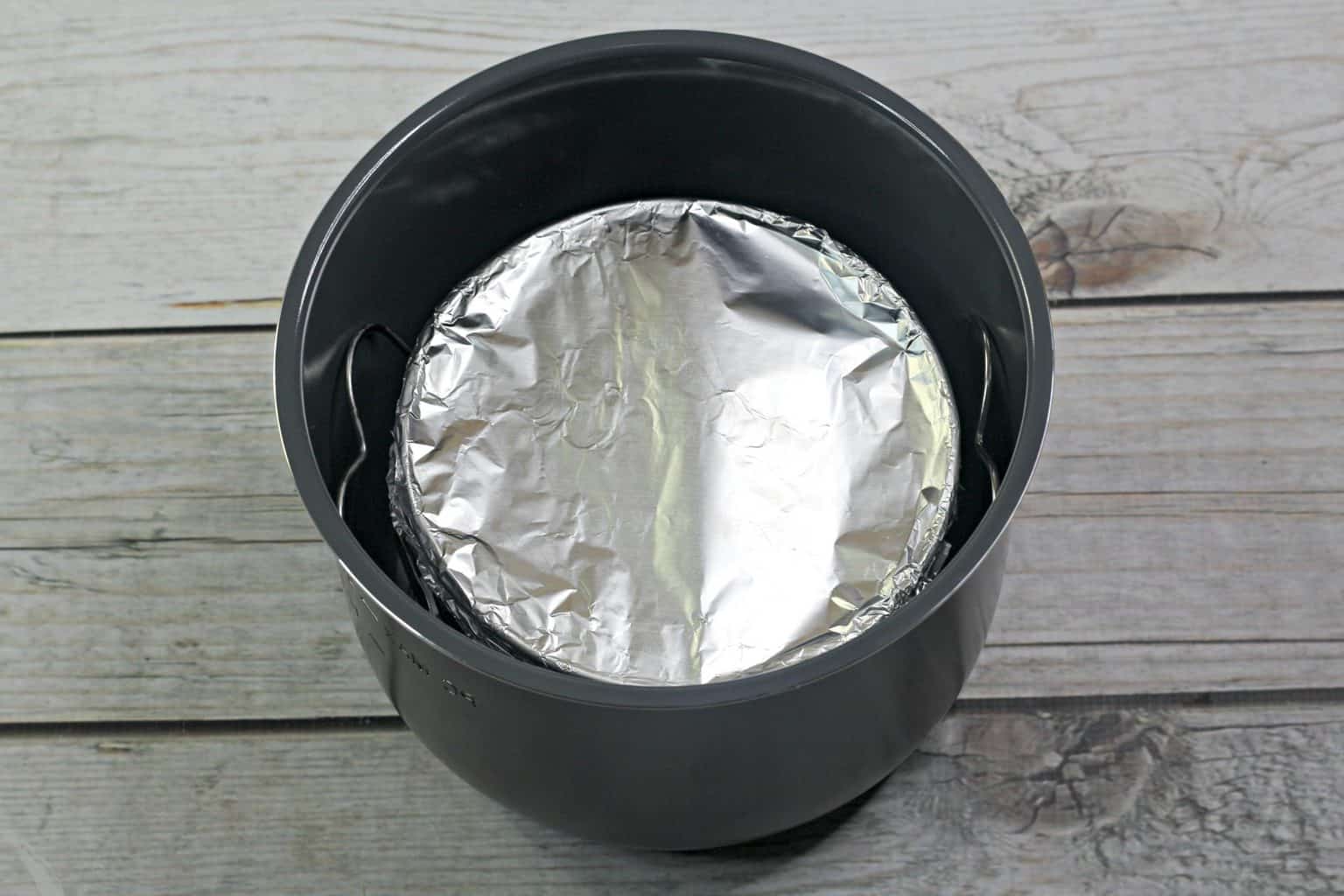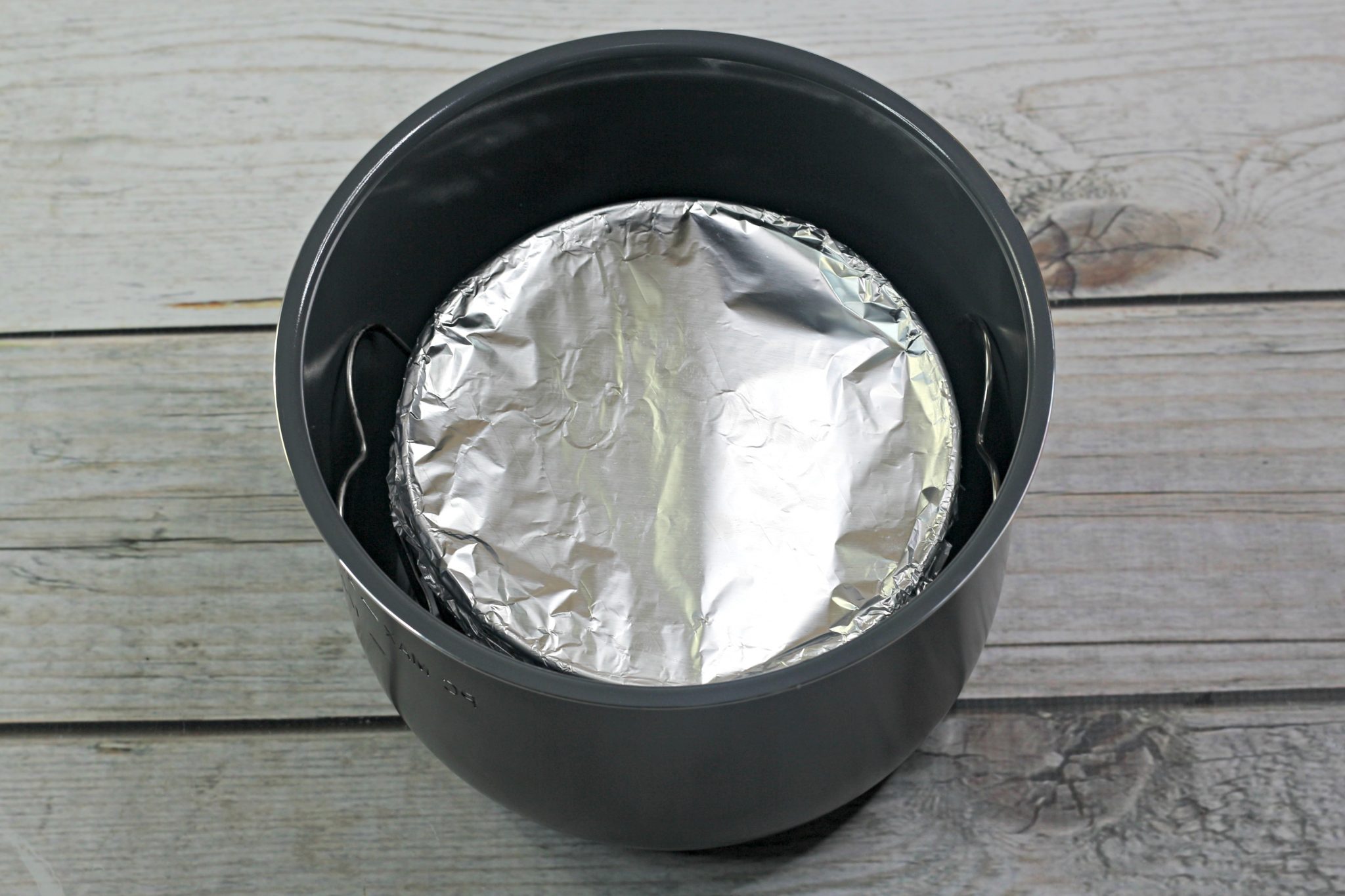 Step 5. Pour in 1 cup of water into the Instant Pot, and then place trivet into the pot. Add the cheesecake pan.
Step 6. Close the lid on your pressure cooker and make sure the valve is set to seal.
Step 7. Cook on high pressure for 35 minutes, with a natural release of 20 minutes.
Step 8. Carefully remove the lid and use a paper towel to dab onto the foil to remove condensation.
Step 9. Remove the cheesecake from the pot and place onto a wire rack and allow to cool for around an hour.
Step 10. Cover the cheesecake and store in the fridge for 24 hours so it sets up.
Chocolate Whipped Cream Directions
Step 1. Prepare the chocolate whipped cream by mixing the ingredients in a stand mixer on medium speed.
Step 2. Whip until it begins to thicken up, then increase speed to high until stiff peaks are formed.
Step 3. Scoop the homemade whipped cream into a piping bag, for decorating your cheesecake.
Topping Directions
Step 1. Scoop ¼ – ½ C of the preserves onto the top of the cheesecake and smooth evenly.
Step 2. Then pipe dollops of whipped cream around the edge of the raspberry chocolate cheesecake.
Step 3. Top with fresh raspberries on top of the whipped cream
Step 4. Cut, serve, and enjoy!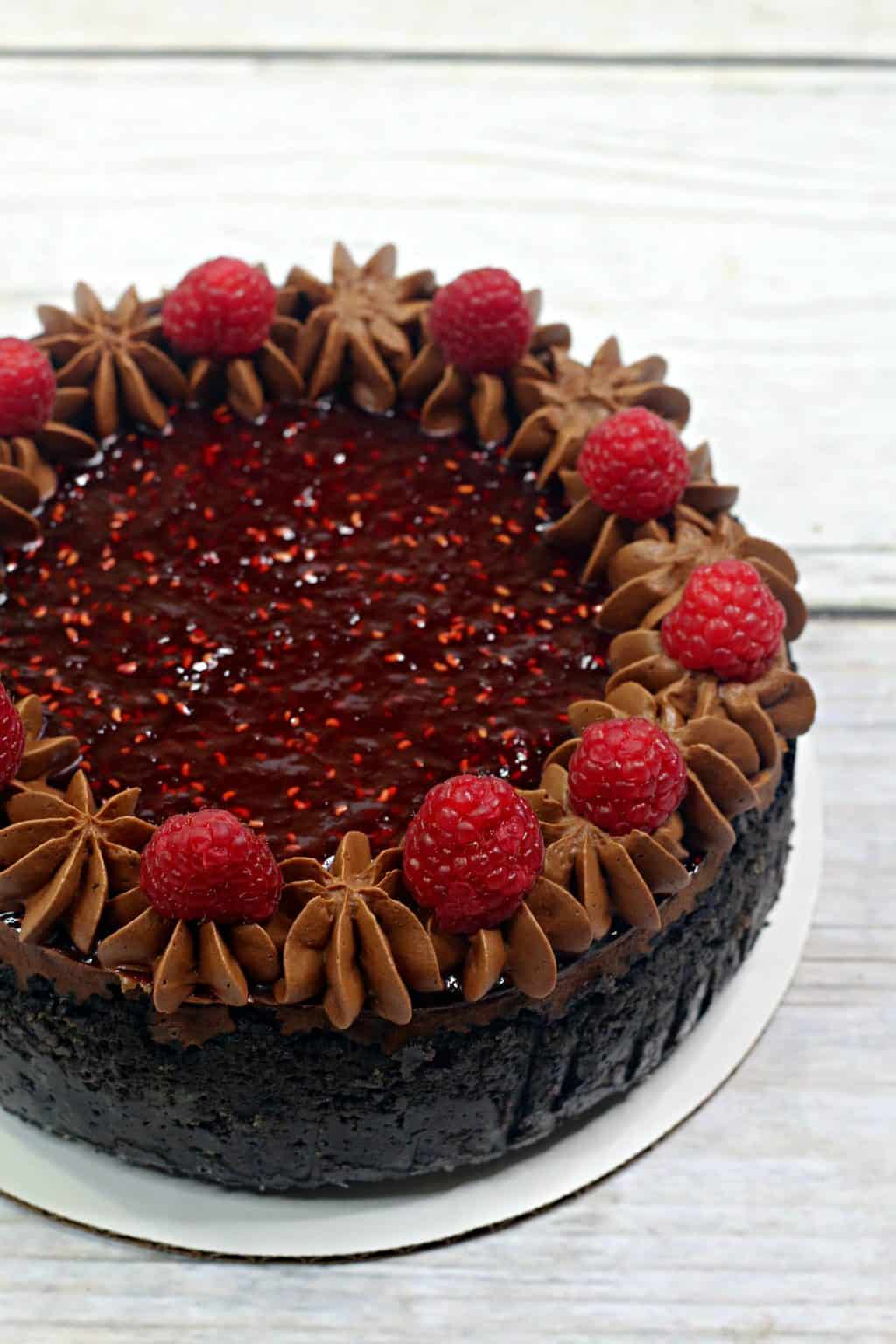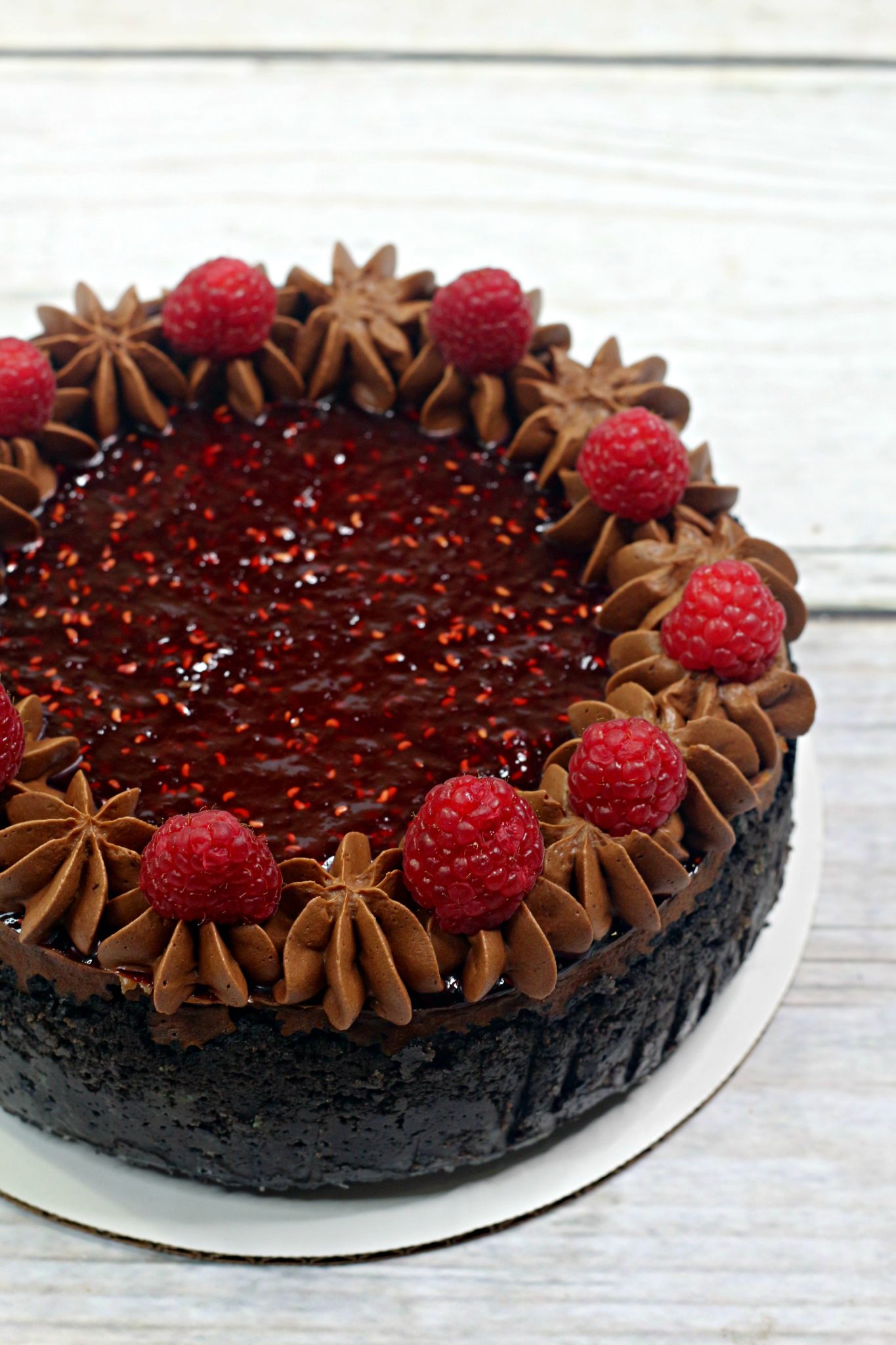 Now, remember to save this recipe on Pinterest for later 🙂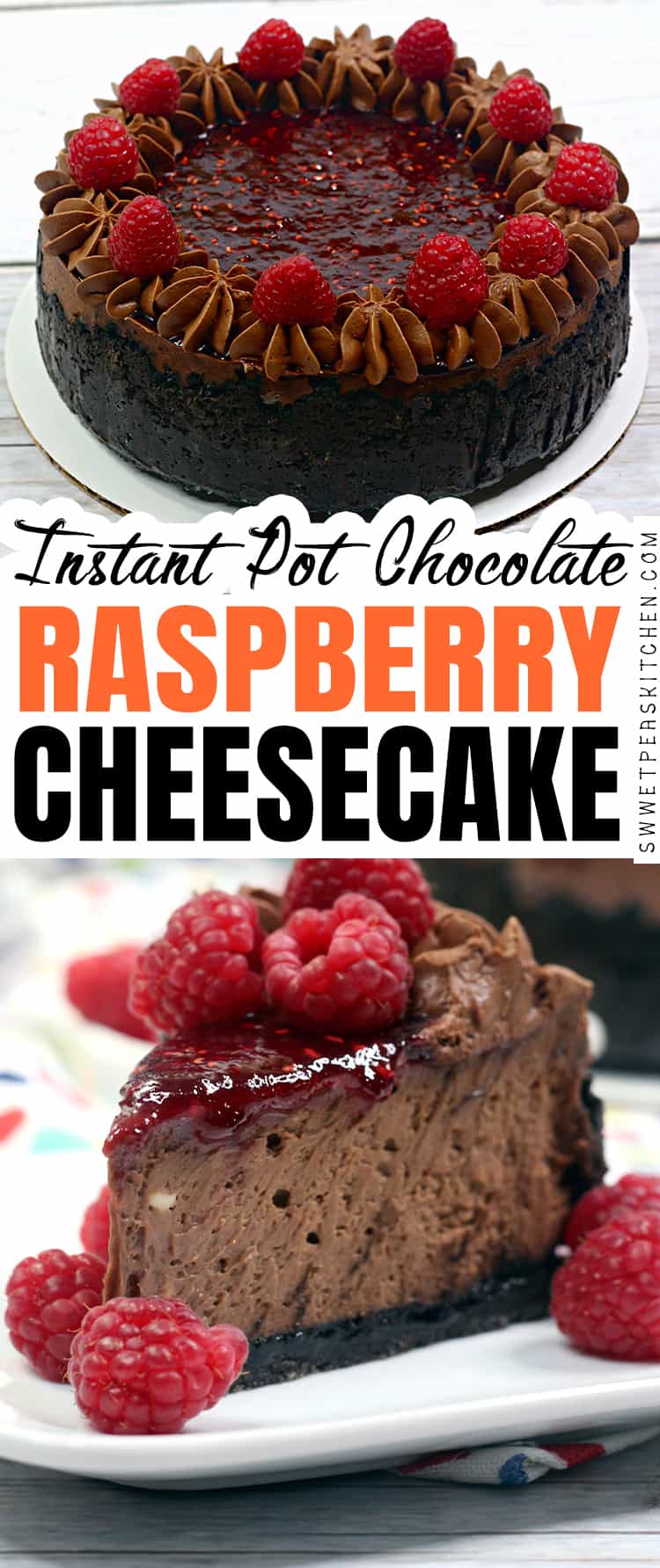 Pin this recipe now to remember it later
Mini Chocolate Raspberry Cheesecake
These raspberry cheesecakes have an Oreo crust, cheesecake layer, chocolate whipped cream, and raspberries on top. Each taste is going to take you to a new level of satisfaction.
Ingredients
Chocolate Layer:
10

tbsp

unsalted butter

,

softened

2

tsp

pure vanilla extract
Cheesecake Filling
2 - 8

oz

cream cheese

,

softened

¾

tsp

pure vanilla extract
Chocolate Ganache
1

C

Semi-sweet chocolate chips
Chocolate Whipped Cream
1 ½

C

heavy whipping cream

1

large piping bag fitted with star tip
Want to save this recipe? Enter your email below and we'll send the recipe straight to your inbox!
NOTE: By saving this recipe, you agree to join our weekly recipes newsletter.
Instructions
Preheat oven to 350 degrees and line a cupcake pan with cupcake liners

Using a large bowl, whisk together the flour, cocoa powder, baking soda and salt together

Using a standing mixer, beat together the butter and sugar until light and fluffy

Beat in the egg yolk, milk, and vanilla extract

Gradually mix in the dry ingredients until combined

Spoon about 1 tbsp of the batter into each cupcake liner

Bake in the oven for about 5 - 7 minutes

Set aside to cool
Cheesecake Filling Directions:
Bring oven temp down to 325

Using a standing mixer, beat together the cream cheese and sugar until smooth and creamy

Beat in the sour cream, vanilla and salt until combined

Beat in the eggs, 1 at a time until combined

Scoop about ¼ C of the cheesecake batter into the cupcake liners

Bake in the oven for 17-21 minutes or until the edges start to turn a light golden brown color and the center is set

Allow to cool completely
Chocolate Ganache Directions
Pour chocolate chips into a heat safe bowl

Using a small pot, bring the heavy whipping cream to a slow simmer

Pour heavy whipping cream over the chocolate chips and whisk until smooth

Scoop 1 ½ tbsp of ganache onto the top of the cold cheesecakes

Allow ganache to harden
Chocolate Whipped Cream Directions
Using a large bowl and hand mixer, beat together all ingredients until stiff with peaks

Pipe dollops of whipped cream onto the cupcakes

Using remaining ganache, drizzle over the top of the cheesecake

Top with a fresh Raspberry

Enjoy!
Follow me on Pinterest for daily delicious recipes!
I am thrilled to share with you even more insanely good cheesecake recipes. Take a look at these beauties for some tasty inspiration.
Peach Cobbler Cheesecake – There is nothing better in the fall then some of this peach cobbler cheesecake. It's rich, creamy, and so yummy!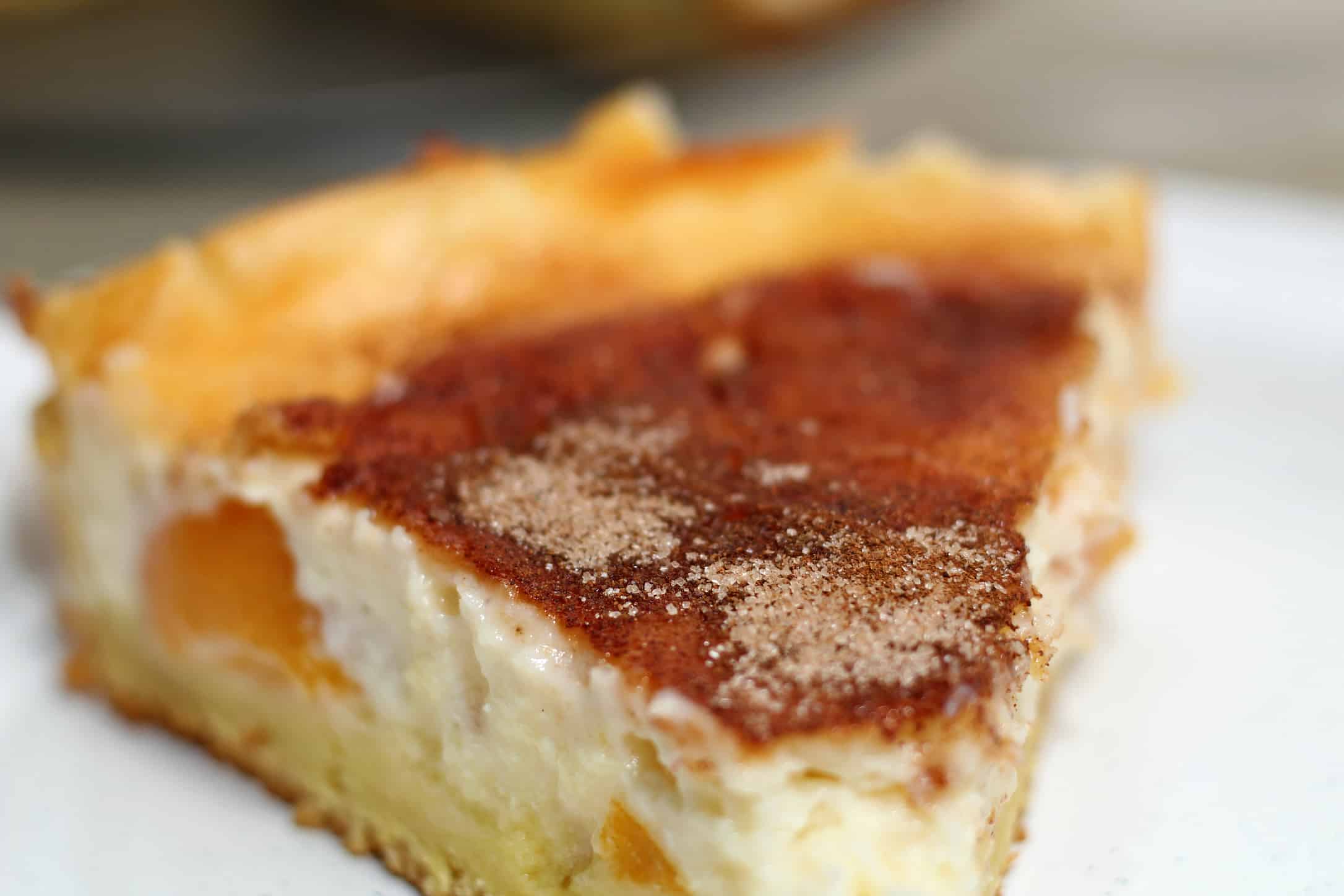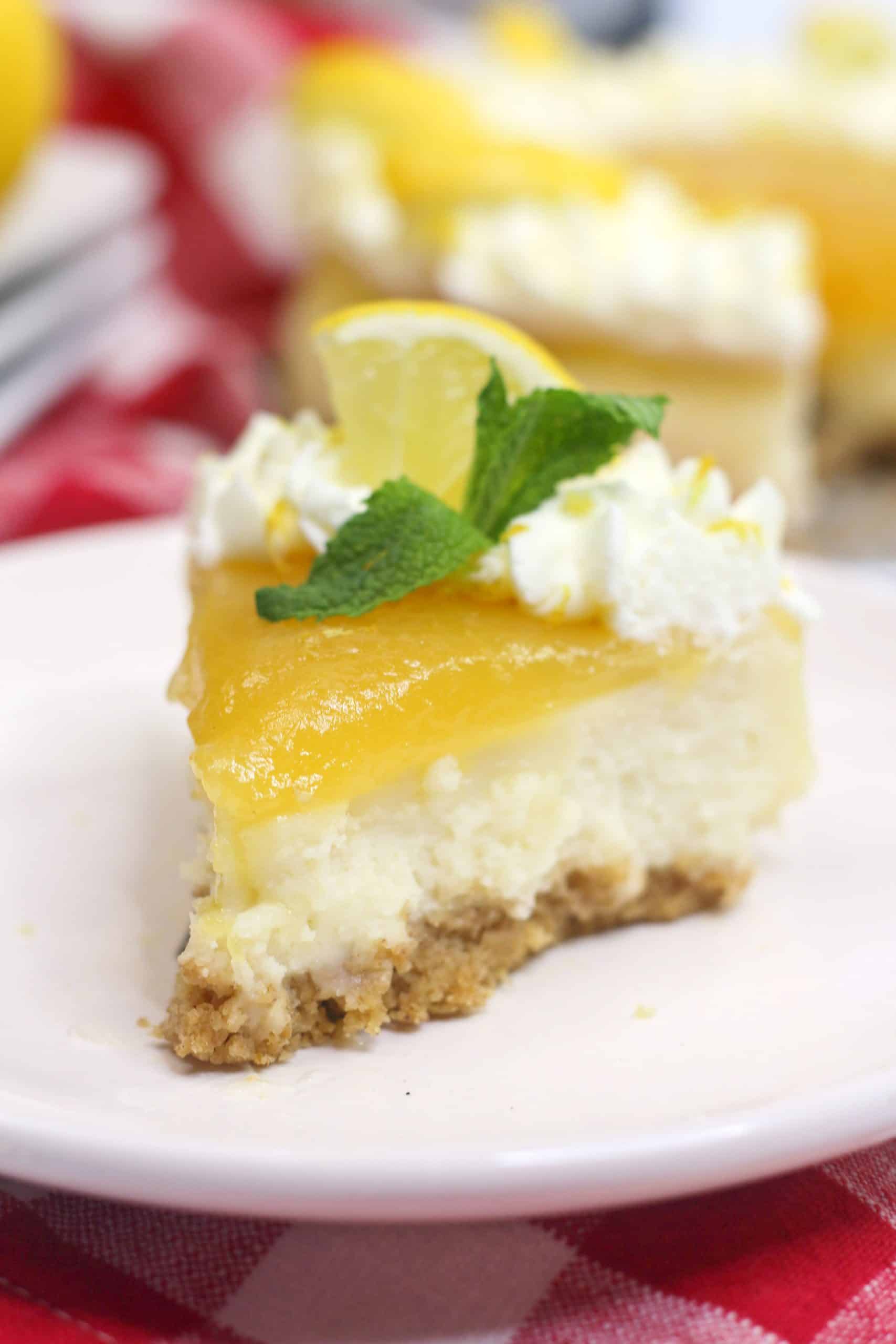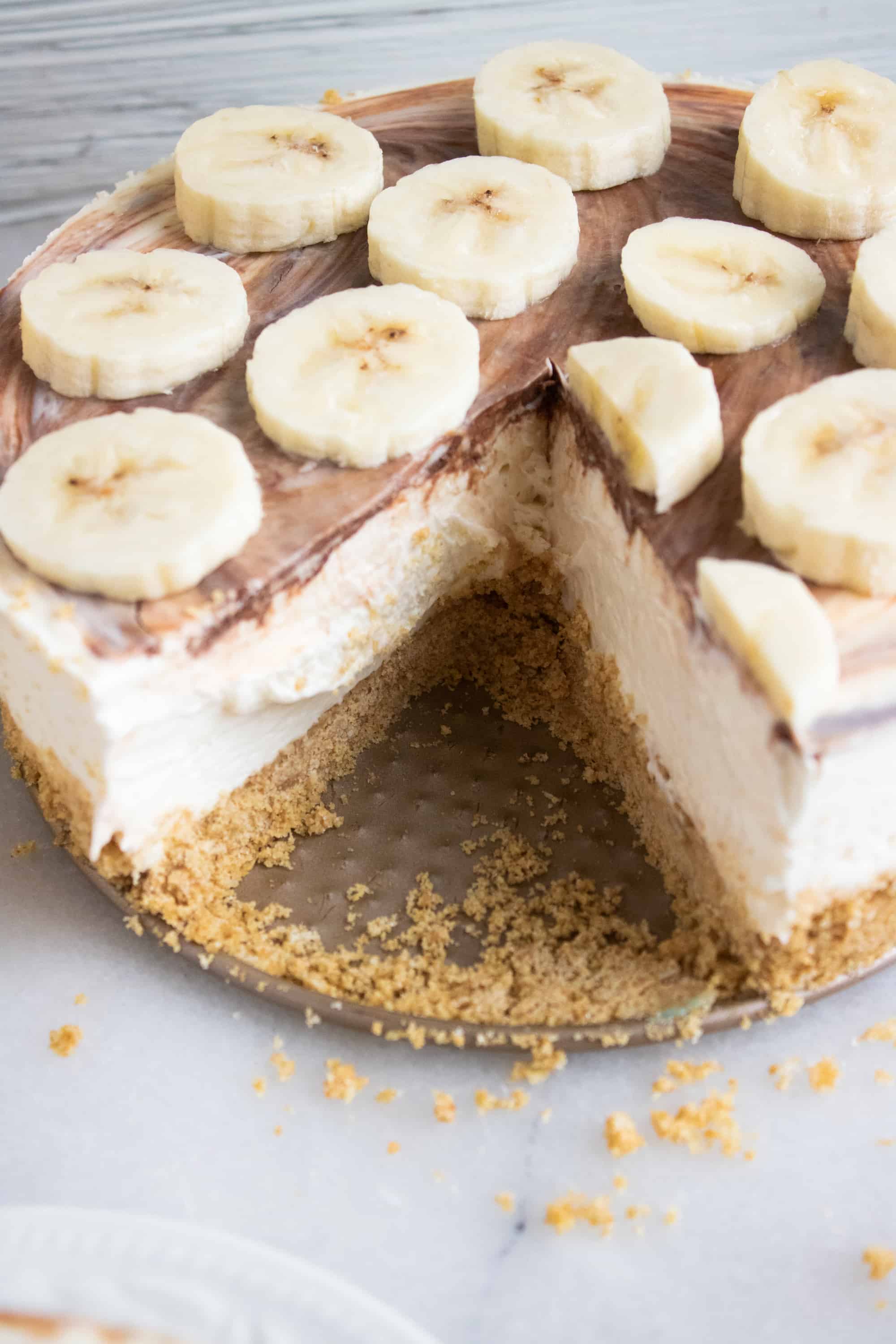 Blueberry Lemon Cheesecake Bars – We go wild for anything with blueberries and lemons. It's a wonderful combination and I think you are going to want to eat it over and over again.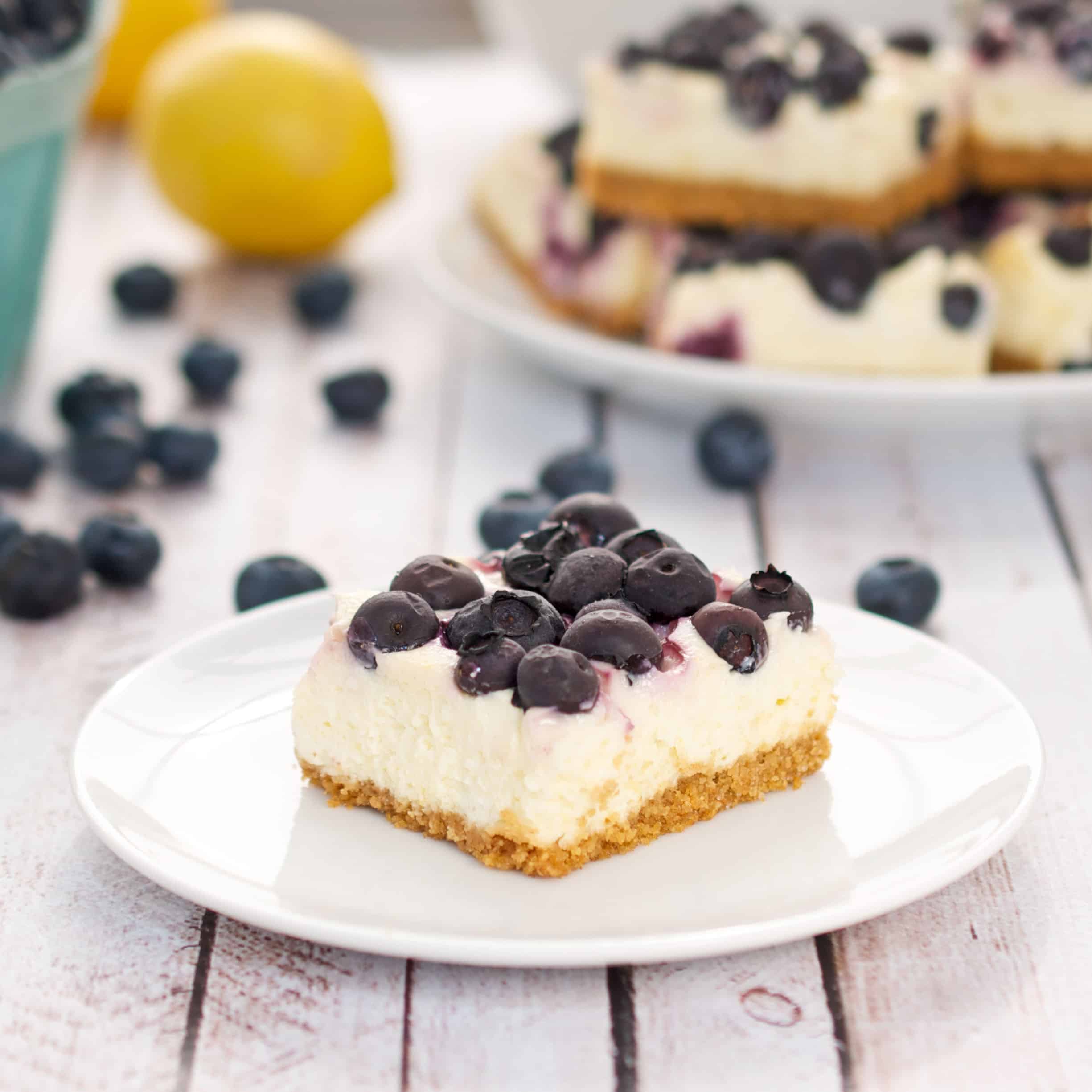 Get new recipes weekly plus our FREE ebook!