Bacon-Cheddar Potato Skins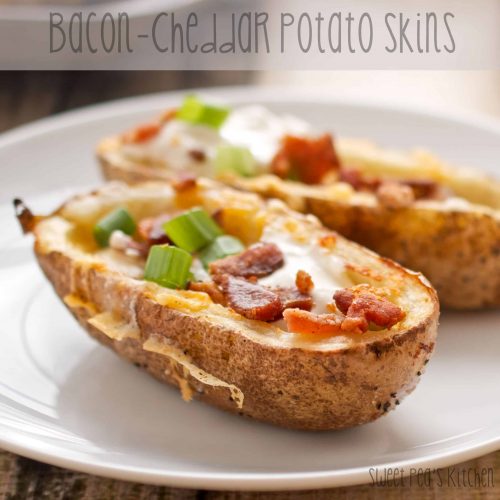 It's that time of year again, Super Bowl Sunday is upon us. Although I don't really follow the NFL (collage football is more my speed) I still enjoy watching the Super Bowl every year. It's a great excuse to get together with friends and eat what I like to call football food– you know what I'm talking about, appetizers, pizza, hot wings and beer.
When thinking of the ultimate football food, loaded potato skins rank supreme! Am I right? They're crispy, melty perfection! 🙂

Potato skins have always been a favorite appetizer of mine.  I always eat way too many of them on my own. Every. Single. Time. I'm not sure what it is-the crispy outside, the creamy inside, the cheese, the bacon, the sour cream? I just don't know why this simple appetizer is so hard to resist.
If the photos haven't convinced you that you need these babies in your life, you just need to try them. They're so much better freshly homemade than any restaurant can throw together. You start with russet potatoes, bacon and cheese. Seriously…some of my favorite things!
This recipe is much quicker and easier than many potato skin recipes I've seen. You start the potatoes in the microwave, then finish them in the oven. They take a fraction of the time for potato skins cooked straight through in the oven. To make them extra crispy and flavorful, the skins are brushed with rendered bacon fat before transferring them to a hot baking pan. Top with cheese, bacon, sour cream and green onions and you have perfection right there my friends. Make them, love them, and cheer on your favorite team this Sunday!
Bacon-Cheddar Potato Skins
Bacon-Cheddar Potato Skins topped with sour cream and scallions.
Ingredients:
4 russet potatoes, scrubbed
Salt and pepper
1 cup shredded sharp cheddar cheese
1 cup shredded Monterey Jack cheese
1 tablespoon cornstarch
6 slices bacon, chopped
Directions:
1. Set rimmed baking sheet inside oven and heat oven to 475 degrees. Prick potatoes all over with fork, place on paper towel, and microwave until tender, 10 to 15 minutes, turning potatoes over after 5 minutes.
2. While the potatoes are in the microwave, cook bacon in large skillet over medium heat until crisp, about 8 minutes. Reserve bacon fat and then transfer bacon to paper towel-lined plate; let cool, crumble and set aside.
3. Cut potatoes lengthwise, use a spoon to carefully scoop out the insides (reserve for another use) leaving about 1/4 of an inch of potato on the skin. Brush exterior of potatoes with reserved bacon fat and season with salt and pepper. Transfer potatoes, skin-side down, to preheated baking sheet and bake until golden brown and crisp, 15 to 20 minutes.
4. In a medium bowl combine cheeses, cornstarch, half of bacon, ½ teaspoon salt, and ¼ teaspoon pepper. Remove potato shells from oven and top with cheese mixture. Return to oven and bake until cheese melts, 2 to 4 minutes. Transfer skins to paper towel-lined plate and sprinkle with remaining bacon. Serve with sour cream and sliced scallions.
One Year Ago: Vegetarian Tuscan Bean Stew
Two Years Ago: Baked Cheese Grits
Three Years Ago: Pumpkin Cranberry Chocolate Chip Granola Bars
8 Responses to "Bacon-Cheddar Potato Skins"
Leave a Comment