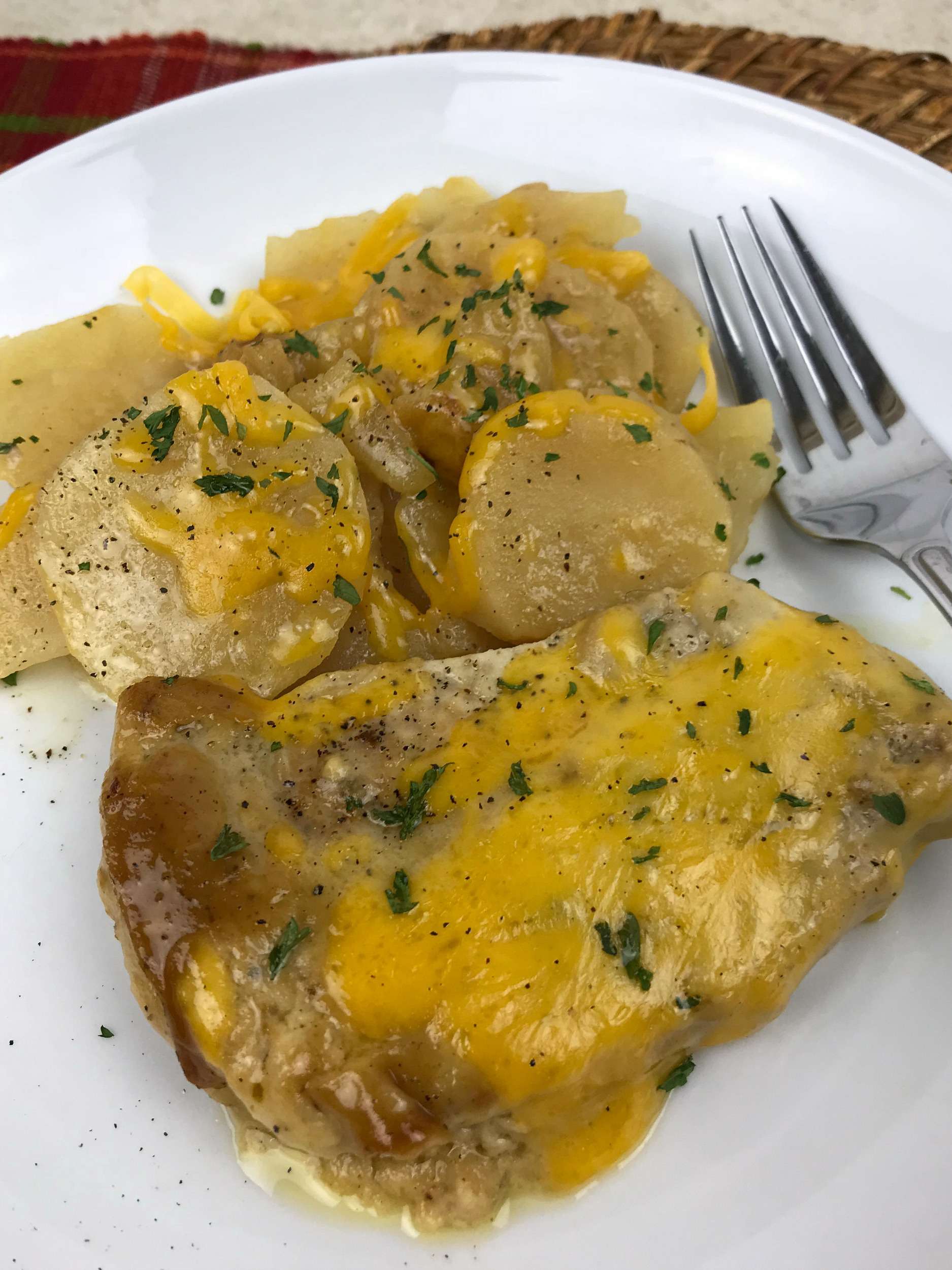 Slow Cooker Pork Chops and Potatoes are an easy pork chop recipe and a real comfort food meal the entire family will love.
What's your go-to comfort food? For me, comfort food is those warm, creamy dishes that warm you up from the inside out, that you crave on cold days and bad days. I would file lots of casseroles (like the Turkey Zucchini Casserole or Ham and Asparagus Casserole) into the comfort food category, along with fried chicken.
These Slow Cooker Pork Chops and Potatoes also fall into the comfort food category for me. They're creamy and cheesy and oh-so-good. Oh, and there's bacon. Isn't everything better with bacon?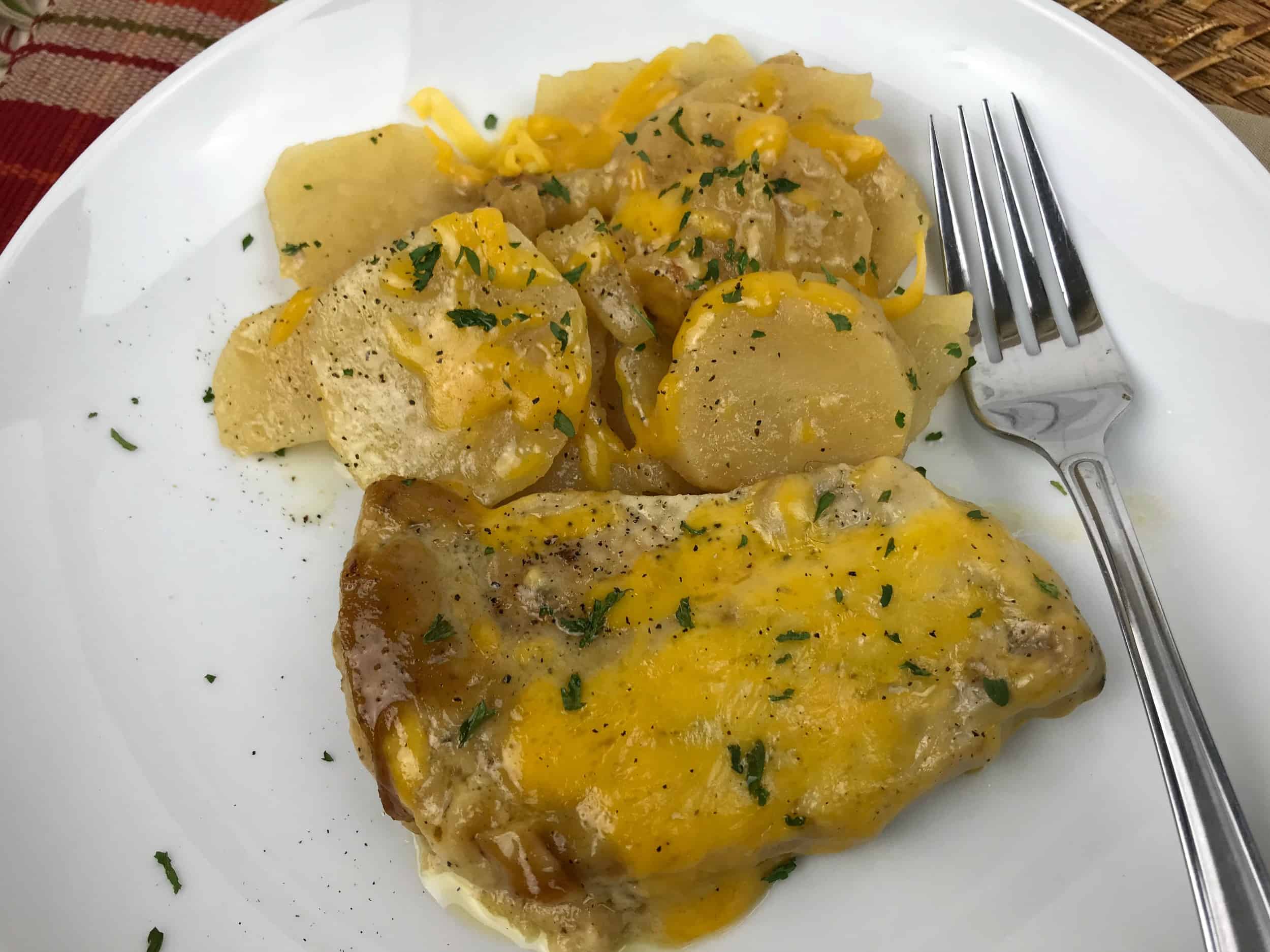 Scroll to bottom for printable recipe card.
Slow Cooker Pork Chops And Potatoes Prep Work
For these creamy pork chops, you want to use thick pork chops. What I often find easiest to do is to buy a whole pork loin and cut the chops myself. You'll want them to be at least an inch thick. An exciting thing about slow cooker cooking is that meat tends to cook faster than vegetables so thin pork chops will result in overcooked pork chops or undercooked potatoes.
This is not a throw everything into the slow cooker and forgets it a recipe. There are a few steps of prep first, though you do have 6 hours to forget about it after.
First, the bacon needs to be cooked. It would possibly cook through in the slow cooker but it wouldn't have the bacon crisp to it….and if it's not crispy, what's the point of bacon?
The pork chops also need to be pre-cooked. You just want to brown them for a few minutes on each side, to add some texture and flavor. Do not cook them all the way through; you just want the sides to be brown.
The creamy soup and cheese mixture should also be prepared outside of the slow cooker, using the same pan the bacon and pork chops were cooked in.
After this step, you do get to throw it all in the slow cooker and forget it! You'll want to put the potatoes in first, seasoning them well, then the pork chops, and then the gravy mixture.
I've found 6 hours on low is the perfect amount of time to get perfectly-cooked creamy pork chops. Four hours on high may also work but can result in slightly tough pork chops and 8 hours on low has also been too much.
How To Make Slow Cooker Pork Chops & Potatoes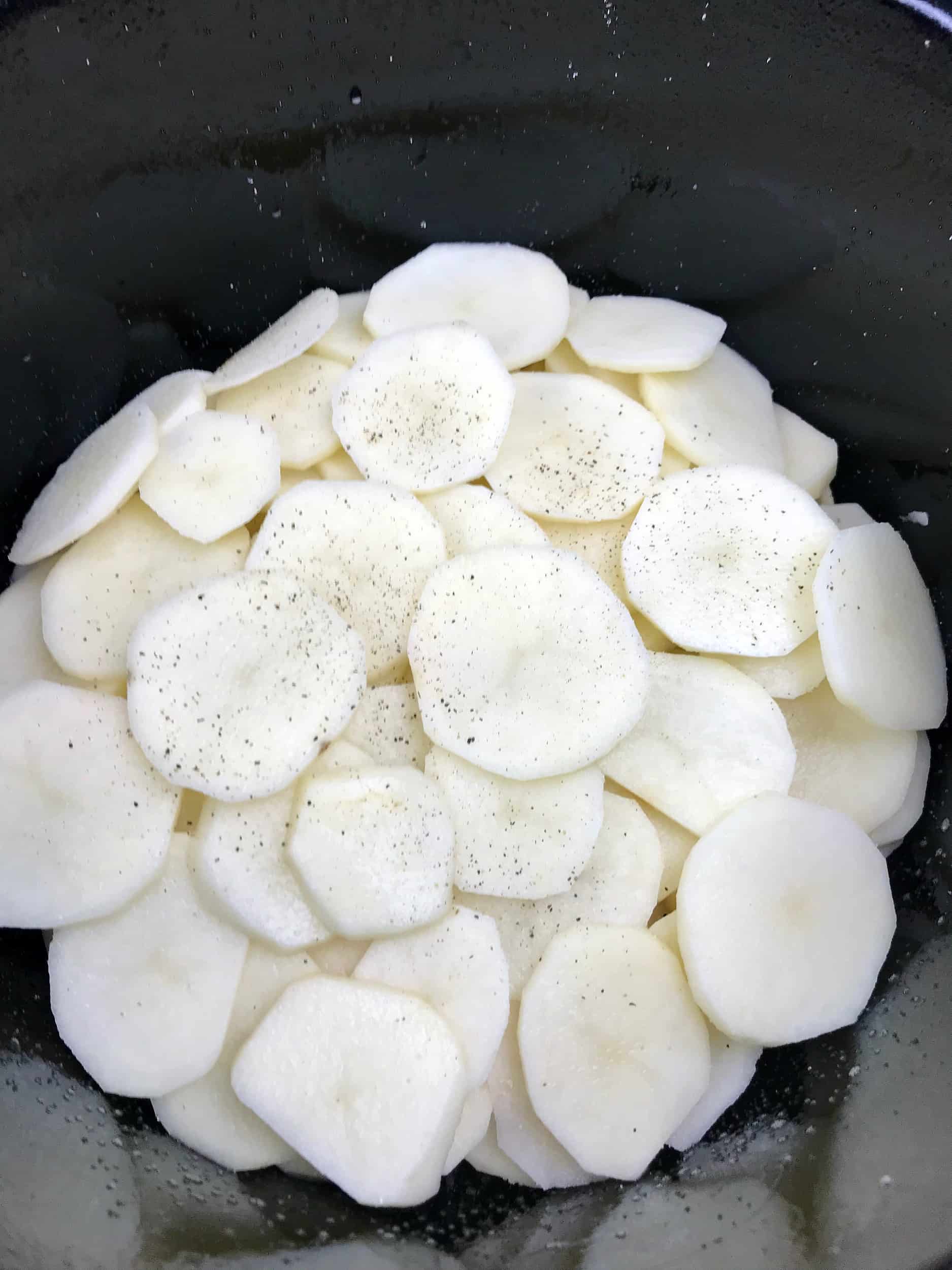 Layer sliced potatoes, seasoned with salt, pepper and garlic powder in the bottom of the slow cooker.
TIP: When you slice the potatoes, make them relatively thin. This will allow them to cook evenly and you won't end up with any underdone ones.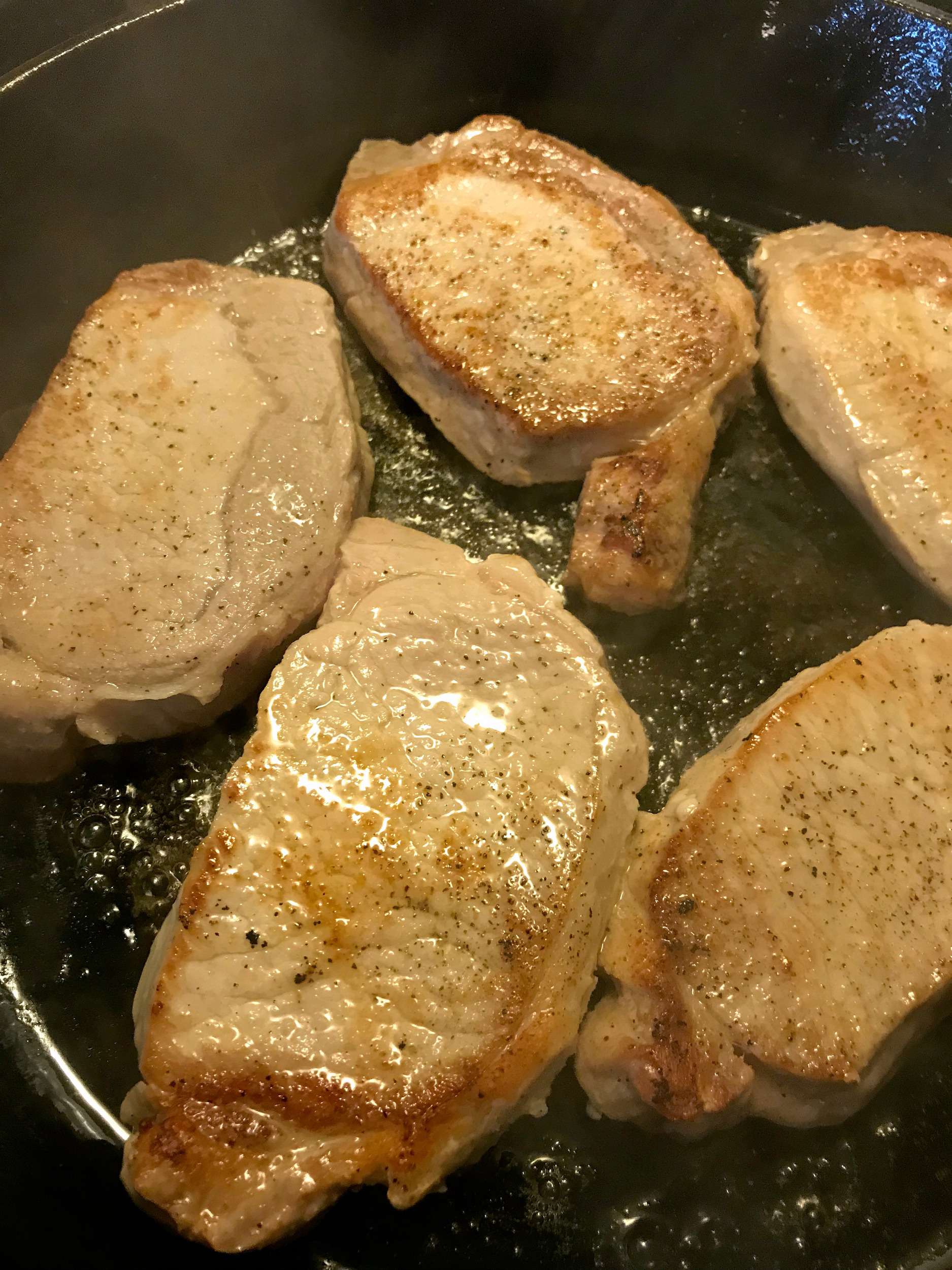 In a pan, lightly cook the pork chops so that each side is brown. Do not cook all the way, just give them a nice sear. The fragrance of the pork chops should be making your hungry by now!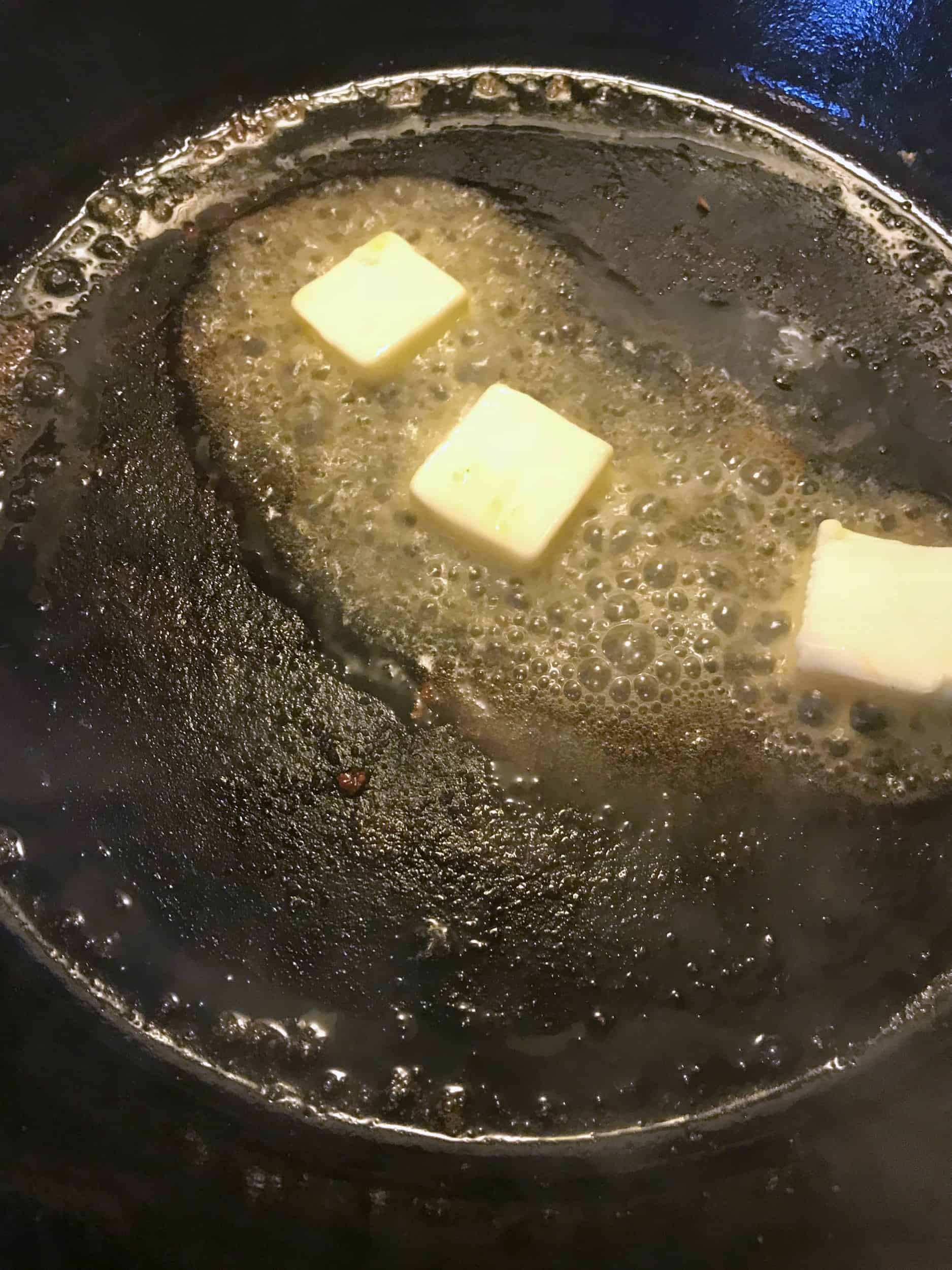 Remove grease. In the same pan, add butter, flour, and milk.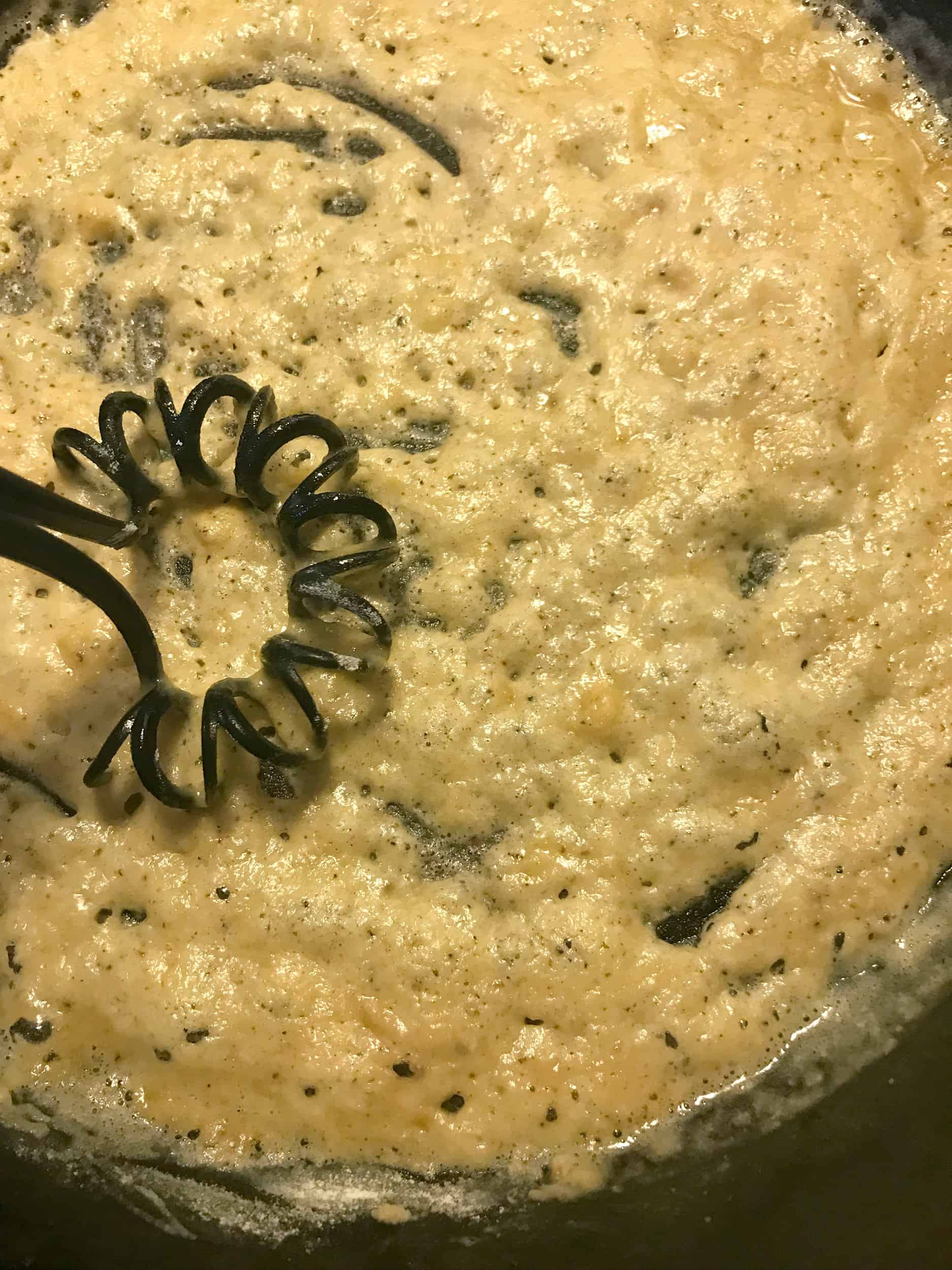 Whisk sauce mixture for 1 minute. This sauce is what really enhances the pork chops and gravy.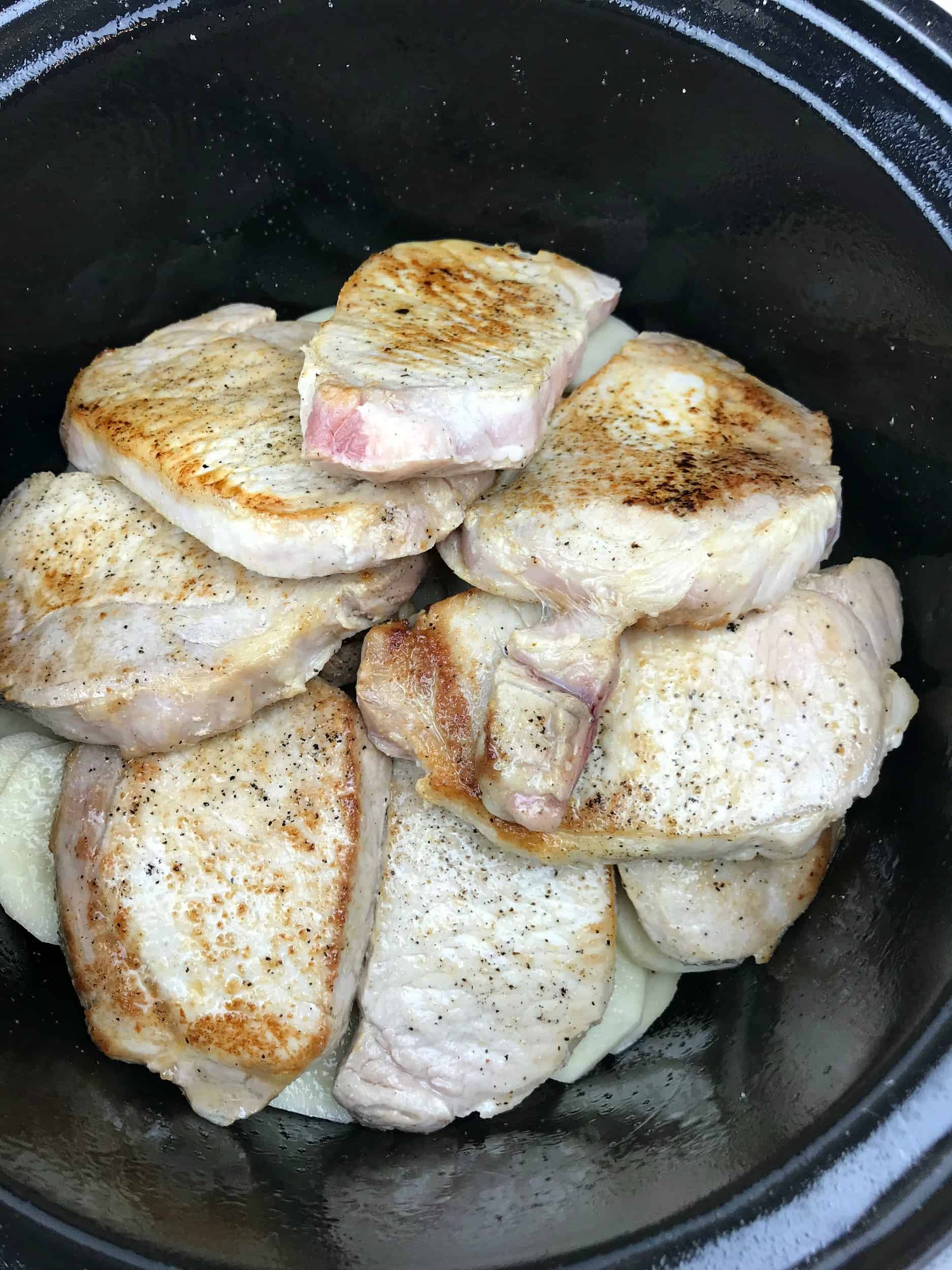 Layer the pork chops on top of the potatoes in the slow cooker.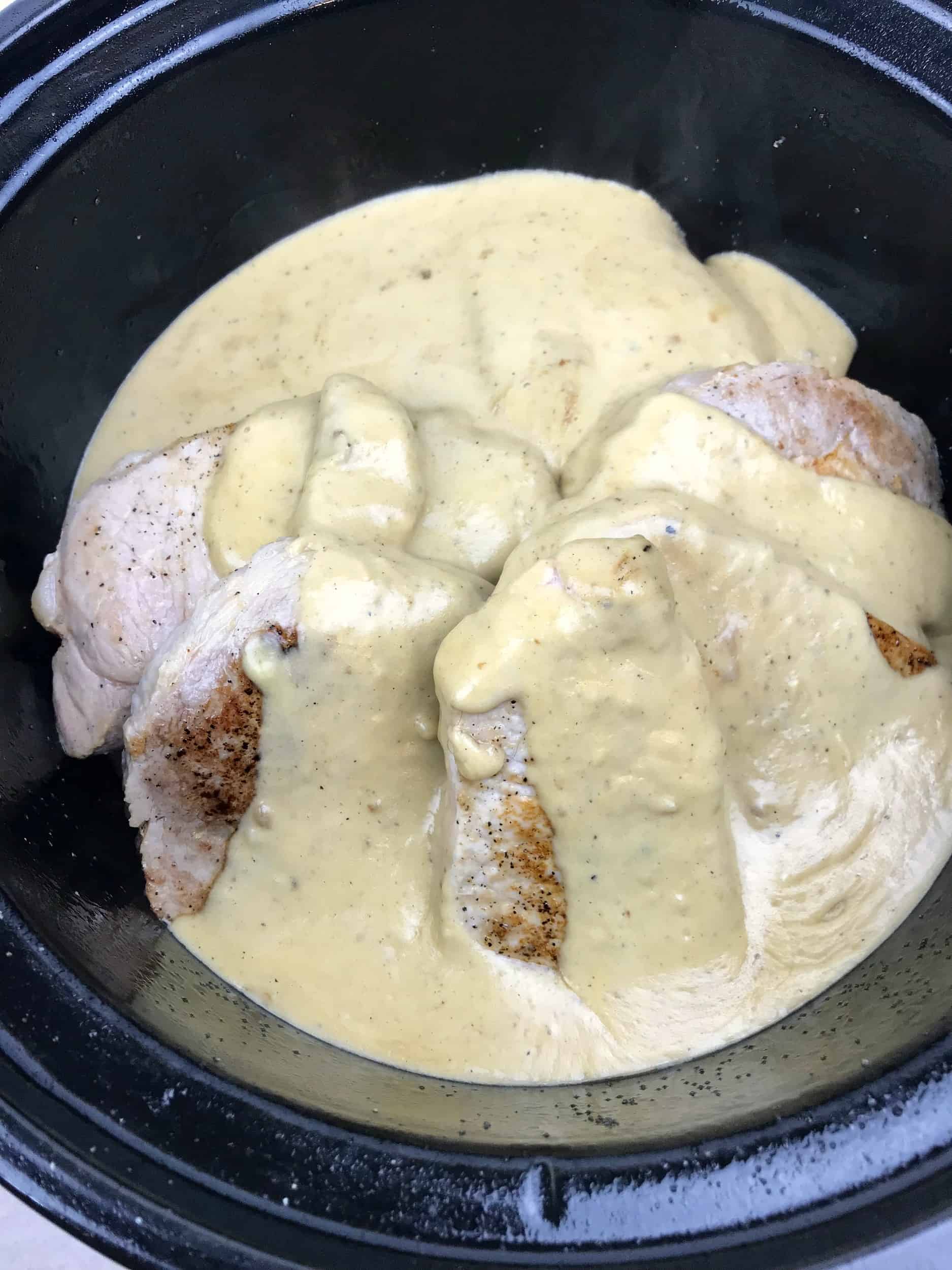 Pour the sauce mixture over the pork chops.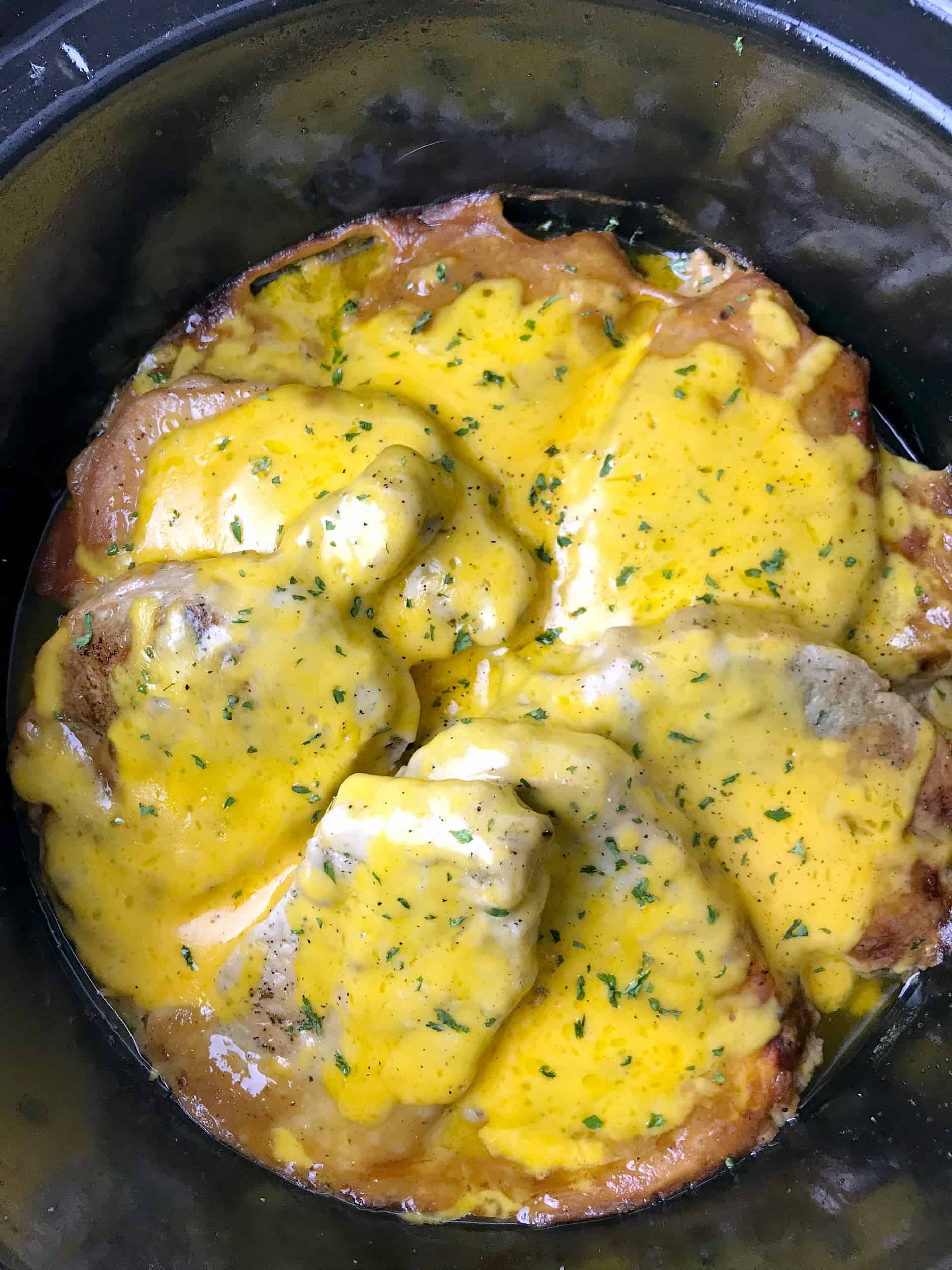 When the creamy pork chops and potatoes have finished cooking, top with cheese and bacon.Holy yum!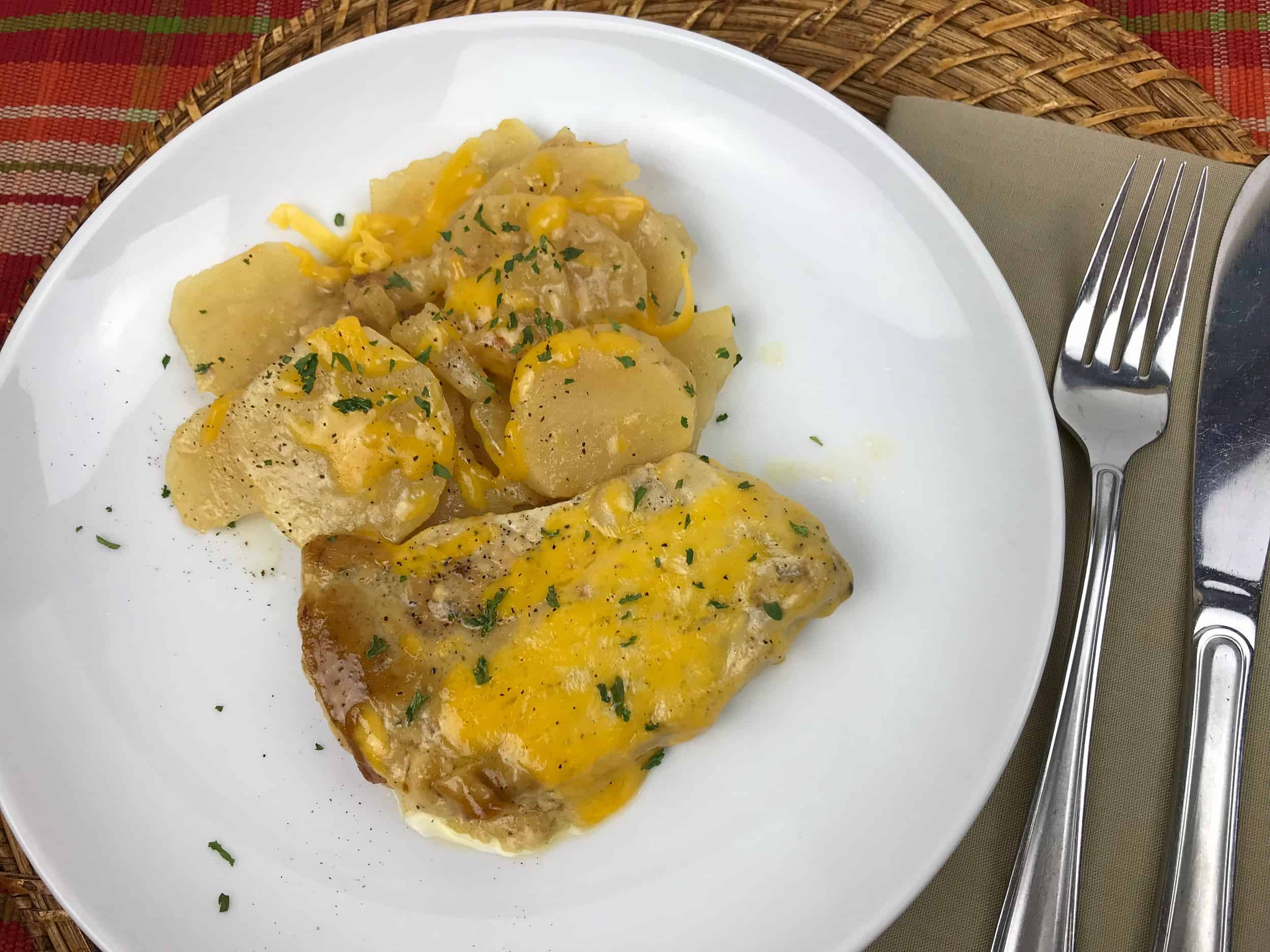 Enjoy pork chops and potatoes warm. Every bite is so yummy you are going to want to add these to your regular recipe rotation!
How Can I Tell If Smothered Pork Chops Are Done?
The smothered pork chops are going to be tender and juicy if you pierce them with a fork. Check the cooked pork chops with a meat thermometer. Make sure the temperature is at least 145 degrees and inserted into the thickest part of the chop. You shouldn't eat undercooked pork because you can get very sick.
If the slow cooker pork chops are a little pink in the center, don't be concerned. As long as they have been heated to the proper temperature, then they are fine. While other meats shouldn't be eaten if they have a pinkness to them, pork chops aren't that way.
Why Did My Crock Pot Pork Chops Turn Out Tough?
Cooking pork chops can be a little tricky! Sometimes slow cookers vary in temperatures, and that can affect how the smothered pork chops turn out. If you don't cook them long enough, they will be tough and unpleasant. When you cook them too long, then you may end up with a dry pork chop, and no one wants that either.
When Making Smothered Pork Chops Do I Have To Use Boneless Chops?
No, you can make smothered pork chops that have bones in them without any worries. You can follow the recipe exactly as it has been written and you are good to go! I just prefer the texture and taste of cut pork loins without the bones. Use up whatever you have on hand for these delicious slow cooker pork chops and potatoes.
Do I Need To Brine Pork Chops?
No, you do not have to brine these slow cooker boneless pork chops before cooking. However, if you want to brine the pork chops, you certainly can. If you are wondering how to brine pork chops, I will fill you in. The best way to brine the chops is to layer them in a glass baking dish. Then sprinkle with four tablespoons of salt along with four cups of water on top. Let them soak in the brine solution for 1/2 – 2 hours. This will give you some extra tender and flavorful, creamy pork chops.
Slow Cooker Boneless Pork Chops Variations
The options are endless when it comes to making slow cooker boneless pork chops! I am excited to share all the possibilities you can try. Here are my top tips to try:
Onions – Toss in a few diced onions and they will seriously taste awesome!
Ranch Seasoning – Pour in a packet of dry ranch seasoning or better yet, make your own and toss it in. Gives you a little tangy zip!
Beef Broth – Trade chicken broth for beef broth for a subtle change. This is a terrific idea if you figure out you ran out of chicken broth!
Garlic – There is no such thing as too-much minced garlic! Toss in a tablespoon or so when you are making the sauce. So yummy!
Mushrooms – Add a few mushrooms, and you will be pleasantly surprised by how amazing it is!
How Do I Know If Pork Chops Have Gone Bad?
There is nothing worse than getting ready to cook a meal like crock pot pork chops only to figure out the meat has gone bad! I wanted to give you a few tips for you to keep an eye on before you begin cooking the pork chops to make sure they are still good.
If there is a strong odor, especially if it smells like ammonia, the meat isn't edible anymore and should be thrown out.
The coloring will change once bacteria is growing and spoilage is setting in. If you see that the pork cutlets are green, brown, or gray, they are no longer suitable.
Mold is a visible sign, but it isn't usually one of the first signs when it comes to fresh meat. So if you notice mold, then the pork chops are way past their prime.
The texture of fresh pork chops is firm. If they are sticky, hard or even really dry, then the pork chops are not safe to eat.
What Do I Do With Leftover Creamy Pork Chops?
If you end up with leftover creamy pork chops, you can refrigerate them for 3-4 days. You can also place them in a freezer safe container for 4-6 months. No matter how you store the easy crock pot pork chops, make sure you put them in an airtight container. If air gets to the chops, they are going to lose a lot of quality and will not taste good.
The best way to reheat leftover easy pork chops is to bake them at 325 degrees for 15 – 20 minutes. You want to heat them really slow and with low heat because they will dry out. I also recommend covering them with foil and adding a little bit of broth (chicken, beef or vegetable) to the baking dish. This will help produce some steam and lock in moisture.
Another option is to heat leftovers on in a cast iron skillet. Again, I would add some broth and heat them slowly on the stovetop. Make sure to cover them with a lid, so they don't dry out.
What Goes Good With Crock Pot Pork Chops?
The great thing about this comforting dish is that it is pretty much a meal in one. You don't have to serve a lot of extras with it. When we want a little bit of extra food, I will serve some of the following:
Dinner Rolls
Bread & Butter
Steamed Broccoli
Steamed Cauliflower
Green Beans With Bacon
Asparagus
Now, let's pin this delish Slow Cooker Pork Chops and Potatoes recipe for later:

Pin this recipe now to remember it later
Slow Cooker Pork Chops and Potatoes
Slow Cooker Pork Chops and Potatoes are an easy pork chop recipe and a true comfort food meal the entire family will love.
Ingredients
8

thick-cut pork loin chops

2

pounds

potatoes

,

peeled and thinly sliced

1/2

teaspoon

garlic powder

2

cups

milk or chicken broth

2

cups

sharp cheddar

,

divided
Want to save this recipe? Enter your email below and we'll send the recipe straight to your inbox!
NOTE: By saving this recipe, you agree to join our weekly recipes newsletter.
Instructions
In a large skillet over medium heat, cook bacon. Set bacon aside when done and increase heat under skillet to medium-high.

Salt and pepper both sides of pork chops. Add to skillet with the bacon grease in small batches browning slightly on both sides. Do not overcook or pork chops will be dry.

Meanwhile, spray crock with non-stick cooking spray. Add a short layer of sliced potatoes and add a sprinkle of salt, pepper, and garlic powder. Repeat layers until all potatoes are in the slow cooker crock.

Add the pork chops to the slow cooker over the potatoes.

Carefully remove excess grease from the skillet but do not clean. Add butter. When the butter melts, stir in flour and bring to a bubble, stirring constantly. Slowly add your choice of milk or chicken broth, whisking constantly for about 1 minute as the mixture thickens slightly. Stir in 1 cup of cheese.

Pour the gravy mixture over the pork chops. It will sink into the potatoes as the dinner cooks.

Cover and cook on low for 6 hours. Do not overcook or pork chops will be dry.

When done, remove lid and sprinkle with remaining cheese and crumbled bacon (if desired). Replace lid until cheese melts. Serve.
Follow me on Pinterest for daily delicious recipes!
3 Favorite Slow Cooker Recipes To Try Asap:
Favorite Slow Cooker Pot Roast – There's a reason it's called the favorite pot roast in our home. It's pulls apart tender (as any pot roast should be), full of flavor and easy to make. True comfort food you can't go wrong with!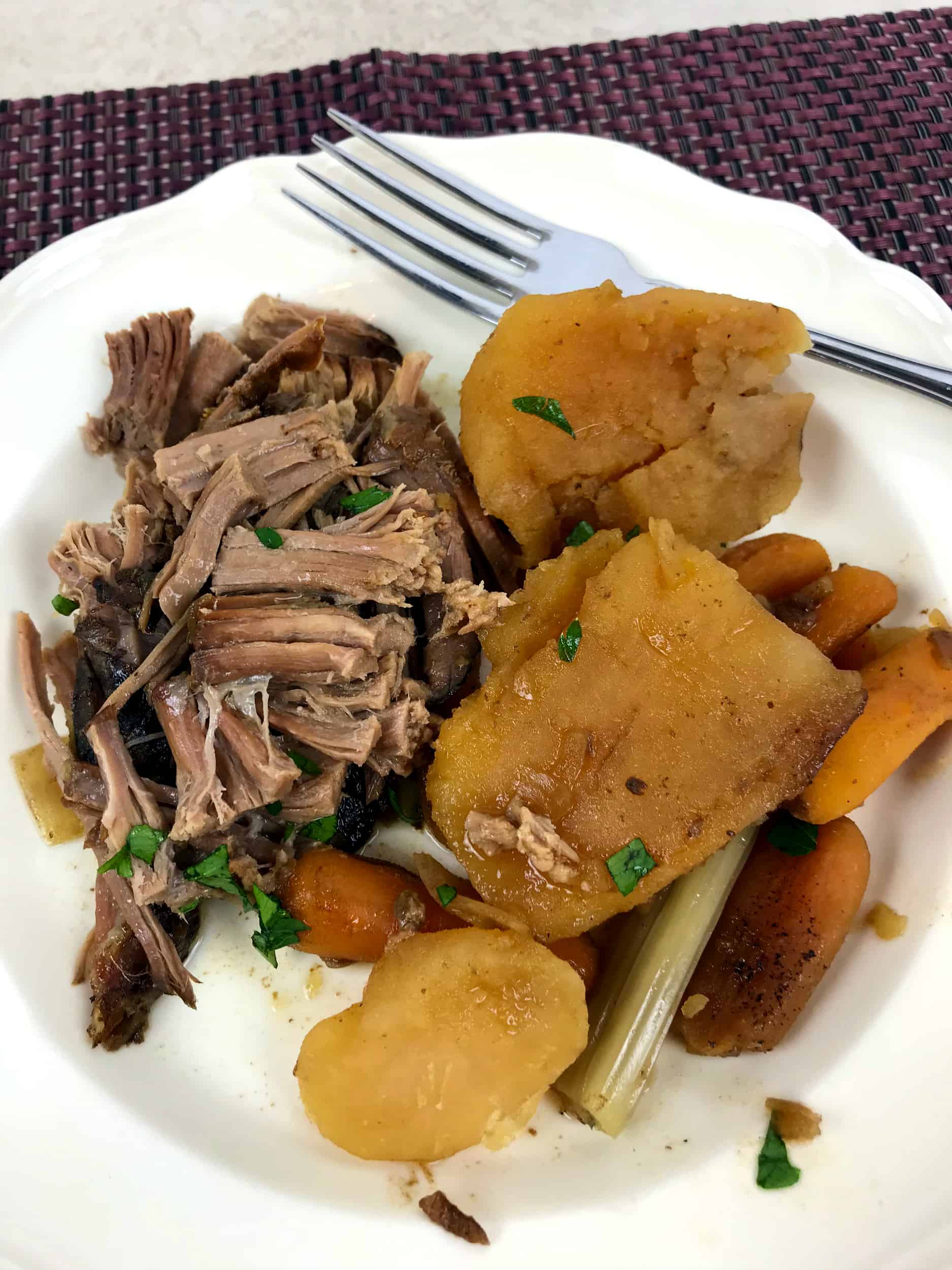 Slow Cooker Mississippi Pot Roast – Made with only a handful of ingredients, it's a tender, melt-in-your-mouth pot roast that the entire family will love.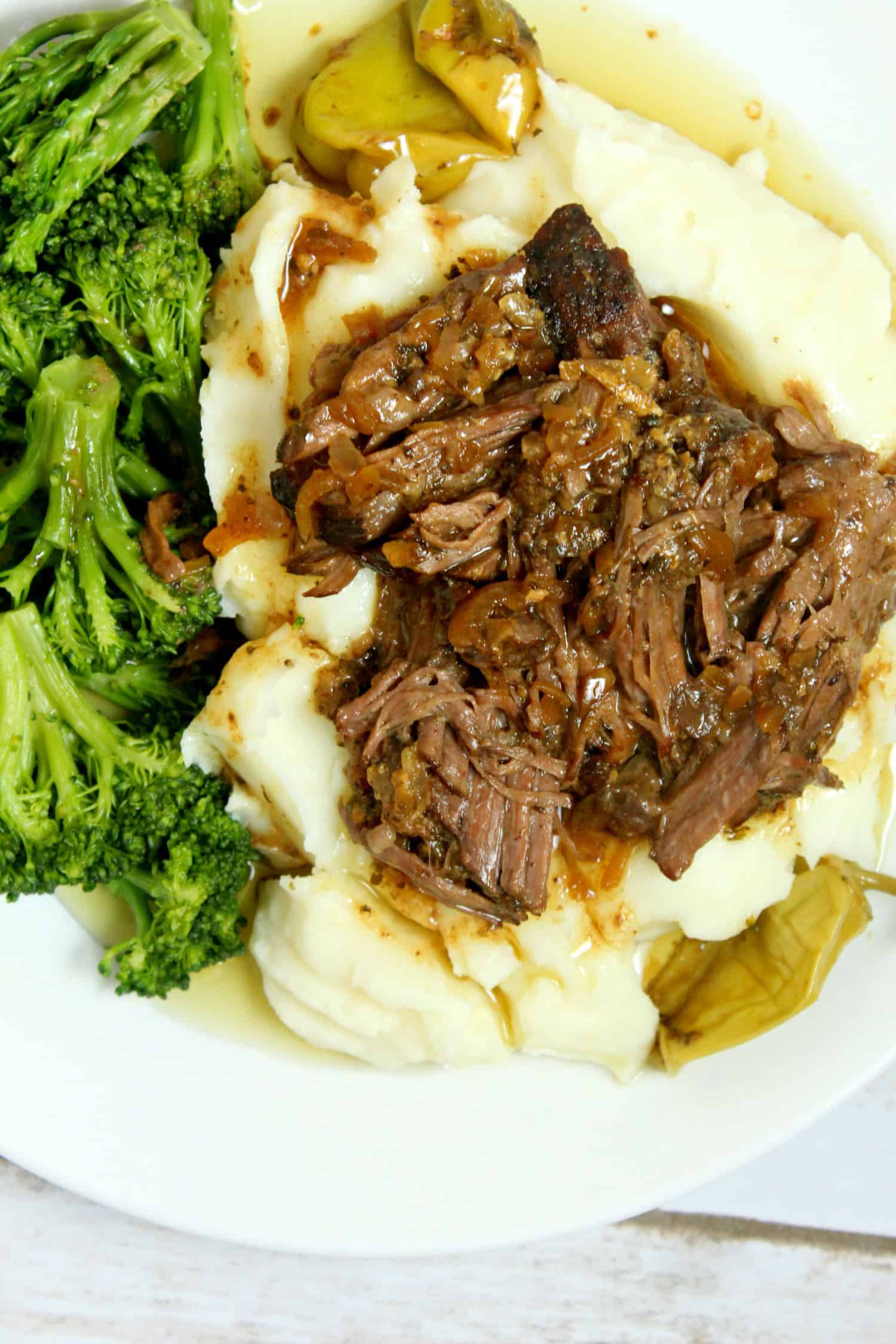 Instant Pot Roast – This Instant Pot Roast is an easy all-in-one hearty Instant Pot meal, perfect for cool nights!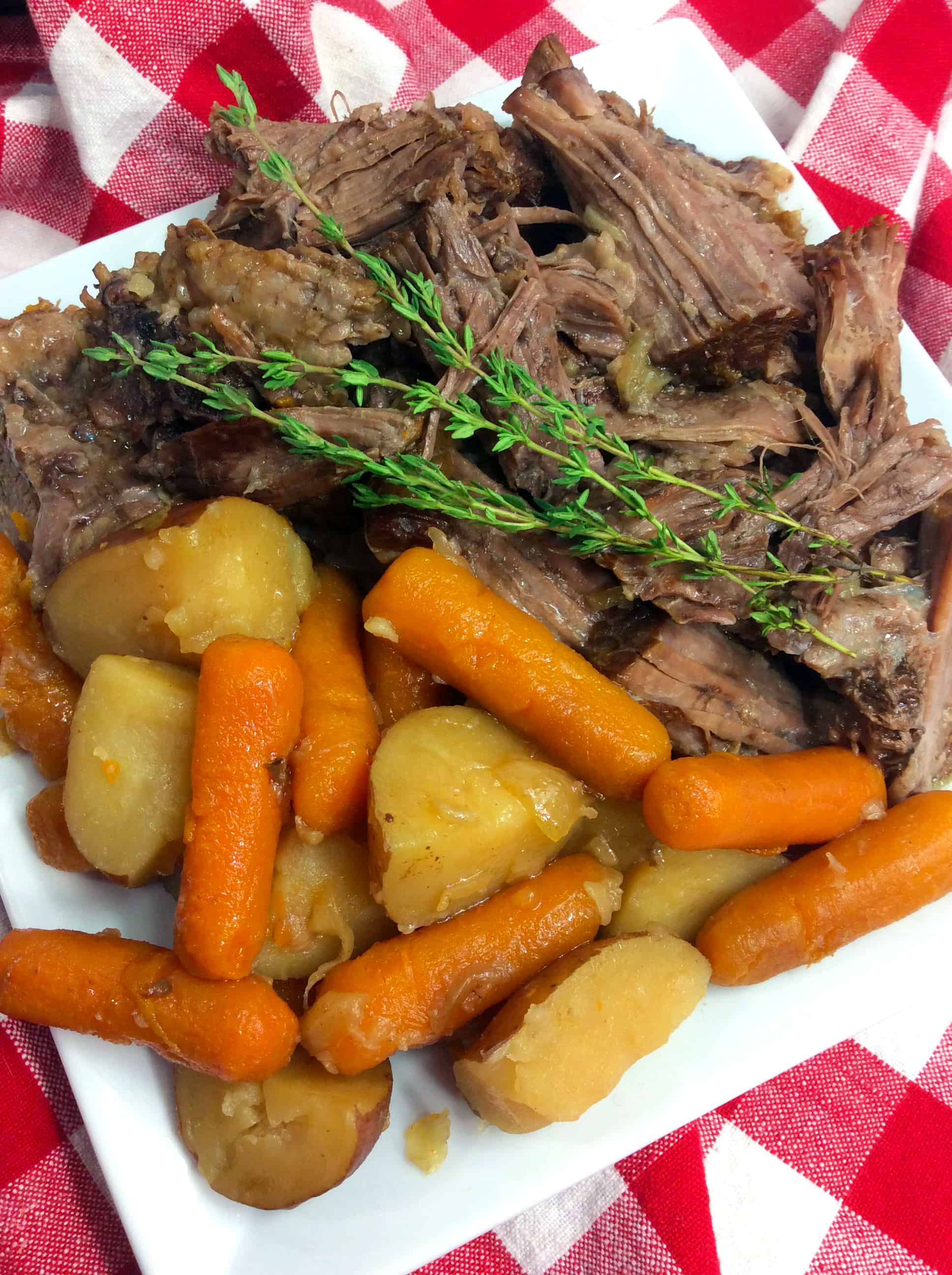 Have you ever tried slow cooker pork chops?
Get new recipes weekly plus our FREE ebook!