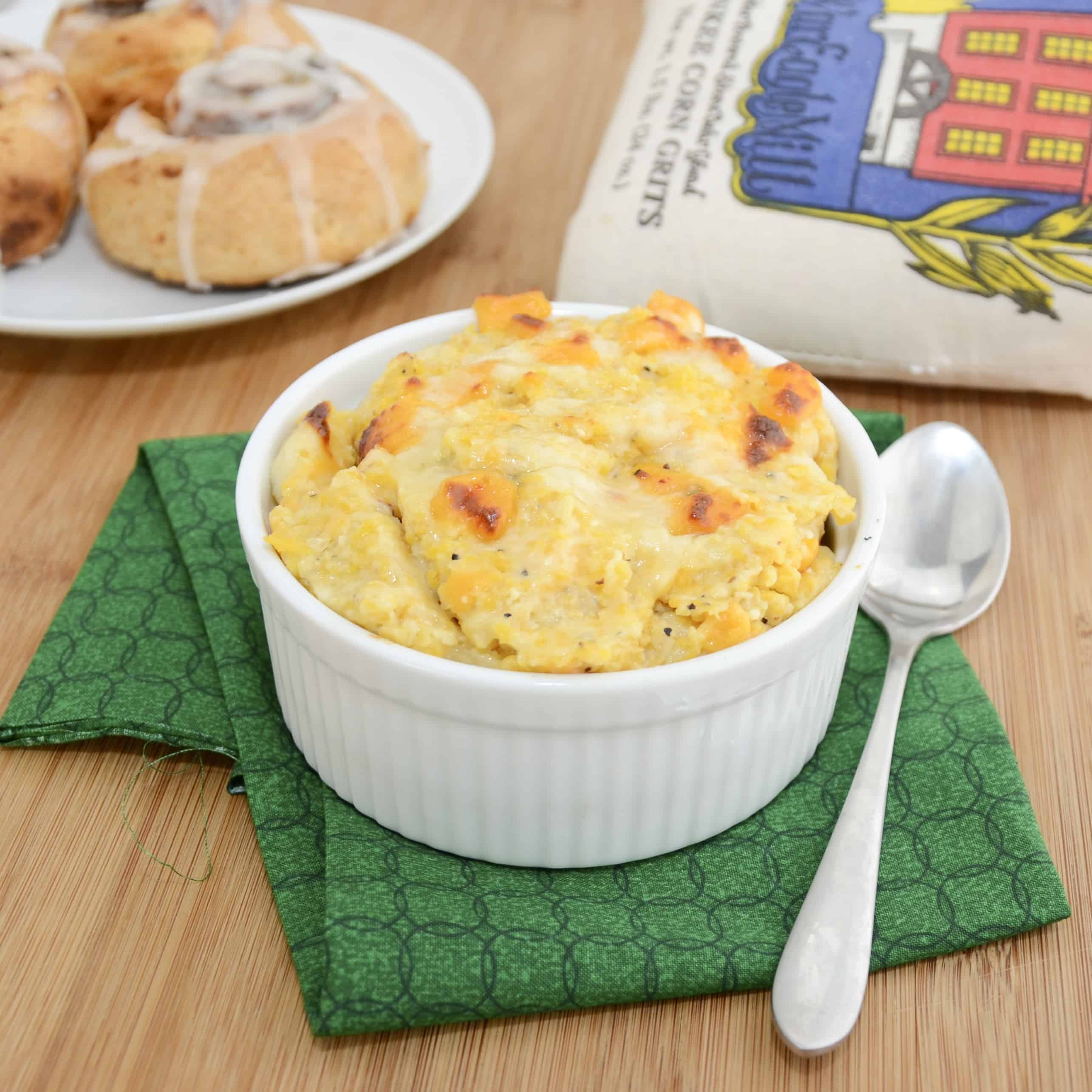 Back in November my husband and I traveled down to Eureka Springs, Arkansas to do some hiking in the Ozark Mountains. Both of us love the outdoors and hiking, but here in central Illinois we are surrounded by nothing but corn fields. If we want to do some decent hiking we have to travel at least an hour to do so. My husband had a few vacation days so we just packed up and drove down to Arkansas. We had heard so much about how wonderful the Ozark mountains were and since neither of us had ever been there we decided to go. We even took our dogs with us! We stayed at Arsenic and Old Lace, a wonderful bed and breakfast nestled in a hillside of Eureka Springs. The innkeepers were exceptionally nice and prepared some amazing breakfasts for us each day. After a long day of hiking on the Pigeon Roost and Hidden Diversity Trails we drove to the nearby War Eagle Mill and bought some stone ground flour, cornmeal, and grits. As soon as I spotted the grits I got so excited, I have had this recipe for cheese grits bookmarked for so long but I haven't been able to find stone ground grits in any of my local stores.
My mom was born and raised in the south, so growing up we had our fair share of Southern food. Grits were always one of my favorites. Whether they were cheese grits, shrimp and grits, or even plain grits with loads of butter-I loved them. Unfortunately all you can find here in central Illinois is instant grits. The weekend that we came home from Arkansas I made a big creamy bowl of these grits. They are incredible!
The sharp Cheddar and mild Monterey Jack creates the perfect balance of creaminess and flavor. I have even made them with pepper jack cheese and it gives the dish a spicy little kick.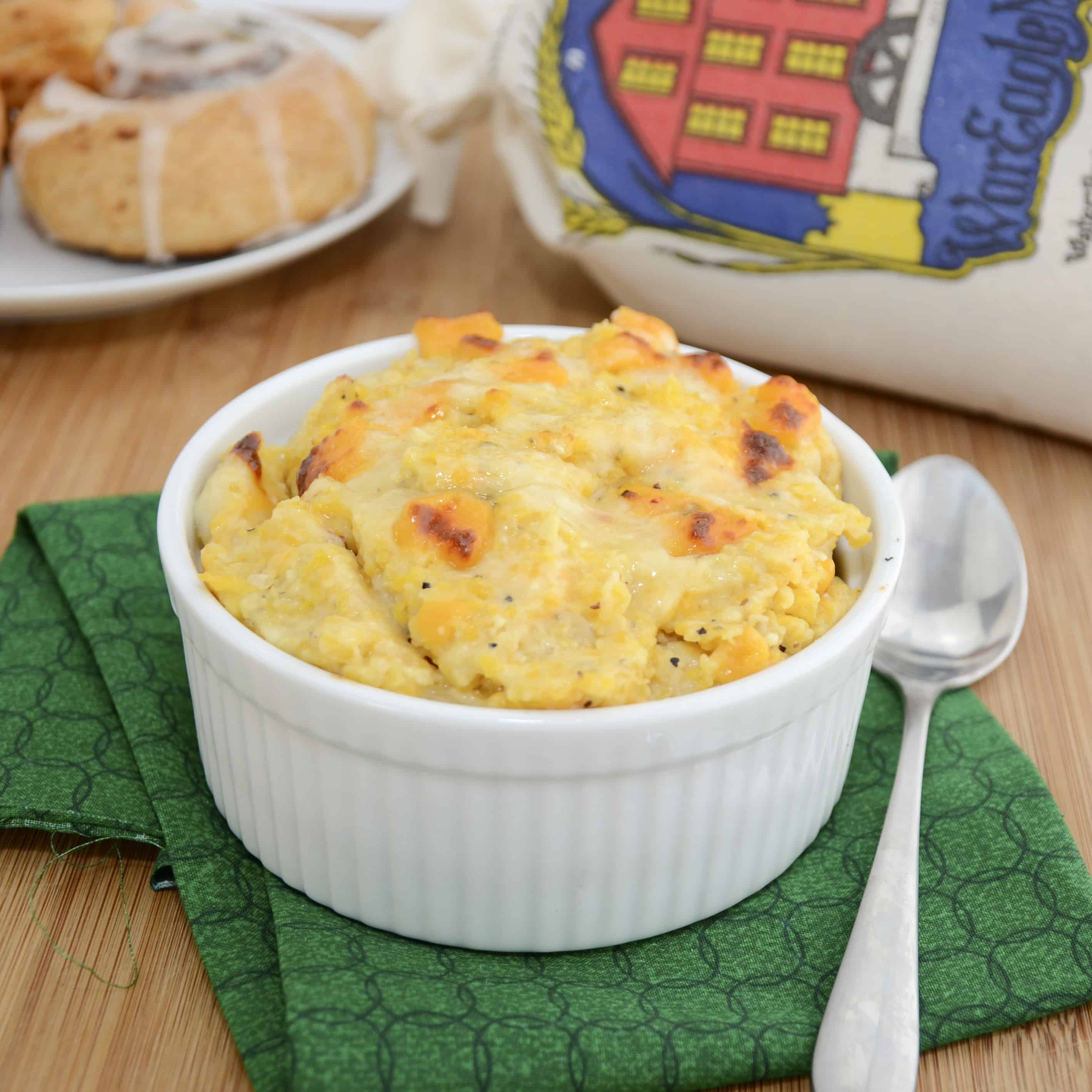 Pin this recipe now to remember it later
Ingredients
1

teaspoon

ground black pepper

1

cup

,

packed extra sharp cheddar cheese, about 4 ounces, divided

1

cup

,

packed Monterey Jack cheese, about 4 ounces, divided

1

tablespoon

unsalted butter
Want to save this recipe? Enter your email below and we'll send the recipe straight to your inbox!
NOTE: By saving this recipe, you agree to join our weekly recipes newsletter.
Instructions
Lightly butter the bottom and sides or a 10-inch skillet, or int 4-inch ramekins.

In a medium saucepan over medium-high heat bring milk and water, covered, to a boil, about 5 minutes. Reduce heat to medium and add the grits, salt, pepper. Stir constantly until grits are the consistency of thick soup, about 8 minutes. Reduce to a simmer, stirring every 2 minutes, and cook 10 to 15 minutes to let the grits thicken further. Cook for 10 to 15 minutes longer, stirring constantly to prevent grits from sticking to the bottom of the pan. Grits will be really thick.

Remove from heat and stir in ¾ cup of cheddar cheese, ¾ cup Monterey Jack cheese, and the butter. Pour the grits into prepared skillet or ramekins and top with remaining cheese. Turn over to broil.

Place directly under the heating element for 2 to 3 minutes, or until the cheese topping is melted and starts to brown. Serve immediately.
Follow me on Pinterest for daily delicious recipes!
Get new recipes weekly plus our FREE ebook!