This is the Best Ever Hot Cross Buns Recipe! These soft little hot cross buns are the perfect combination of a dinner roll and a cinnamon roll. They are like little pockets of food heaven that is irresistible and incredibly simple to make.
When you sink your teeth into a warm bun, you'll figure out pretty quickly that they are impressive and delicious.
Scroll to bottom for printable recipe card.
Hot Cross Buns Recipe
Hot Cross Buns are an Easter treat traditionally served on Good Friday. If you've never had a homemade hot cross bun, you're missing out. Tender yeast rolls packed with warm spices and topped with a simple glaze. Celebrate Good Friday with a batch of these freshly baked Hot Cross Buns!
What is the Significance of Hot Cross Buns?
There are many beliefs involving hot cross buns and Easter. For Christians, they represent the crucifixion of Jesus. They represent the cross that Jesus died on. Some people make them to ward off bad things from happening in the coming year.
Many others will save the hot cross buns and eat them when someone because ill because it's believed to cure them. These are just a few reasons why hot cross buns are popular today. No matter what your belief is, they are worth making because they are so delicious.
What are the Crosses on Hot Cross Buns Made Of?
The crosses on these hot cross buns are made from vanilla, powdered sugar, and milk. It's a glaze that easily goes on top of the buns and adds lots and lots of yummy flavor. It's the perfect subtle sweetness that takes them to the next level of awesome.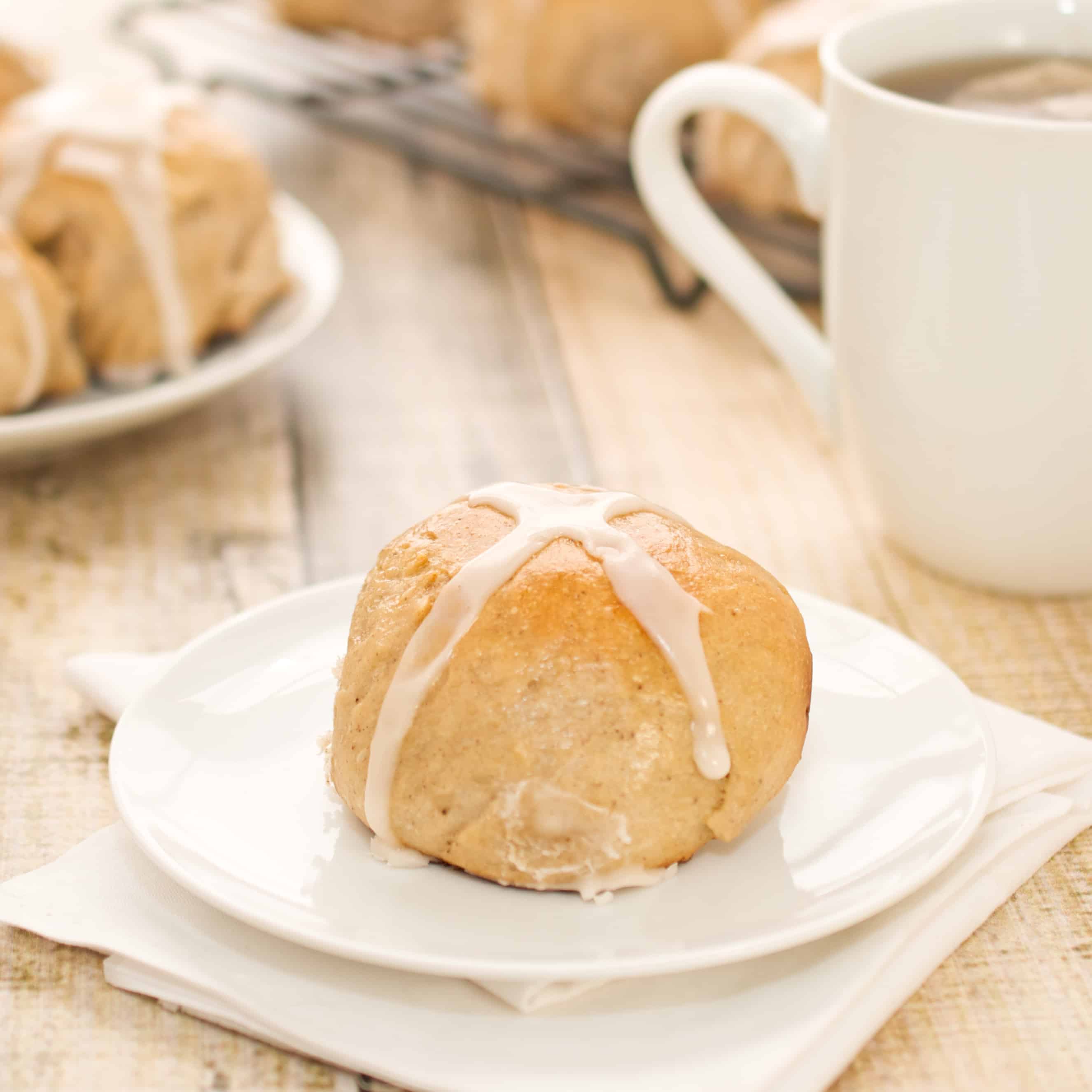 Why Do You Eat Hot Cross Buns on Good Friday?
People make and eat hot cross buns on Good Friday to represent Jesus, sacrificing his life and the end of Lent. Some people will eat them throughout the entire Lent, but most will make them on Good Friday at the very least.
Can These be Frozen?
Yes, you can quickly and easily freeze hot cross buns. Simply place them on a baking sheet, so they aren't touching. Put the pan in the freezer for 2 -3 hours so they can freeze. After the hot cross buns have frozen, remove them from the pan and put them into a freezer bag or container. They will last 2-3 months in the freezer. Defrost on the counter to thaw and enjoy!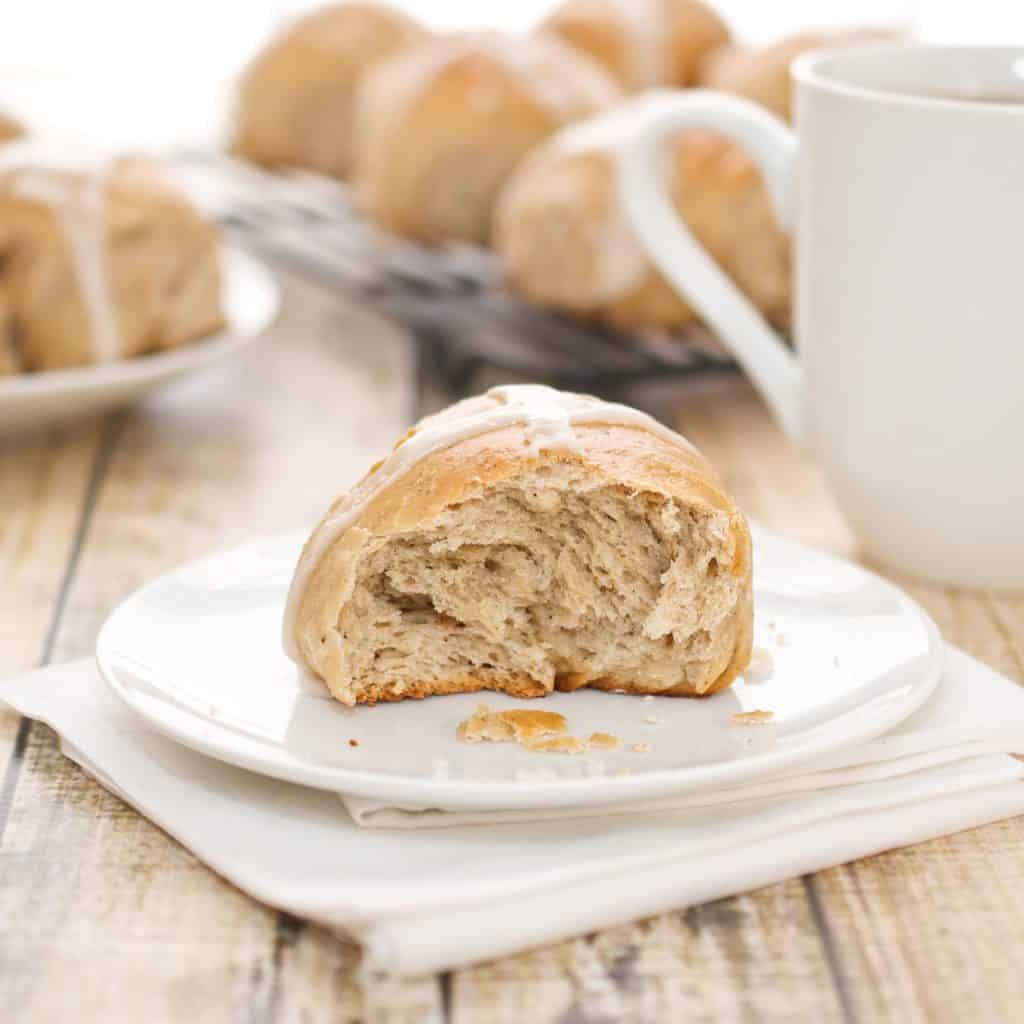 Ingredients
The ingredients are pretty simple for this hot cross buns recipe. You don't have to worry about odd ingredients, and you likely have many of them already. Let's get started:
For the Buns:
Warm buttermilk
Envelope instant yeast
Unsalted butter, melted and cooled until warm
Large eggs, room temperature, lightly beaten
All-purpose flour
Cardamom
Cinnamon
Allspice
Cloves
Nutmeg
Sugar
Table salt
Water
For the Glaze:
Confectioners' sugar
Milk
Vanilla extract
How to Make Hot Cross Buns
I am super excited to share with you how to make one of my most favorite recipes ever! These hot cross buns are something you are going to remember and want to have all the time. Take a look.
First Step: Place the oven rack in the middle position. Warm the oven to 200 degrees. Once it reaches 200 degrees, turn off the oven.
Second Step: Using a stand mixer, combine one tablespoon of sugar and buttermilk. Then pour in the yeast and let the mixture sit for 10 minutes until it becomes foamy.
Third Step: Pour in the melted butter, eggs, 4 cups of flour, cardamon, allspice, cinnamon, cloves, nutmeg, sugar, and salt to the yeast mixture. Combine on medium-low with the dough hook until it's combined well for about 5 minutes.
Note: You may notice after five minutes that the mixture is too sticky. Add in 1 tablespoon of flour at a time until it pulls away from the sides of the bowl.
Fourth Step: Place the dough into a bowl that has been lightly oiled. Cover it will a piece of plastic wrap then put it into the warmed oven. Let the dough ball rise until it's doubled in size for about 2 or 2 1/2 hours.
Fifth Step: Once the hot cross bun dough has doubled in size, put it on a lightly floured surface and let it rest for 10 minutes.
Sixth Step: Warm the oven to 200 degrees and once it comes to temperature, turn it off.
Seventh Step: Prepare a 9 x 13-inch baking pan by lightly greasing it. Divide the dough ball into 12 dough balls. Form them into round balls, then pull the sides to the center and give them a pinch to seal. Place the pinched side down on a counter. Then very lightly grab the dough ball with your cupped hands and rotate your hands in small circles. Place the dough ball on the prepared baking pan and cover with plastic wrap. All the buns to sit in the warmed oven until they have doubled in size, which takes around 1 to 1 1/2 hours.
Eighth Step: Take the rolls out of the oven and warm it to 350 degrees. Take a sharp knife and cut an X shape in the top of each bun. Whisk the egg and water together and lightly brush over the top of the buns—Bake for 25-30 minutes or until they are done and golden brown.
Ninth Step: Once they are done baking, put them on a wire rack for 5 minutes. Combine the confectioners' sugar, milk, and vanilla together. Then drizzle an X into the grooves of the hot cross buns. Allow them to cool or eat them warm.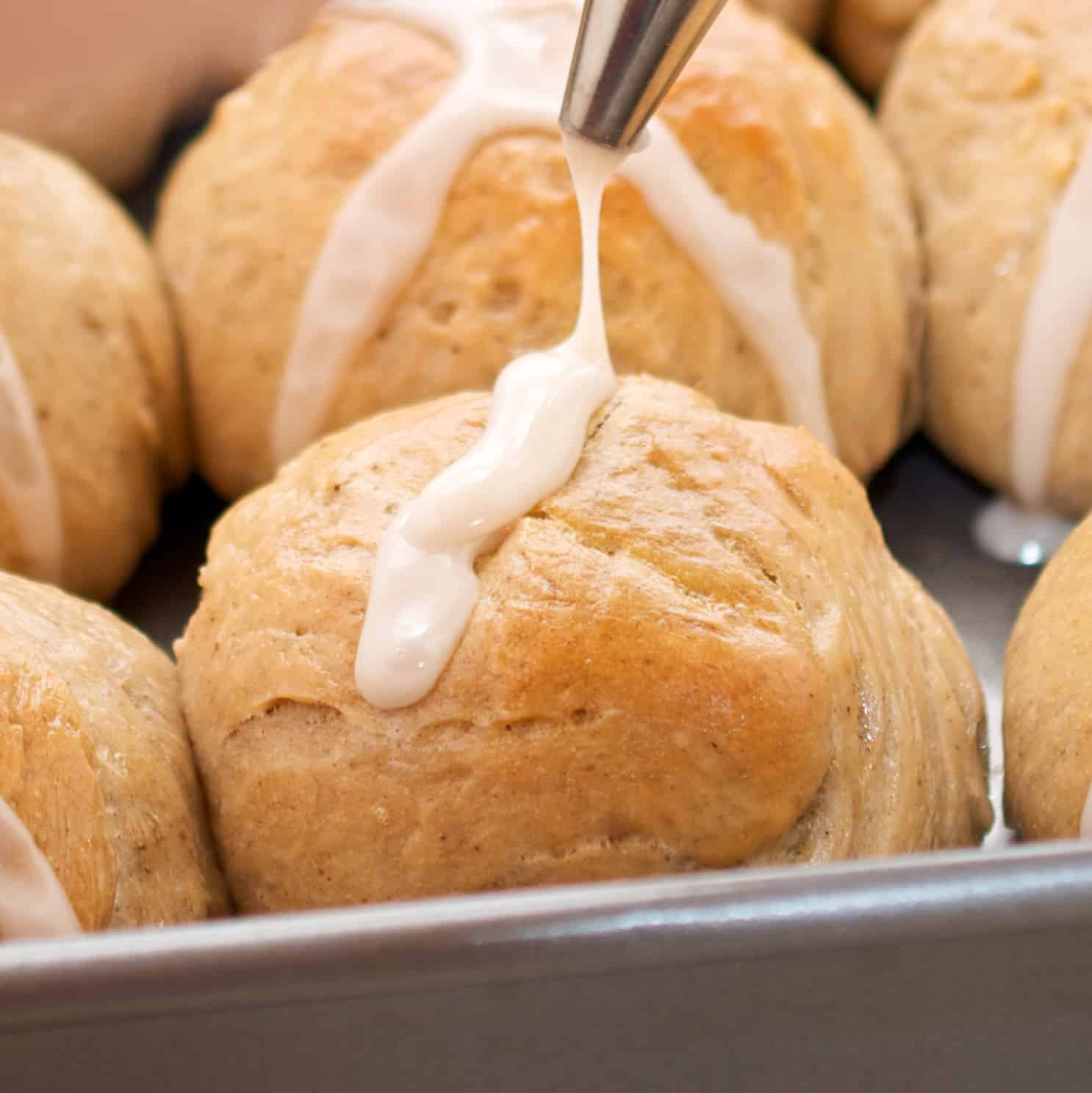 Enjoy!
Now, remember to save this recipe on Pinterest for later 🙂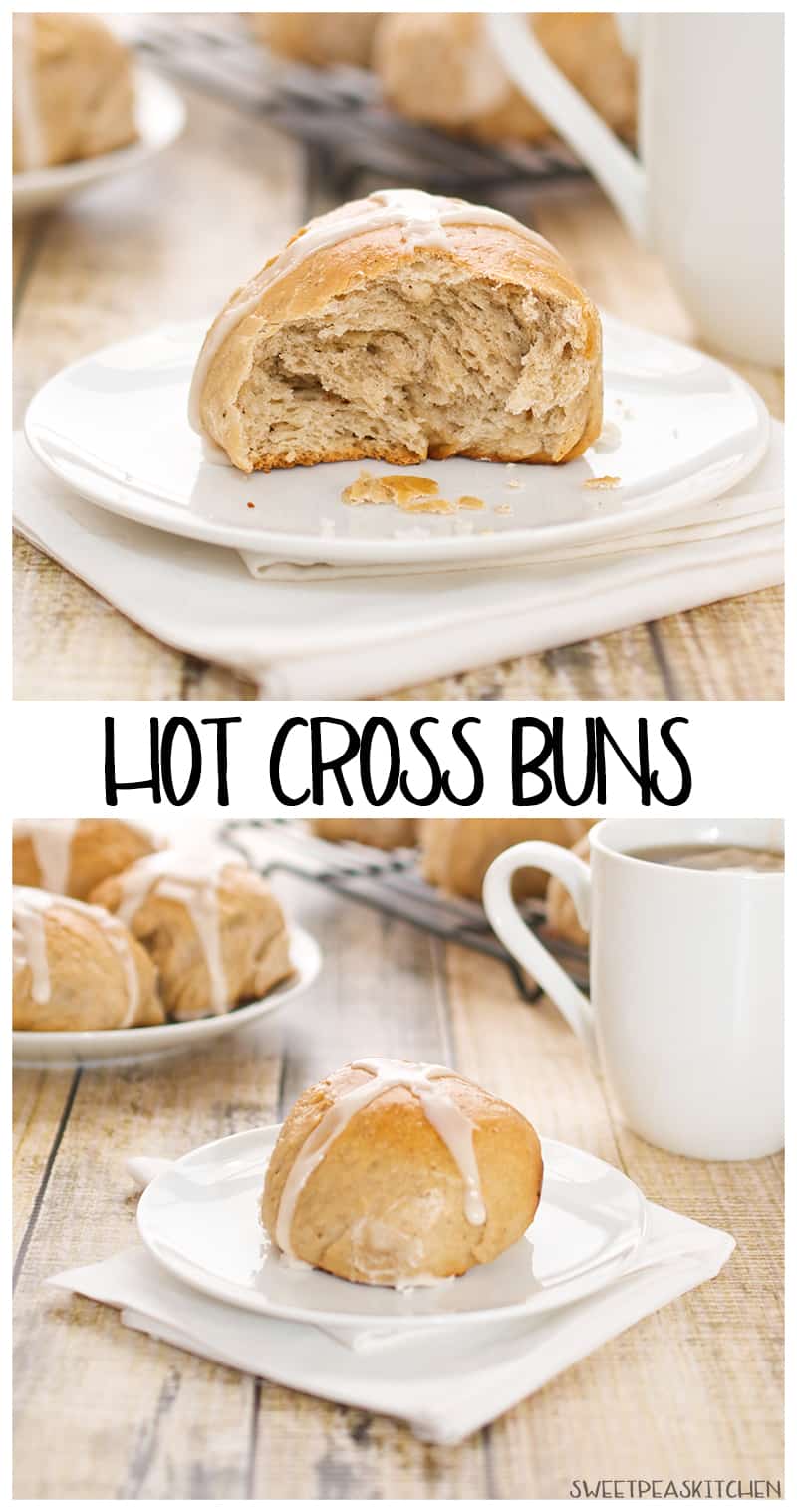 Pin this recipe now to remember it later
Best Ever Hot Cross Buns
These buns are traditional for Easter, however, they taste good all year round. This is the Best Ever Hot Cross Buns Recipe! These soft little hot cross buns are the perfect combination of a dinner roll and a cinnamon roll.
Ingredients
For the Buns:
3/4

cup

buttermilk

,

warm (110 degrees)

1

envelope instant yeast

,

2 1/4 teaspoons

6

tablespoons

unsalted butter

,

3/4 stick, melted and cooled until warm

3

large eggs

,

room temperature, lightly beaten

4 1/4

cups

all-purpose flour

,

divided

1/4

cup

sugar

,

plus 1 tablespoon of sugar, divided

1 1/4

teaspoons

table salt

1

large egg

,

lightly beaten
For the Glaze:
3/4

cup

confectioners' sugar

1/2

teaspoon

vanilla extract
Want to save this recipe? Enter your email below and we'll send the recipe straight to your inbox!
NOTE: By saving this recipe, you agree to join our weekly recipes newsletter.
Instructions
Adjust oven rack to middle position and heat oven to 200 degrees. When oven reaches 200 degrees, shut off.

In the bowl of a stand mixer combine the buttermilk and 1 tablespoon of sugar; add yeast and let rest 10 minutes until foamy.

Add melted butter, eggs, 4 cups flour, cardamom, cinnamon, allspice, cloves, nutmeg remaining sugar and salt to the yeast mixture and mix with the dough hook on medium-low until thoroughly combined about 5 minutes. (If, after five minutes, more flour is needed, add the remaining 1/4 cup flour, 1 tablespoon at a time, until the dough clears the side of the bowl but sticks to the bottom.)

Transfer the dough to a lightly oiled bowl, cover with plastic wrap and place in warm oven. Let rise until doubled in size, about 2 to 2 1/2 hours.

After the dough has doubled in size turn it out onto a lightly floured surface, cover and let rest for 10 minutes.

Heat oven to 200 degrees. When oven reaches 200 degrees, shut off.

To form the buns, lightly grease a 9x13 inch square baking pan. Divide into 12 balls. To shape, take a piece of dough and start forming a round, smooth ball by pulling the sides to the center and pinching to seal. Place, pinched side down, on a counter and lightly cupping your hand around the dough ball, rotate your hand in small circles lightly rolling the ball around the palm of your hand and place in prepared baking pan. Cover pan in greased plastic wrap. Let rise in a warm oven until the rolls have nearly doubled in size and are pressed against one another, 1 to 1 1/2 hours.

Remove rolls from oven and heat the oven to 350 degrees. Using a sharp knife, cut an X through the top 1/4 inch of each bun. Whisk the egg and water together and brush over the buns. Bake until golden and puffed, 25 to 30 minutes.

Transfer to a wire rack and let cool in the pan for 5 minutes. Whisk the confectioners'sugar, milk, and vanilla together and drizzle in an X into the cut grooves of the buns. Serve warm or let cool completely.
Follow me on Pinterest for daily delicious recipes!
Bread, buns, and rolls are some of my favorite things EVER! Take a look at these other incredible recipes for you to try: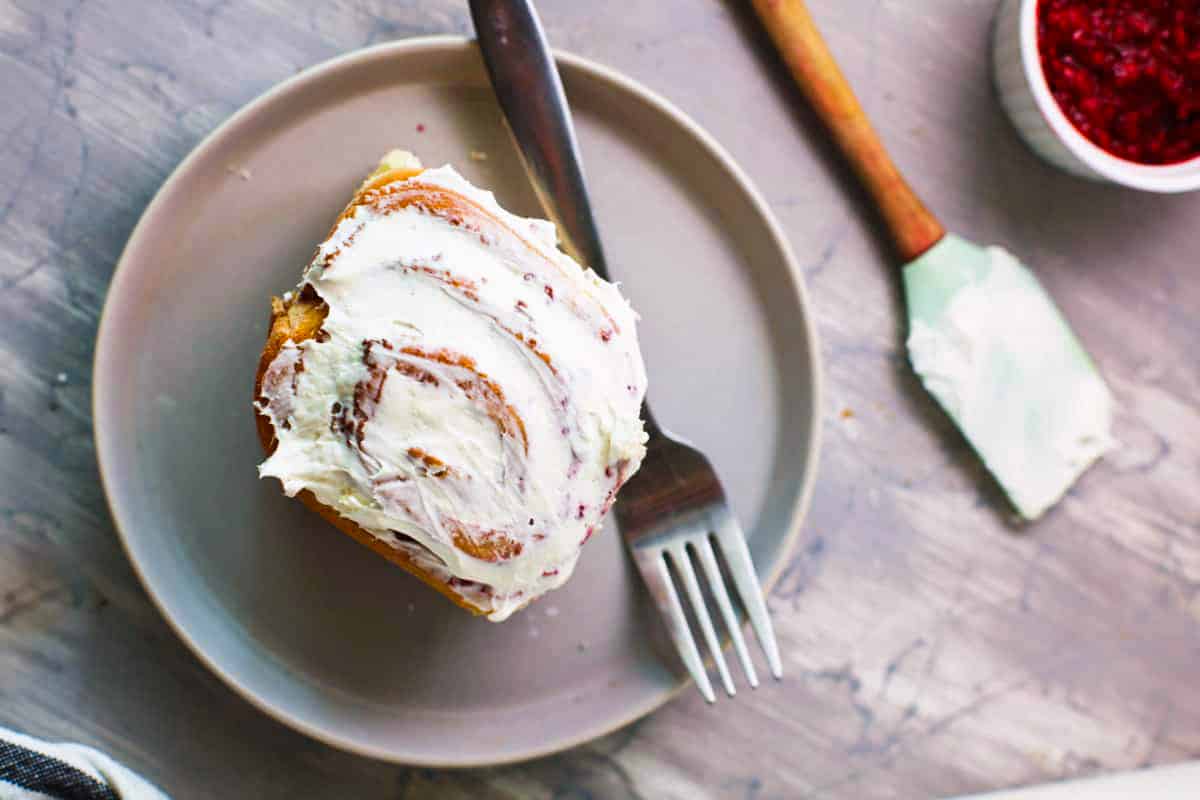 Brown Sugar Pecan Rolls Bread – They are sticky and sweet! You can't help but lick your fingers so you can get every last taste of this yummy goodness.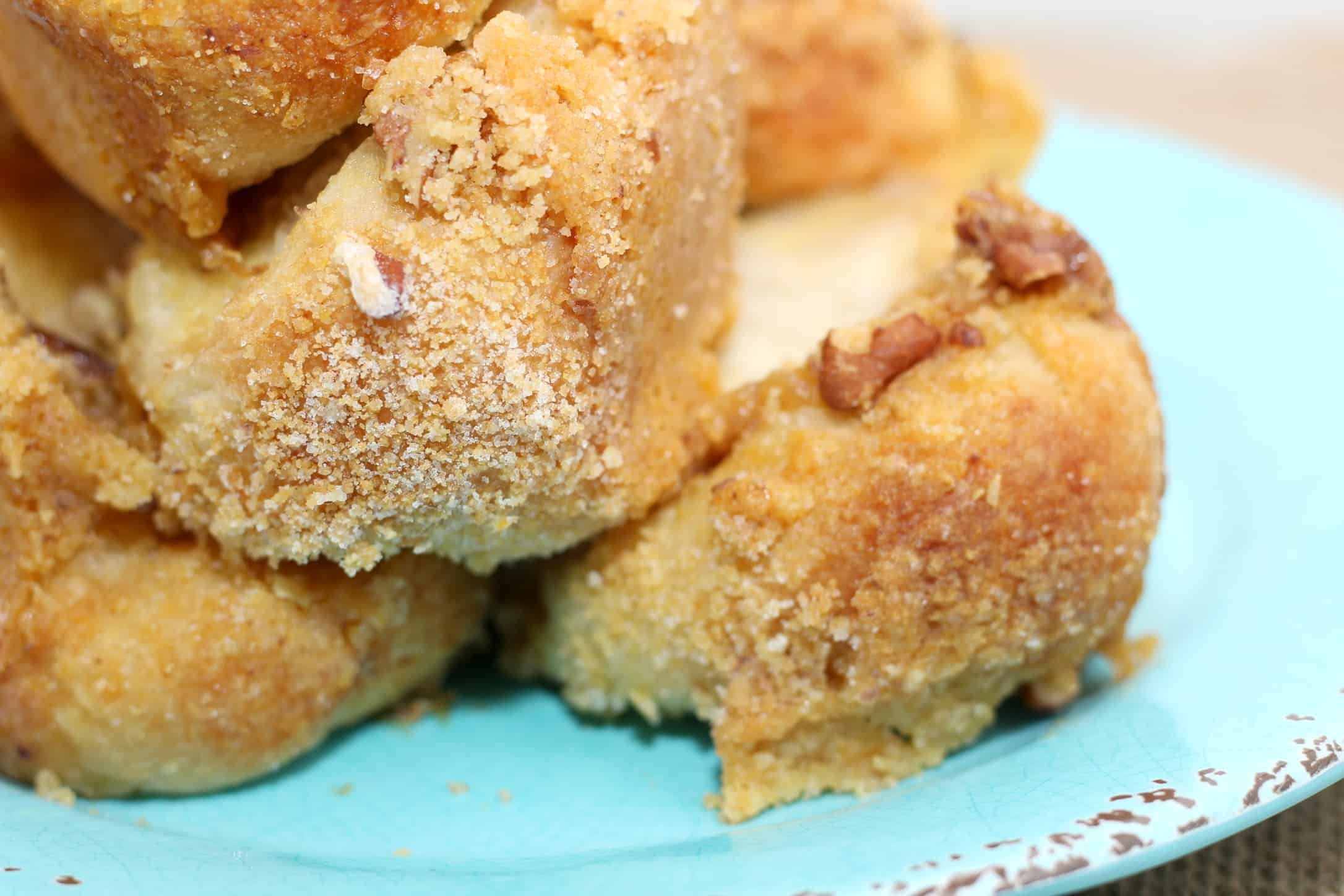 Spiced Pumpkin Homemade Dinner Rolls – These aren't your ordinary dinner rolls, they are spruced up and amazing for fall and winter. The pumpkin flavor is the perfect combination in the rolls.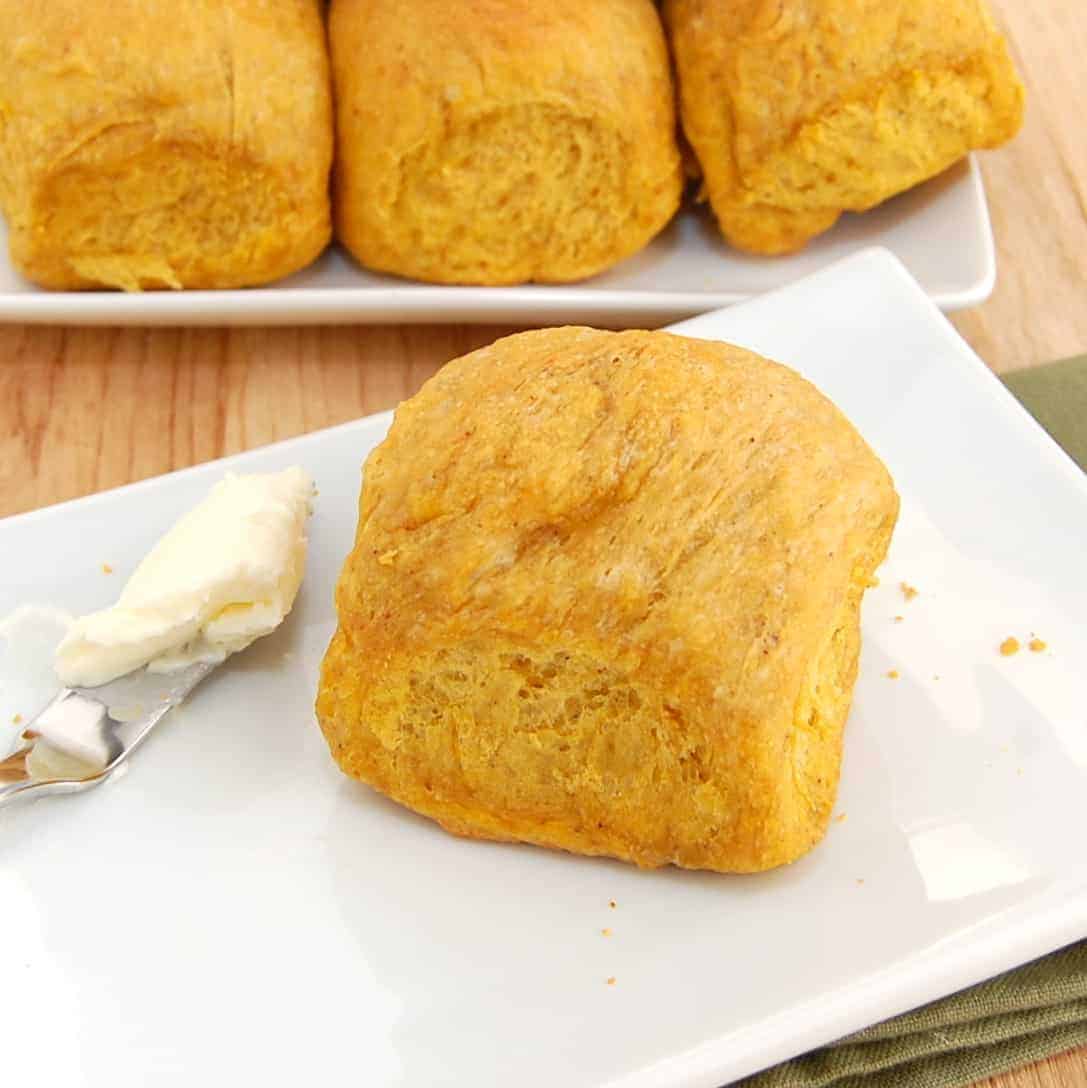 Instant Pot Irish Soda Bread – You'll love being able to take advantage of using your Instant Pot to make bread recipes. This is the best ever!
Get new recipes weekly plus our FREE ebook!