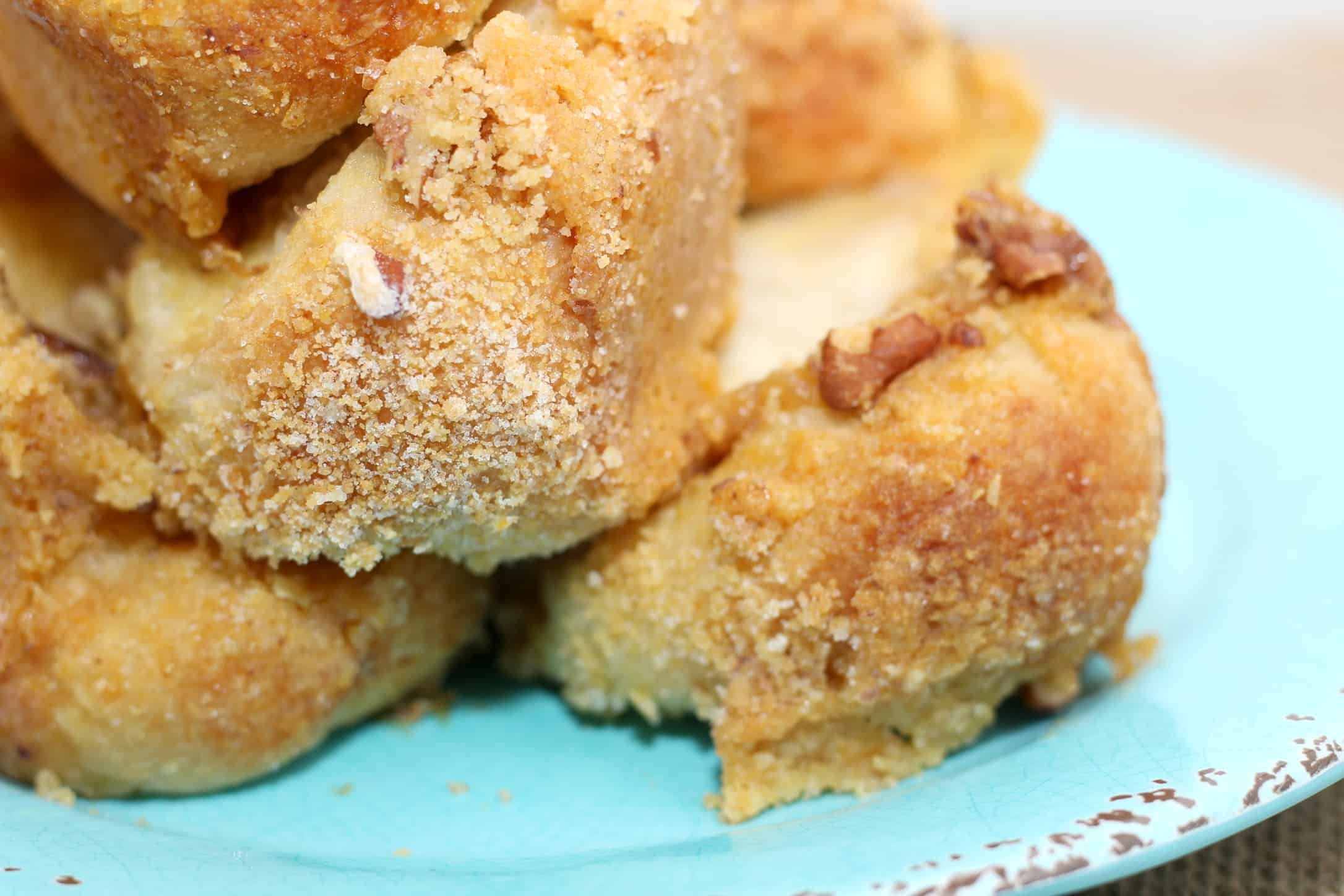 Brown Sugar Pecan Rolls Bread is sweet, sticky and oh so yummy! Whether you eat them for breakfast, brunch or dessert they're a tasty treat everyone will want more of. You might also call this recipe a Monkey Bread with Rhodes Dinner Rolls, either way, it is delicious.
This Brown Sugar Pecan Rolls Bread might be my new sweet addiction. Similar to pecan sticky buns, Brown Sugar Pecan Rolls Bread is sugary, sweet, and just sticky enough to lick your fingers after. Yum!
Best of all, because this is a bread and not traditional sticky buns, Brown Sugar Pecan Rolls Bread is so EASY. Instead of homemade dough, we use frozen dinner rolls. You don't even have to wait for them to defrost before you make this.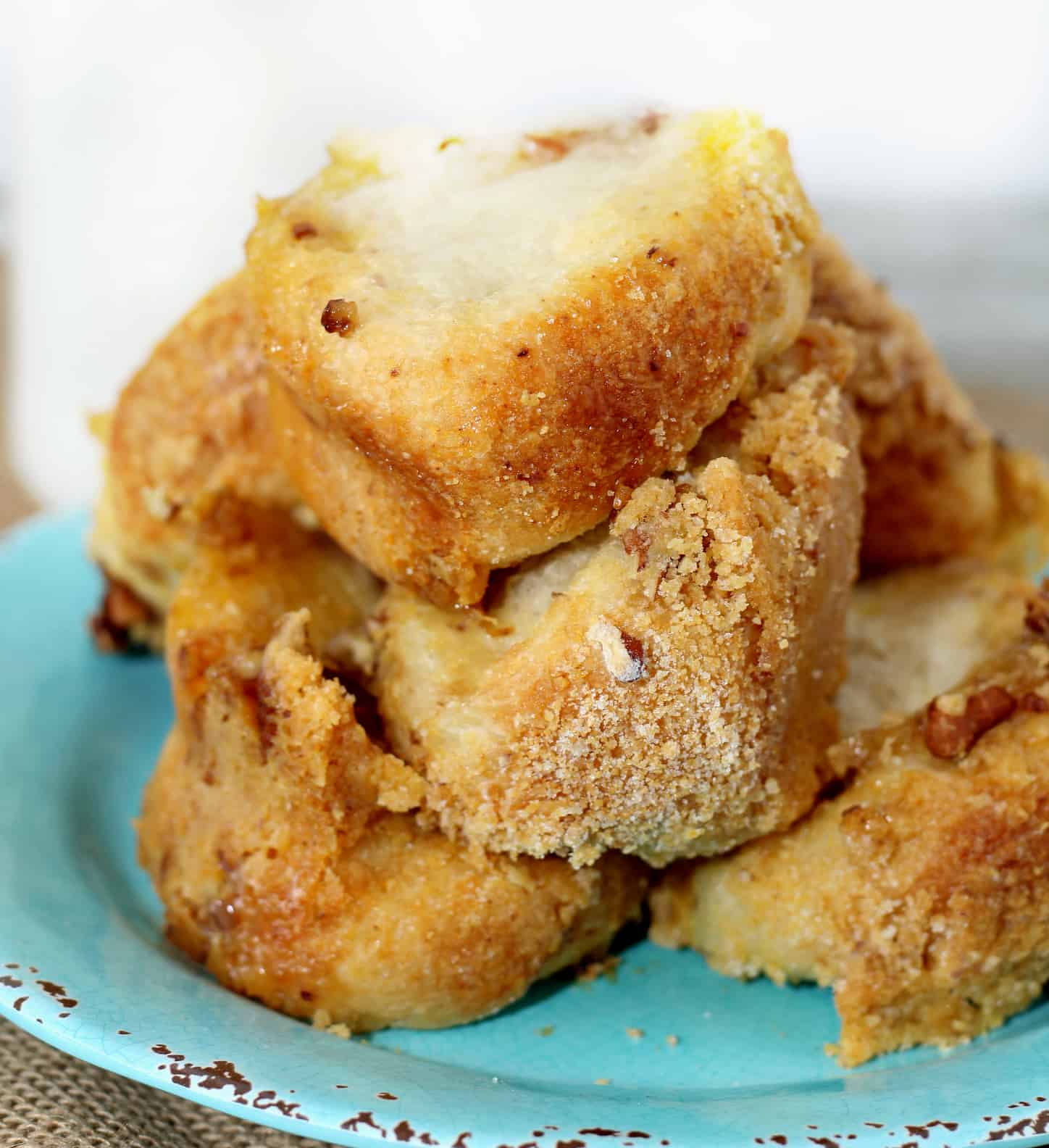 Scroll to bottom for printable recipe card.
Brown Sugar Pecan Rolls Bread
Including the frozen dinner rolls, there are only five ingredients in Brown Sugar Pecan Rolls Bread. Five! That's it. You probably have most of them in your pantry too.
However, even though they're super easy and take only a few minutes to bake, these pecan rolls do need to sit overnight, to allow the sweet mixture to absorb into the bread dough. So this monkey bread with Rhodes dinner rolls is not a last minute treat, despite requiring very little hands-on time.
Craving More Delicious Recipes
Rhodes Rolls Monkey Bread
I like to make Rhodes rolls monkey bread as a weekend breakfast or brunch treat, so I just make them the night before and pop them in the oven when I wake up. By the time I've changed out of my pajamas, they're ready to go.
If I'm going to a brunch with friends at someone's home, this is typically what I bring, and there's never any left to take home. If there are kids in the house, they will devour them so fast and won't leave even a crumb behind. As far as they're concerned, it's like eating dessert for breakfast. Their fingers will be sticky, they will have smiles on their faces, and their tummies will be full, so that is a huge win!
Personally, I think this pecan roll bubble bread goes best with some coffee in the morning, but I also know plenty of people who like to make and eat them for dessert. In that case, just prepare them early in the morning and leave them sitting for the day to bake in the evening.
Either way, pecan roll monkey bread is an easy, delicious treat to make!
What Is Monkey Bread?
Monkey bread is a sweet dish that is made of dough balls that are covered in ingredients like butter, brown sugar, cinnamon, pecans, caramel, and several other things. When you eat monkey bread, often you use your fingers to pull it apart. Yes, it can be messy, but it is worth every single bite. My monkey bread recipe is much more straightforward than traditional methods because you don't have to make the dough by hand. You can use frozen dinner rolls instead.
How To Make Monkey Bread
I am so excited to share how to make this easy monkey bread. You will be so thrilled that you don't have to spend tons of time preparing or baking. It will also become a go-to family favorite once you sink your teeth into the fantastic sweetness! I am getting hungry just thinking about it.
Step 1: Place frozen dinner rolls in the bottom of a greased pan.
TIP: The dinner rolls do not need to be thawed out at all when you place them in the bundt pan. Keeping them frozen until you are ready to make the pecan roll bubble bread is your best bet to get a perfect consistency every time.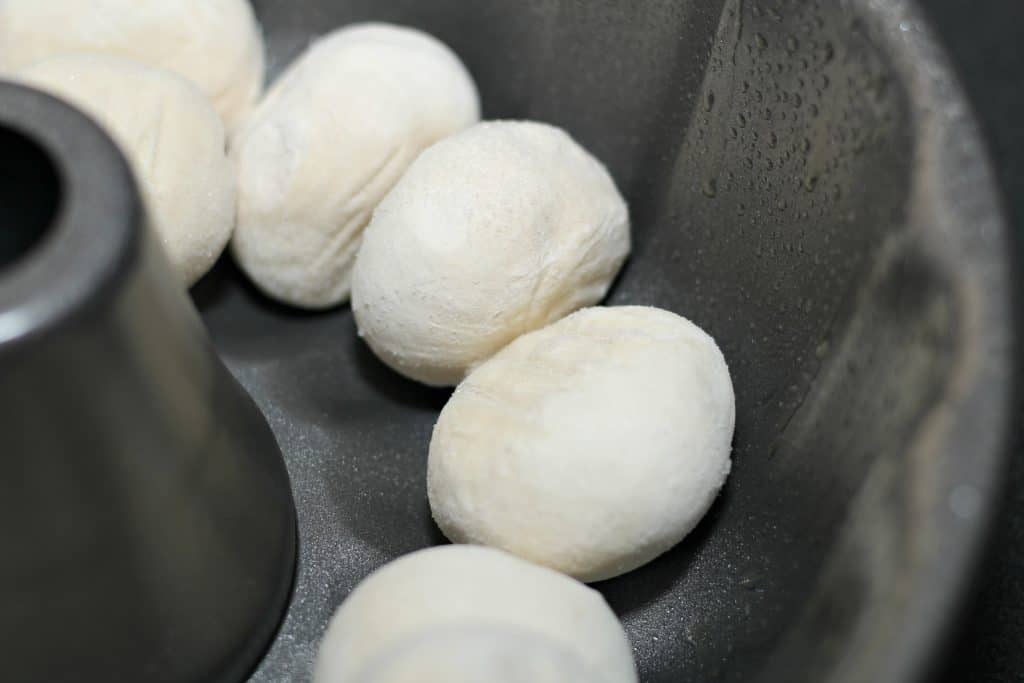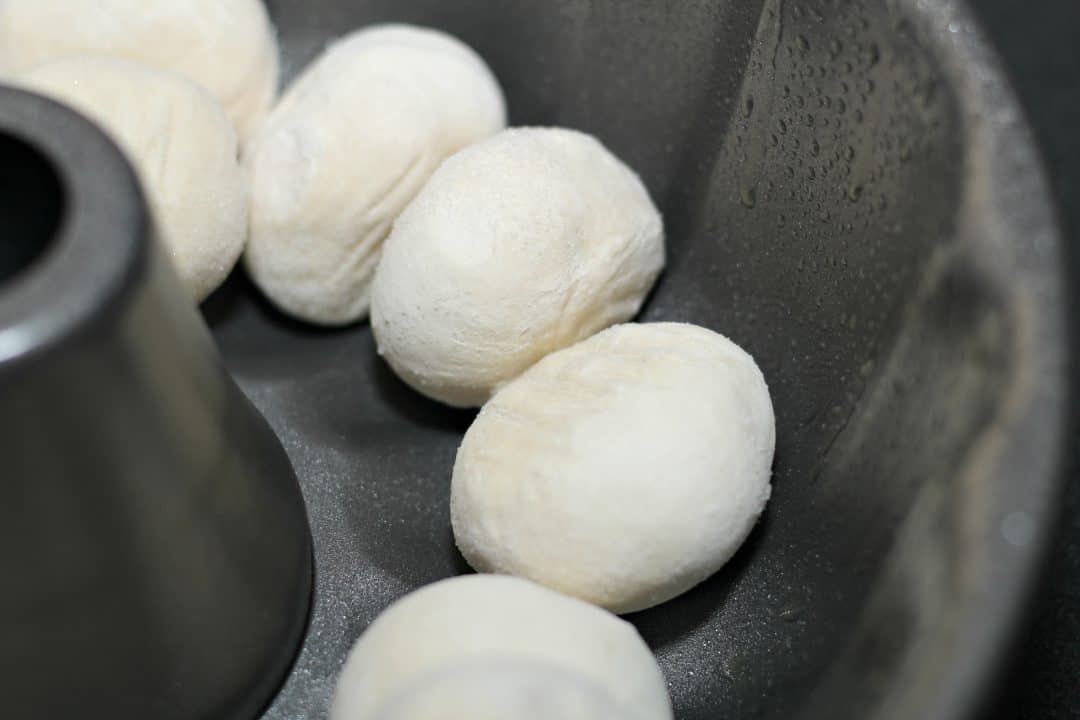 Step 2: Pour melted margarine over rolls.
TIP: You can also use real butter if that is what you have on hand or if you just prefer it.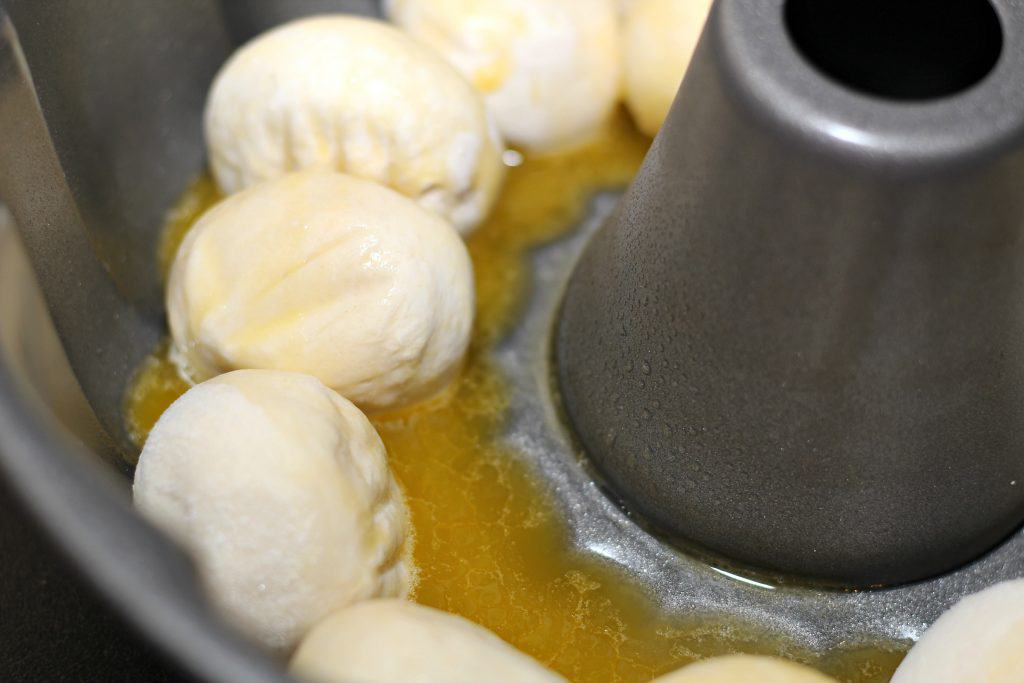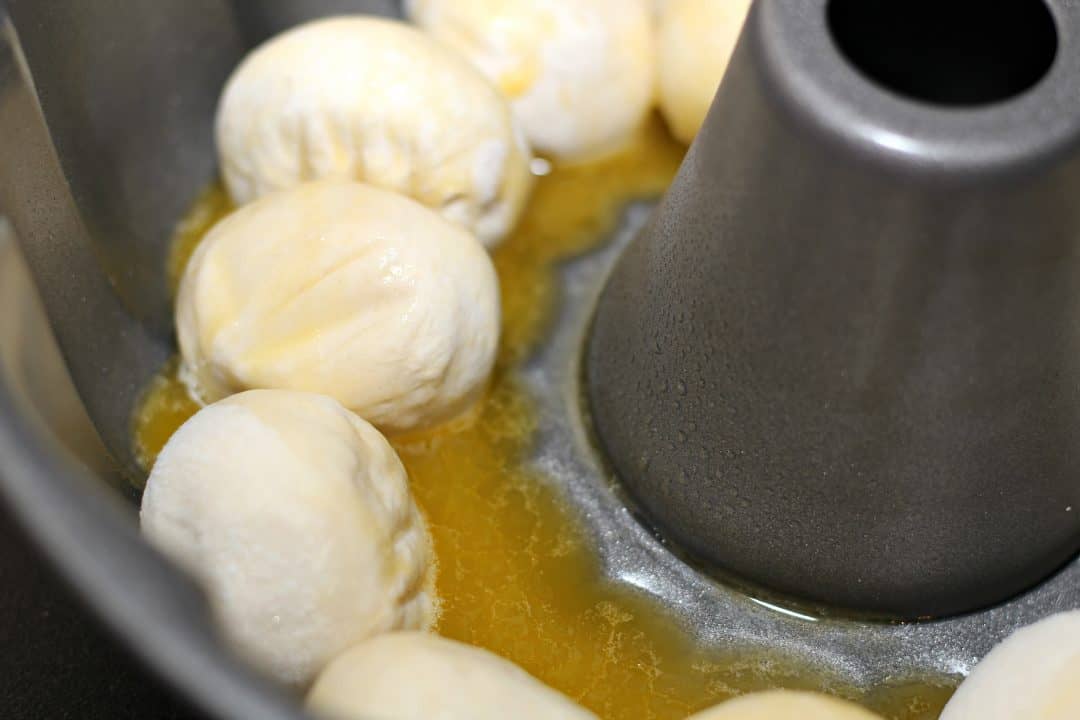 Step 3: Mix together vanilla pudding mix, brown sugar, and pecans.
TIP: One thing to note is that the vanilla pudding mix should not be instant pudding mix. The texture and flavor will not be as delicious if you use instant pudding, so stick to the kind that is typically cooked before eating.
Step 4: Pour pudding and sugar mixture over the dinner rolls and margarine.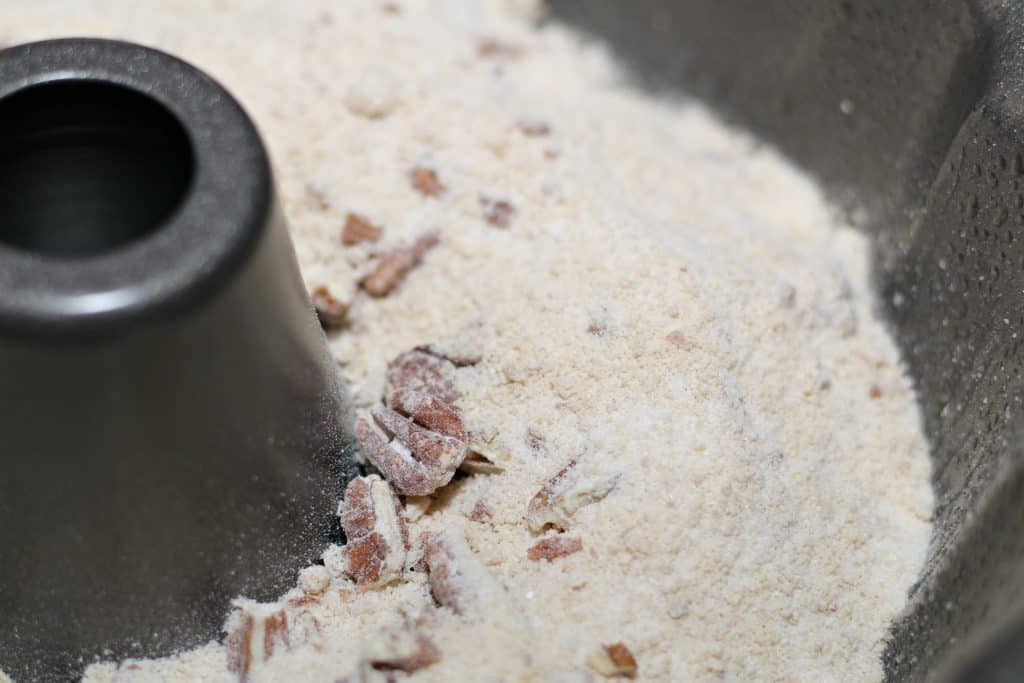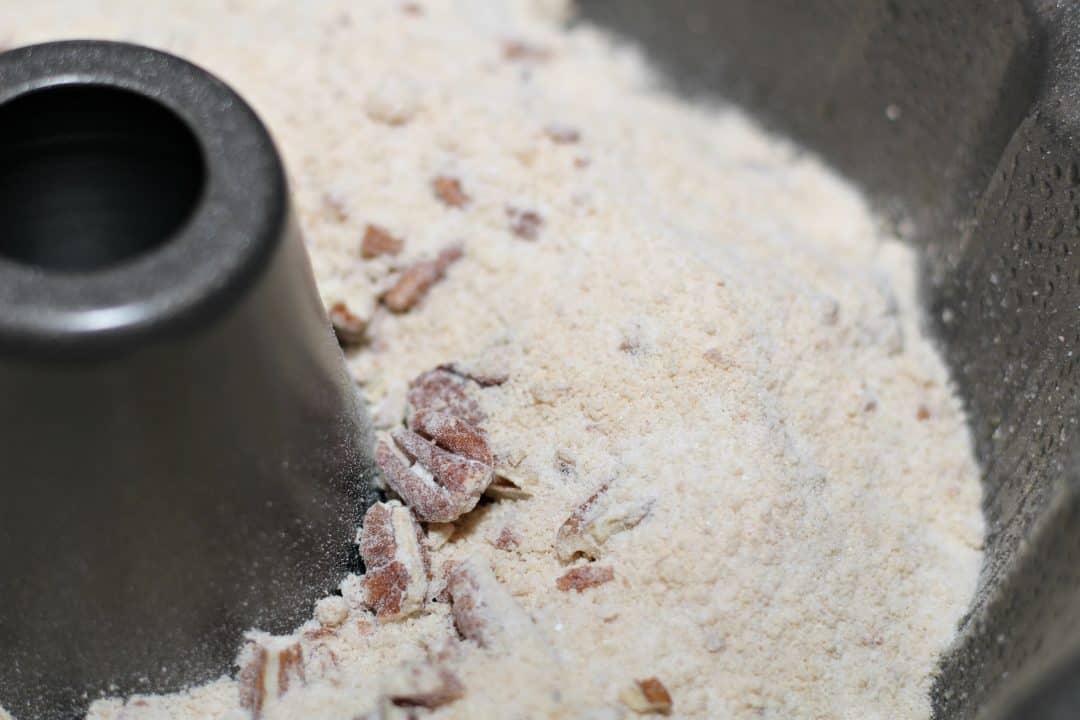 Step 5: Let sit overnight — Bake for 30 minutes at 350 degrees F. the next day.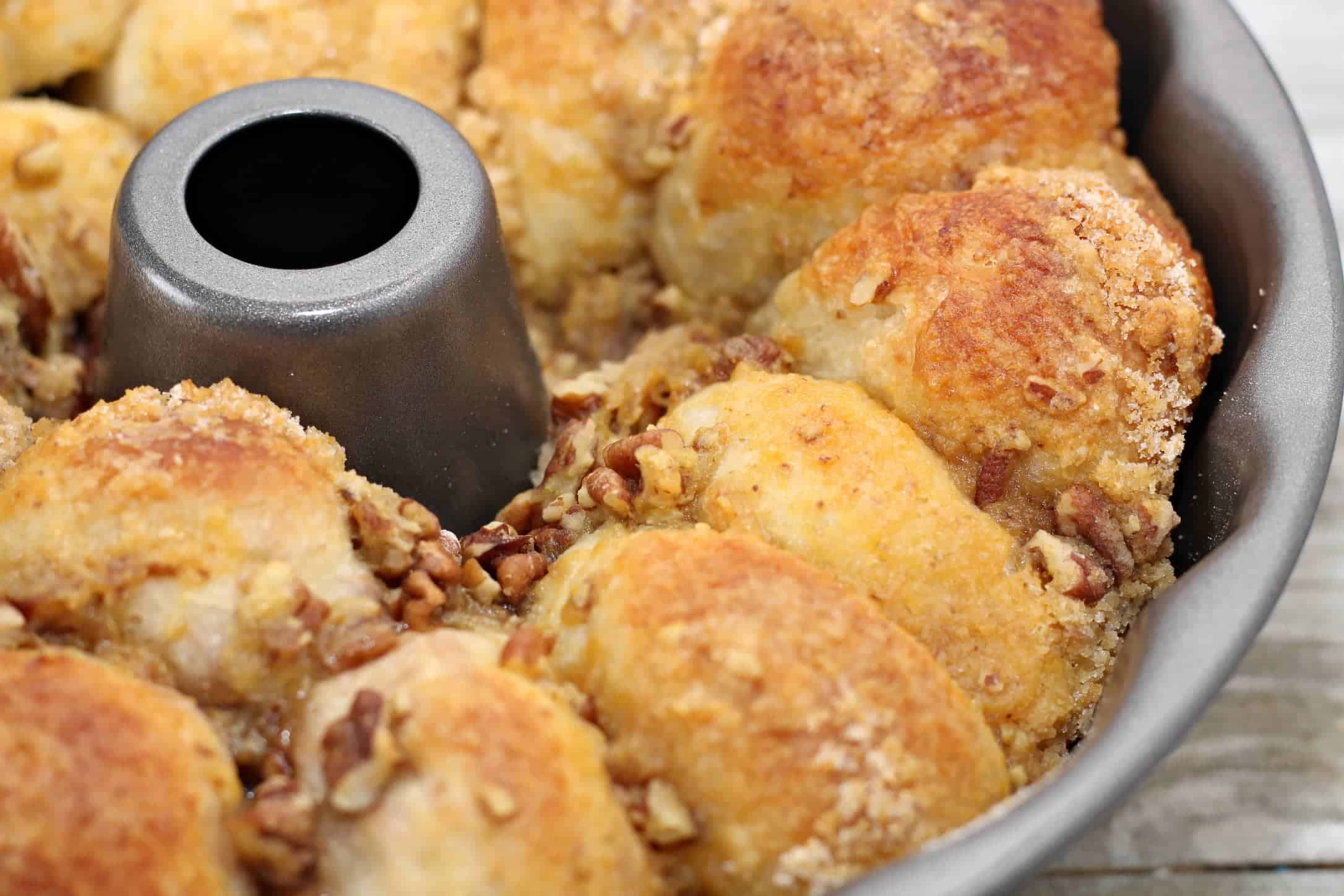 Step 6: Gobble up every bite and lick those fingers clean! They are best when served warm and go well with a scoop of ice cream.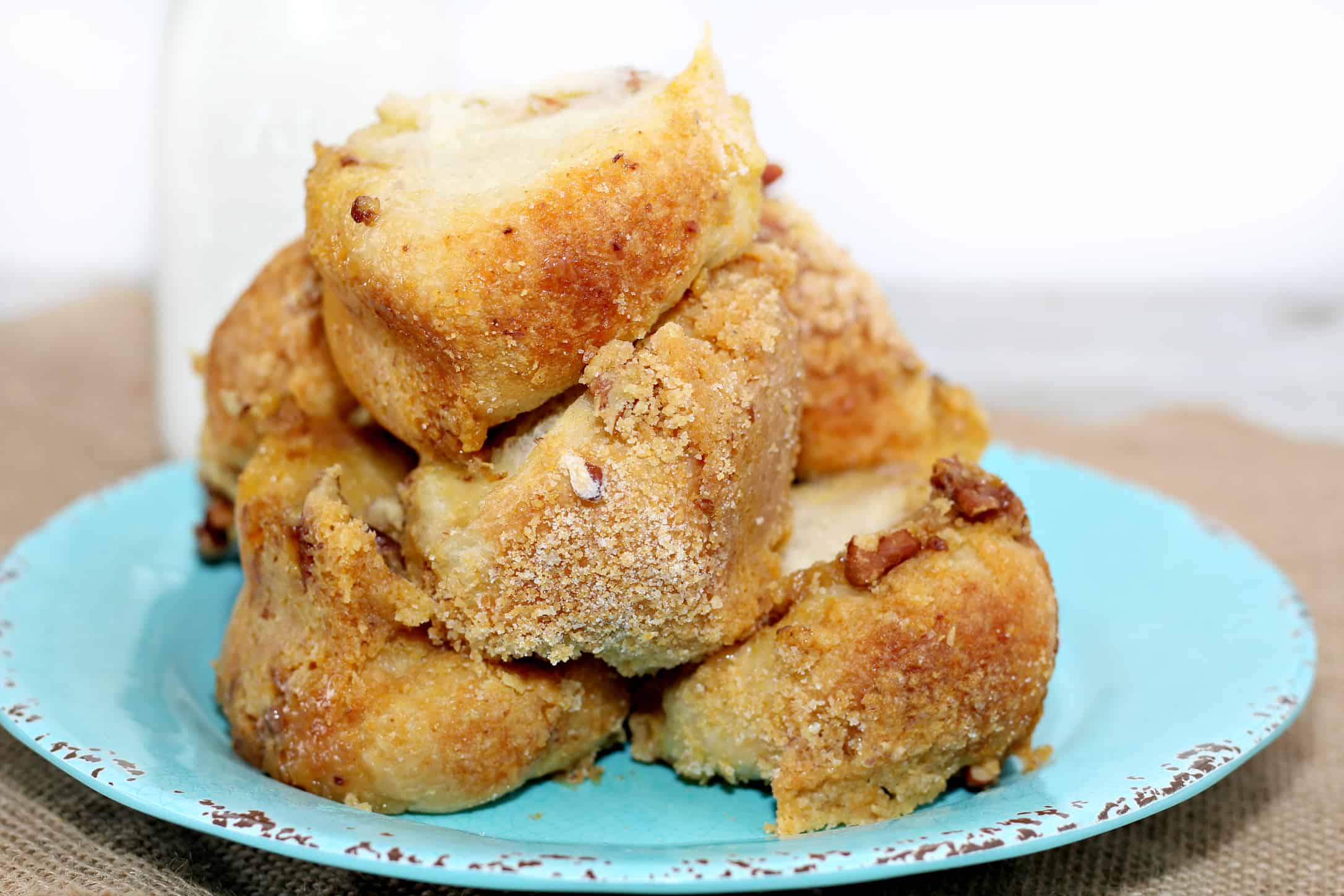 Brown Sugar Pecan Rolls Bread Variations
You know me, I like to give you some ideas so you can try this delicious pecan roll monkey bread a variety of ways. Seriously, go wild with this brown sugar pecan rolls bread recipe because there are lots of ways you can serve it. Every way is divine and will get devoured, trust me!
Chocolate – After the Rhodes Rolls monkey bread has finished baking, drizzle some chocolate syrup on the top while it's still hot. The chocolate is a perfect compliment to the monkey bread.
Vanilla Frosting – You can buy store-bought frosting and melt it in the microwave for a few seconds then sprinkle a little bit all over the top of the pecan roll monkey bread. You can also make your own vanilla frosting too.
Cinnamon – Sprinkle some cinnamon on the top of the dinner rolls before you let it sit overnight. It will give the overnight monkey bread more of a cinnamon roll flavor.
Cinnamon/Sugar – Just like you would make toast, put a little bit of cinnamon and sugar together on top after it has baked. It tastes amazing!
Caramel – Pour some warmed caramel over the baked monkey bread loaf. Holy cow it's amazing!
Refrigerated Biscuits – If you are in a hurry and you don't have time to let it sit overnight, you can make it even easier by using refrigerated biscuits. Just cut them into fourths and follow the rest of the directions.
Nuts – If you don't have pecans or want to try some different nuts feel free to give it a try. Some tasty options are walnuts, almonds, and hazelnuts, but really anything would be good.
Why Do They Call It Monkey Bread?
Have you ever wondered why they call it monkey bread? I have too so I thought I would look into it, so I know and figured you might want to know too. When places would serve monkey bread, the customers would sort of pick the pieces apart similar to what a monkey would so the name sort of stuck! Pretty simple explanation but now you know. 🙂
Does Monkey Bread Need To Be Refrigerated?
No, actually if you refrigerate this monkey bread with Rhodes dinner rolls, they will not last long. When the monkey bread loaf is refrigerated, it causes the brown sugar and butter to crystallize, and it will dry out. It's best if you keep the pecan roll bubble bread in a covered container on your counter or in the pantry. Room temperature is the best way to store it to keep it fresh.
How Do You Know When Monkey Bread Is Done?
The easiest way to check to see if the pecan roll monkey bread is finished cooking is by checking a few pieces in the center. Pull them away from the edge of the pan to see if they are still doughy or not. If it doesn't appear doughy, then you can call it good, and it's ready to eat.
Can I Reheat Monkey Bread?
Yes, absolutely you can reheat the best monkey bread recipe! Simply place it on a microwave-safe dish and toss it in the microwave for a few seconds. It will heat up really fast, so only microwave 15 seconds then check it.
Another option is to cover it with aluminum foil and bake for 15-20 minutes at 175 degrees F. Heating it slowly will keep it from drying out.
How Long Will Monkey Bread Stay Fresh?
On average, the brown sugar pecan rolls bread will last around 3-4 days on the counter. Sometimes, it will last a little bit longer. Make sure it is adequately covered, and air can't get to the pecan roll bubble bread. You don't want moisture or air to come in contact with the monkey bread, or it will go bad sooner. If you notice the monkey bread has been come extra dry or hard, then it isn't going to taste as good. Also, if you see any mold or wet spots, then it's time to get rid of it.
Can I Freeze Monkey Bread?
Yes, you can freeze Rhodes rolls monkey bread. I know that it might be surprising that it doesn't last as well in the fridge, but it actually does excellent when frozen. You can toss it on the counter the day you want to warm it back up and let it thaw. Then either microwave for a few seconds or toss in the oven.
Enjoy!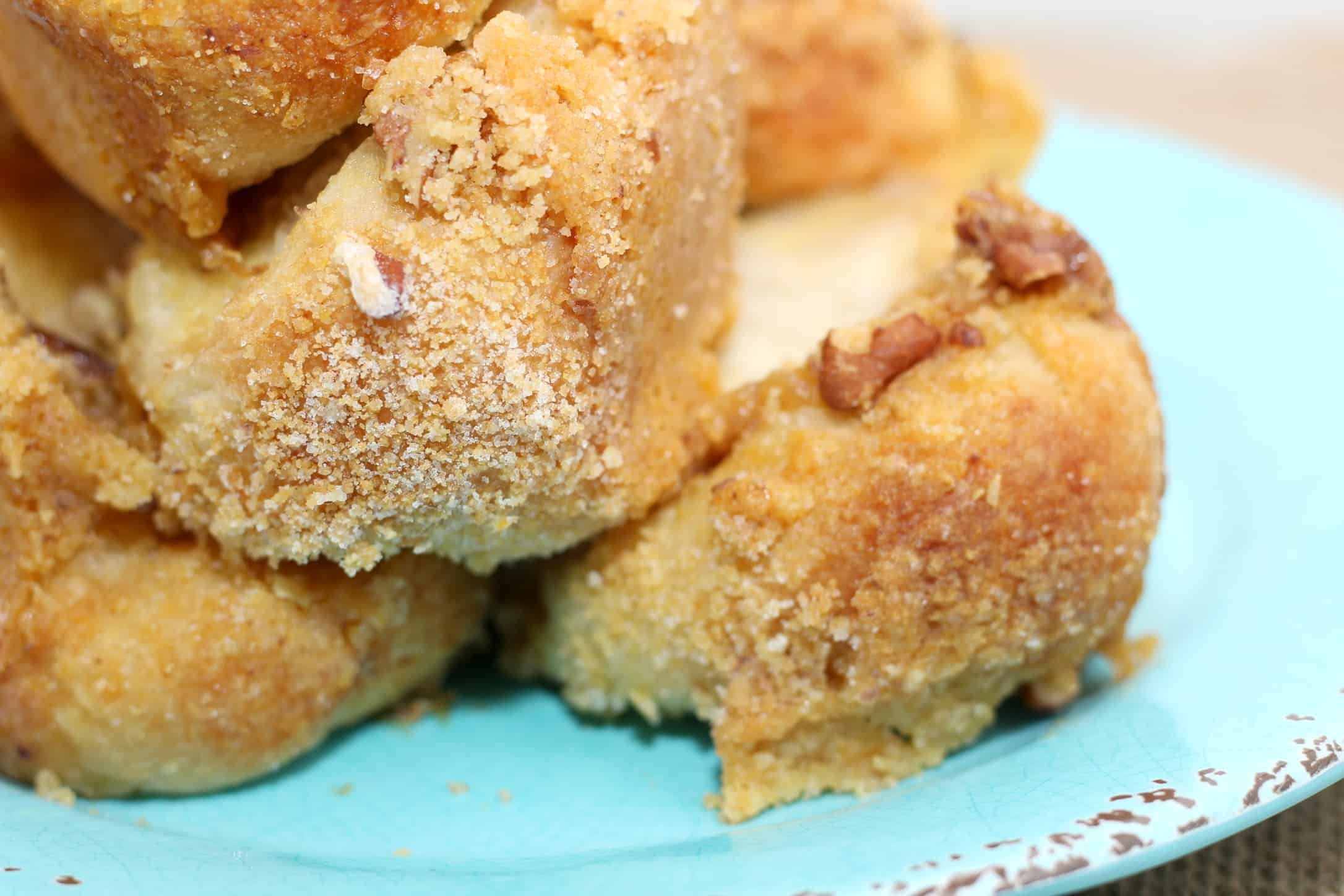 Pin this delish Brown Sugar Pecan Rolls Bread for later: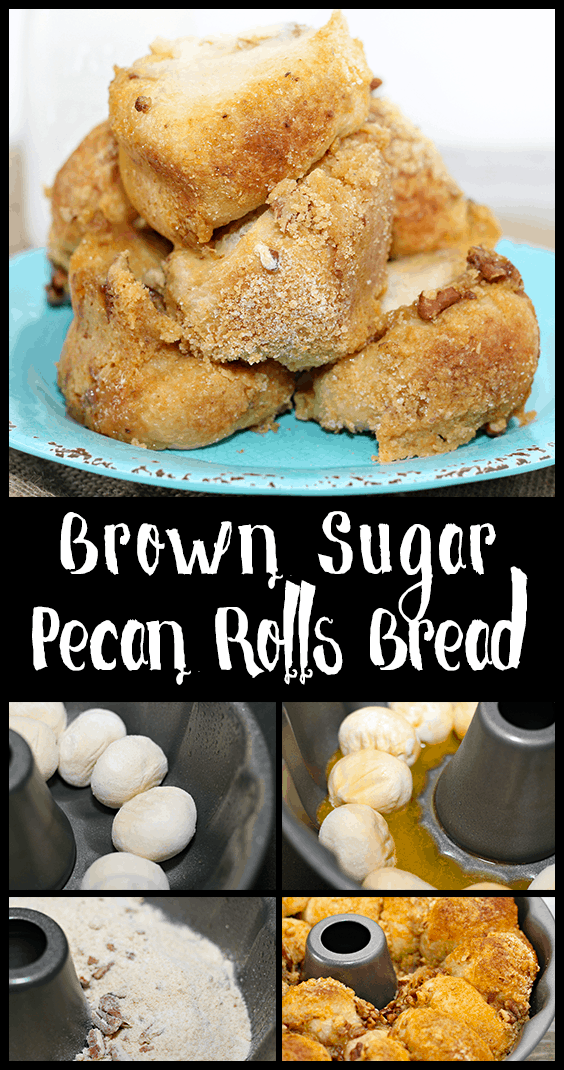 Pin this recipe now to remember it later
Brown Sugar Pecan Rolls Bread
Brown Sugar Pecan Rolls Bread is sweet, sticky and oh so yummy! Whether you eat them for breakfast, brunch or dessert they're a tasty treat everyone will want more of.
Ingredients
1/2

of a cup of Chopped Pecans

1/2

of a cup of Brown Sugar

1

stick of melted Margarine

1

large box of Vanilla Pudding Mix

,

not Instant
Want to save this recipe? Enter your email below and we'll send the recipe straight to your inbox!
NOTE: By saving this recipe, you agree to join our weekly recipes newsletter.
Instructions
Place frozen dinner rolls in the bottom of a greased angel food pan.

Pour margarine over top of rolls.

Mix together your pudding mix, brown sugar, and nuts.

Sprinkle mixture over rolls, and allow to sit overnight.

Bake at 350 degrees for 30 minutes.

Serve and enjoy!
Follow me on Pinterest for daily delicious recipes!
Make sure you check my best recipes below:
Mississippi Pot Roast – This one of the easiest, most flavorful pot roast recipes you'll ever make.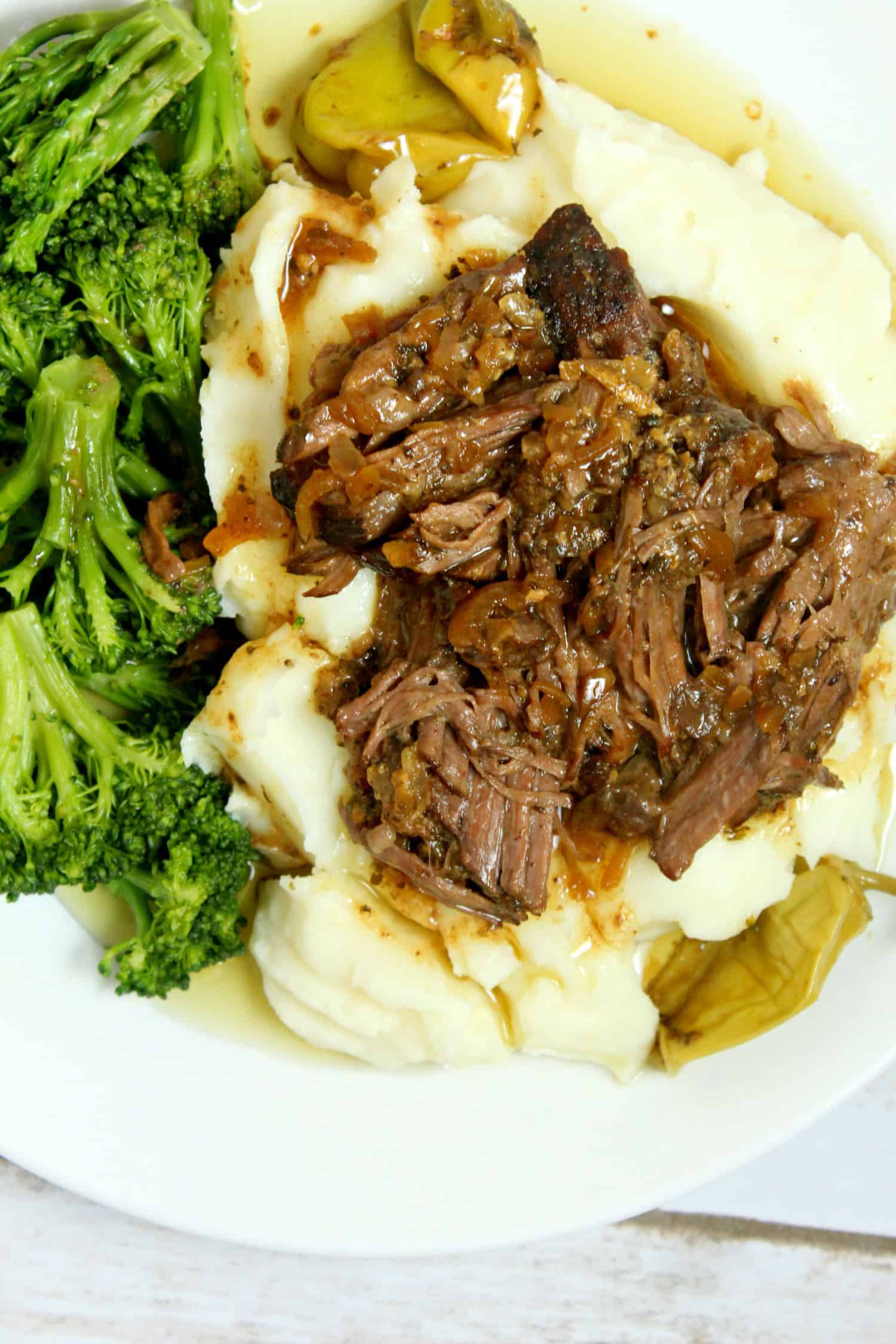 Crock Pot Whole Roasted Chicken with Summer Vegetables – Delicious and easy, this crock pot whole roasted chicken is the dinner of your dreams! Plus, whole roasted chicken is moist, flavorful, and pleases my entire family.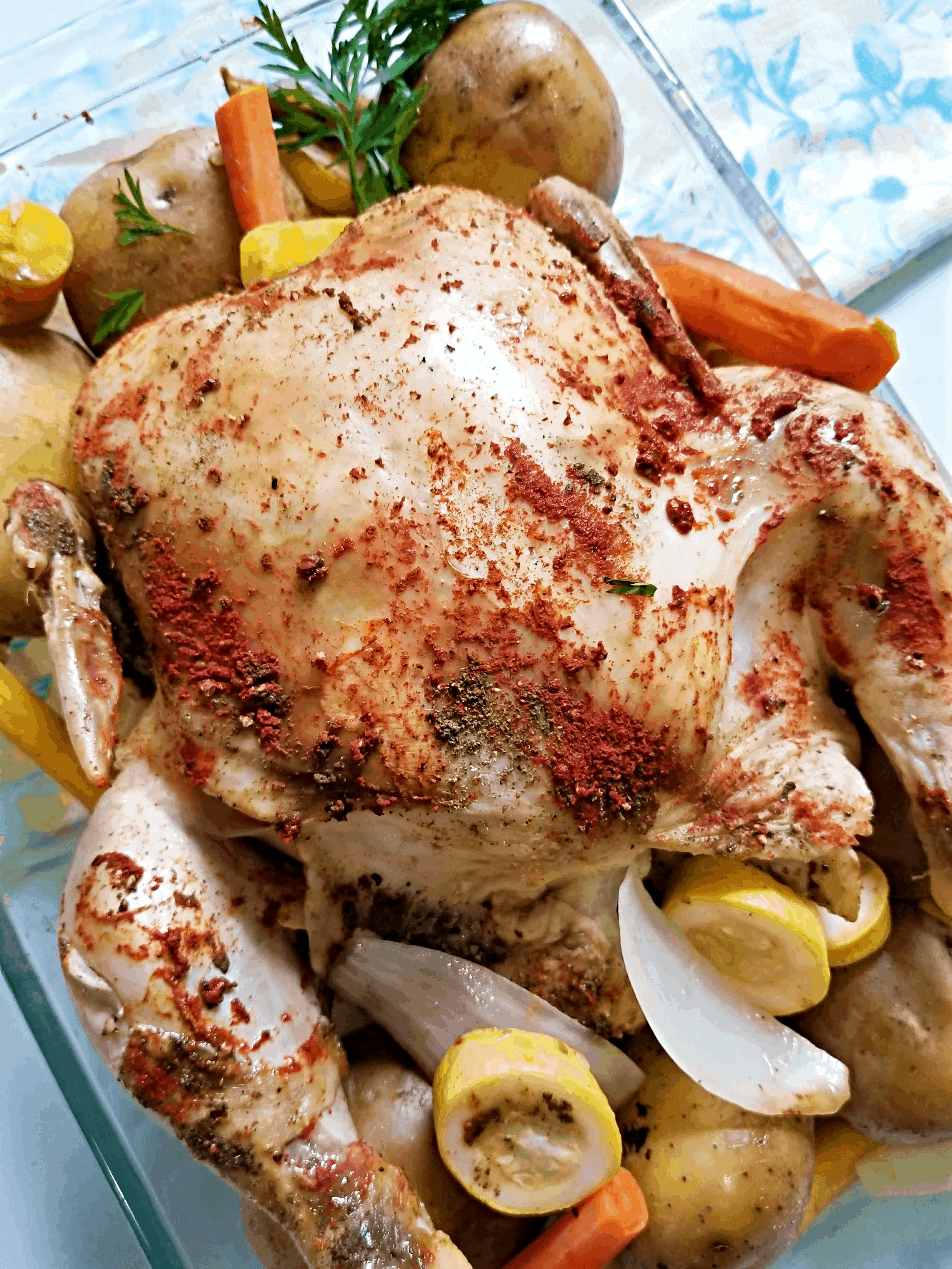 Slow Cooker Pork Chops and Potatoes – An easy pork chop recipe and a real comfort food meal the entire family will love.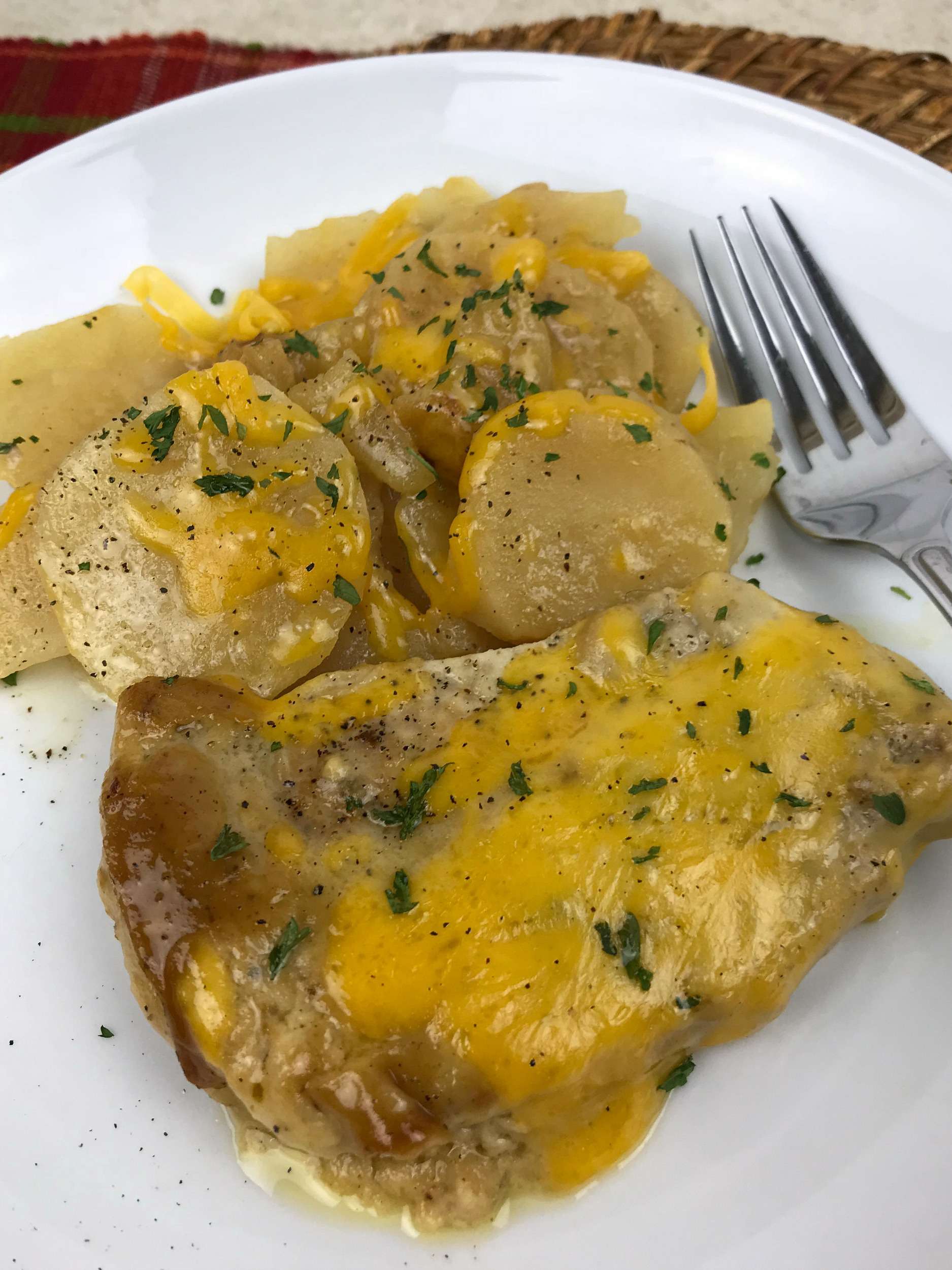 Stuffed Pepper Soup in the Slow Cooker – This special and easy stuffed pepper soup is our top readers budget slow cooker meals, great for feeding the entire family on a budget!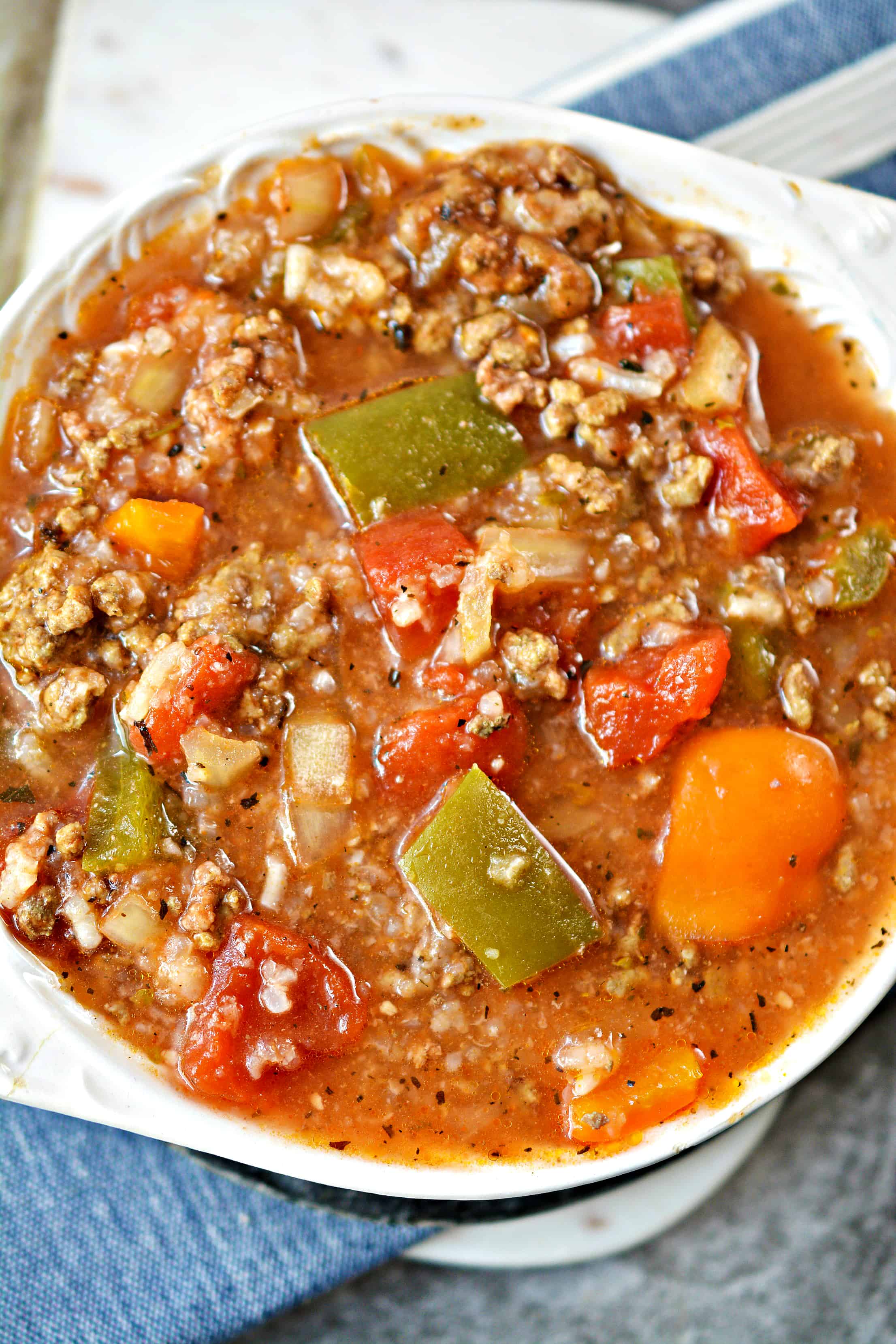 BBQ Pulled Slow Cooked Pork Sandwiches – The BEST BBQ pulled pork sandwiches you'll ever taste in your life! Simple!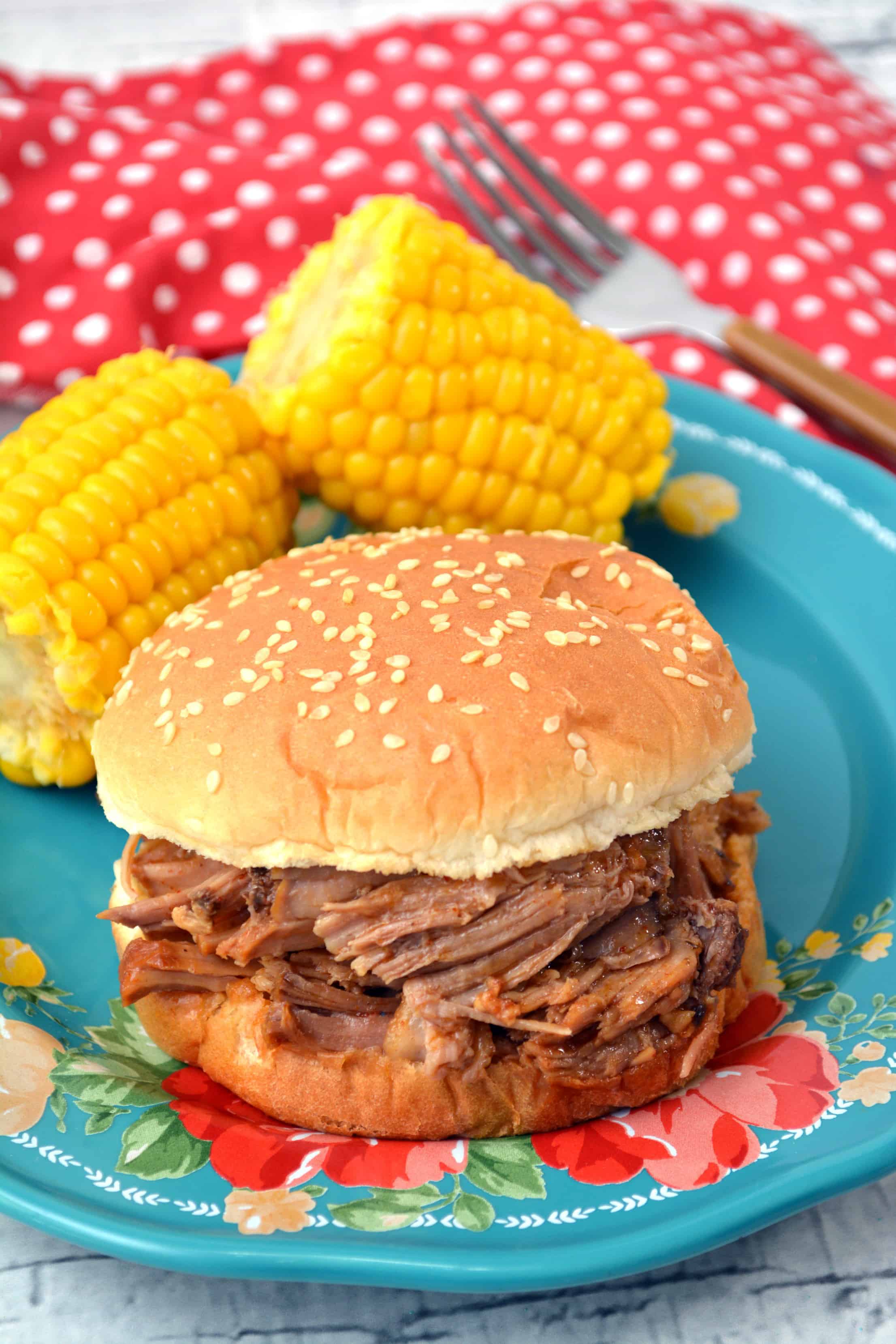 Get new recipes weekly plus our FREE ebook!