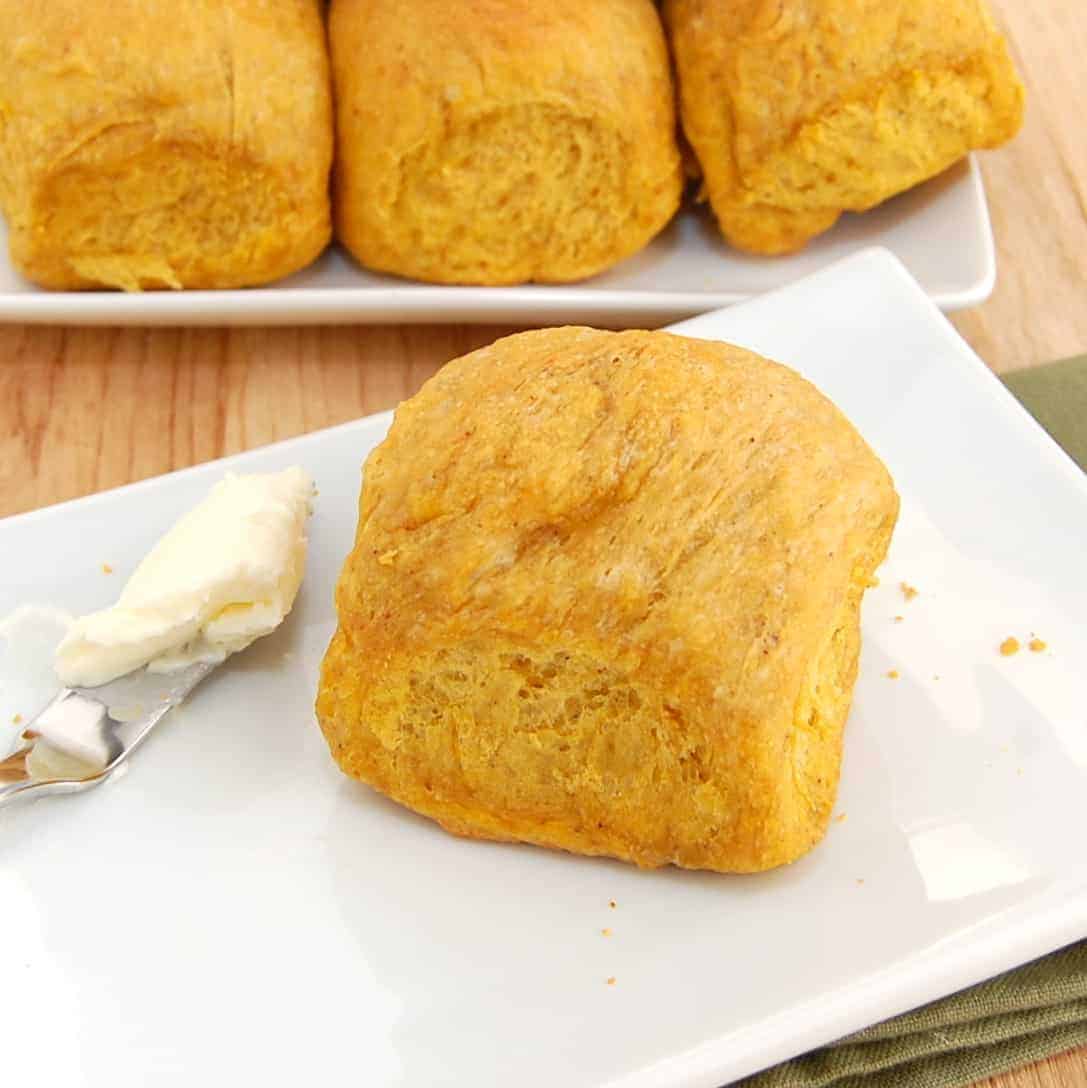 These spiced pumpkin homemade dinner rolls are a seasonal spin on the classic dinner roll. If you don't normally make homemade rolls for special dinners, this recipe might just change your mind! I promise you the extra effort is totally worth it, and they are pretty easy dinner rolls to make. Serve this dinner roll recipe at your Thanksgiving feast or holiday party and watch your guests ooh and aah. These pumpkin dinner rolls are moist, full of fall spices, and bursting with delicious pumpkin flavor.
Canned pumpkin can be used to make these dinner rolls, but if you are feeling extra ambitious, go ahead and use homemade pumpkin puree.
Scroll to bottom for printable recipe card.
Spiced Pumpkin Homemade Dinner Rolls
Don't get me wrong; I love traditional homemade dinner rolls as much as the next person. But there is just something amazing about these pumpkin dinner rolls I can't get enough of. When it comes to anything pumpkin flavored, my heart skips a beat!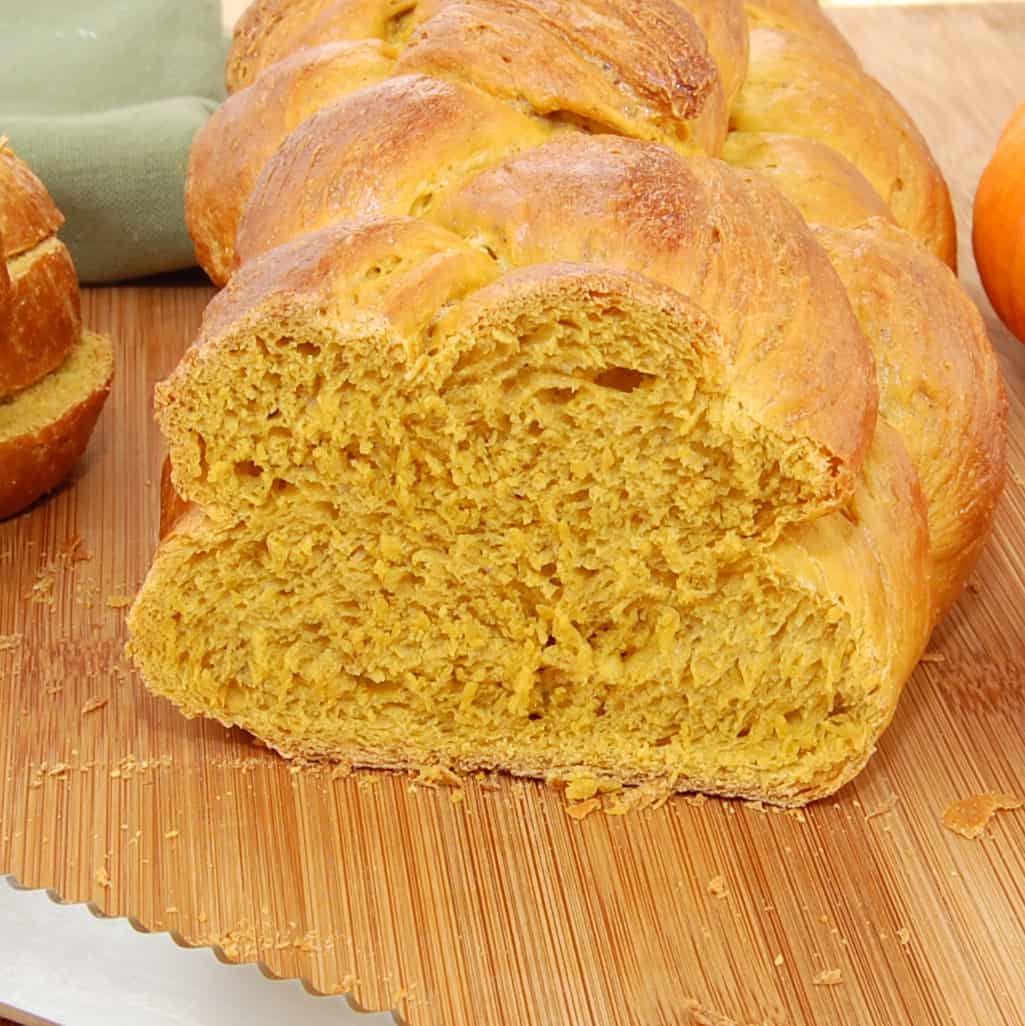 You'll be amazed by all the flavor in these pumpkin spice dinner rolls, and while they do take a little bit of time, they are actually pretty simple to make. I can't wait to share this recipe with you!
How Much Does This Dinner Roll Recipe Make?
The recipe makes 2 braided loaves or 18 dinner rolls or even 1 braided loaf and 9 dinner rolls. Just do what you feel, they're great either way! If you decide to make only nine dinner rolls, just bake the rolls in an 8-inch square pan.
If you plan on making these for a special dinner or even Thanksgiving dinner, you can prepare the rolls ahead of time and place in the refrigerator until ready to bake. See the printer-friendly version link for detailed directions on how to prepare these rolls ahead of time.
Pumpkin Dinner Rolls Ingredients
Here is a breakdown of the ingredients you'll be needing to whip up a batch (or two) of these soft, delicious rolls. Take a peek:
Active dry yeast – The active dry yeast is what is going to get your homemade dinner rolls to rise and have that fluffy texture.
Warm milk – When preparing these dinner rolls, you'll need to have the milk warmed to 110 degrees F.
All-purpose flour – Due to the active dry yeast, it's essential that you use all-purpose flour, not self-rising.
Spices – Cinnamon, ground ginger, cloves, and cardamom are the perfect combination of spices, and part of what makes these pumpkin dinner rolls so amazing.
Brown sugar – A touch of sweetness is always appreciated in these dinner rolls.
Salt – Just a sprinkle will do!
Eggs – Don't forget to plan a little in advance so the eggs can be room temperature.
Butter – Make sure to use real butter because you'll want that creaminess in the pumpkin buns.
Pumpkin puree – Using canned puree is completely fine. You can make your own if you are feeling like it!
How To Make Dinner Rolls
I can't wait for you to sink your teeth into these sweet pumpkin dinner rolls. They will blow your mind with how good they are. Okay, I know you're probably drooling right now, so I won't make you wait any longer.
First Step: Make sure the oven rack is in the middle of the oven and preheat to 200 degrees F. After the oven reaches 200 degrees, turn it off and leave the door shut.
Second Step: Using your bowl from the stand mixer, pour in the warmed milk and yeast. Let it rest for 10 minutes or until it's foamy.
Third Step: Combine the flour, cinnamon, cardamom, cloves, ginger, brown sugar, and salt together with a whisk. Set aside.
Fourth Step: Add the eggs, melted butter, and pumpkin to a medium bowl and combine. Pour the pumpkin mixture into the bowl with the yeast and warm milk (only if it's been at least 10 minutes and it's foamy). Using a paddle attachment, mix until it's combined. Pour in 1/2 of the dry ingredients and mix on low for around 30 seconds or until combined. Pour in remaining dry ingredients and combine. Put on the dough hook and mix on medium-low. It will take approximately 3-5 minutes and should be smooth and a little bit sticky.
Fifth Step: Place the dough into a bowl that has been lightly oiled. Cover with plastic wrap and put the bowl in the warmed oven. Let the dough rise for 1 hour or until it's doubled in size.
Sixth Step: After the dough has risen, put it onto a lightly floured surface and place a kitchen towel on top of it for 10 minutes so it can rest.
Seventh Step: Shape the dough into dinner rolls or a braided loaf depending on your preference.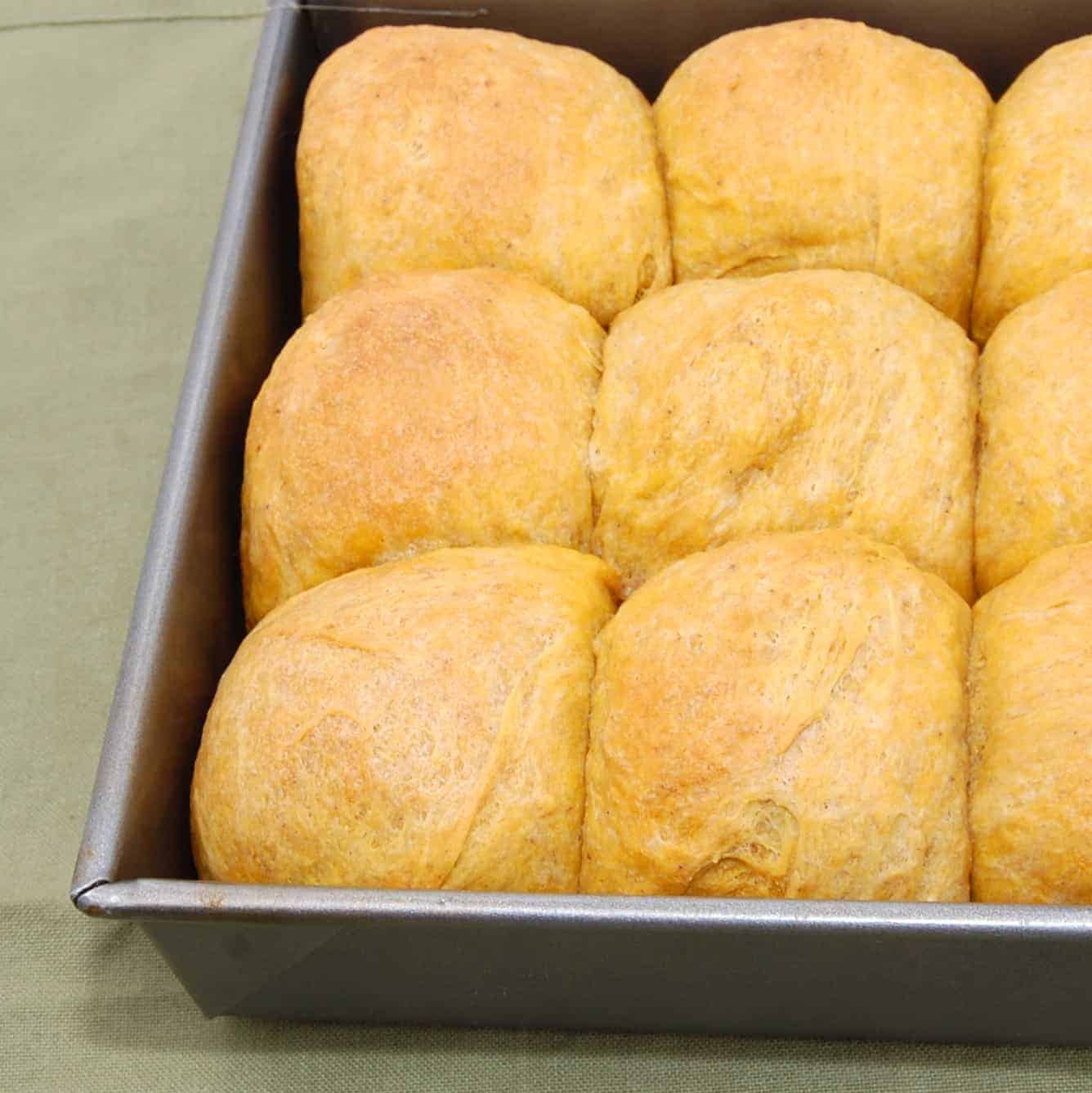 Braided Loaf
To prepare a braided loaf, you'll need to grease a large baking sheet. Place the dough on a lightly floured surface and divide into 2 pieces. One-piece will be larger, and the other will be half the size of the other. Take the larger piece and divide it into three equal pieces and each one into a 16-inch-long rope that's around 1 inch in diameter. Line the three ropes together and begin braiding them then pinch the ends together. Place the braid on the baking sheet. Take the smaller dough ball and repeat the process. Place the smaller braid on top of the larger one. Brush the dough with an egg wash.
Dinner Rolls
Use a 9 x 13-inch baking pan that's been lightly greased. Divide the dough into 18 dough balls. They should be round and smooth and pinch the bottoms together. Roll the balls on the counter and place on the baking sheet.
Allow the dough to rise for 1 1/2 hours in the pan. Then add an egg wash to the top.
Bake the pumpkin bread for 30-35 minutes until it's golden brown and at least 190 degrees. Then serve warm or cool! Enjoy!
How Do You Store Dinner Rolls
You can store these pumpkin buns at room temperature in an airtight container. They will last 4-5 days at room temperature. You can refrigerate them if you want, but it's not required. If you're going to serve them warm, toss them in the microwave for 10-15 seconds.
Additionally, you can freeze the rolls if you place them in an airtight bag or container that's freezer-safe. They will last up to 1 month in the freezer and are great for a grab and go snack or side dish.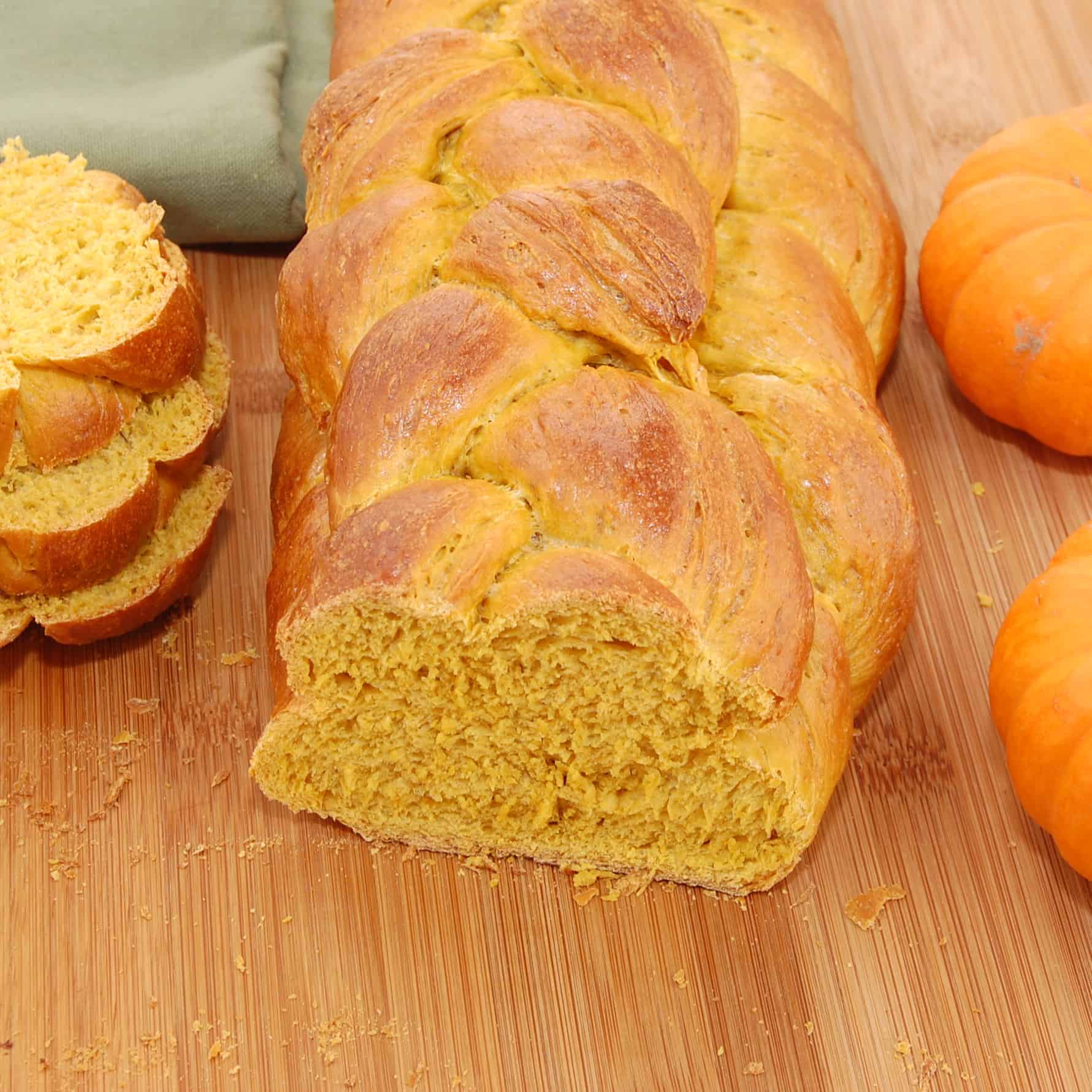 If you love all things pumpkin, I know you are going to be happy with these delicious recipes:
Now, remember to save this recipe on Pinterest for later 🙂

Pin this recipe now to remember it later
Spiced Pumpkin Homemade Dinner Rolls
Servings:
2
braided loaves or 18 dinner rolls
These delicious Spiced Pumpkin Homemade Dinner Rolls are unlike anything you've tried before. This dinner roll recipe is easy, soft, and flavorful.
Ingredients
4

teaspoon

active dry yeast

,

or approximately 2 envelopes

1/4

cup

warm milk

,

110 degrees F

5 1/4

cups

all-purpose flour

1 1/2

teaspoon

ground ginger

1/4

teaspoon

ground cloves

1/4

teaspoon

ground cardamom

2

large eggs

,

room temperature

1 3/4

cup

pumpkin puree

,

15 oz can of pumpkin puree

egg wash

,

1 egg lightly beaten with 1 tbsp of water
Want to save this recipe? Enter your email below and we'll send the recipe straight to your inbox!
NOTE: By saving this recipe, you agree to join our weekly recipes newsletter.
Instructions
Adjust oven rack to middle position and heat oven to 200 degrees. When oven reaches 200 degrees, shut off.

In the bowl of a stand mixer combine the milk and yeast and let rest 10 minutes until foamy.

In a medium bowl whisk together flour, cinnamon, ginger, cloves, cardamom, brown sugar and salt; set aside.

In a medium bowl, combine eggs, melted butter and pumpkin puree. After the yeast and milk have rested for 10 minutes, add the pumpkin puree mixture and mix with the stand mixer fitted with the paddle attachment until combined. Add 1/2 of the dry ingredients and mix on low until combined, about 30 seconds. Add the remaining dry ingredients and mix on low speed until combined, about 30 seconds. Remove the paddle attachment and fit the stand mixer with the dough hook. Mix with the dough hook on medium-low until smooth and somewhat sticky, about 3-5 minutes.

Transfer the dough to a lightly oiled bowl, cover with plastic wrap and place in warm oven. Let rise until doubled in size, about 1 hour.

After the dough has doubled in size, turn it out onto a lightly floured surface, cover with a kitchen towel and let rest for 10 minutes. Then shape into rolls or a braided loaf.

To make a braided loaf, Lightly grease large baking sheet and set aside. Transfer dough to lightly floured work surface. Divide dough into 2 pieces, one roughly half size of other. (Small piece will weigh about 9 ounces, larger piece about 18 ounces.) Divide the large piece into 3 equal pieces. Roll each piece into 16-inch-long rope, about 1 inch in diameter. Line up ropes of dough side by side and pinch ends together. Braid the free ends together, pinching the braid closed at the end and tuck both ends under braid. Place braid on baking sheet. Divide smaller piece of dough into 3 equal pieces. Roll each piece into 16-inch-long rope, about 1/2 inch in diameter. Braid together, pinching ends to seal. Brush some of egg wash on top of large loaf and place small braid on larger braid.

To make dinner rolls, lightly grease a 9×13 inch square baking pan. Divide into 18 balls (about 3 ounces each). To shape, take a piece of dough and start forming a round, smooth ball by pulling the sides to the center and pinching to seal. Place, pinched side down, on a counter and lightly cupping your hand around the dough ball, rotate your hand in small circles lightly rolling the ball around the palm of your hand and place in prepared baking pan.

After your dough is shaped, cover it loosely, and let it rise for another 1 ½ hours. Meanwhile, preheat your oven to 350 degrees F.

Brush the top of the bread lightly with the egg wash. Bake until golden brown and an instant read thermometer inserted in center reads 190 degrees, 30-35 minutes. Remove the bread from the oven and allow to cool on a rack.
Follow me on Pinterest for daily delicious recipes!
Here are more easy dessert recipes:
Blueberry Pie – The flavor is out of this world amazing, and it takes a fresh blueberry pie to the next level.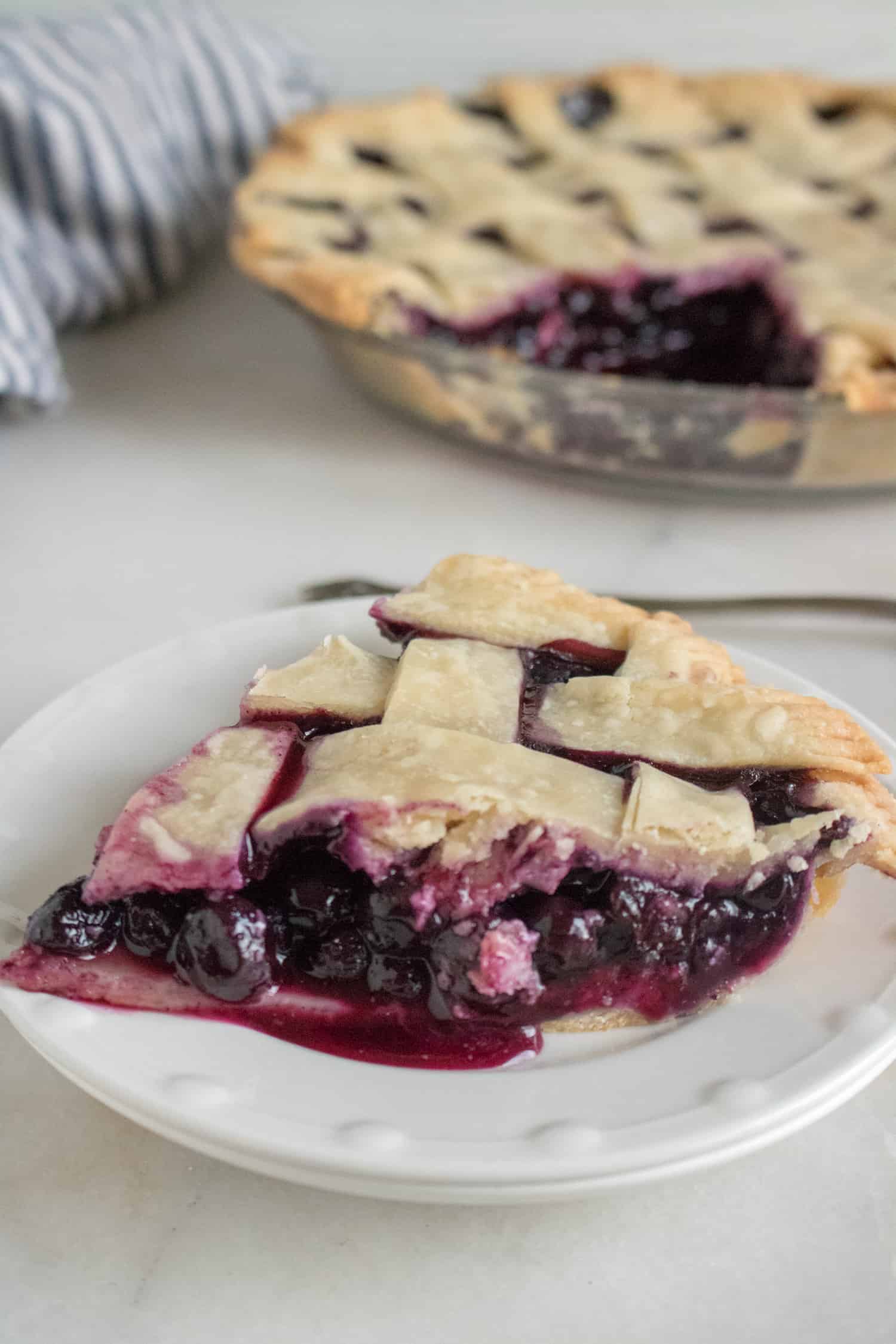 Gingerbread Loaf (Starbucks Copycat Recipe) – Gingerbread loaf is a great fall and winter dessert to serve your family or friends.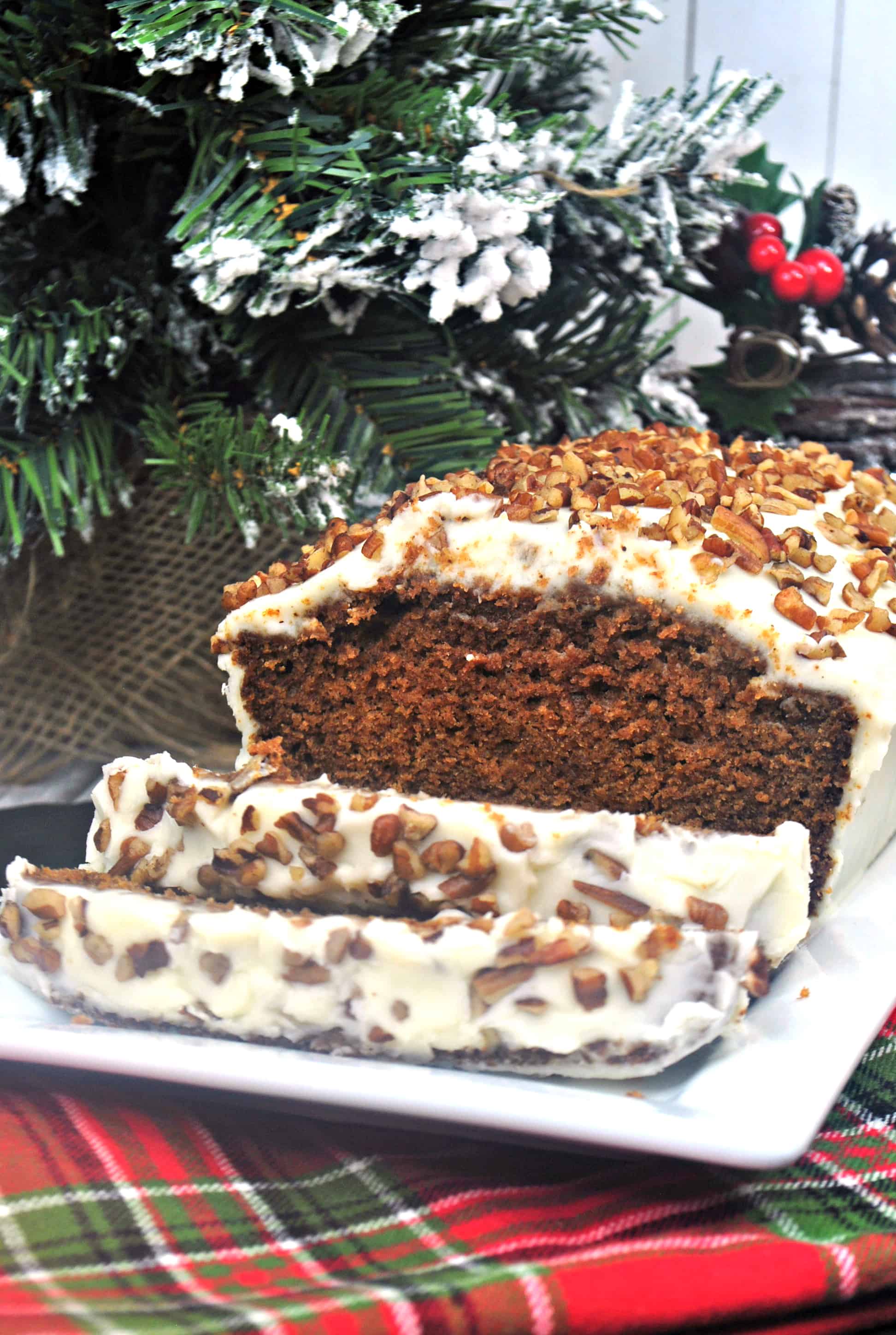 Pumpkin Bread – Don't you just love everything about fall? The cool, crisp air, the gorgeous trees, and all things PUMPKIN!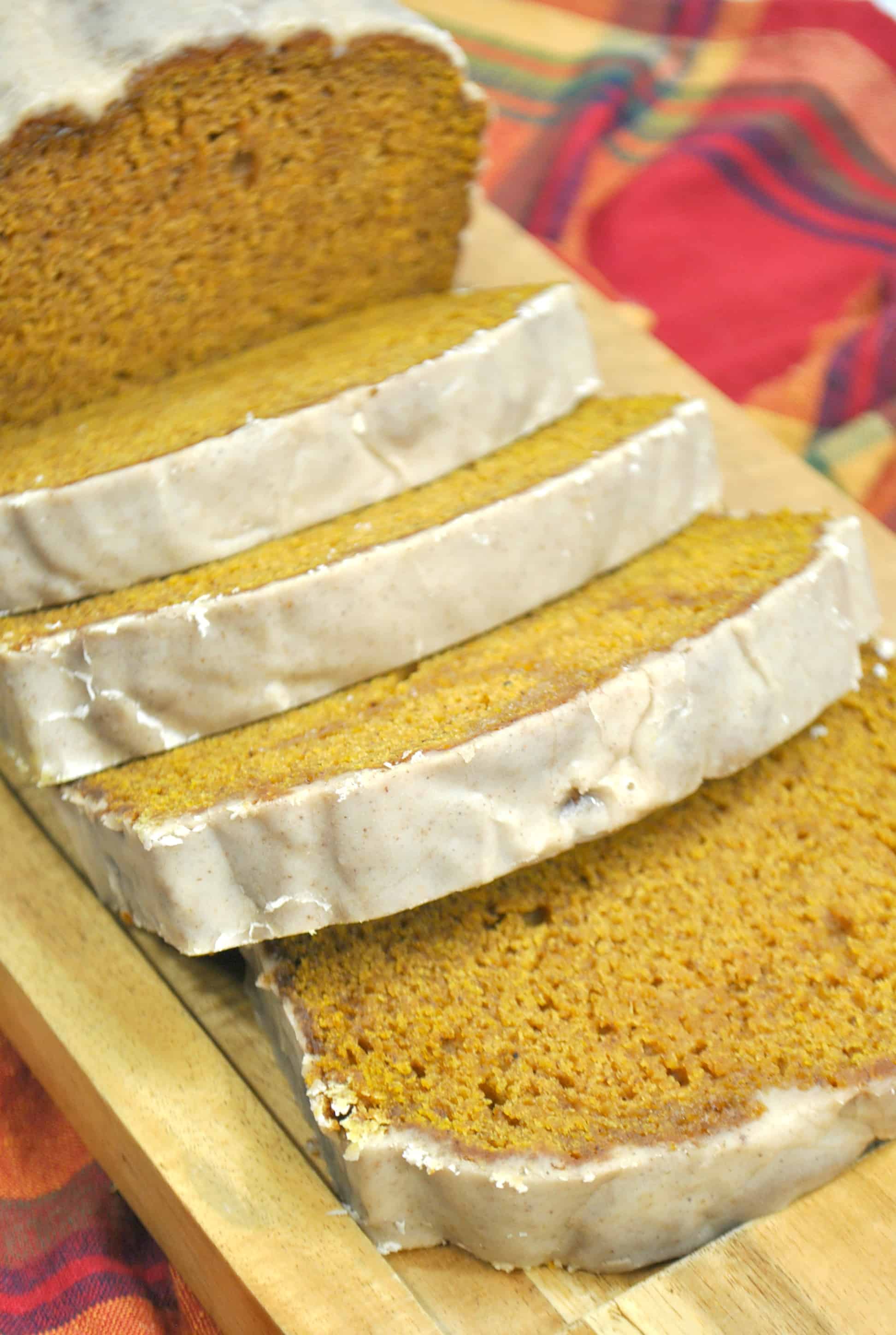 Get new recipes weekly plus our FREE ebook!