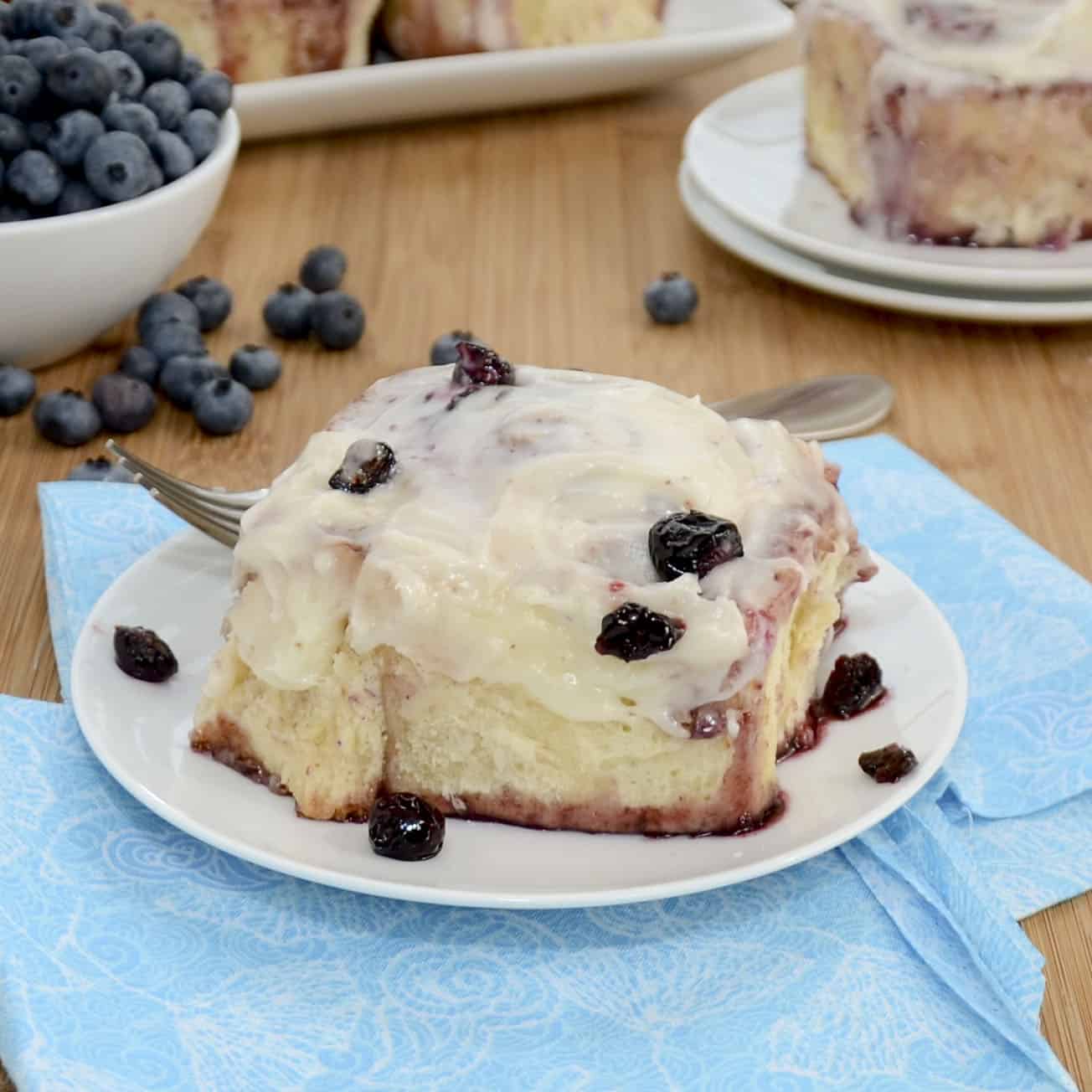 Blueberry Cinnamon Rolls are wonderful for breakfast or brunch. Serve these blueberry rolls or the holidays or whenever you have a craving for something that is extra yummy. These homemade blueberry cinnamon rolls will please a crowd, and everyone will rave about them.
Scroll to bottom for printable recipe card.
Blueberry Cinnamon Rolls
I have been wanting to make cinnamon rolls ever since the last time I made them back in January. Since my parents have been visiting us from my hometown of Columbus, Ohio, for about two weeks now, it just seemed like the perfect time to whip up a batch! It is always nice to share a batch of cinnamon rolls with others; otherwise, I can't be trusted around them! 😉 The other day while my mom and I were at the local farmers market, I spotted these amazing blueberries just begging me to buy them. At the time I bought them, I didn't know what their fate would be. Maybe thrown into some muffins, perhaps a loaf, or even some scrumptious pancakes.
Ultimately, blueberry cinnamon rolls won, and I found myself searching for the perfect recipe. I altered my Sensational Cinnamon Roll recipe to include an incredible blueberry filling that I found over on The Beantown Baker's wonderful food blog. Warm ooey, gooey, melt-in-your-mouth cinnamon rolls stuffed with plump blueberries and topped with rich cream cheese frosting. Let me tell you; these babies are worth every last calorie! Don't let the rise time stop you from making these cinnamon rolls. They can be made ahead of time and placed in the refrigerator to rise overnight. When you are ready to bake, just pop them into the preheated oven and bake! Get ready for some tender, gooey, and shamelessly large cinnamon rolls. Come on; you deserve it! 😀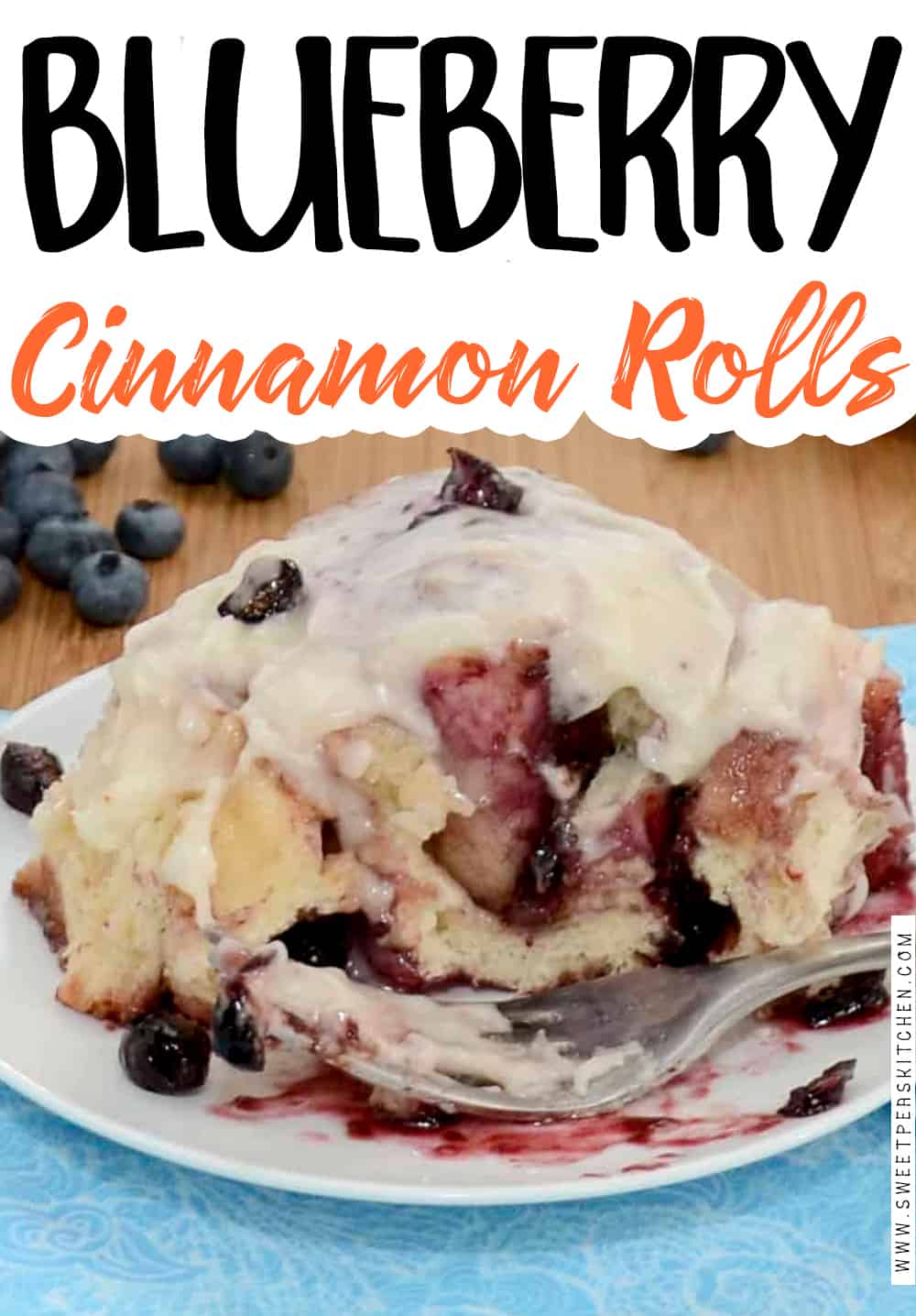 How to Know if Yeast Is Active
The most simple way to figure out if your yeast is active is by combining it with warm milk and sugar. Let it sit and rest for 10 minutes, and there should be bubbles that form. If the bubbles form, then it's active and good to use. If, however, you don't see any bubbles form, then the yeast has most likely gone bad and should be discarded.
Which Is Better Fresh or Frozen Berries
I love to use fresh blueberries, but that is just my preference. You can just as easily make these blueberry rolls by using frozen blueberries. I like to base what I am going to use on what I already have on hand or what I can get on sale. I like saving money and if you are the same, then use whatever is less expensive for you.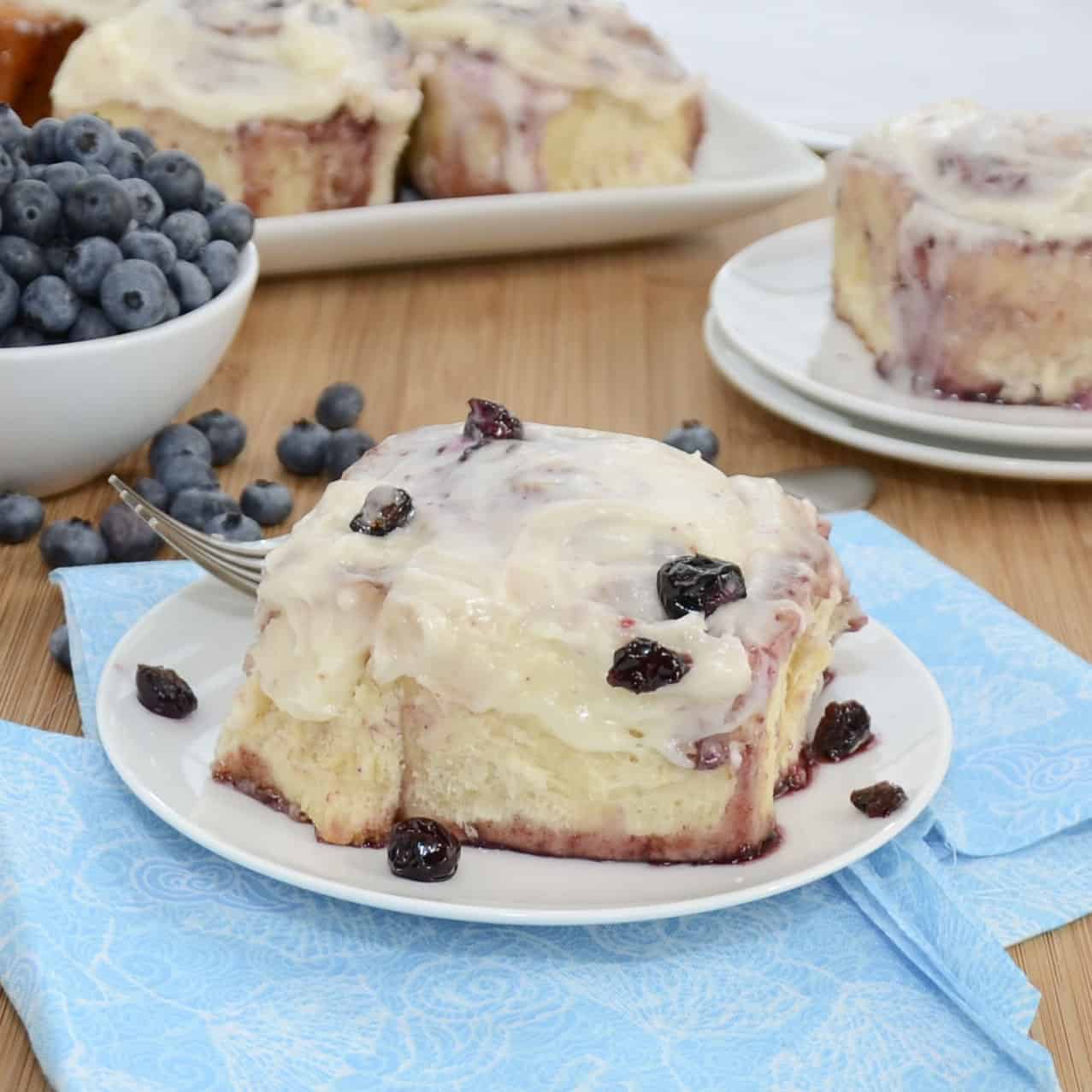 Why Are My Rolls Chewy
Typically, when the homemade blueberry cinnamon rolls seem chewy, it's because the batter was mixed too much, or it wasn't allowed to rise properly. Be sure to follow the directions well and don't overmix the dough. It's equally important not to rush the process and bake the blueberry yeast rolls before they have risen all the way. Otherwise, you will end up with chewy and dense cinnamon rolls.
Storing Blueberry Rolls
Keep the leftover blueberry cinnamon rolls in a container that's airtight. You don't need to refrigerate them unless you want to. They will last around 3-4 days and can be warmed in the microwave before serving if you prefer them to be warmed. Don't heat them too long, or they will become hard.
Can You Freeze Leftover Blueberry Cinnamon Rolls
Yep, of course! Freezing leftover blueberry rolls is so easy. You can either wrap each one up separately in plastic wrap or freeze the entire pan. It's entirely up to you. As long as they are kept airtight, you shouldn't have any trouble keeping them in the freezer for up to 3 months. Thaw in the fridge overnight and microwave to heat up.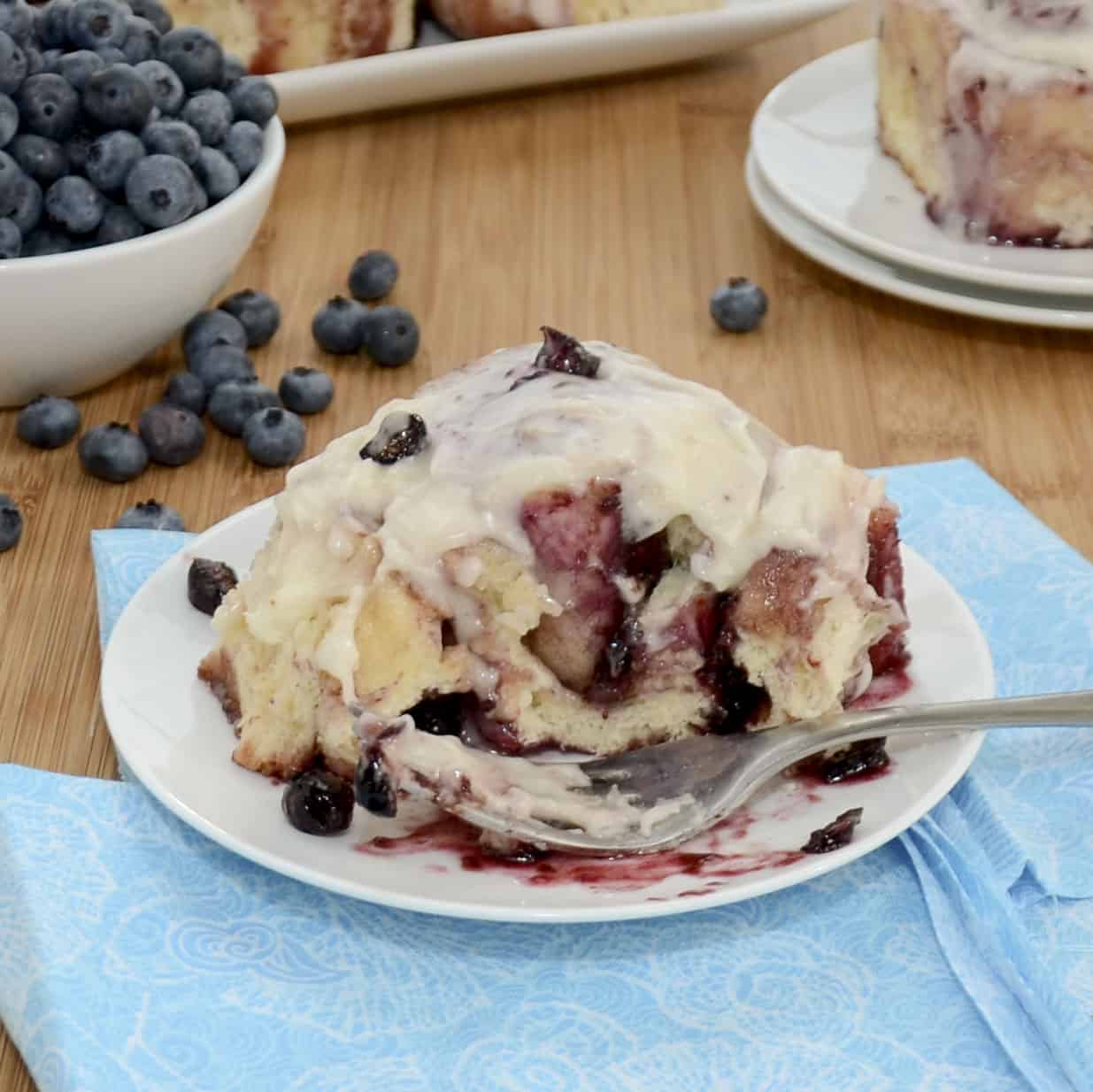 Ingredients
Warm milk
Granulated white sugar
Active dry yeast
Melted butter
Eggs, room temperature
Bread flour
Salt
Blueberries
Cornstarch
Lemon juice
Water
Brown sugar
Ground cinnamon
Butter softened
Package cream cheese softened
Unsalted butter softened
Confectioners' sugar
Pure vanilla extract
Salt
How to Make Blueberry Cinnamon Rolls
First Step: Put the oven rack in the center position and warm the oven to 200 degrees F. After the oven has reached 200 degrees, turn it off.
Second Step: Mix the warm milk, sugar, and yeast together in the bowl of your stand mixer. Allow it to rest until it has activated and is foamy about 10 minutes.
Third Step: Mix in the eggs, flour, sugar, butter, and salt into the yeast mixture. Combine with the dough hook using medium-low speed until it's combined for 5 minutes.
Fourth Step: Put the dough into a bowl that has been oiled. Then add a piece of plastic wrap on top and place the bowl inside of the oven to let it double in size. It will usually take around 1 hour to double.
Fifth Step: During the time that the dough is rising, go ahead and begin making the blueberry filling. First, take a small saucepan and heat it over medium heat. Add in 1 cup of blueberries along with the cornstarch, sugar, lemon juice, and water. Cook until it's simmering. Stir frequently, so it doesn't stick to the pan and burn. Once the blueberries have broken down and have thickened, go ahead and transfer it to a bowl and let them cool to room temperature.
Sixth Step: After the cinnamon roll dough has doubled in size, place it on a surface that has been floured lightly. Let it rest for 10 minutes. Combine the brown sugar and cinnamon in a small bowl. Place parchment paper in a 9×13 baking pan and grease with butter.
Seventh Step: Roll the dough, so it's in a 16×21 sized rectangle. Add 1/3 cup of butter onto the dough. Add the blueberry mixture onto the dough as well. Finally, sprinkle with cinnamon and sugar along with the last cup of blueberries.
Eighth Step: You will need to roll the dough up very tight and cut it into 12 rolls. Place each of the rolls into the 9 x 13 pan.
Ninth Step: Cover the blueberry cinnamon rolls and let them double in size. Turn on the oven to 350 degrees.
Tenth Step: Bake the rolls for 20-25 minutes or until they are golden brown.
Eleventh Step: Put half the frosting on the rolls and let them sit for 2-3 minutes, then add the rest of the frosting.
Serve warm and enjoy!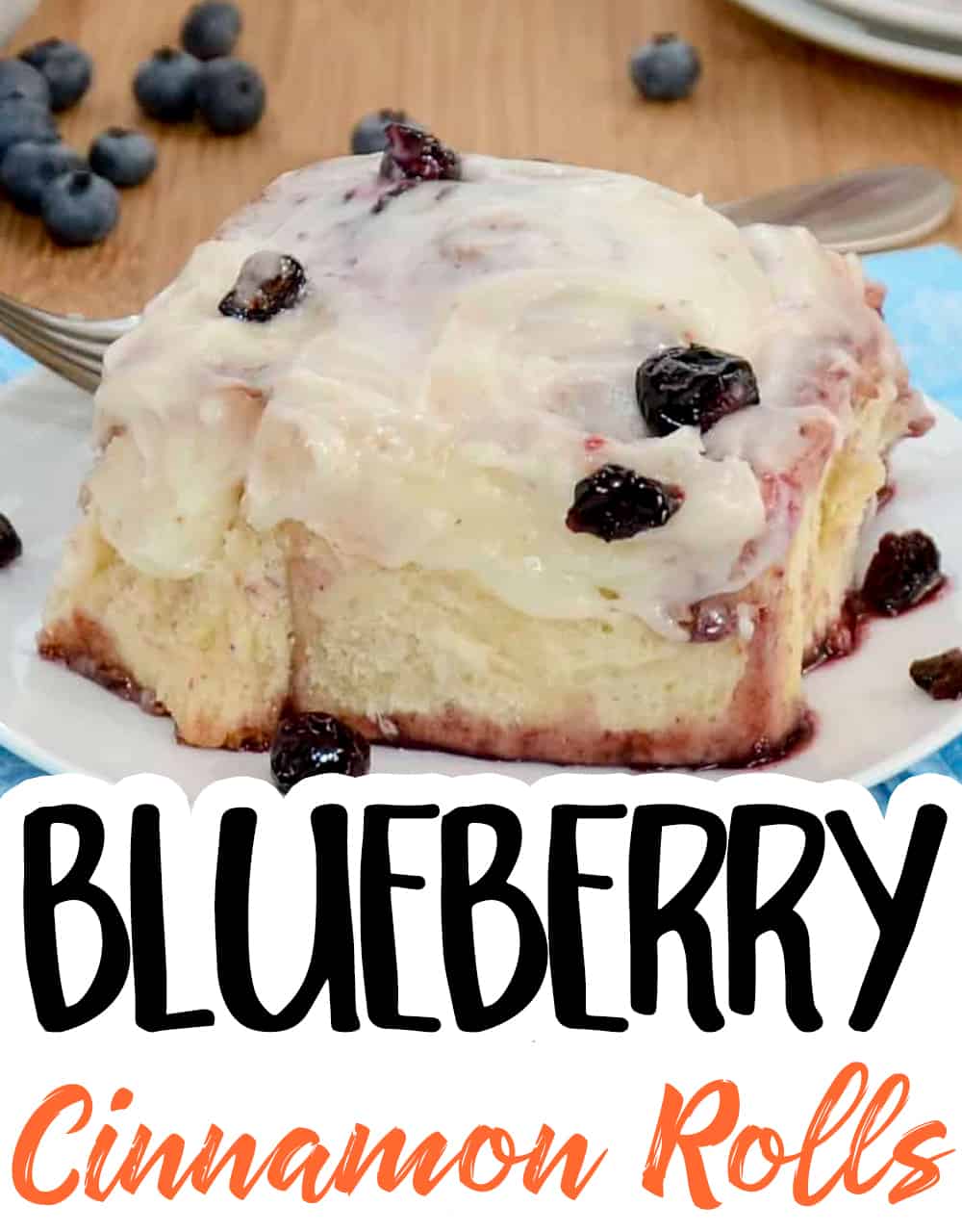 Now, remember to save this recipe on Pinterest for later 🙂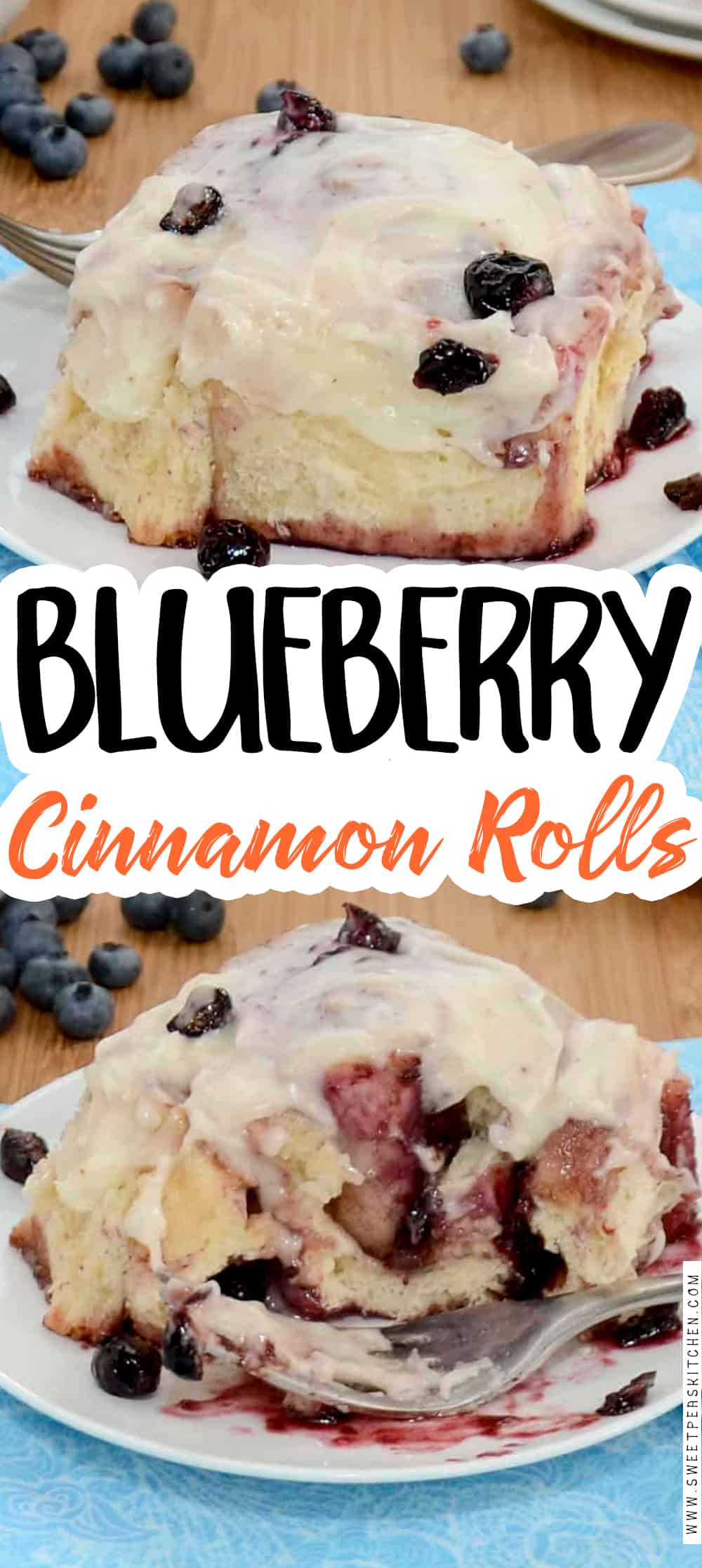 Pin this recipe now to remember it later
Blueberry Cinnamon Rolls
Servings:
12
cinnamon rolls
Blueberry Cinnamon Rolls are wonderful for breakfast or brunch. Serve these blueberry rolls or the holidays or whenever you have a craving for something that is extra yummy. These homemade blueberry cinnamon rolls will please a crowd, and everyone will rave about them.
Ingredients
1

cup

warm milk

,

110 degrees F

1/2

cup

white sugar plus 1 tablespoon sugar

2½

teaspoons

1 envelope active dry yeast

2

cups

blueberries

,

divided

1 ½

tablespoons

granulated sugar

1 ½

teaspoons

lemon juice

1/4

cup

plus 2 tablespoons water

3/4

cup

brown sugar

,

packed

1½

tablespoons

ground cinnamon

1

6 ounce package cream cheese, softened

1/2

cup

unsalted butter

,

softened

3

cups

confectioners' sugar

1

teaspoon

vanilla extract
Want to save this recipe? Enter your email below and we'll send the recipe straight to your inbox!
NOTE: By saving this recipe, you agree to join our weekly recipes newsletter.
Instructions
Adjust oven rack to middle position and heat oven to 200 degrees. When oven reaches 200 degrees, shut off.

In the bowl of a stand mixer combine the milk and 1 tablespoon of sugar; add yeast and let rest 10 minutes until foamy.

Add butter, eggs, flour, remaining sugar and salt to the yeast mixture and mix with the dough hook on medium-low until thoroughly combined, about 5 minutes

Transfer the dough to a lightly oiled bowl, cover with plastic wrap and place in warm oven. Let rise until doubled in size, about 1 hour.

While the dough is rising, make the blueberry filling. In a small saucepan over medium heat, bring 1 cup blueberries, sugar, cornstarch, lemon juice, and water to a simmer. Cook, stirring frequently, until berries have broken down and mixture is thickened, about 5 minutes. Transfer to small bowl and cool to room temperature.

After the dough has doubled in size turn it out onto a lightly floured surface, cover and let rest for 10 minutes. In a small bowl, combine brown sugar and cinnamon. Line 9×13 inch baking pan with parchment paper, allowing excess to hang over pan edges. Butter the parchment.

Roll dough into a 16×21 inch rectangle. Spread dough with ⅓ cup butter, leaving a 1/4″ margin at the long side of dough. Spread reserved cooked blueberry mixture over top of the butter and sprinkle evenly with sugar/cinnamon mixture. Sprinkle remaining 1 cup of blueberries over the sugar/cinnamon mixture.

Roll up the dough tightly, under-tucking after each completed rollover. Cut into 12 rolls. Place rolls into prepared 9×13 inch baking pan.

Cover and let rise until nearly doubled, about 30 minutes. Meanwhile, preheat oven to 350 degrees F.

In the bowl of a stand mixer fitted with the paddle attachment, beat together cream cheese, ½ cup butter, confectioners' sugar, vanilla extract and salt.

Bake rolls in preheated oven until golden brown, about 20-25 minutes.

Spread cinnamon rolls with half of the frosting, let sit 2-3 minutes and then spread with remaining frosting. Serve immediately.
Nutrition
Serving:
1
g
|
Calories:
587
kcal
|
Carbohydrates:
93
g
|
Protein:
9
g
|
Fat:
21
g
|
Saturated Fat:
12
g
|
Polyunsaturated Fat:
7
g
|
Cholesterol:
82
mg
|
Sodium:
338
mg
|
Fiber:
3
g
|
Sugar:
52
g
Follow me on Pinterest for daily delicious recipes!
Want More Amazing GOOD Recipes?
Root Beer Float White Chocolate Chip Cookies – Great for holidays, parties or bake sales, these root beer float cookies are perfection.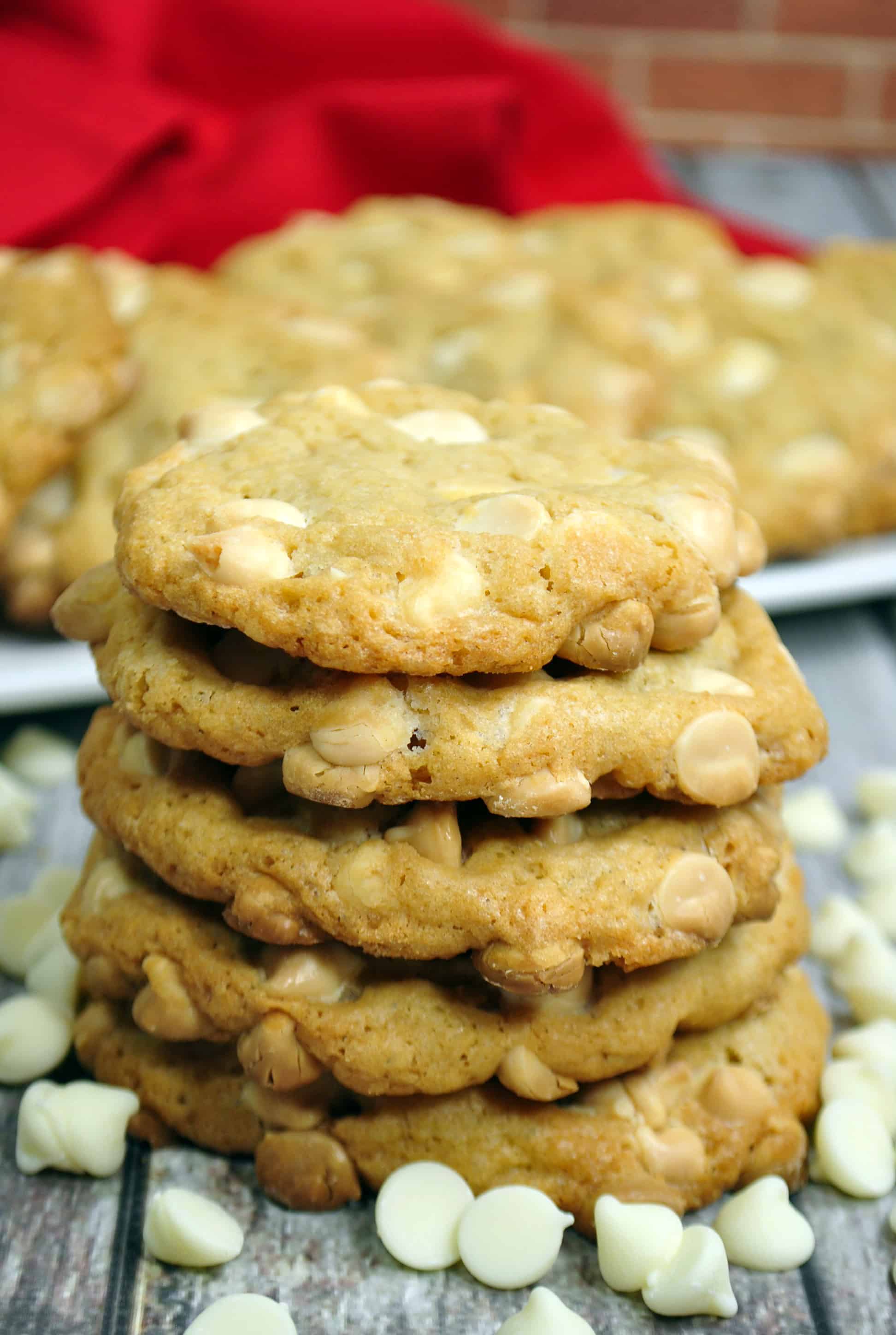 Pumpkin Chocolate Chip Cookies Recipe – So good, you are going to be craving pumpkin season all year long.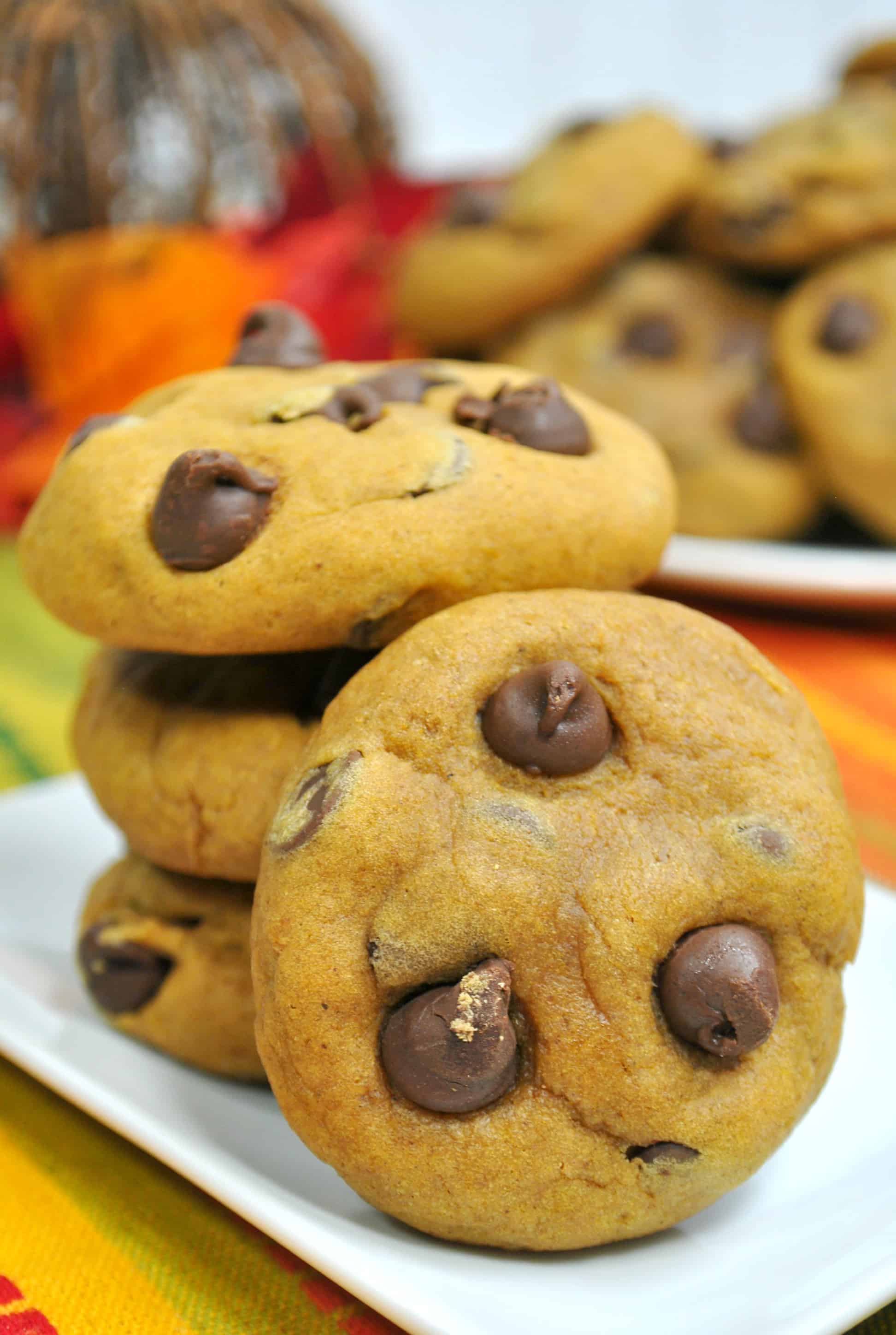 Peanut Butter Easy Snickerdoodle Cookies – Perfect for the holidays, or whenever you want a soft cookie treat.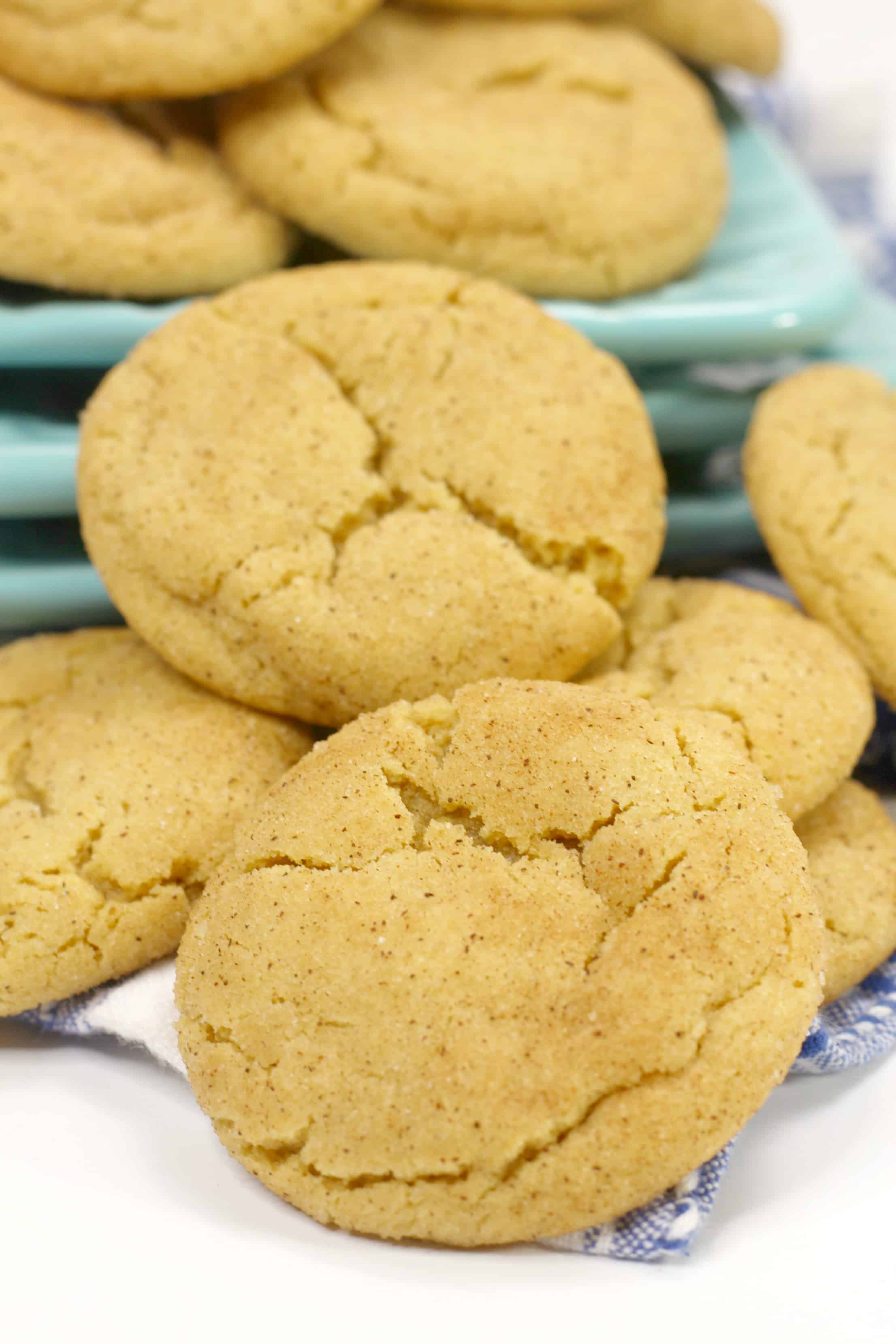 Homemade Gingerbread Cookies Recipe – Easy to make, enjoy these gingerbread cookies this holiday season.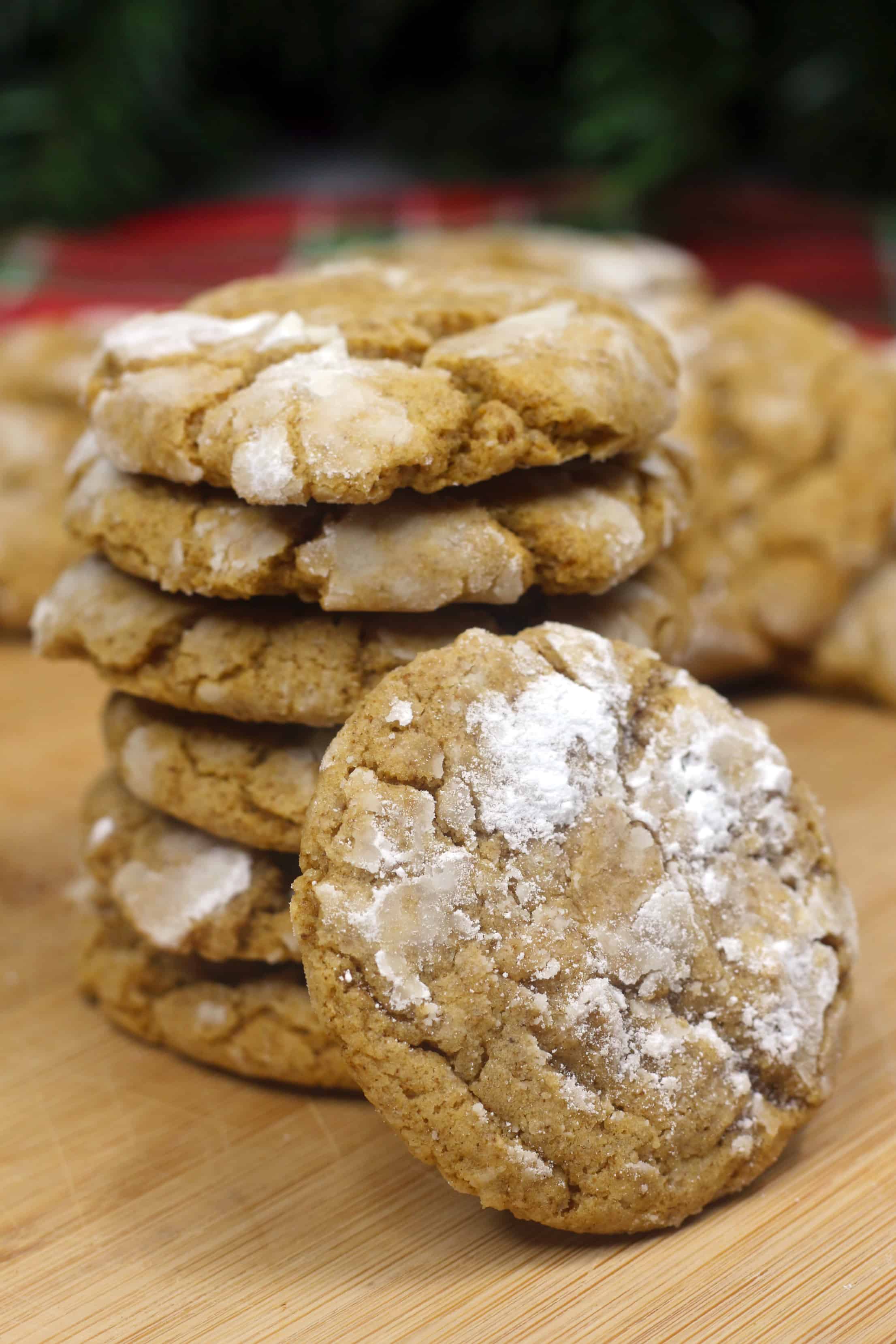 Fresh Apple Oatmeal Cookies Recipe – Chewy soft oatmeal cookies and fresh apples combine to give you this great tasting oatmeal breakfast cookies.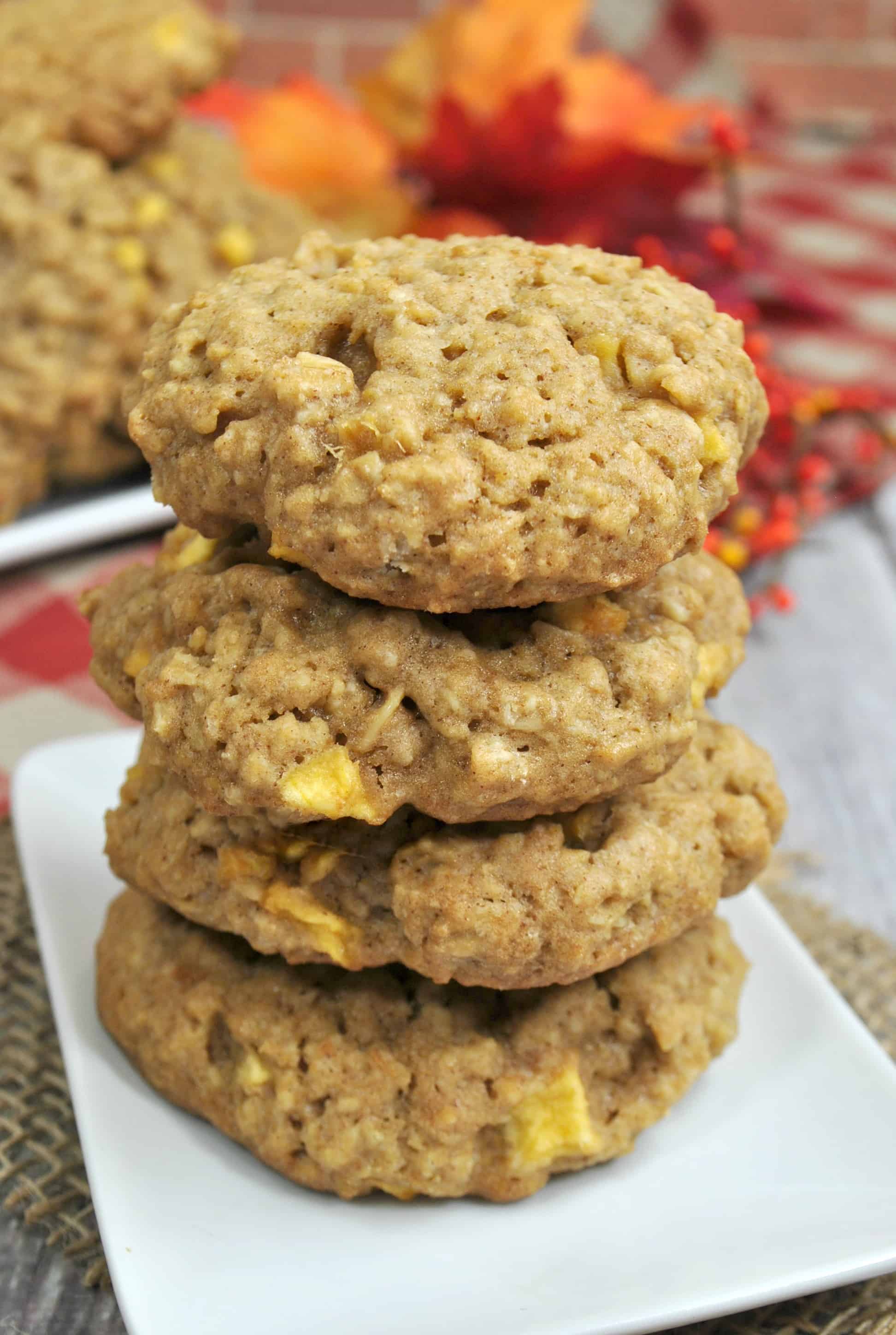 Get new recipes weekly plus our FREE ebook!