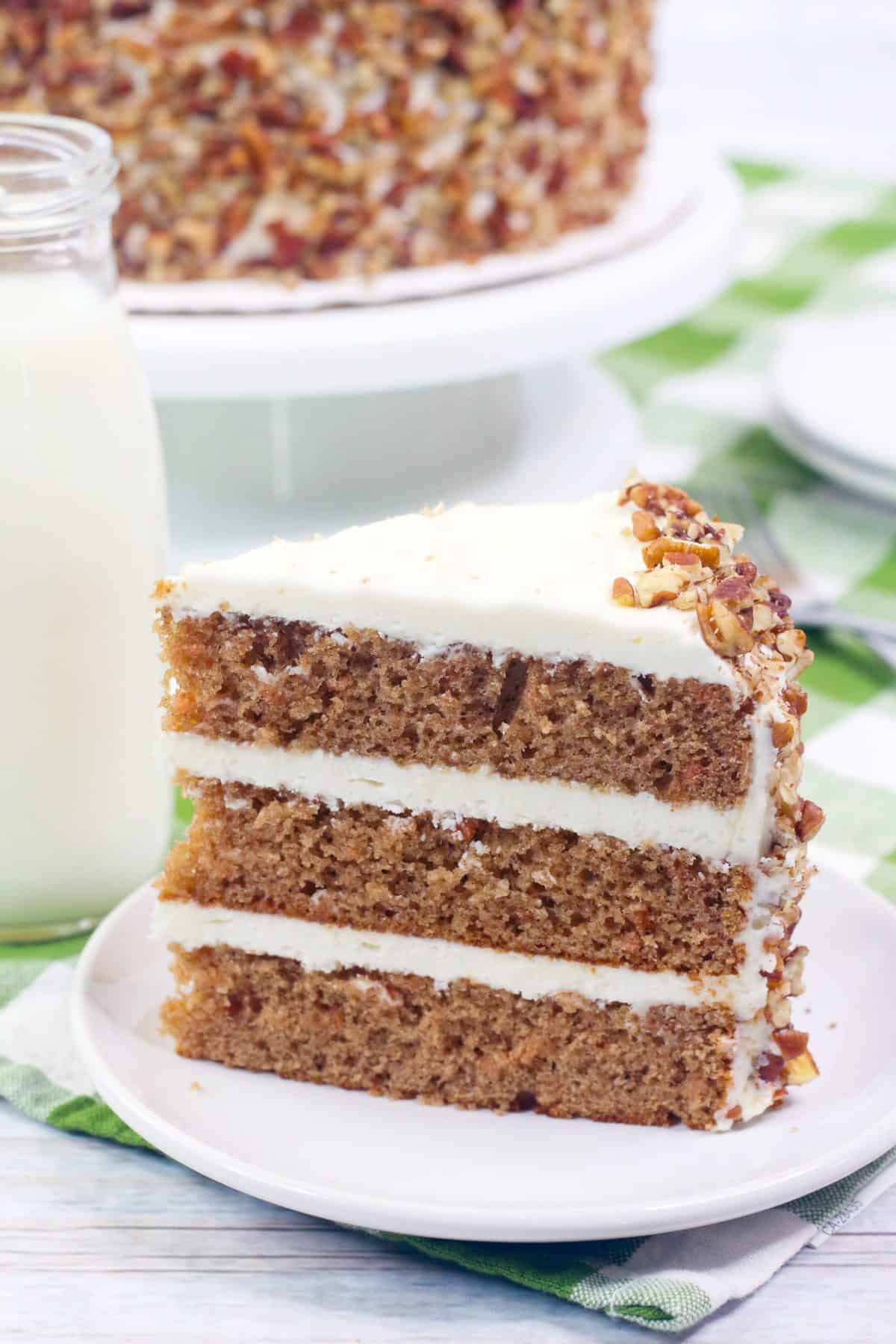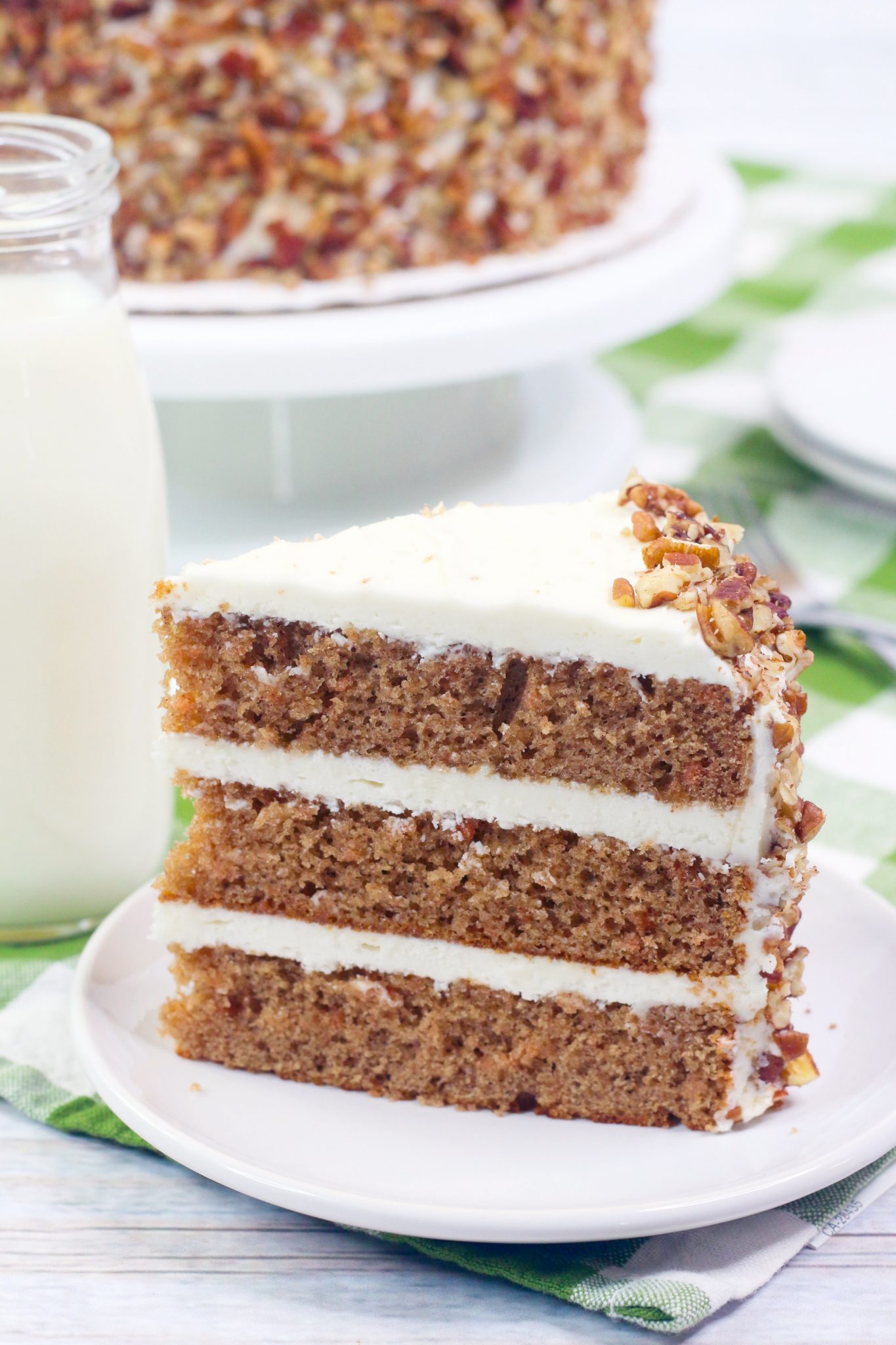 This Layered Carrot Cake Recipe is a homemade spiced cake that is moist, simple, and delicious. You can make this easy layered carrot cake for Easter or whenever you want something extra special.
This cake has real shredded carrots, nuts, and a divine homemade cream cheese frosting. I can't wait for you to taste this Easter cake recipe!
Scroll to bottom for printable recipe card.
Layered Carrot Cake Recipe
I always remember going to grandma's house for the holidays either for Easter or Thanksgiving, and she would serve her homemade carrot cake. I grew up loving layered carrot cake and can't even tell you how many I have made over the years. Every time I bake this Easter cake recipe, I am taken right back to being a kid again.
If you grew up eating carrot cake, I'm sure you will enjoy this layered cake as much as I do.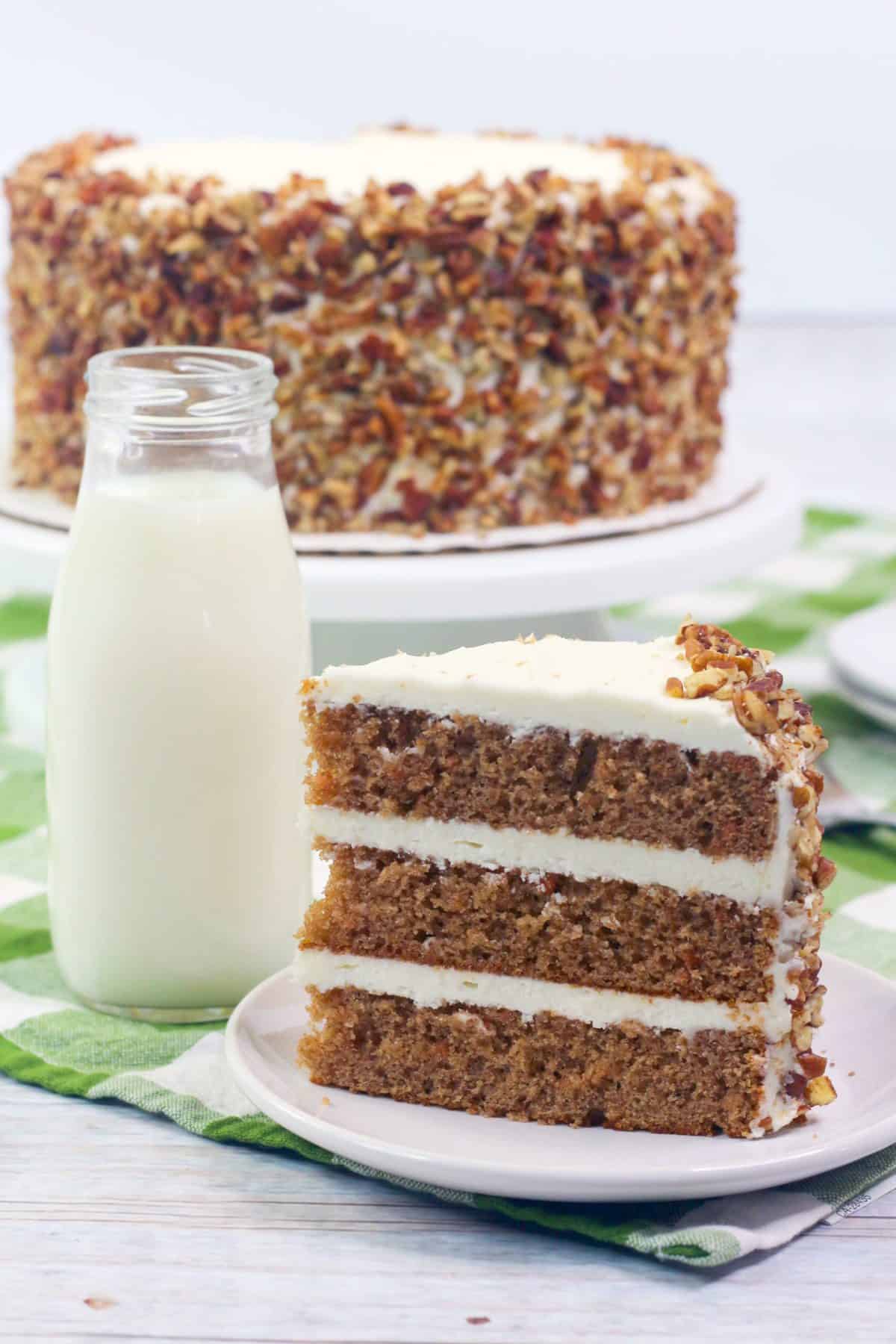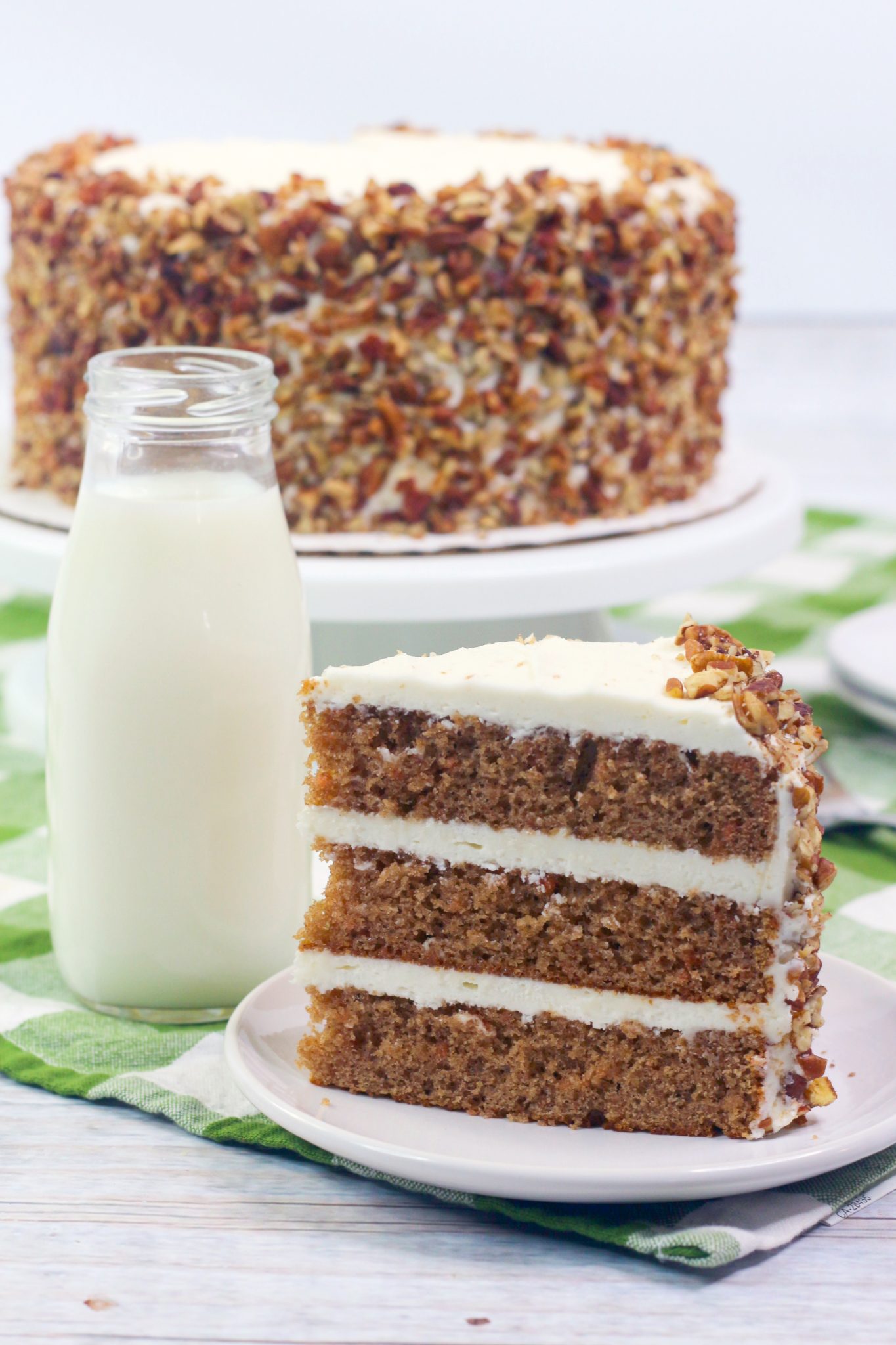 Besides the fact that I love this cake, I also enjoy shredded carrot recipes in general. They are so delicious, and adding carrots is a fun way to include some extra nutrients. So, if you are have been looking for easy carrot recipes, I hope you enjoy this one. It's seriously one of my ultimate favorites.
Can I Make This Cake Without Making A Layered Cake
Yes, you can absolutely make this cake without making it into a layered cake. Simply use your favorite 9 by 13 pan and bake a cake as directed, and you'll end up with a sheet cake instead. It is absolutely delicious even as a sheet cake, and you can frost it just the same way you would a layered cake only you may need less frosting.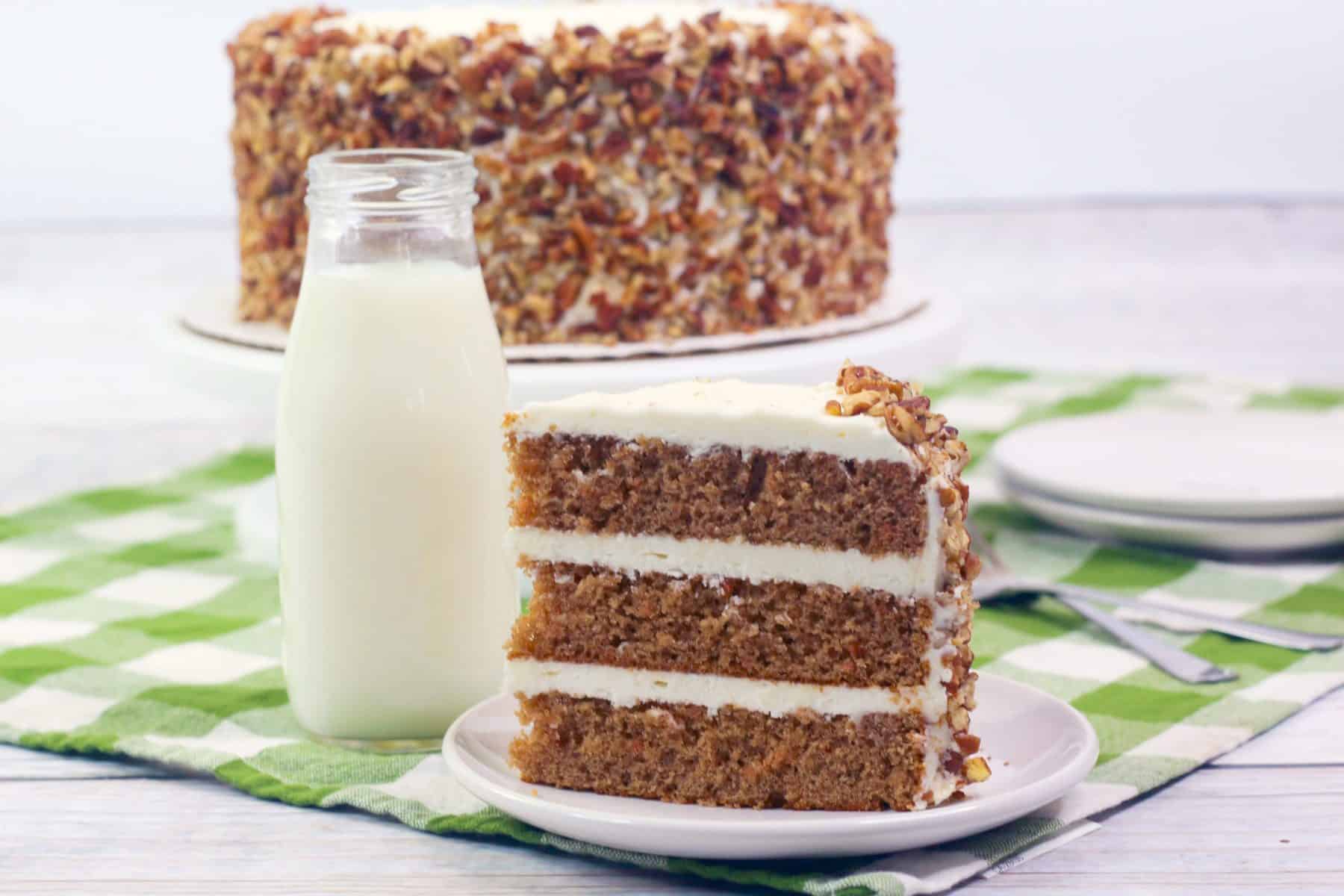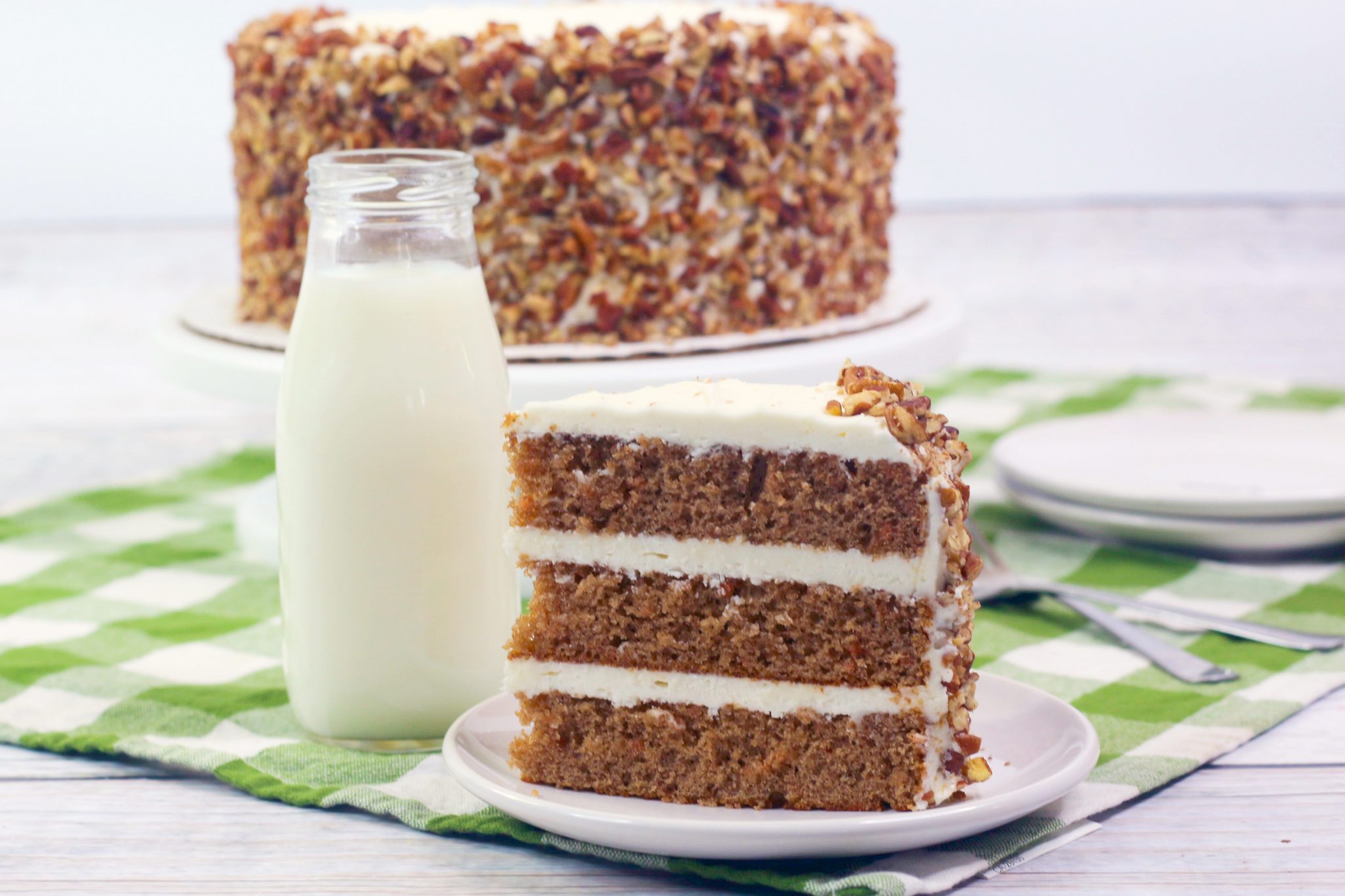 What Size of Pans Do I Need
You will need three 9in cake pans that are all around for this layered carrot cake recipe. If you do not have three 9-inch cake pans, you can swap them for a 9 by 13 pan instead of skip the layers altogether.
How to Know When Carrot Cake is Done
There are several ways to tell if this layered carrot cake is done baking or not. First, you will notice that the cake starts to pull away from the pan as it bakes. This is a great indicator. The cake is done cooking. another option is to take a toothpick and insert it to into the thickest part of the carrot cake. If the Tooth Fairy comes out dry, then you know that the cake is done. However, if you notice there are there is batter on the toothpick, then you know it needs to bake a little bit longer.
Lastly, you can take your finger and lightly touch the top of the cake. If you leave an indent in the top of the cake, then it needs to bake a little bit longer. But if it bounces right back up, then you know your cake is ready to come out of the oven.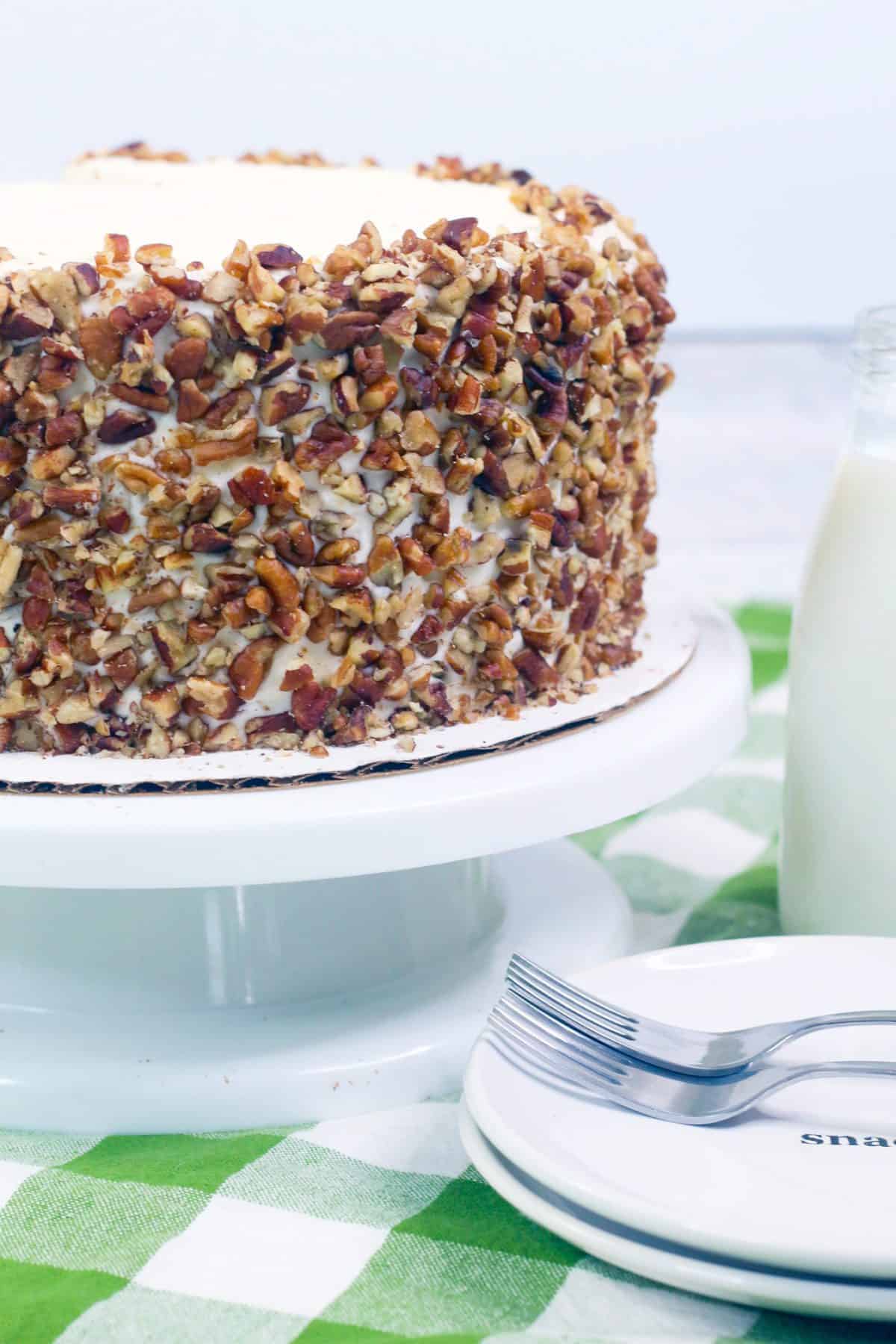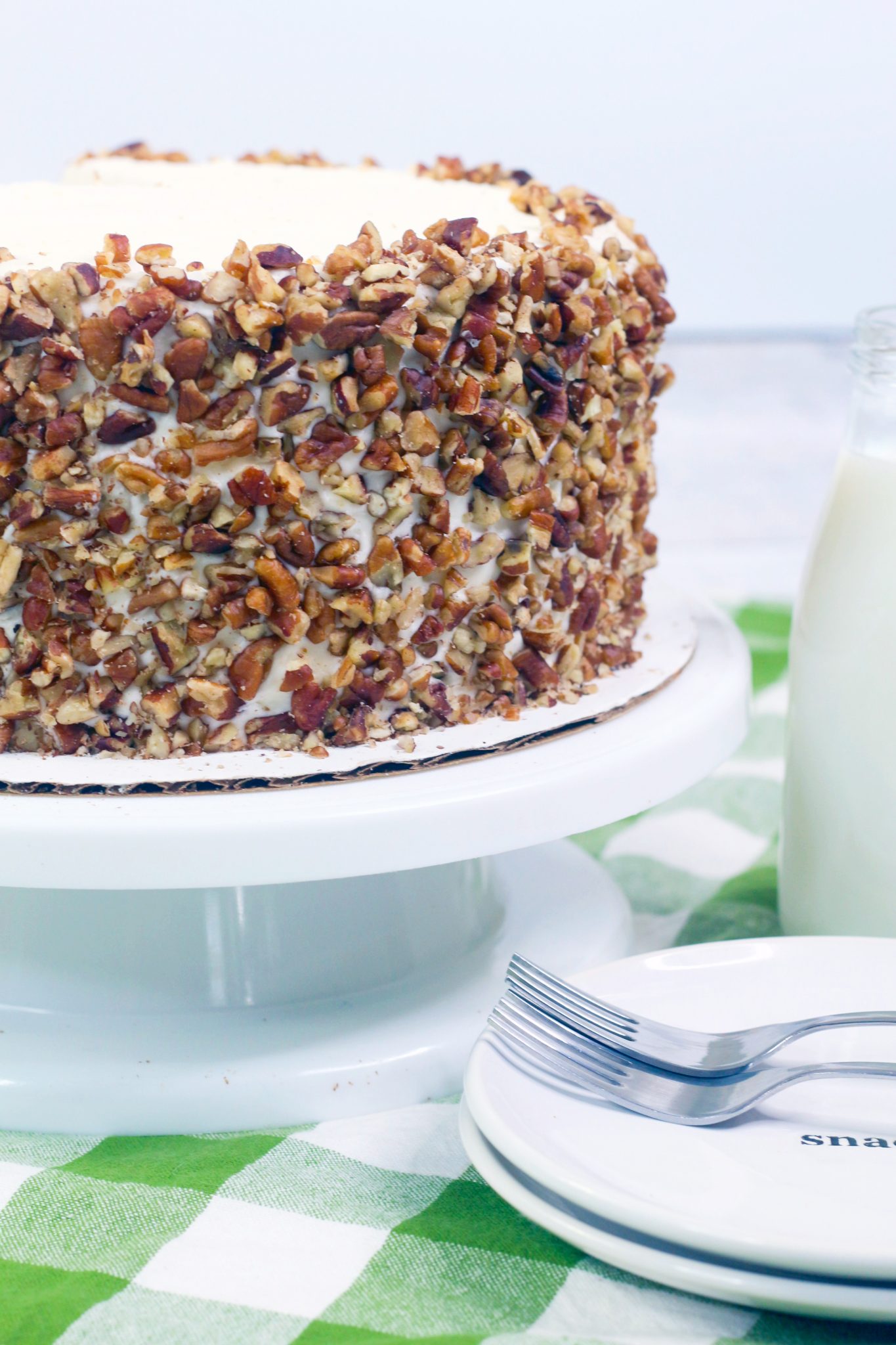 Do I Have To Add Nuts To Outside of Cake
No, you do not have to put nuts on the outside of the carrot cake. I love adding chopped pecans to my carrot cake because I think it is so delicious, and the crunch that it provides is extra yummy, and we just love it that way. You can completely omit the nuts, or you can swap the pecans for your favorite nut such as walnuts hazelnuts are almonds just make sure they're crunched up before you add them to the cake.
Ingredients
You will be amazed by how easy these ingredients are to work with when you're making your carrot cake. They combined perfectly to create a delicious cake that is wonderful for all occasions, and everyone will Rave about it.
Sugar
Canola oil
Large eggs
Flour
Baking soda
Baking powder
Salt
Cinnamon
Shredded carrots
Chopped pecans
Cream cheese frosting:
Unsalted butter softened
Block cream cheese, softened
Powdered sugar
Pure vanilla extract
Chopped pecans
Kitchen Supplies Needed:
3 round 9inch cake pans
1 10in round cake boards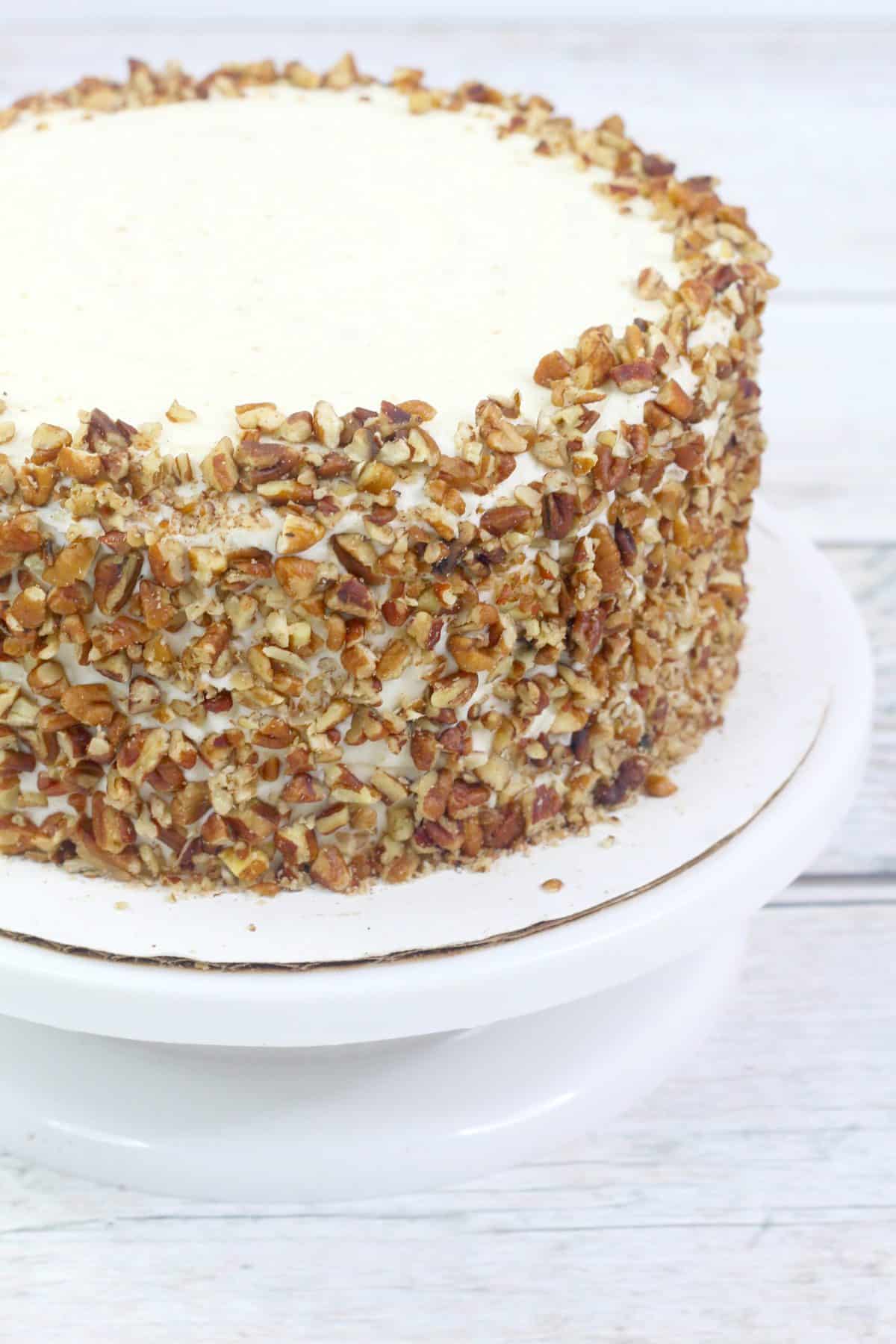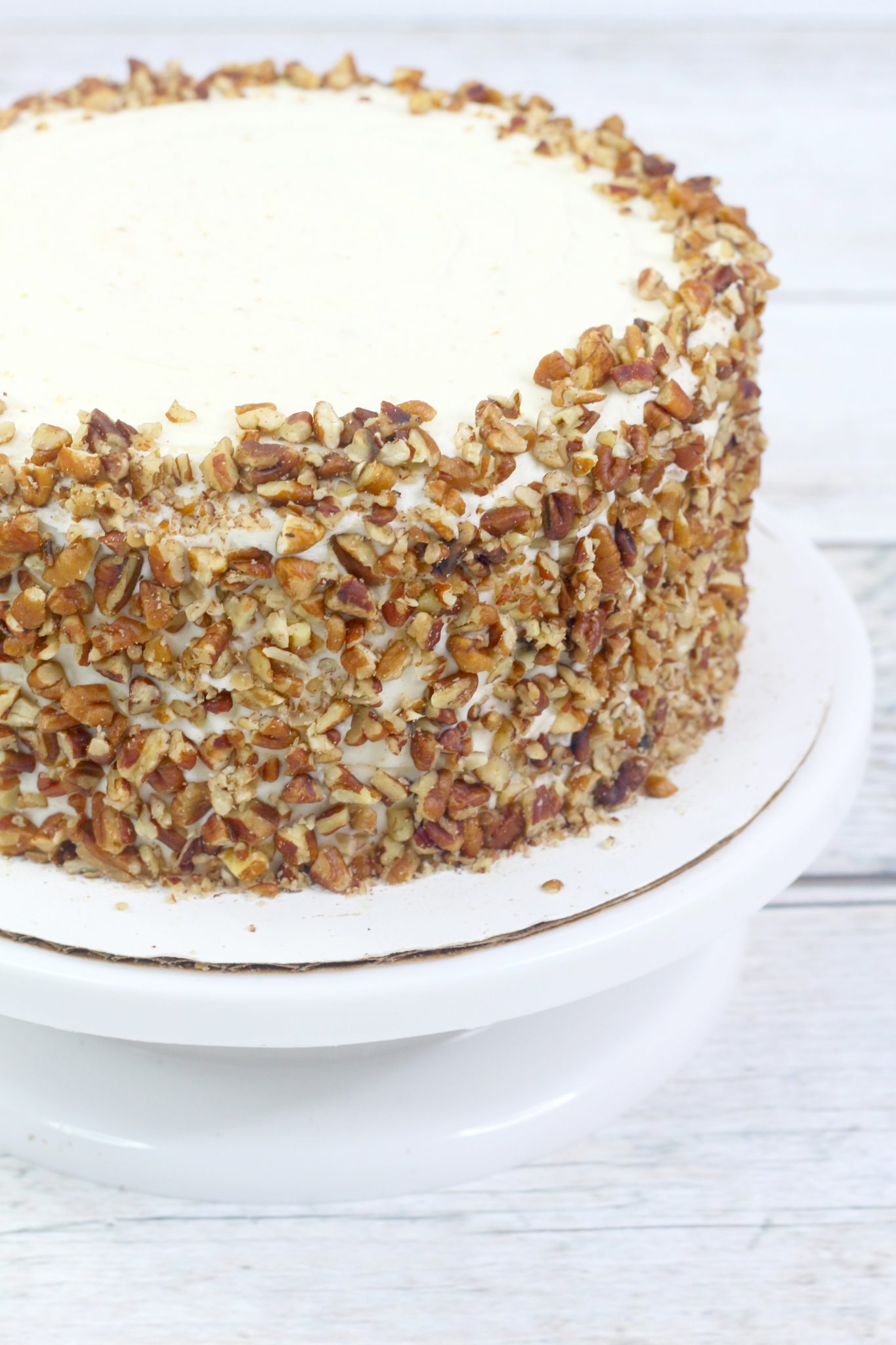 How to Make
I'm so excited to share with you how to make this carrot cake. It is the easiest cake to make in the whole wide world. Let's get started so you can head on in the kitchen and make this fantastic cake.
Carrot Cake Directions:
First, you'll need to spray each of the baking pans with nonstick spray and set aside for later.
Next, you'll need to take your stand mixer and combine the sugar oil and eggs. Mix until Incorporated.
In a small bowl, combine the flour baking soda baking powder salt and cinnamon until they're well combined. Then add the flour mixture to the sugar mixture and make sure it is incorporated well.
Gently fold in the carrots and one cup of the pecan pieces.
Divide the batter evenly among three cake pans and bake in the oven for 25 to 30 minutes.
Allow the cake to cool completely on a wire rack before frosting the cake.
Cream cheese frosting Directions:
To prepare the frosting, you will need to be together with the butter and cream cheese in a stand mixer.
Slowly beat in the powdered sugar and vanilla until the ingredients are combined well, and it is smooth and creamy.
Building and decorating directions:
In order to decorate the cakes, you will need to cut the domes off of the top of the cakes and crumble them into a bowl. Set them aside for later use.

Take the first layer of cake and place it on the 10 inch round cake board.

Place one cup of frosting onto the first layer of cake and smooth it out, so it is even.

Add the second cake layer to the first cake layer and add more frosting.

Finally, at the third layer cake on top. Use the leftover frosting to finish frosting the entire cake.

Take the rest of the chopped pecans and add them to the sides of the cake.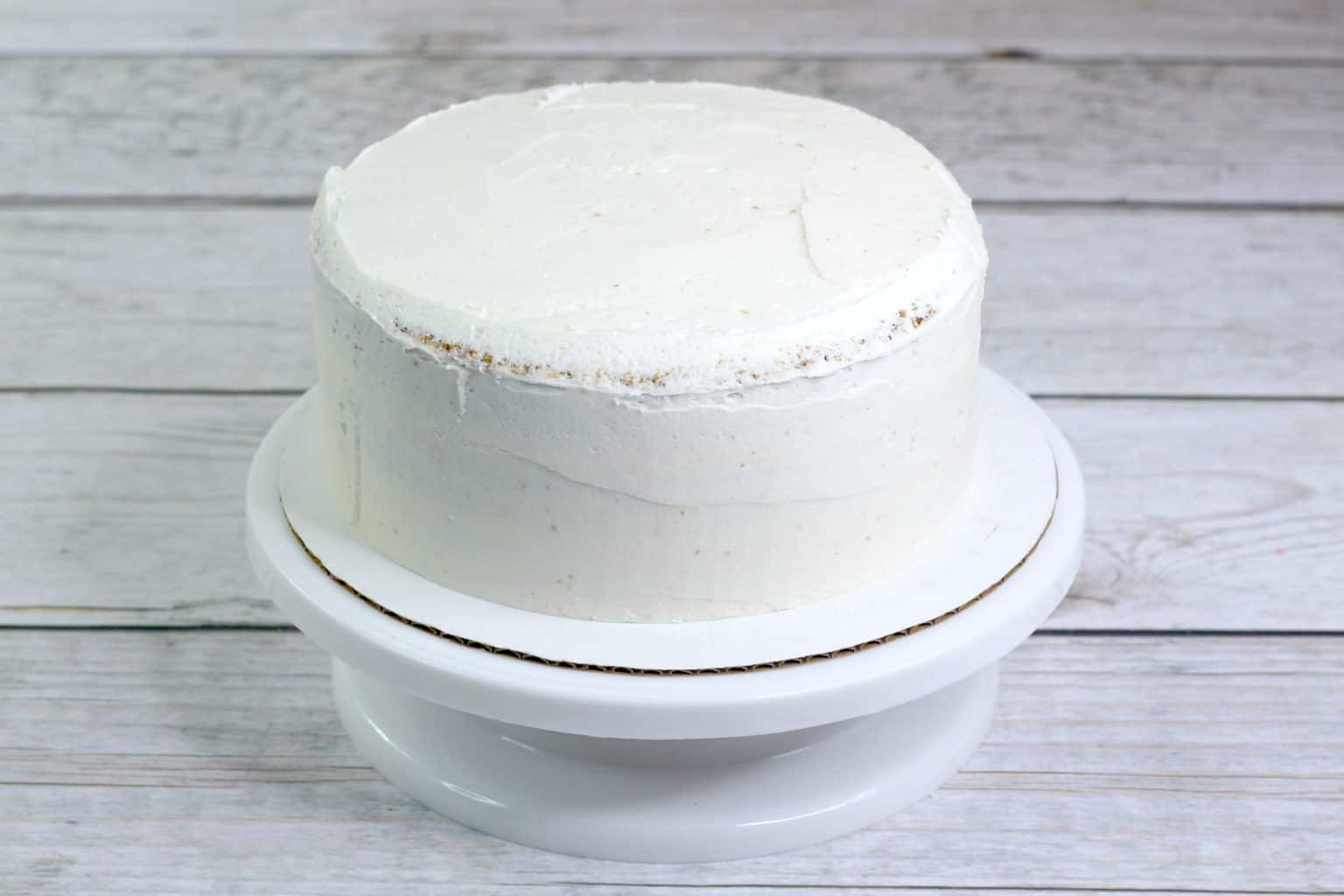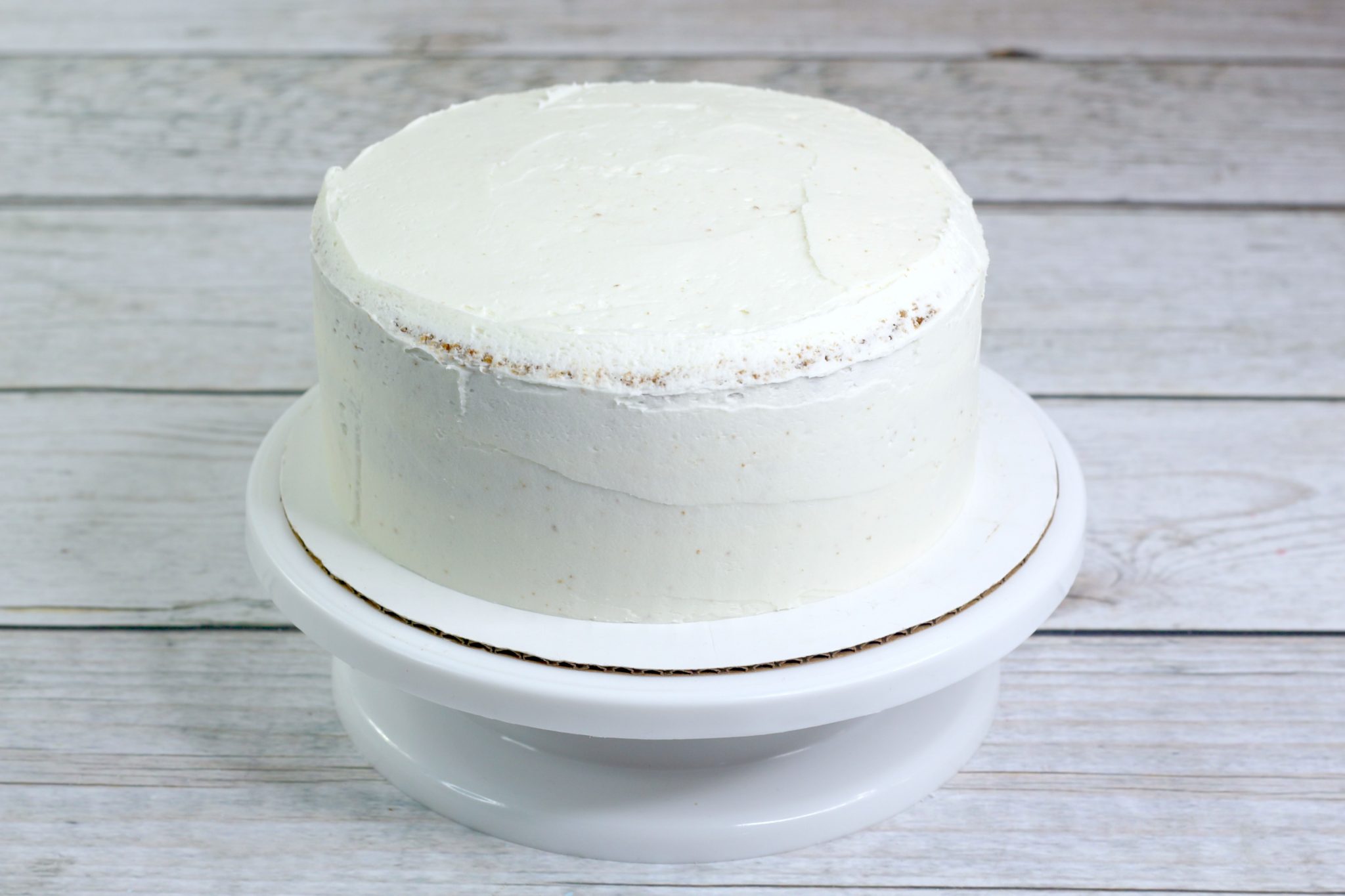 Enjoy!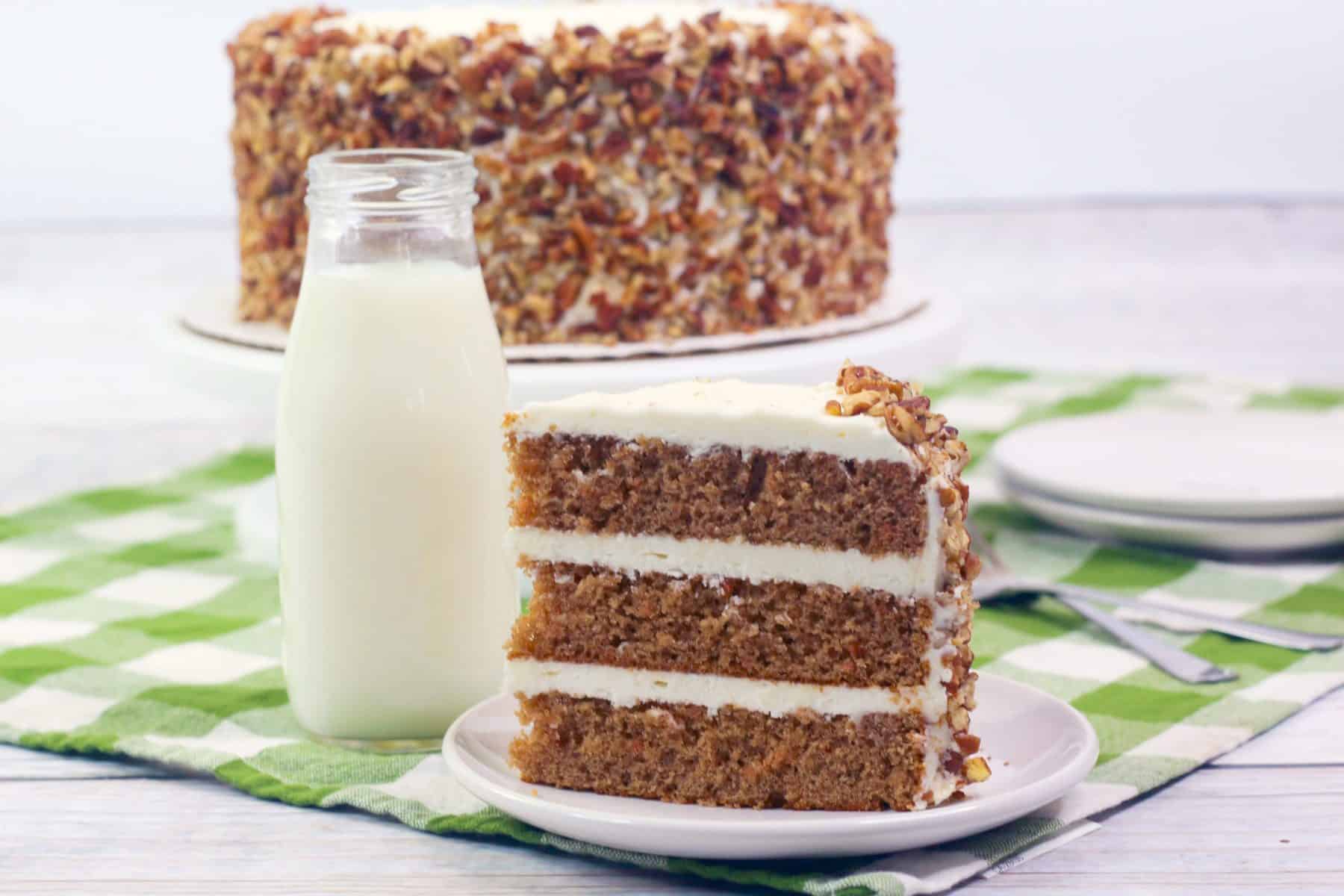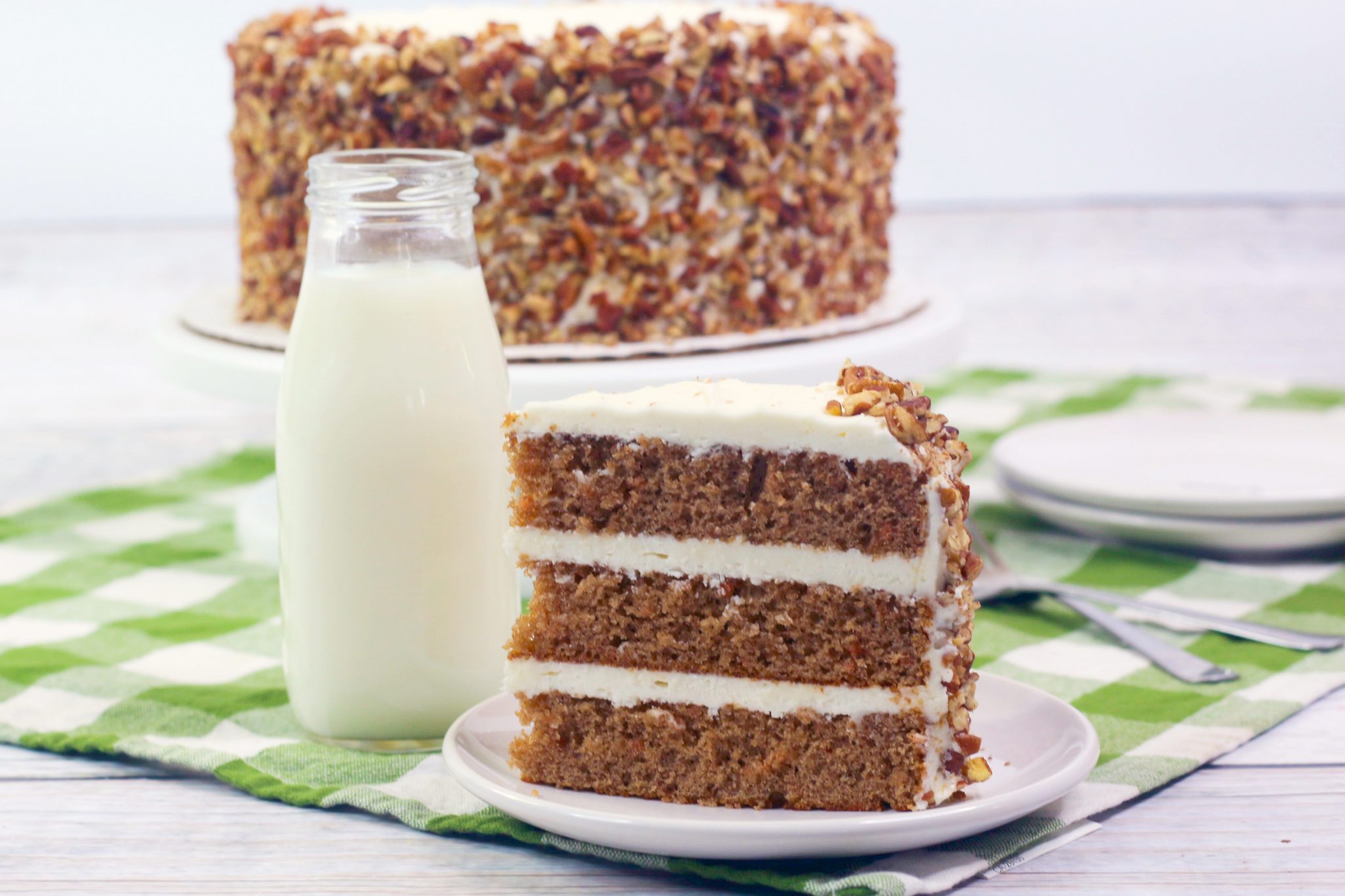 Now, remember to save this recipe on Pinterest for later!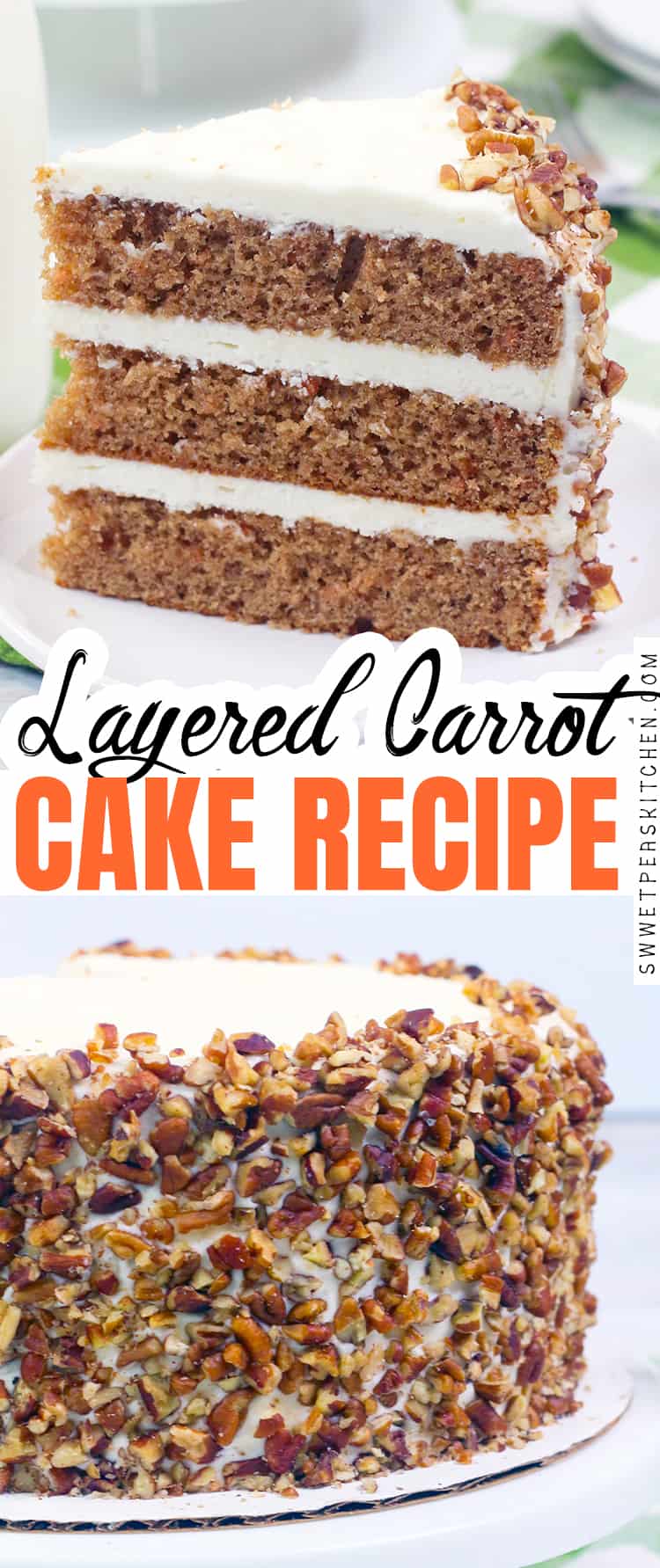 Pin this recipe now to remember it later
Carrot Cake Recipe
Whip up this Layered Carrot Cake recipe! A homemade carrot cake that is layers of moist, decadent spiced cake, that is smothered in a cream cheese frosting and sprinkled with chopped nuts.
Ingredients
Carrot cake Ingredients:
1 10

in

round cake boards
Cream cheese frosting:
½

C

unsalted butter softened

1 - 8

oz

block cream cheese

,

softened

2

tsp

pure vanilla extract
Want to save this recipe? Enter your email below and we'll send the recipe straight to your inbox!
NOTE: By saving this recipe, you agree to join our weekly recipes newsletter.
Instructions
Carrot Cake Directions:
Spray the cake pans with pam baking spray and set aside

Using a standing mixer, mix until combined the sugar, oil and eggs

Mix in the flour, baking soda, baking powder, salt and cinnamon until combined

Fold in the shredded carrots and 1 C pecan chips

Divide the batter between the three cake pans

Bake in the oven for 25-30 minutes

Allow cake to cool completely on a wire rack
Cream cheese directions:
Using a standing mixer, beat together the butter and cream cheese

Gradually beat in the powdered sugar and vanilla until combined and smooth
Building and decorating directions:
Cut off the domes of the cake and crumble into a bowl, set aside

Place the first layer of the cake onto a 10inch round cake board

Scoop 1 C of frosting into the piping bag

Scoop 1 C of frosting onto the first cake layer

Smooth evenly

Place the second cake layer on top of the first layer of frosting

Scoop another cup of frosting onto the second cake layer and smooth evenly

Place the last cake layer on top

Using the remaining frosting, frost entire cake

Using the chopped pecans, coat the entire cake

Sprinkle some of the chopped pecans on top around the edge

Cut and enjoy!
Follow me on Pinterest for daily delicious recipes!
If you've been craving cake, I have some wonderful cake recipes that I'm excited to share with you. Here are a few of our favorites that we can't wait for you to sink your teeth into; let's take a look.
Strawberry Pound Cake, this delicious strawberry pound cake is something you will not forget about once you taste it. Everything about it is absolutely delicious and Unforgettable.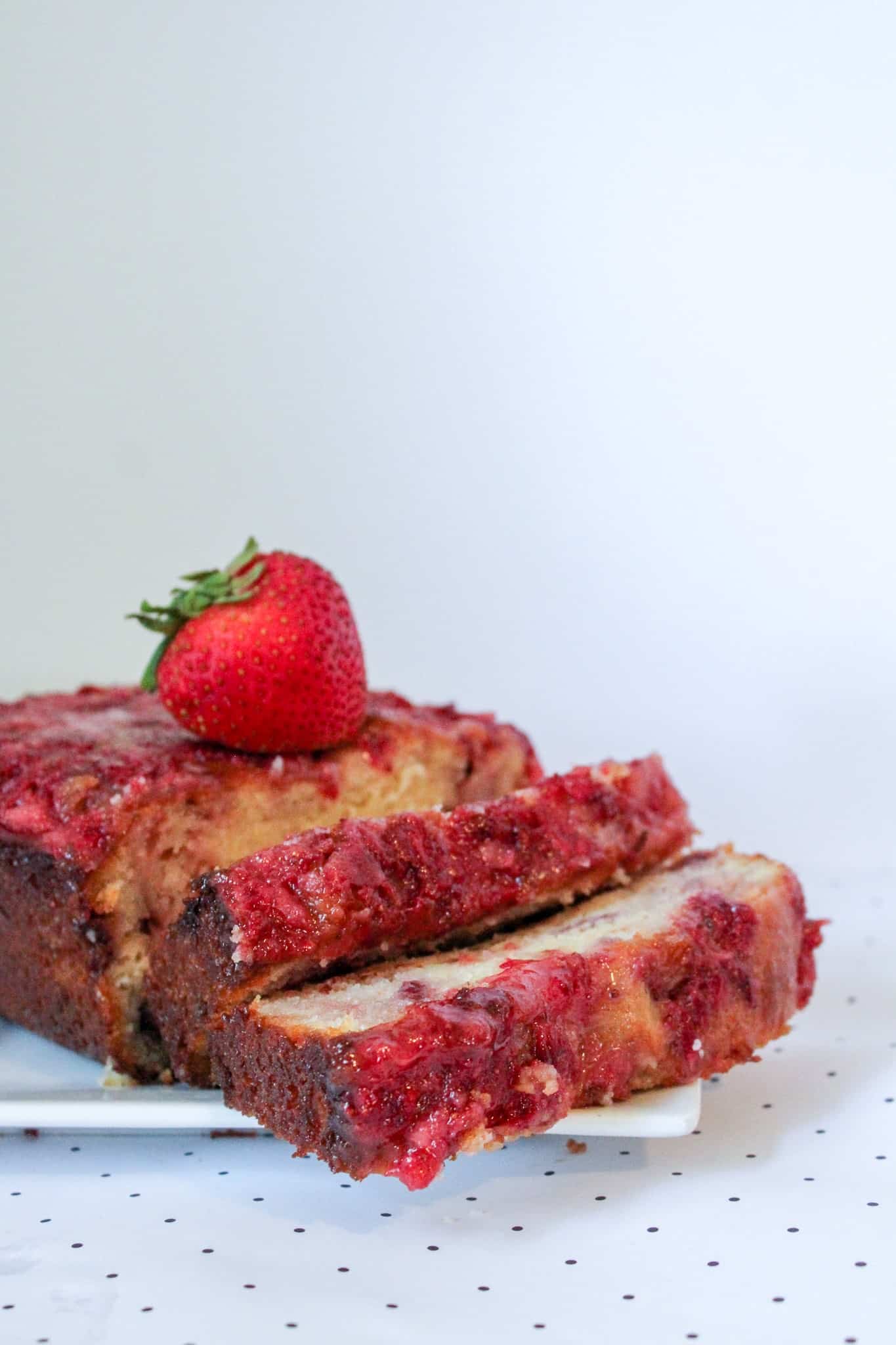 Banana zucchini pudding cake, we love this banana cake so much because it is easy to make, and everybody devours every single crumb. You don't want to miss out on this fantastic cake.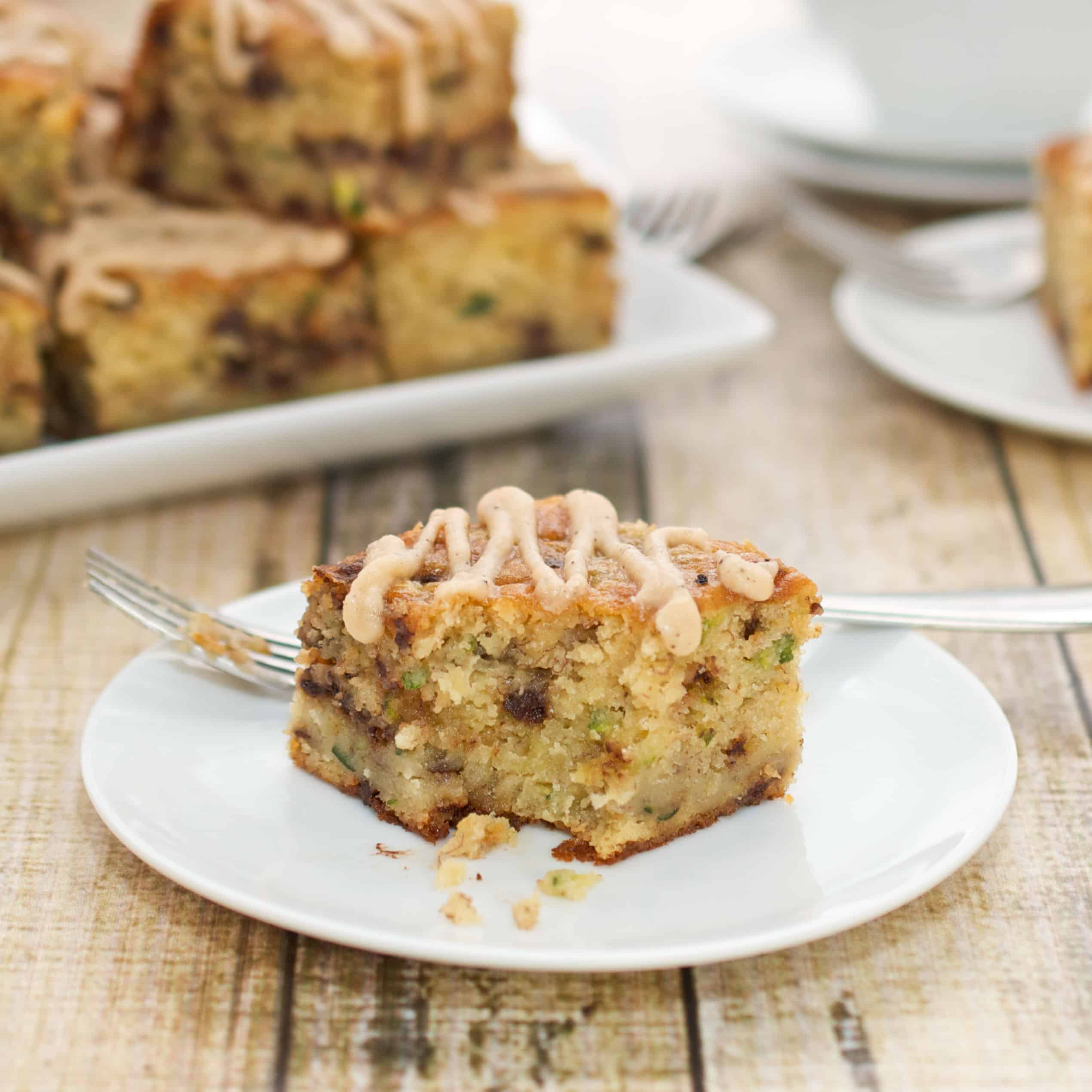 Chocolate earthquake cake, if you are craving chocolate, then you need to add this one to your list. It's a must-try cake that is decadently delicious and so simple to make.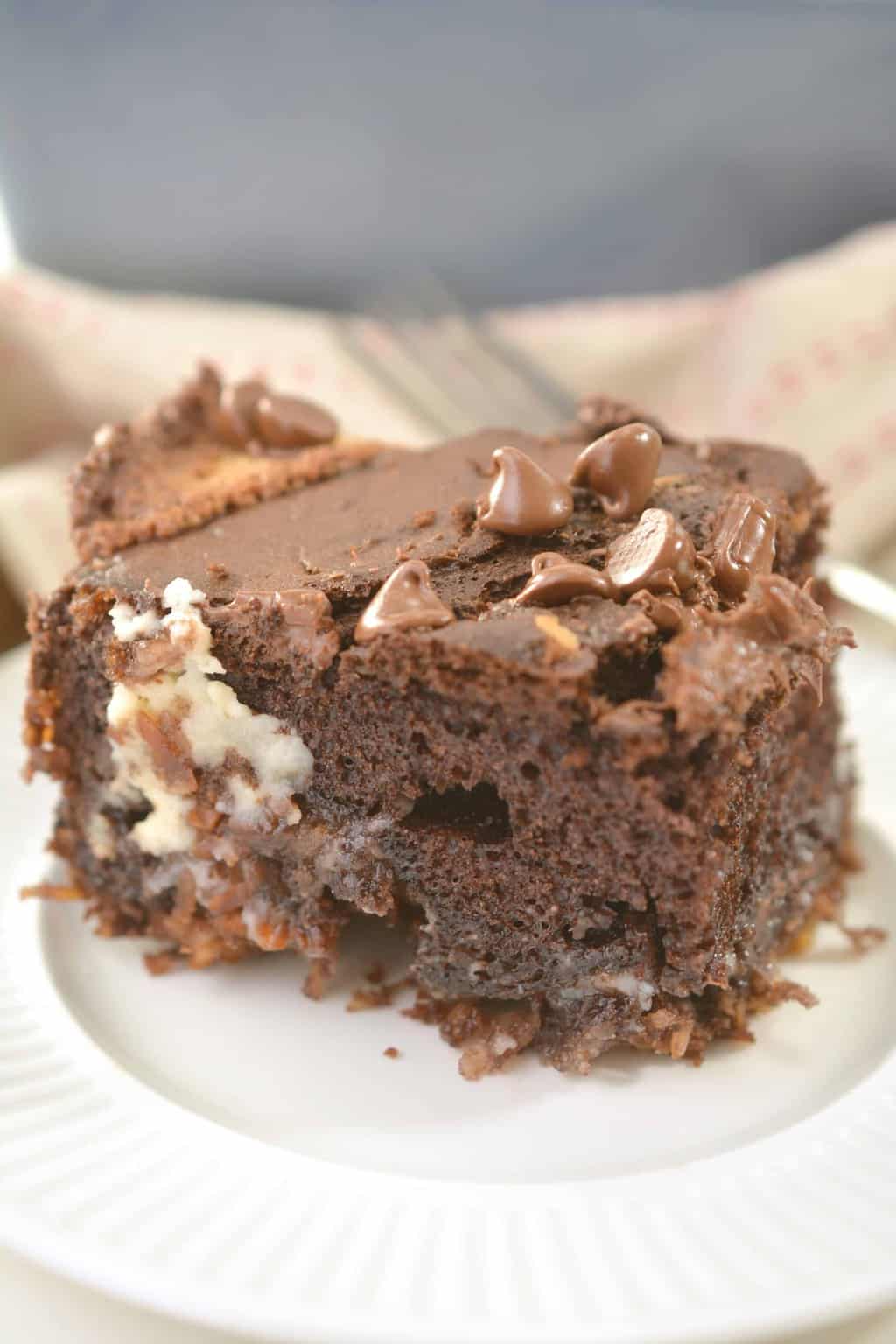 Raspberry chocolate cake torte, this cake is so gorgeous to look at. When you taste it, you will be amazed that you were able to put something together that's so stunning in your very own kitchen.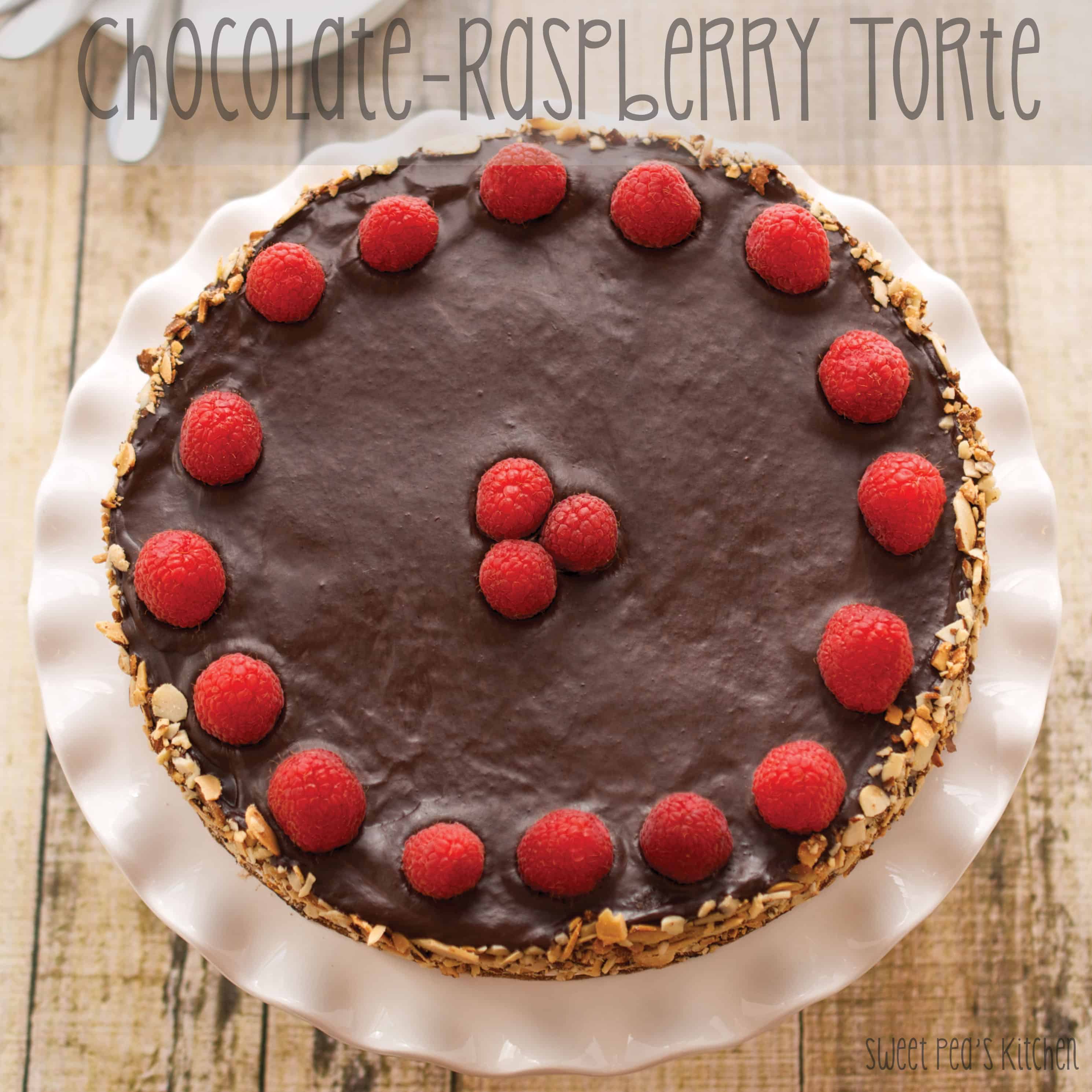 Get new recipes weekly plus our FREE ebook!