Cinnamon Biscuits drizzled with a scrumptious glaze. Last Saturday morning I woke up with a huge craving for homemade biscuits, but not just any biscuits-cinnamon biscuits!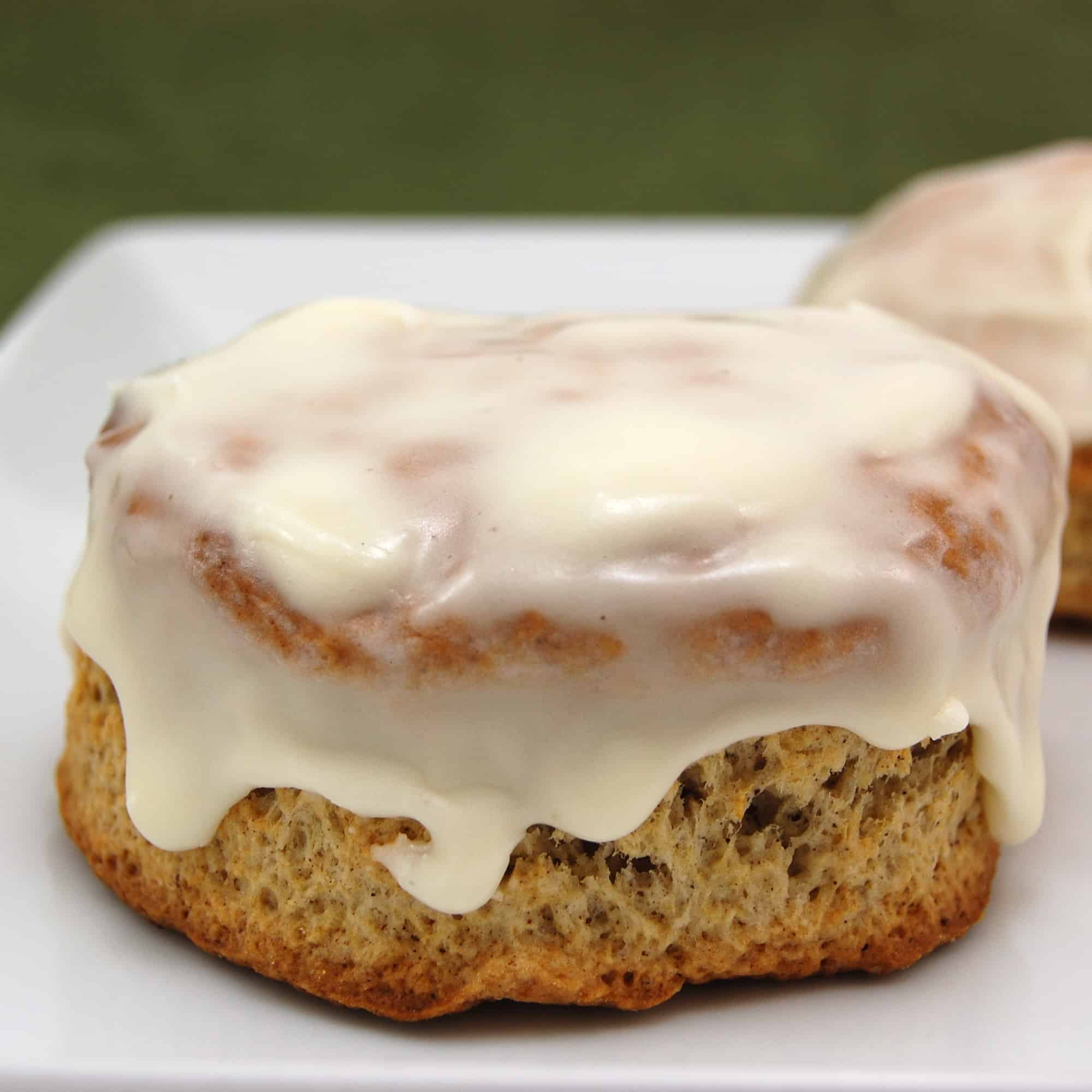 Tender layered biscuits speckled with cinnamon and topped with a drizzling of icing. You can whip of a batch of these in less than a half an hour, so what are you waiting for? 🙂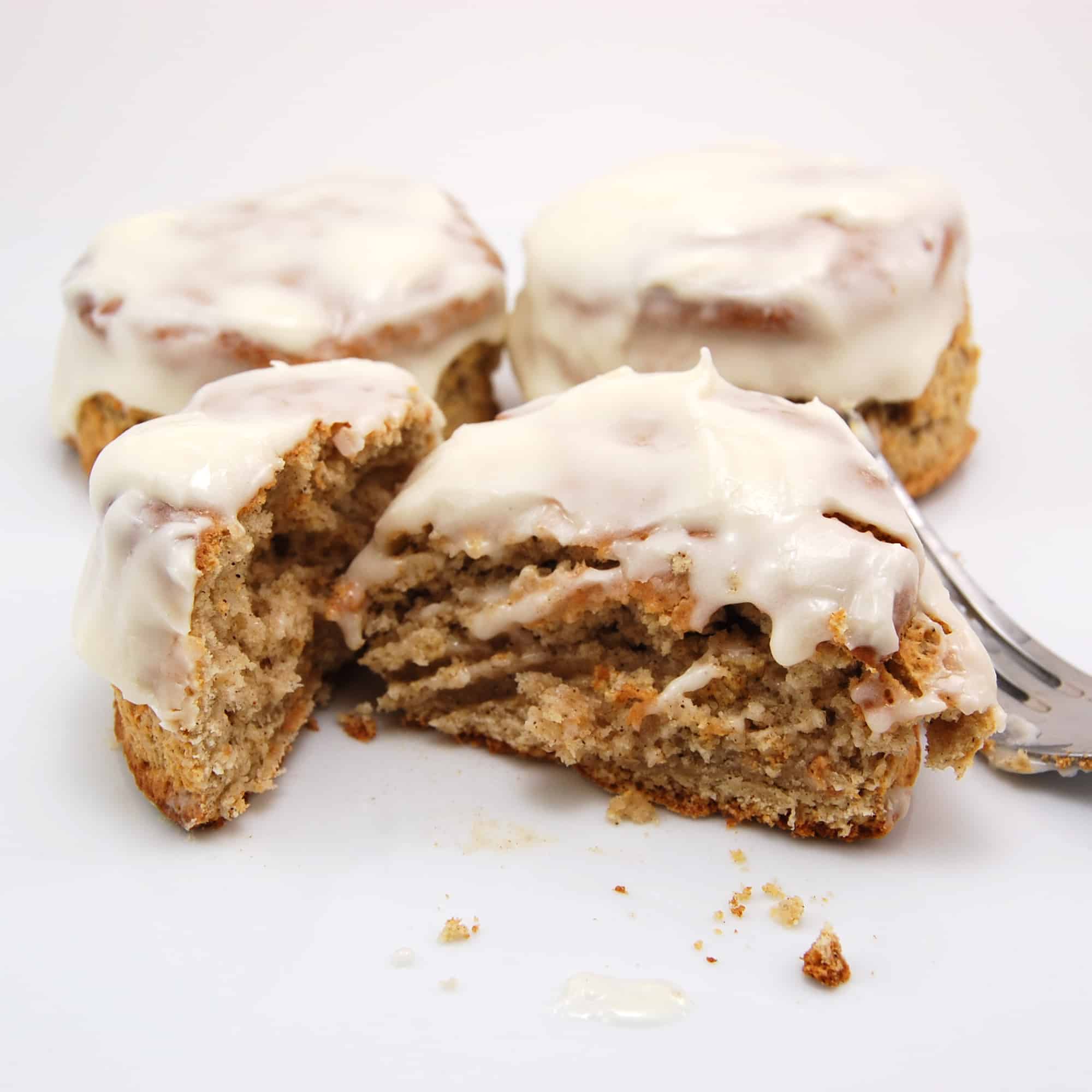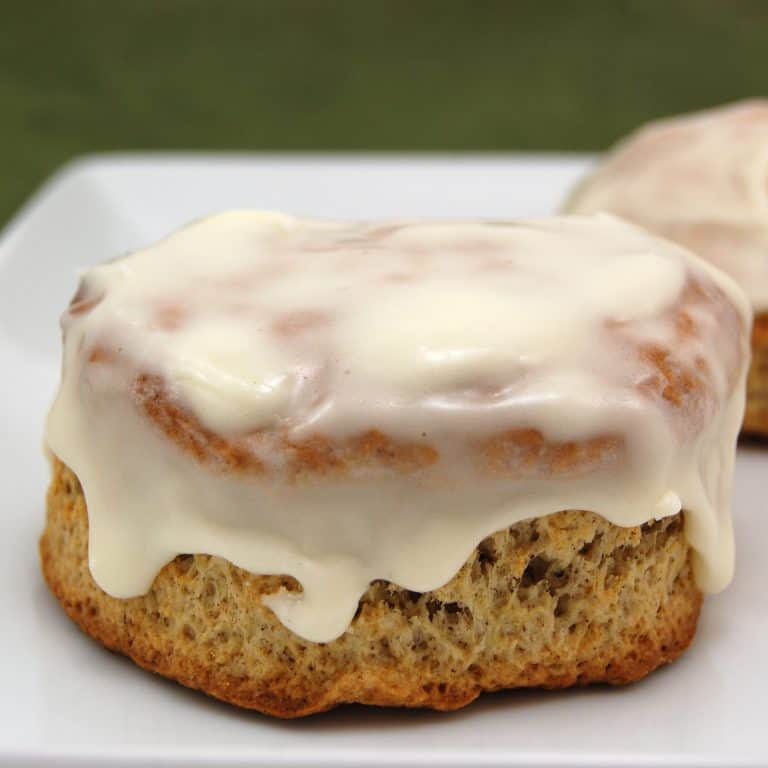 Cinnamon Biscuits
Ingredients
2 cups all-purpose flour
1/3 cup sugar
1 tablespoon baking powder
1/2 teaspoon baking soda
1 teaspoon salt
1 teaspoon ground cinnamon
1/3 cup butter
3/4 cup milk
1 (3 ounce) package cream cheese, softened
1/4 cup butter, softened
1 1/2 cups confectioners' sugar
1/2 teaspoon vanilla extract
1/8 teaspoon salt
1 teaspoon milk

Instructions
Preheat oven to 425 degrees F. Line a large baking sheet with parchment paper.
In the bowl of a stand mixer fitted with the paddle attachment, mix flour, sugar, baking powder, baking soda, salt, and cinnamon until combined. Add the butter and toss with a fork to coat with the flour mixture. Mix on medium-low speed until the texture resembles coarse cornmeal, with the butter pieces no larger than small peas. Add milk, stirring just until dry ingredients are moistened.
Turn dough out onto a lightly floured surface; knead 3 or 4 times, gradually adding additional flour as needed. With floured hands, press or pat dough into a 3/4-inch-thick rectangle (about 9 x 5 inches). Sprinkle top of dough with additional flour. Fold dough over onto itself in 3 sections, starting with 1 short end. (Fold dough rectangle as if folding a letter-size piece of paper.) Repeat entire process 2 more times, beginning with pressing into a 3/4-inch-thick dough rectangle (about 9 x 5 inches).
Press or pat dough to 1/2-inch thickness on a lightly floured surface; cut with a 3-inch round cutter, and place, side by side, on a parchment paper-lined or lightly greased jelly-roll pan.
Bake 13 to 15 minutes, or until biscuits are golden brown.
While biscuits are baking, beat together cream cheese, 1/4 cup butter, confectioners' sugar, vanilla extract, salt and milk. Spread on warm biscuits before serving.
Source: adapted from Fake Ginger