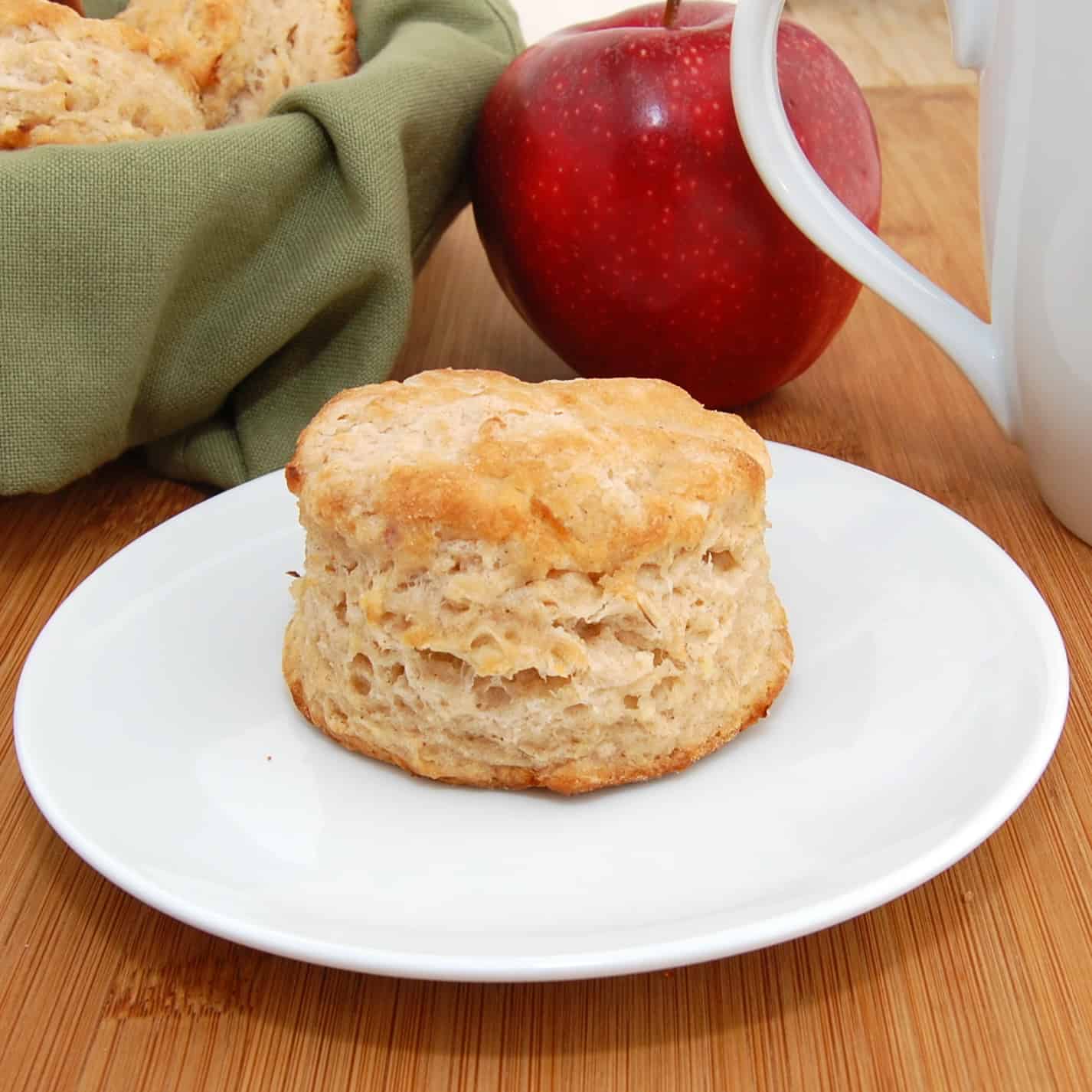 Spiced Apple Buttermilk Biscuits, is fluffy, warm, and exactly what you need for the holidays. Made with a combination of cinnamon, nutmeg, and cardamom along with Granny Smith apples, they are irresistible.
Scroll to bottom for printable recipe card.
Spiced Apple Buttermilk Biscuits
These warm and flaky homemade spiced apple buttermilk biscuits will make the perfect addition to your Thanksgiving morning. Grated apples and warm spices are mixed into the batter to create an autumn-worthy breakfast biscuit. These biscuits are so easy to make and are absolutely amazing topped with some apple butter. To make these biscuits without a stand mixer, whisk dry ingredients in a bowl, then cut in butter with two knives or a pastry blender; gently mix in buttermilk and apples with a fork and continue with directions.
We have started making these buttermilk apple biscuits a holiday tradition. They are too yummy to not have at least a few times a year. We also love making them on a chilly fall morning too. For real, I think you are going to want to make this fall biscuit recipe often.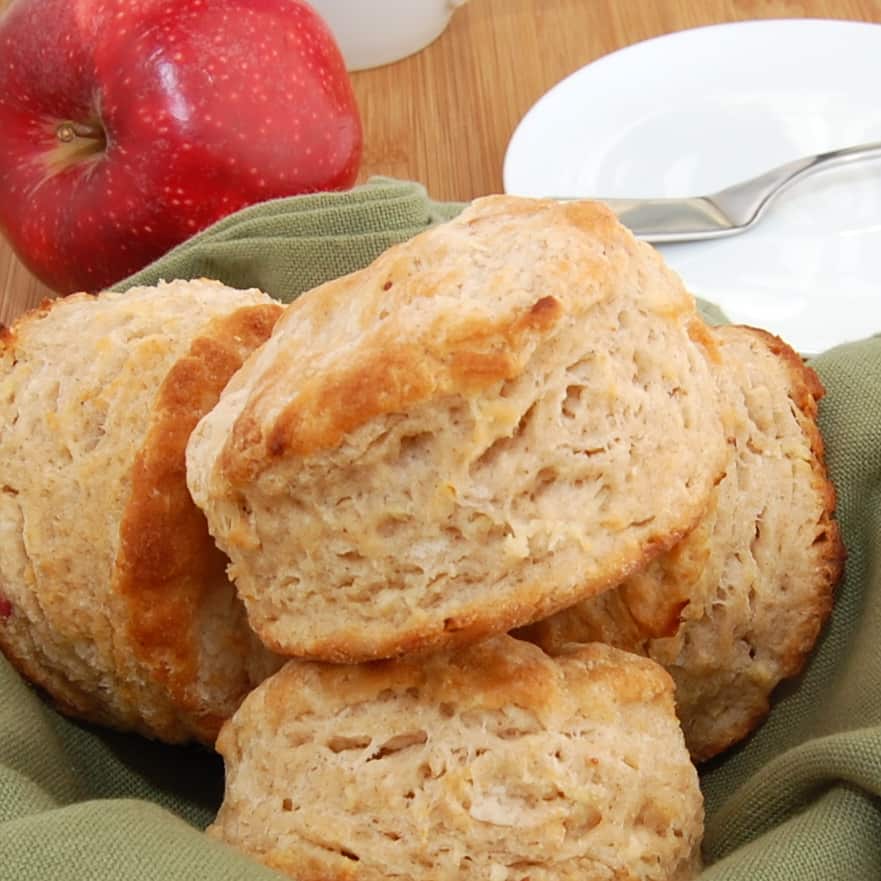 Best Apples to Use For Baking
We go wild for Granny Smith apples! They are a little bit tart and go so good with all the other flavors in these apple biscuits. You could also use Honeycrisp if you want something extra sweet. Another great option is the Pink Lady apples. We have also used Cortland, Braeburn, and Jonathan apples, depending on what we have found at the market.
How to Make Homemade Buttermilk
Preparing homemade buttermilk is super easy and actually works just as well as the store bought stuff. All you need to use is take one cup of milk or non-dairy milk that you like. Then add in one tablespoon of some fresh lemon juice or vinegar. Allow the buttermilk to sit for 10-15 minutes, so it has plenty of time to curdle slightly. This will give you the best results, and you can continue preparing the spiced apple buttermilk biscuits.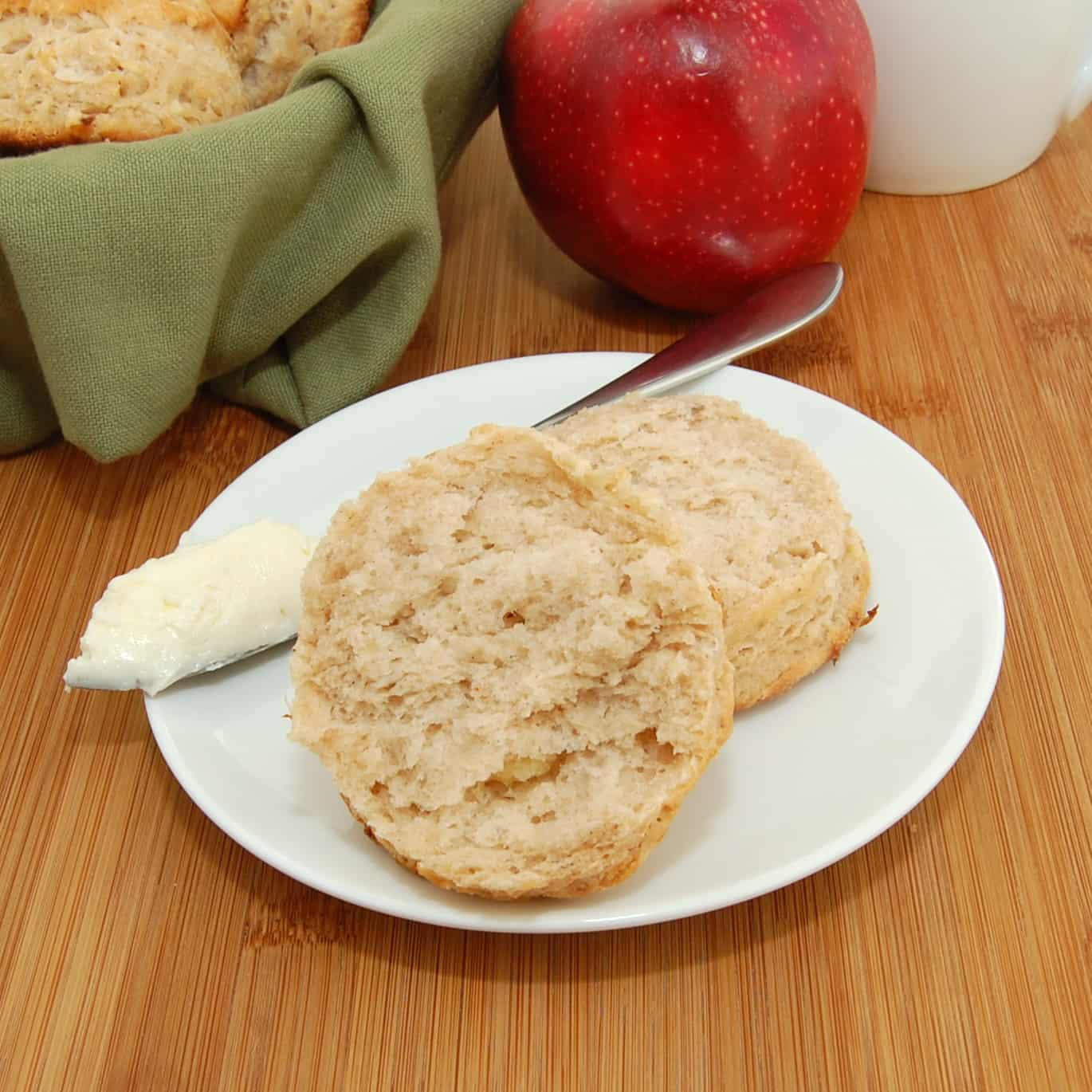 How to Know When Biscuits Are Done
When you are baking the biscuits, you will need to keep an eye on them as they near the end of their cook time. You should be able to take a toothpick and push it into the center of the biscuits. Then if it comes out clean, then it's done. Otherwise, you will need to keep baking them for a few more minutes. The apple biscuits shouldn't look wet or like they have moisture on top of them, or the batter isn't all the way done cooking.
Storing Biscuits
After you bake this fall biscuit recipe, let them cool down. Then put all of the buttermilk apple biscuits inside of a container that is airtight. They can sit at room temperature for 1-2 days. You can warm them up in the microwave for 10 – 15 seconds if you want to eat them warm. They turn out best when you wrap them in a paper towel before heating up.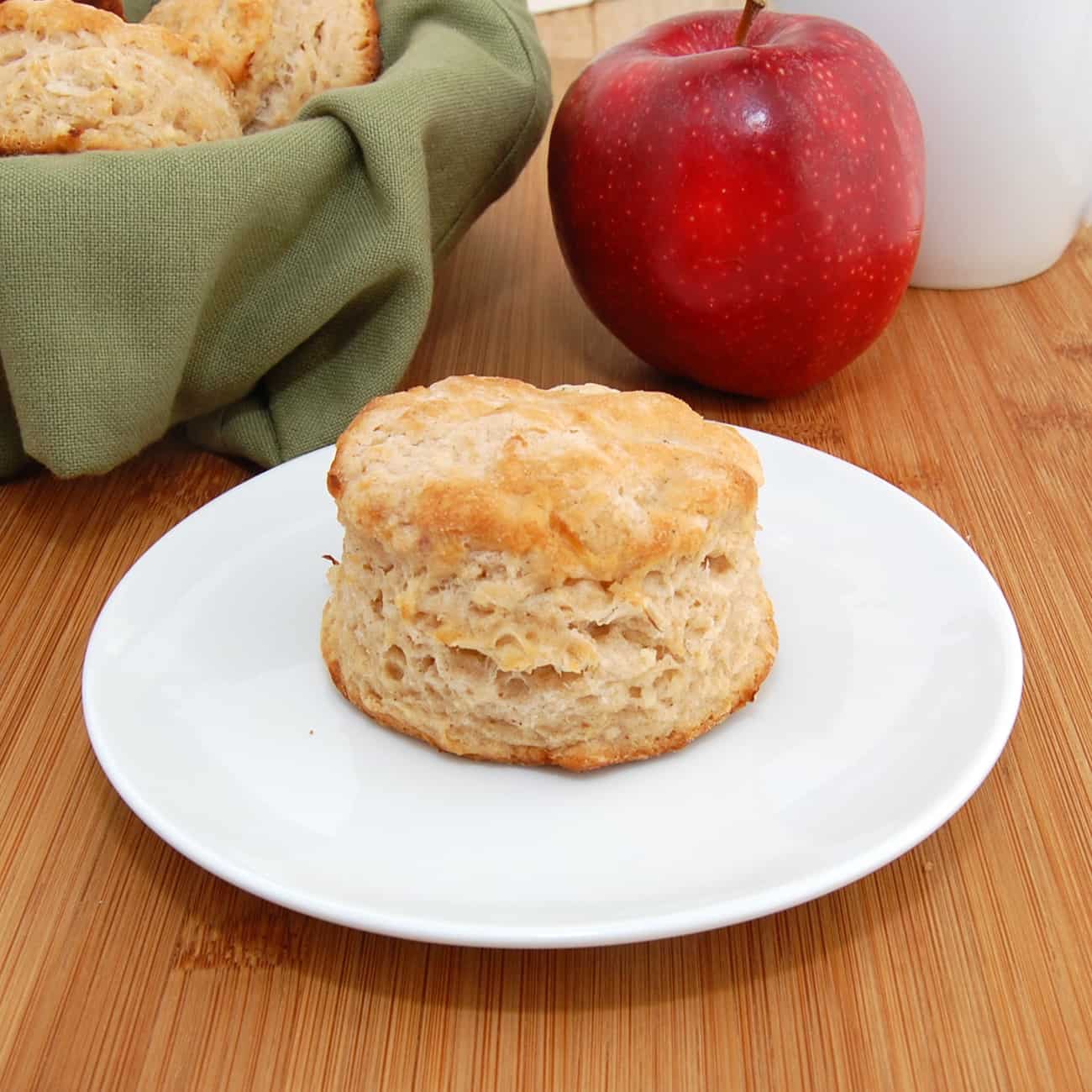 Can These Apple Biscuits Be Frozen
Yep! You can put the cooked biscuits on a baking sheet and place the baking sheet in the freezer. Let the biscuits freeze for 2 or 3 hours or until they are frozen fairly solid. Once frozen, you can place them in a freezer bag, or you can put them into a freezer container. They will last 1-2 months in the freezer. Defrost and warm up in the microwave before serving.
Ingredients
Self-rising flour
Ground cinnamon
Nutmeg
Ground cardamom
Cold butter, cut into 1/4 inch cubes
Granny Smith apple (peeled and cored)
Granulated sugar
Fresh lemon juice
Pinch teaspoon salt
Buttermilk
Melted butter
How to Make Apple Biscuits
First Step: Begin by getting your stand mixer ready by adding a flat beater. Then combine the cinnamon, flour, cardamom, and nutmeg together. Mix in the butter and use a fork to coat it all the way with the flour mixture. Turn on the stand mixer to medium-low until you notice the mixture looks similar to coarse cornmeal. You don't want the butter pieces to be any bigger than small peas. After it's mixed, cover the bowl and put it in the fridge for 10 minutes or so.
Second Step: Turn on the oven to 450 degrees F. Then add a piece of parchment paper or silicone non-stick mat to a baking sheet.
Third Step: Grate the apples using a box grater and place them into a large bowl. Mix in the sugar, salt, and lemon juice to the apples. Let them rest for 5 minutes in a fine-mesh strainer that has been set over a bowl, then drain the liquid off the apples.
Fourth Step: Add the buttermilk to the apples and flour mixture. Mix until the dry ingredients have been moistened.
Fifth Step: Then, put the buttermilk apple dough on a surface that has been floured lightly. Then knead it with your hands three or four times. If needed, add a little bit of flour, so it's not too sticky. Then take your floured hands and press the dough into a 3/4 inch thick triangle. Add some additional flour on top of the dough. Fold the dough into 3 seconds, similar to how you would fold a letter. Continue this process for two more times. When you are done, the rectangle should be around 9 x 5 inches in size.
Sixth Step: You will need to press the dough so it's 1/2 inch thick and begins cutting 2-inch round biscuits. Put all the biscuits on the baking sheets and let the biscuits touch.
Seventh Step: Bake the spiced apple buttermilk biscuits for 13-15 minutes or until they become lightly brown. Take them out of the oven and use a basting brush to add the melted butter on top. Let them cool for a few minutes and serve.
Enjoy!
Now, remember to save this recipe on Pinterest for later 🙂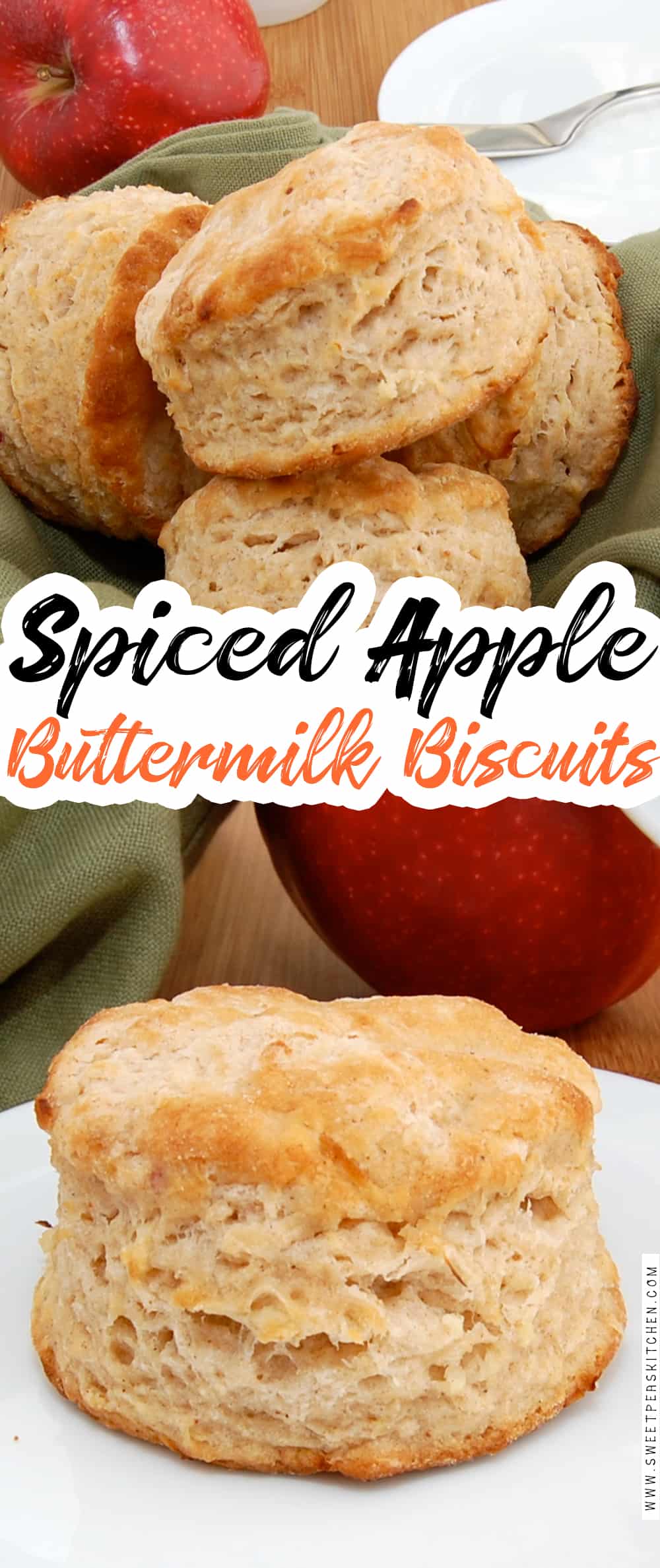 Pin this recipe now to remember it later
Spiced Apple Buttermilk Biscuits
Servings:
2
dozen biscuits
Spiced Apple Buttermilk Biscuits, is fluffy, warm, and exactly what you need for the holidays. Made with a combination of cinnamon, nutmeg, and cardamom along with Granny Smith apples, they are irresistible.
Ingredients
2 1/4

cups

self-rising flour

1

teaspoons

ground cinnamon

1/2

teaspoon

ground nutmeg

1/4

teaspoon

ground cardamom

1/2

cup

cold butter

,

cut into 1/4 inch cubes

1

Granny Smith apple

,

peeled and cored

1/4

cup

+ 1 tablespoon granulated sugar

3/4

teaspoons

lemon juice

2

tablespoons

melted butter
Want to save this recipe? Enter your email below and we'll send the recipe straight to your inbox!
NOTE: By saving this recipe, you agree to join our weekly recipes newsletter.
Instructions
In the bowl of a stand mixer, fitted with a flat beater, stir together the flour, cinnamon, nutmeg, and cardamom. Add the butter and toss with a fork to coat with the flour mixture. Mix on medium-low speed until the texture resembles coarse cornmeal, with the butter pieces no larger than small peas. Cover and chill 10 minutes.

Preheat oven to 450 degrees F. Line baking sheet with parchment paper.

In a large bowl, grate apples on large holes of box grater. Add sugar, lemon juice, and salt to the grated apples. Allow to sit for 5 minutes, then drain in fine-mesh strainer set over bowl. Press as much liquid from the apples as you can.

Add buttermilk and apples, stirring just until dry ingredients are moistened.

Turn dough out onto a lightly floured surface; knead 3 or 4 times, gradually adding additional flour as needed. With floured hands, press or pat dough into a 3/4-inch-thick rectangle (about 9 x 5 inches). Sprinkle top of dough with additional flour. Fold dough over onto itself in 3 sections, starting with 1 short end. (Fold dough rectangle as if folding a letter-size piece of paper.) Repeat entire process 2 more times, beginning with pressing into a 3/4-inch-thick dough rectangle (about 9 x 5 inches).

Press or pat dough to 1/2-inch thickness on a lightly floured surface; cut with a 2-inch round cutter, and place on prepared baking sheet. (Dough rounds should touch.)

Bake for 13 to 15 minutes or until lightly browned. Remove from oven; brush with 2 tablespoons melted butter and serve.
Follow me on Pinterest for daily delicious recipes!
I could legit eat just biscuits and skip all the other stuff sometimes! They are just too yummy, and I can't resist all their flavors. Here are some of my favorite biscuit recipes.
Cinnamon Swirl Cream Biscuits – You will get an abundance of flavor from these sweet biscuits.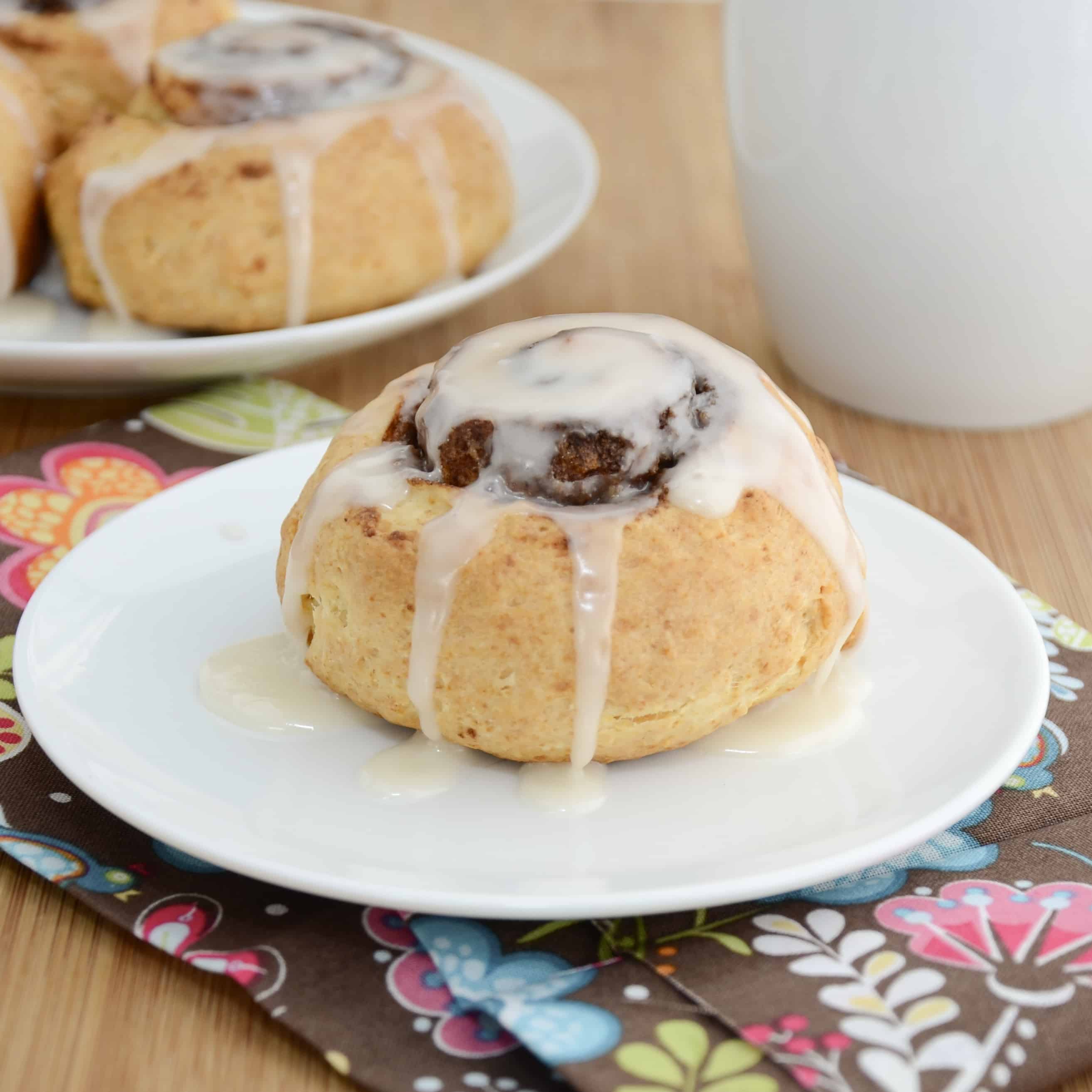 Easy Cream Biscuits – These are so soft and tender! These creamy biscuits are begging for you to whip up a batch.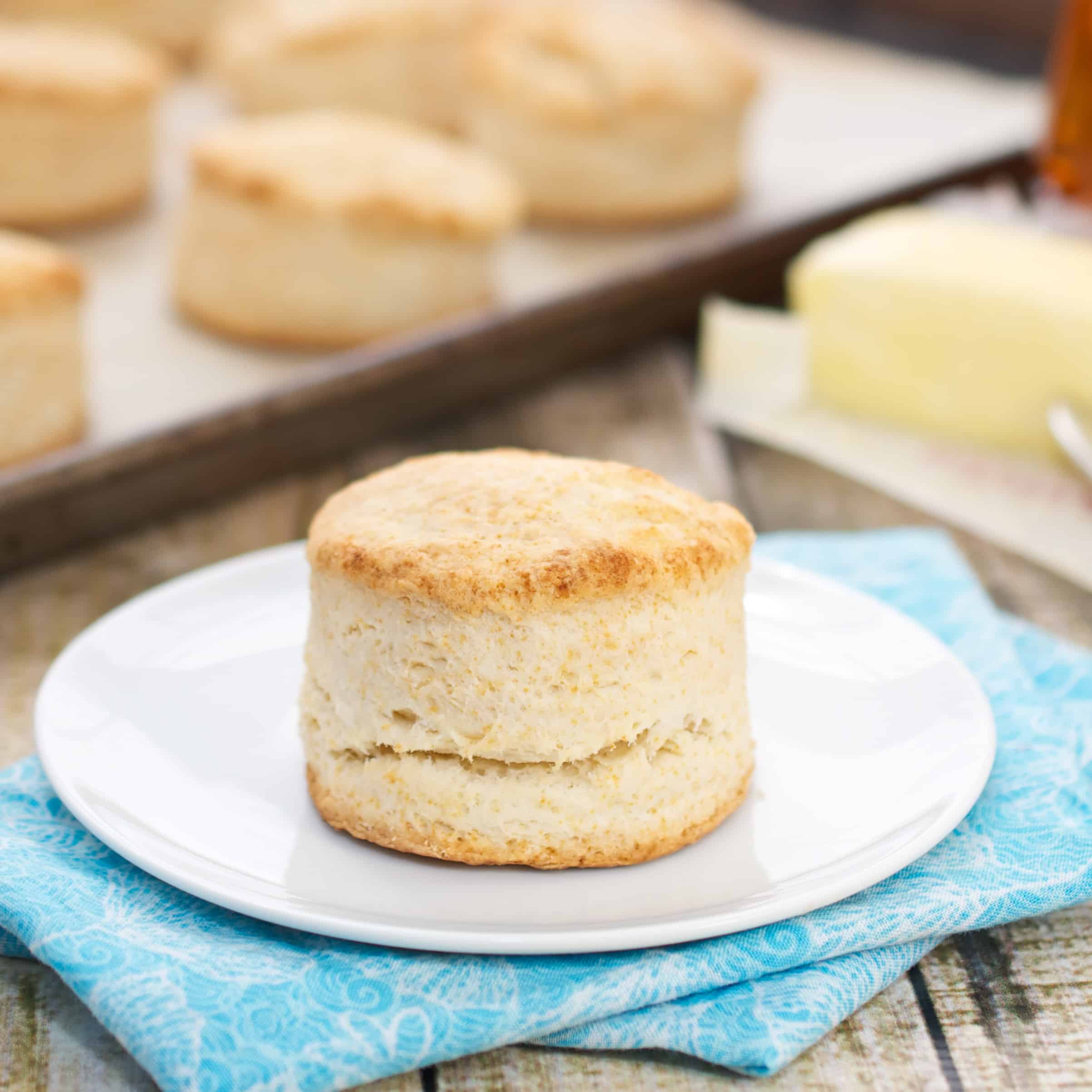 Cheesy Quick Biscuits – Filled with garlic, cheese, and herbs, you are bound to fall in love with these beauties. Try them and see.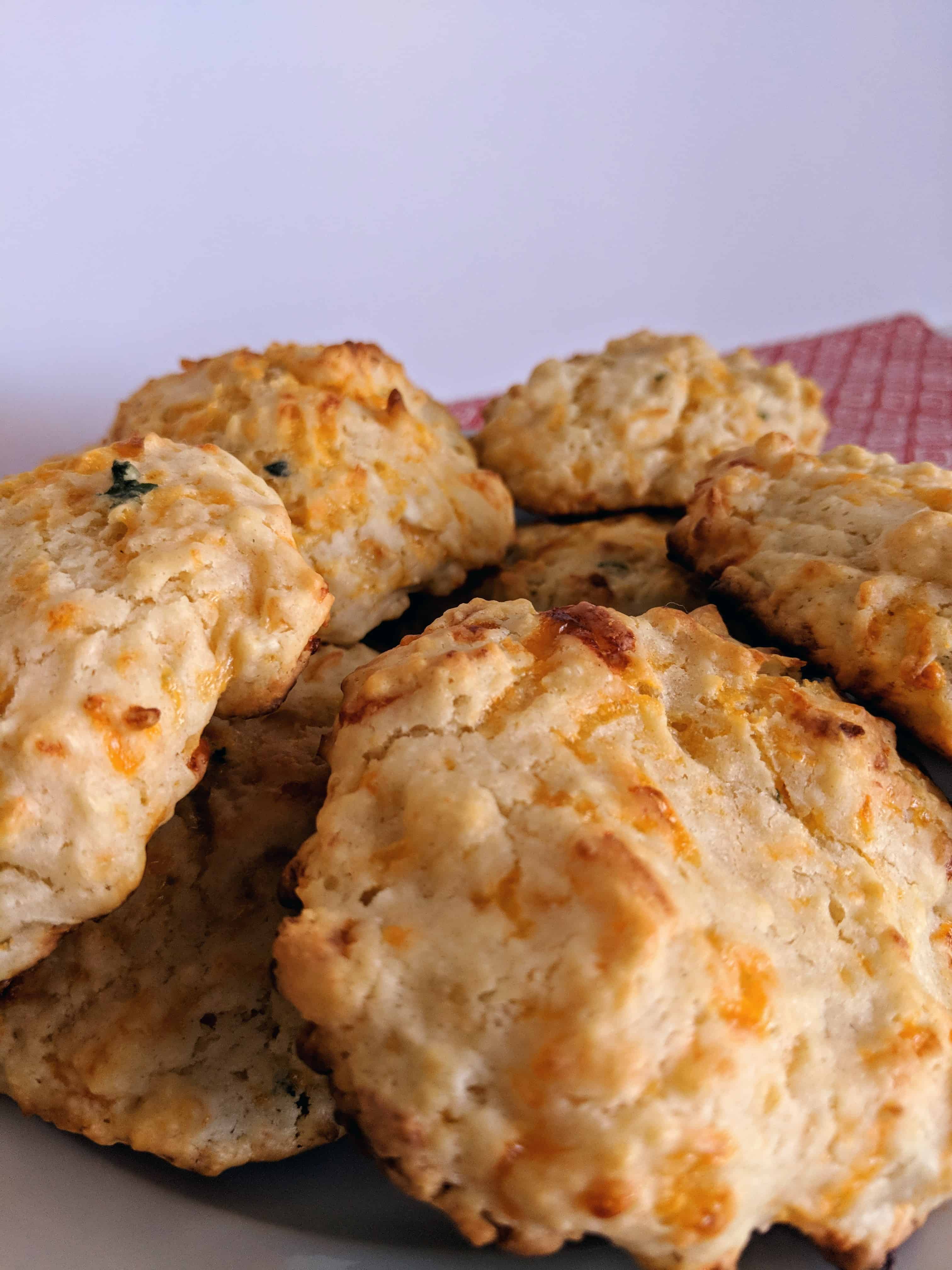 Homemade Cream Cheese Biscuits – Adding cream cheese to the biscuits makes them so amazing. You have to try them to understand how incredible they are.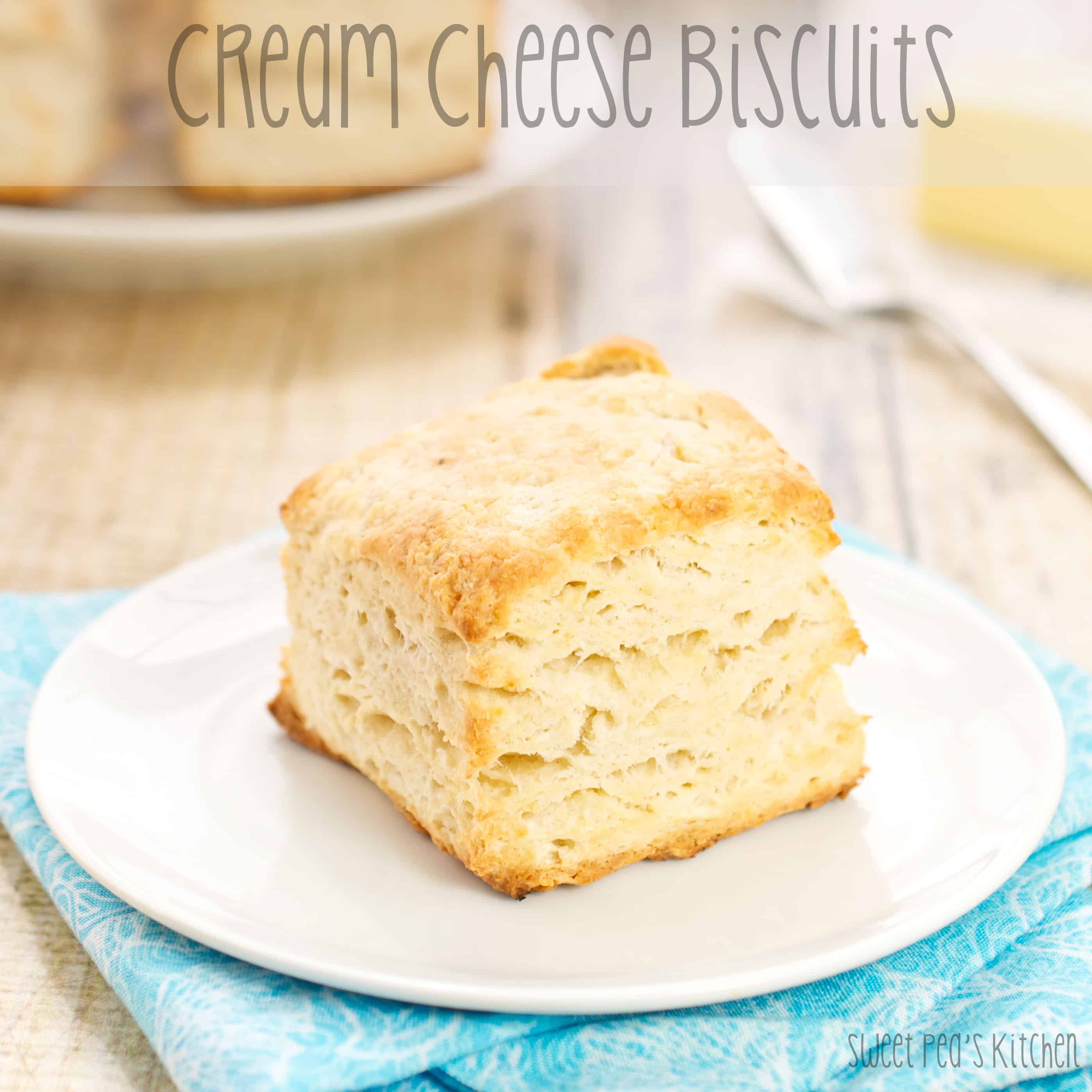 Get new recipes weekly plus our FREE ebook!