Nothing completes a meal more than these Homemade Dinner Rolls. There also isn't any food that's more comforting than these fluffy dinner rolls in my eyes. You may groan at the idea of making classic dinner rolls yourself instead of buying them pre-made.
Scroll to bottom for printable recipe card.
Classic Homemade Dinner Rolls Recipe
But, I'm telling you these are way better than the store-bought stuff! Trust me, I don't want to spend hours and hours in the kitchen for one side item, either. Even if these soft dinner rolls did take hours and hours of hands-on work, I would still make them because they are seriously that good.
They will take a while, but most of the time is spent waiting on them to rise, not actual work time for you. Eat them with butter, use them to mop up gravy, or just have one plain, and you are going to be charmed by their yummy flavor.
Homemade Dinner Rolls Ingredients
These fluffy dinner rolls are so yummy, and you only need 7 ingredients to whip up a batch. I love foods that don't require tons of ingredients like these classic dinner rolls.
Whole milk – Using whole make helps these fluffy dinner rolls taste even more amazing.
Unsalted butter – It's okay to use salted butter if you don't add in the extra salt.
Sugar – These fluffy dinner rolls have a slight sweetness, but it's not overbearing. It's perfect!
Salt – A little bit of salt is just what you need to make the best dinner rolls ever.
Eggs – It's vital to allow the eggs to be at room temperature before mixing the dough.
Rapid-rise yeast – If you don't use rapid or quick rise yeast, the dinner rolls will take even longer to rise.
Unbleached all-purpose flour – Try to stick with all-purpose flour when making these classic dinner rolls, so they are the right texture.
How To Make Dinner Rolls
Preparing the dinner rolls does take some time, but you don't have to do much. Mostly wait around and dream of biting into your soft dinner rolls! Take a look at these steps:
First Step: Begin preparing the dough bringing the milk to a boil in a small saucepan over medium heat. Remove the pan from the heat and let it stand until a skin forms along the surface, which takes around 3-5 minutes. Skim the skin off the surface with a soup spoon and throw it out. Pour the milk in the bowl of a stand mixer with the whisk attachment. Mix in 6 tablespoons of melted butter, salt, and sugar and combine. When the milk mixture is 90 – 100 degrees, whisk in the eggs and yeast until they are combined.
Second Step: Put the dough hook attachment on your mixer and slowly add flour to the bowl. Mix on low speed for 1-2 minutes until it's combined. Speed up the mixer to medium-low and continue mixing for an additional 3 minutes. When you touch the dough, it should feel a little bit tacky and wet, but not stick to your finger. If you find that the dough does stick to your finger, add in 1-3 tablespoons of flour.
NOTE: The dough is supposed to be moist, so don't worry about adding in extra flour unless it's sticking to your fingers. Otherwise, they will end up dense and drier.
Third Step: Continue mixing the dough on medium-low until the dough becomes elastic and doesn't stick to the sides or bottom of the bowl, which is about 4-5 more minutes.
Fourth Step: Put the dough on a lightly floured surface and begin kneading the dough by hand for 1-2 minutes. The dough should be very soft and moist but not too sticky. Dust your hands with flour if it does stick a little bit. Using cooking spray, lightly spray a medium-sized bowl. Place the dough in the bowl and lightly spray the surface of the dough with cooking spray. Cover the bowl with plastic wrap and let it rise for 2-3 hours or until it's doubled in size. It's best to rise the dough in a warm location.
Fifth Step: Using two 9-inch round cake pans, coat them with cooking spray and set aside for later. Place the dough on a floured surface. Roll the dough into a 12 x 10-inch rectangle and gently press out any air. Start at the edge farthest away from you and roll the dough into an even cylinder stretching 18 inches in length. Cut the cylinder into 16 equally sized pieces using a bench scraper or a chef's knife.
Sixth Step: Using one piece of dough at a time and leaving the rest of the dough pieces covered form them into smooth round balls. Place the dough on an unfloured workspace and loosely cup your hand around the dough without applying pressure move hand in circular motions. Put the dough ball in the cake pan, starting with the center and working your way out. Cover the pans with a lightly coated piece of plastic wrap and cover again with foil. Refrigerate the pans for 24 – 48 hours.
Seventh Step: To bake the rolls, you'll need to remove the aluminum foil, but leave the plastic wrap on them. Let the dinner rolls rise in a cool room-temperature location until they have doubled in size, which usually takes 6-7 hours. When they have doubled in size, preheat the oven to 400 degrees F. and remove the plastic wrap. Use melted butter and brush each roll with it. Bake them for 14-18 minutes until they are a deep golden brown color. Cool the dinner rolls on a wire rack for 3 minutes, then break them apart and serve warm.
How Do You Make Homemade Dinner Rolls Rise Faster?
I know it sounds like forever to wait for the classic dinner rolls dough to rise, but there are some things you can do to make it go a little faster. First, warm your oven up to the lowest temperature it will go to. Every oven has different settings so that it will depend on yours specifically. Once it reaches that temperature, turn off the oven. Place a kitchen towel over the bowl or pan and place it over the dough. The heat will warm it up and allow it to rise without cooking it, as long as you don't forget to turn the oven off.
Another option is to take a pan and put warm – hot water in it and set it on the bottom rack in your oven. Then place the bowl or pan on the rack above it and shut the door. The steam and warmth from the water will aid in raising the dough. Then you can follow the directions to bake the soft dinner rolls as directed.
How Long Do These Soft Dinner Rolls Last?
You can store these soft dinner rolls at room temperature in a sealed container for up to 5 days. If you want to reheat them, just toss the homemade dinner rolls in the microwave for about 15 seconds. Check them, and if they aren't hot yet, you can warm them a little longer. You don't want to go overboard because if you overheat the classic dinner rolls, they will get hard as they cool down.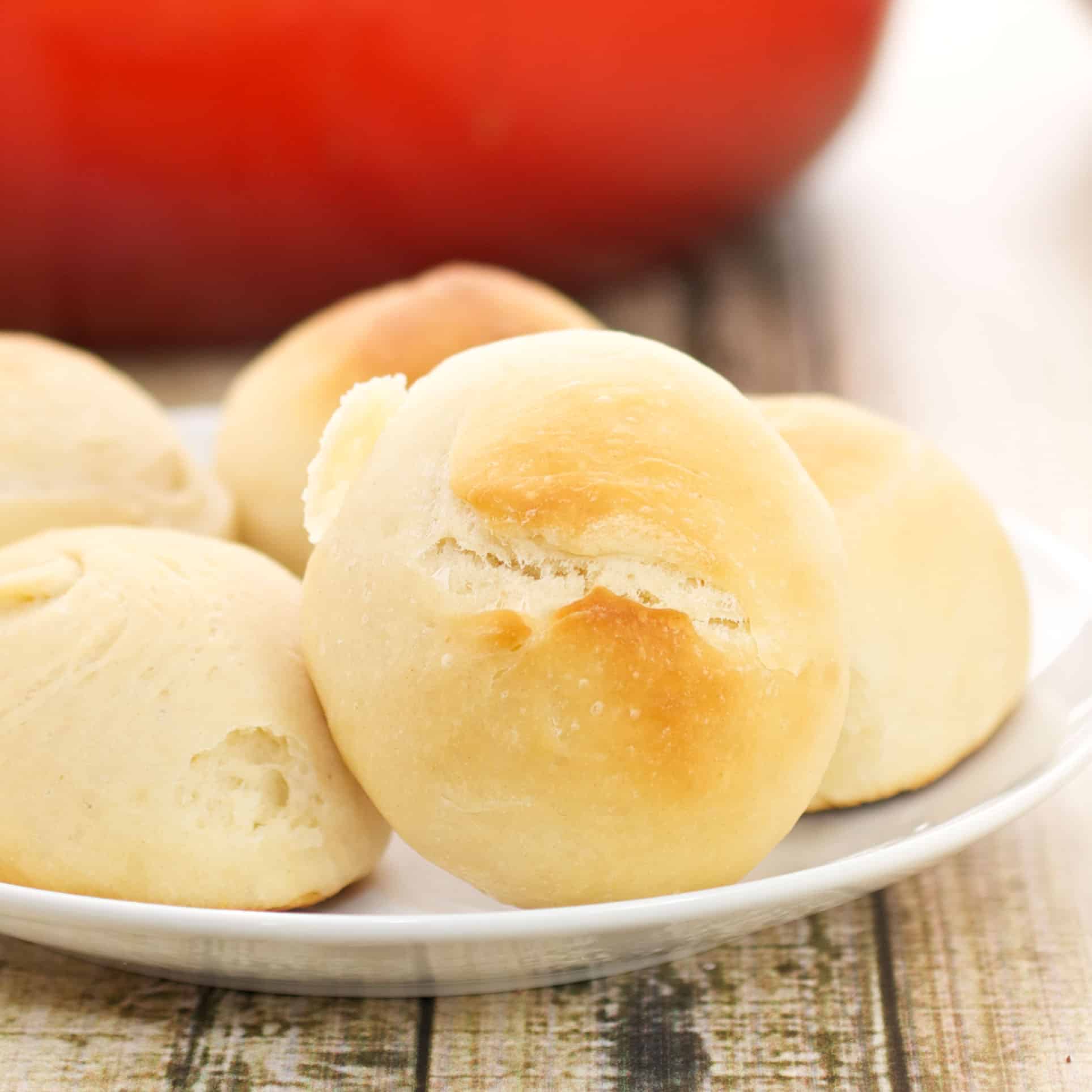 I love these fluffy dinner rolls because they go with so many meals I make. Take a look at a few main course recipes that will go perfectly with these classic dinner rolls:
Now, remember to save this recipe on Pinterest for later 🙂

Pin this recipe now to remember it later
Classic Homemade Dinner Rolls Recipe
Nothing completes a meal more than these Homemade Dinner Rolls. There also isn't any food that's more comforting than these fluffy dinner rolls in my eyes.
Ingredients
8

tablespoons

unsalted butter

,

melted, (reserve 2 tablespoons for brushing on rolls before baking)

1 1/2

teaspoons

table salt

2

large eggs

,

room temperature

1

package rapid-rise yeast

,

2 1/4 teaspoons, may also labeled "instant", "quick rise," or "perfect rise"

3

cups

unbleached all-purpose flour

,

15 ounces, plus additional flour as needed (see note above).
Want to save this recipe? Enter your email below and we'll send the recipe straight to your inbox!
NOTE: By saving this recipe, you agree to join our weekly recipes newsletter.
Instructions
To Make the Dough: In a small saucepan over medium heat, bring milk to boil. Remove from heat and let stand until skin forms on surface, about 3 to 5 minutes. Using soup spoon, skim the skin off the surface and discard. Transfer milk to bowl of stand mixer fitted with the whisk attachment. Add 6 tablespoons melted butter, sugar, and salt; whisk to combine and let cool. When mixture is warm to the touch (about 90 to 100 degrees), whisk in eggs and yeast until combined.

Add flour to the bowl; using the dough hook attachment, mix on low speed until combined, about 1 to 2 minutes. Increase speed to medium-low and mix about 3 minutes more; when pressed with finger, dough should feel tacky and moist but should not stick to finger. (If dough is sticky, add another 1 to 3 tablespoons flour.) (This dough should be moister than most. Resist the urge to add more flour than is needed to keep the dough from sticking to your hands. If they are made on a humid day, the dough may require more flour than if made on a dry day.) Continue to mix on medium-low until cohesive, elastic dough has formed and it clears the sides of bowl but stick to bottom, about 4 to 5 minutes longer.

Transfer to a lightly floured work surface. Knead dough by hand (1 to 2 minutes) to ensure that it is well kneaded. Dough will be very soft and moist but not overly sticky. (If dough sticks excessively to hands and work surface, dust only your hands with flour until dough is workable.) Lightly spray medium bowl with cooking spray. Transfer dough to bowl; lightly coat surface of dough with cooking spray and cover with plastic wrap. Let dough rise in warm location until doubled in volume, 2 to 3 hours.

To Shape the Rolls: Coat two 9-inch round cake pans with cooking spray; set aside. Turn dough out onto lightly floured work surface. Pat dough into rough 12 by 10-inch rectangle, gently pressing out air; starting from edge farthest from you, roll dough to form a even cylinder, stretching to 18-inch length. Using a bench scraper or chef's knife, cut cylinder into 16 equally sized pieces.

Working with one piece at a time (keeping remaining pieces covered with plastic wrap or kitchen towel) form into smooth rounds. Set piece of dough on unfloured area of work surface. Loosely cup hand around dough (not directly over it); without applying pressure to dough, move hand in small circular motions. (Tackiness of dough against work surface and circular motion should work dough into smooth, even ball.) Arrange shaped rolls in prepared cake pans (one in center and seven spaced evenly around edges) and cover cake pans with plastic wrap lightly coated with cooking spray, then cover pans securely with foil. Refrigerate at least 24 or up to 48 hours.

To Bake the Rolls: Remove foil (but not plastic wrap) from cake pans; let rolls rise in cool room-temperature location until doubled in volume (rolls should press against each other), 6 to 7 hours. When rolls are nearly doubled in volume, adjust oven rack to lower-middle position and heat oven to 400 degrees. (If your cake pans have a dark nonstick finish, bake the rolls in a 375-degree oven to moderate the browning.) Remove plastic wrap. Brush rolls with 2 tablespoons melted butter; bake until deep golden brown, 14 to 18 minutes. Cool rolls in pans on wire rack about 3 minutes, then invert onto rack. Break rolls apart and serve warm.
Nutrition
Serving:
1
g
|
Calories:
200
kcal
|
Carbohydrates:
29
g
|
Protein:
5
g
|
Fat:
7
g
|
Saturated Fat:
4
g
|
Polyunsaturated Fat:
3
g
|
Cholesterol:
40
mg
|
Sodium:
214
mg
|
Fiber:
1
g
|
Sugar:
5
g
Follow me on Pinterest for daily delicious recipes!
Make sure you check my best recipes below:
Triple Chocolate Instant Pot Cheesecake Recipe – Creamy and rich with a strong chocolate flavor, one of the best cheesecake recipes ever!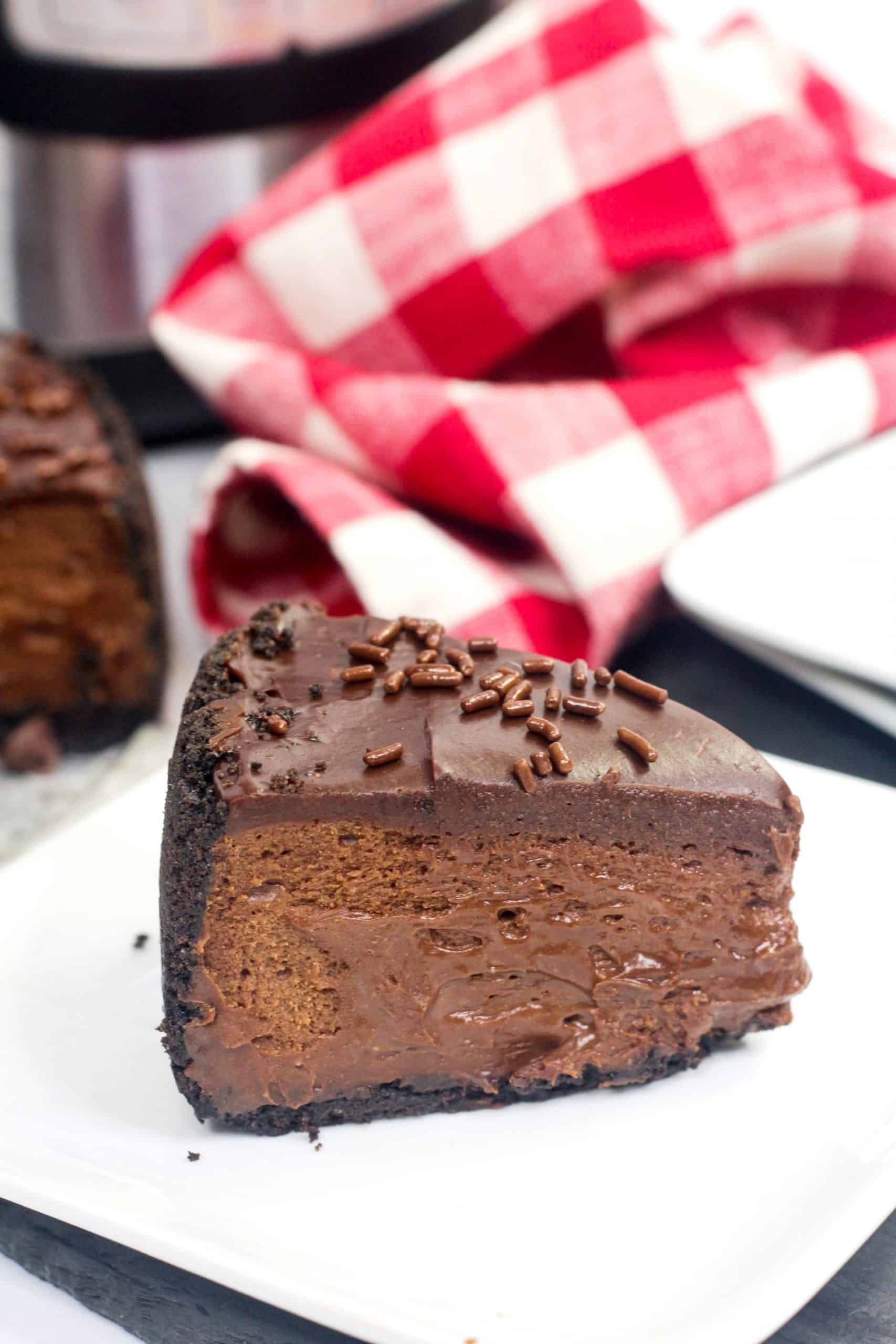 Easy Rainbow Poke Cake Recipe – This easy poke cake is so moist and tastes fantastic.
Oreo Peppermint Crunch Cookies – Moist and chewy, these cookies are packed with flavor!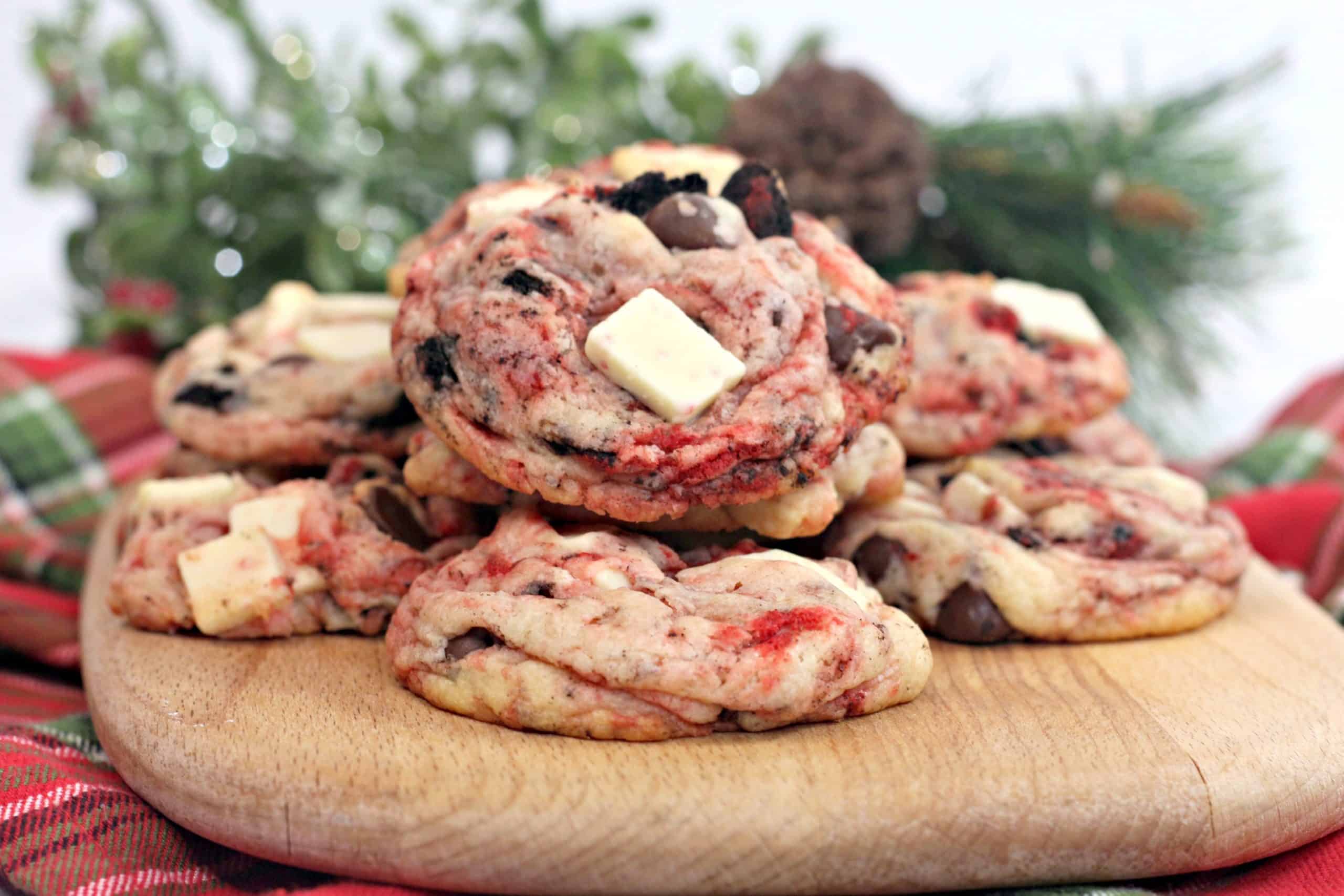 Best Buttermilk Pancakes – Buttermilk pancakes are perfect for breakfast, lunch dinner or brunch.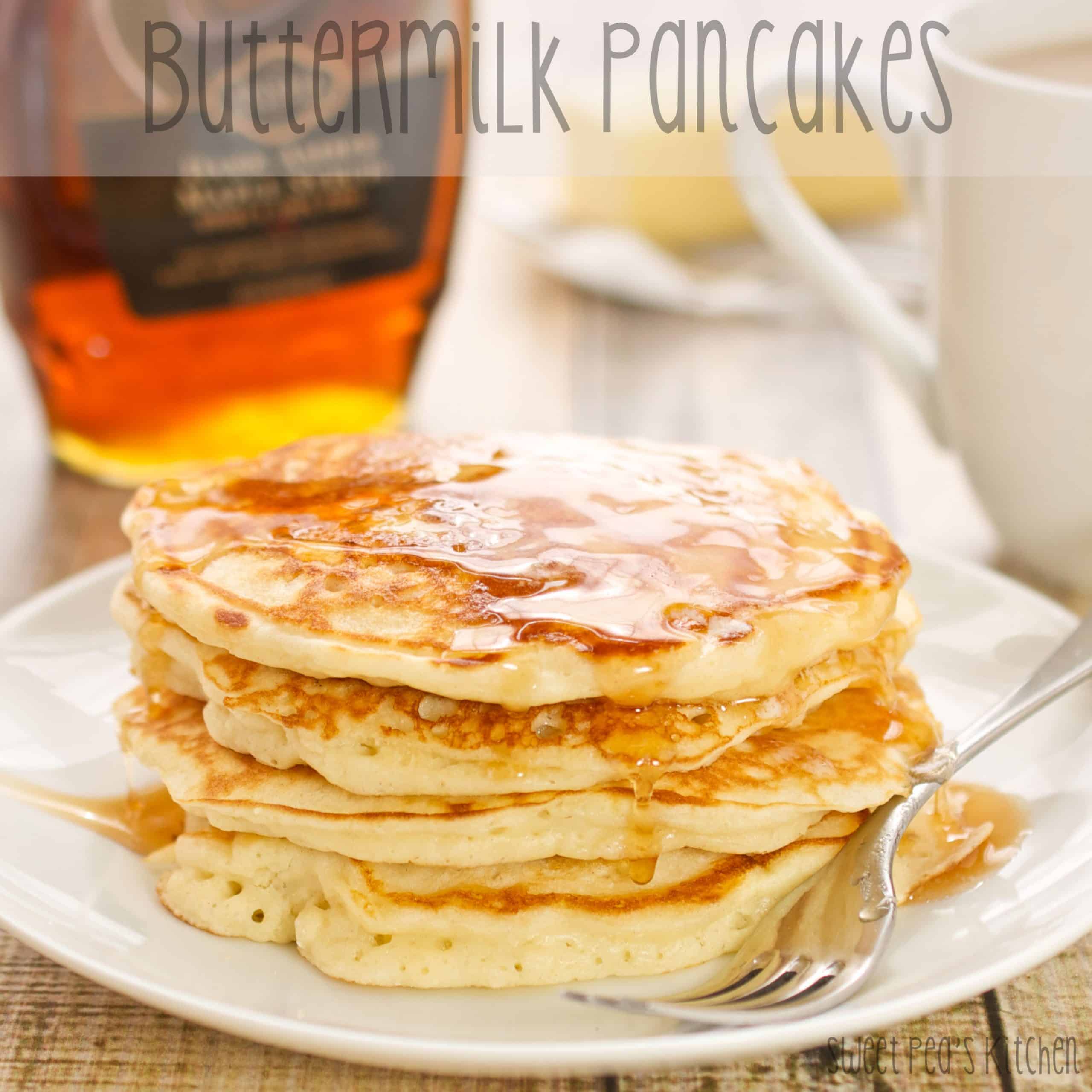 Get new recipes weekly plus our FREE ebook!