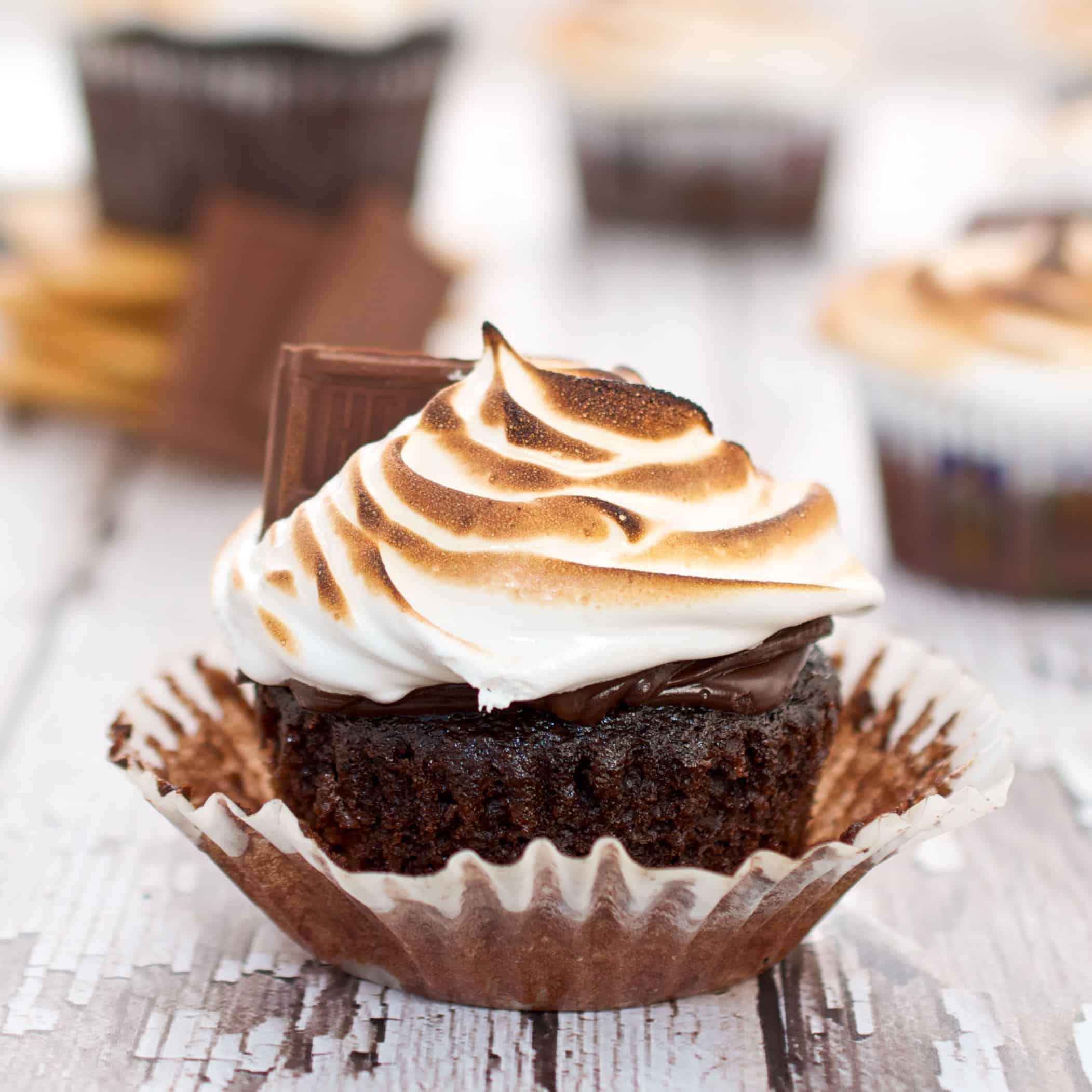 This Classic Marshmallow Chocolate S'mores Cupcake Recipe is PURE HEAVEN! Moist, tender cupcakes with graham crackers, chocolate ganache, and a marshmallow topping that is positively incredible.
These cupcakes are elegant, but low key enough for a backyard barbecue. You just can't go wrong with making these easy cupcakes.
Scroll to bottom for printable recipe card.
Marshmallow Chocolate S'Mores Cupcakes
Cupcakes are a wonderful dessert to bring to any cookout or get together. They are portable, easy to carry, and always bring a smile to the faces of adults and kids alike. What better way to celebrate the birth of America than with these S'more Cupcakes? They're a perfect twist on a classic s'more we all love!
Graham cracker-lined chocolate cupcakes topped with a chocolate glaze and toasted marshmallow frosting. So ooey and gooey, you don't even need a campfire to enjoy this classically American treat!
Can I Use a Chocolate Cake Mix Instead?
Yes, you can use a boxed cake mix if you want to. I love the flavor of homemade cake, and it doesn't take long to mix up, so that is always my preference. However, if you find a great deal on inexpensive cakes or have some you need to get used up, you can easily swap the cake for a premade cake. Do what works best for you, and you can't go wrong.
Tips for Browning the Marshmallow Topping
It's important when it comes to browning the marshmallow topping that you always use a torch that is intended for kitchen use. Anything else could be dangerous if you use something that isn't for food. Make sure you understand how to use the kitchen torch before starting. Using a kitchen torch is pretty easy once you get the hang of it. Just lightly brown the tops of the cupcakes, so they don't get too dark.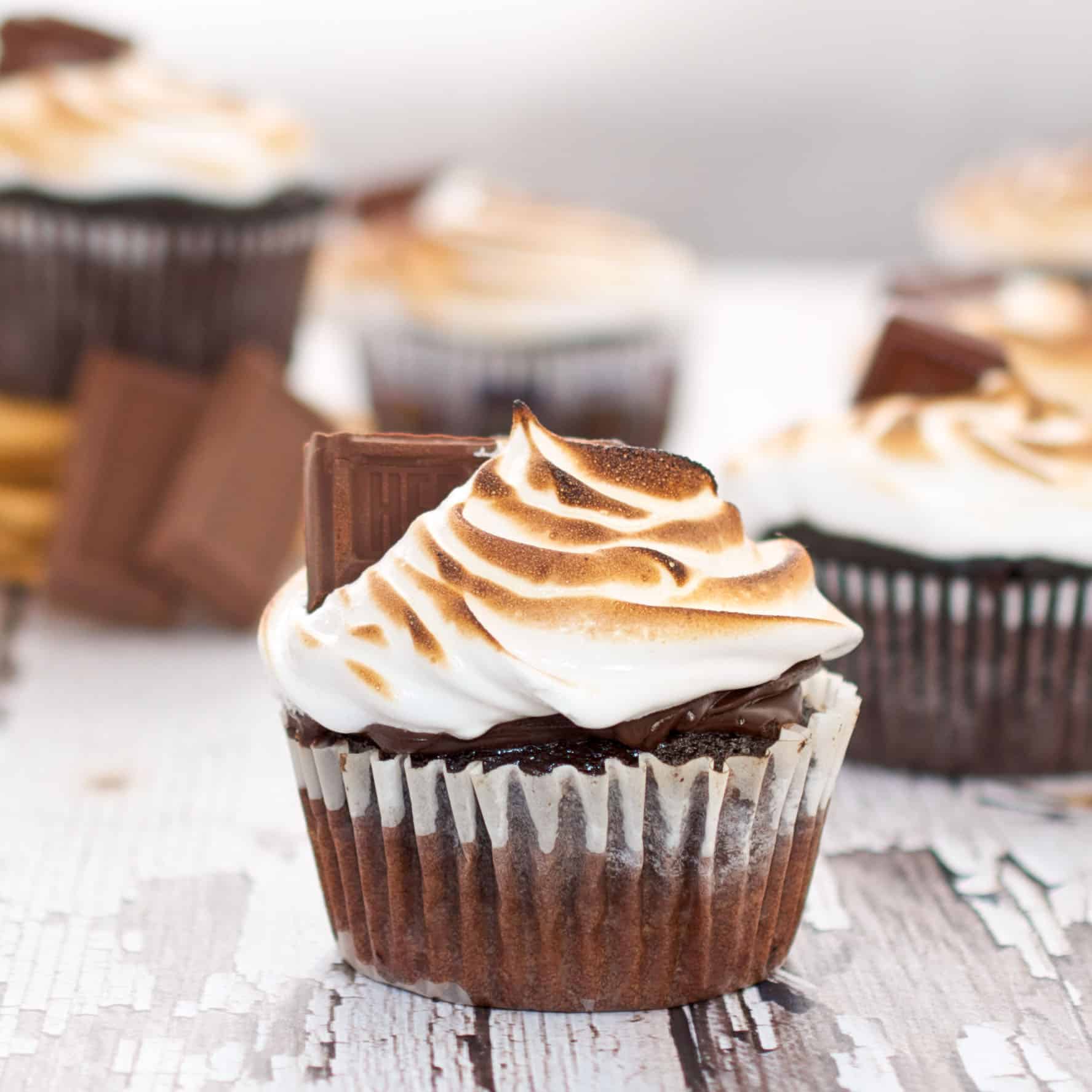 Ingredients For Chocolate Cake
Don't worry, I know it looks like a lot of ingredients at first glance, but I promise everything is pretty straightforward and easy to work with. These are truly easy s'mores cupcakes, and I know you are going to think they are entirely worth the effort.
For the Graham Cracker Base
Graham cracker crumbs
Granulated sugar
Melted butter
For the Chocolate Cake
Sugar
All-purpose flour
Unsweetened cocoa powder
Baking soda
Baking powder
Salt
Large eggs, room temperature
Buttermilk, room temperature
Strong black coffee (just brewed and still warm)
Vegetable oil
Vanilla extract
Ingredients for Chocolate Ganache
Semisweet chocolate, finely chopped
Butter
Light corn syrup
Ingredients for Marshmallow Topping
Large egg whites
Sugar
Cream of tartar
Pure vanilla extract
How to Make S'mores Cupcakes
I can't wait for you to dig into these s'mores cupcakes! They are something you can't help but become hooked on. The delicious flavor is unforgettable, and they are simple to make.
First Step: Put the oven rack in the lower-middle position. Warm the oven to 350 degrees F. and line a cupcake pan with baking liners.
Second Step: Combine the graham crackers, sugar, and melted butter in a large bowl. Then place a dollop of the graham cracker mixture into each of the baking cups. You only need about one tablespoon of the mixture for each cupcake. Press them down, so the crust is solid and well-formed. Bake them for 5 minutes, so they harden up and allow them to cool for 5-10 minutes.
Third Step: Mix together the sugar, flour, cocoa, baking soda, baking powder, and salt in a stand mixer. Blend in the eggs, buttermilk, coffee, oil, and vanilla. Beat the ingredients for two minutes on medium speed. The batter is going to be pretty thin, and it's supposed to be. Place the batter in a glass measuring cup that has a pour spout and pour the batter into the cupcake pan.
Fourth Step: Bake the cupcakes for 15 minutes or until you can insert a toothpick that comes out clean. Take the cupcakes out of the pan and let them cool for 10 minutes.
Fifth Step: Prepare the chocolate glaze by combining the chocolate, butter, and corn syrup in a saucepan. Cook over medium heat and constantly stir until it's all melted and a smooth texture. Take the pan off of the heat and let it cool to room temp. Let it sit for 30 minutes so it will thicken and be a spreadable texture. Stir from time to time as it sits.
Sixth Step: Add a thick layer of the chocolate glaze to each of the cupcakes using a spatula. Let them sit for a few minutes. Then pipe the marshmallow topping on each cupcake.
Seventh Step: While the cupcakes and chocolate ganache are cooling, prepare the marshmallow frosting. Put the egg whites, sugar, and cream of tartar into a heatproof bowl. Place the bowl over the top of a saucepan that has water that's been simmering. Whisk it continually until all the sugar has dissolved, and it's warm to the touch. This typically takes around 3-4 minutes. Put the mixture into a stand mixer bowl and use the whisk to beat it on low speed. Slowly increase the speed to high until it's stiff and glossy. This takes around 5-7 minutes. Pour in the vanilla extract and combine.
Eighth Step: Put the frosting in a large decorating bag with a 1M decorating tip. At a 90 degree angle to the cupcake, pipe a spiral of icing. Start out the outer edge and work inward.
Ninth Step: Take a kitchen torch and toast the marshmallow topping, so it looks like a toasted marshmallow. Add a chocolate bar for garnish and serve! Enjoy!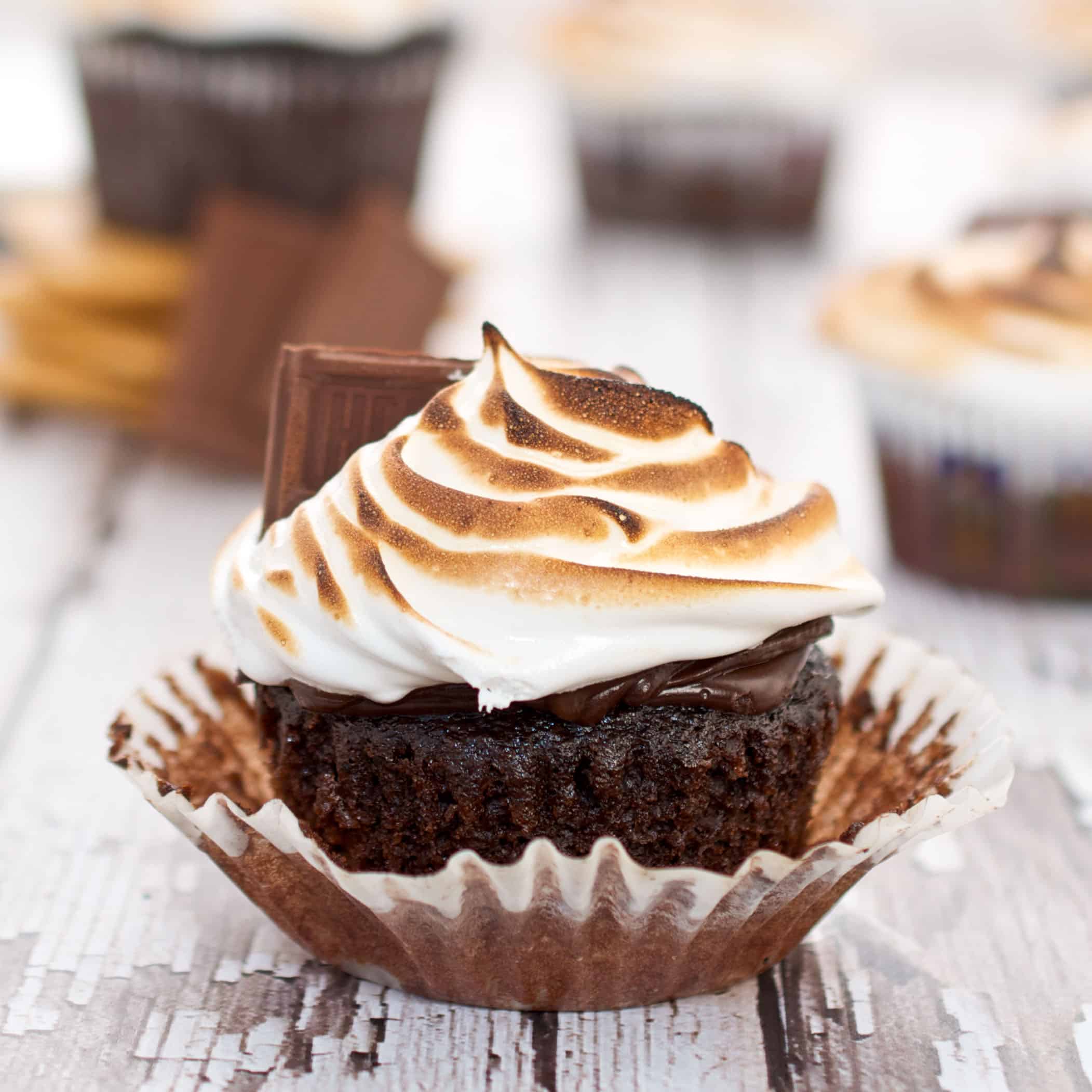 Now, remember to save this recipe on Pinterest for later 🙂
Pin this recipe now to remember it later
Classic Marshmallow Chocolate S'mores Cupcakes
This Classic Marshmallow Chocolate S'mores Cupcake Recipe is PURE HEAVEN! Moist, tender cupcakes with graham crackers, chocolate ganache, and a marshmallow topping that is positively incredible.
Ingredients
For the Graham Cracker Base:
1 1/2

cups

graham cracker crumbs

2

tablespoons

granulated sugar

5

tablespoons

butter

,

melted
For Cupcakes:
1 ¾

cups

all-purpose flour

3/4

cup

unsweetened cocoa powder

2

large eggs

,

room temperature

1

cup

buttermilk

,

room temperature

1

cup

strong black coffee

,

just brewed and still warm

1

teaspoon

vanilla extract
For the Chocolate Glaze:
4

ounces

semisweet chocolate

,

finely chopped

1

teaspoon

light corn syrup
For the Marshmallow Frosting:
1/2

teaspoon

cream of tartar

2

teaspoons

pure vanilla extract
Want to save this recipe? Enter your email below and we'll send the recipe straight to your inbox!
NOTE: By saving this recipe, you agree to join our weekly recipes newsletter.
Instructions
Adjust oven rack to lower-middle position and preheat to 350 degrees F. Line muffin pan with baking cup liners.

In a large bowl, combine graham cracker crumbs, sugar, and melted butter. Place a tablespoon sized scoop of the mixture in the bottom of each baking cup. Using the bottom of a measuring cup, press down the graham cracker crumbs until they form a solid crust.


Bake for 5 minutes to allow the base to harden. Cool for 5-10 minutes before filling with cupcake batter.

In the bowl of a stand mixer fitted with the paddle attachment, stir together sugar, flour, cocoa, baking soda, baking powder and salt. Add eggs, buttermilk, coffee, oil and vanilla; beat on medium speed for 2 minutes. Batter will be thin. Transfer batter to a glass measuring cup with a pour spout and pour batter evenly into prepared pans.

Bake at 350 degrees for 15 minutes or until wooden pick inserted in center comes out clean. Remove cupcakes from pan. Cool the cupcakes in pan for 10 minutes. Remove from the pan and let cool completely on a cooling rack.

To make the chocolate glaze, in a saucepan, combine the chocolate, butter, and corn syrup over medium heat and stir until completely melted and smooth. Remove from heat and allow to cool in room temperature for about 30 minutes until chocolate thickens to a spreadable consistency. Stir occasionally.

Using an off-set spatula, spread a thick layer of chocolate glaze on top of each cupcake. Let set for a few minutes before piping marshmallow frosting on top.

To make the marshmallow frosting, place egg whites, sugar, and cream of tartar in the heatproof bowl of an electric mixer. Set over a saucepan with simmering water. Whisk constantly until sugar is dissolved and whites are warm to the touch, 3 to 4 minutes.

Transfer bowl to electric mixer fitted with the whisk attachment, and beat, starting on low speed, gradually increasing to high, until stiff, glossy peaks form, 5 to 7 minutes. Add vanilla, and mix until combined. Place frosting into a large decorators decorating bag fitted with the 1M decorating tip and approximately 1/4″ above cupcake top at a 90° angle to cupcake surface, pipe a spiral of icing, beginning at the outer edge and working inward. Using a kitchen torch, lightly toast the marshmallow meringue to resemble a toasted marshmallow. Decorate cupcakes with a piece of a chocolate bar if desired.
Follow me on Pinterest for daily delicious recipes!
These s'mores cupcakes are delicious and easy to put together. Here are some of our other popular cupcake recipes for you to try!
Best Peach Cupcakes Recipe – I can never get enough peach flavored food and drinks. These cupcakes are beyond amazing, and you can't help but fall in love with them. Perfect for summertime too!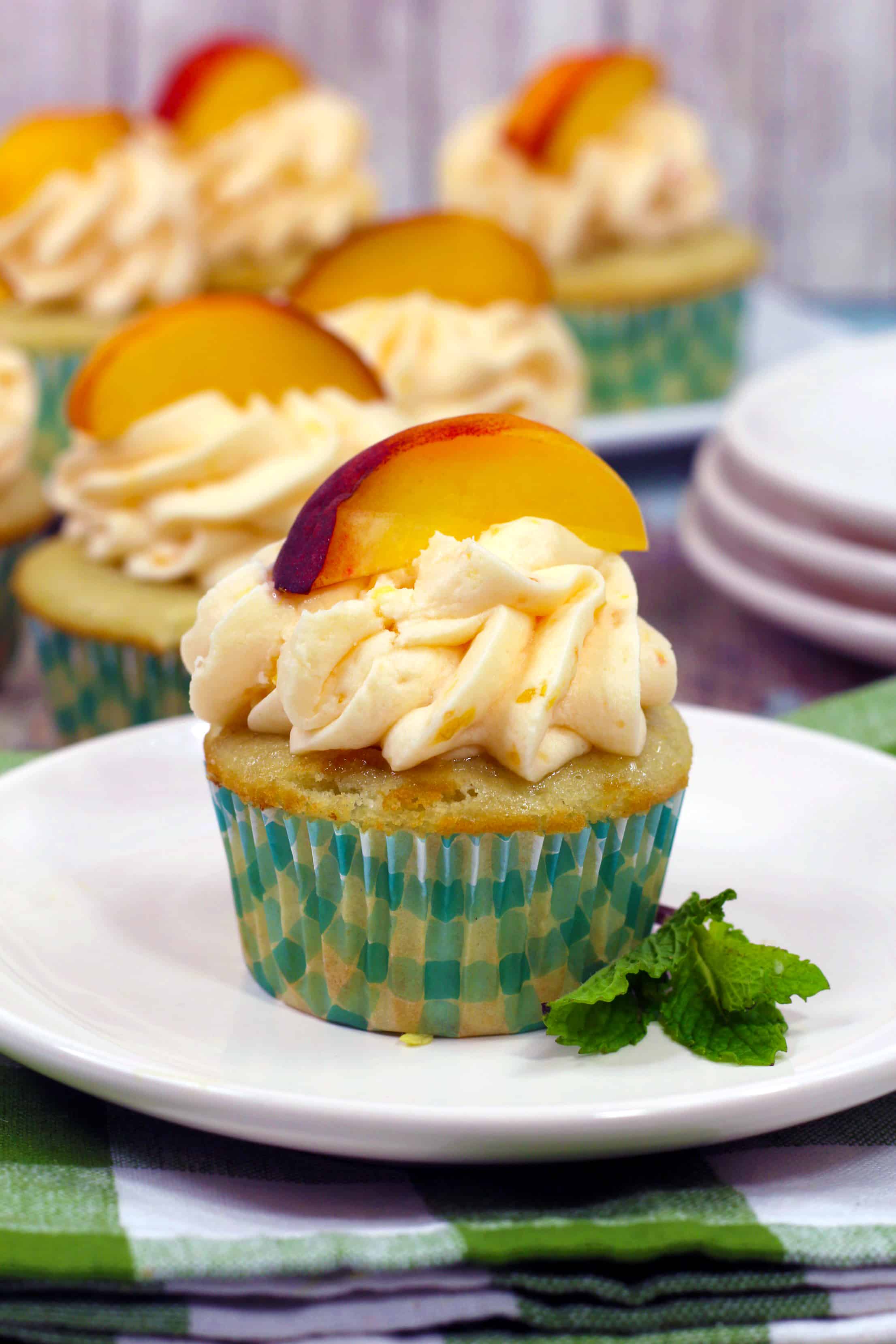 Samoas Cookies Cupcakes – If you are a huge fan of Samoas cookies, you really need to taste these incredible cupcakes. They are gorgeous too.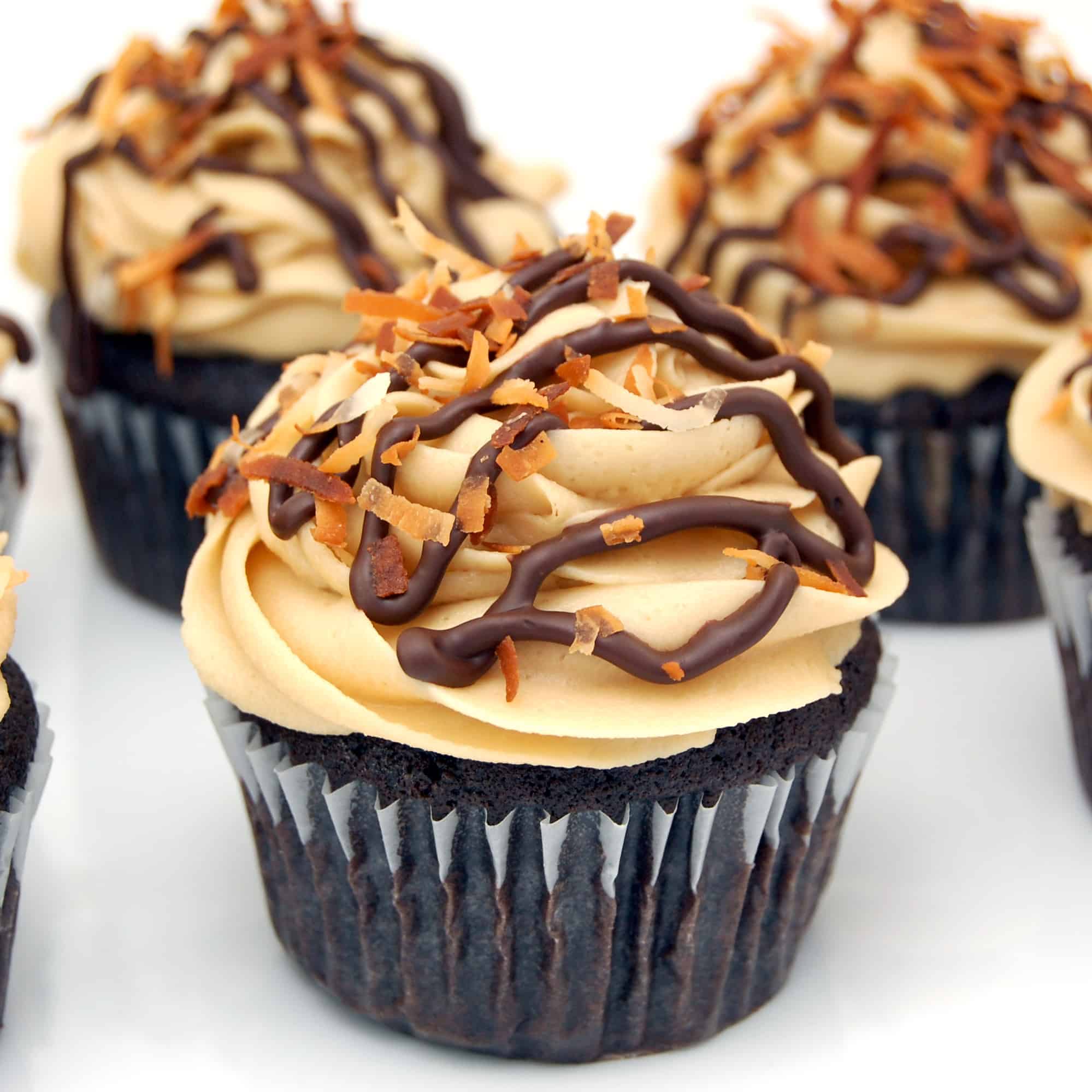 Best Ever Snickers Cupcakes – The filling is out of this world in these Snickers cupcakes! Make these cupcakes for birthday parties or when you are craving something chocolaty!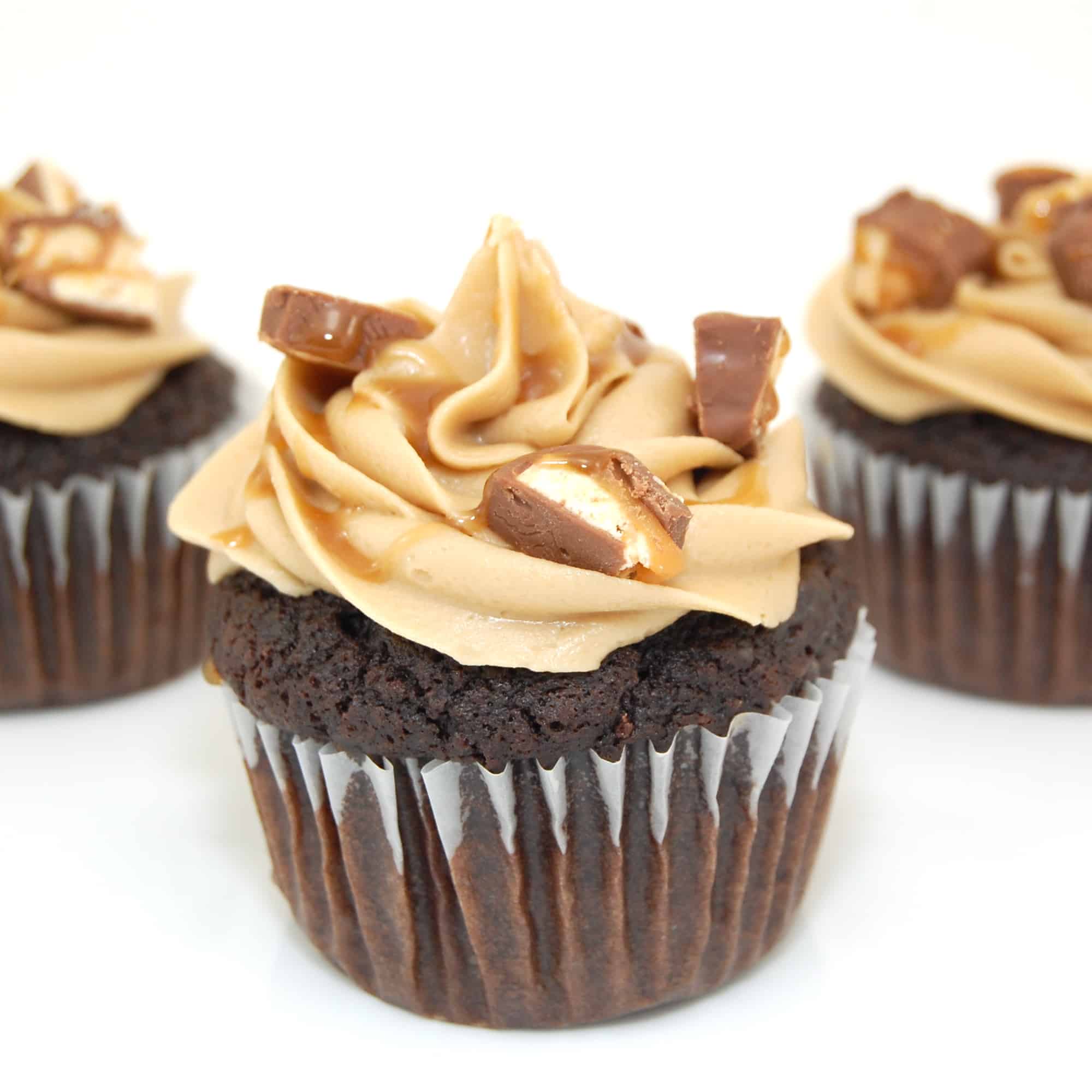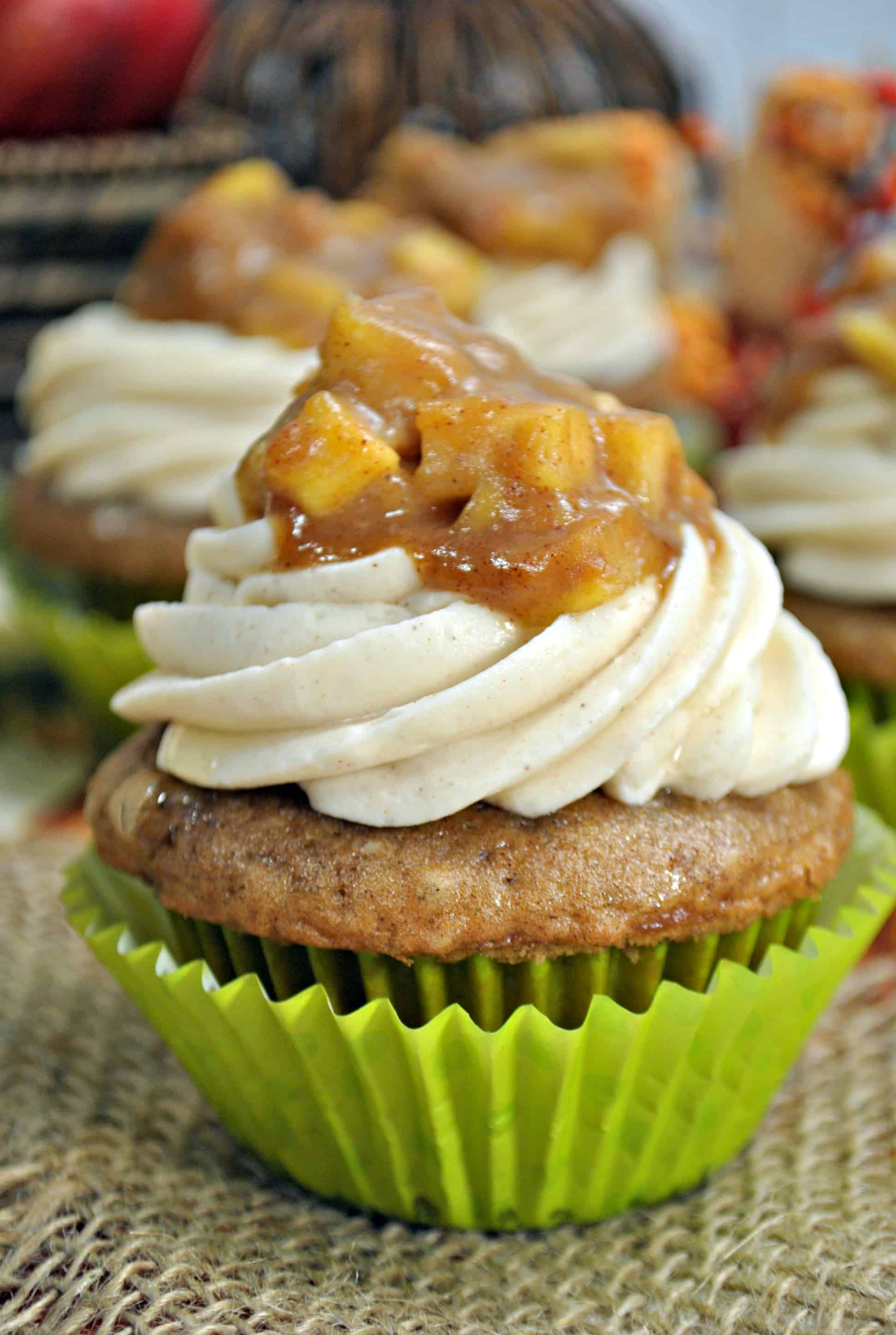 Get new recipes weekly plus our FREE ebook!