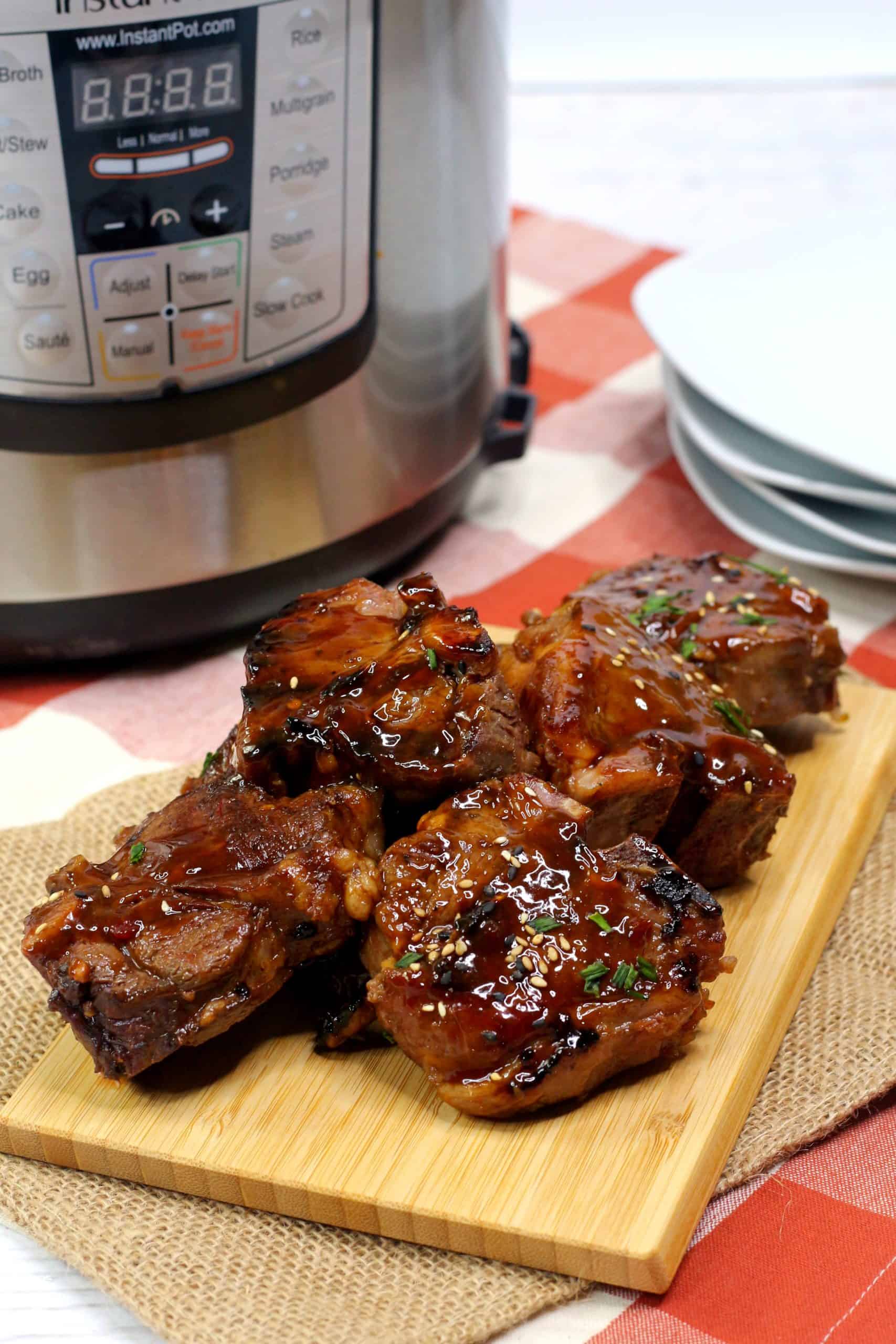 This incredible, juicy Instant Pot Lamb Chops Recipe is succulent and unforgettable. When you dig into a plate of freshly cooked lamb chops, you will be blown away by how tender they are. Not to mention how much flavor they have and that they are the star of any meal.
Instant Pot Lamb Chops Recipe
Not going to lie, I am addicted to my Instant Pot! It does everything from sauteeing to making rice or even cooking the most tender lamb chops ever. With all of the capabilities of the Instant Pot, it's not hard to see why it's such a popular kitchen gadget. When you cook lamb chops any other way, they can be harder to get perfect than when you are cooking them in your pressure cooker. The pressure cooker lets the flavors really marry together, and it produces soft, juicy meat that is like nothing you've had before.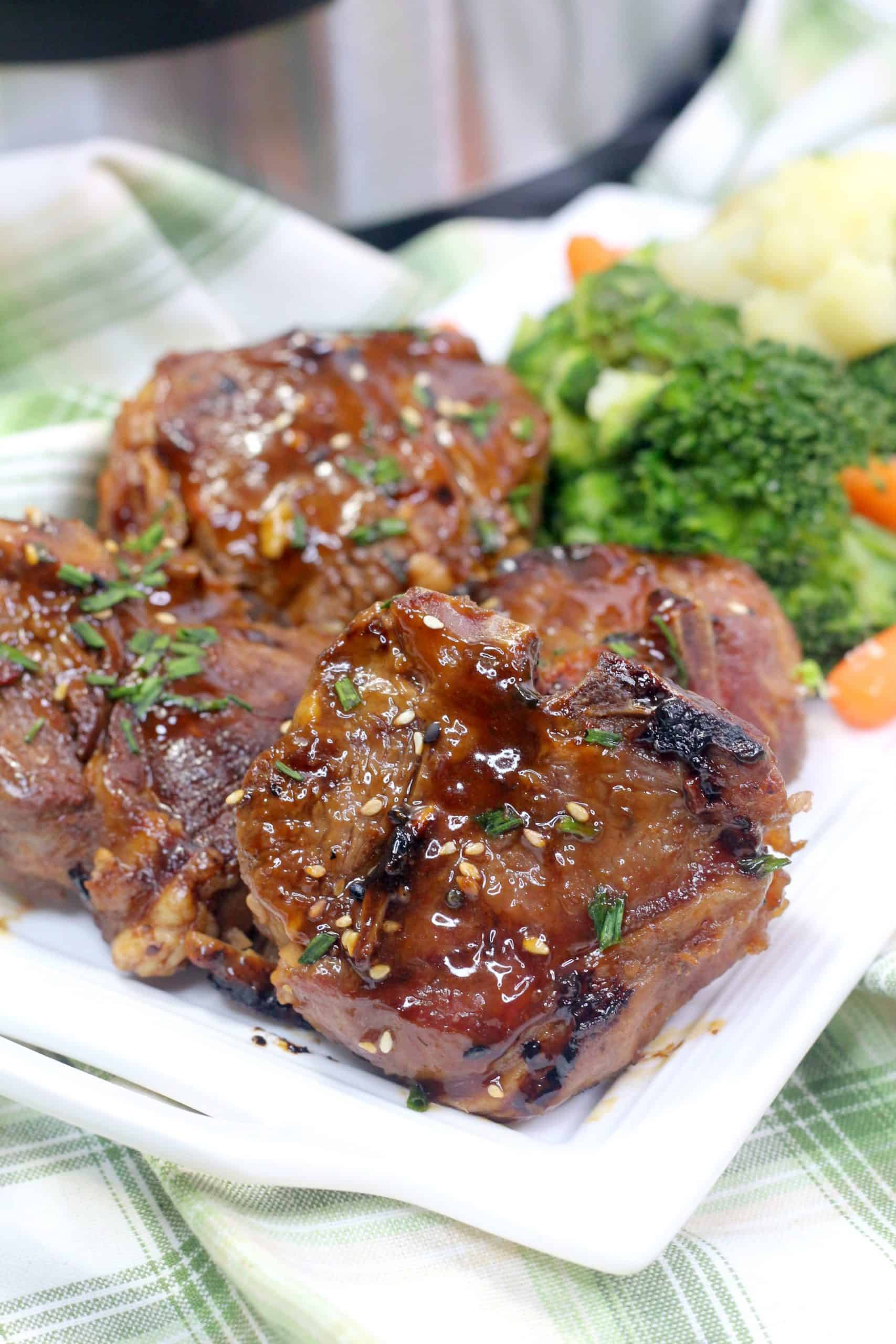 If you're planning on hosting a dinner party, I can tell you if you serve these Instant Pot lamb chops, the guests are going to be thrilled. They are fancy enough to serve to friends but also low key enough to eat with the family on a lazy evening around the house. If you've never tried lamb chops before, now is the time to make it happen. Once you do, you'll be glad you did and be happy about having a new favorite dinner option.
How Long Should I Marinade Lamb Chops?
When it comes to marinating the lamb chops, there is some fluctuation in what you can do. I prefer to let my lamb chops marinate for 24 hours because it gives them a richer and more tender flavor. However, you can opt to marinate the lamb chops for anywhere from 4-24 hours. Keep in mind the longer they soak up that fantastic marinade, the better they are going to taste. I understand that you don't always have a 24-hour notice to make them ahead of time, so you can simply choose a lesser time.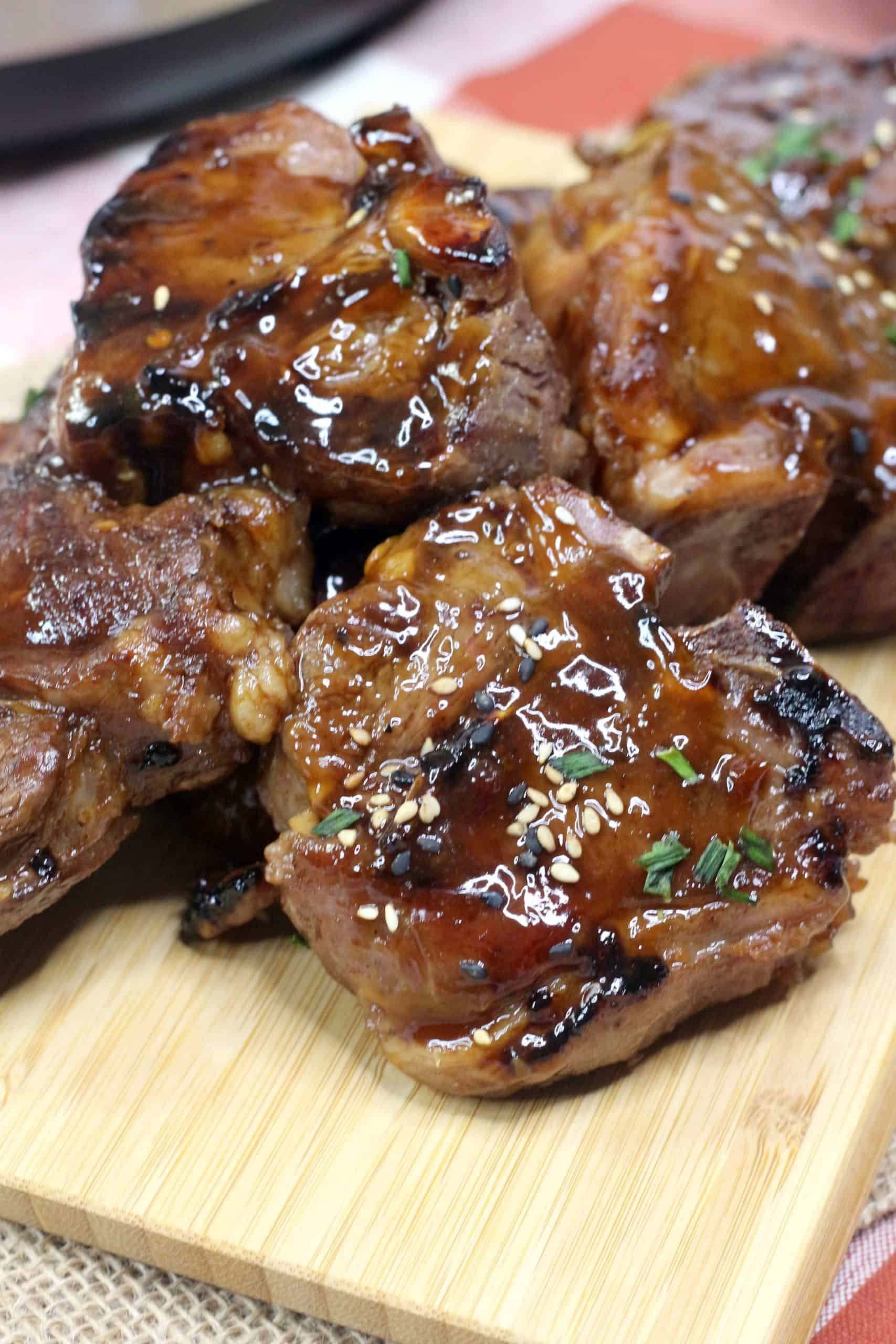 What Should I Serve with Braised Lamb Chops?
Braised lamb chops are truly an amazing dish, and they need something equally as yummy to go with them. Don't worry; you can quickly come up with a side that is worthy of their awesomeness! Stuffed heirloom tomatoes, couscous salad, spring veggies, roasted veggies, fresh garden salads, and a savory souffle are a few options. You can go as fancy or low key as you want. I love to serve mine with some broccoli and other veggies, as well as a fresh salad and some fruit. Whatever you do, don't stress about the sides, just make something you are comfortable with, and you will enjoy it!
How do I Know Lamb Chops are Done Cooking?
You can serve lamb chops when they are 120 degrees F. for rare and all the way up to 145 degrees F. for medium. They are best when they are cooked around 145 degrees. If you cook them for too long, they do tend to take on a flavor that is gamier. There is a little wiggle room, but don't overcook them because they will end up dry too. Many people prefer to serve them medium rare, so they are right in the middle and will still be juicy and flavorful.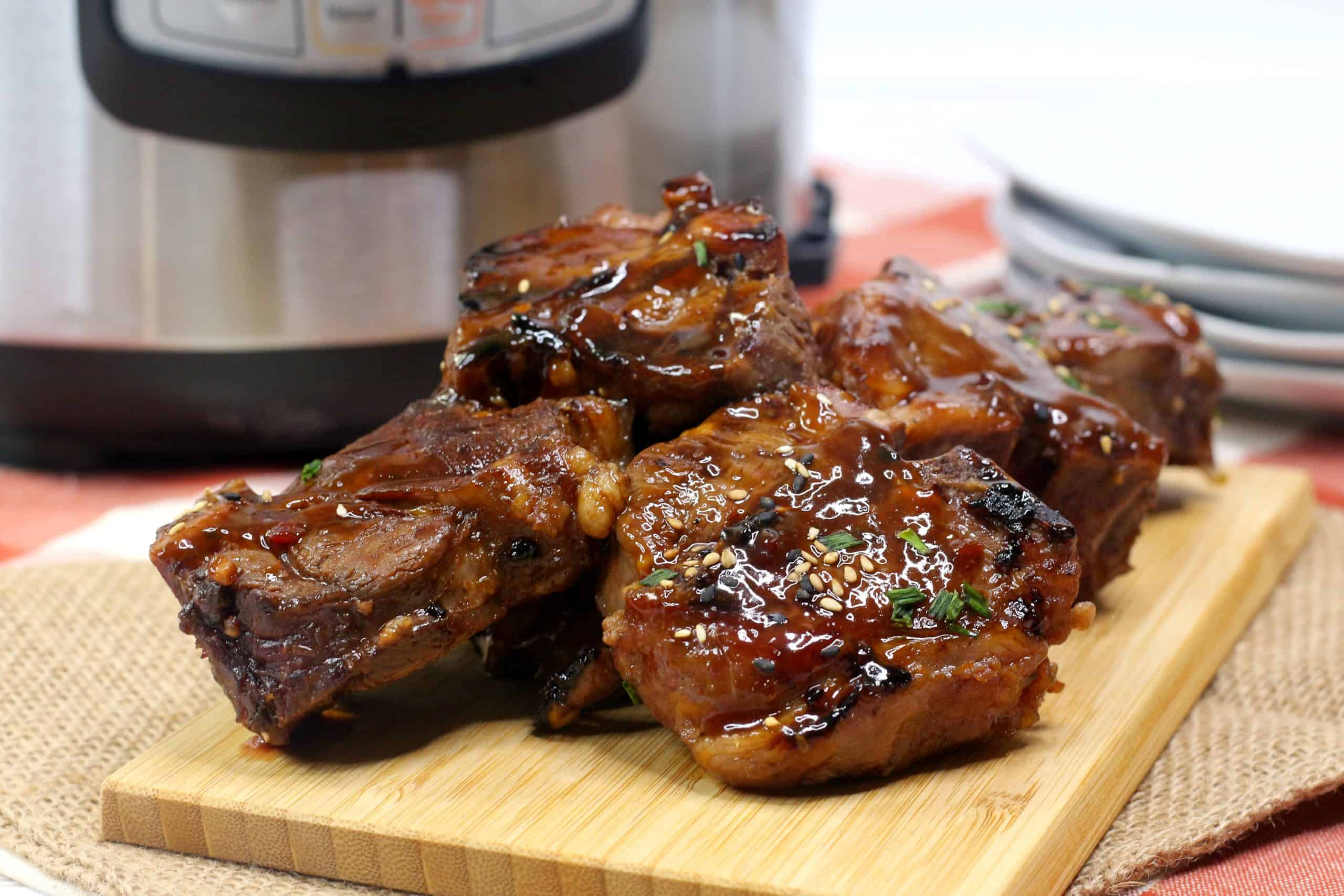 Ingredients
It's incredible that you only need 9 ingredients to make a batch of this Instant Pot lamb chops recipe. I can't help but love something so classy that only takes a few ingredients!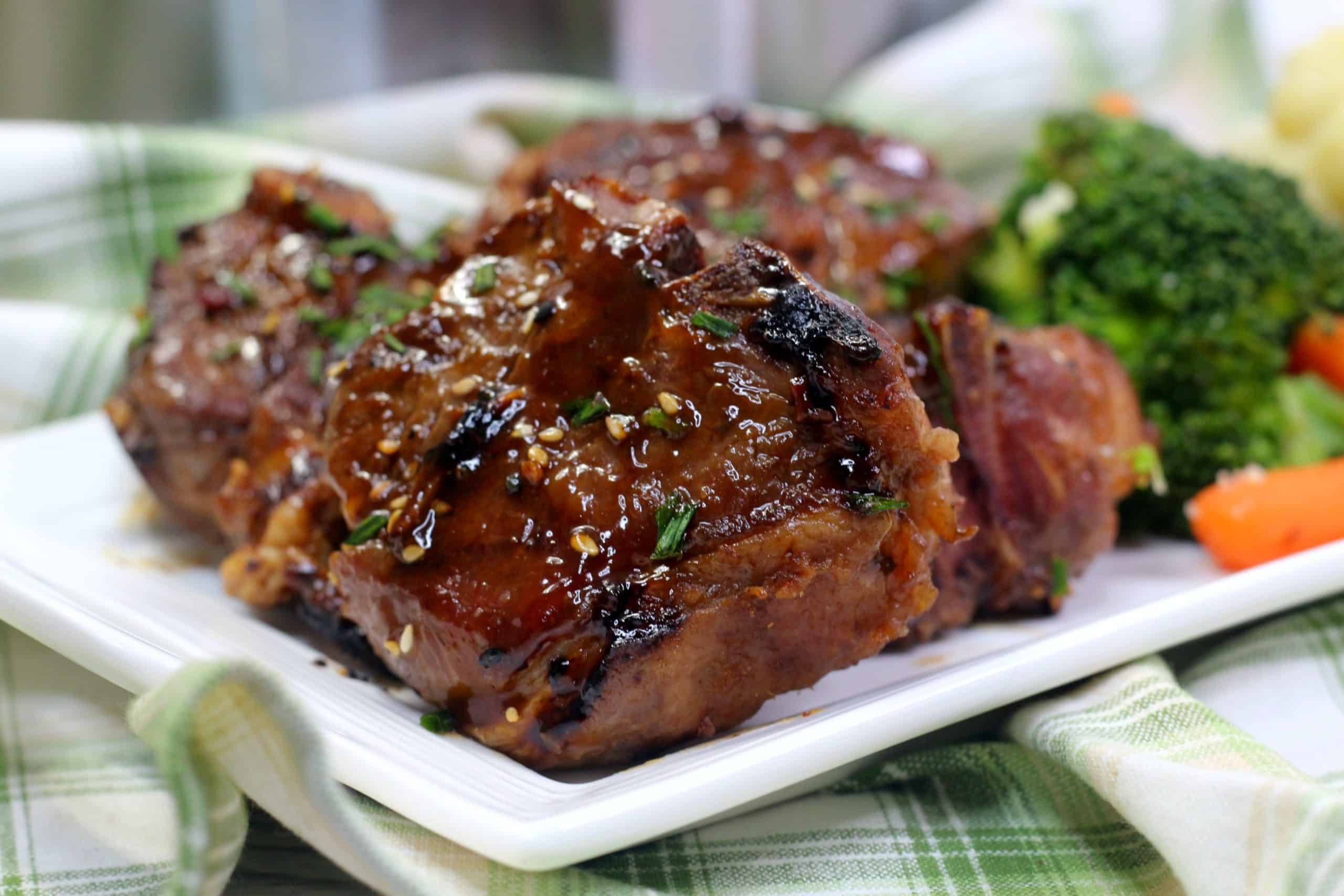 How To Make Instant Pot Lamb Chops
You are going to be wowed when you taste how wonderful these pressure cooker lamb chops turn out. They couldn't be any easier and are some of the best I've ever eaten.
First Step: Prepare the marinade by whisking the brown sugar, ground ginger, garlic, soy sauce, and sambal paste in a bowl.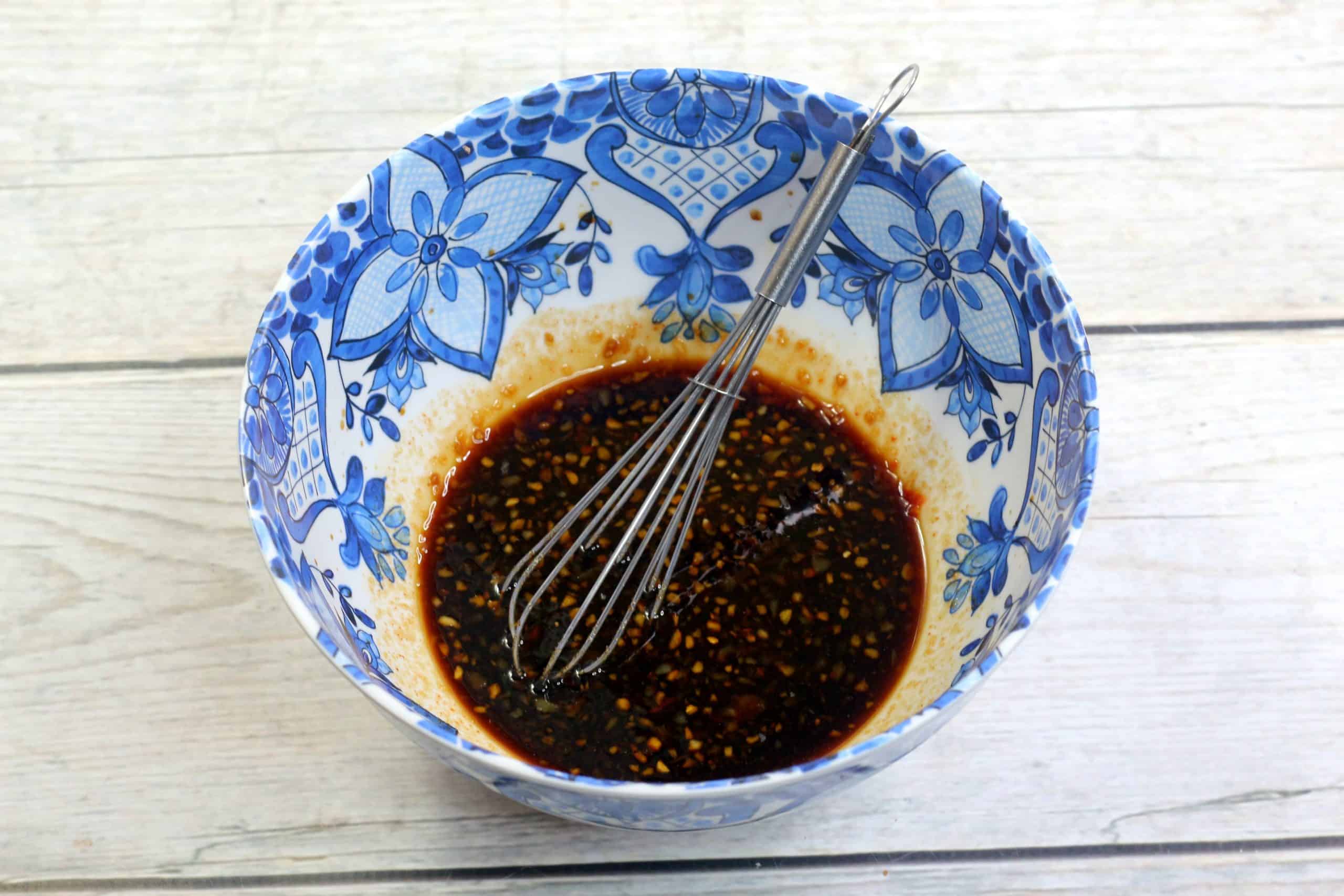 Second Step: Use a resealable plastic bag and add the lamb chops to it. Then cover them with half of the marinade.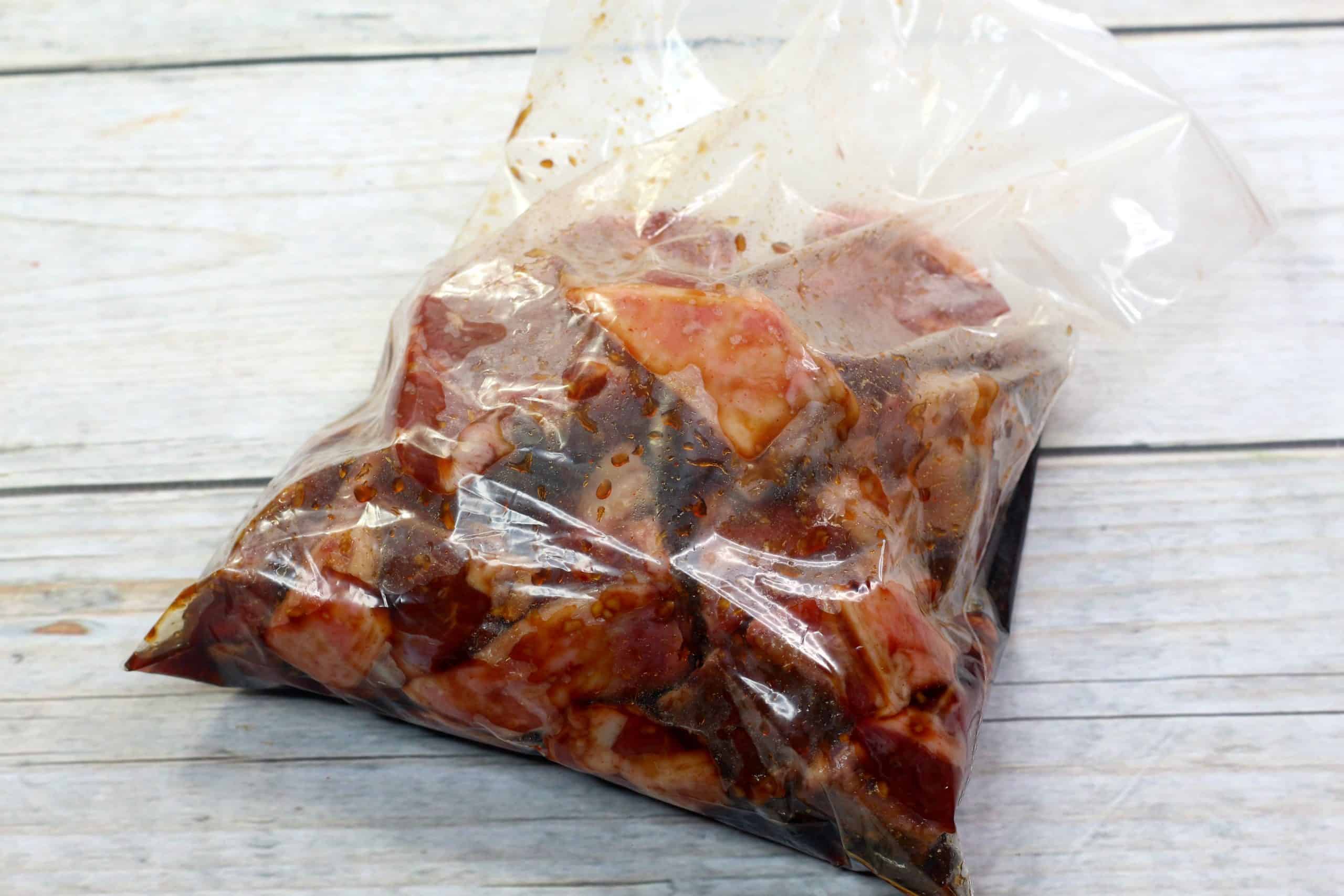 Third Step: Keep the rest of the lamb chop marinade for later.
Fourth Step: After sealing the plastic bag, massage the closed bag, so the marinade really gets mixed into the lamb chops.
Fifth Step: Place the bag of marinading lamb chops in the fridge from 4-24 hours, depending on your preference.
Sixth Step: When it's time to begin cooking, turn the Instant Pot to the saute setting and add 1 1/2 teaspoons of olive oil. Once it's hot, add the lamb chops.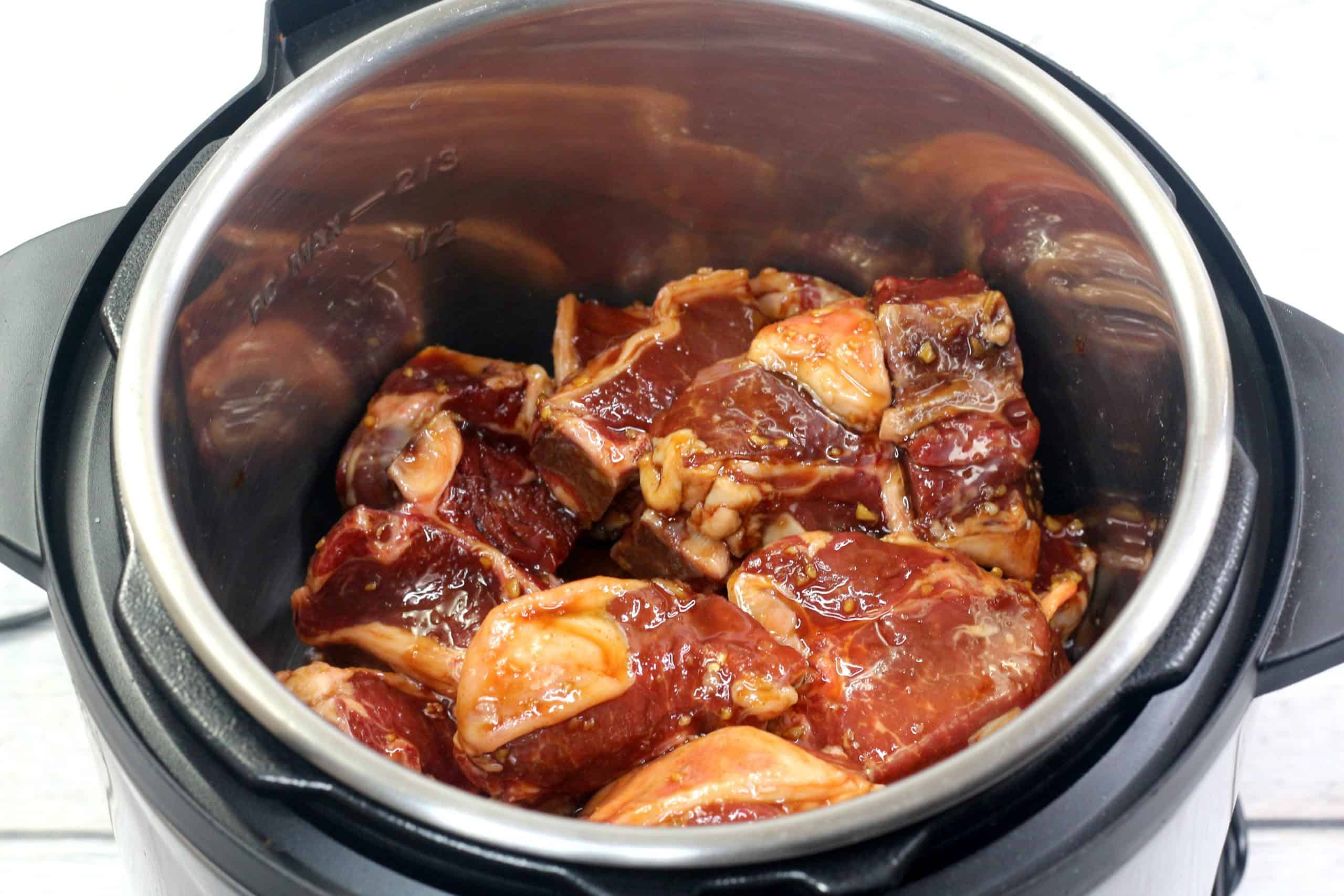 Seventh Step: Sear each side of the lamb chops for 2 minutes each. Don't forget to do both sides.
Eighth Step: Place the remaining marinade sauce and 1/2 cup of broth into the pressure cooker.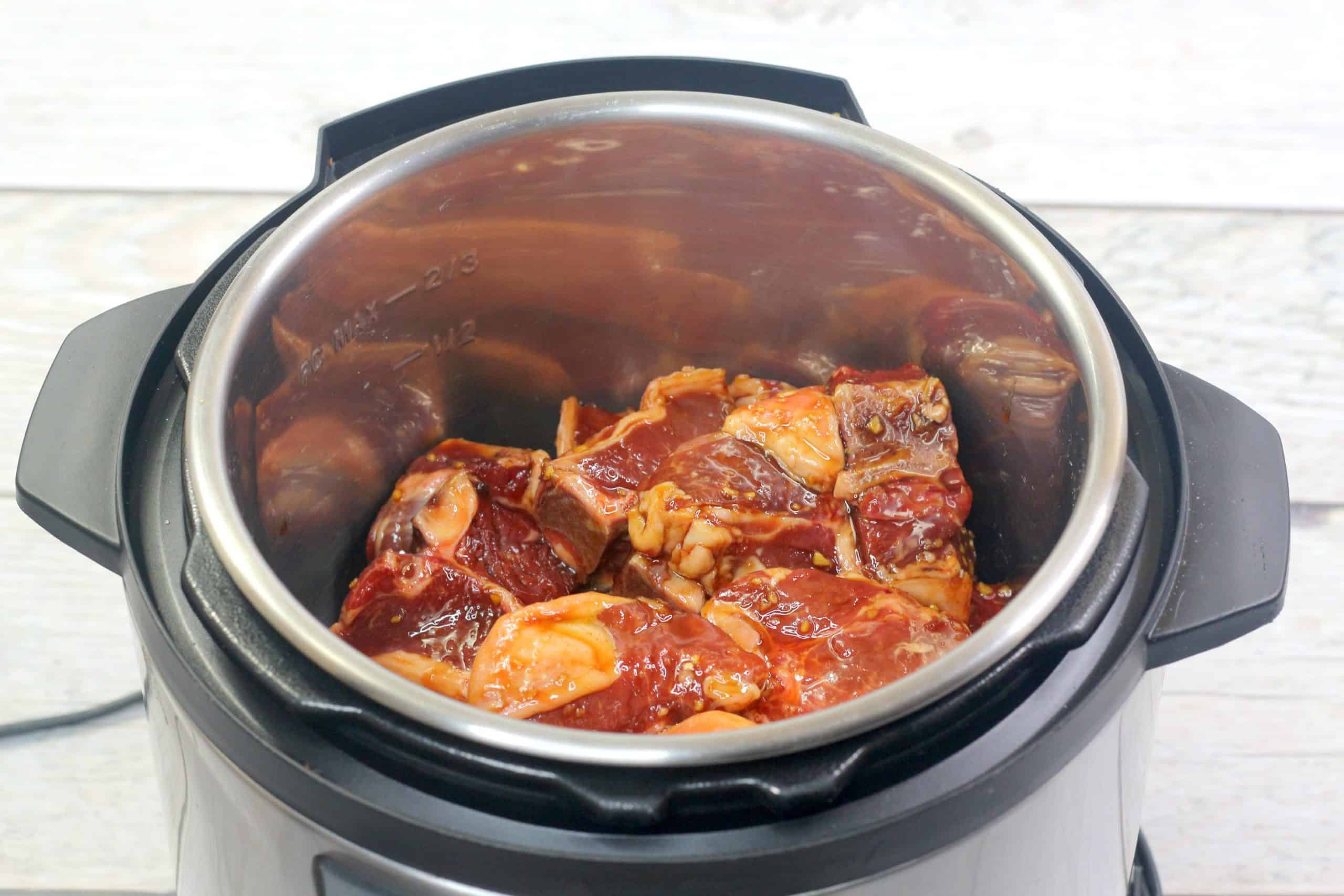 Ninth Step: Put the Instant Pot on manual high pressure, close the valve, and cook for 2 minutes for medium lamb chops.
Tenth Step: Allow the pressure cooker to do a natural release for 15 minutes, then you can do a quick release to finish releasing pressure.
Eleventh Step: Remove the meat from the pressure cooker and allow them to rest.
Twelfth Step: Coat the chops with sauce to taste.
Thirteen Step: Turn the Instant Pot to saute and cook for 5 minutes or until thickened.
Fourteen Step: Serve and enjoy!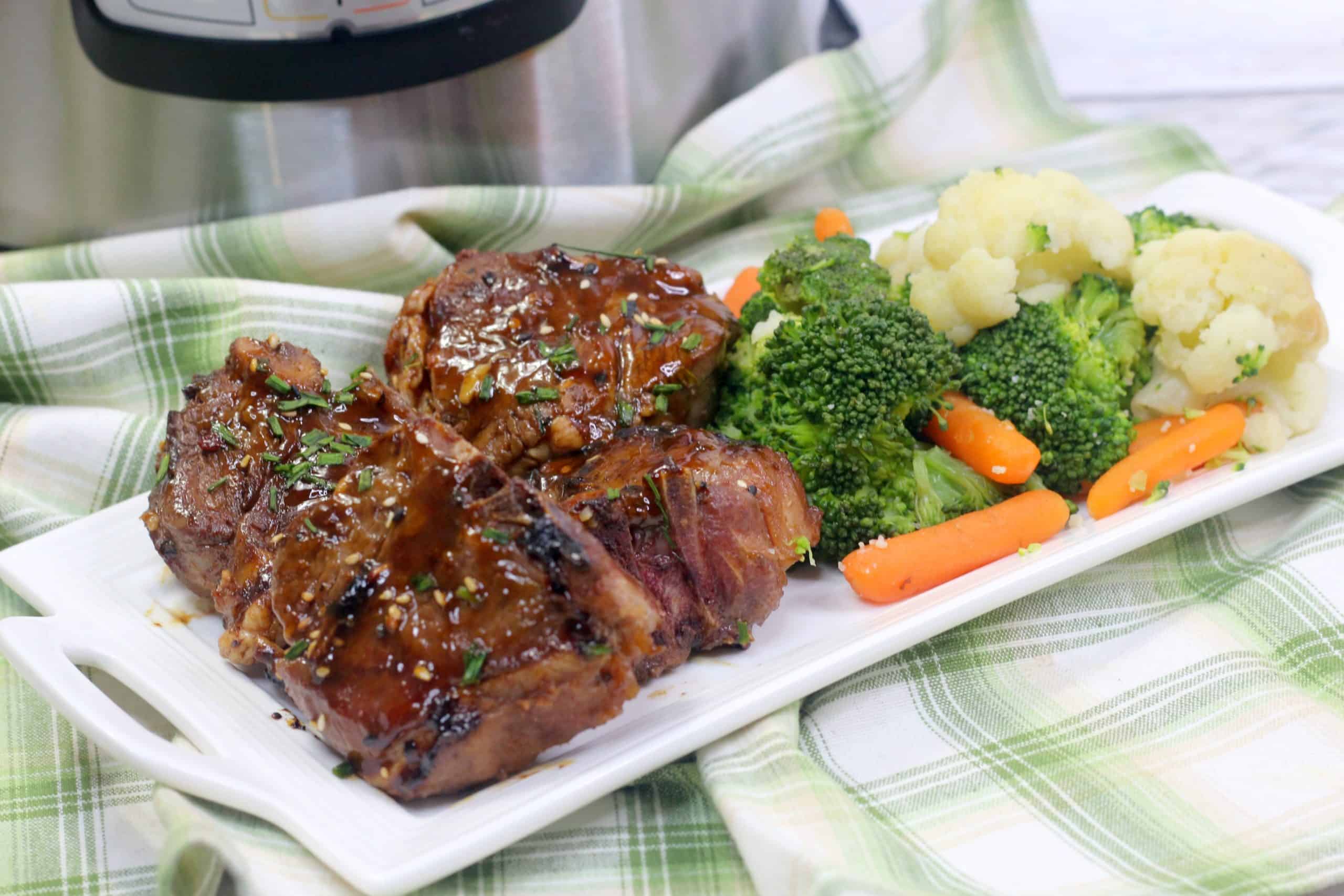 Now, remember to save this recipe on Pinterest for later 🙂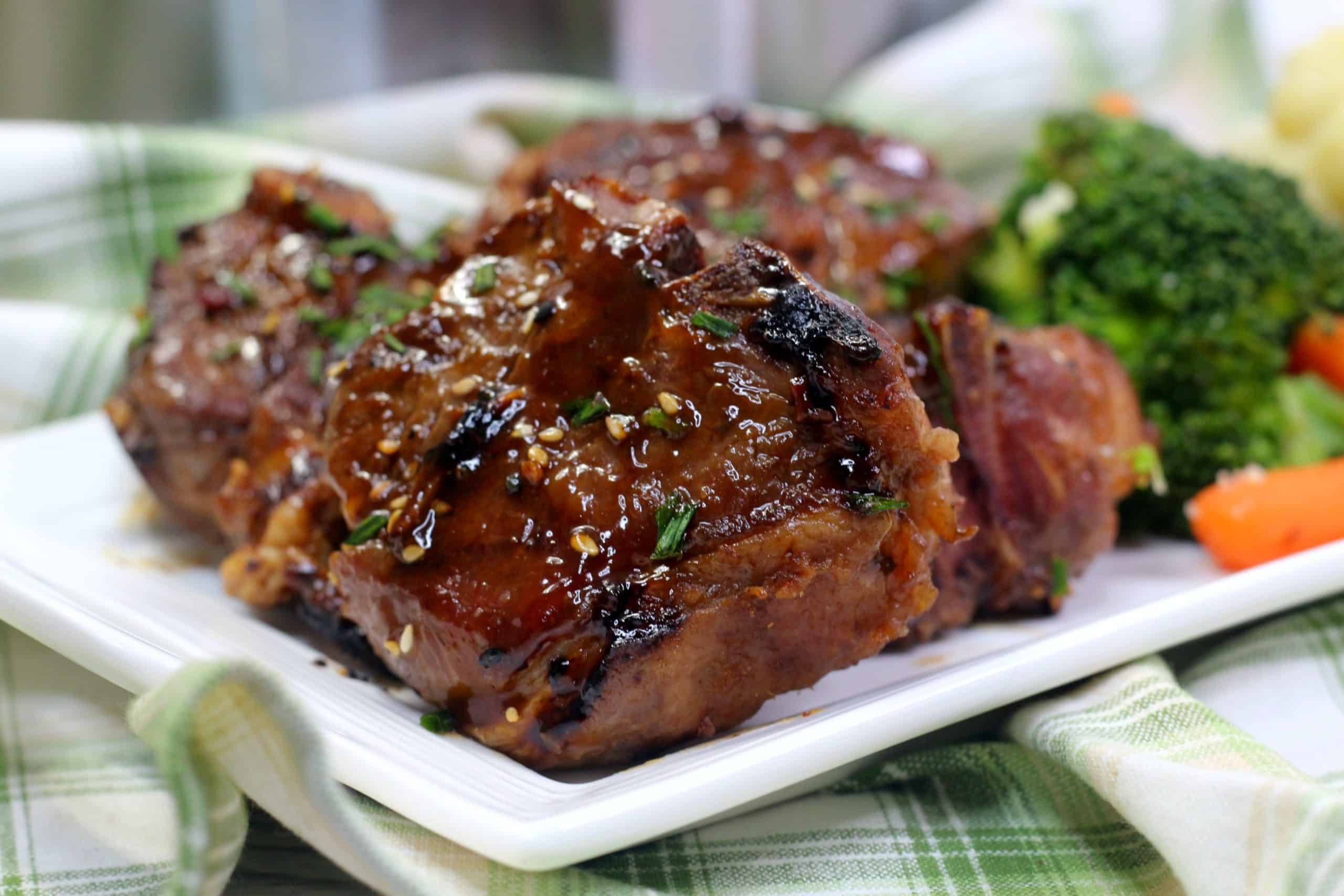 Delicious Instant Pot Lamb Chops
This incredible, juicy Instant Pot Lamb Chops Recipe is succulent and unforgettable. When you dig into a plate of freshly cooked lamb chops, you will be blown away by how tender they are.
Ingredients
1 pound {8-10) Lamb Chops
2 cups Brown Sugar
2 Tbsp. Ground Ginger
1 Tbsp. minced garlic
1 cup Soy Sauce
2 Tbsp. Sambal Chili Garlic Paste
2 Tbsp. Olive Oil
½ cup Chicken broth
Sesame seeds for garnish
Instructions
Whisk together in a bowl brown sugar, ground ginger, garlic, soy sauce, and sambal paste.
Place lamb chops in a resealable plastic bag and pour half of the marinade over chops.
Save the rest for later.
Seal and massage ingredients together.
Marinate in the fridge 4 to 24 hours.
Put Instant Pot onto Saute, put in 1 ½ tbs olive oil, let it come to Hot, add in lamb that has been marinating.
Sear on one side for about 2 minutes, flip, saute for another 2 minute.
Add the remaining sauce and ½ cup broth to the Instant Pot.
Set on High Pressure for 2 minutes for medium.
Let natural release for 15 minutes.
Take meat out and let rest.
Coat with sauce as needed.
Put on saute for about 5 minutes or until thick.
Serve
If you are searching for more fantastic dinner ideas, check these out: