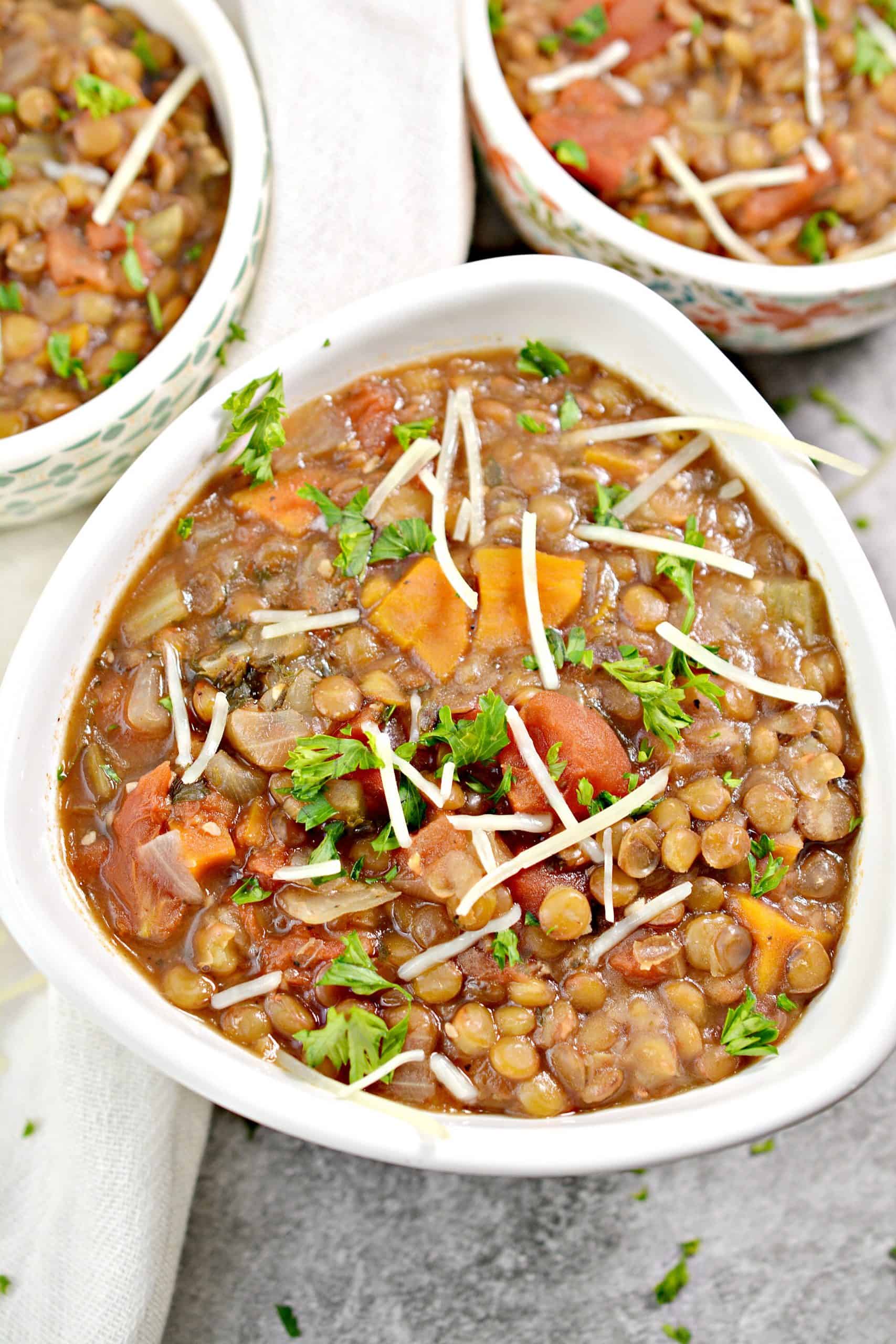 There is nothing better than a hot bowl of this Instant Pot Lentil Soup Recipe on a winter day! It's packed with nutrients and only requires 11 ingredients to make it! These are some Instant Pot lentils you won't soon forget.
Scroll to bottom for printable recipe card.
Instant Pot Lentil Soup Recipe
Many days I find myself craving comfort food, and this brown lentil soup has become a comfort food favorite in my house. I think we all love it so much because it's hearty and has tons of flavor. Don't you get tired of boring soups? I know I do, and that's why I love this Instant Pot lentil recipe…it's anything but boring!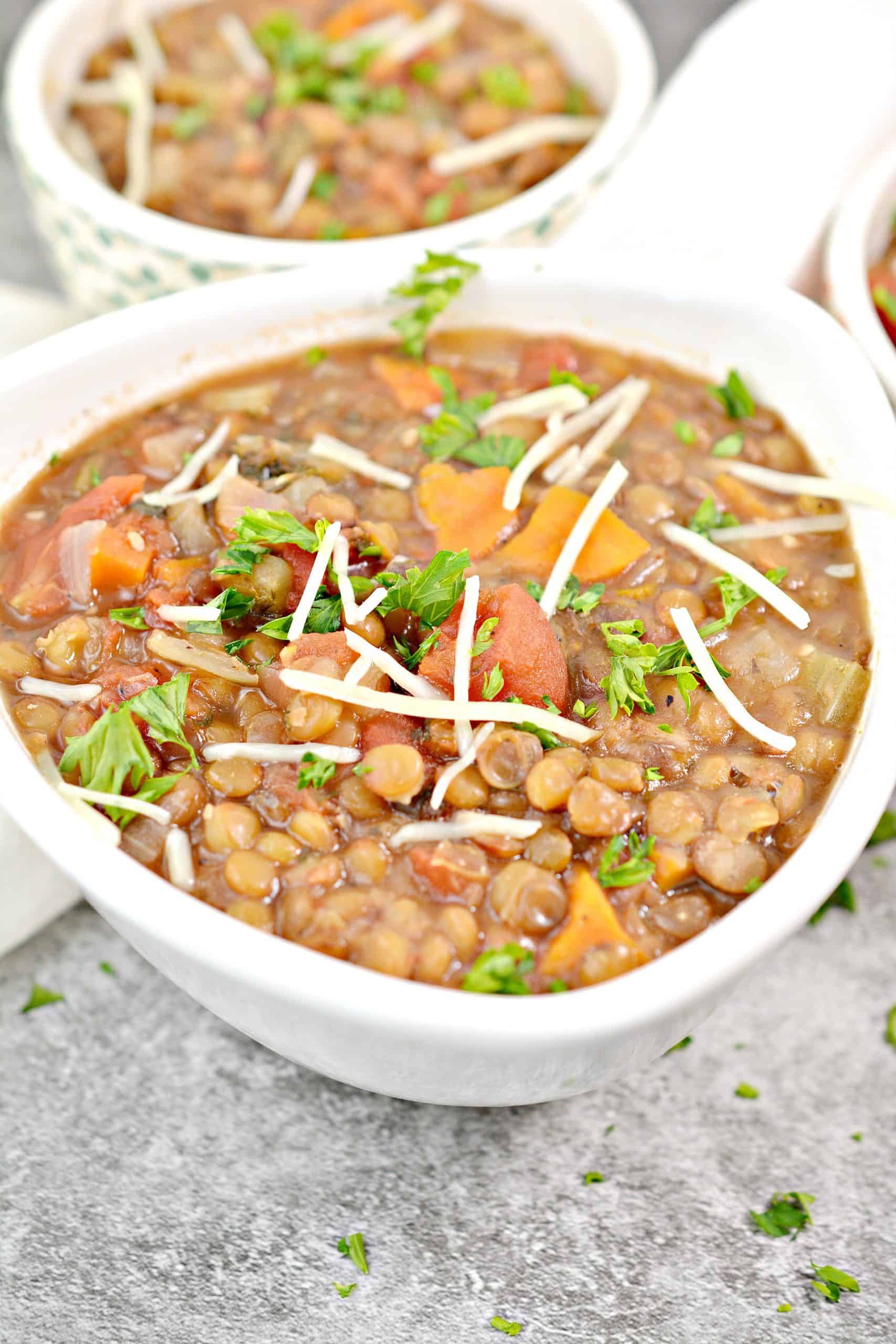 What Is Lentil Soup?
Lentil soup is a dish that's filled with lots of lentils, veggies, and seasonings. Many recipes have meat like ground beef. It's known for its comforting flavors and seasonings. You can make it vegetarian or even vegan if you replace the chicken broth with vegetable broth too.
What Are Lentils?
Lentils are relatives of beans, chickpeas, and even peanuts! They are legumes and pack a huge punch of protein. There are several different types of lentils, and they all have a little bit of different flavor.
Red & Yellow – These are some of my favorites because they are slightly sweeter.
Brown – They are earthy flavored and a very popular variety.
Green – Often, people use green lentils as topping for their salads.
Black – You'll find black legumes paired with dishes that have meat because they go so well together.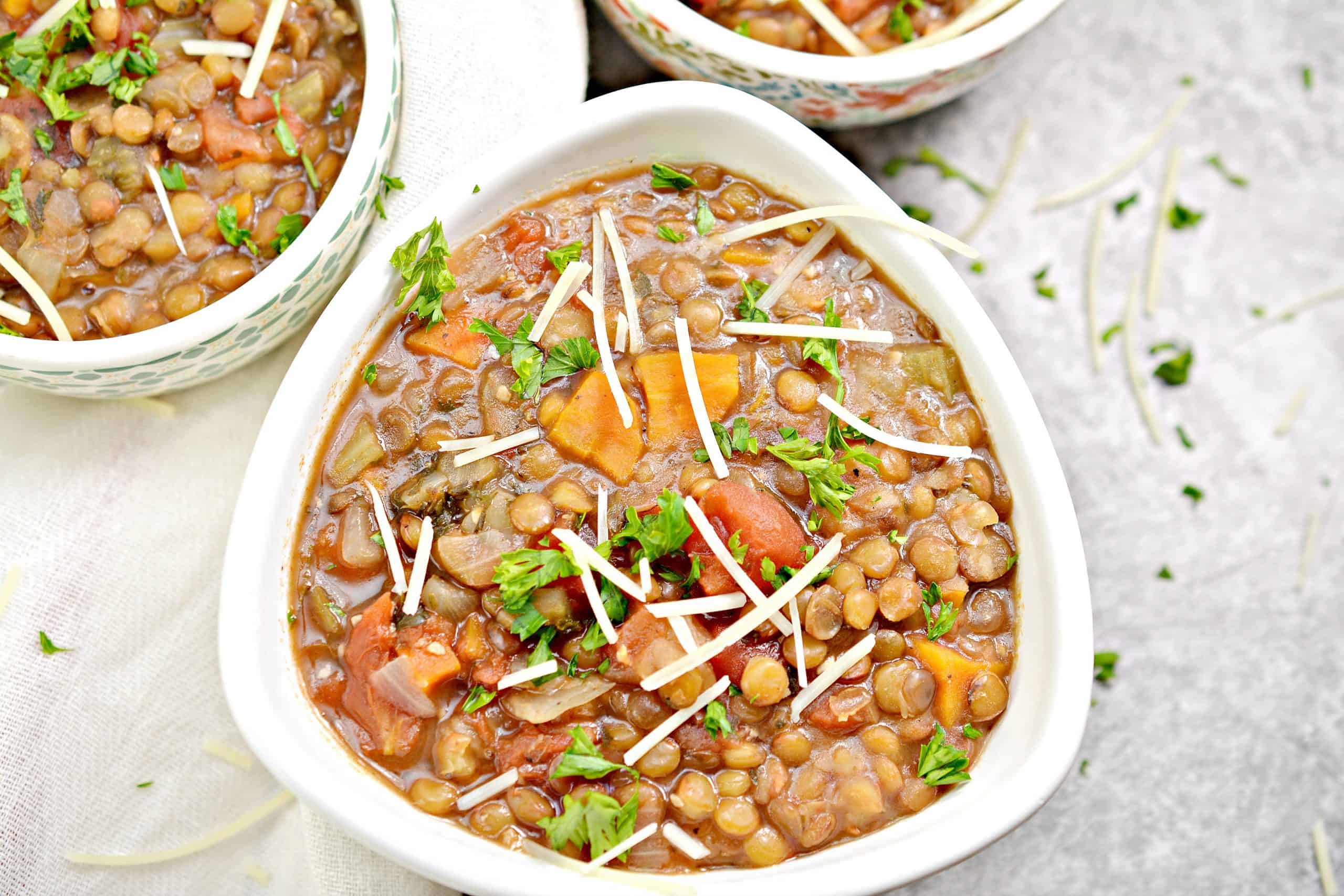 What's In Lentil Soup?
My Instant Pot lentil soup recipe has lots of yummy ingredients just waiting for you to throw together. You won't find an easier Instant Pot lentils recipe, and the best part is how delicious it is. Take a look at these ingredients:
Celery – I almost always add celery to my soup in Instant Pot recipes because it adds a nice flavor and texture.
Carrot – Give yourself some added nutrients by placing some carrots in the best Instant Pot soup ever!
Garlic – I used 3 cloves, but you could always add a little more or less, depending on your preference.
Onion – Adding onion gives this Instant Pot lentil recipe even more tasty flavor.
Diced tomatoes – Not only does the tomatoes give the soup some color, it makes it taste even better too.
Lentils – Choose any color of lentils that you like or have on hand. I prefer brown, but anything will do.
Italian seasoning – Yum, you can't go wrong with adding a little Italian seasoning to this lentil soup.
Thyme – I prefer to always use fresh thyme when cooking. You could use dried if fresh wasn't an option for some reason.
Chicken broth – If you want to make a vegan lentil soup, use vegetable broth instead.
Baby spinach – Adding spinach adds to the nutrient value of the soup and enhances the color too.
Salt and pepper – Add a little bit to taste.
Freshly chopped parsley – Parsley will add color and is a great garnish.
Shredded parmesan – While the parmesan is optional, I love the added flavor it gives to the easy soup.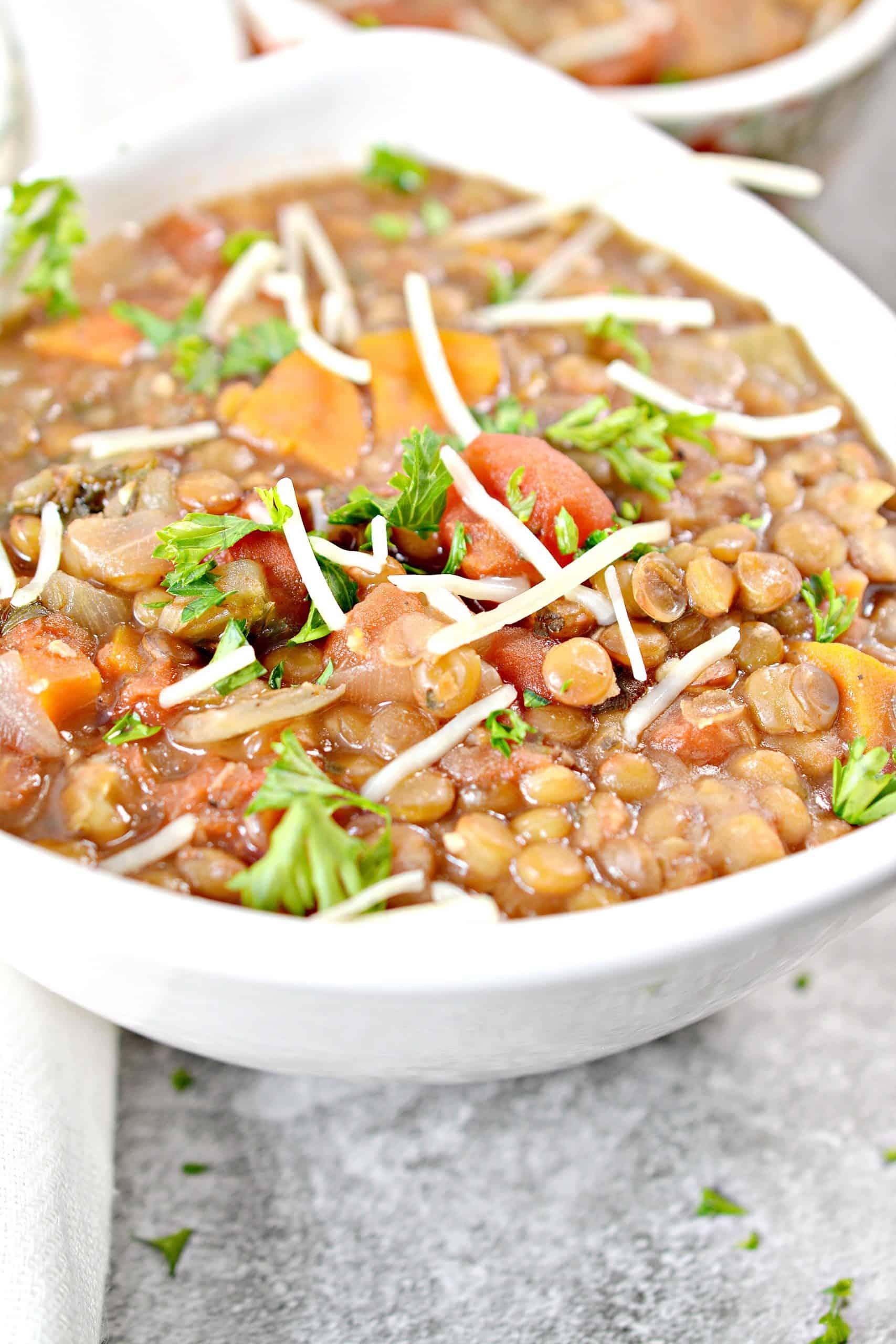 How To Make Instant Pot Lentil Soup
When it comes to soup, this healthy Instant Pot soup is beyond easy to make. Using your pressure cooker saves you time, and you don't have to worry about stirring it constantly. Okay, let's get you those directions so you can make your own soon!
First Step: Add the chopped carrots, celery, onions, garlic, and diced tomatoes to the Instant Pot. Sprinkle in the Italian seasoning, fresh thyme, salt, and peppers. Mix in the lentils.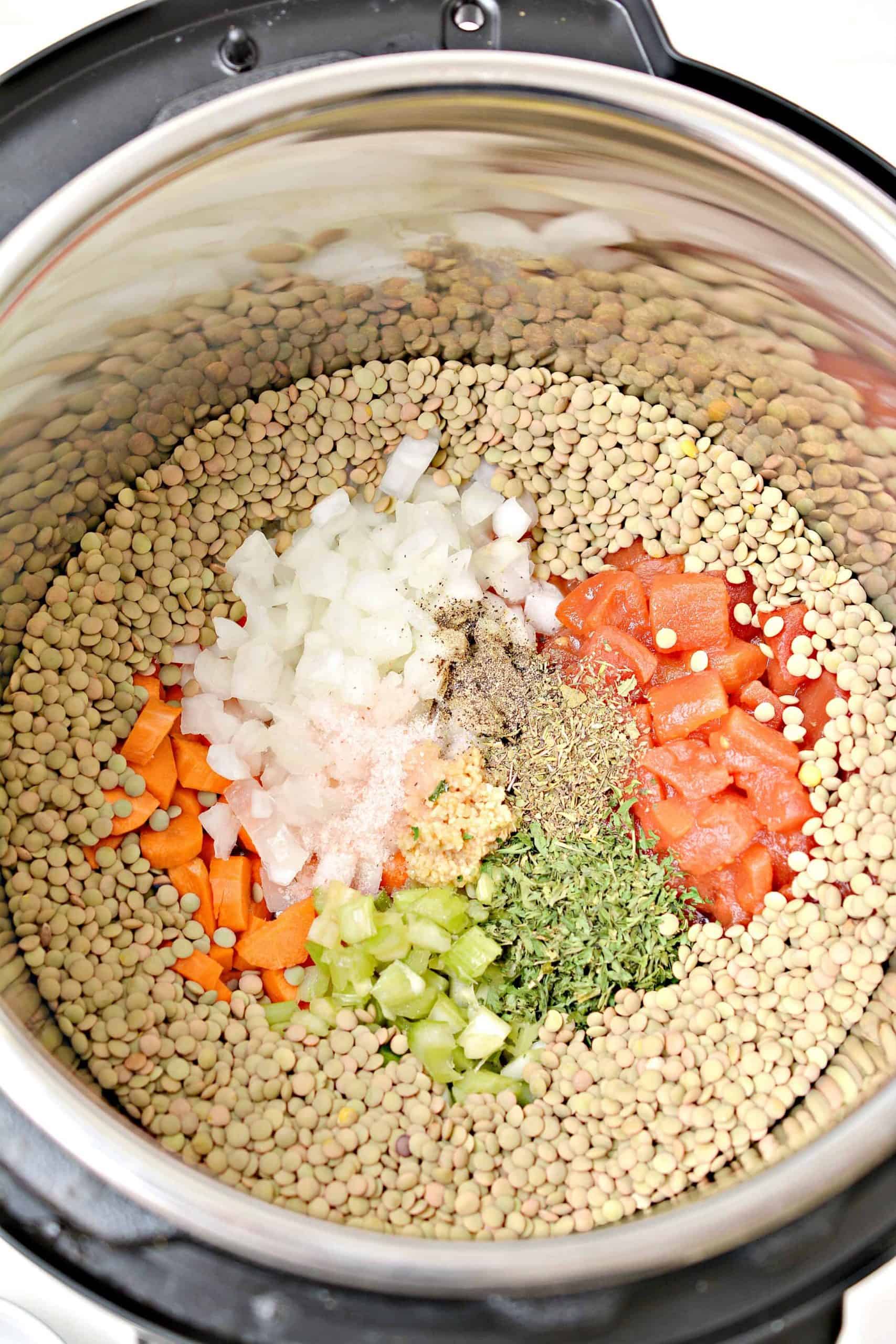 Second Step: Pour the chicken broth over the lentil soup ingredients and stir.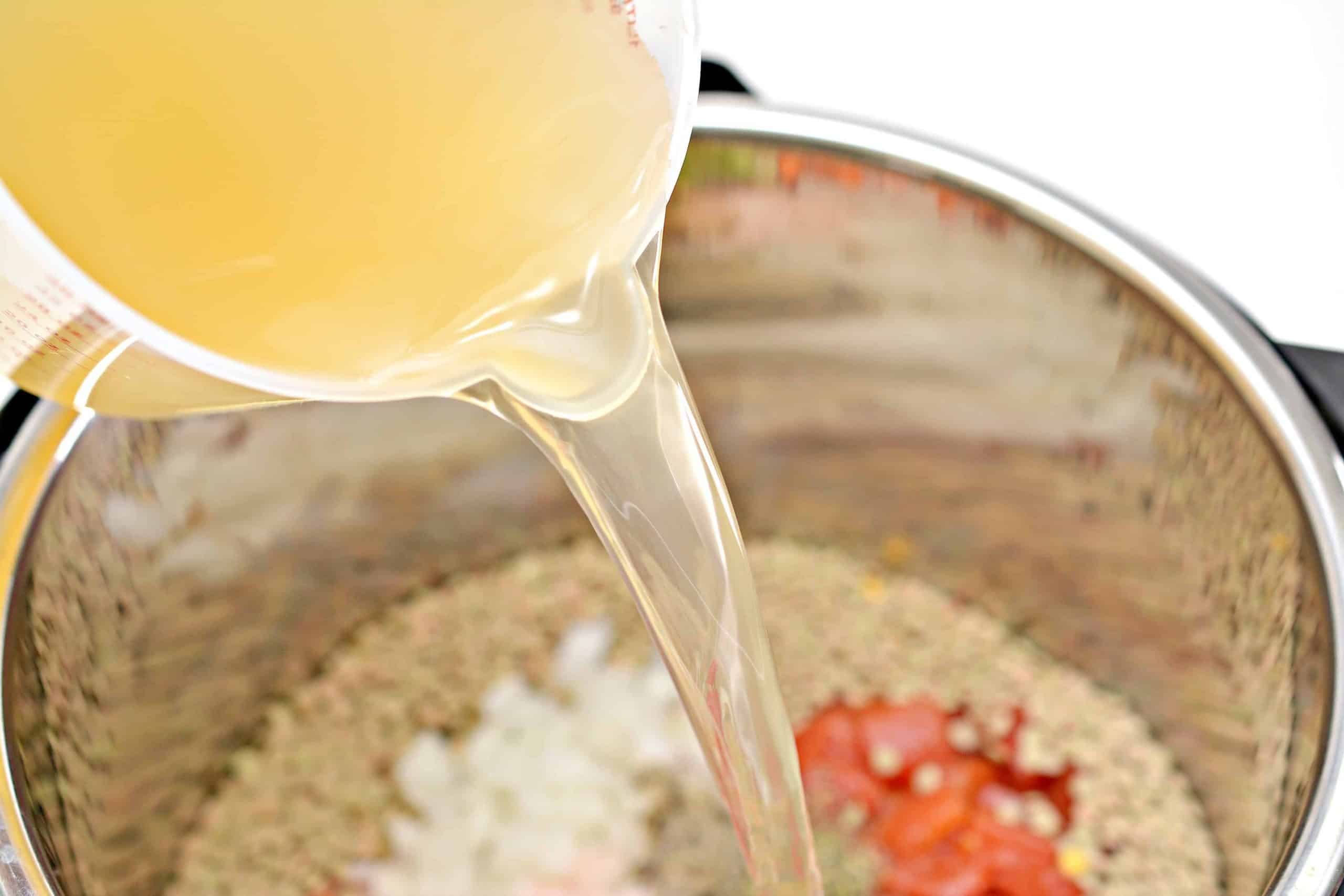 Second Step: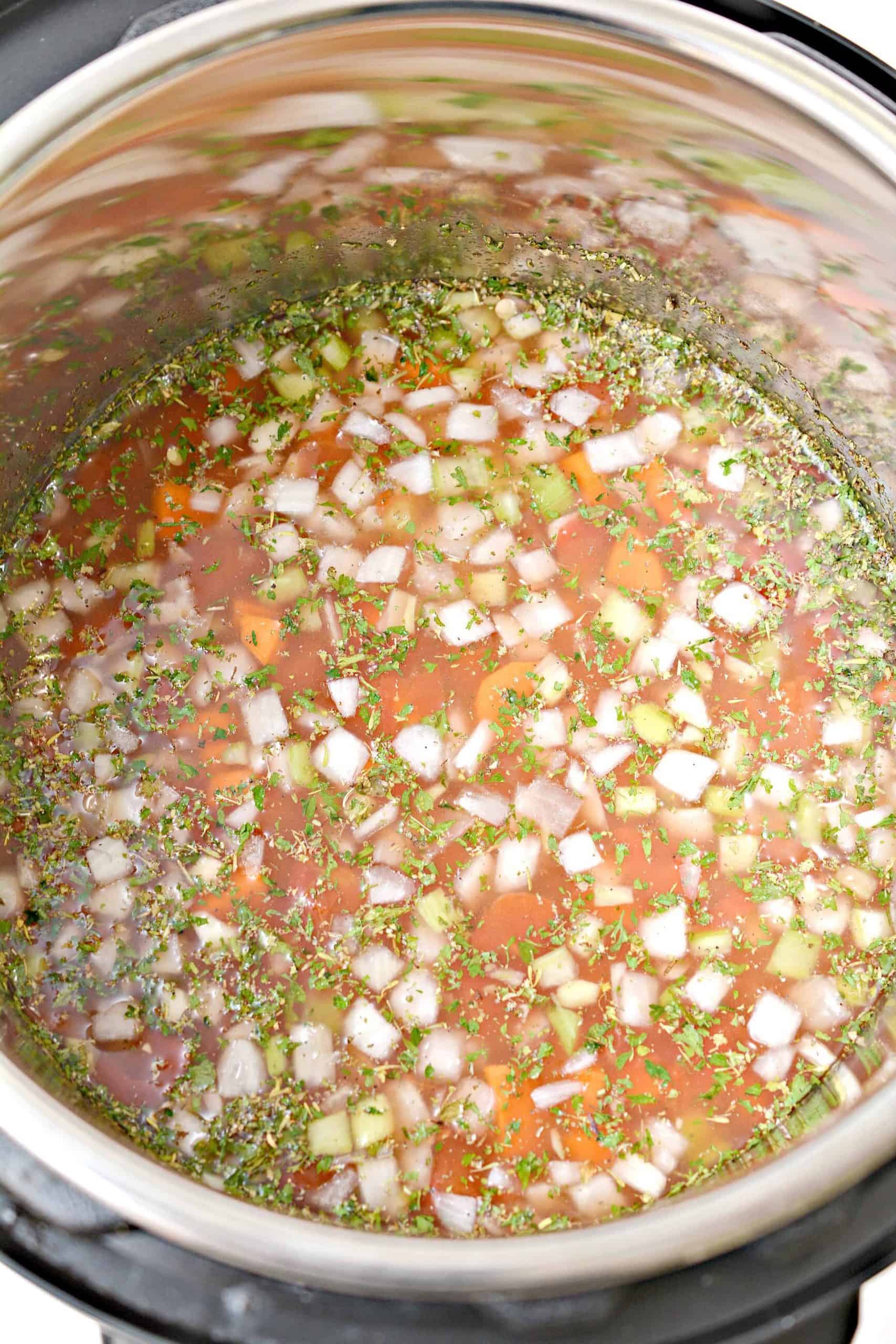 Second Step: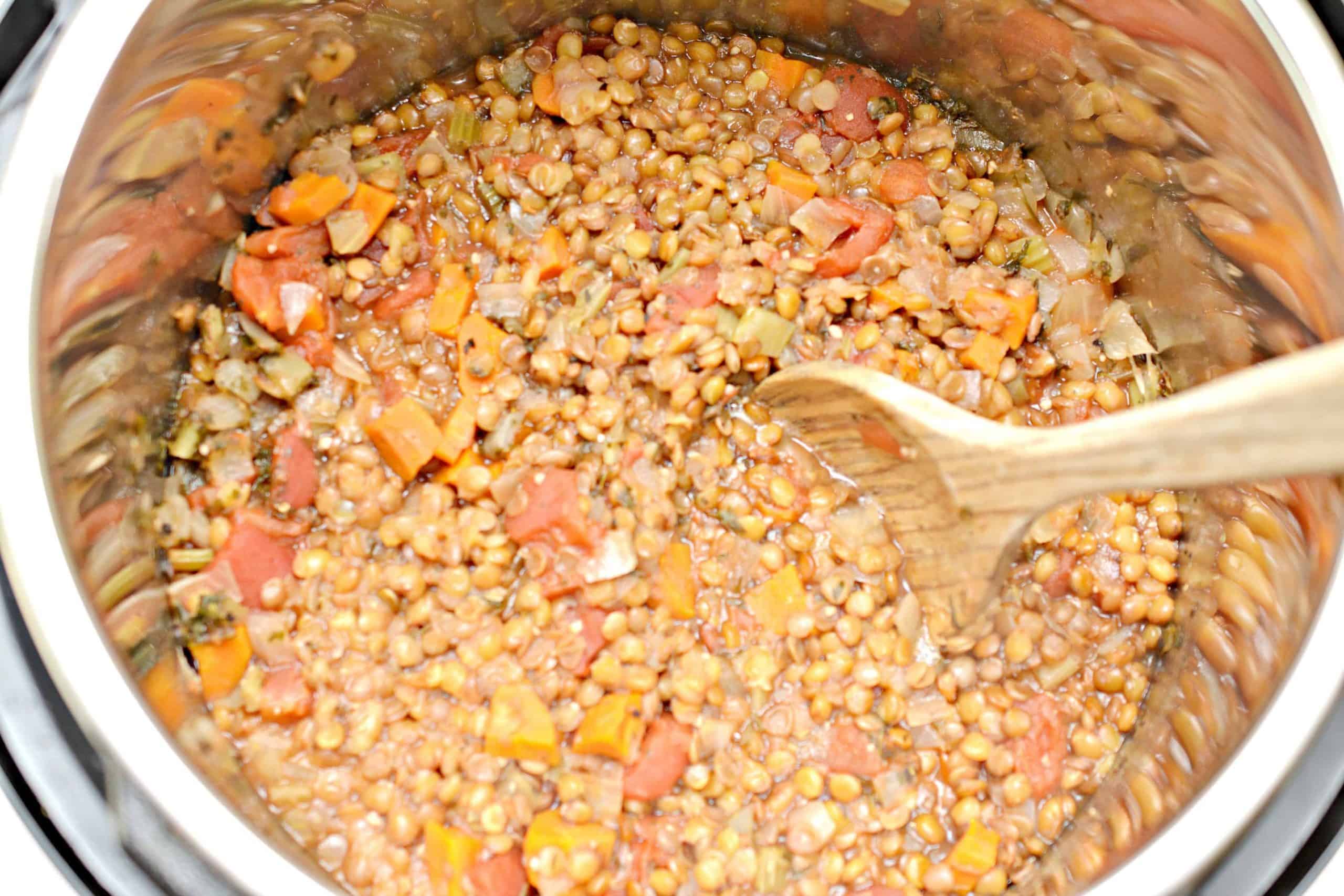 Third Step: Place the lid on the pressure cooker and seal. Cook on manual for 18 minutes.
Fourth Step: After 18 minutes is done, do a quick release and vent.
Fifth Step: Add in the baby spinach and stir the lentil soup until it's wilted and mixed in.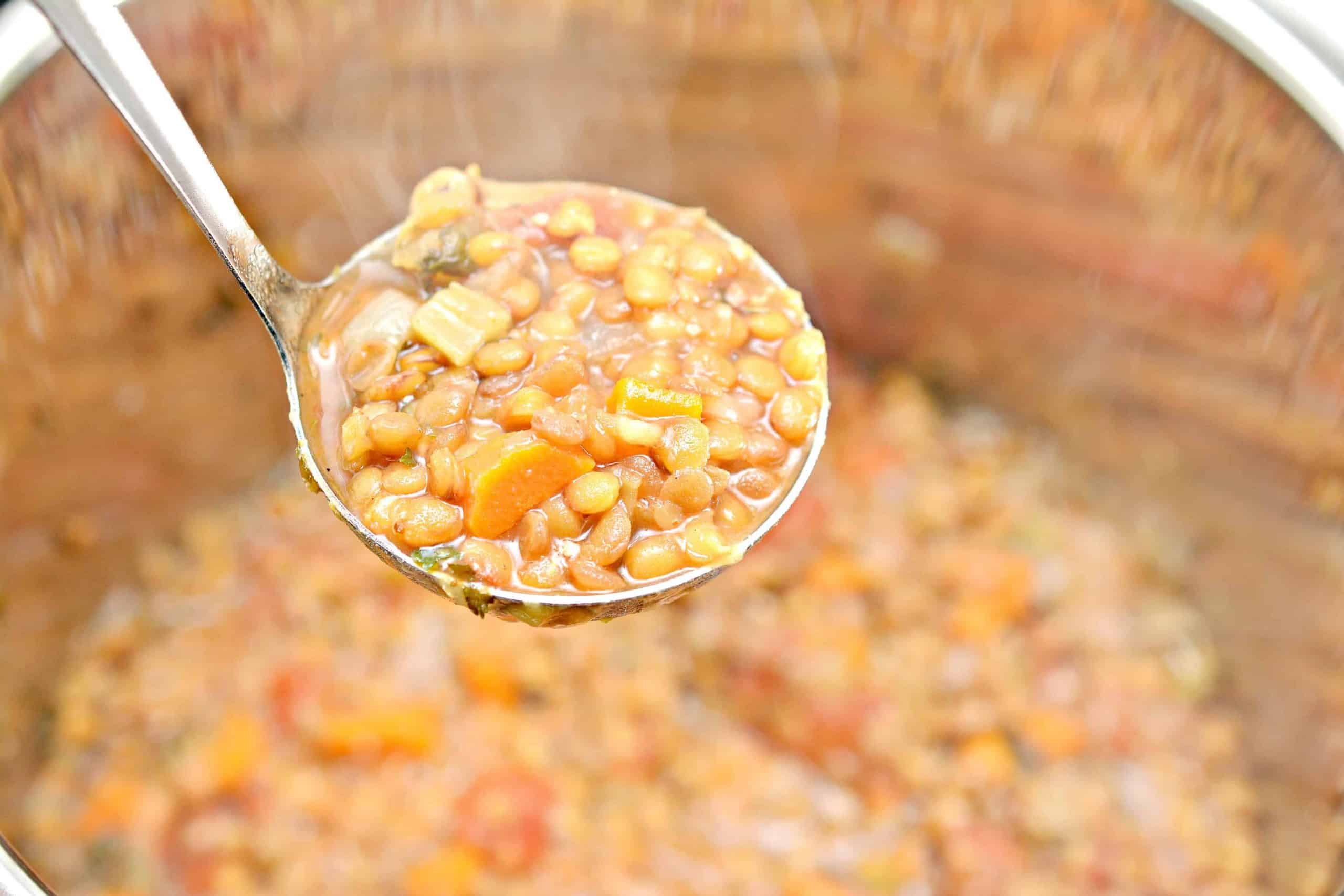 Sixth Step: Add parsley and parmesan cheese as a garnish and serve. Enjoy hot!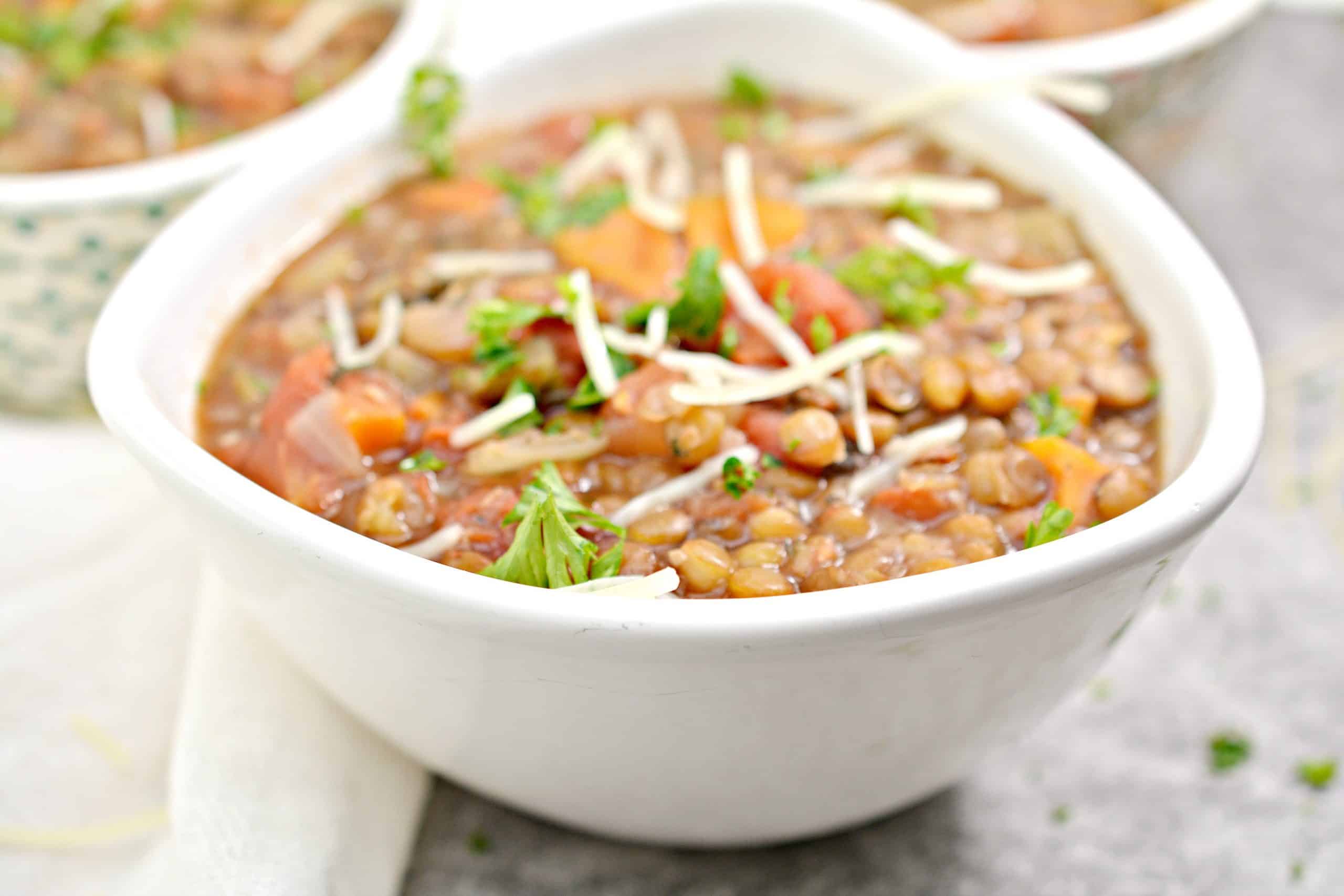 Why Am I Getting A Burn Reading From Instant Pot?
While it doesn't happen a lot, sometimes you will get a burn notice from the Instant Pot. This means that something has stuck to the pot, and the pressure cooker alerts you so you can give it a quick stir. Once you stir it and scrape the bottom of the pot, you can continue cooking without any issues.
The pressure cooker is wonderful at letting you know there is an issue, so your entire meal isn't ruined. You'll mostly get the burn notice with foods like rice, creamy soups, or pasta.
How Long Does Lentil Soup Last In Refrigerator?
You can store the leftover brown lentil soup in the fridge for 3-4 days. Make sure to let it cool down all the way before refrigerating. Never let the soup sit out for longer than 2 hours at a time, or it will go bad. Keep the soup in storage containers with tight-fitting lids, so it lasts the longest possible.
Can You Freeze Lentil Soup?
Yes, you can easily freeze this brown lentil soup. Pour the soup into freezer bags and remove any air. Lay them flat in the freezer until they have frozen all the way. Once frozen, you can easily move them around in the freezer to make more room. Don't forget to label the bag, so you know what's in it.
Additionally, you can freeze the soup in plastic containers too. I prefer the bags because they take up less space and are easy to thaw out. No matter which method you choose, the soup will last up to 6 months in the freezer. So this is a perfect dish for meal prep!
Enjoy!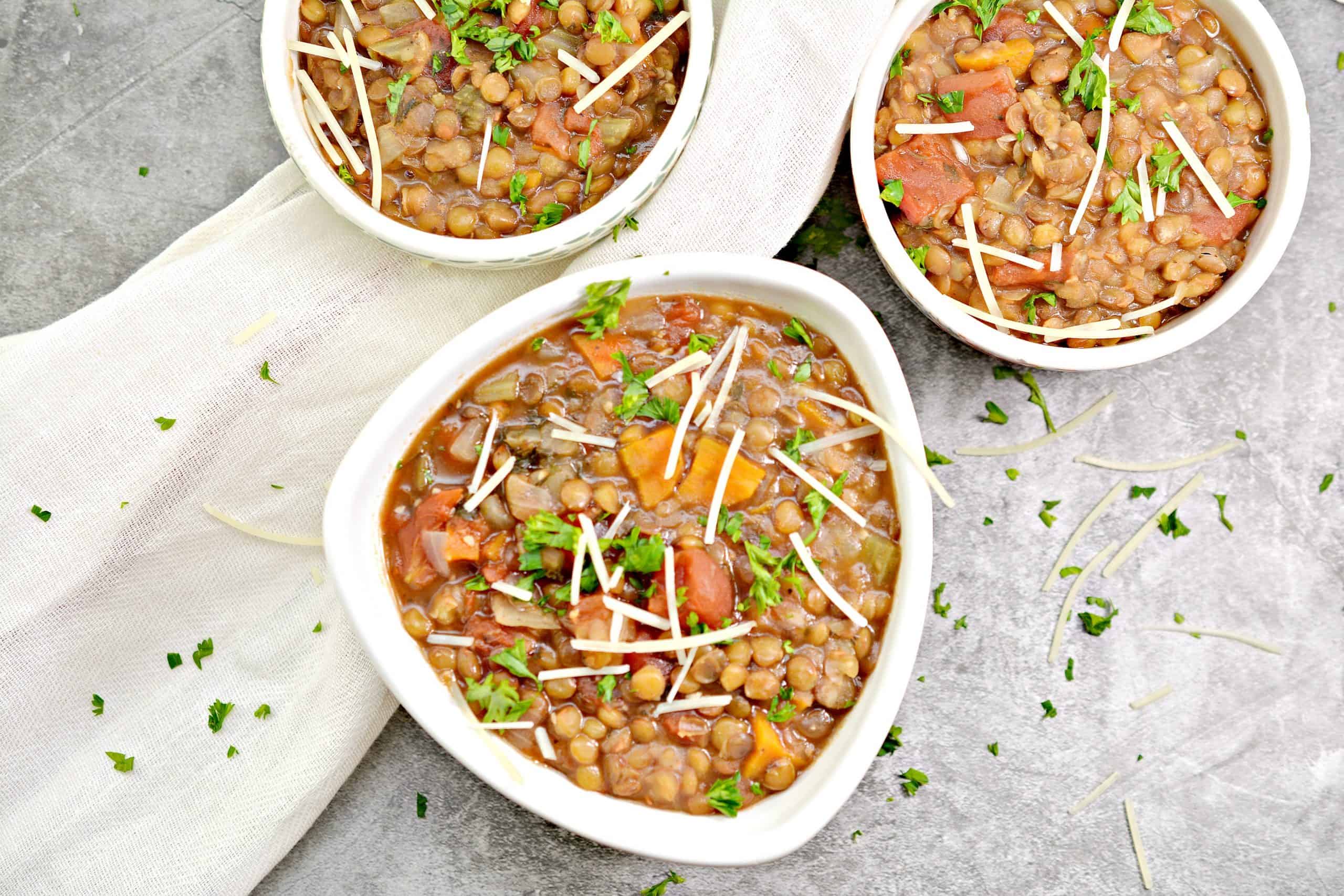 Now, remember to save this recipe on Pinterest for later 🙂

Pin this recipe now to remember it later
Instant Pot Lentil Soup Recipe
Grab a spoon and dig into this delicious Instant Pot Lentil Soup Recipe! Brown lentil soup is so easy and you can quickly make it in your pressure cooker.
Ingredients
2

Stalks of celery chopped

1

Carrot peeled and chopped

Freshly chopped parsley and shredded parmesan for garnish
Want to save this recipe? Enter your email below and we'll send the recipe straight to your inbox!
NOTE: By saving this recipe, you agree to join our weekly recipes newsletter.
Instructions
Place the chopped celery, onion, carrot, minced garlic, diced tomatoes, Italian seasoning, fresh thyme, salt and pepper as well as lentils into the bottom of the Instant Pot.

Cover all of the ingredients with the chicken broth, and stir to combine.

Close the lid on the Instant Pot, making sure the release valve is in the sealing position.

Set the Instant Pot to cook on manual for 18 minutes. Perform a quick release by switching the release valve carefully to the venting position once the cook time is over.

Remove the lid and add in the baby spinach. Stir it into the mixture until it is completely wilted.

Serve the lentil soup with freshly chopped parsley and shredded parmesan as garnish if desired.
Follow me on Pinterest for daily delicious recipes!
I can never get enough recipes that can be cooked in my Instant Pot! Take a look at some of these other pressure cooker favorites for you to try:
Instant Pot Chicken Zoodle Soup – Enjoy the flavor of chicken noodles without all the carbs!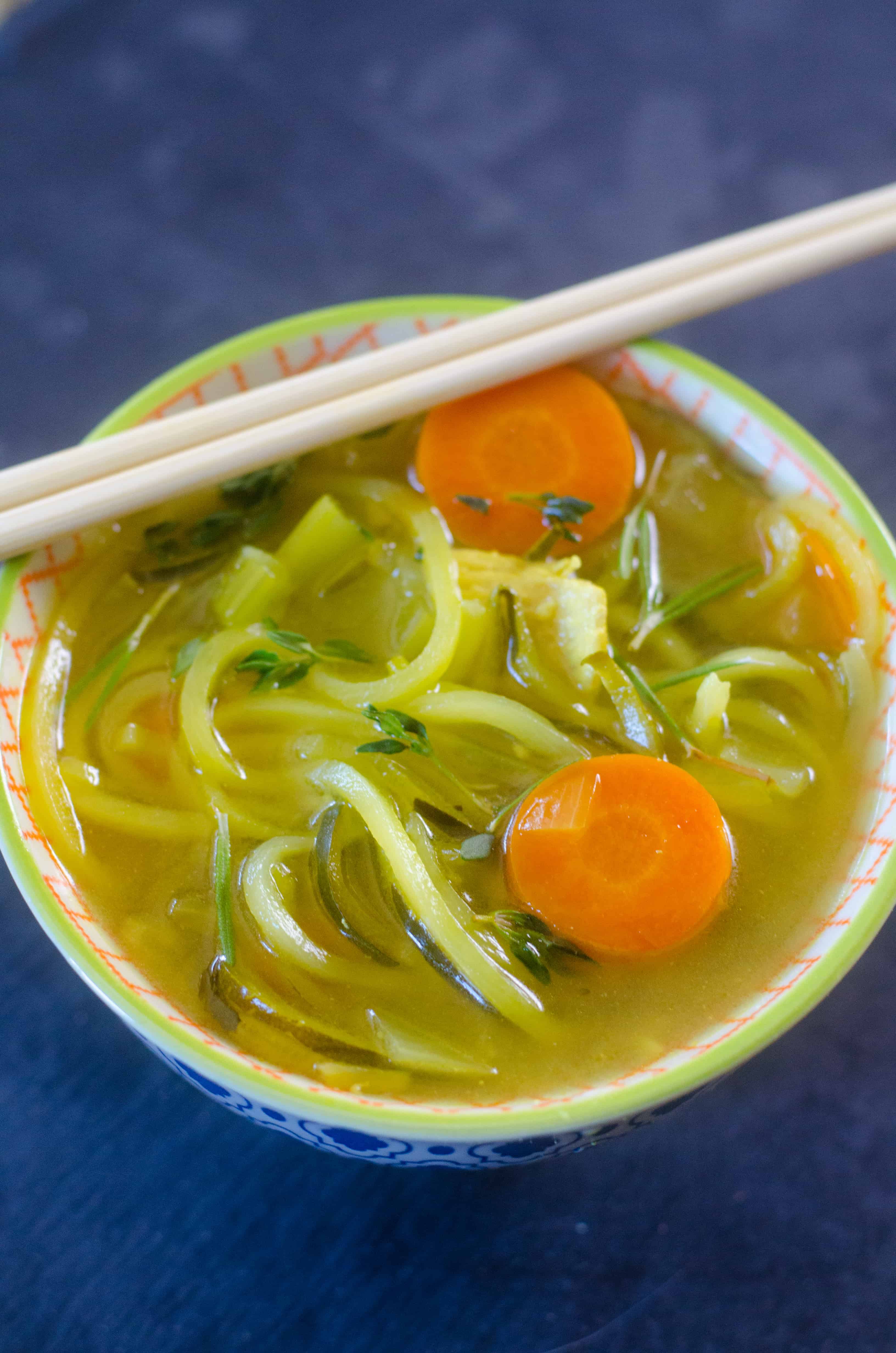 Instant Pot Broccoli And Rice – Oh, this is the best home-cooked meal idea! It's so easy and tastes amazing.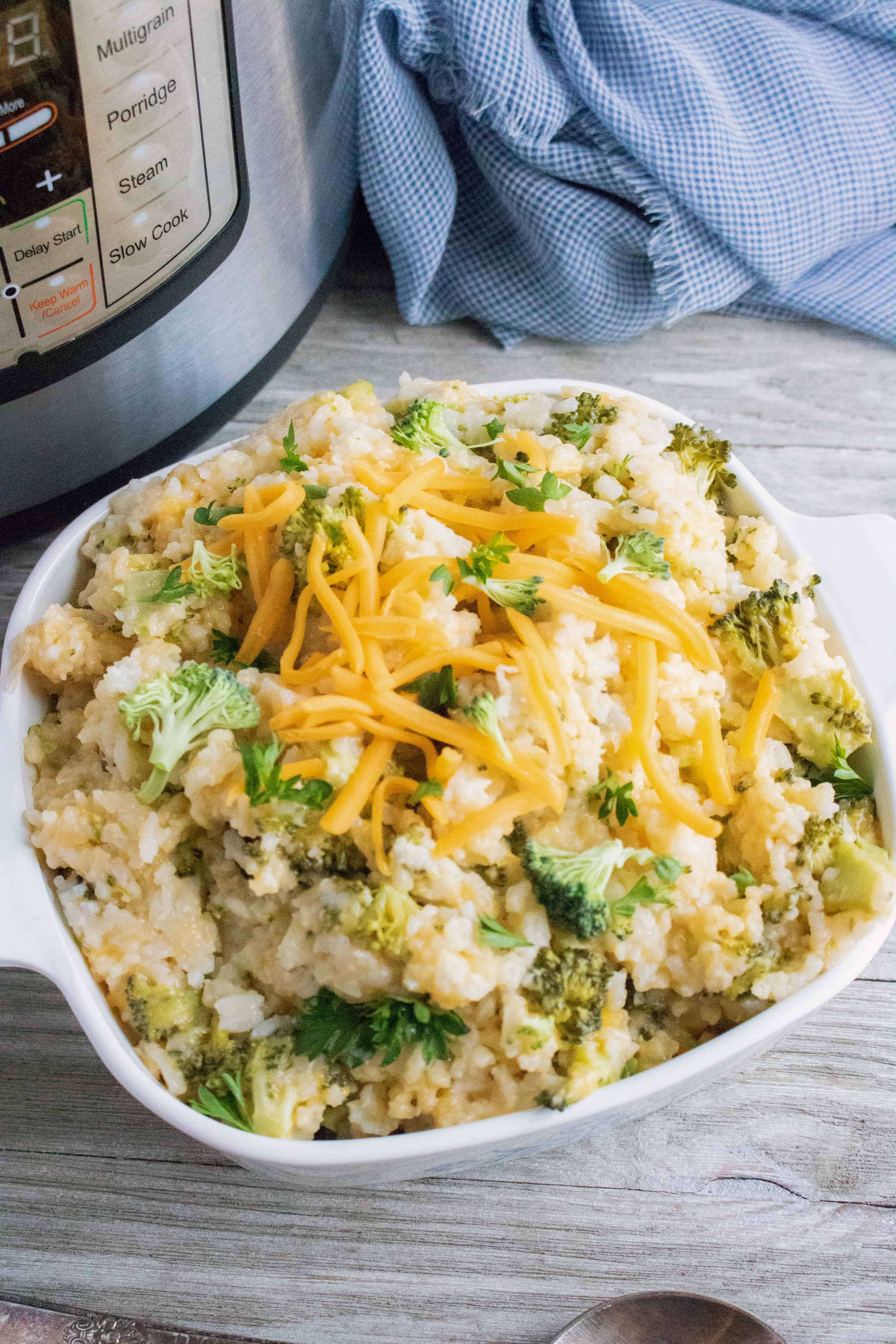 Orange Chicken – This orange chicken is full of tangy flavors and can be whipped up in your pressure cooker! Yum!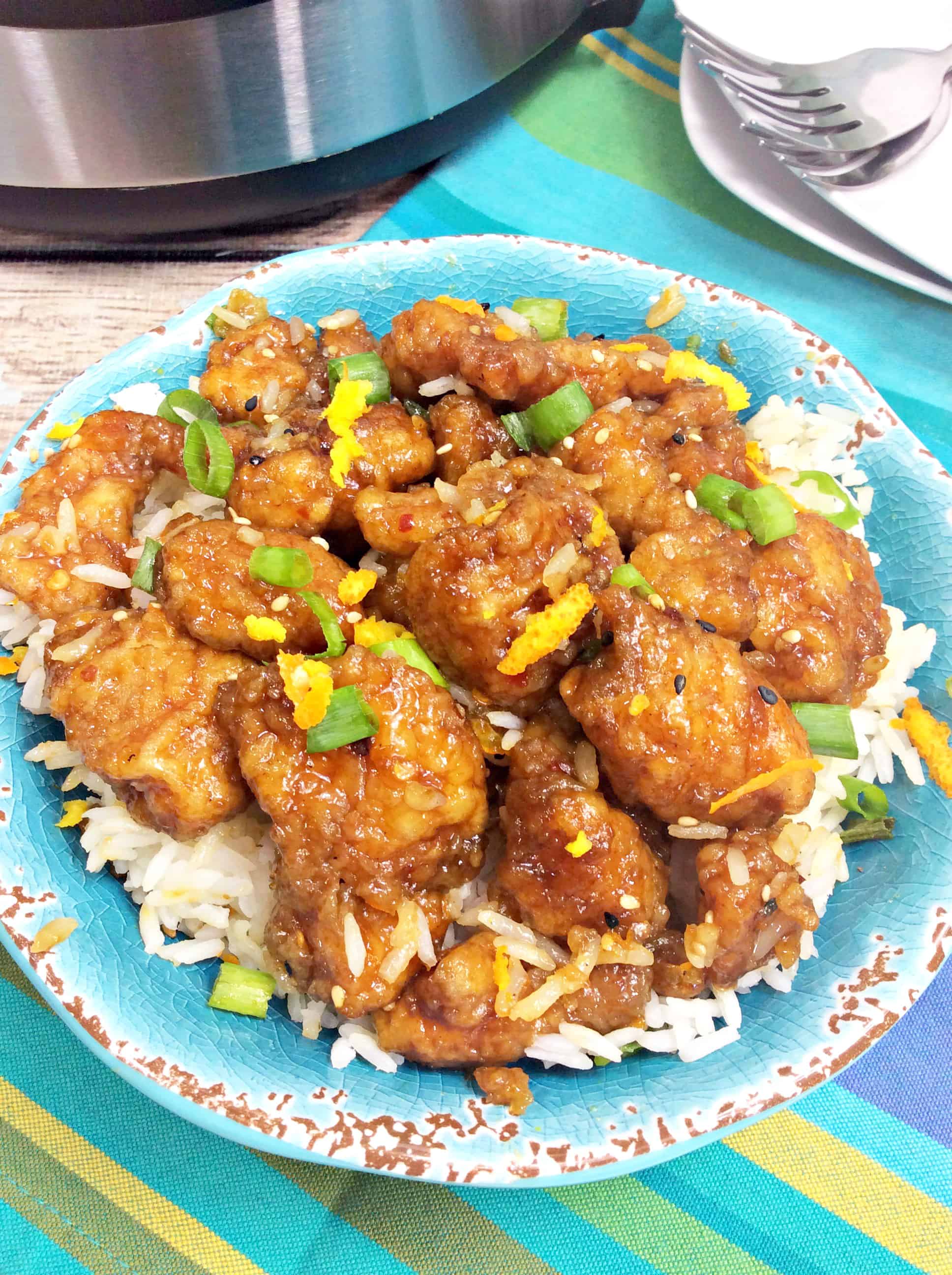 Instant Pot Chicken Tortilla Soup – I can never get enough of this chicken tortilla soup. It's one of the best recipes ever! Try it and see for yourself.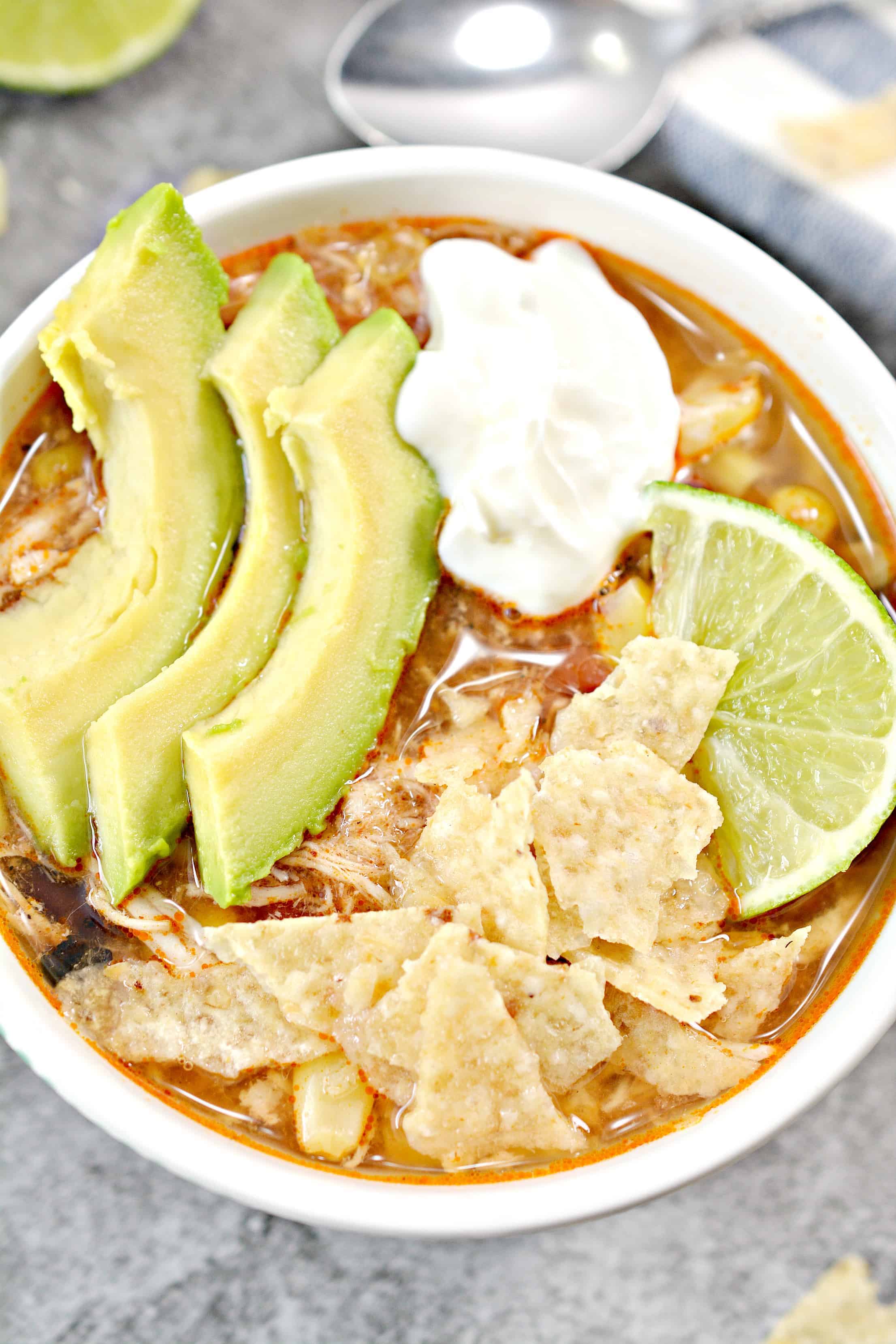 Get new recipes weekly plus our FREE ebook!