This Easy Beef Stew recipe is the ultimate easy comfort food dinner for cold weather. It's a beef stew with frozen vegetables which makes it one of the easiest homemade beef stew recipe you'll find.
Easy stew recipes are a winter staple for many, and this beef stew is a crowd-pleaser. Is there really anything that says winter comfort food dinner than a big bowl of a hearty, steaming stew? I think not. Stews, chowders, and soups are definitely my go-to dinners in the winter. I love the fix it and forget it nature of many easy stew recipes. The longer they cook, the more flavor they have.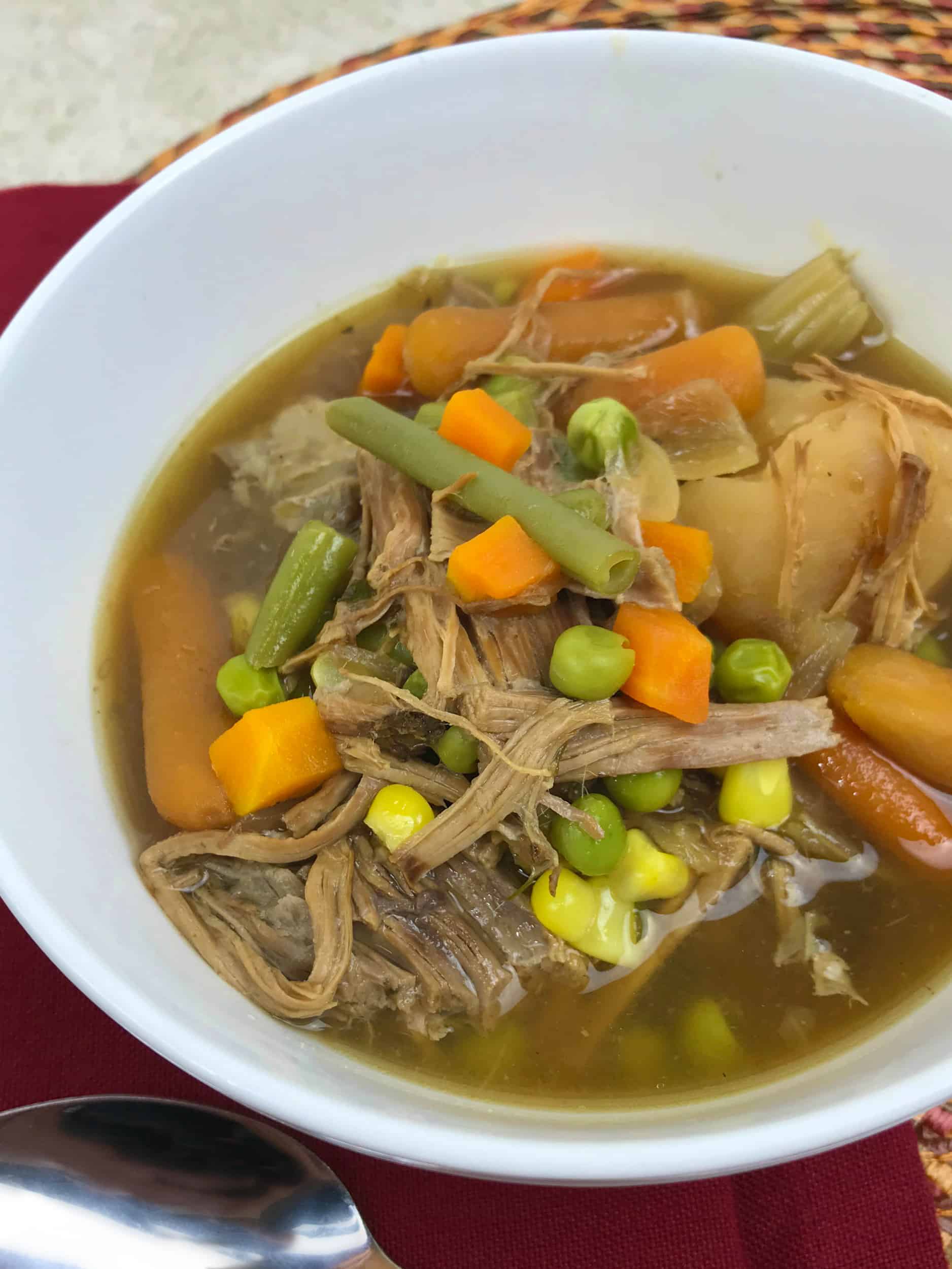 Scroll to bottom for printable recipe card.
What Is Beef Stew?
If you have never had beef stew or are just learning to cook and haven't heard of it, you have been missing out. Beef stew is made with several types of vegetables and is cooked in gravy or soup. As it cooks the flavors from the meat and veggies really go together to create an amazing hot bowl of stew.
How To Make Beef Stew
I am thrilled to say that this beef stew stove top recipe is so simple and flavorful! Trust me when I tell you that it's going to become a household favorite. Take a look at these easy steps for this beef stew soup:
Step One: For this easy beef stew soup, place cooked beef roast, vegetables (frozen or leftover) and beef broth into a pot. Bring to boil.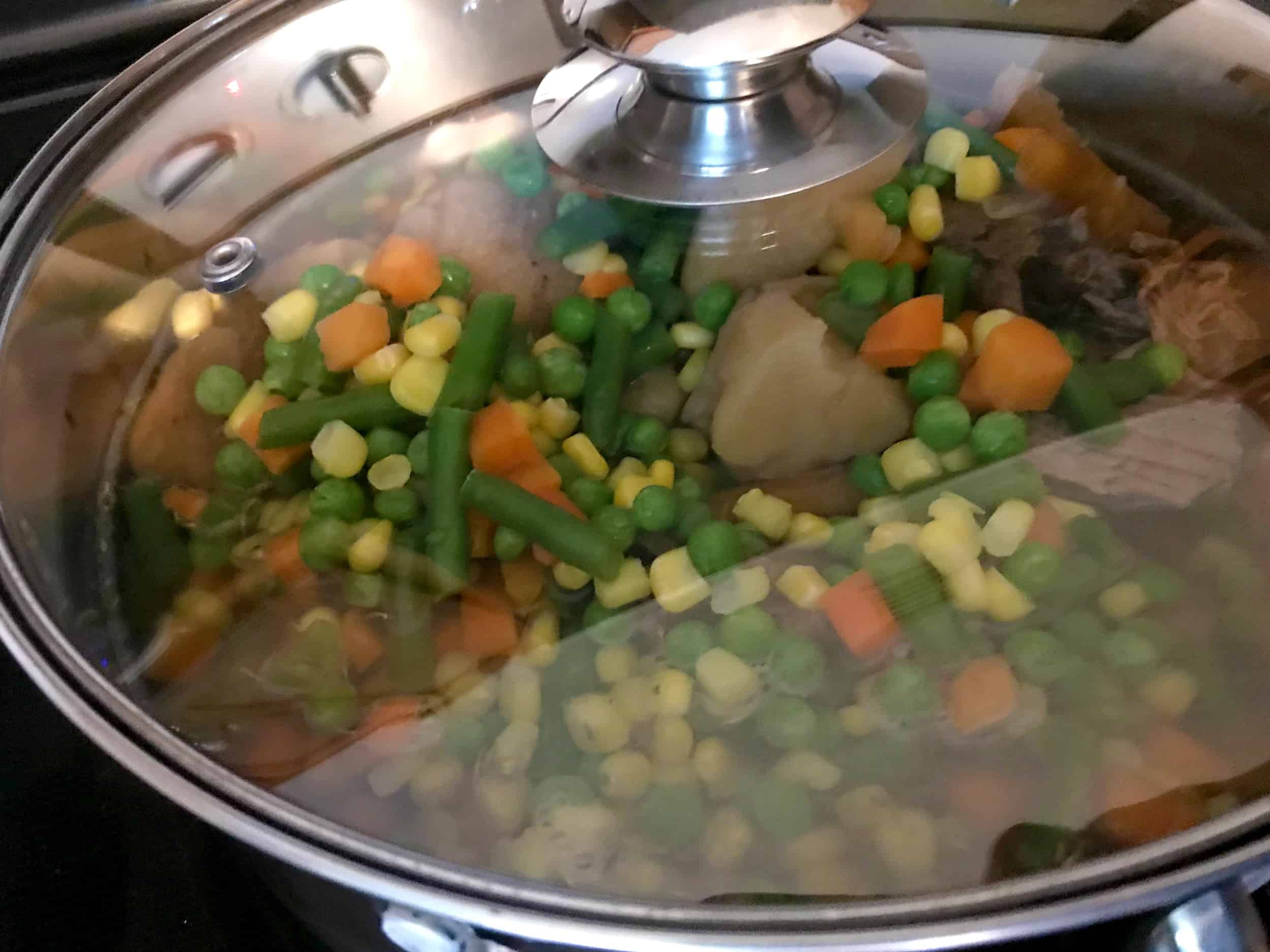 Step Two: Mix cornstarch and water together.
NOTE: You should always use cold or cool water when mixing it with cornstarch. Otherwise, it will not blend properly.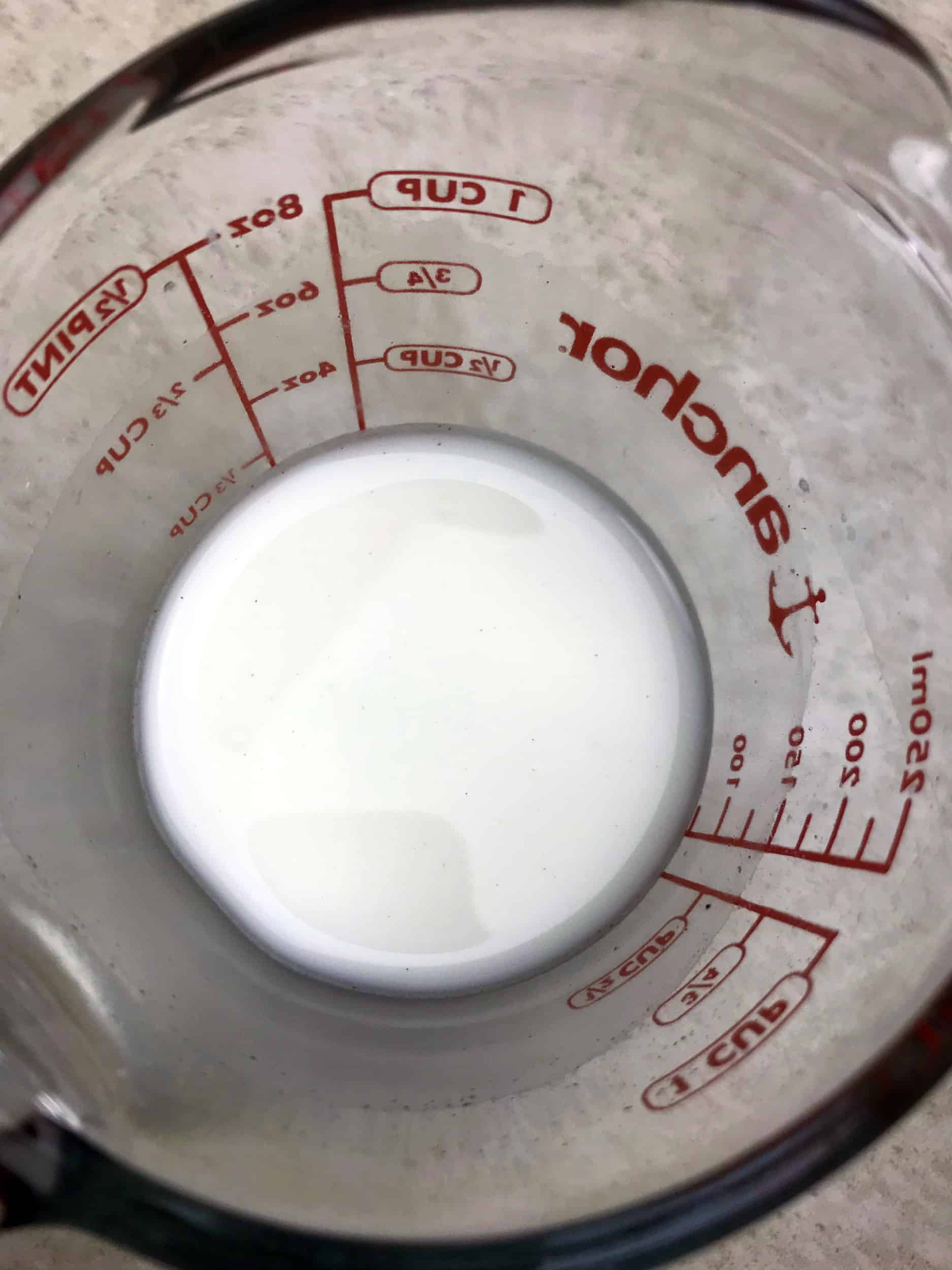 Step Three: Add to the stew to thicken. For the thicker stew, add more cornstarch for a thinner beef stew, more water.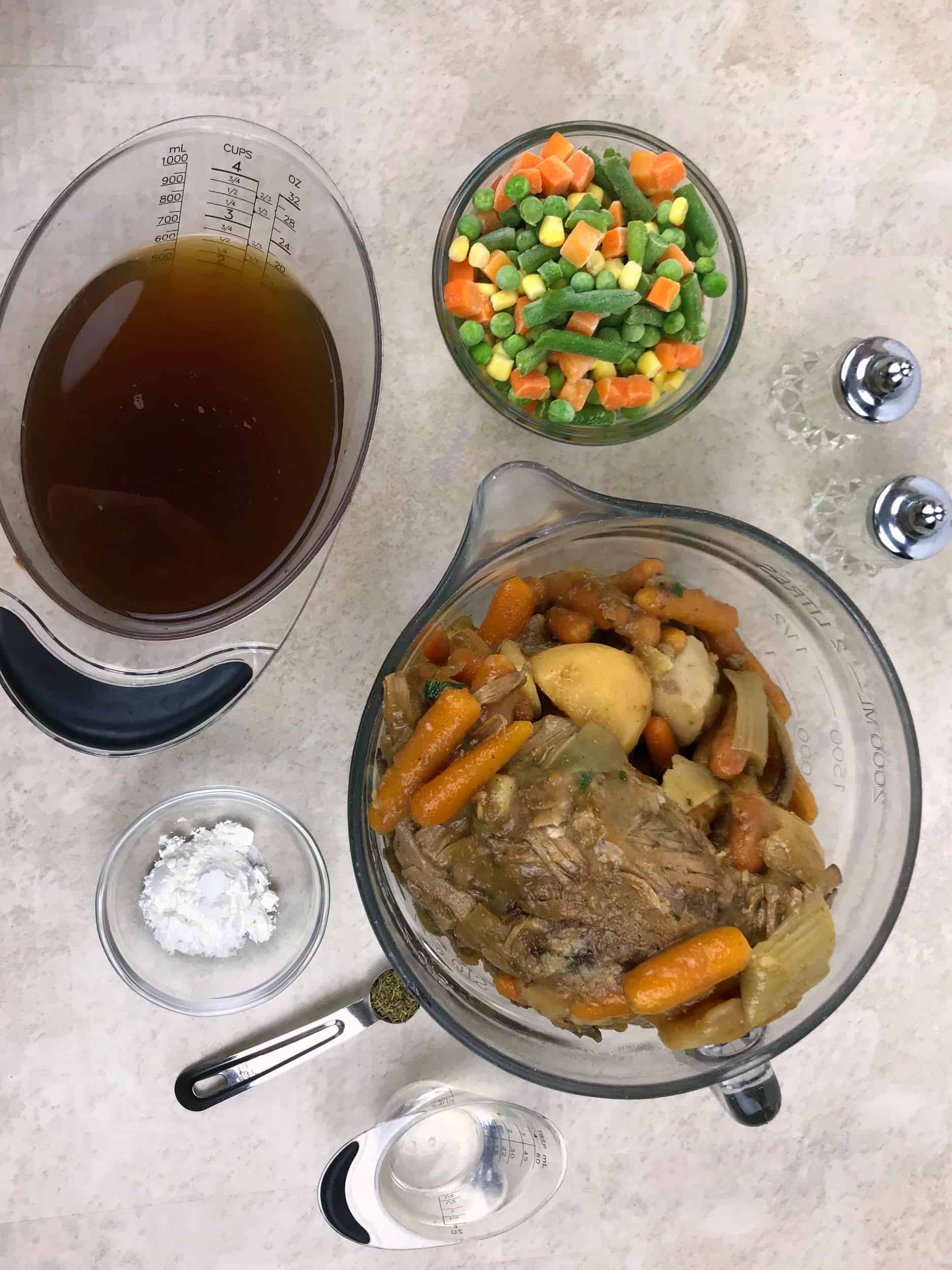 That is all you have to do to make this scrumptious hearty beef stew stove top recipe!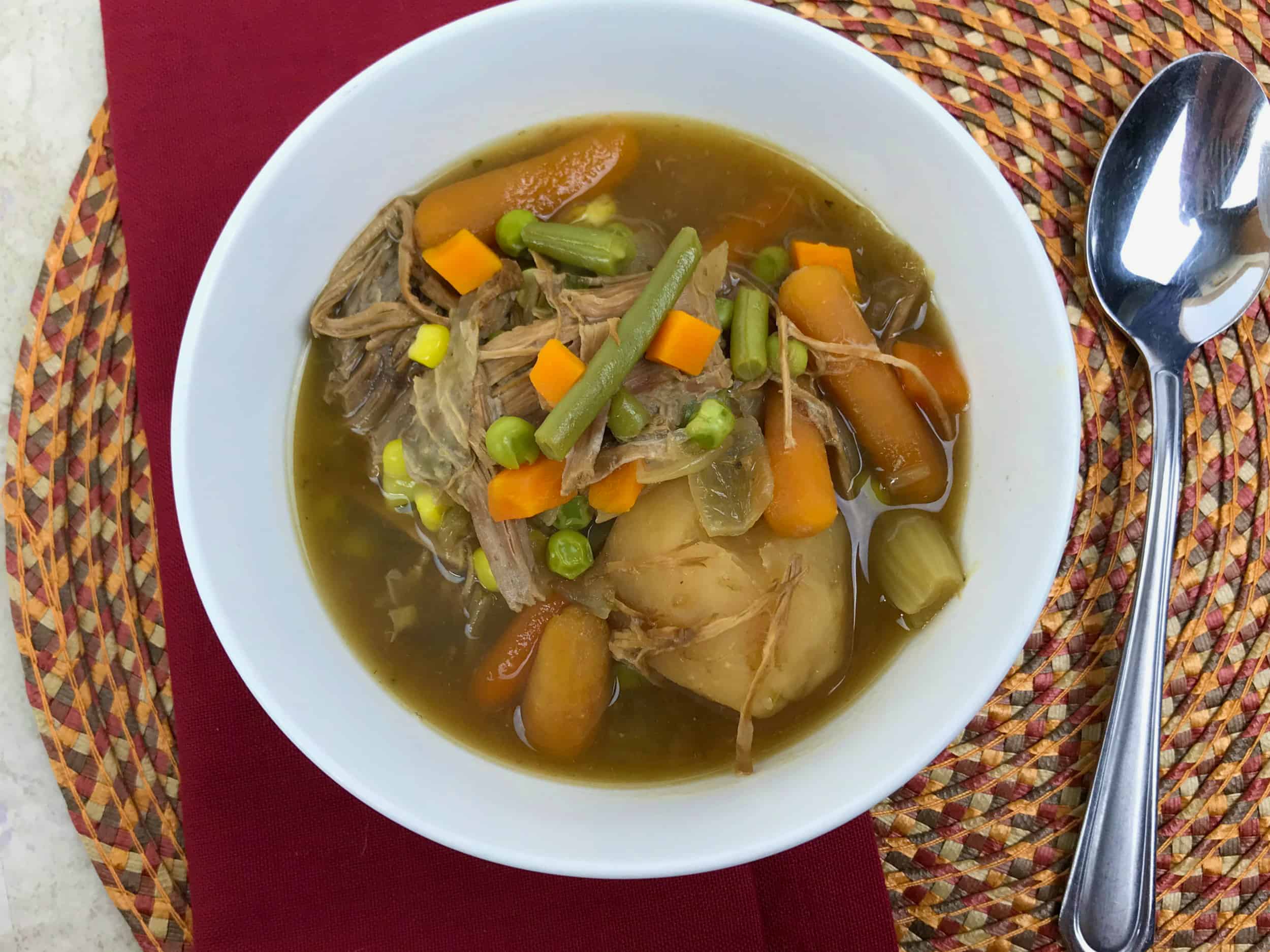 Beef Stew Tips:
I wanted to share some tips I have learned along the way with you.
You can purchase a bag of mixed frozen veggies, or buy single bags of each vegetable you want.
Another option is to used canned corn, peas, green beans, and carrots.
When you make vegetables, and all of them don't get eaten, you can save them in freezer-safe bags. Then you can easily toss them into stews and soups all winter long!
Easy Beef Stew Variations
If you scour the internet for beef stew recipes, you are going to find so many varieties! One great thing about my stew recipe is that you can make it however you like! Toss in your favorite ingredients, and you can make it your own. Here are some ideas to try out:
Tomatoes – You can dice tomatoes yourself or buy canned diced tomatoes. I love the color and flavor they add to this homemade beef stew.
Potatoes – Baby potatoes, russet potatoes, red potatoes, and even sweet potatoes all add a fun element to this yummy stew.
Mushrooms – They add an earthy flavor that goes perfectly with the other veggies in this beef stew stove top recipe.
Onions – Chop the onions up and toss them into the stew. Enhances the flavor and it's a super easy ingredient to add!
Red Wine – I know it may sound a little strange, but if you had 1/2 cup – 1 cup of red wine to the beef stew soup, you are going to be impressed! Seriously so good!
What Kind Of Meat Do I Use For Beef Stew?
When you walk down the meat aisle in your grocery store, it can be intimidating if you don't know you what you need. I thought I would give you some ideas on what to look for.
Chuck Roast – This is my favorite go-to cut of beef to use in stews. While it's relatively tough, it does best when you are cooking it slowly. Otherwise, it will be chewy to bite into.
Rump Roast – Another great option when it comes to making soup.
Pot Roast – Cook the roast like you usually would then chop it up and add it to the stew. Delicious!
Round Roast – Adds flavor and cooks up really nice in this easy beef stew.
Can You Overcook Stew?
Yes, it is definitely possible to overcook stew. If you cook the soup too long, then the vegetables will become mushy and lose their flavor. Plus, starchy vegetables like potatoes will become grainy and unappetizing. If you do cook the vegetable beef stew too long, don't worry you can still eat it. It's not going to make you ill or anything, it just doesn't taste as good, and the texture may be a little bit off.
How Do I Know When Beef Stew Is Done Cooking?
The best way to tell if the beef stew soup is done cooking is by taking a fork and piercing the veggies. If it smoothly goes in, then you know it's done. If the vegetable falls apart, then it's probably overcooked. Also, the beef should be really tender, and when pierced with a fork, it goes in easily.
Can I Make This Easy Beef Stew Recipe Ahead?
Yes, absolutely you can make this easy beef stew recipe ahead! That is one advantage of soups and stews because they make incredible meals that you can quickly reheat. Allow the stew to cool to room temperature then place it in an airtight container or freezer bag. It will last in the fridge for 3-4 days and in the freezer for 4-6 months.
Sometimes, I store the soup in individual servings. Then when I just need a quick meal for 1 or 2 people, I am all set! It's especially lovely for a light lunch.
To heat up the stew, you can warm it in the microwave by covering it with a paper towel and cooking it in 1-minute intervals. You can also place the soup in a saucepan and warm it up on low-medium heat until it's hot.
What Do I Serve With Beef Stew?
This beef stew stove top recipe is so scrumptious; you can eat it all by itself! I love meals like that, but if you want to add more variety here are some ideas to try:
Crackers – Saltine or oyster crackers are a must have soup or stew staple! Crunch them up and toss them in or dip them in the soup. Yum!
Mashed Potatoes – Make a big, white, fluffy mound of mashed potatoes and top them with a spoonful of this tasty stew.
Salad – Because the homemade beef stew has so much flavor, I would stick to basic lettuce and veggie salad.
Dinner Rolls – Hot, fresh dinner rolls go amazing with beef stew soup! Dip the bread into the soup, and you are going to fall in love.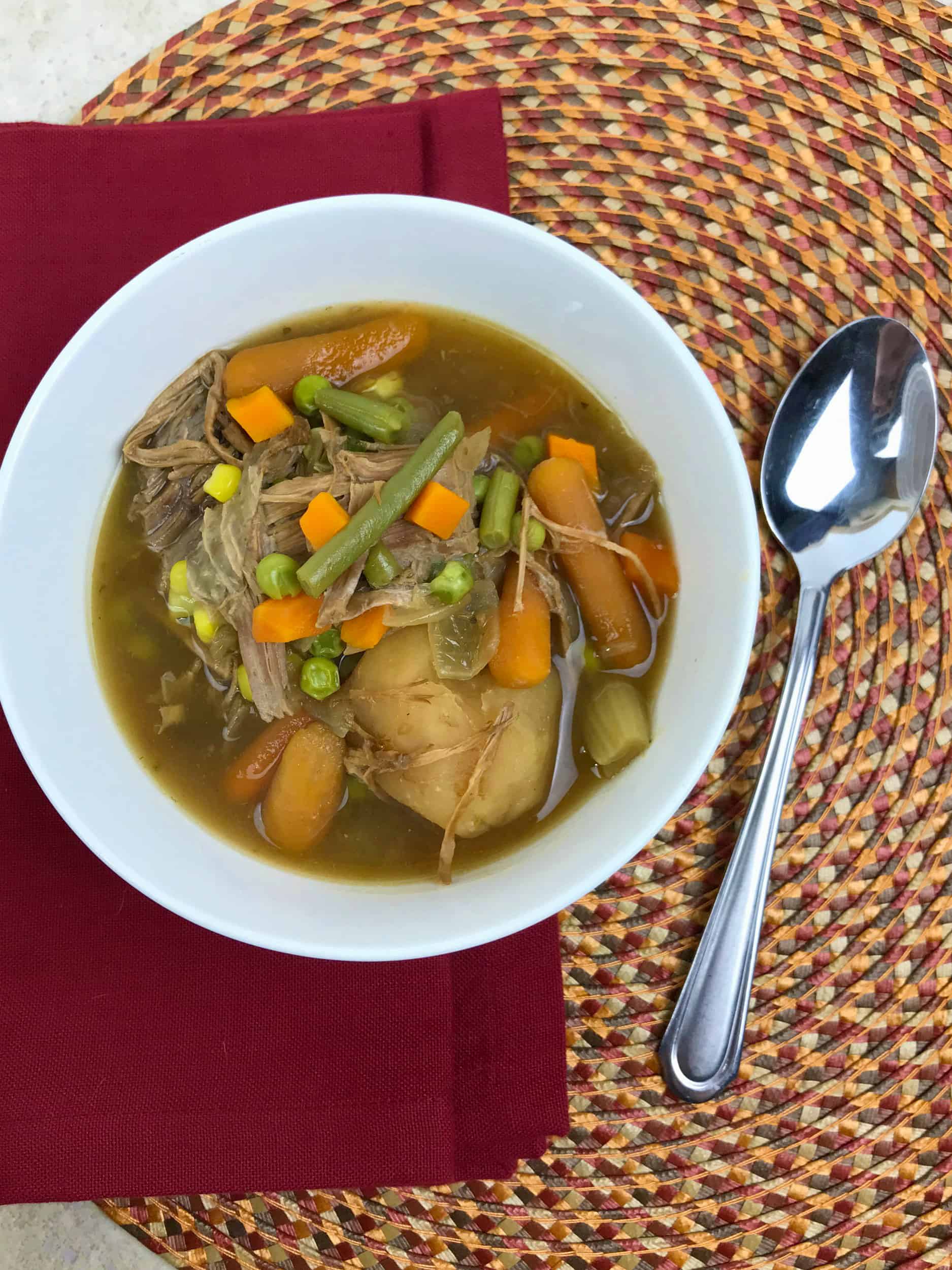 Now, remember to pin this delish and easy Beef Stew recipe for later:

Pin this recipe now to remember it later
Easy Beef Stew
This Easy Beef Stew recipe is the ultimate easy comfort food dinner for cold weather. It's a beef stew with frozen vegetables which makes it one of the easiest homemade beef stew recipes you'll find.
Ingredients
4

cups

cooked beef roast

,

shredded

2

cups

leftover cooked vegetables

,

optional

2

cups

frozen mixed vegetables
Want to save this recipe? Enter your email below and we'll send the recipe straight to your inbox!
NOTE: By saving this recipe, you agree to join our weekly recipes newsletter.
Instructions
In a large stock pot, place beef roast, leftover vegetables, frozen vegetables, and beef broth.

Bring to a boil over medium-high heat. Stir and break large pieces of roast apart with your spoon.

When the stew has heated through, mix cornstarch and water. Add to beef stew and stir until it thickens. If you prefer a thicker stew, you can add additional cornstarch mixed with water until you reach the desired consistency.
Nutrition
Serving:
8
g
|
Calories:
678
kcal
|
Carbohydrates:
7.2
g
|
Protein:
106.1
g
|
Fat:
21.7
g
|
Saturated Fat:
8.1
g
|
Cholesterol:
304
mg
|
Sodium:
479
mg
|
Fiber:
2
g
|
Sugar:
2
g
Follow me on Pinterest for daily delicious recipes!
More Belly Warming Soups You'll Love:
Potato Soup – Reader favorite!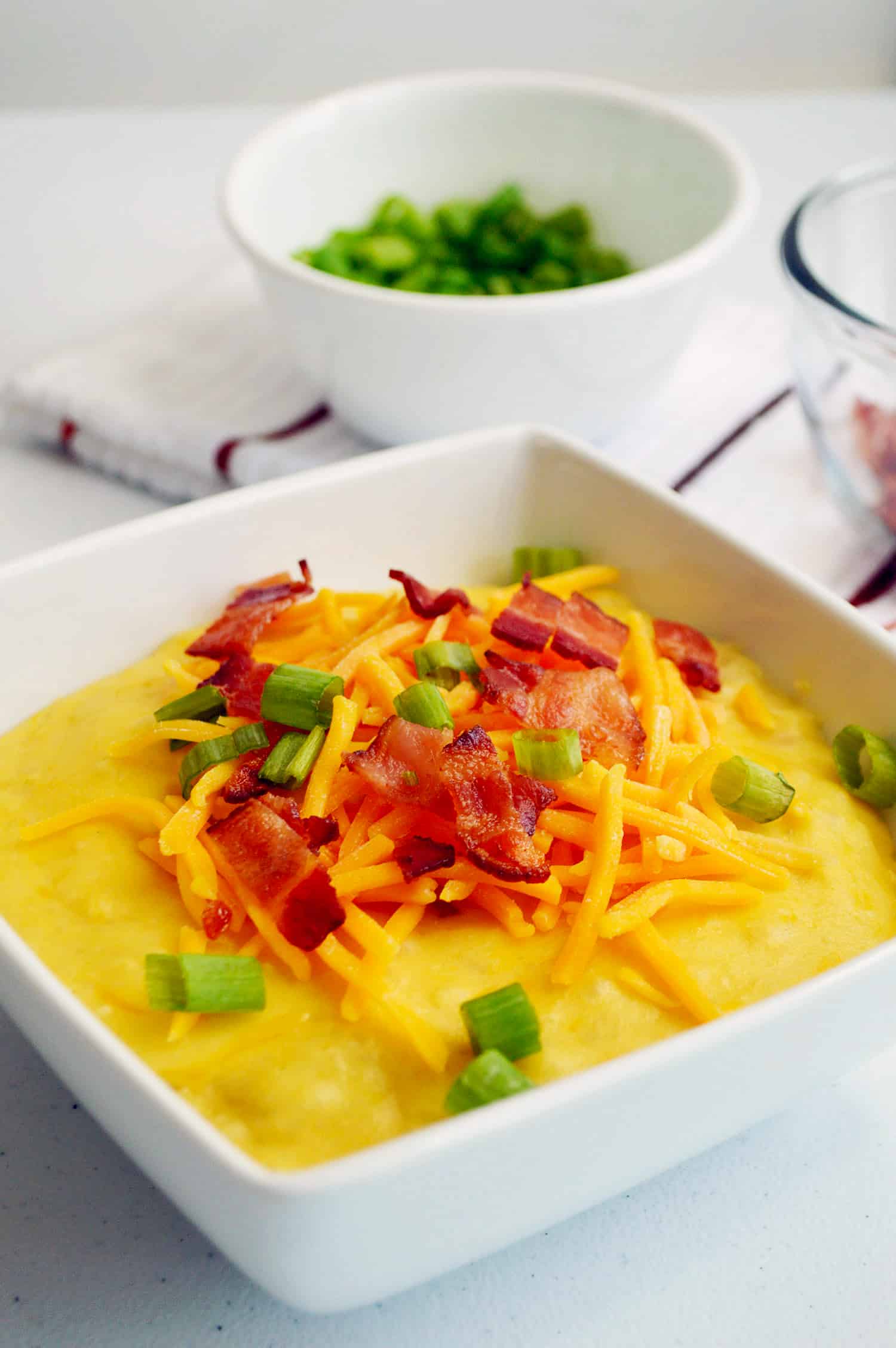 Meatballs and Potatoes Soup – Easy and delicious!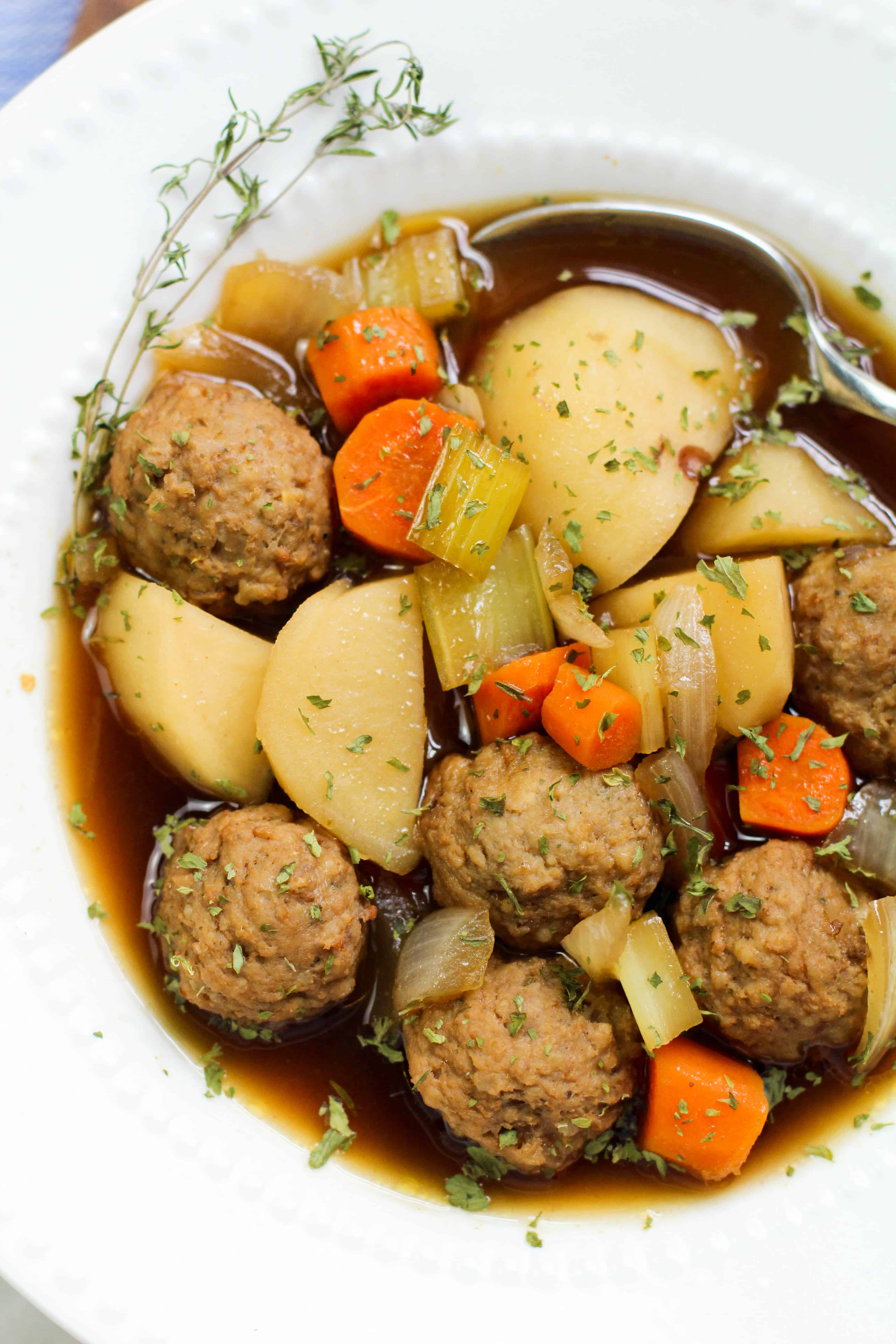 Weight Loss Vegetable Soup – Weight loss friendly!
Instant Pot Chicken Noodle Soup – Most flavorful chicken noodle soup you'll ever make!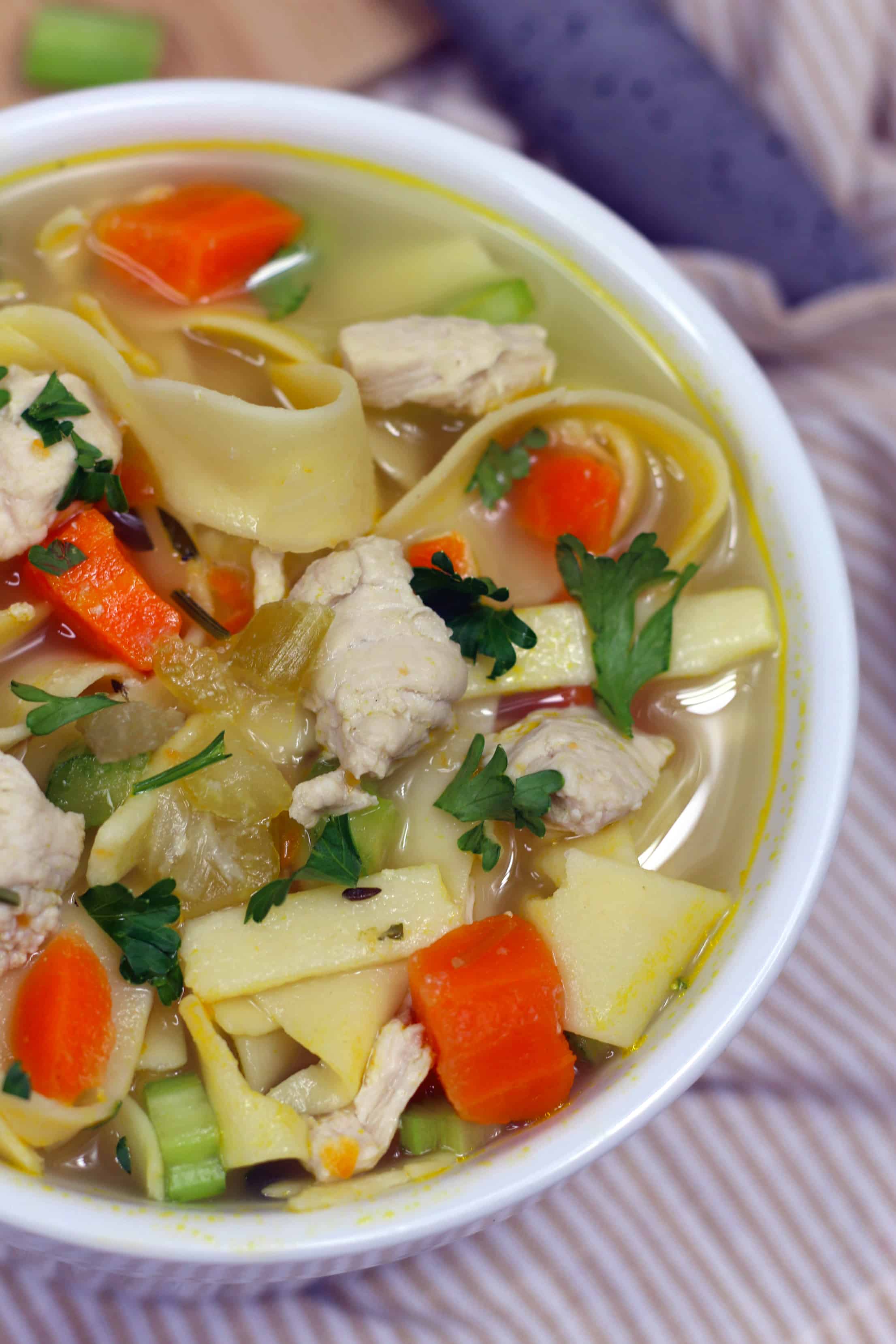 Get new recipes weekly plus our FREE ebook!