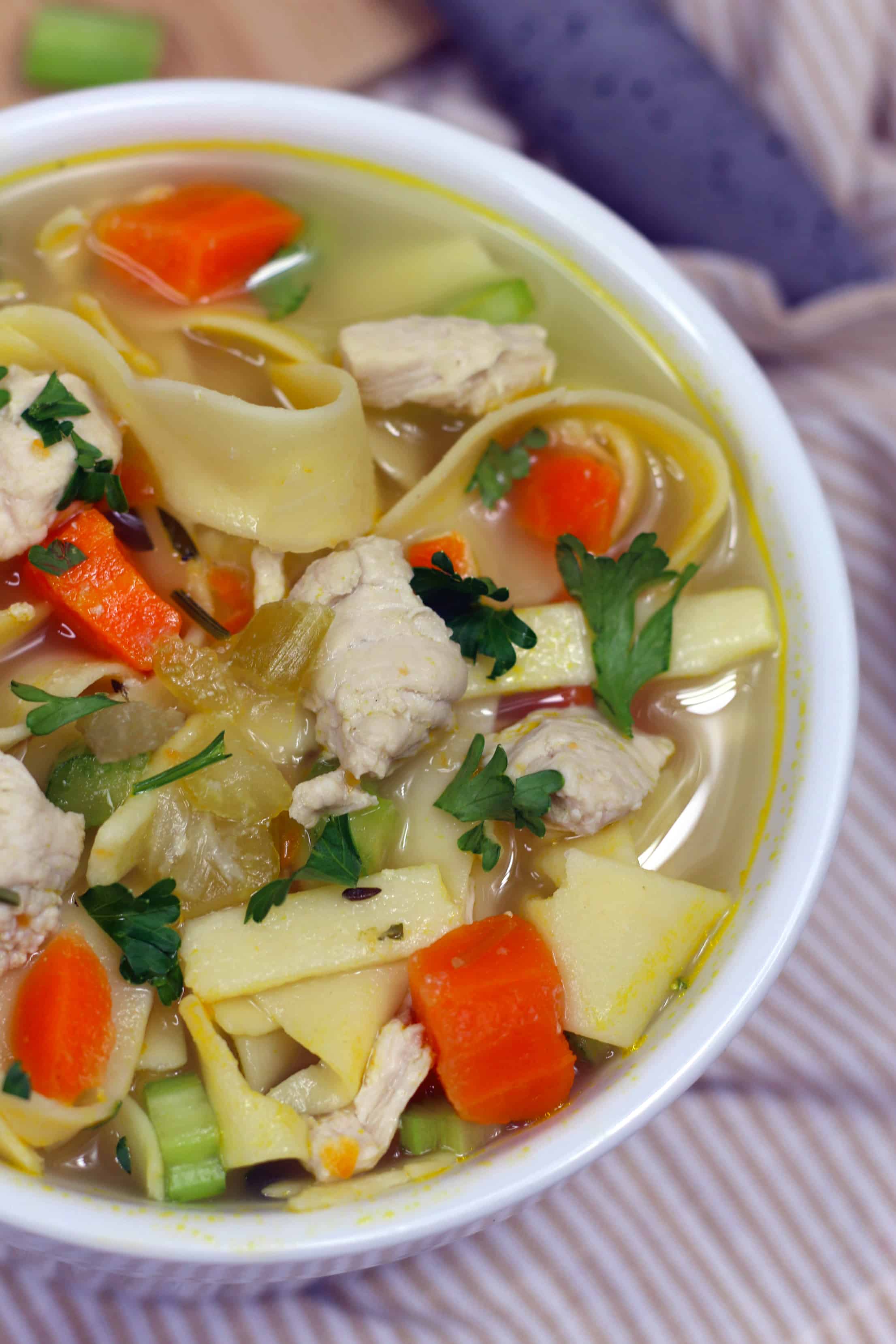 Instant Pot Chicken Noodle Soup is the easiest, most flavorful chicken noodle soup you'll ever make! With this chicken noodle soup Instant Pot recipe, there's no need to wait hours for a savory soup. It's literally ready in minutes! You can try also this Instant Pot Mississippi Ranch Chicken; It's the best 10-minute dinner you'll ever make!
I love all kinds of flavorful soup, but this chicken noodle soup with egg noodles is one of my ultimate favorites. When I smell the aroma of this best Instant Pot chicken noodle soup, it immediately takes me back to my childhood. Chicken noodle soup just makes you feel better when you are ill and warms you from the inside out.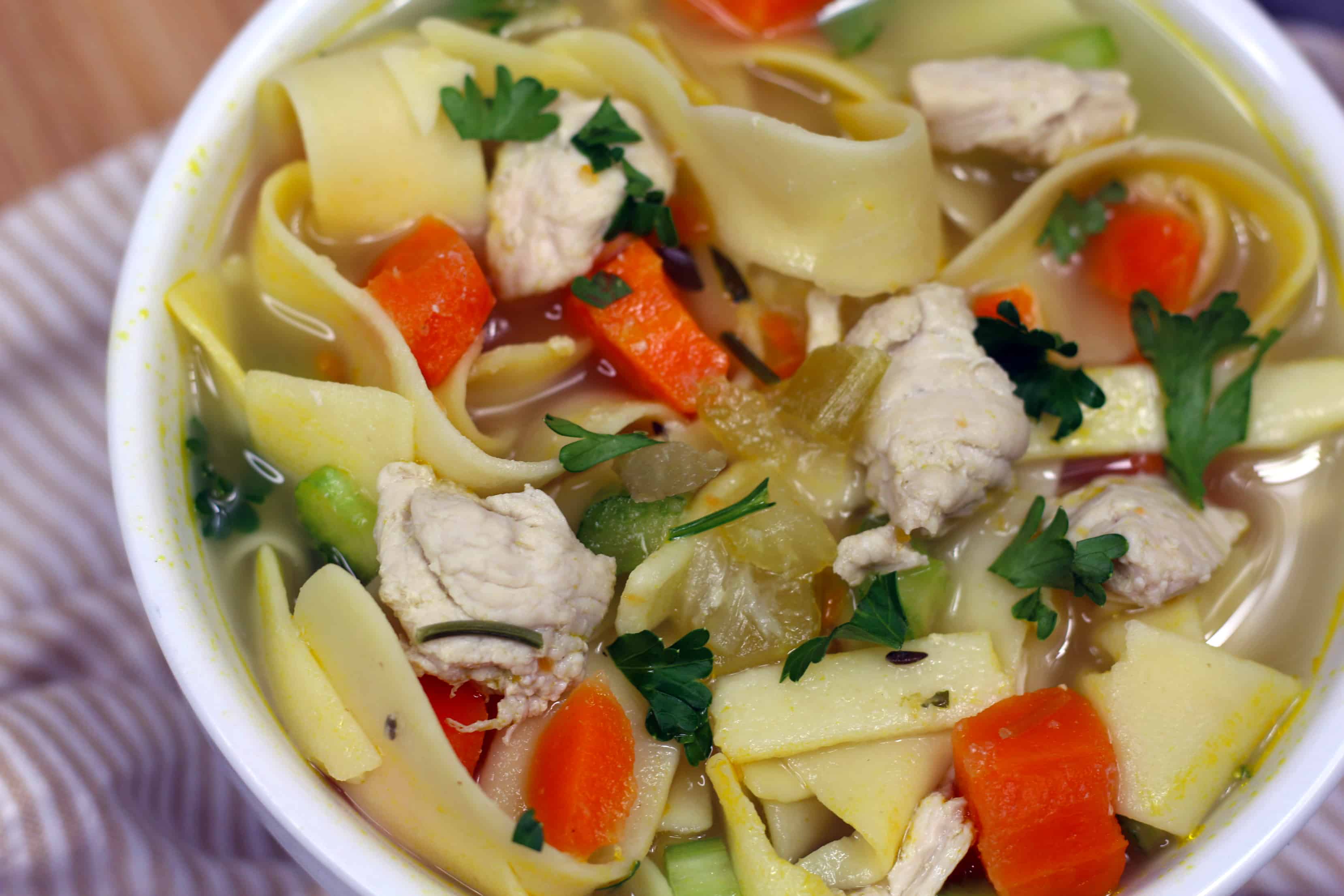 Scroll to bottom for printable recipe card.
How To Make Chicken Noodle Soup
Soup is notoriously served during the harsh cold days of winter, but honestly, I like to make this chicken noodle soup for lunch too. It packs a punch of flavor, and it's pretty much effortless. Take a peek at these easy to follow directions.
First Step: Begin by cutting the chicken breasts into small cubes. Either by hand or with a food dicer, evenly chop the onions, celery, and carrots.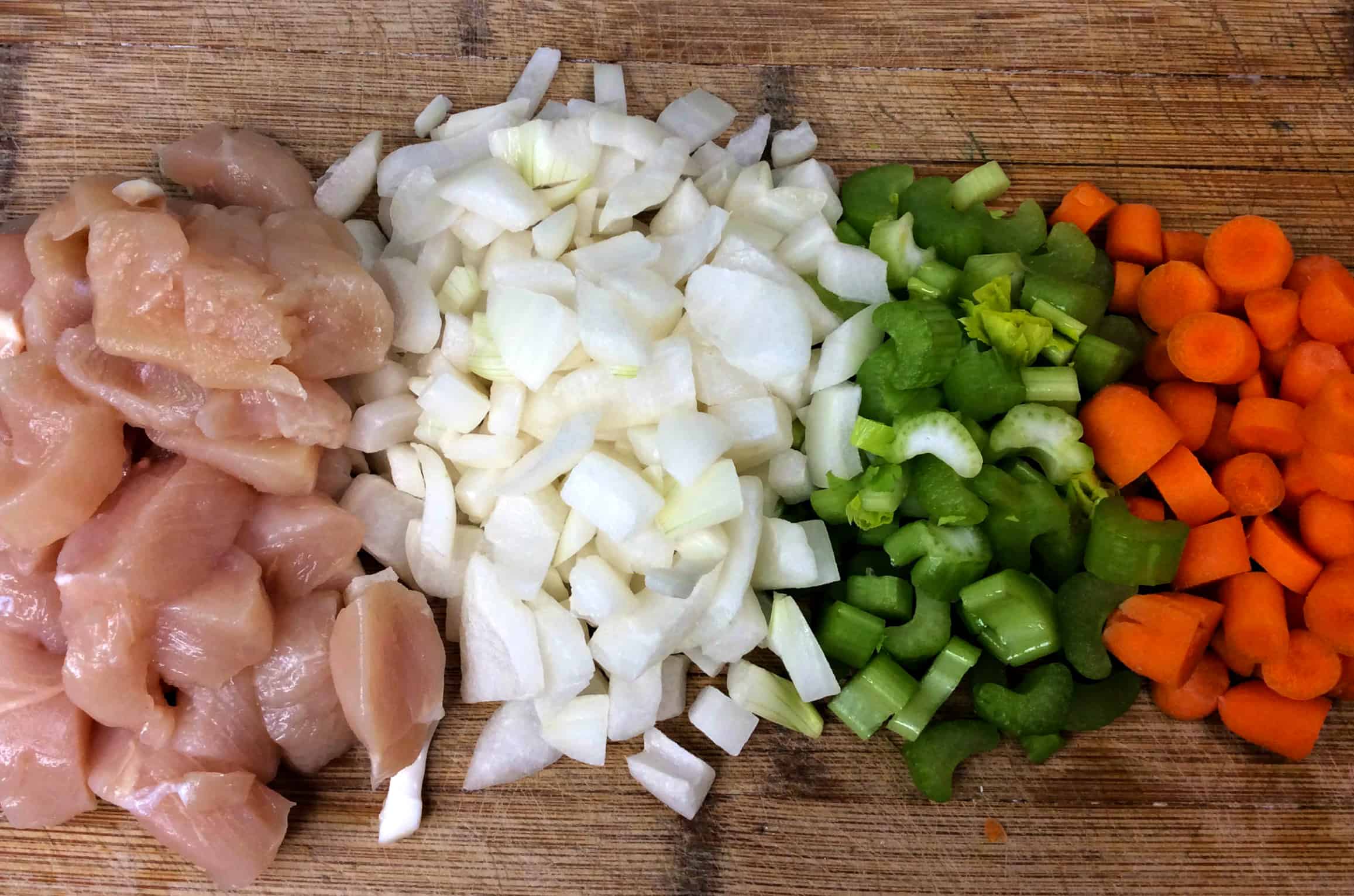 Second Step: Next, saute chicken and onions until the chicken is white and the onions are translucent. Then add carrots and celery and continue to saute for a couple of minutes.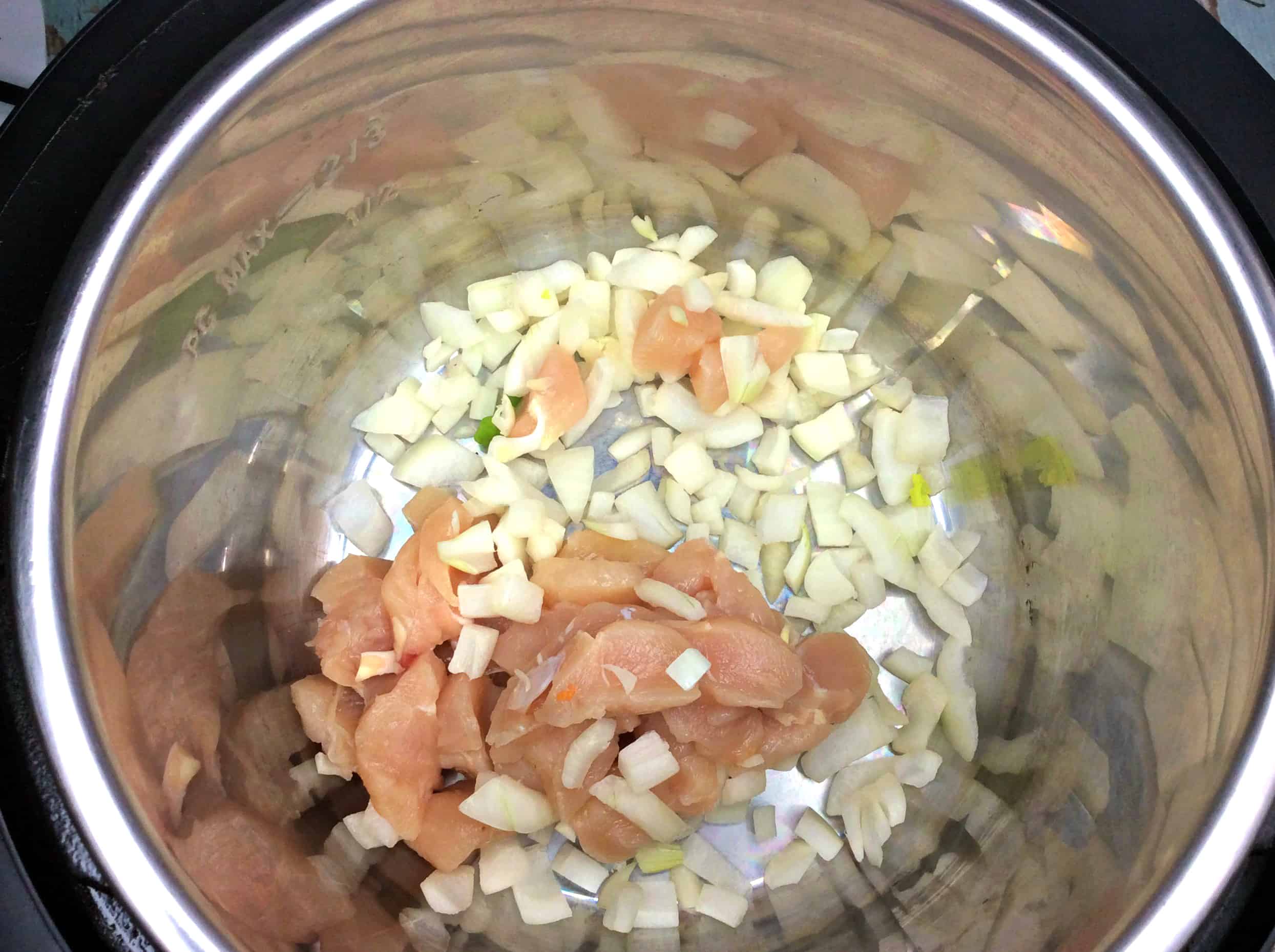 Third Step: Add broth, salt, pepper, basil, and oregano. Change the Instant Pot to pressure from sauteing.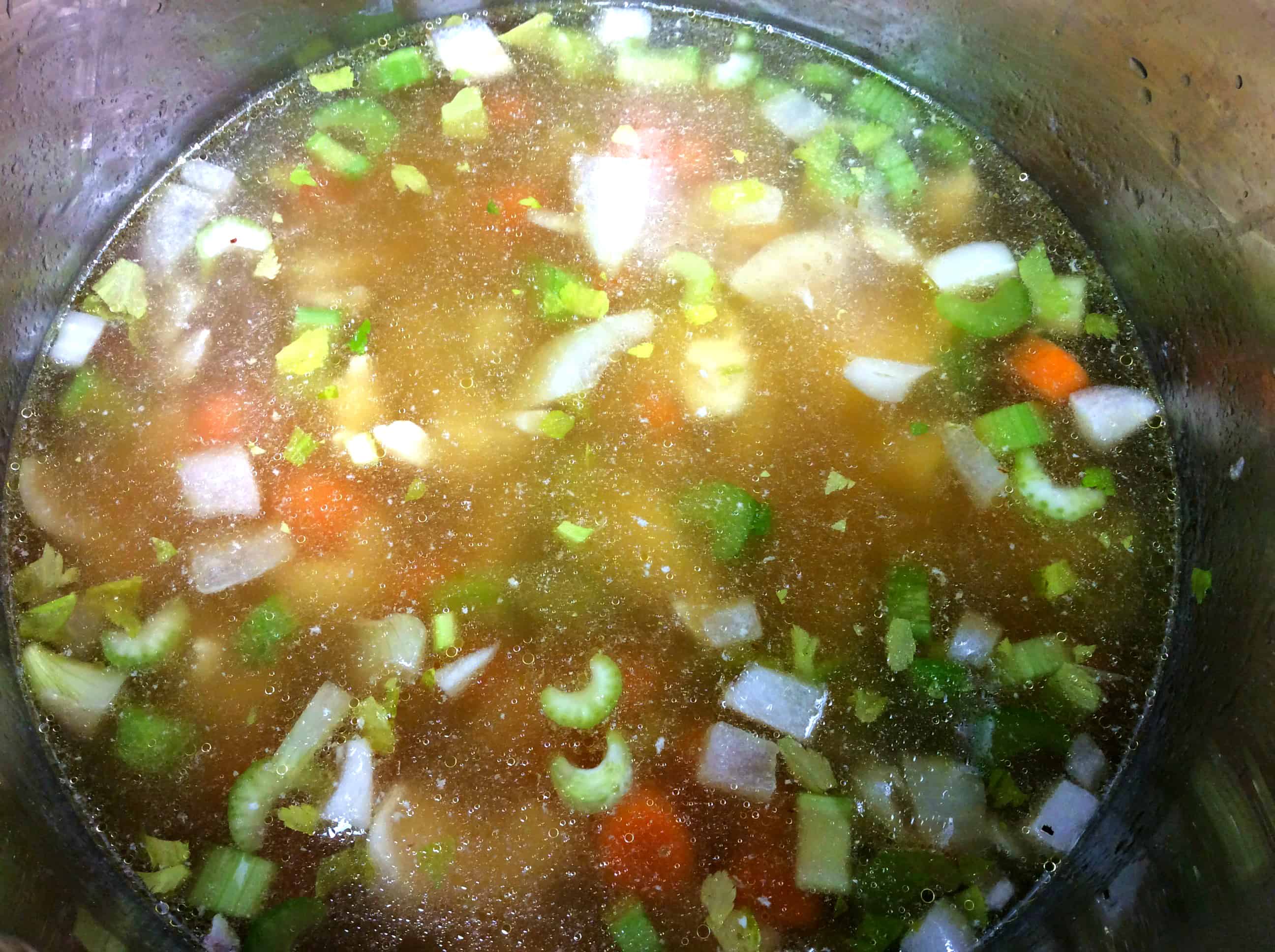 Fourth Step: After the soup has finished cooking and pressure has been released, add the egg noodles, and close the lid again for 5 minutes while the egg noodles cook.
NOTE: Don't let the egg noodles cook longer than 5 minutes or so because otherwise, they will end up slimy and mushy.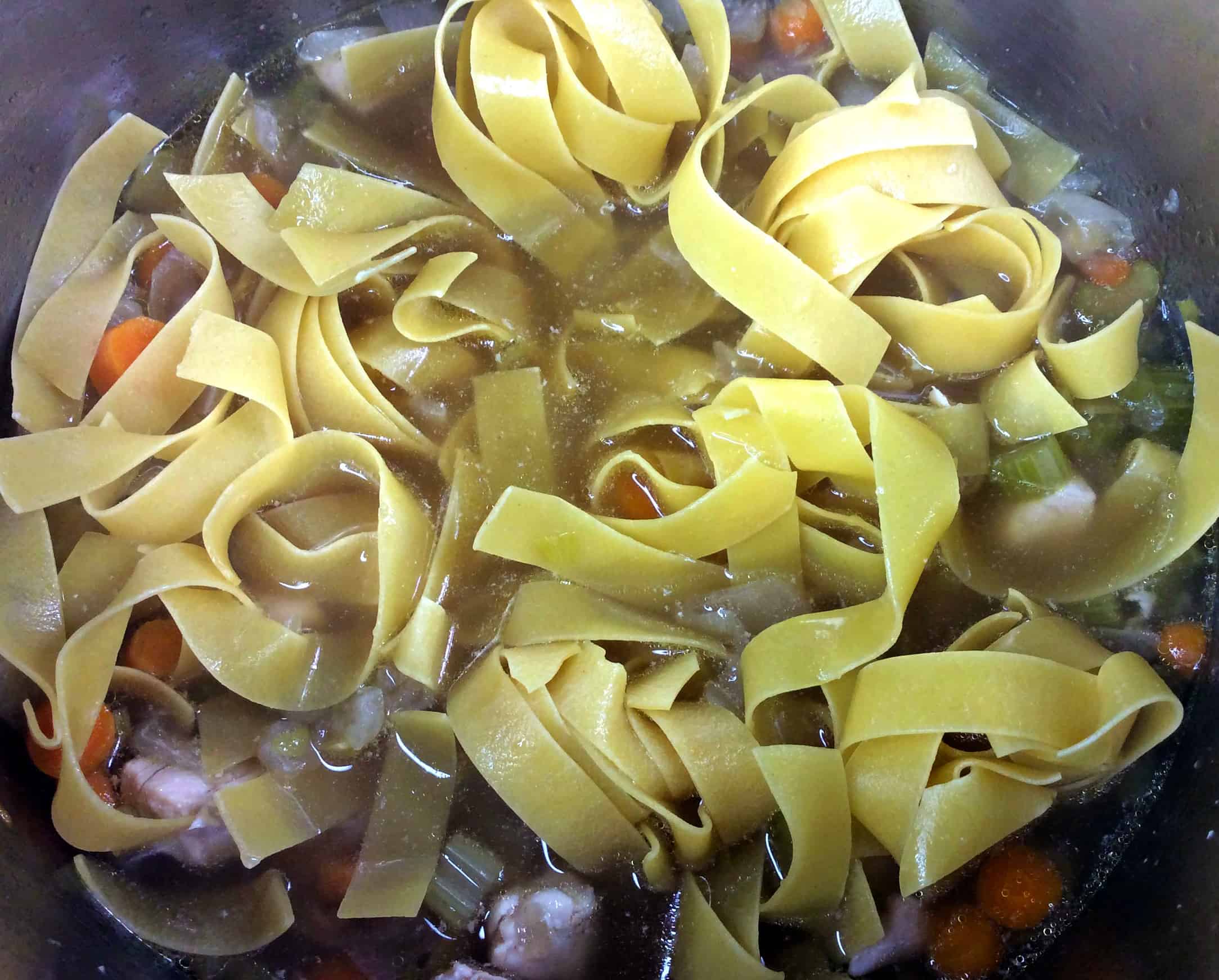 Chicken Noodle Soup Instant Pot Variations
As with most of my recipes, you can add in some other yummy flavors to this best Instant Pot chicken noodle soup ever! Add some pizzazz with any of these ideas:
Corn – While corn isn't found in traditional chicken noodle recipes, it has been gaining steam over the years. It packs a pleasant sweetness and makes it even more hearty.
Mushrooms – I love adding mushrooms every once in a while because it gives you flavorful nutrients! Making meals extra healthy makes me happy.
Red Chili Flakes – It's nice to have a little bit of spice every once in a while. Don't go crazy, just add a dash or two to give it a little bit of subtle spice.
Green Beans – They are an inexpensive ingredient that really helps fill you up. Toss some in and be impressed with the flavor they add to the Instant Pot vegetable chicken noodle soup.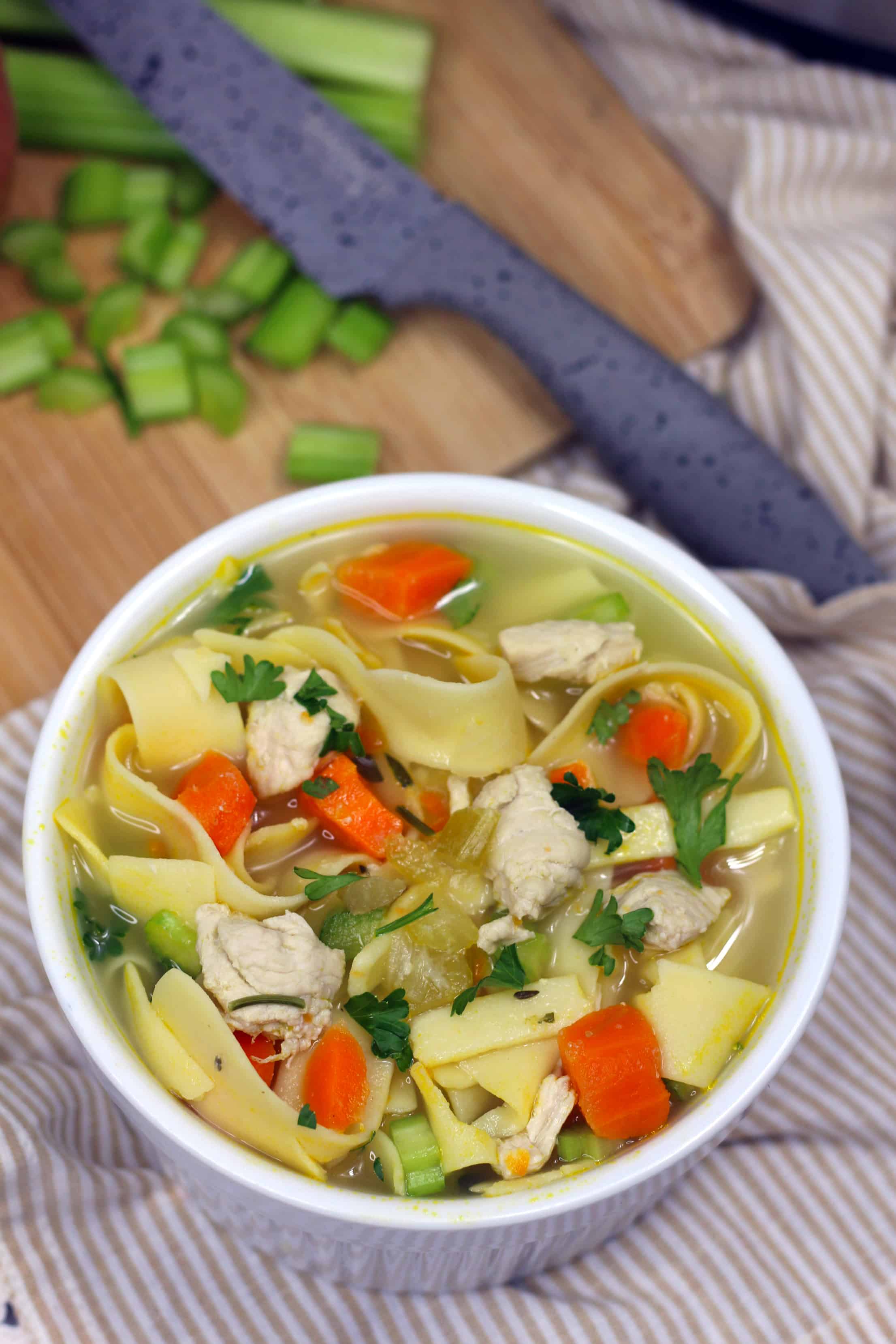 Why Is Chicken Noodle Soup Good For You?
You may find yourself wondering what it is about chicken noodle soup that makes you feel better. You aren't alone on this quest for answers. One of the reasons why you begin feeling better when you sip on the best Instant Pot chicken noodle soup is because it is loaded with antioxidants and nutritious ingredients. Every time you eat a spoonful of homemade chicken noodle soup Instant Pot recipe, you are getting beta-carotene, vitamin A, vitamin C, folic acid, and fiber. They say that chicken noodle soup also has immune boosting qualities due to the wholesome ingredients.
What Exactly Is An Instant Pot?
If you are new to the whole Instant Pot thing, let me help you understand this fantastic kitchen contraption! An Instant Pot is essential a pressure cooker just like your grammy used to use when she canned vegetables in the summer! Nowadays, it is much more sophisticated and a lot safer than she would have used.
The Instant Pot has many different functions, and it can also be used as a slow cooker, rice makers, steamer, yogurt maker, and for sauteeing. Incredibly, one machine can do so many different jobs, but it sure can!
Always read the manual that comes with your new pressure cooker. You should always follow the directions, so you don't end up with issues along the way. Once you get used to cooking in the Instant Pot, you will be happy you learned how to use it! Plus, you can make recipes like my best Instant Pot chicken noodle soup recipe any time you want!
What Is The Difference Between Quick Release And Natural Release?
At first, all the terminology can be a little bit confusing. Don't worry; it's not near as hard as it seems to figure out. A quick release is just like it sounds. It's a way to quickly remove the pressure from the Instant Pot so that you can open the lid or so the food doesn't overcook. And a natural release, is the opposite. When you naturally release something, you allow the pressure to escape on its own time, and you don't have to do anything to help it along the way.
You can also do a combination of both. Many recipes call for you to do a natural release for a certain amount of time followed by a quick release. So if you need a 10-minute natural release, then you will let it release pressure without any assistance from you for an entire 10 minute period. Then you would finish it by releasing the pressure quickly.
NOTE: Always keep your face, hands, and other body parts away from the release valve. It sprays hot steam everywhere and in some cases, hot soup if you aren't careful. This can cause significant burns and damage to your skin if it touches you. Use a wooden spoon or dishtowel to open the valve instead of your bare hands.
How To Store Chicken Noodle Soup With Egg Noodles
The best way to store chicken noodle soup with egg noodles is by pouring it in an airtight glass or plastic container. Then place it in the refrigerator for 3-4 days. This easy Instant Pot chicken noodle soup makes a quick lunch idea too!
Can You Freeze The Best Instant Pot Chicken Noodle Soup?
Absolutely, you can freeze this chicken noodle soup Instant Pot recipe. You can always use a glass or plastic container, but when it comes to soup, I prefer freezer bags. The reason is that you can place the soup in the bag, lay it flat in the freezer until it's frozen, then you can move it to make for more room in the freezer. Saving space is a massive win in my book.
Not to mention, that soup in a freezer bag defrosts so much faster than in any other type of container. When I want to defrost a bag of soup, I will fill my sink or a large bowl with cool water. Then set the bag inside of it. Within a few minutes, the soup will begin thawing out beautifully.
How To Reheat Instant Pot Chicken Noodle Soup
You can reheat the chicken noodle soup on the stovetop in a soup pan without any trouble! I usually heat it at medium heat for 15 minutes or so until it's warmed all the way through. You can also heat it up in the microwave if that works better for you. Heat it for a minute or two then stir and repeat until it's warm enough.
Craving More Soup
Pin this delish Instant Pot Chicken Noodle Soup for later:

Pin this recipe now to remember it later
Instant Pot Chicken Noodle Soup
Instant Pot Chicken Noodle Soup is the easiest, most flavorful chicken noodle soup you'll ever make! With this pressure cooker soup recipe, there's no need to wait hours for a flavorful soup.
Ingredients
2

chicken breasts

,

cubed bite size, boneless, and skinless

1

cup

baby carrots

,

sliced thin

2

C

egg noodles

,

uncooked
Want to save this recipe? Enter your email below and we'll send the recipe straight to your inbox!
NOTE: By saving this recipe, you agree to join our weekly recipes newsletter.
Instructions
Set Instant Pot on saute' low.

Add olive oil, chicken, and onions.

Cook until the chicken gets slightly cooked on the outside while onions begin to look translucent.

Add your celery and carrots.

Stir to combine.

Saute' for another 5 minutes.

Turn the instant pot to Off.

Add broth, salt, pepper, basil, and oregano.

Put the lid on the instant pot.

Close the valve setting to manual, pressure, high for 5 minutes.

When the instant pot beeps move the pressure valve slightly to release the pressure slowly.

Once the stream is released carefully lift lid.

Add the egg noodles and stir to combine.

Place the lid on the Instant Pot and allow to sit for 5 minutes.
Notes
4 Weight Watchers Freestyle Smartpoints
Nutrition
Serving:
5
g
|
Calories:
295
kcal
Follow me on Pinterest for daily delicious recipes!
Get new recipes weekly plus our FREE ebook!