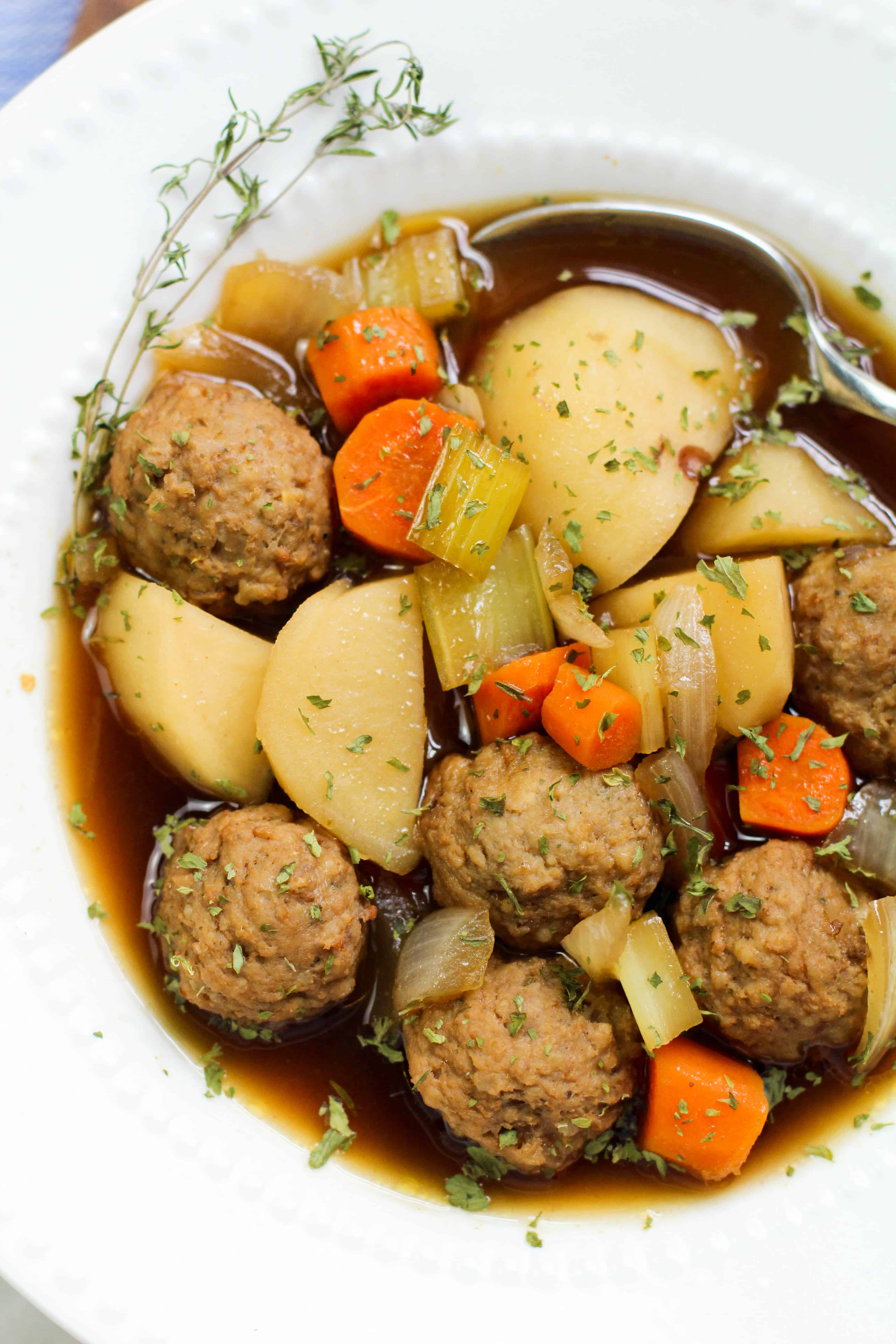 This Meatball and Potato Soup will not only become one of your go-to hearty soup recipes for chilly nights but one of your favorite easy healthy soup recipes!
'Tis the season…for big bowls of steaming soup! Meatball soup is the perfect way to warm up on a chilly day. Plus, you feel cozy and comforted with this easy meatball soup.
Scroll to bottom for printable recipe card.
Meatballs And Potato Soup
Growing up, the soup was just something that we ate when we were under the weather, and I never really thought of it as a meal unless I was eating chicken soup to cure my cold. However, now that I'm a mom on the hunt for easy and healthy recipes, soups are 100% on my radar.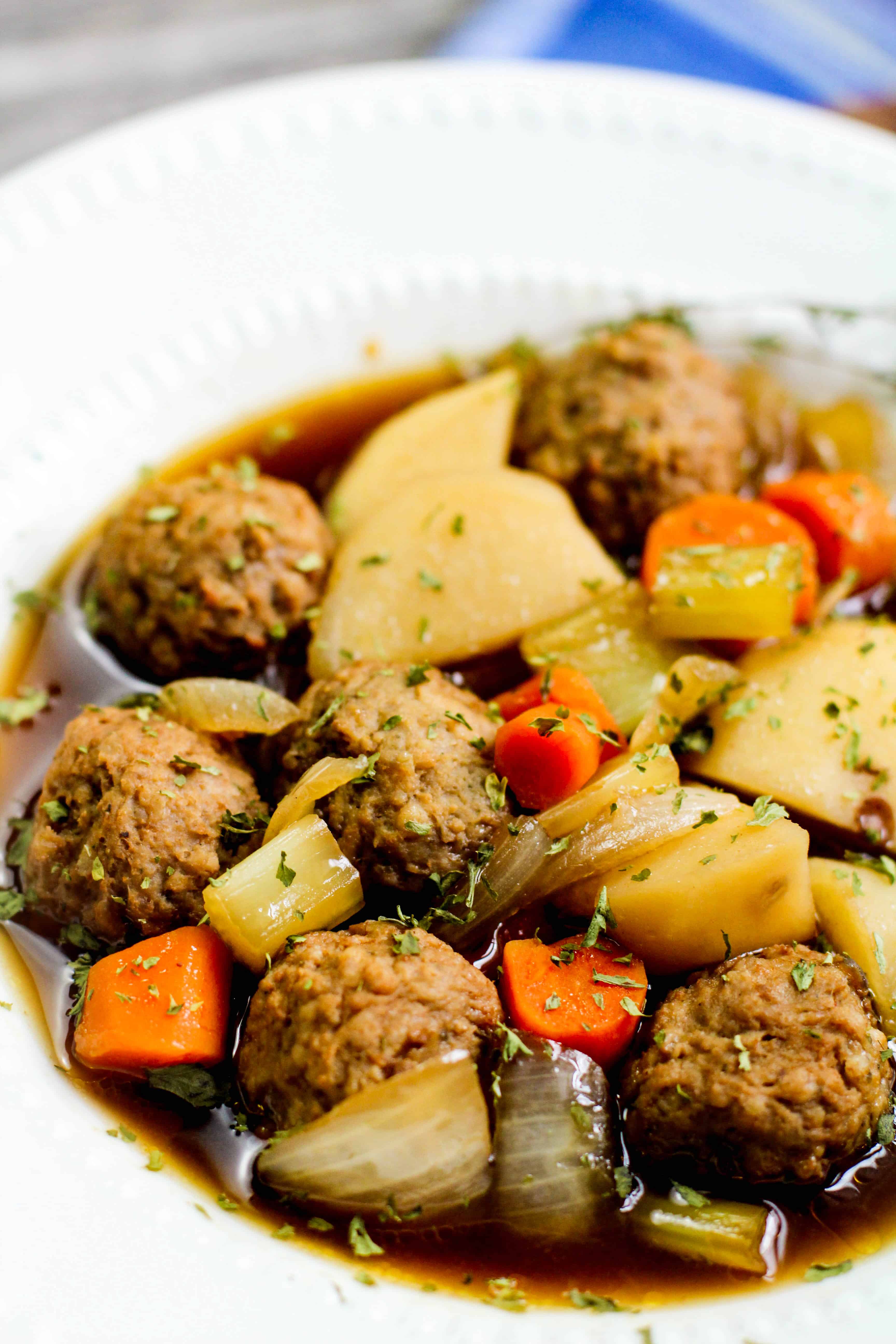 Healthy Soup Recipes
Why do I love easy healthy soup recipes like this meatball soup? Well, because they're easy and healthy!
I think soups are an underrated family meal and often overlooked on family food blogs. Casseroles and one-pan dinners seem to be the rage, but the truth is that soups are just as easy, and often easier than these other recipes. Most easy healthy soup recipes require some veggie chopping and tossing everything into a pan to simmer for hours.
Meatball Soup Recipe
Even hearty soup recipes can be healthy and loaded up with veggies. That's what makes my heart happy when it comes to this easy meatball soup; it has tons of vegetables!
This easy meatball soup is hearty but not creamy, which I love. It's more of vegetable soup with meatballs. As much as I love creamy potato soup or broccoli and cheddar, my waistline does not, and sometimes I just need something a bit lighter but just as filling. And, of course, kid-approved. Set a bowl of frozen meatball soup in front of my kids and watch it disappear!
Loaded with red potatoes, frozen meatballs, onions, celery, carrots, and seasonings, this meatball soup was just what I needed. My kids are obsessed with meatballs (especially these Cheesy Stuffed Meatballs), and they're still getting a complete meal with veggies. Win-win-win.
How To Make Meatball Soup
Let's just talk for a moment about how absolutely easy this meatball soup is to make. This meatball soup recipe couldn't be any more effortless to make.
That's the kind of cooking I'm talking about!
Plus, frozen meatballs! No complicated, homemade meatballs here. How awesome is that?!
Begin by chopping and peeling the red potatoes, onion, carrots, and celery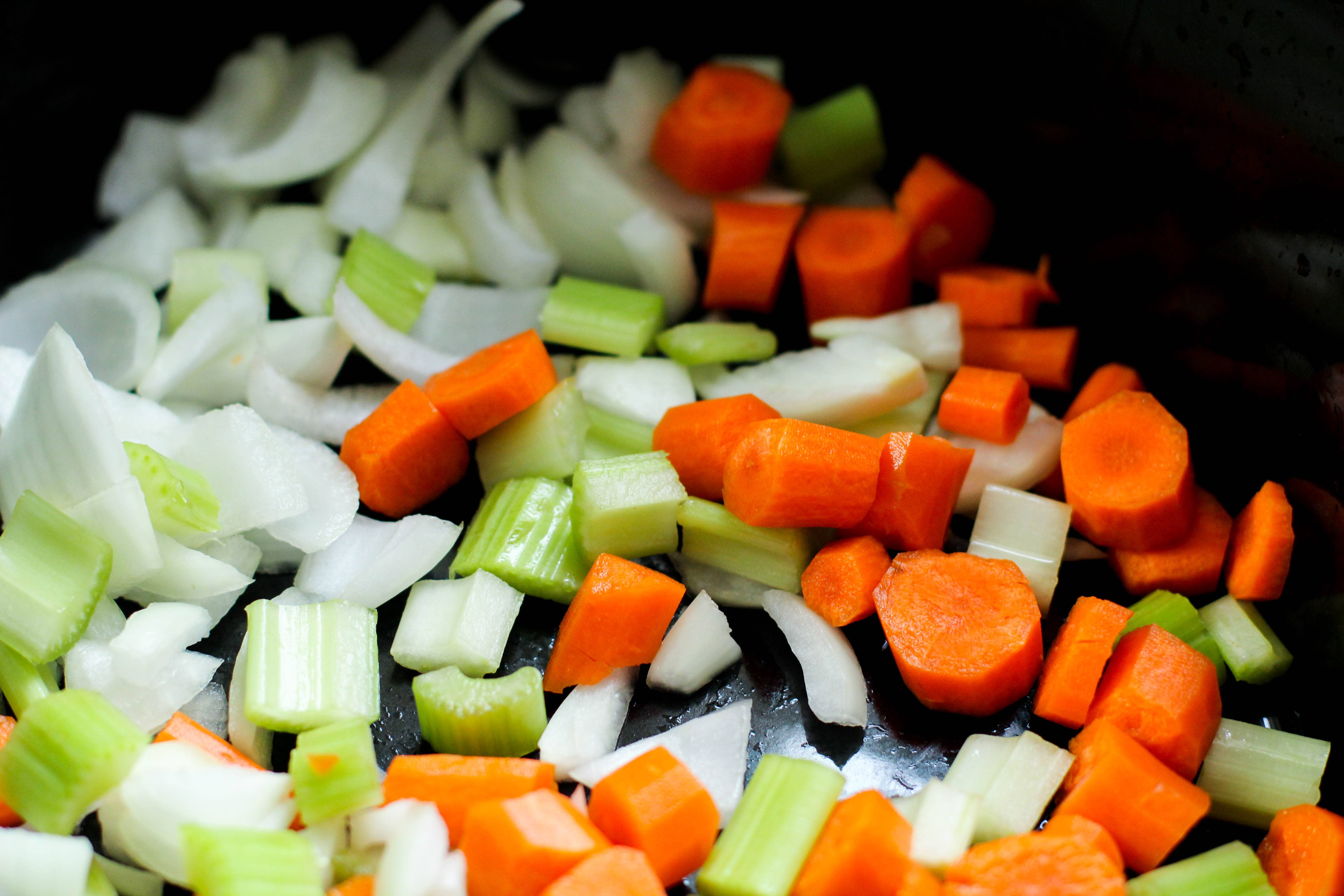 Layer the bottom of the pan with chopped carrots, onions and celery.
Next, add the potatoes. Make sure they are all cut into similarly sized pieces, so they all cook evenly. I try to keep them around 1 inch in size.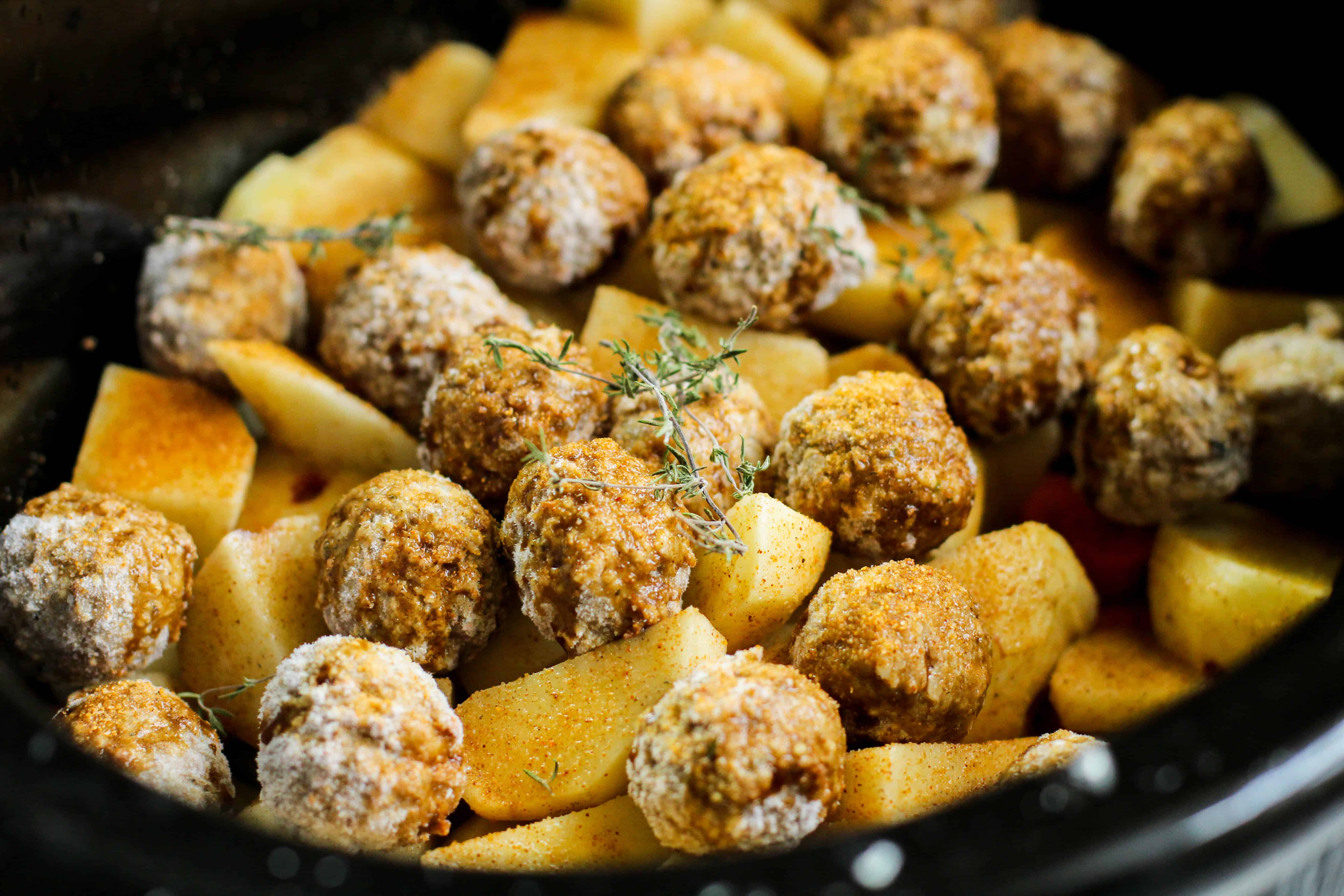 Then, add the frozen meatballs and add salt and pepper to taste.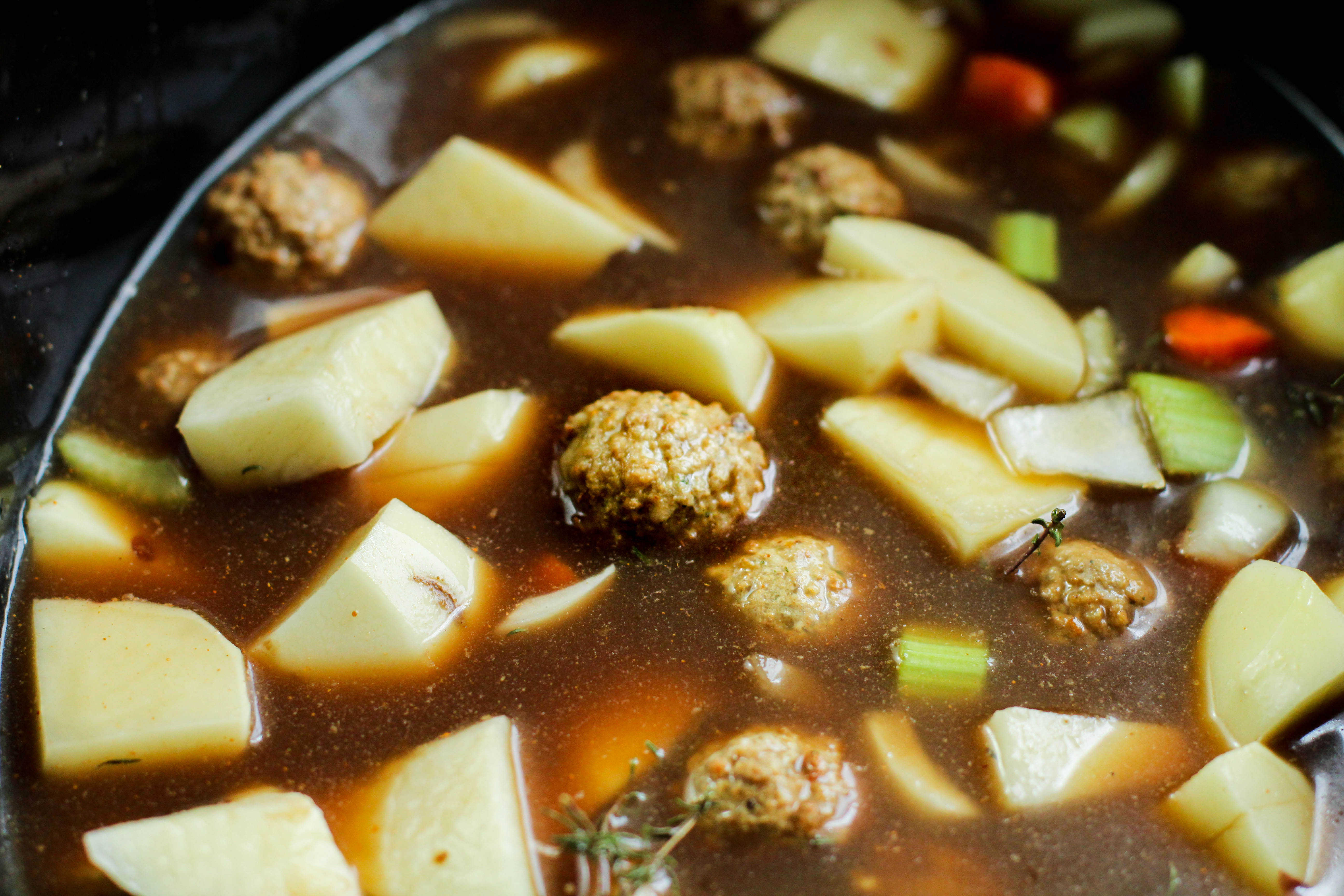 Next, pour in the beef broth, Worcestershire sauce, salt, pepper, and fresh thyme.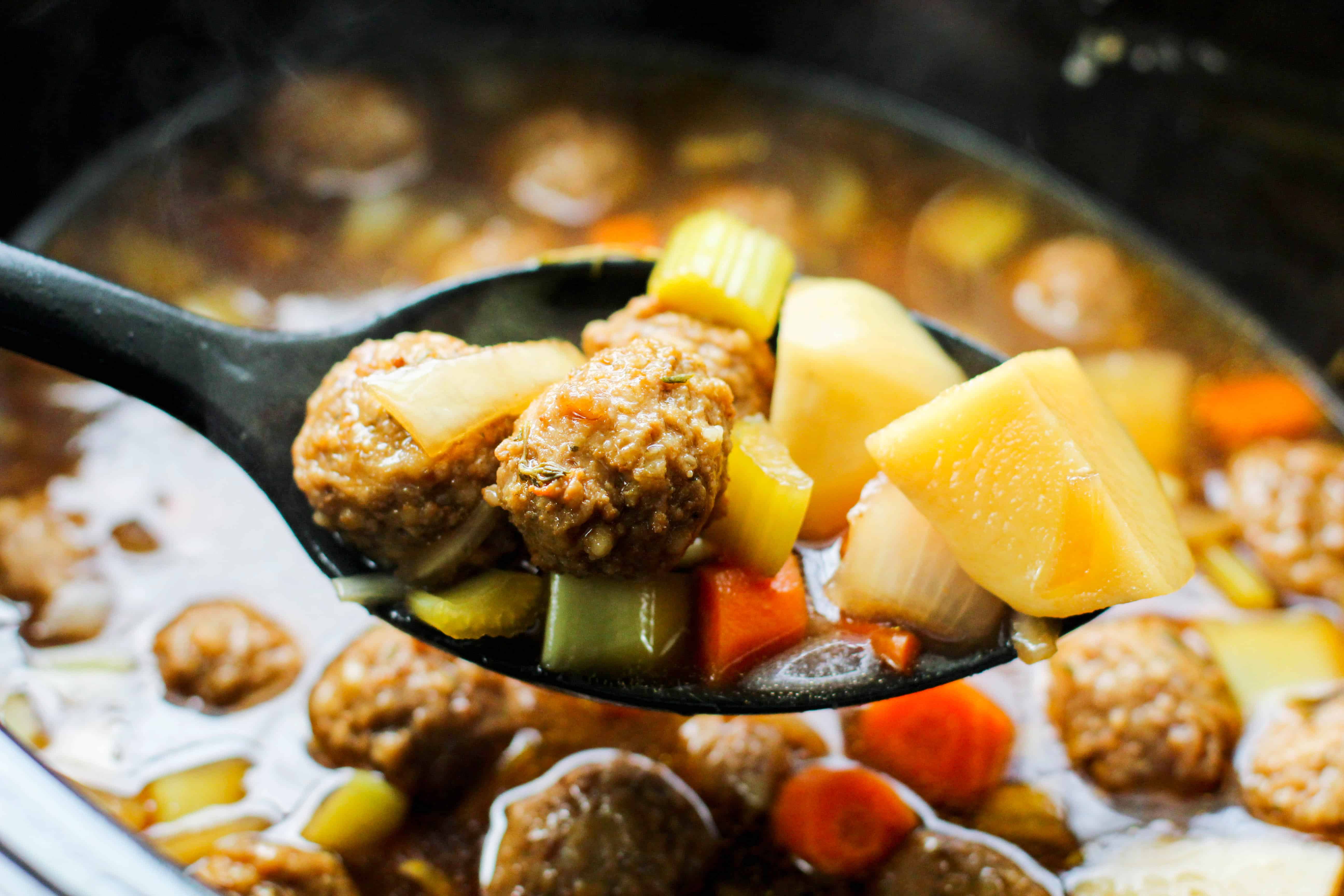 That is all there is to it! Pretty much dump it and forget about. Clean the house, pay bills, whatever you want because the slow cooker will do all the work for you! Then you get the reward of enjoying this meatball soup recipe! This is one of the hearty soup recipes I'll be making throughout the winter for sure!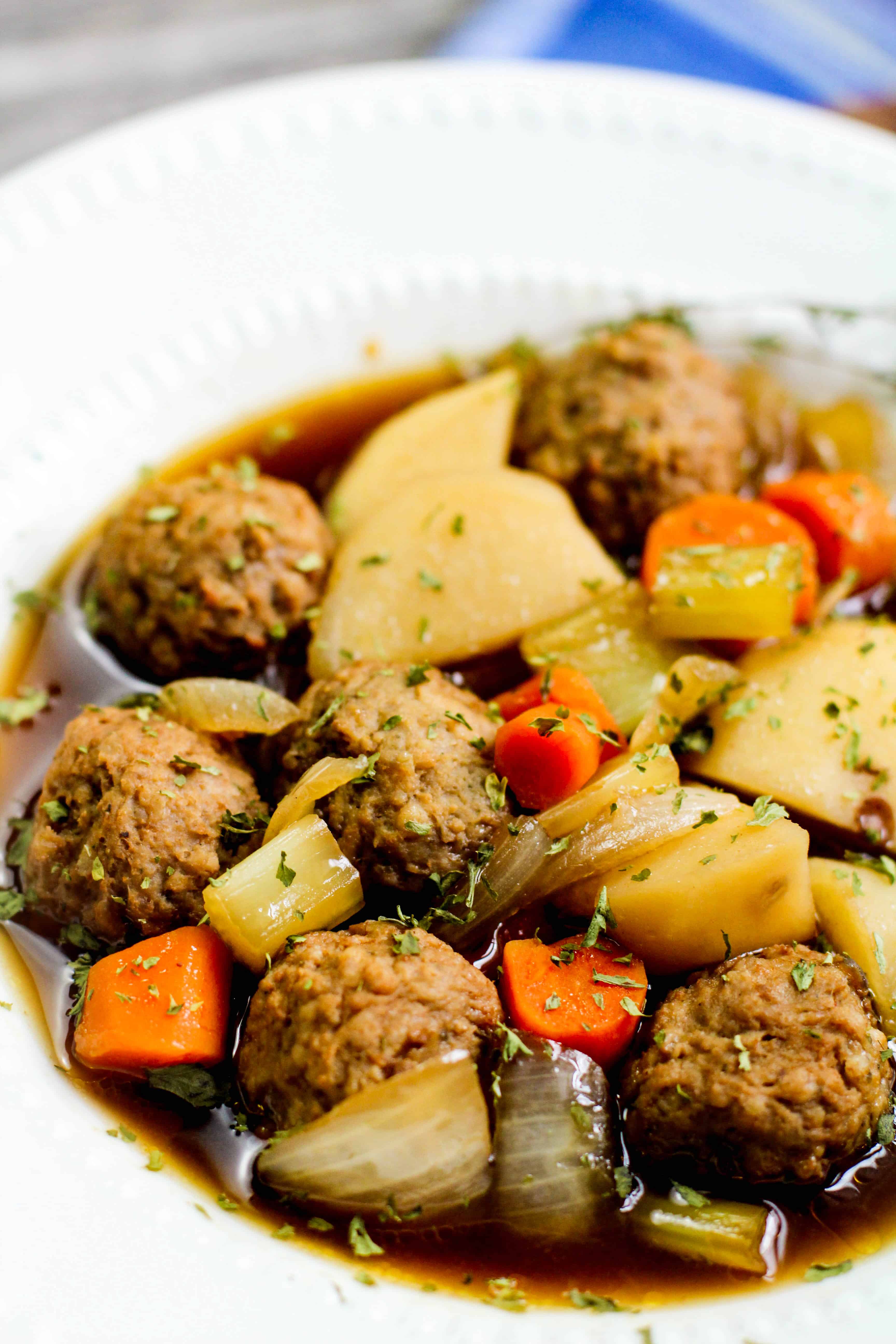 Do I Have To Defrost Meatballs For This Meatball Soup?
No, you do not want to defrost the meatballs before putting them in the slow cooker. If you do defrost them, then the soup would cook a lot faster, which is fine if you are in a hurry. If you use thawed meatballs, I recommend cooking all the veggies with broth and seasonings for several hours then add the meatballs. This will prevent them from becoming mushy and unappetizing.
Can I Make This Meatball Soup Recipe With Homemade Meatballs?
Yes, if you have the time and energy to make homemade meatballs, you can absolutely cook them homemade. I love the convenience of dumping a bag of frozen meatballs and not having to spend loads of hours in the kitchen. If you have a delicious meatball recipe, then make them up and toss them in. Because homemade meatballs are going to be softer, I recommend placing them in the freezer to harden up, so they aren't as likely to fall apart. Or, simply don't add the homemade meatballs in until the veggies are almost done cooking.
Meatball Soup Variations
Toss in a little bit of this and a little bit of that into this meatball soup! You can use up veggies that are getting ready to go bad, or other ingredients you have around. You will love all the different flavor combinations you can create. Here are some yummy ideas:
Pasta – Cook the slow cooker meatball soup as directed. Then when the soup is almost ready then make the pasta as directed on the package. Toss in the cooked pasta right before you are ready to serve the best meatball soup ever! It adds a nice element to the soup.
Garlic – Dice up some garlic and sautee it in a pan with a little olive oil right before adding it to the slow cooker. Yum!
Bacon – Cut up some bacon and fry in a pan until it is done and crumbly. Toss it in the soup. Perfectly tasty and salty!
Tomatoes – I prefer pouring in a can of petite diced tomatoes, but you can also use fresh cut up tomatoes.
Green Beans – Fresh green beans or french styled canned beans are my go-to when I want to add some into this slow cooker meatball soup.
Italian – Instead of homestyle or cheese-filled frozen meatballs, add in some Italian meatballs instead. I like to put 2 teaspoons of Italian seasoning too.
Tomato Sauce – I love a tomato-based sauce for many different soups, but it's extra tasty when paired with this easy meatball soup.
How Do You Store Leftover Frozen Meatball Soup?
If you are lucky enough to have leftovers, store in the fridge in an airtight container. They will usually last 3-4 days in the refrigerator. Heat the leftover easy meatball soup on the stove on medium heat. Just warm it up until it reaches the desired temperature then devour!
Can I Freeze This Meatball Soup Recipe?
Yes, you can freeze the leftover meatball soup quickly. I prefer to freeze it in storage bags and lay them flat for a few hours. Then when the bags are frozen solid, move them around to make more space in the freezer.
To thaw the meatball and potatoes soup, place in the fridge overnight. Another option for softening the meatball soup recipe is to place the container under cold water. It will help it start thawing without heating it up. Then warm it up in the microwave or on a pan on the stove.
One thing that is terrific about this meatball soup is that it's perfect for meal planning. Sometimes, I will make up a double batch so we can put the leftovers in the freezer. I try to keep them individual serving sized bags, so we don't heat up more than what we need. When I do this, I can just grab a freezer bag quickly, defrost it and eat it up.
What Do You Serve With This Meatball Soup Recipe?
This hearty soup recipe is amazing because it goes with so many different things. If something sounds good, give it a try because it might be the combination you have been looking for. Try these ideas too:
Sandwich – Oh, yummy! I love serving soup and sandwiches together. Try my avocado chicken salad sandwich or my chicken ranch wraps with it!
Salad – Any kind of fresh garden salad would go lovely with the meatball soup. Sometimes I just do a simple salad with romaine lettuce, parmesan cheese, olives, red onions, and Caesar dressing.
Bread – I like to buy those frozen dinner rolls that you let rise then bake. They go perfectly with the soup, and you can get them ready to raise while the meatball soup is cooking.
Crackers – I like to crumble saltine crackers and eat them in the soup. It's one of those things that takes you back to your childhood!
Can I Make This Meatball Soup In The Instant Pot?
Yes, you absolutely can make this meatball soup in an Instant Pot. You just need to follow the instructions as directed, except you will need to cook it in the Instant Pot instead. Cook the soup for 10 minutes on the soup setting. Let it do a natural release for 5 minutes then a quick release to finish it off. This would be a perfect idea if you decided to make frozen meatball soup at the last minute and don't have time to let it sit in the Crock-Pot. Plus, it makes incredible leftovers too!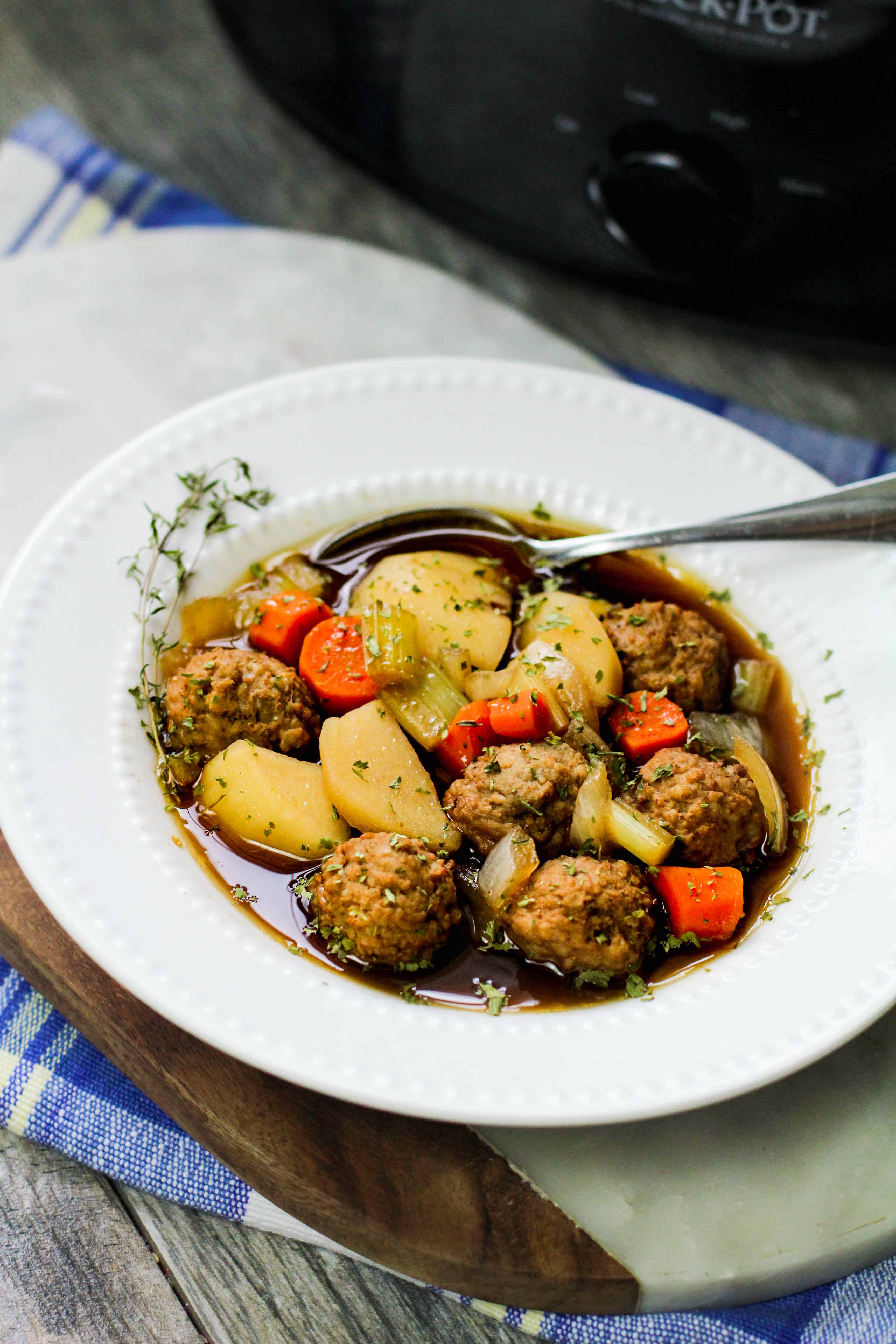 Pin this hearty meatball and Potatoes Soup recipe for later:

Pin this recipe now to remember it later
Meatballs and Potatoes Soup
This Meatball and Potato Soup will not only become one of your go-to hearty soup recipes for chilly nights but one of your favorite easy healthy soup recipes!
Ingredients
6

medium red potatoes

,

peeled and chopped

3

carrots

,

peeled and chopped

2

stalks of celery

,

chopped

2

teaspoons

of worcestershire sauce
Want to save this recipe? Enter your email below and we'll send the recipe straight to your inbox!
NOTE: By saving this recipe, you agree to join our weekly recipes newsletter.
Instructions
In a large slow cooker add all of the ingredients, mix together, cover and cook on high for 4 hours or low for 6-8 hours.
Notes
8 Freestyle Smartpoints (7 servings)
Follow me on Pinterest for daily delicious recipes!
Here are more Soup Recipes:
Instant Pot Chicken Noodle Soup – With this pressure cooker soup recipe, there's no need to wait hours for a flavorful soup.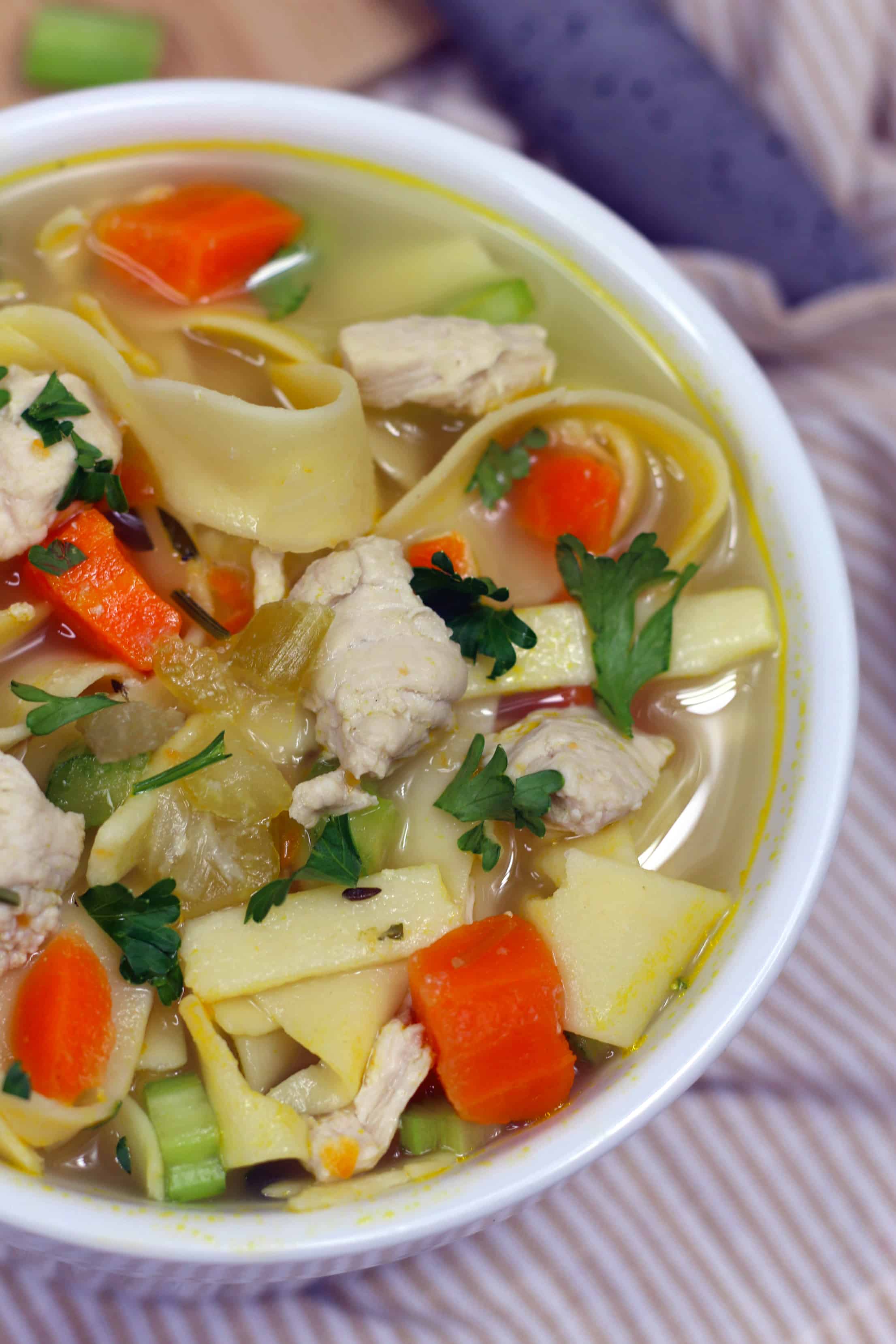 Potato Soup – This Easy Creamy Potato Soup is the best crockpot potato soup you will ever make!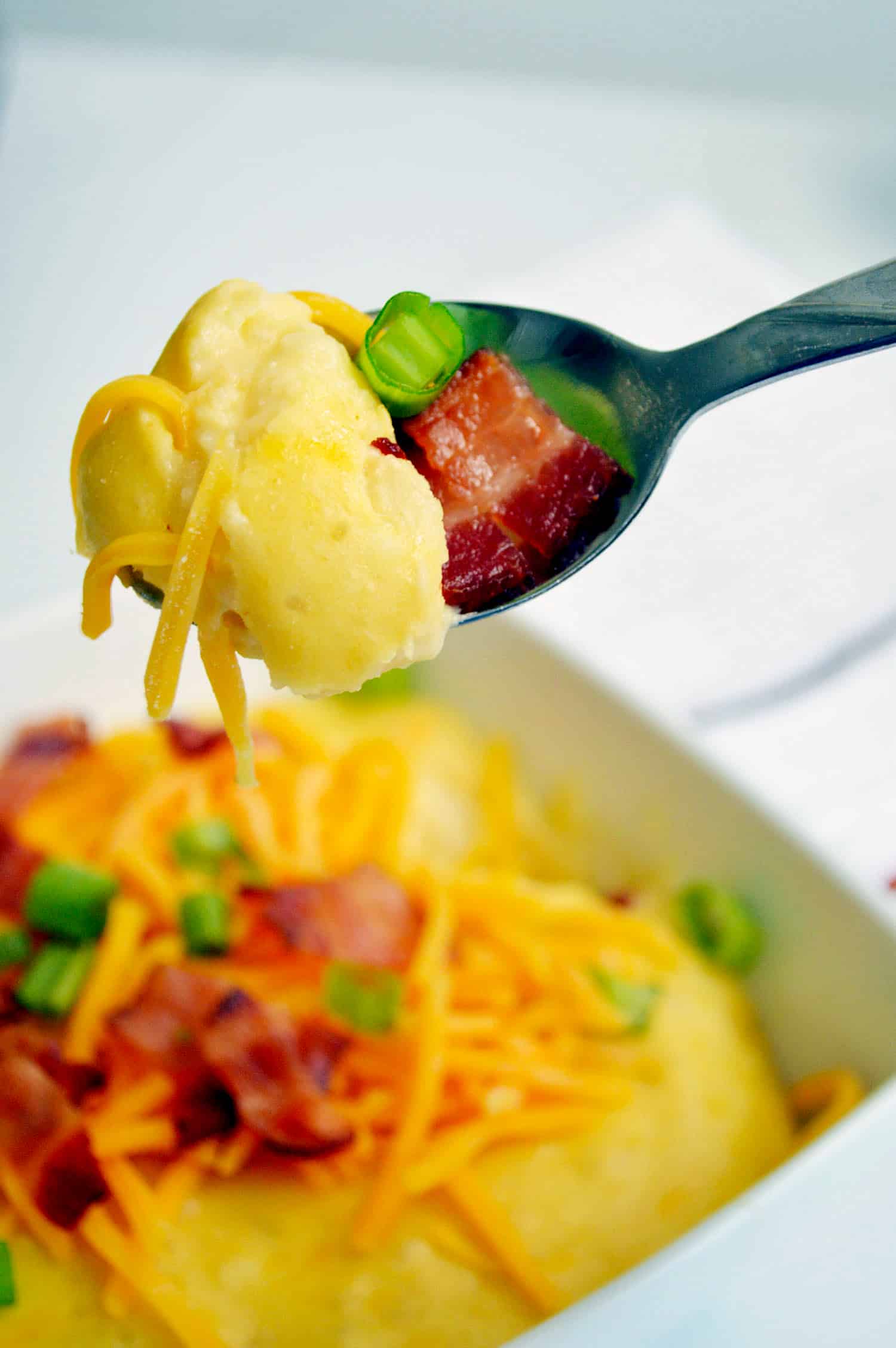 Get new recipes weekly plus our FREE ebook!