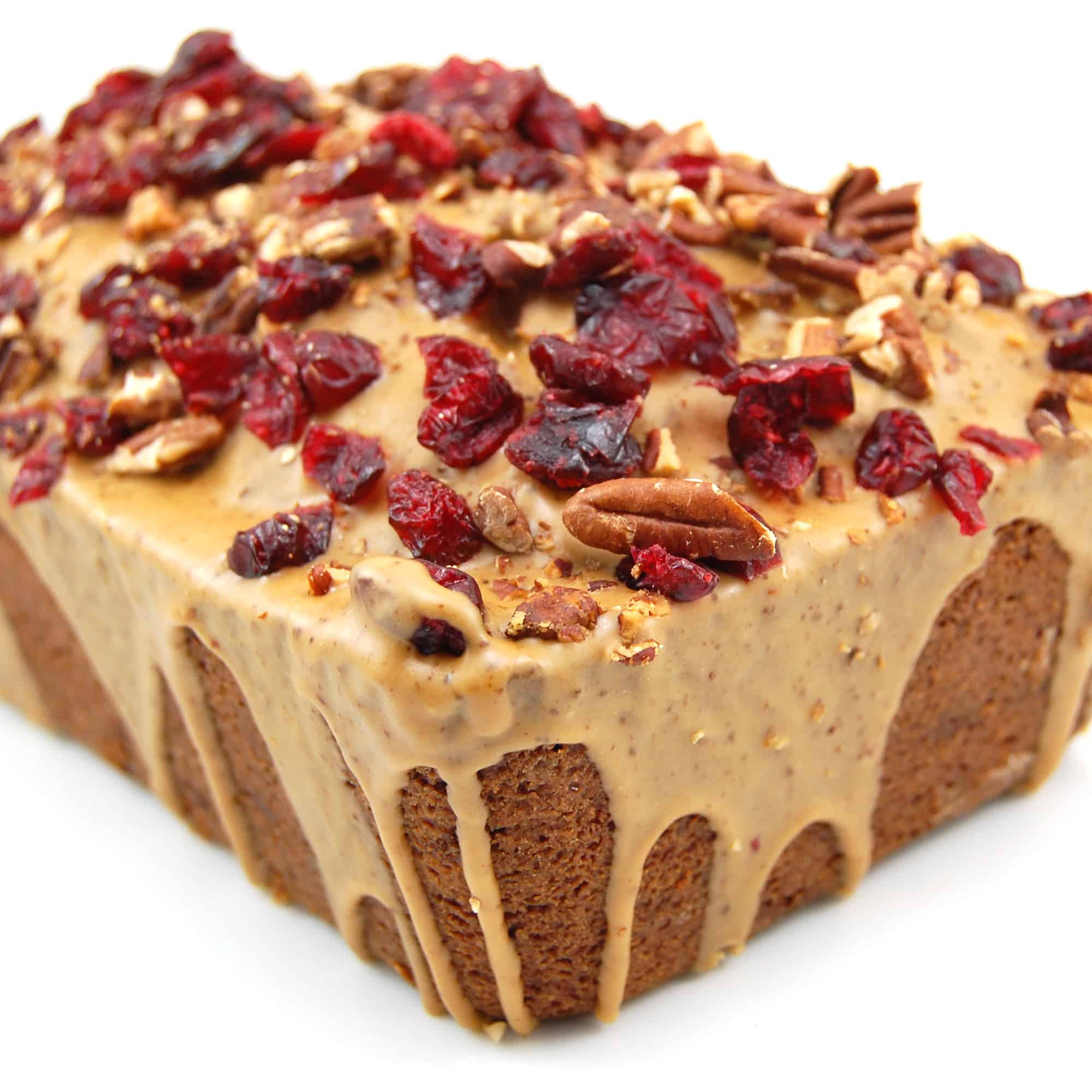 Espresso Pound Cake with Cranberries and Pecans is the best way to start your day! This moist and flavorful pound cake is loaded with cranberries and pecans and a hint of coffee. There is something so immensely comforting about pound cake. If it is baked correctly, it is tremendously moist, dense and buttery. Just take a look at those toasted pecans and tart cranberries piled on top of this pound cake…and don't get me started on that amazing drizzled coffee glaze sliding down the side of the pound cake. Doesn't it just make you want to run into the kitchen right now?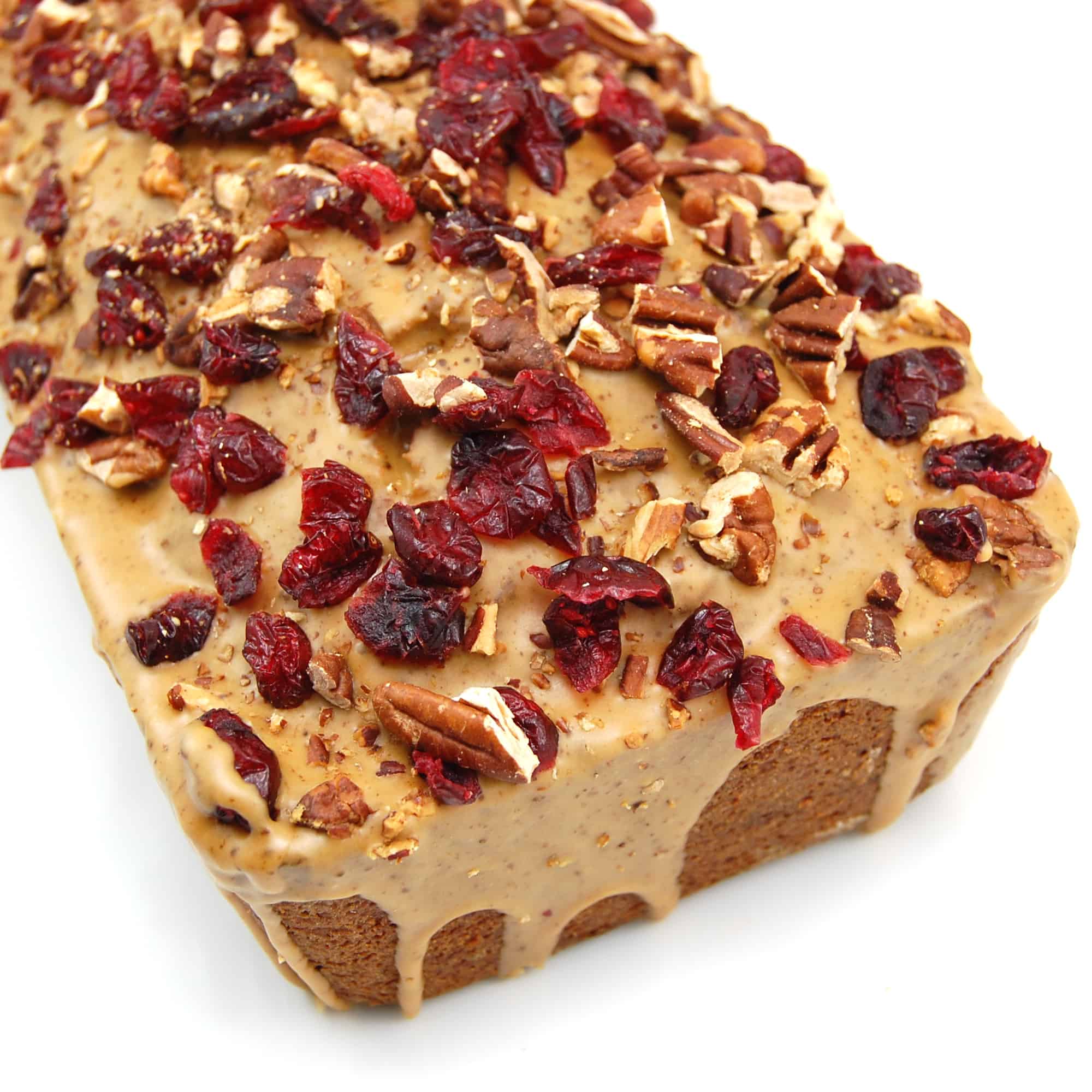 What drew me to this version of a pound cake was the espresso powder. Everything is better with a little espresso powder! Would you be surprised to know that I hate coffee? I know, as much as I bake with it, I actually find it revolting! But espresso powder on the other hand, is amazing! My husband has to have at least one cup of coffee every morning or he is horrible to be around. He stumbles out of bed grumbling incoherently until that magical plain black coffee lifts his spirits. I don't get it…does it really make that much of a difference? I enjoy a cup of tea every morning, but I do not by any means need it to function! I would hate to see what would happen if he was stranded on a deserted island with no coffee…let's just say I wouldn't want to be there! So what about you, are you addicted to coffee too? Do you have to have your morning cup of joe before you can function?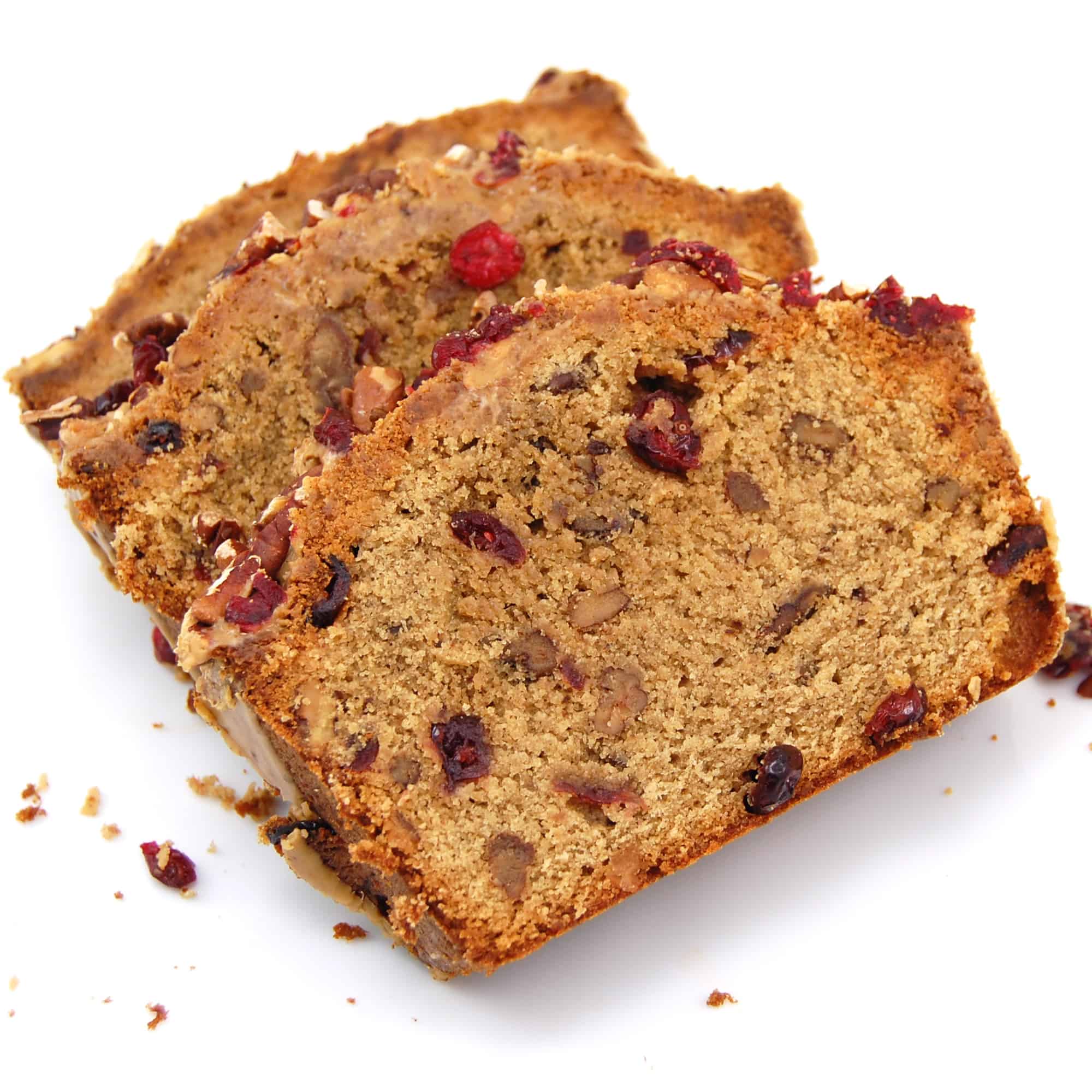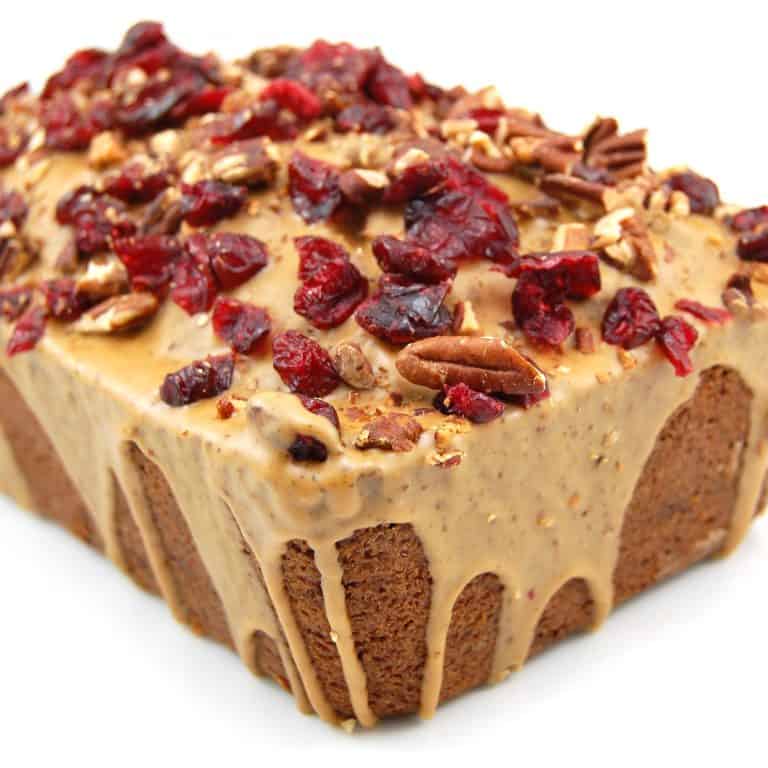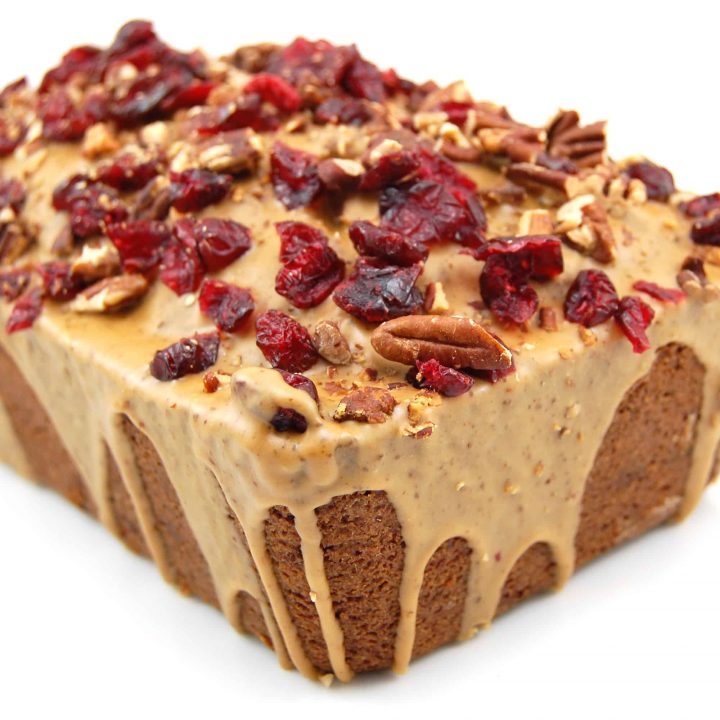 Espresso Pound Cake with Cranberries and Pecans
Ingredients
1 cup chopped pecans, divided
1 cup plus 6 tablespoons unbleached all purpose flour
2 tablespoons cornstarch
1 teaspoon ground cinnamon
3/4 teaspoon baking powder
1/4 teaspoon salt
4 large eggs
1 teaspoon vanilla extract
1 cup (2 sticks) unsalted butter, room temperature
3/4 cup sugar
1/2 cup (packed) light brown sugar
1 tablespoon plus 2 teaspoons instant espresso powder or instant coffee
1 cup dried sweetened cranberries, divided
1 1/2 cups powdered sugar
2 tablespoons milk
Instructions
Preheat the oven to 325 degrees F. Grease bottom and sides of a 9 x 5-inch loaf pan; dust with flour, tapping out excess.
Spread the pecans onto a baking sheet and place in preheated oven 7-10 minutes until fragrant. Shake the baking sheet halfway through baking so the nuts will toast evenly. Remove nuts from oven and set aside to cool completely.
In a medium bowl, whisk together flour, cornstarch, cinnamon, baking powder, and 1/4 teaspoon salt.
In a small bowl, whisk eggs and vanilla to blend; set aside.
In the bowl of a stand mixer fitted with the paddle attachment, beat butter, sugar, brown sugar, and 1 tablespoon espresso powder until fluffy, 2 to 3 minutes. With mixer running, gradually add egg mixture. Add flour mixture in 2 additions, beating on low speed just to blend after each addition. Beat batter 30 seconds on medium speed. Stir in 3/4 cup pecans and 3/4 cup cranberries. Scrape batter into prepared loaf pan and smooth surface with a rubber spatula.
Bake until top is golden and toothpick inserted into center comes out clean, about 1 hour 10 minutes. Cool in pan 5 minutes, then transfer to wire rack and cool completely before serving, at least 1 hour.
In a medium bowl, combine powdered sugar, milk, and 2 teaspoons espresso powder. Spread glaze over top of cake, allowing some to drip down sides. Sprinkle 1/4 cup nuts and 1/4 cup cranberries over. Let stand until glaze sets, about 20 minutes.
Source: Bon Appetit, March 2011