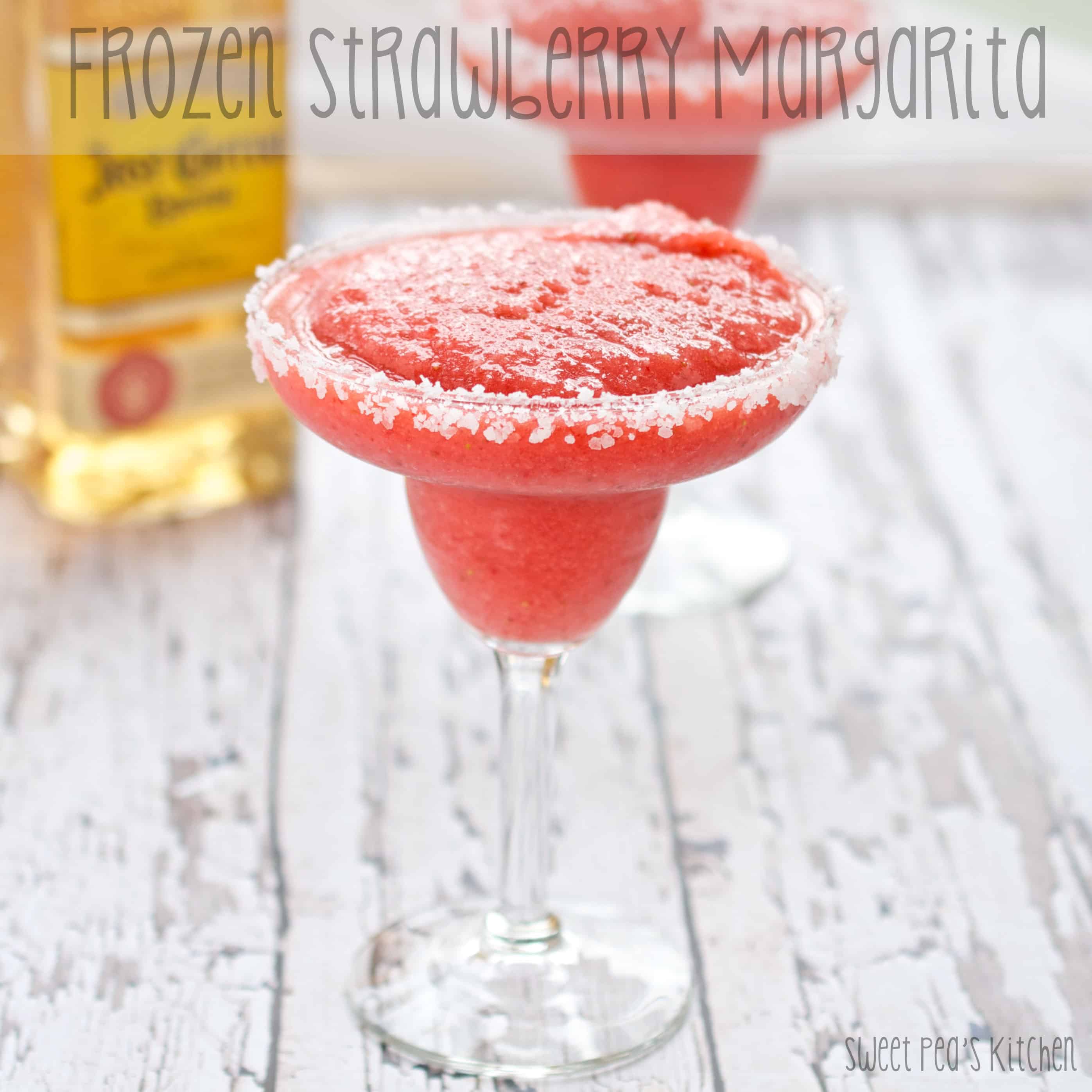 Sit back and relax with one of these cool and refreshing Frozen Strawberry Margaritas. You only need 8 ingredients and a few minutes to throw together one of these incredible frozen margaritas. Serve them at parties or enjoy one after a rough day.
Scroll to bottom for printable recipe card.
Frozen Strawberry Margaritas
Why not make your Cinco de Mayo celebration even more festive with this easy-to-make frozen strawberry margarita? Great strawberry margaritas start with real strawberries-and lots of them! This recipe calls for one full pound of those sweet beauties. Margaritas are one of my favorite summertime drinks, and if you've never made them from scratch, you're really missing out.
Whether frozen, on the rocks, with a salted or sugar rim, margaritas are essential not only for a Cinco De Mayo celebration but any warm summer night. One of the great things about these margaritas is that you can make everything up to a day in advance, then throw in the blender, and you're ready to serve.
What Alcohol Do You Use For Margaritas
To make the very best frozen strawberry margarita, I recommend using tequila. You can swap other kinds of alcohol, but they won't be actual margaritas, and the flavor will be different. If you can't handle tequila, vodka would be an alternative that would work well too. Keep in mind; it will taste differently.
Can I Make This As A Classic Margarita Not Frozen
Yes, you can absolutely turn this into a classic margarita instead of a frozen margarita if you want. Simply put the ice in the glass and pour the mixture on top of it. This will give you a cool and refreshing drink minus the frozen texture. Both options are delicious, and if you are throwing a party, it's nice to make both because everyone likes it a little bit differently.
Is It Okay To Use Other Fruits?
Yes, you can either swap out the strawberries completely or blend them with other fruits to make all sorts of fun flavor combinations. Here are a few fruits to try out:
Raspberries – They are sweet and add a yummy flavor to the margarita.
Blueberries – Not only do the blueberries taste good, but they also add vibrant purple color to the frozen margarita too.
Watermelon – Remove any watermelon seeds and mix them in with the strawberries. It's so cool and tasty.
Lime Juice – Mix in some fresh lime juice. It pairs well with the frozen limeade and the strawberries.
Peaches – One of my favorite combinations is strawberries and peaches. They are heavenly together, and I think you will love them together as well.
Can I Make These Ahead of Time
Yes, you can prepare the strawberry frozen margaritas ahead of time to save yourself time later. I recommend preparing the margaritas, then putting them in a container or bag that is airtight. Put them in the freezer and let them freeze. Before serving, thaw on the counter for a few minutes or run under cool water until it's soft enough to pour out.
NOTE: Whatever you pour the strawberry frozen margarita into the container, be sure not to fill it more than 2/3 full. It will expand as it freezes, and you may end up with a giant margarita explosion if you do.
Does This Recipe Double More
This recipe will make 4-6 servings of frozen margaritas. You can easily double or triple it, but you may need to work in batches. It's a fantastic recipe to make extra of. Plus, it tastes so good that everyone is going to want a second drink.
Ingredients
All you need is 8 ingredients, and you are well on your way to enjoying an evening of fun and tasty drinks with friends.
Frozen strawberries
Sugar
Table salt
Kosher salt
Frozen limeade concentrate
Ice
Tequila
Triple Sec
How to Make A Frozen Alcoholic Drink
Now let's get started so you can begin drinking this incredible frozen margarita recipe soon. Let's take a look at the two simple steps.
First Step: Begin by putting a saucepan over medium heat. Then combine two cups of strawberries, 1/4 cup of white sugar, and 3/4 teaspoon of salt in the pan. Mix until the strawberries release their juices, which usually takes around 5 minutes. Then take a potato masher and mash until you end up with a syrupy mixture. It will need to simmer until it has reduced to around 3/4 cup, which takes approximately 5 minutes. Then mix in the limeade concentrate. Pour all of it into a large mixing bowl. Then cover it with plastic wrap and put in the fridge for 1 hour. You can make it in advance if needed, and it will last 1 day in the fridge.
Second Step: Mix the sugar and salt in a pie plate or a shallow bowl. Then take the strawberry mixture out of the fridge and dip the rims of your serving glasses into the liquid. Then press the glasses into the salt mixture to add it to the rims. Transfer the chilled strawberry mixture to the blender and add the rest of the frozen strawberries along with the tequila, ice, and triple sec. Blend until smooth, then pour into the salted glasses. Serve and enjoy!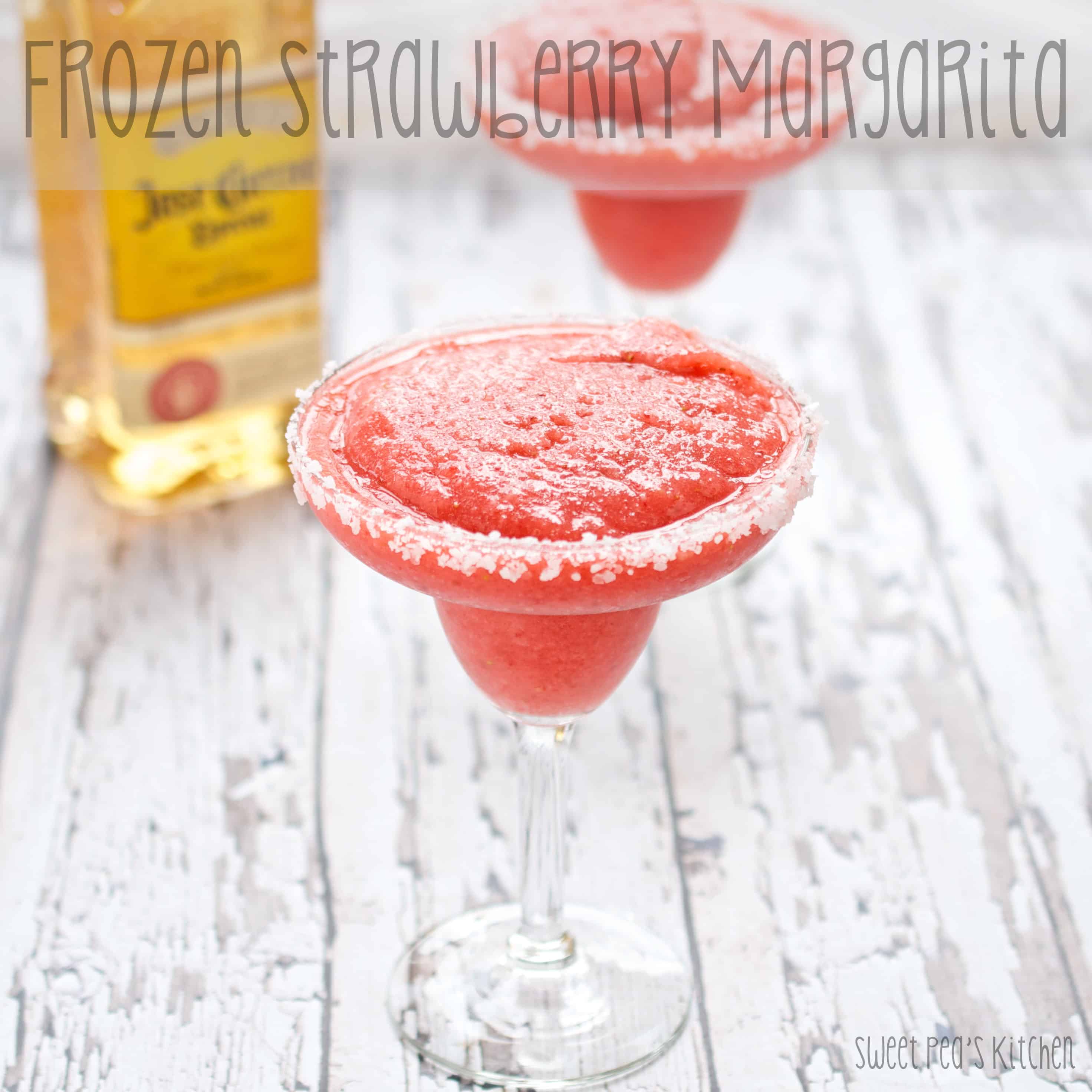 If you are like me, I love to serve several kinds of drinks when I am entertaining. That way, we have a variety to choose from. Here are some of my favorite party drinks that I think you will love.
Triple Berry Cocktail – This is such a cool and tasty drink that please a crowd and is simple to make too. Serve this with some yummy appetizers, and you are bound to have a great night.
Easy Blackberry Vodka Smash – What's more fun than a drink with blackberries and vodka? I say nothing? Taste this, and it will be your new favorite drink.
Famous Watermelon Margarita – Cool off with an icy glass of this famous watermelon margarita. It's a real crowd-pleaser too.
Slushy Pineapple Rum Drink – This vibrant drink has pineapple, rum, and heavy cream to give you a creamy frozen drink you won't soon forget about.
Pin this recipe now to remember it later
Frozen Strawberry Margaritas
Ingredients
4

cups

frozen strawberries

,

about 16 ounces, divided

1/4

cup

kosher salt

,

divided

3

tablespoons

frozen limeade concentrate
Want to save this recipe? Enter your email below and we'll send the recipe straight to your inbox!
NOTE: By saving this recipe, you agree to join our weekly recipes newsletter.
Instructions
1. In medium saucepan over medium heat combine 2 cups strawberries, 1/4 cup sugar, and 3/4 teaspoon salt until berries begin to release their juices, about 5 minutes. Mash with potato masher until strawberries break down, then simmer until mixture is syrupy and reduced to 3/4 cup, about 5 minutes. Stir in limeade concentrate and transfer to large bowl. Cover with plastic wrap and refrigerate until well chilled, about 1 hour. (Mixture can be made 1 day in advance.)

2. Combine remaining sugar and salt in pie plate. Remove strawberry mixture from refrigerator and dip rims of serving glasses in liquid. Press rims of glasses into salt mixture and set aside. Transfer chilled strawberry mixture to blender. Add remaining frozen strawberries, ice, tequila, and triple sec and blend until smooth. Pour into salted glasses.
Follow me on Pinterest for daily delicious recipes!
Get new recipes weekly plus our FREE ebook!