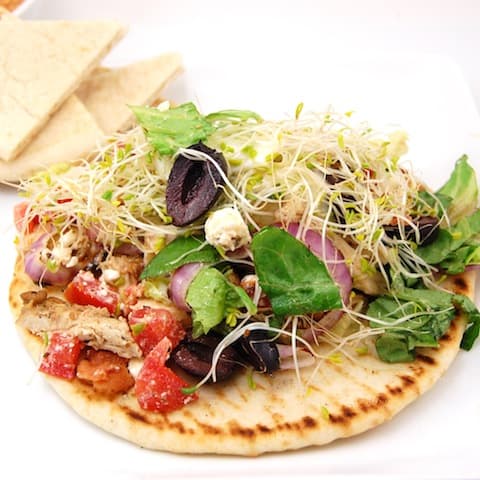 Grilled marinated chicken topped with a yogurt sauce, feta cheese, tomatoes, olives, romaine lettuce, and bacon served on warm pita bread. This light, refreshing, phenomenal recipe will leave you longing for more. I served this the other night after coming home from the gym. I didn't want a heavy meal so I remembered this recipe and I fortunately had all the ingredients needed. This recipe came together almost effortlessly, a good thing since I was exhausted from working out. I thought that this recipe would be good, but I did not expect the rave reviews that I got from my husband. He said that these were his new favorite meal! 🙂 I have to agree, they were phenomenal! The flavor combinations are out of this world! Pair with hummus and pita bread for a meal you won't soon forget!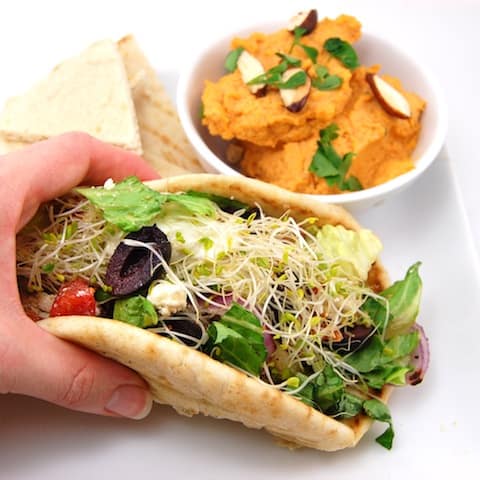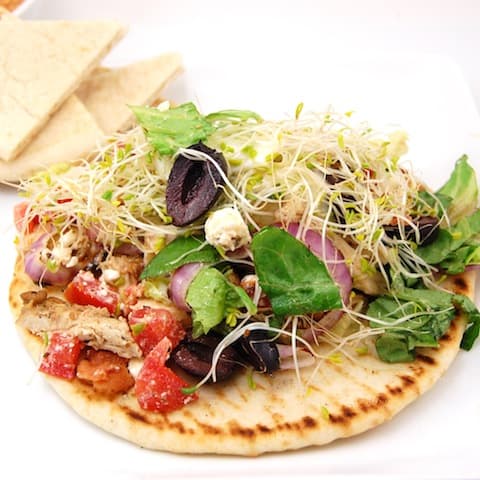 Grilled Chicken Pita
Ingredients
3 boneless, skinless chicken breasts (about 1 1/2 pounds)
3 tablespoons plus 2 teaspoons fresh lemon juice, divided
3 tablespoons soy sauce
1 clove garlic, minced
2 teaspoons dried oregano, divided
2 small tomatoes, finely chopped
1 cup crumbled feta cheese
1/4 cup olive oil
Olive oil cooking spray
1 large purple onion, cut into thin rings
1/2 head romaine lettuce, finely chopped
1 (10.6-ounce) jar kalamata olives, drained, halved, and pitted
12 slices bacon, fried crisp
Alfalfa sprouts
Salt
Freshly ground black pepper
For the Yogurt Sauce:
1 cup plain yogurt
1 clove garlic, minced
1/4 cup finely chopped walnuts
1 tablespoon olive oil
Instructions
In a resealable plastic bag combine 3 tablespoons lemon juice, soy sauce, garlic and 1 teaspoon of the oregano. Add the chicken, turn to coat. Marinate for 30 minutes at room temperature or overnight in the refrigerator.
In a small bowl, combine the tomatoes, feta cheese, remaining 2 teaspoons lemon juice, olive oil, and the remaining 1 teaspoon oregano. Allow to sit at room temperature for 30 minutes.
In a small bowl, whisk together the yogurt, garlic, walnuts, and olive oil. Cover and refrigerate until ready to use.
Preheat a grill to medium heat.
Grill the chicken breasts over medium heat for 8 to 10 minutes, until no longer pink. Place onion rings on the grill and cook 8 to 10 minutes. When the chicken and onion rings are finished cooking, place the pita breads on the grill for about 2 minutes per side, until grill marks show.
Slice the chicken into very thin pieces.
To assemble pita sandwiches: Place several slices of grilled chicken on top of pita bread along with 3 or 4 onion rings, a tablespoon of tomato-feta mixture, lettuce, olives, 1 or 2 slices of bacon, yogurt sauce and some alfalfa sprouts. Add salt and pepper, to taste. Fold up the sides of the pita.
Source:
Paula Deen