The second I saw this tomato pie on the cover of Food Network Magazine I was super excited to make it. I kept checking the local grocery stores, but many of the tomatoes were soft and over ripe. I didn't give up though, I really wanted this tomato pie! After searching around the local farmers market, I finally found them.
Those beautiful heirloom tomatoes in a wide variety of colors, shapes and sizes. A crunchy cornmeal crust is filled with a cheesy caramelized onion filling and topped with heirloom tomatoes of all sizes and colors. This is a time-consuming recipe, but the results are definitely worth the amount of preparation.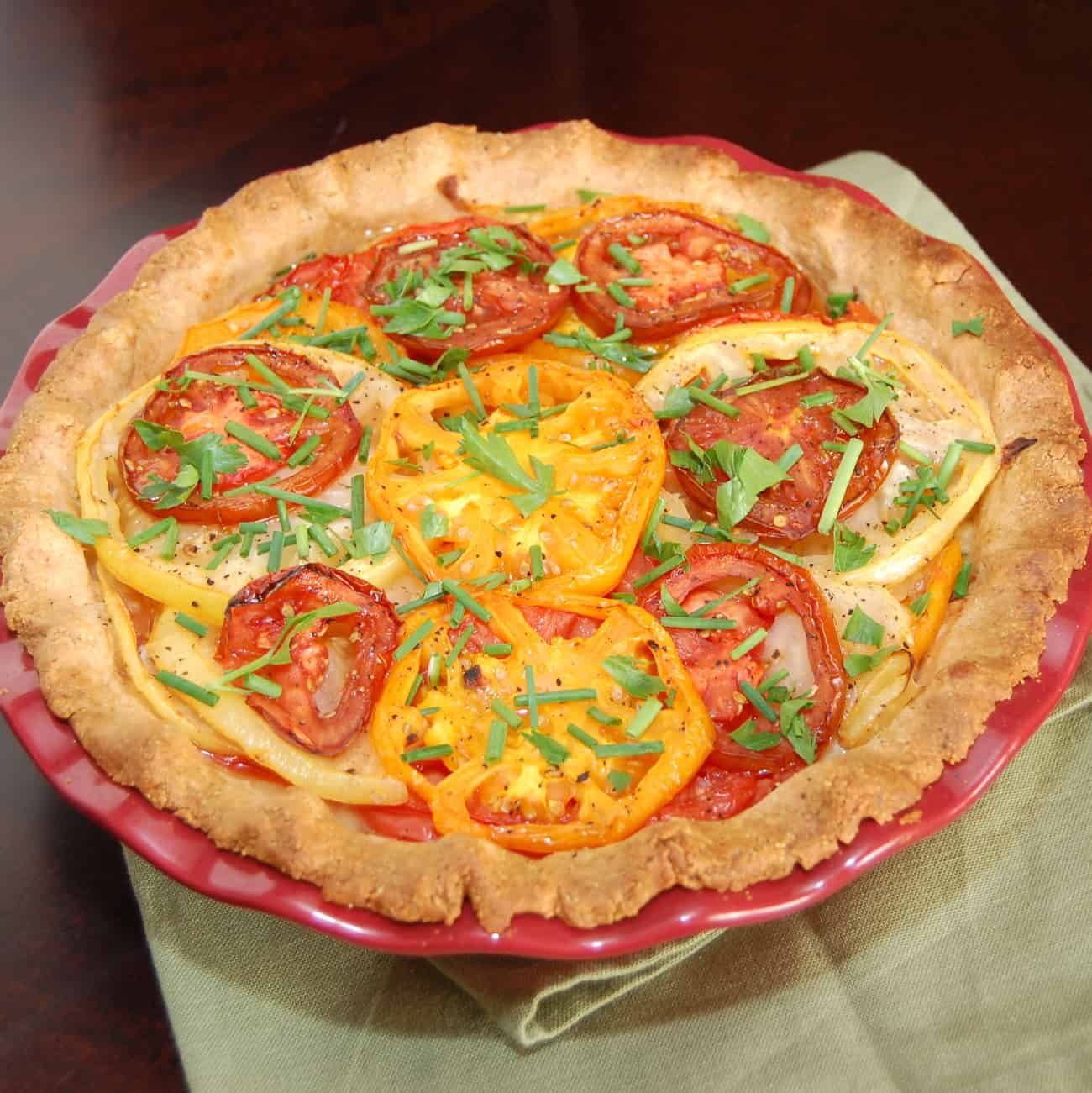 You can always spread the preparation over a few days by baking the pie crust a day ahead and assembling the rest the day you plan to serve it. This pie is a wonderful way to savor tomatoes while they are at their very best. I can't wait to try this recipe again when my home-grown tomatoes are ready! 🙂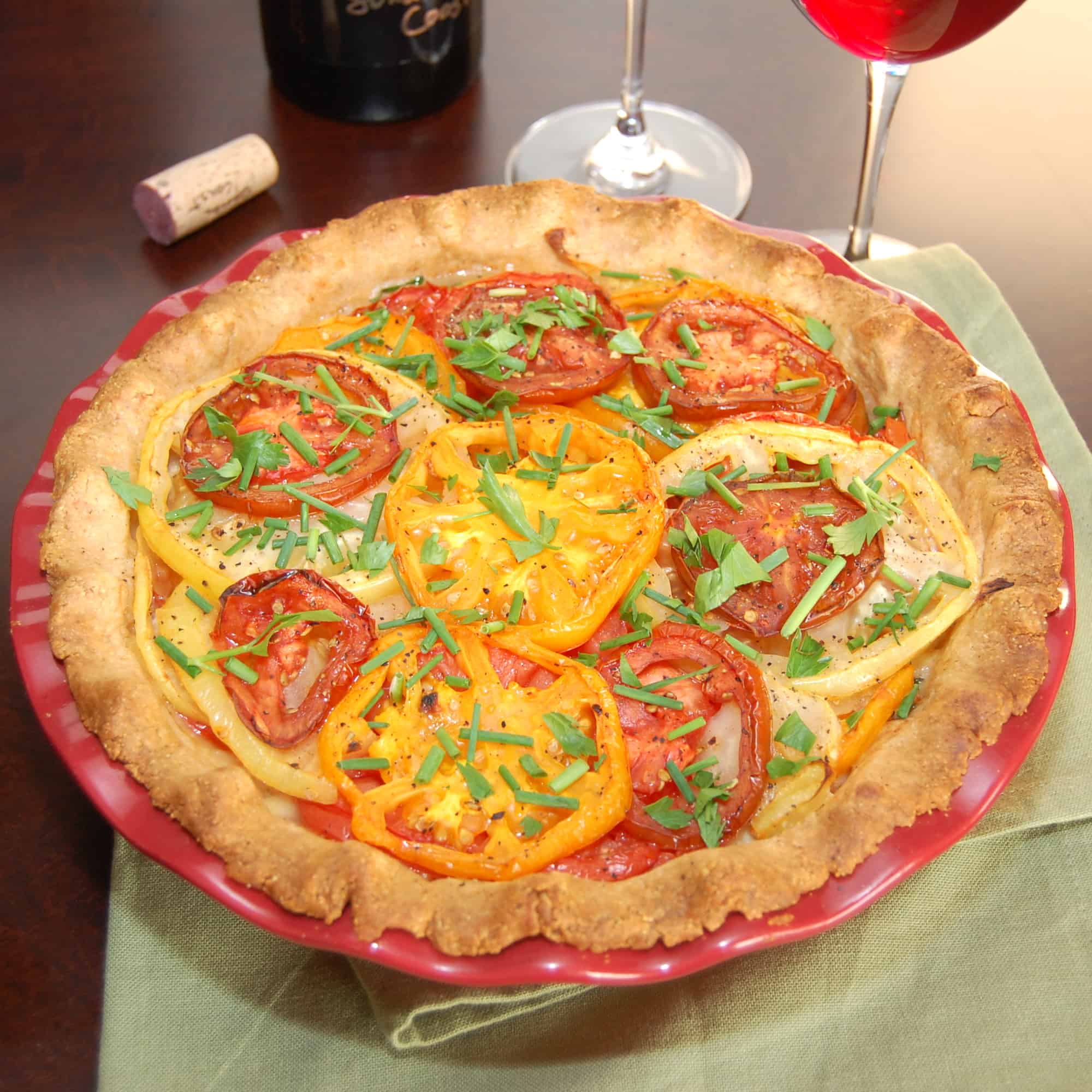 Pin this recipe now to remember it later
Ingredients
1 cup all-purpose flour 3/4 cup yellow cornmeal 3/4 teaspoon salt 1 stick cold unsalted butter, cut into 1/2-inch pieces 3/4 cup plus 3 tablespoons shredded manchego cheese 4 tablespoons ice water 2 tablespoons extra-virgin olive oil 1 large onion, thinly sliced 2 1/4 pounds mixed heirloom tomatoes 1 1/4 teaspoon kosher salt, divided 3/4 cup shredded mozzarella cheese 1/4 cup mayonnaise 3 tablespoons breadcrumbs 3 tablespoons chopped fresh chives, divided 3 tablespoons chopped fresh parsley, divided 1 teaspoon chopped fresh thyme 1/4 teaspoon freshly ground pepper
1

stick cold unsalted butter

,

cut into 1/2-inch pieces

3/4

cup

plus 3 tablespoons shredded manchego cheese

2

tablespoons

extra-virgin olive oil

1

large onion

,

thinly sliced

2 1/4

pounds

mixed heirloom tomatoes

1 1/4

teaspoon

kosher salt

,

divided

3/4

cup

shredded mozzarella cheese

3

tablespoons

breadcrumbs

3

tablespoons

chopped fresh chives

,

divided

3

tablespoons

chopped fresh parsley

,

divided

1

teaspoon

chopped fresh thyme

1/4

teaspoon

freshly ground pepper
Want to save this recipe? Enter your email below and we'll send the recipe straight to your inbox!
NOTE: By saving this recipe, you agree to join our weekly recipes newsletter.
Instructions
To make the crust: in the bowl of a food processor fitted with the metal blade, pulse the flour, cornmeal and salt. Add the butter and 3 tablespoons manchego; pulse until the mixture looks like coarse meal with pea-size bits of butter. Drizzle in 4 tablespoons ice water and pulse until the dough comes together; add 1 more tablespoon ice water if necessary. Turn out onto a sheet of plastic wrap and pat into a disk. Wrap and refrigerate until firm, about 45 minutes.

Put the dough between 2 sheets of parchment paper and roll into a 13-inch round. Transfer the dough to a 9 1/2-inch deep-dish pie plate. Fold the overhang under itself and crimp the edges. Pierce the bottom of the crust all over with a fork. Refrigerate until firm, about 20 minutes. Meanwhile, preheat the oven to 350 degrees F.

Line the crust with foil and fill with pie weights or dried beans. Bake until the edges are golden, about 20 minutes. Remove the foil and weights and continue baking until golden all over, 10 to 15 more minutes. Transfer to a rack to cool.

To make the filling: in a large skillet over medium heat, heat 1 tablespoon olive oil. Add the onion and cook, stirring, until golden, about 15 minutes. Let cool.

Thinly slice the tomatoes and toss with 1 teaspoon kosher salt in a colander. Let drain, gently tossing occasionally, about 30 minutes.

Increase the oven temperature to 375 degrees F. Combine the remaining 3/4 cup manchego, mozzarella, mayonnaise, breadcrumbs, 2 tablespoons chives, 2 tablespoons parsley, thyme, 1/4 teaspoon kosher salt, pepper and the sautéed onion in a bowl. Spread into the crust. Arrange the tomatoes on top. Drizzle with the remaining 1 tablespoon olive oil and season with pepper. Bake until the tomatoes are browned, about 50 minutes. Top with the remaining 1 tablespoon each chives and parsley. Serve warm.
Follow me on Pinterest for daily delicious recipes!
Source:
Food Network Magazine
, July/August 2011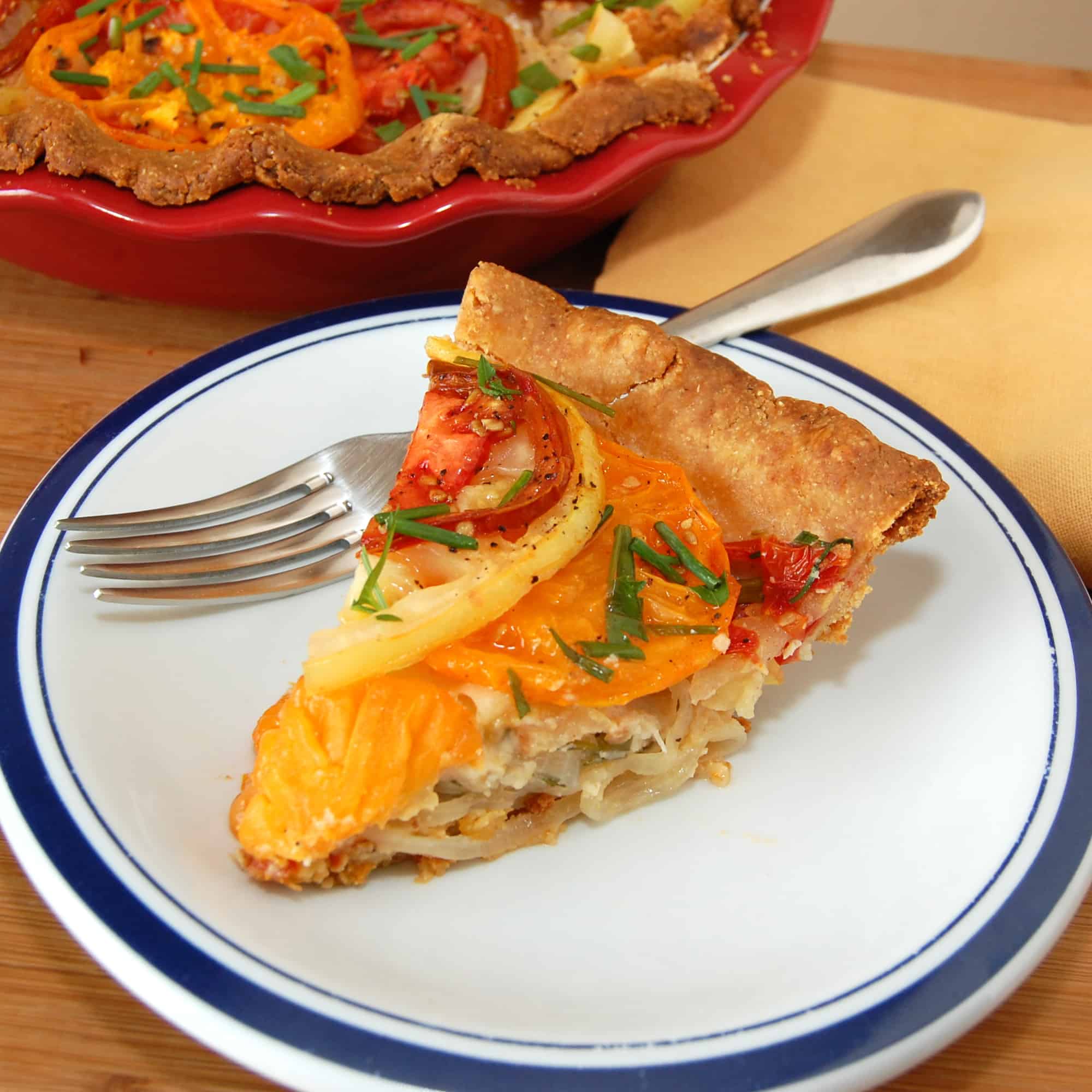 Get new recipes weekly plus our FREE ebook!