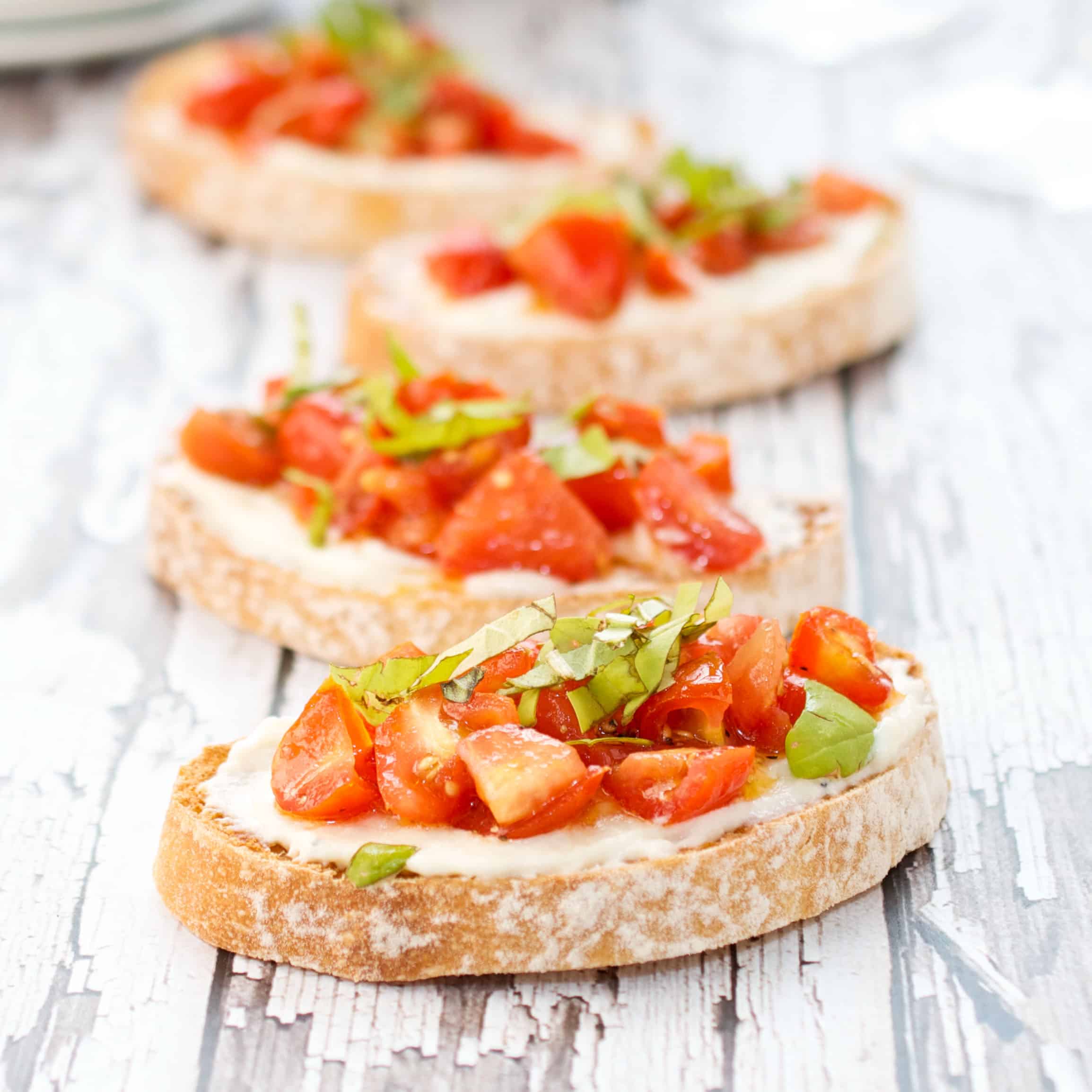 Tomato Bruschetta with Ricotta and Basil is a super easy and delicious recipe that's the perfect appetizer for these long summer nights. In this simple summer appetizer, toasted ciabatta is topped with ripe summer tomatoes and fresh garden basil to create an addicting treat that will have everyone reaching for more! There's no faster way to ruin a great bruschetta recipe than by having soggy, falling apart toasts. With this recipe, those soggy toasts will be a distant memory.
A whipped ricotta cheese barrier keeps the toasts nice and crispy, while also acting as a glue to keep the tomatoes in place!
Scroll to bottom for printable recipe card.
Tomato Bruschetta with Ricotta and Basil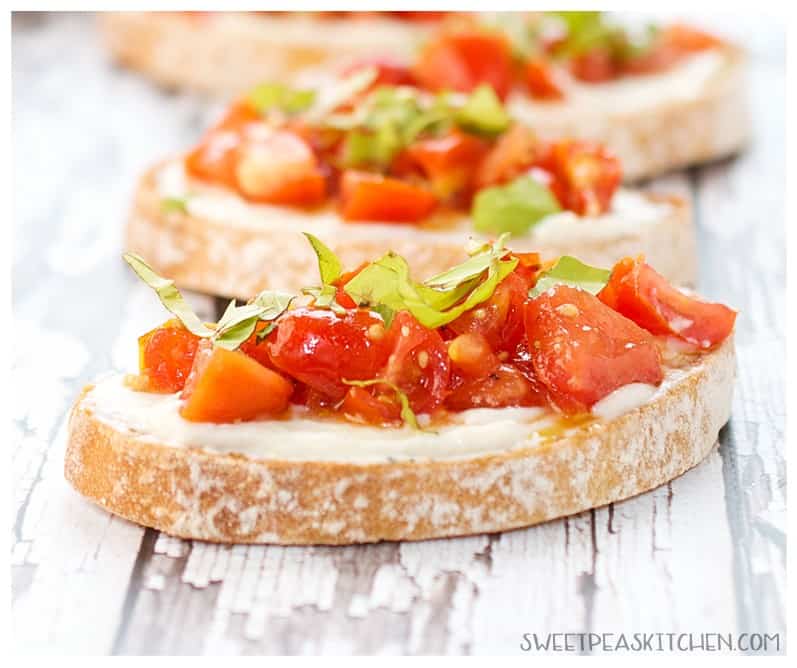 Honestly, in the hot summer months, you can find me making this tomato bruschetta with ricotta and basil for a light lunch. I know that may sound crazy, but that's how much I enjoy those flavors. The bread is perfectly crispy, and the toppings are to die for. The combination of the red wine vinegar, garlic, ricotta cheese, basil, and the slightly sweet flavor is out of this world.
You will almost feel like you are dining in a fancy Italian restaurant right there in Italy when those flavors hit your tongue. If we are in the mood for Italian food, we will serve this tomato bruschetta with some spaghetti, lasagna, or some chicken parmesan. When trying to go all out with the Italian dinner, don't forget to serve a huge salad complete with olives and tangy dressing. I love to serve some homemade tiramisu for dessert too.
Sometimes I just get a hankering for something different and incredible. I love eating a lot of salads when it's hot out, but this bruschetta is just as refreshing. I'm super excited to share this recipe with you because it's a total game changer.
What's the Best Bread for Making Bruschetta?
The ultimate best bread to use when making this easy bruschetta recipe is ciabatta bread. It provides the perfect texture of toasted bread and tastes phenomenal. You could also use any other bread that has a lot of crust. A baguette would be a great option, as well.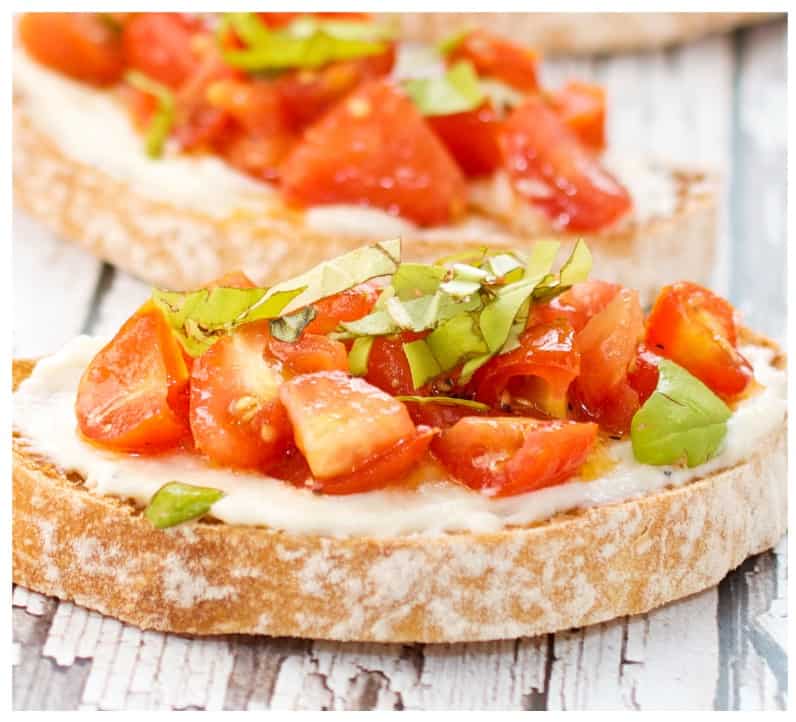 What if I Can't Find Fresh Basil?
Sometimes if you live in a more rural area, it's harder to come by fresh basil. Don't worry; you can easily use dried basil instead. Dried basil is more potent than fresh, so you probably won't need as much. Fresh oregano, thyme, or cilantro would all be terrific options too. Use your go-to herbs for a pleasant surprise if you find yourself without fresh basil.
How Can I Ripen Tomatoes Fast for This Bruschetta Recipe?
There are a few different options when it comes to ripening tomatoes a little bit faster. For the first option, place the tomatoes in your window if it gets some direct sunlight. The sun will help speed up the ripening process, and you can use the tomatoes to make the bruschetta in no time.
Another great idea is to keep the tomatoes in a bag, cardboard box, or another container that is breathable. You should never put the tomatoes close together, so they are touching. It's important to leave space between them to leave room for them to breathe. This will encourage them to ripen quicker this way.
Lastly, place a fresh banana in the bag or box with the tomatoes. The gas that is emitted from the bananas speeds up the tomatoes ripening even faster. You can't go wrong with this option. Just keep an eye on them, so they don't get overripened.
Ingredients
I am drooling thinking about munching on this tomato bruschetta with ricotta and basil appetizer recipe. They are something I can't resist when they are in front of me.
Grape tomatoes – Another idea is cherry tomatoes if you can't find grape tomatoes.
Salt and pepper – Season to taste.
Granulated white sugar
Extra-virgin olive oil
Red wine vinegar
Loaf ciabatta bread ends discarded
Garlic clove, peeled and halved
Whole-milk ricotta cheese
Chopped fresh basil
How to Make Tomato Bruschetta with Ricotta and Basil
The best part about this tomato bruschetta besides how excellent it tastes is how easy it is to make. The part that you have to spend the most time doing is waiting for the tomatoes to sit in the bowl, but you can work on other things while that is going on, so it's not a huge deal.
First Step: Mix together the diced tomatoes, salt, and sugar in a bowl and let it them sit for 30 minutes.
Second Step: After the tomatoes have sat for 30 minutes, you can pour them into a mesh strainer to drain off all the liquid that forms.
Third Step: Put the tomatoes back into the bowl along with 3 tablespoons of oil, the red wine vinegar, and pepper. Toss them, so it is combined well.
Fourth Step: Put the oven rack, so it's around 4 inches from the heating element in your stove. Then broil the pieces of bread so that they are golden brown on both sides. This will keep them from getting soggy. Brush both sides of the bread with oil and rub with a clove of garlic. Give a sprinkle of salt and pepper to taste.
Fifth Step: Using a food processor, puree the ricotta cheese, some salt, and pepper until it's all combined and smooth. This takes around 1 minute. Slowly add the last 3 tablespoons of oil until it's mixed well.
Sixth Step: Take the ricotta cheese mixture and spread it onto the pieces of toast, so it's even. Add the tomato mixture on top and add the basil to the top and serve. Enjoy!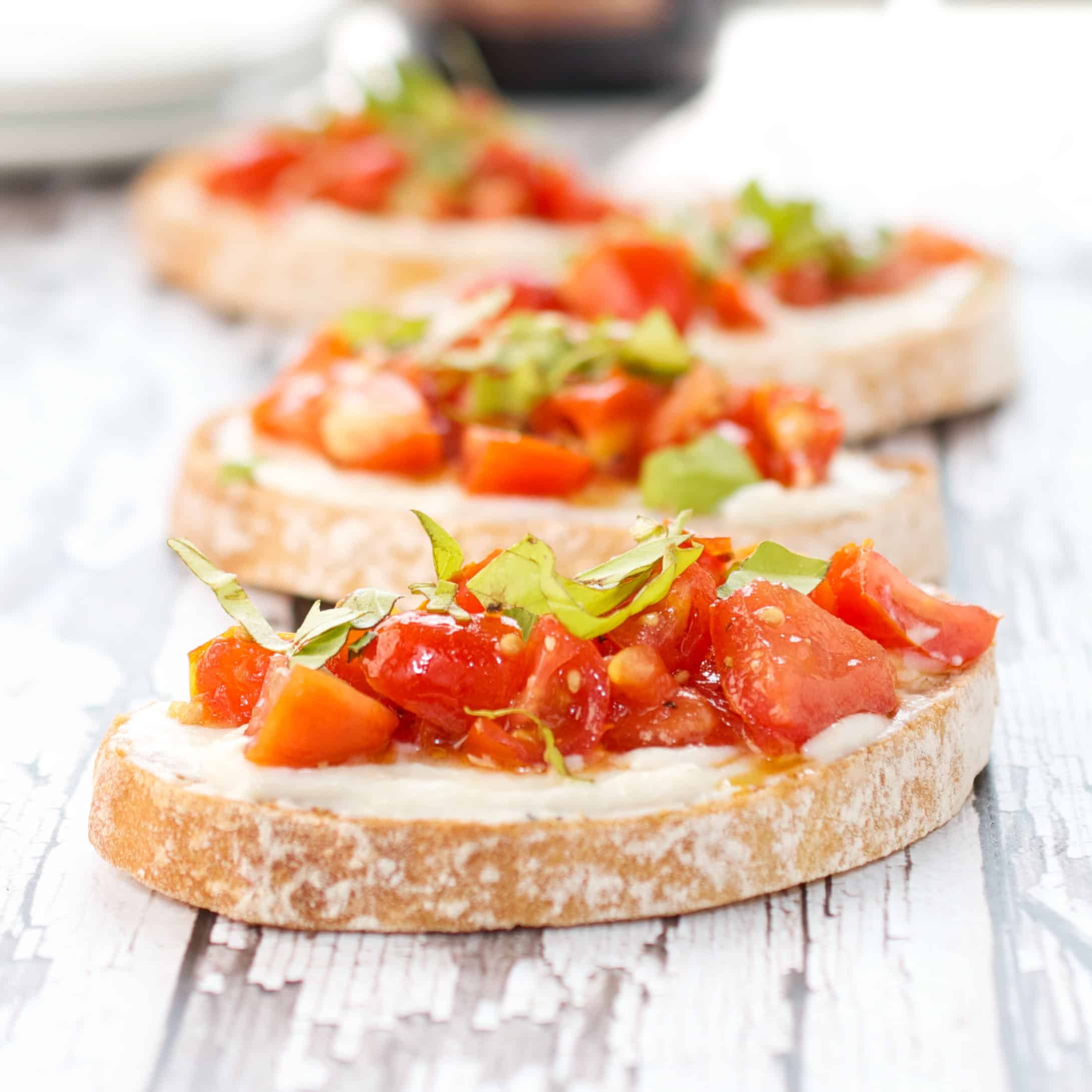 If you are looking for some additional tasty appetizer recipes, I have just what you need. Take a peek at these recipes:
Now, remember to save this recipe on Pinterest for later 🙂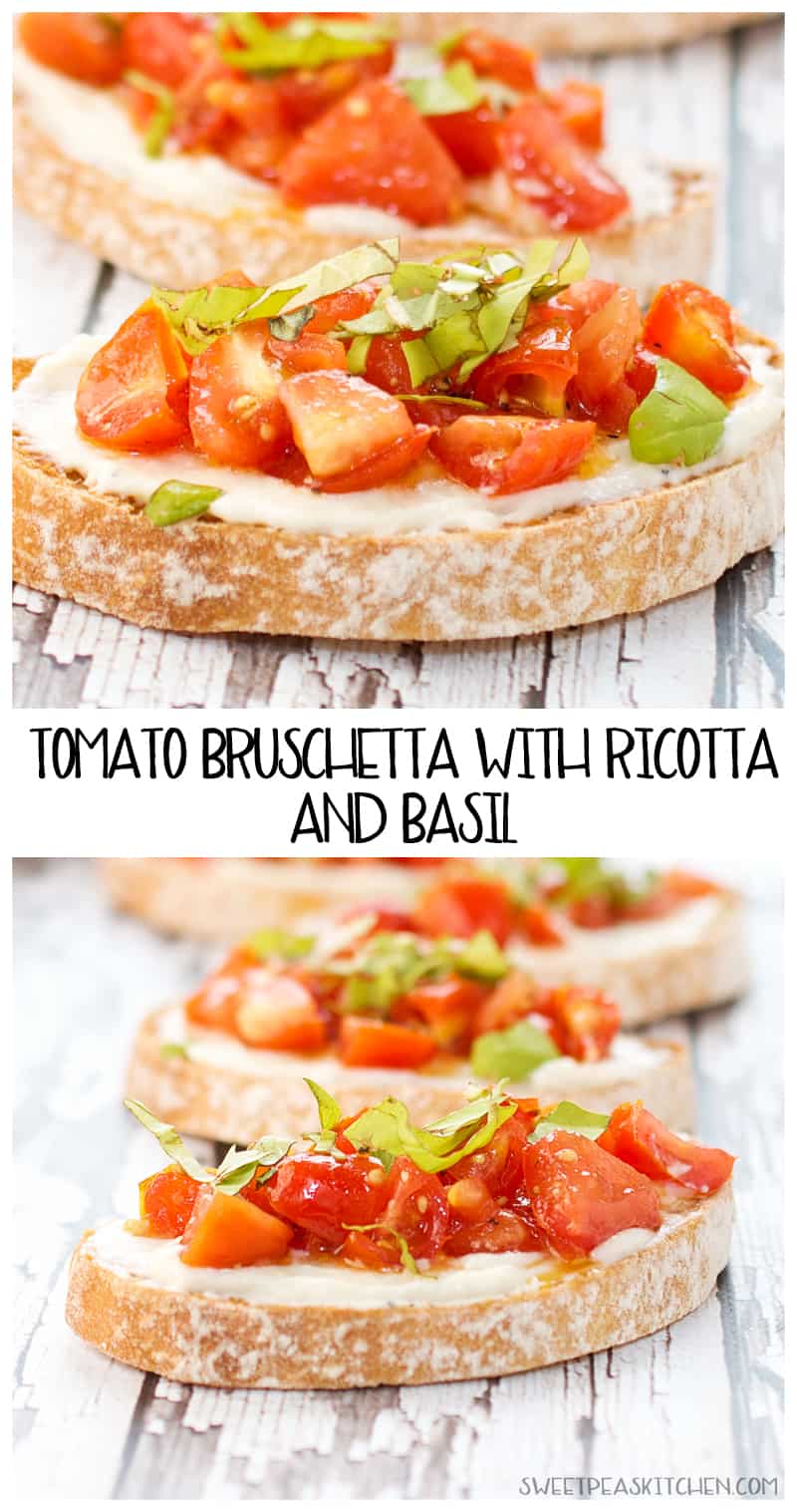 Pin this recipe now to remember it later
Tomato Bruschetta with Ricotta and Basil
Tomato Bruschetta with Ricotta and Basil is a super easy and delicious recipe that's the perfect appetizer for these long summer nights.
Ingredients
1

pint

grape tomatoes

,

quartered

7

tablespoons

extra-virgin olive oil

1

tablespoon

red wine vinegar

1

loaf ciabatta bread

,

ends discarded, sliced crosswise into 12 (1/2-inch-thick) pieces

1

garlic clove

,

peeled anad halved

1 1/2

cups

whole-milk ricotta cheese

3

tablespoons

chopped fresh basil
Want to save this recipe? Enter your email below and we'll send the recipe straight to your inbox!
NOTE: By saving this recipe, you agree to join our weekly recipes newsletter.
Instructions
Combine tomatoes, ½ teaspoon salt, and sugar in bowl and let sit for 30 minutes. Transfer tomatoes to fine mesh strainer and allow to drain. Return tomatoes to bowl along with 3 tablespoons oil, vinegar, and ¼ teaspoon pepper;toss to combine.

Adjust oven rack to about 4 inches from heating element and heat broiler; broil bread slices until golden brown on both sides. Brush both sides of each slice with oil and rub with garlic clove. Season with salt and pepper to taste.

In the food processor, puree ricotta, ½ teaspoon salt, and ¼ teaspoon pepper until smooth, about 1 minute. With processor running, slowly add remaining 3 tablespoons oil until incorporated. Spread ricotta mixture evenly on toast slices. Top toasts with tomato mixture and sprinkle with basil. Serve.
Follow me on Pinterest for daily delicious recipes!
Make sure you check my best recipes below:
Pumpkin Meringue Pie Recipe – This is a twist on the classic pumpkin pie.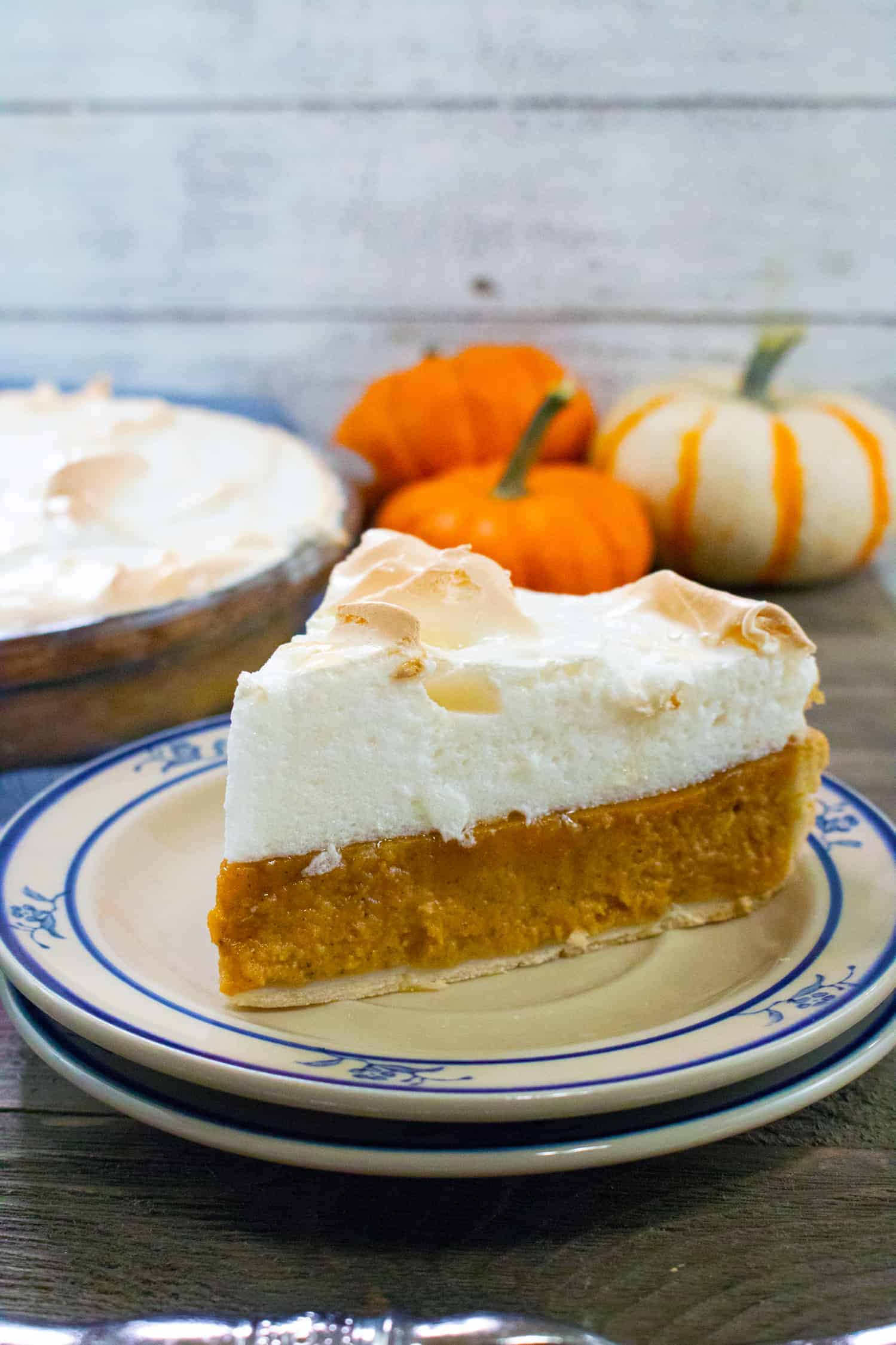 Starbucks Gingerbread Loaf – Don't pay $4 a slice for Starbucks' Gingerbread Loaf. Use this recipe to make Gingerbread Loaf at home anytime the craving hits.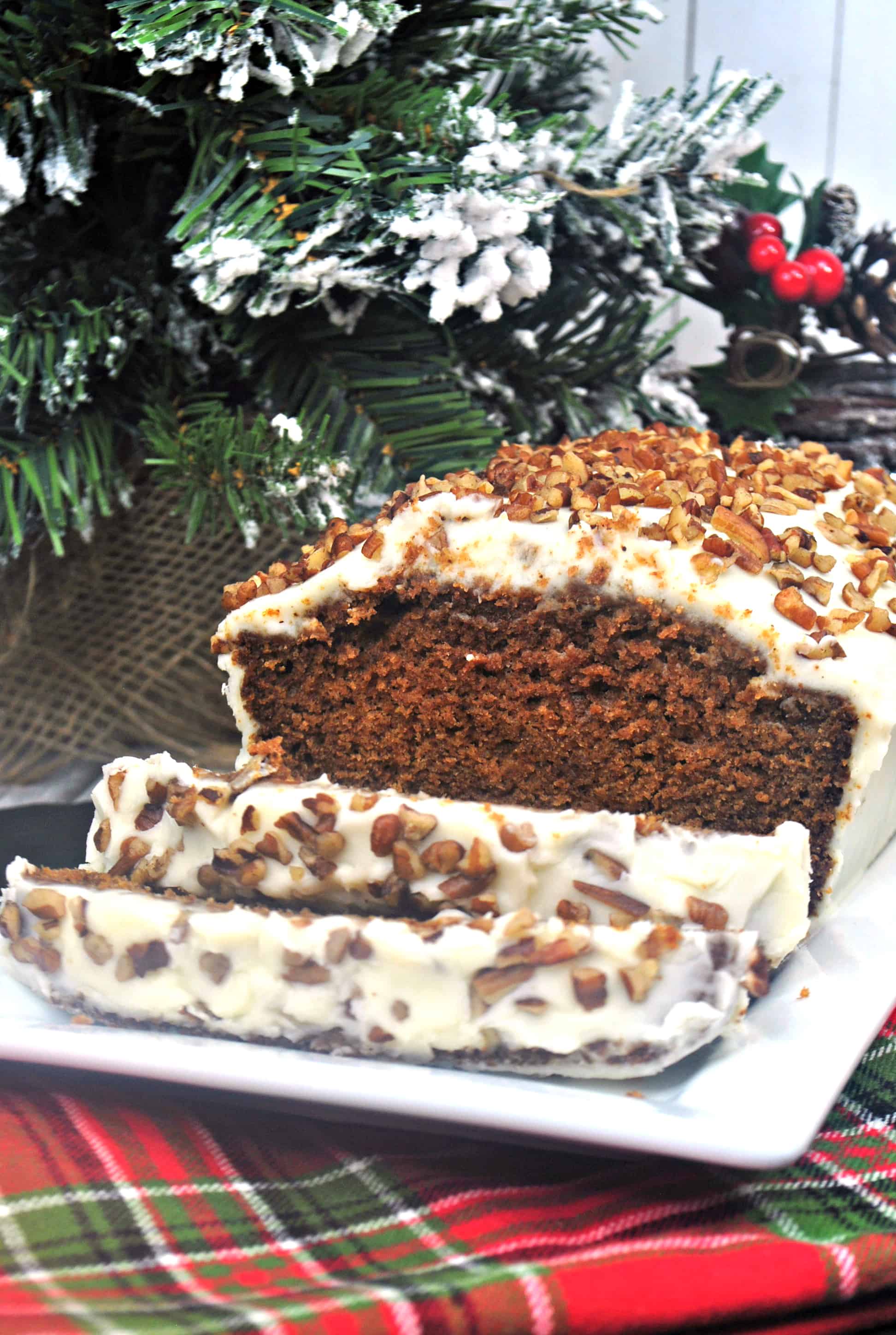 Pumpkin Cream Cheese Bundt Cake – one of my favorite bundt cake recipes and it is perfect for fall.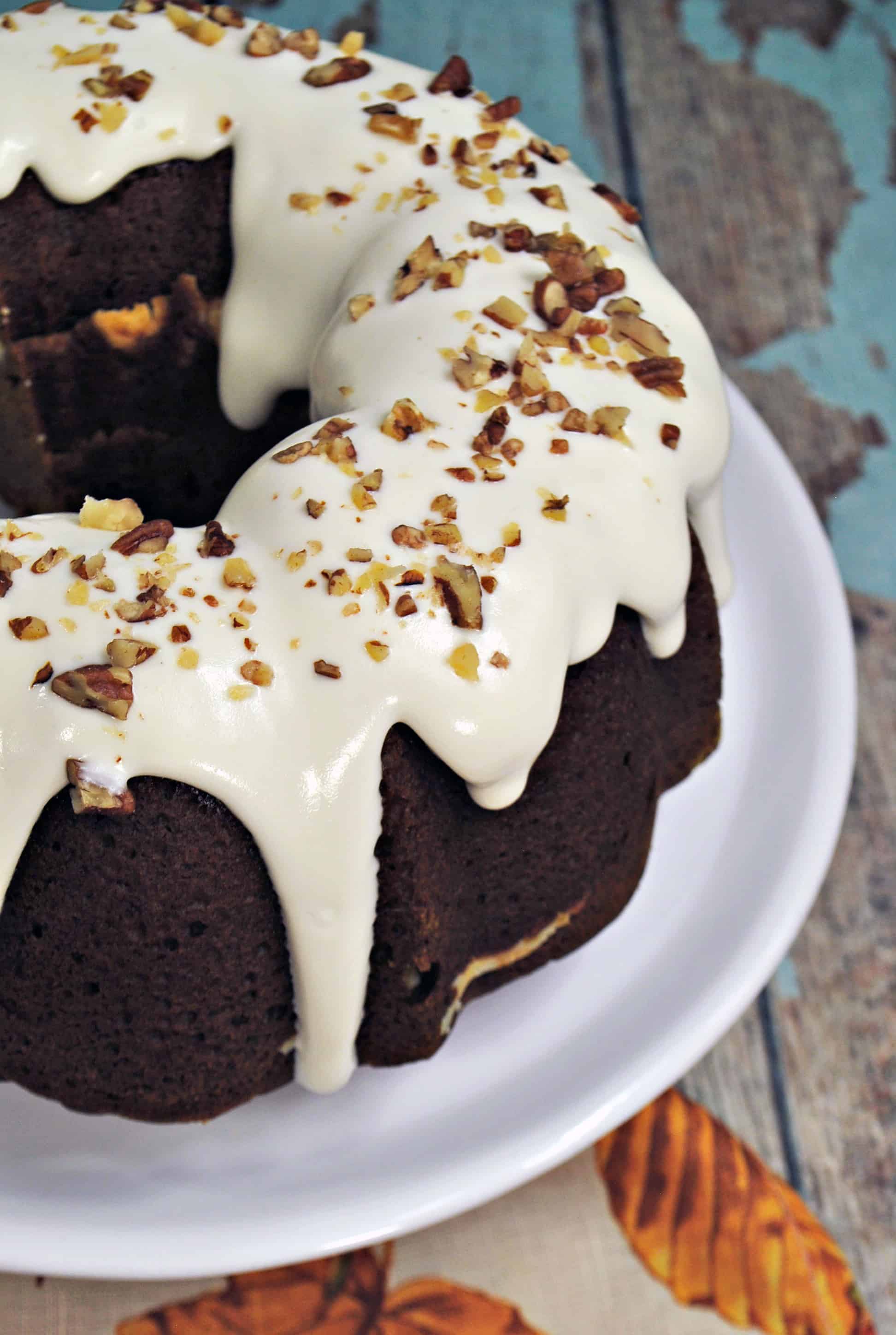 Pumpkin Cheesecake Bars Recipe – Rich and creamy, the bottom of these bars are graham crackers, next comes the pumpkin layer and then on top is the cheesecake layer.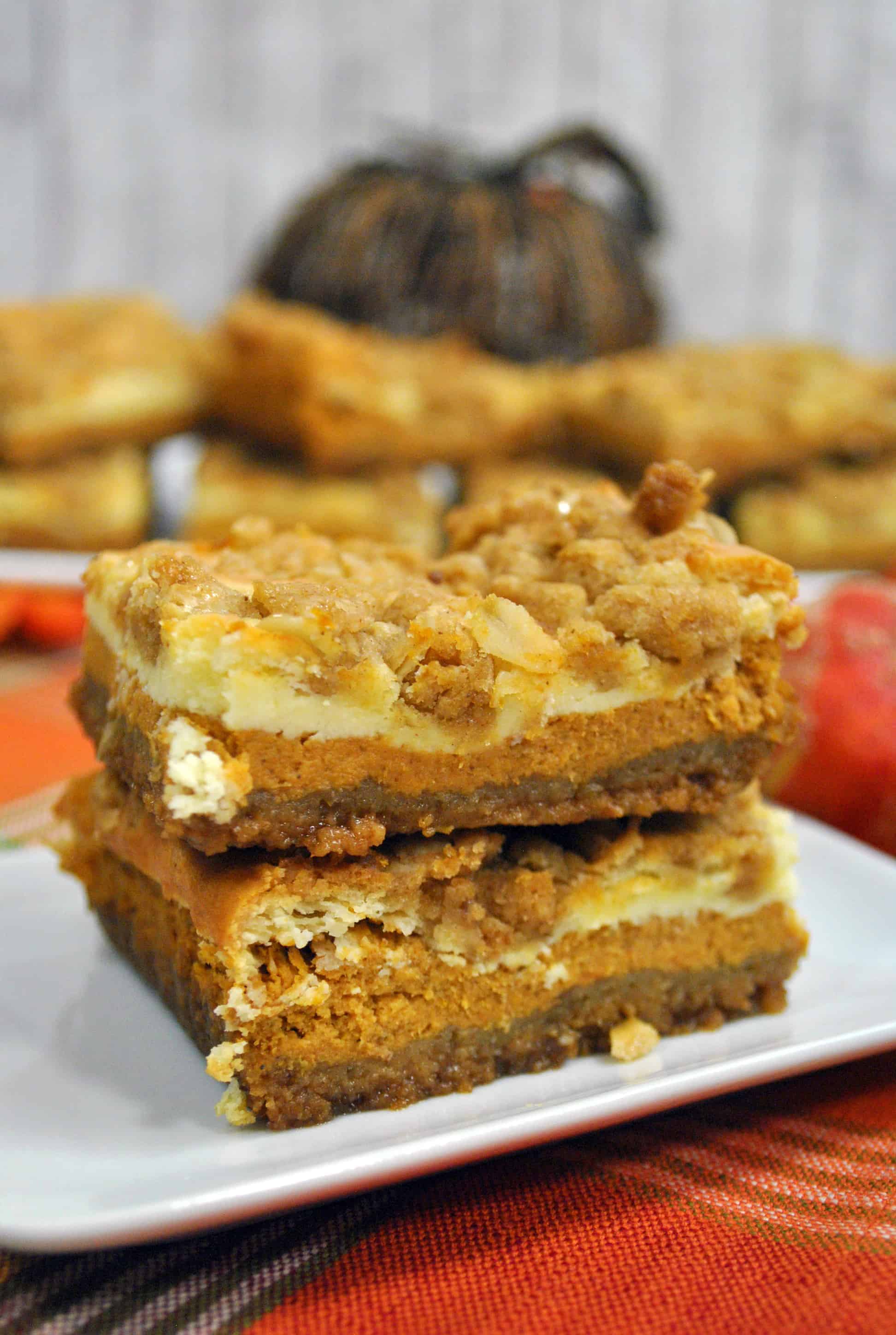 Get new recipes weekly plus our FREE ebook!