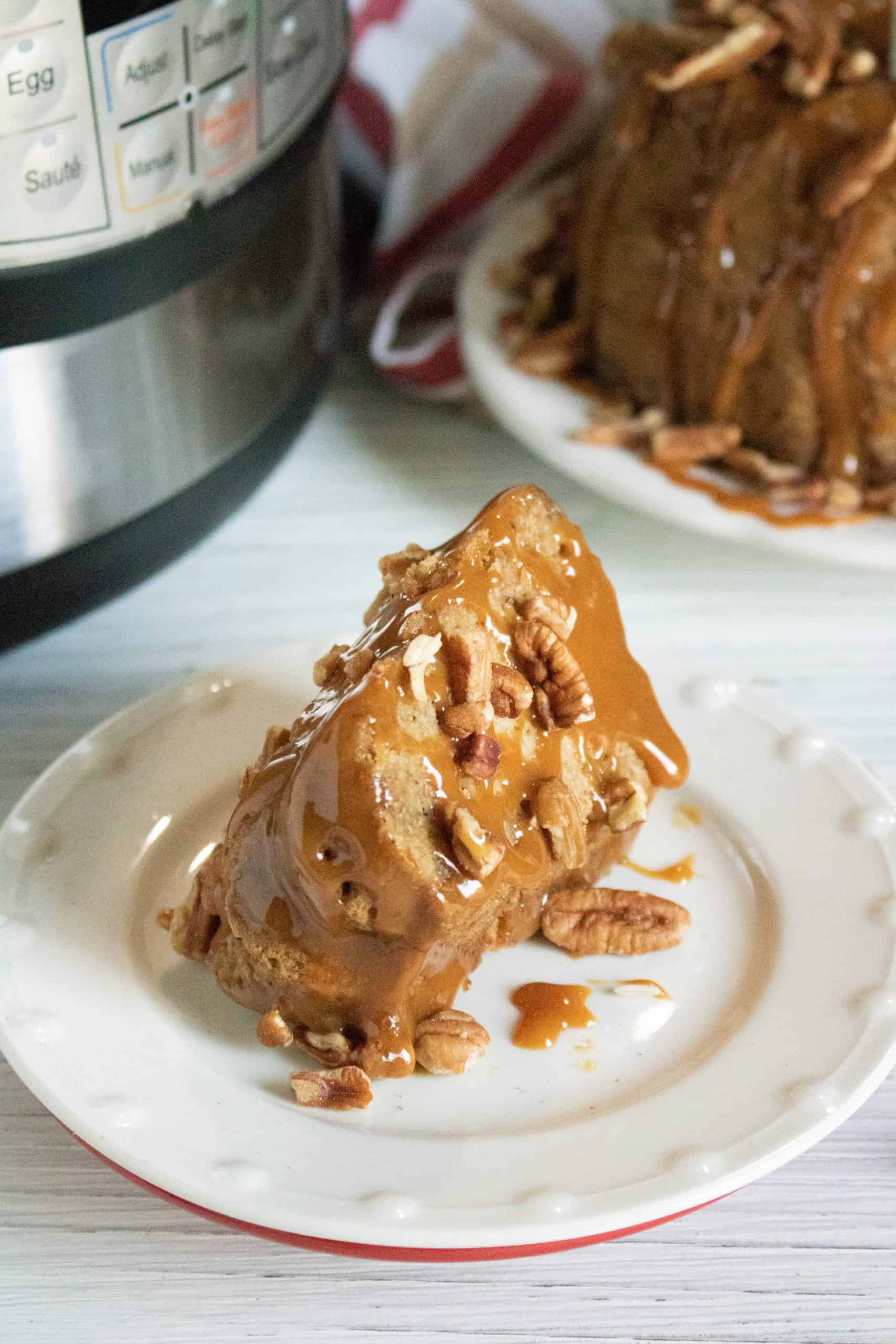 This Instant Pot Applesauce Cake Recipe tastes just like what grandma used to make. It's moist, full of flavor, and packed with amazing apple flavors. You can add your favorite toppings, and it will be like a gourmet dessert that is unforgettable. This has been a go-to dessert for generations because it is an inexpensive and amazing treat.
Scroll to bottom for printable recipe card.
Instant Pot Applesauce Cake Recipe
If you grew up eating applesauce cake as I did, you would appreciate this recipe. I took a traditional dessert and found an easy method of making it in a pressure cooker. It's stress-free baking, and the results are positively incredible. I have always been a fan of cake that is spicy. I know a lot of people only eat spice cakes during the fall and winter months, but I get a craving several times a year.
Sometimes when I am feeling wild, I will add in a few mix-ins too. Semi-sweet chocolate chips, white chocolate chips, pumpkin pie spice, and raisins are a few yummy ideas.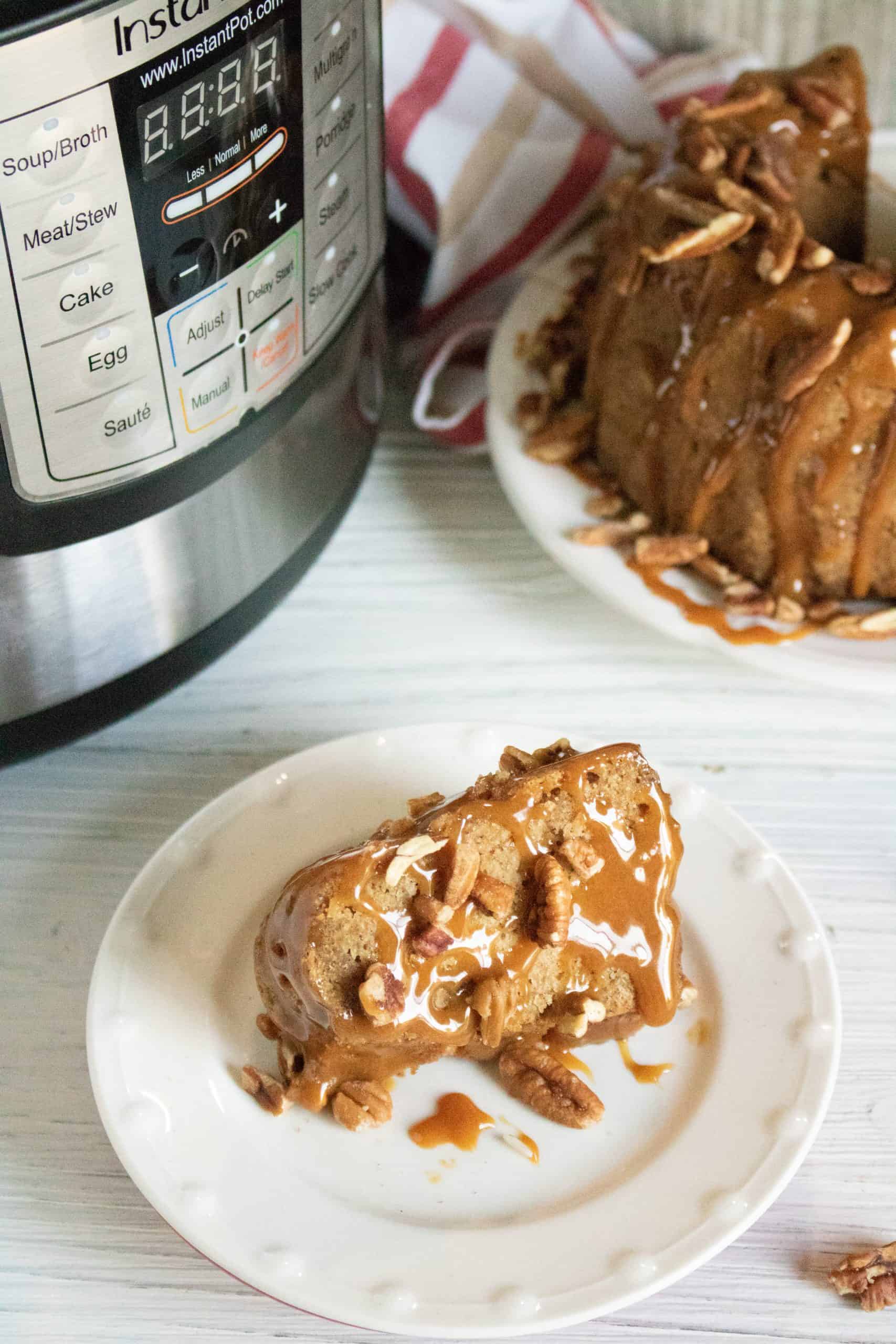 You can add any toppings that you love to this applesauce cake. I will drizzle some warmed caramel sauce on top and sprinkle them with pecans or walnuts. It's practically a gourmet dessert and impressive. Sometimes, I will sprinkle the warm cake with some powdered sugar. It looks lovely and tastes great too. If you happen to have a delicious cream cheese icing, drizzle some on top of this cake for a sweet surprise. Or you can eat it plain without anything on top.
Do I Use Sweetened or Unsweetened Applesauce?
You can use either sweetened or unsweet applesauce. There are no wrong answers. Basically, if you go with sweet the cake is going to be sweeter, and if you choose unsweet, it will not be as sweet. You can even opt to use a variety of applesauce that has cinnamon if you wanted to.
What Size Pan Do I Use for an Instant Pot Cake?
You should use a bundt cake that is 7 inches or smaller. That is a size that will fit into the pressure cooker without any issues. If you try to use a larger pan, it won't fit at all.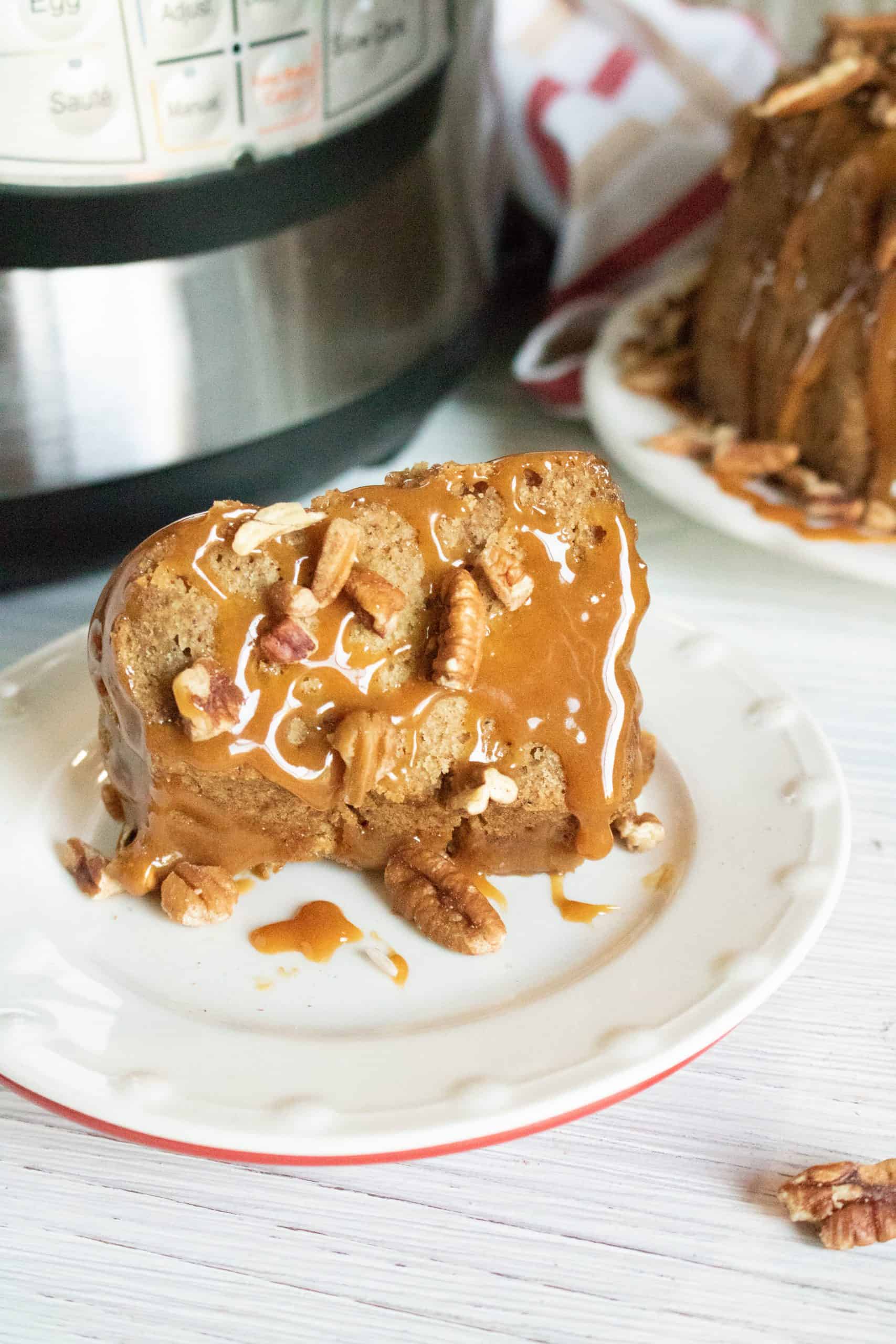 How do I Keep this Applesauce Cake from Being Too Moist in the Instant Pot?
The best way to keep this applesauce cake from being too moist is by following the ingredients correctly. If you add too much applesauce, you can expect the cake to be overly moist. Another thing that makes a difference is when the cake is finished cooking, you should remove it from the pan right away. If it sets in the bundt pan for too long, it will develop condensation and will feel and be too wet. Lastly, the applesauce cake needs to be completely cooled before you put it in a storage container. If it's warm, there will be condensation, and it will be extra moist and won't last as long.
Can I Add Real Apple Pieces to My Cake Batter?
Yes, if you love your apple sauce cake to have apple pieces, you can add some to the batter if you want. Chop up 1/4 – 1/2 cup of diced apples and toss them in the cake batter. I prefer sweeter apples, but you can also use something a little bit more sour if you like.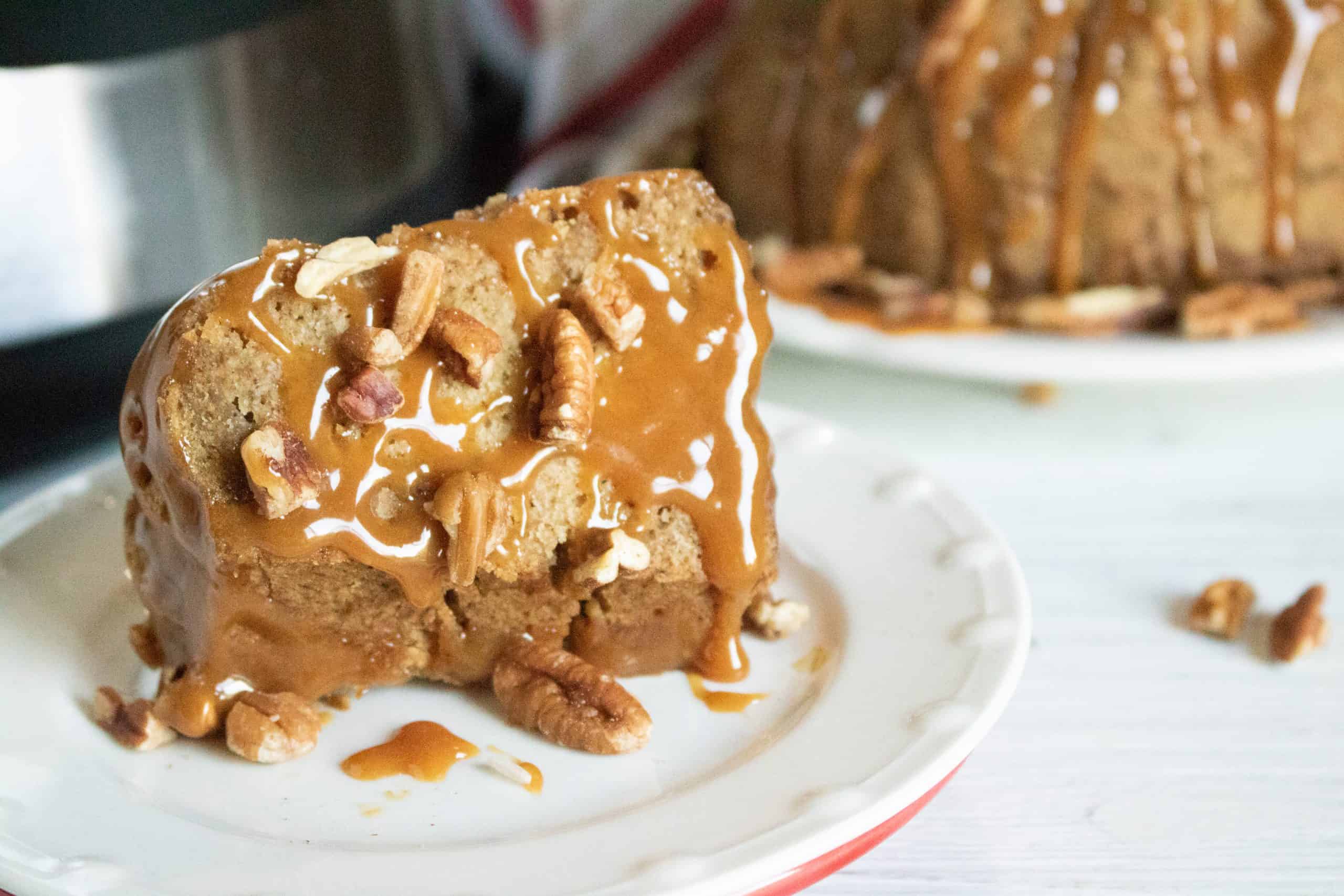 Ingredients
It's so quick and easy to make this Instant Pot applesauce cake, and you only need 7 ingredients. I played around with the ingredients when I developed the recipe, and I finally got it perfect.
Unsalted butter
Granulated white sugar
Applesauce
All Purpose flour
Baking soda
Ground cinnamon
Ground cloves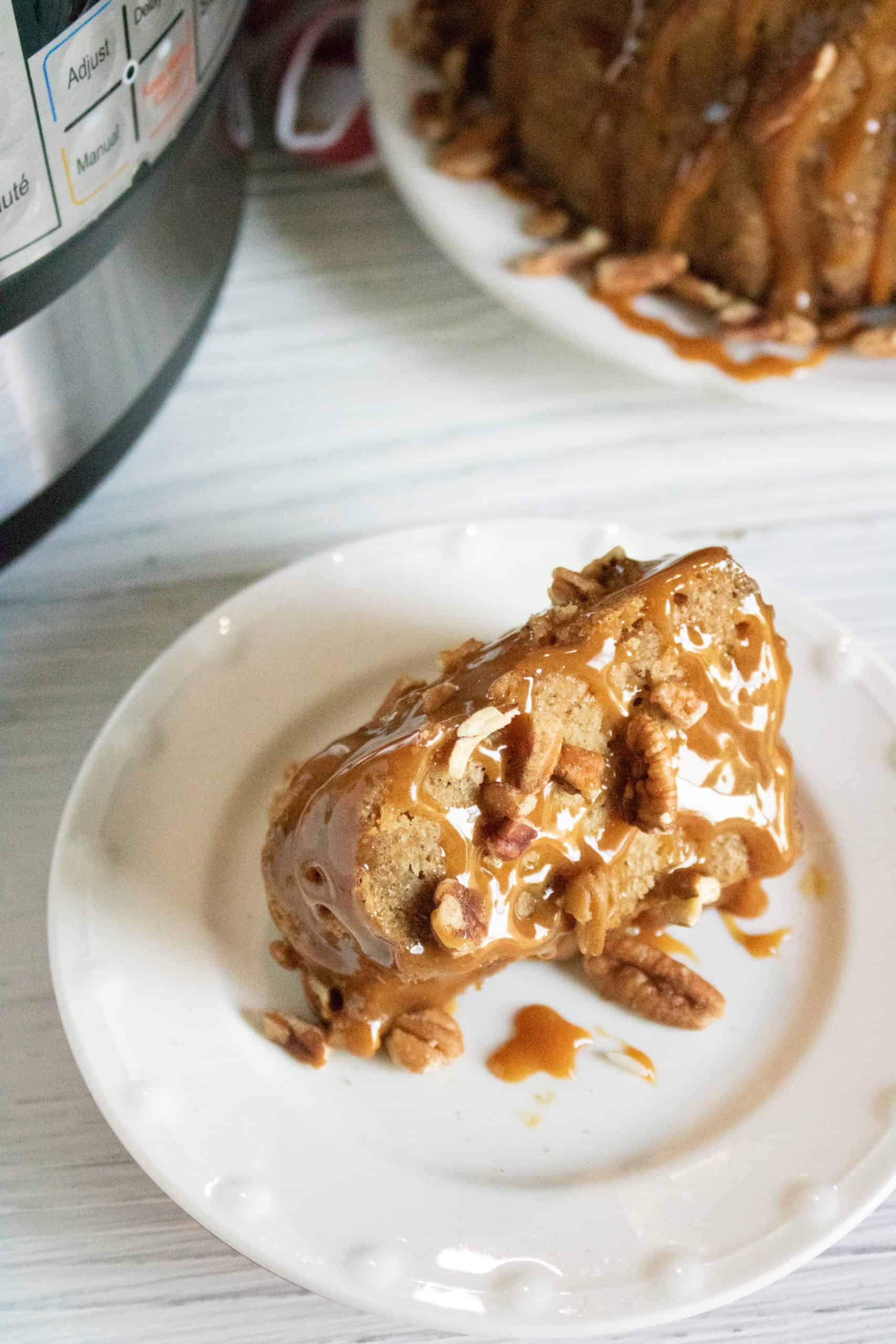 How to Make an Instant Pot Applesauce Cake
It's amazing how many awesome recipes you can throw together in your Instant Pot. Make this cake for pretty much every occasion, and everyone will rave about it. Your friends will be begging for the recipe.
First Step: Add the butter and sugar together into a stand mixer or using a handheld mixer and mix well. It should be smooth and creamy. Pour in the applesauce and mix until incorporated.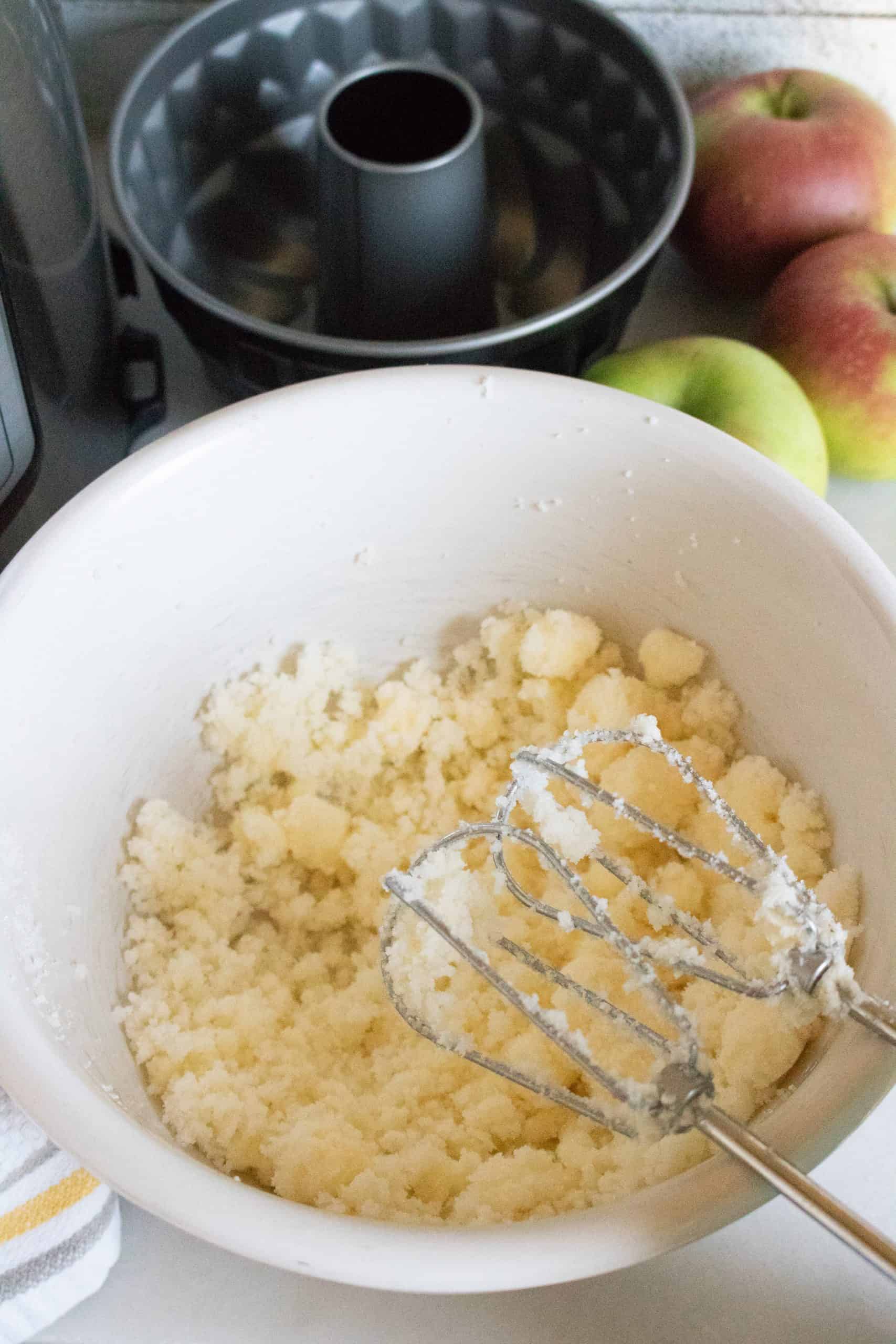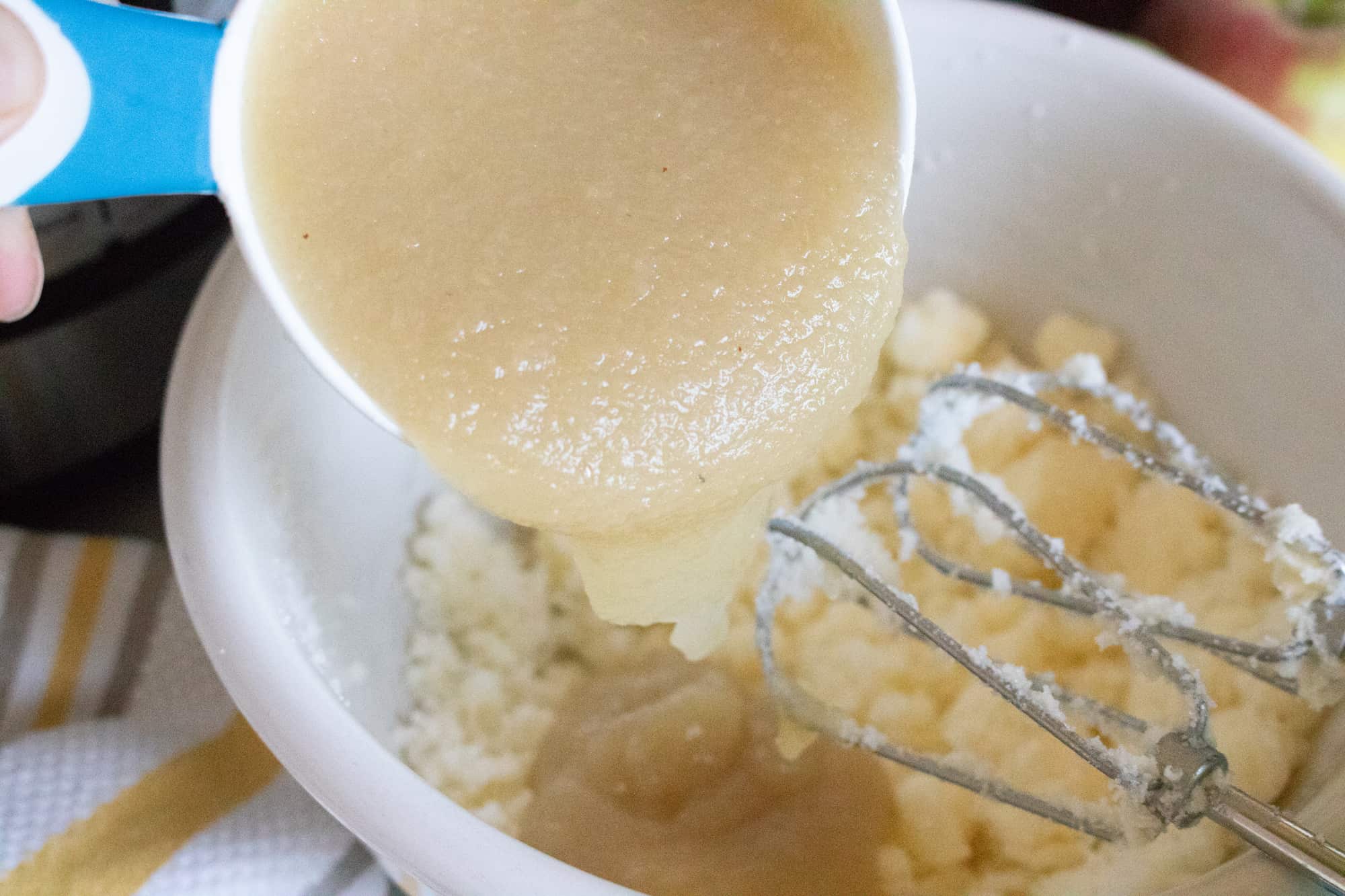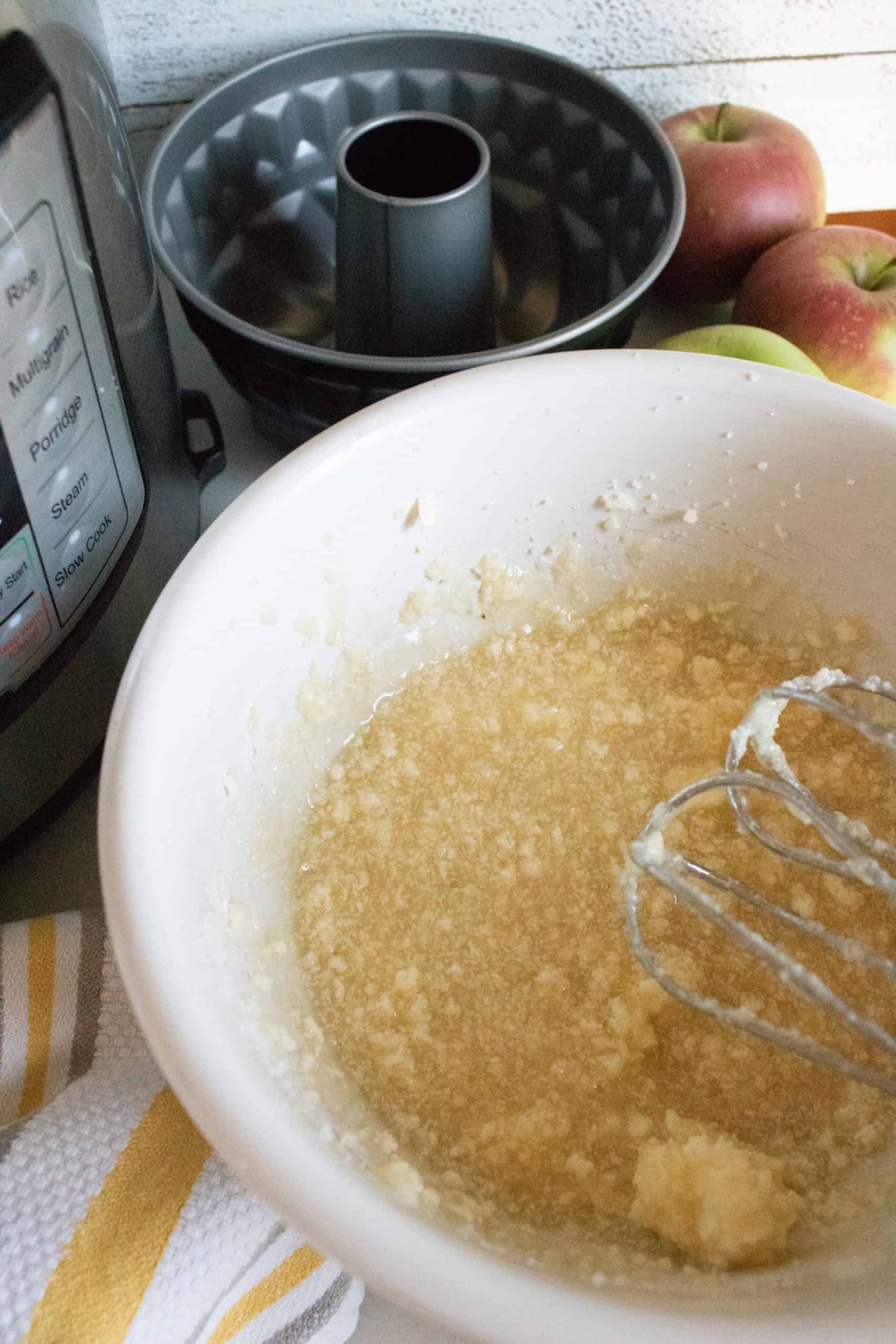 Second Step: Mix in the all purpose flour, baking soda, cinnamon, and ground cloves and combine well.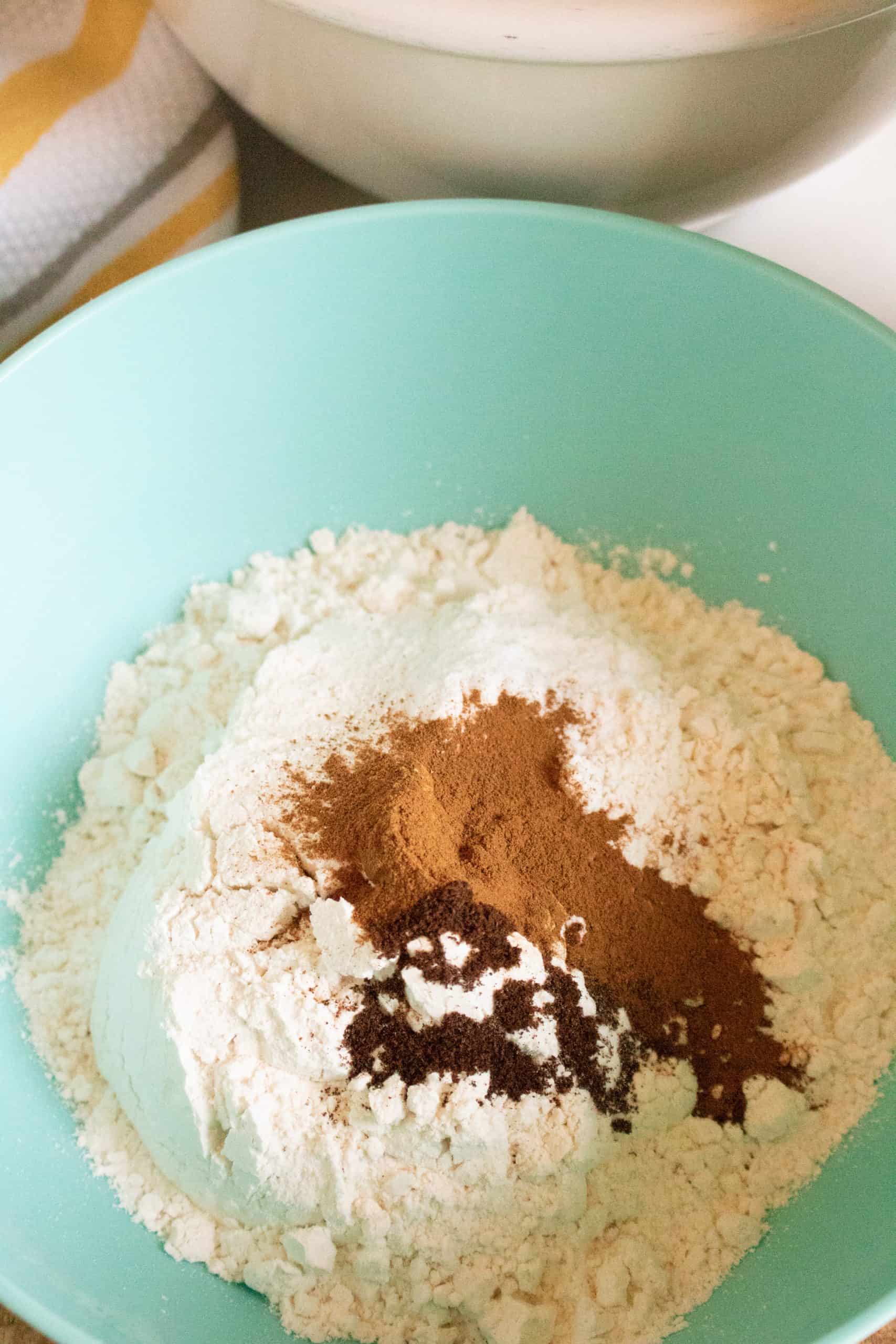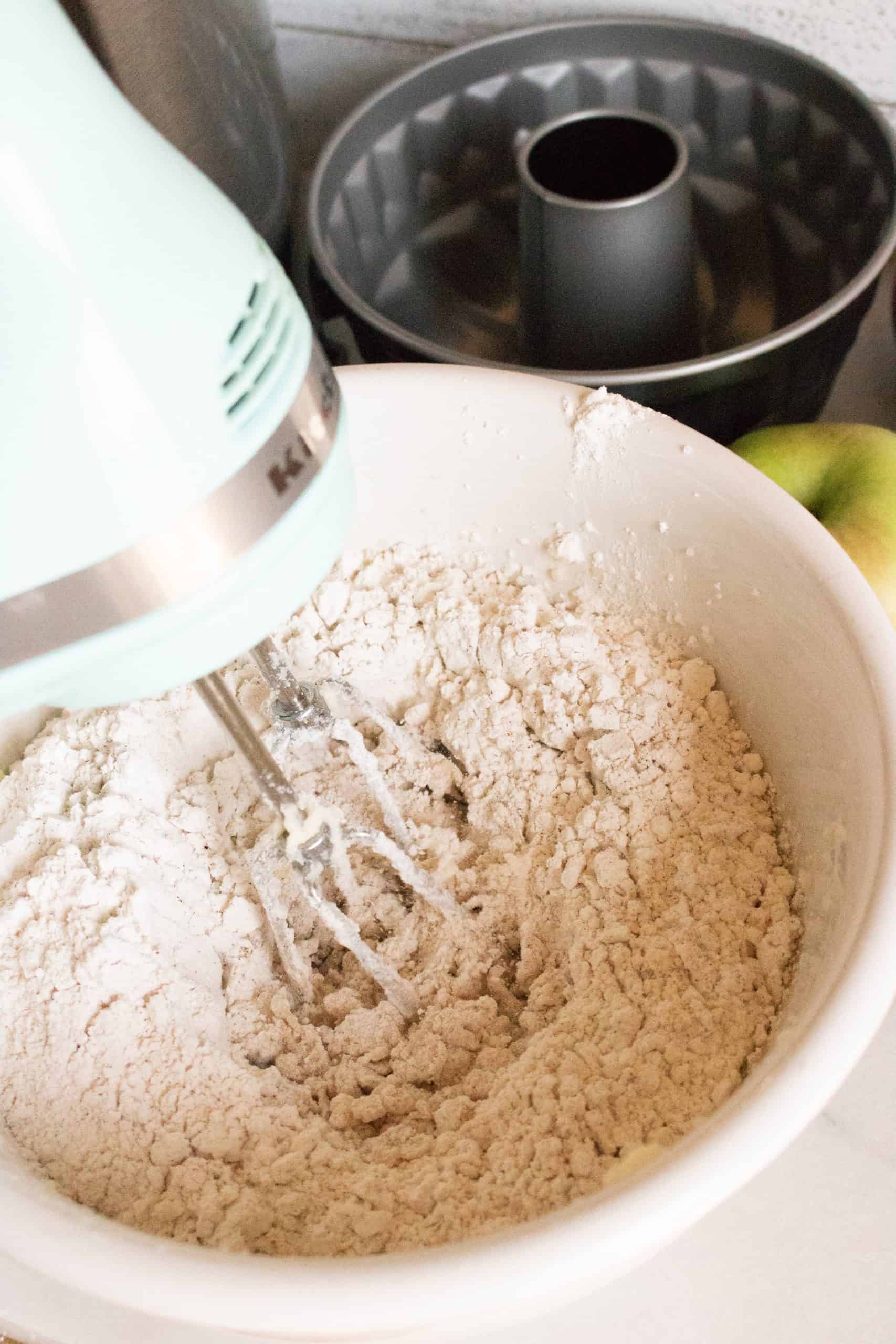 Third Step: Grab your bundt pan and spray it with a non-stick cooking spray. The pan shouldn't be any larger than 7 inches.
Fourth Step: Pour the cake batter into the bundt pan and cover it with aluminum foil.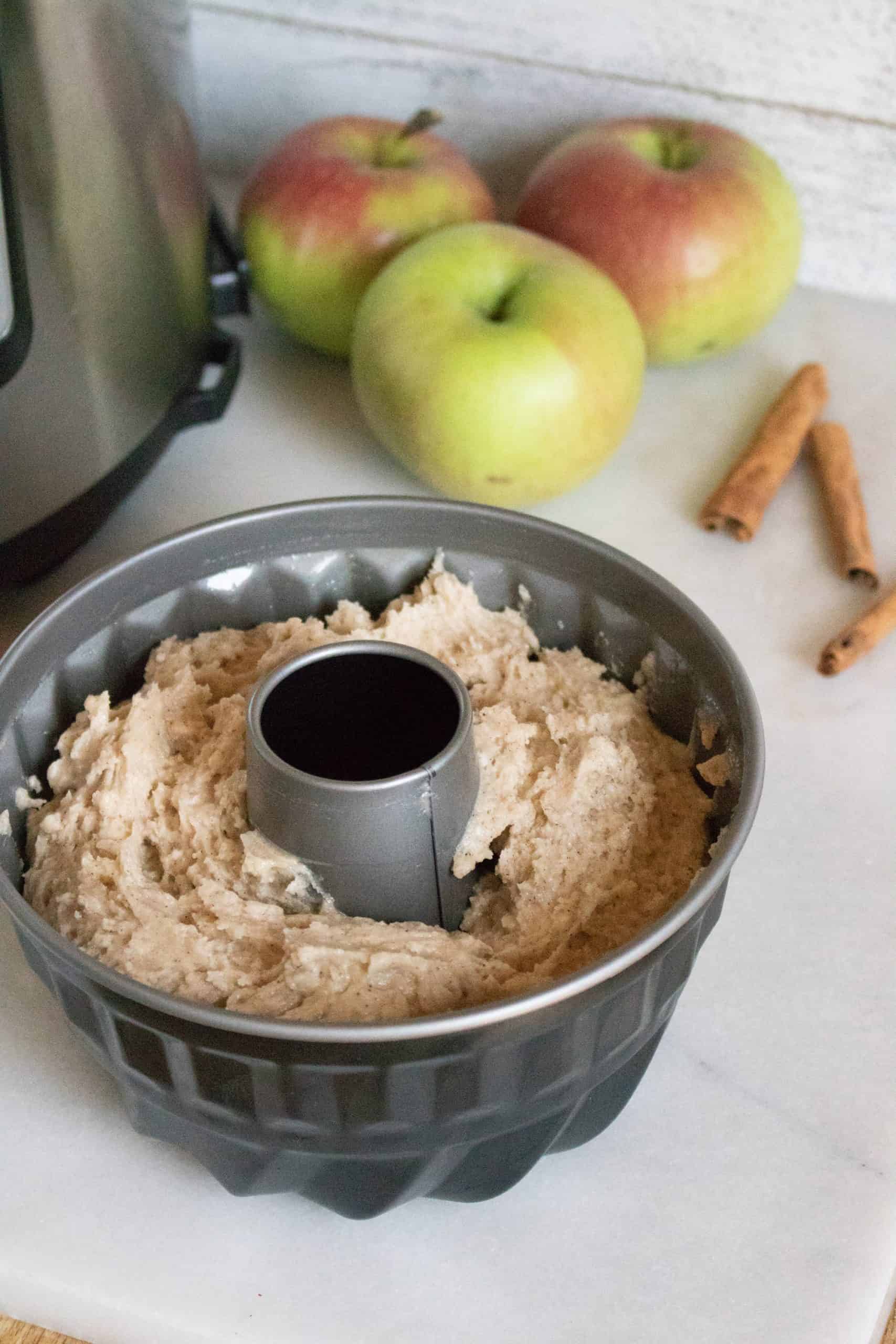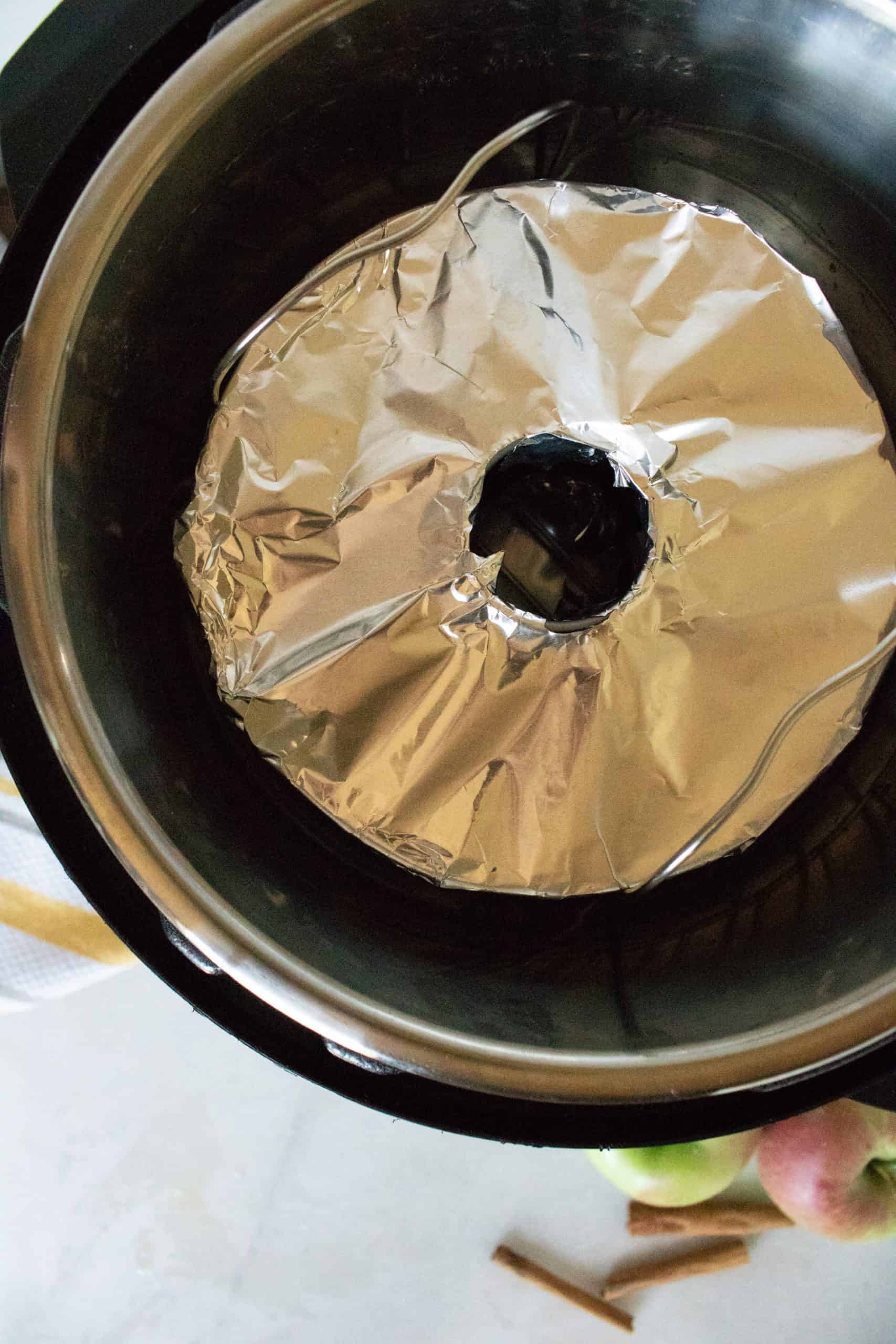 Fifth Step: Pour 1 cup of water into the pressure cooker inner pot. Put the trivet into your instant pot, then slowly lower the bundt pan into the pressure cooker.
Sixth Step: Put the lid onto the instant pot and make sure that the pressure valve is set to the sealed position—Cook the applesauce cake on manual high pressure for around 40 minutes.
Seventh Step: After the cake has finished cooking, let it complete a natural release for 12 minutes, then finish with a quick release.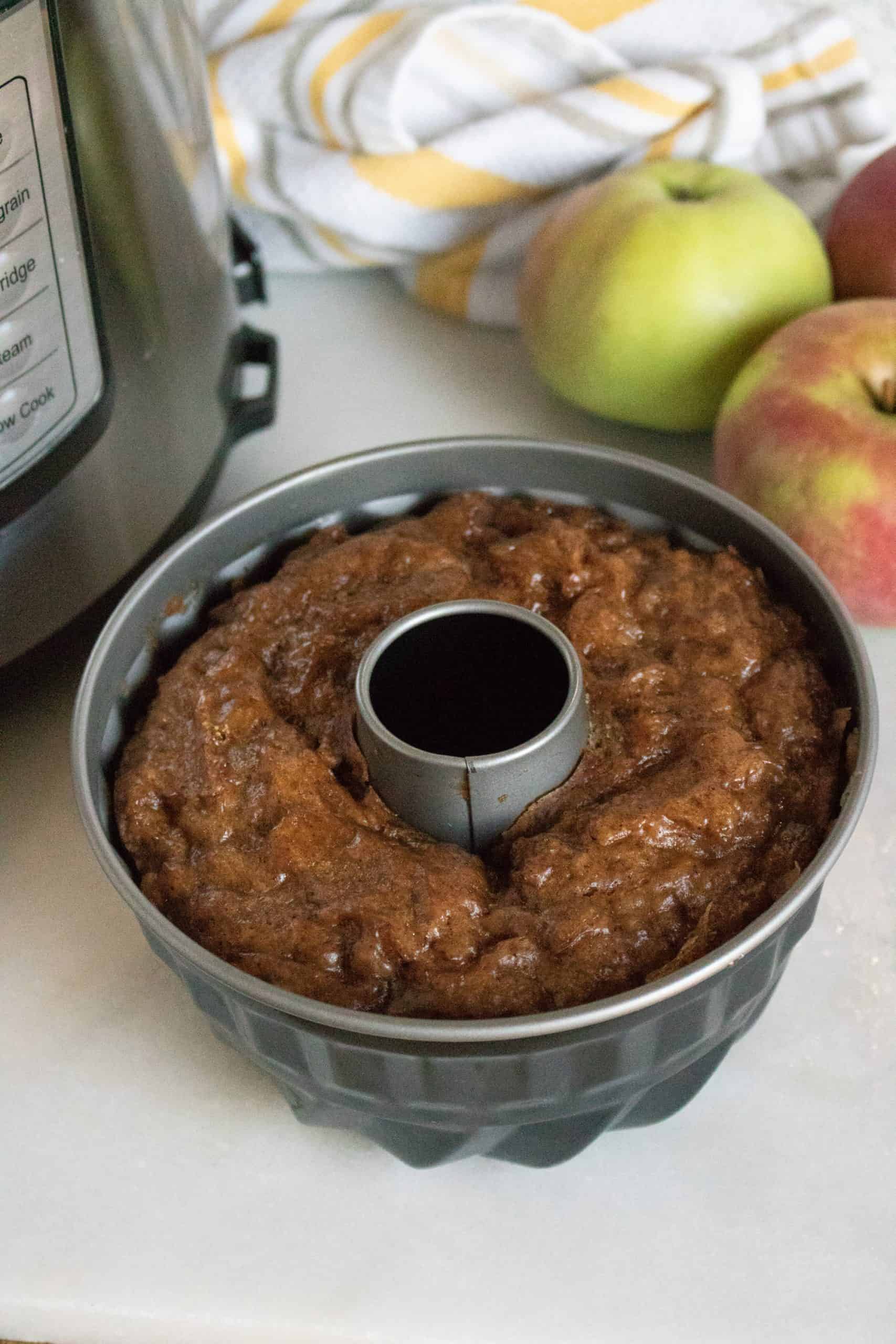 Eighth Step: Once the cake is made cooking, remove the bundt pan carefully. Then take the foil off of the pan and turn the bundt pan upside down on a serving plate or platter. Let the cake cool for 10-20 minutes then serve with your favorite toppings.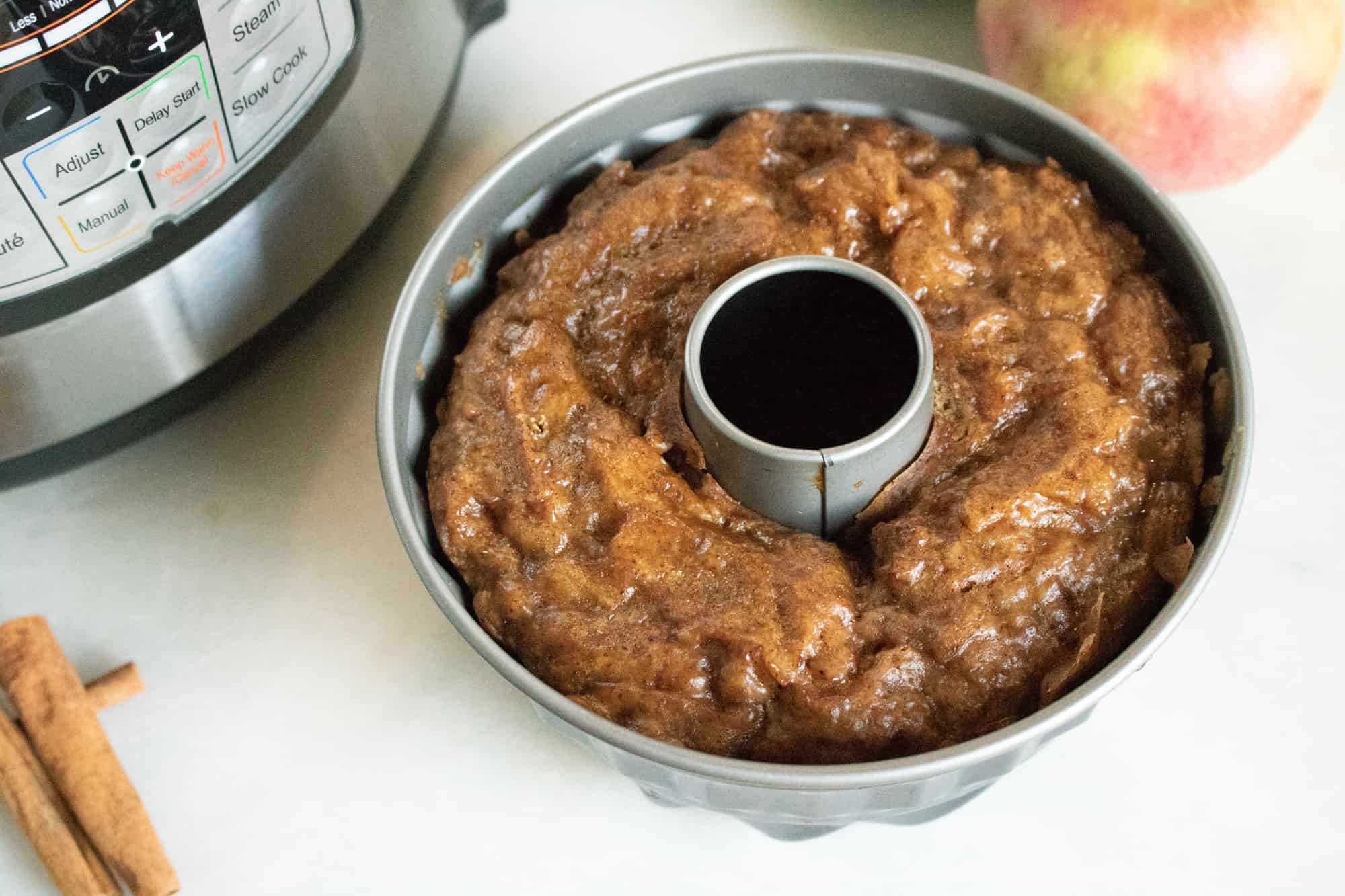 Now, remember to save this recipe on Pinterest for later 🙂

Pin this recipe now to remember it later
Instant Pot Applesauce Cake
This Instant Pot Applesauce Cake Recipe tastes just like what grandma used to make. It's moist, full of flavor, and packed with amazing apple flavors. You can add your favorite toppings, and it will be like a gourmet dessert that is unforgettable.
Want to save this recipe? Enter your email below and we'll send the recipe straight to your inbox!
NOTE: By saving this recipe, you agree to join our weekly recipes newsletter.
Instructions
Cream together butter and sugar. Add in applesauce until well mixed.

Add dry ingredients, including spices and mix well.

Spray a small (no larger than 7 inch) bundt pan with non-stick cooking spray. Add applesauce cake batter to the pan. Cover with foil.

Add 1 cup of water to the inner pot of the instant pot. Lower bundt pan into the inner pot on to of a trivet.

Close the instant pot lid and turn pressure valve to sealing. Cook on manual high pressure for 40 minutes.

Allow for a natural pressure release for 12 minutes and then let out remaining pressure.

Remove from Instant Pot and take the foil off of the bundt pan. Invert onto a plate and let the cake cool for 10-20 minutes before serving.
Follow me on Pinterest for daily delicious recipes!
I can't get enough cake recipes, and I bet you are the same way. Take a look at these gorgeous and scrumptious cake recipes. They are so easy to make and will become household favorites.
Pumpkin Spice Coffee Cake – Enjoy a piece of heaven with this spice cake recipe. It has the perfect amount of pumpkin spice and goes well with a cup of hot coffee or tea. Serve it for your next brunch or when you are in the mood for something sweet.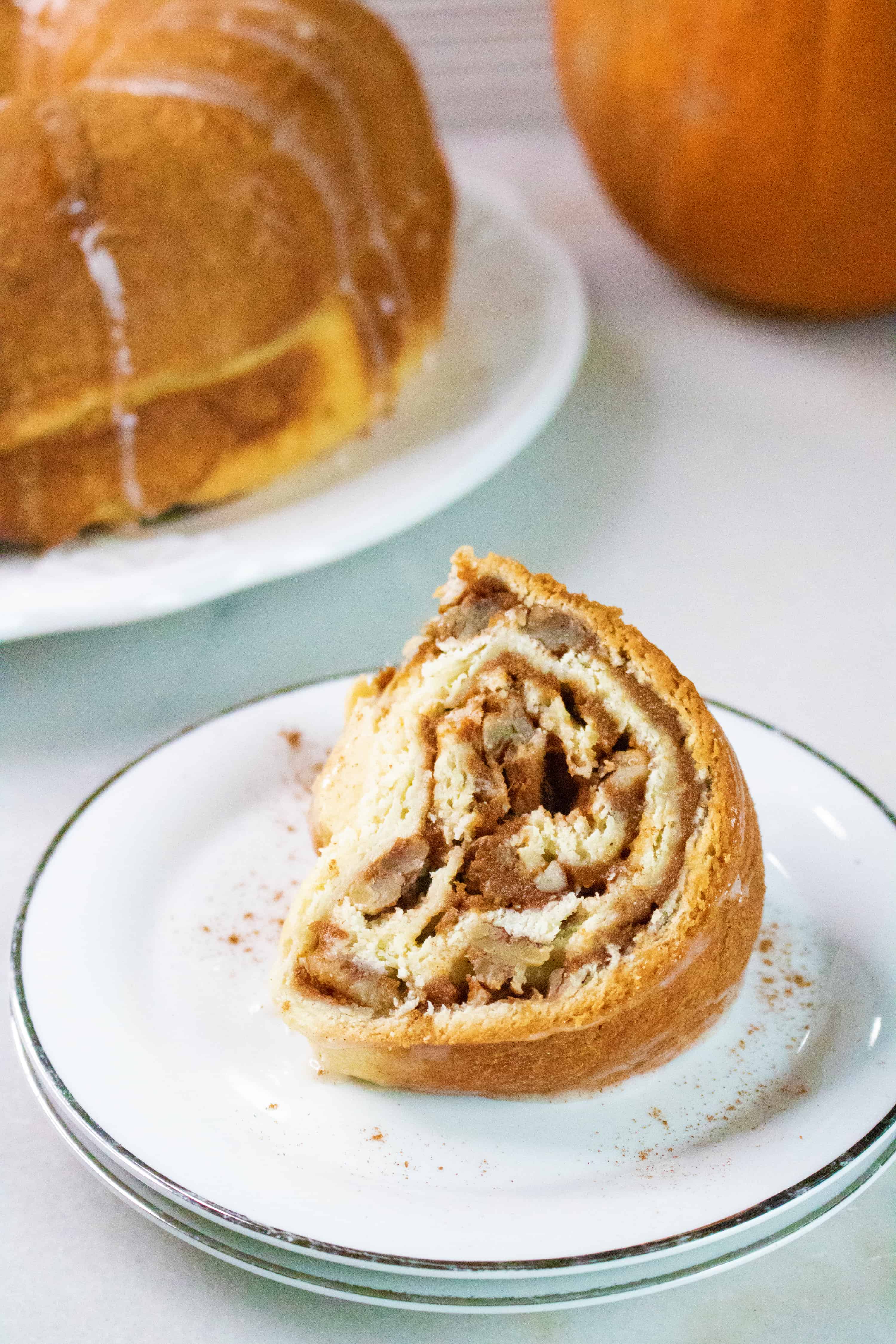 Dark Chocolate Blackout Cake – When I get in the mood for something that has an intense chocolate flavor, this cake is a go-to. It's incredible and has pudding in the cake. Can it get any better than that?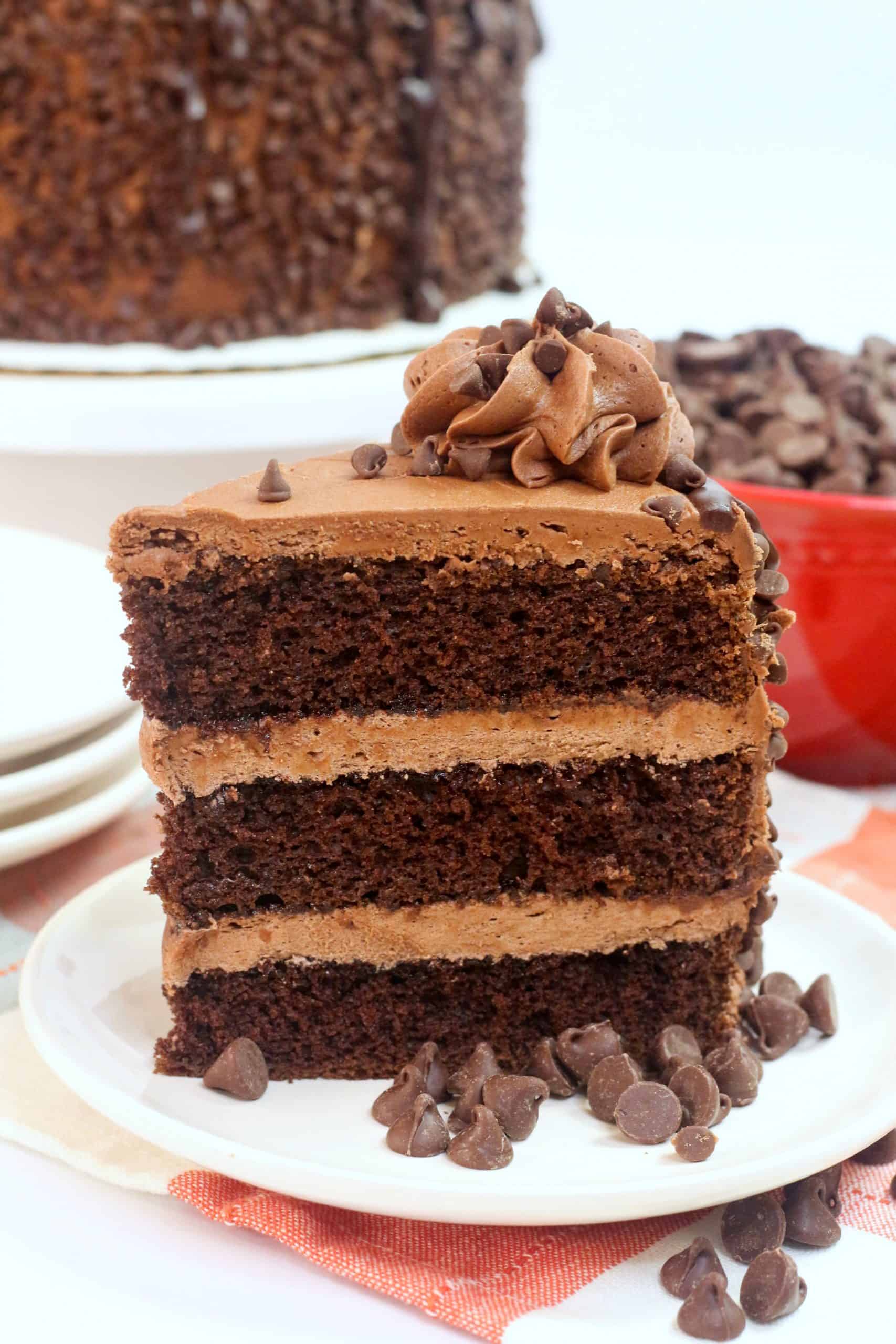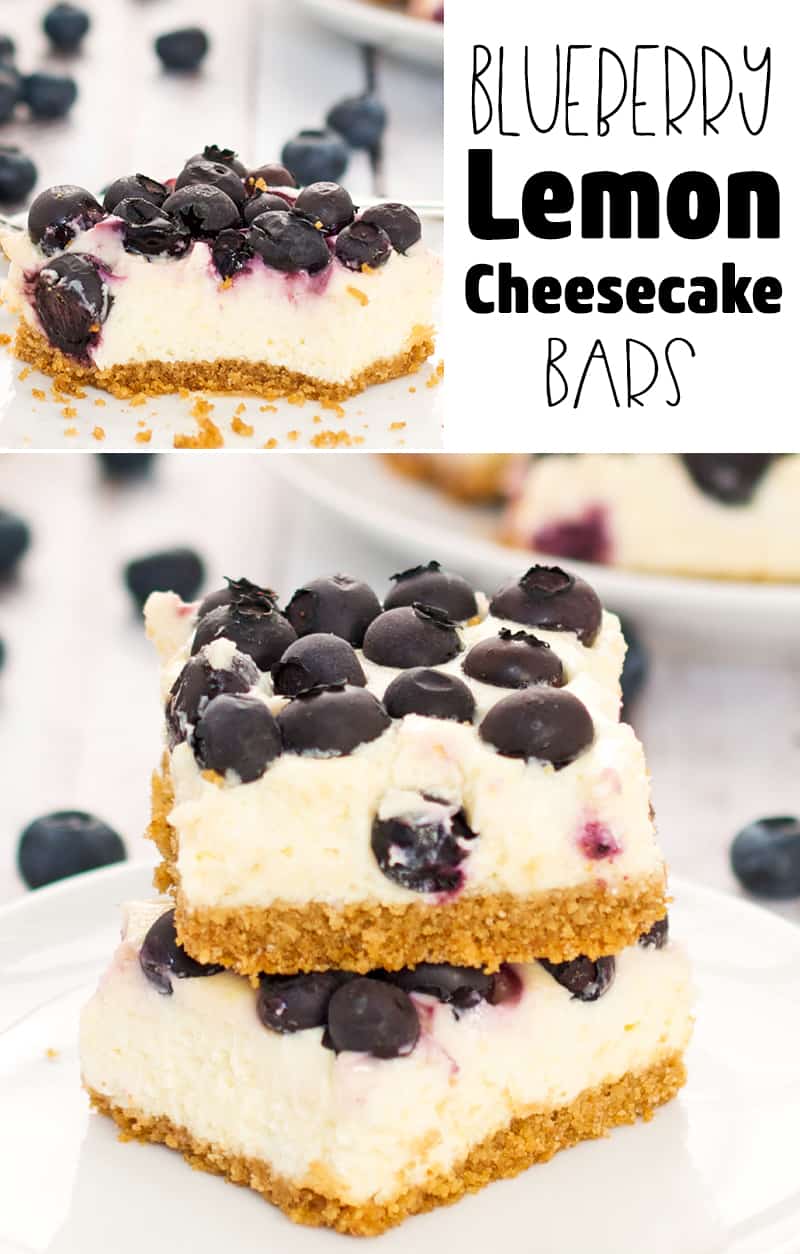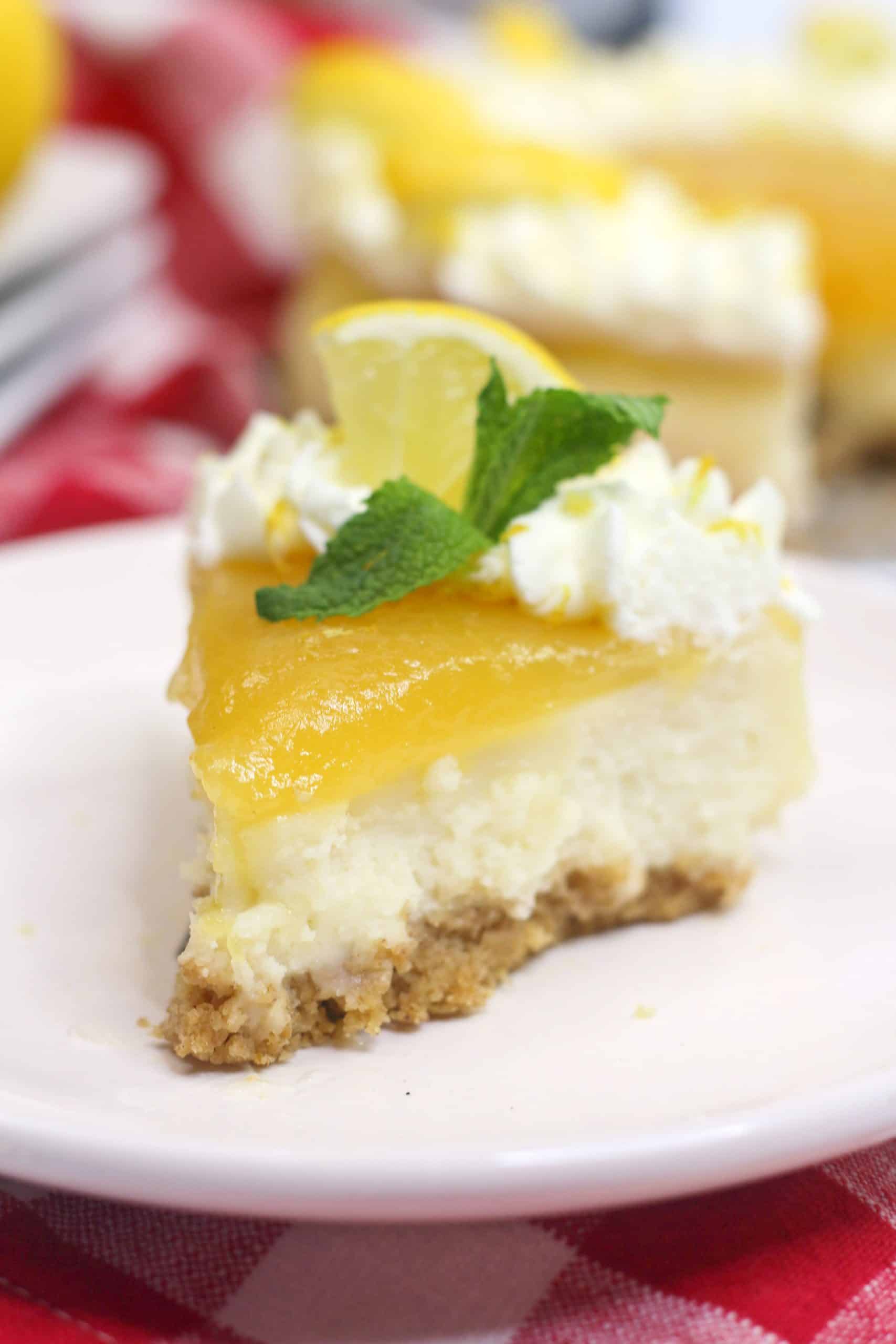 Get new recipes weekly plus our FREE ebook!