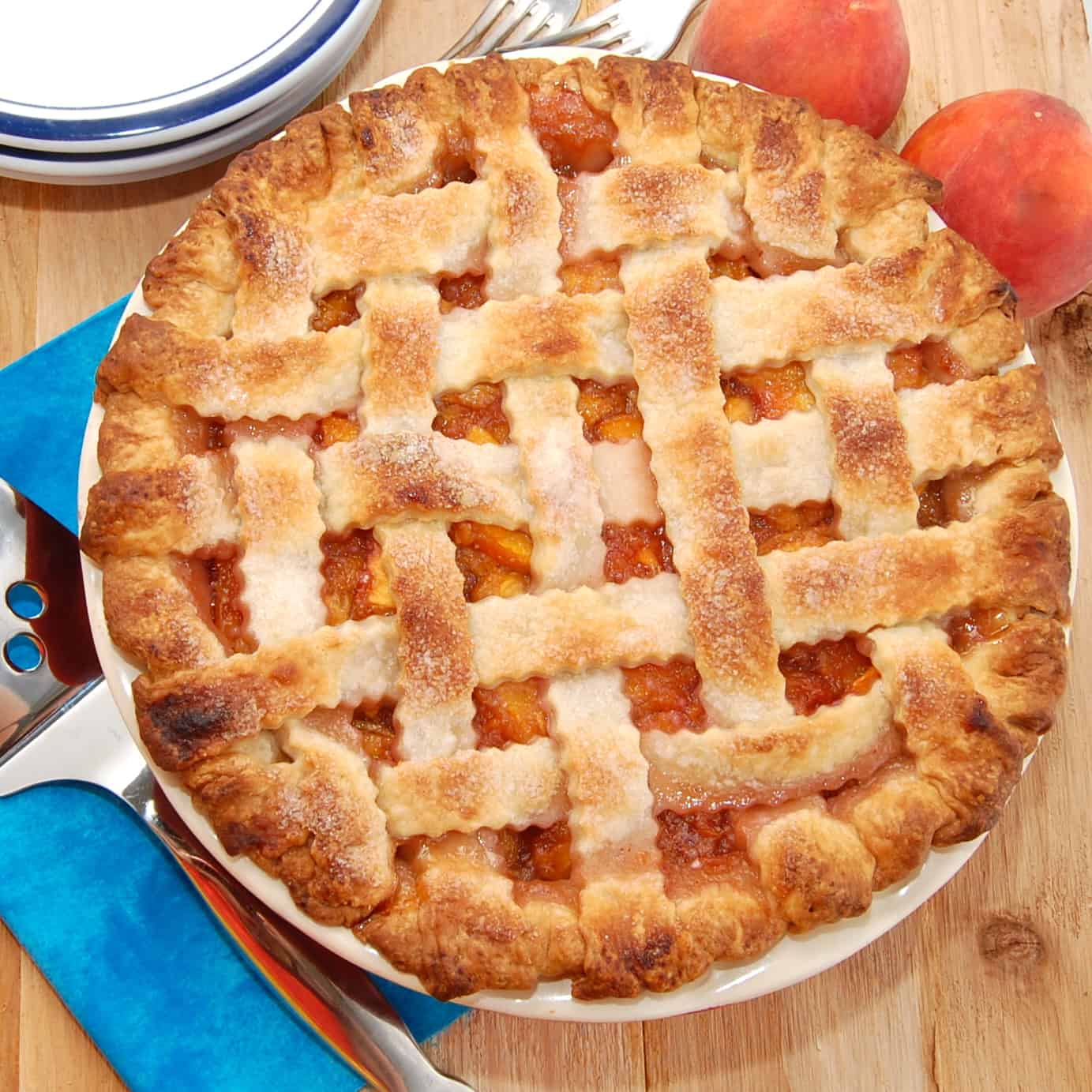 A homemade fruit pie with a flaky crust is the ultimate summer dessert. Nothing is better than using fresh ripe produce straight from the farmers market to make a delicious pie. For this pie I used my new-found favorite pie crust recipe from my Tripe Berry Pie. The vodka in the pie crust imparts no flavor and is only used for the incredibly flaky texture.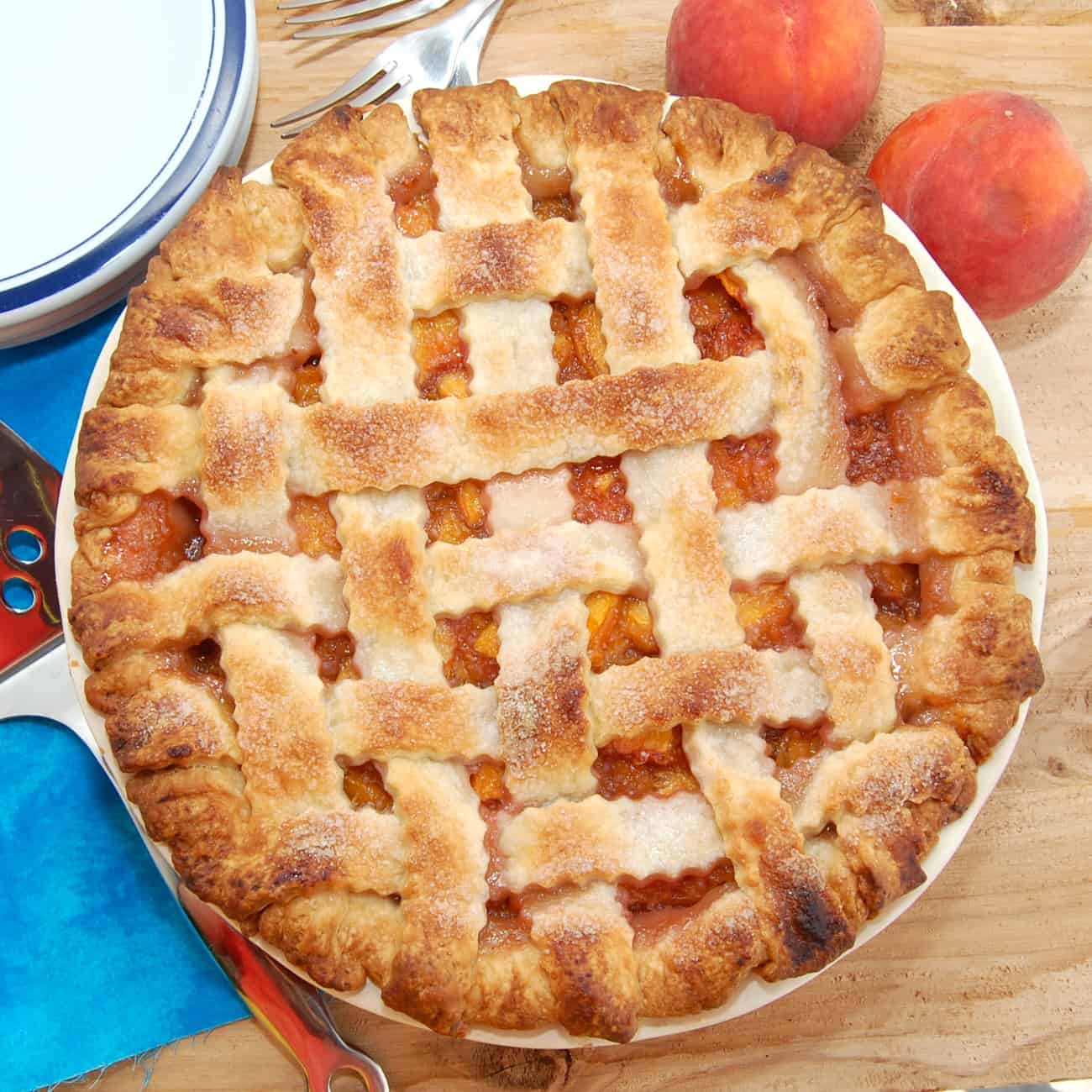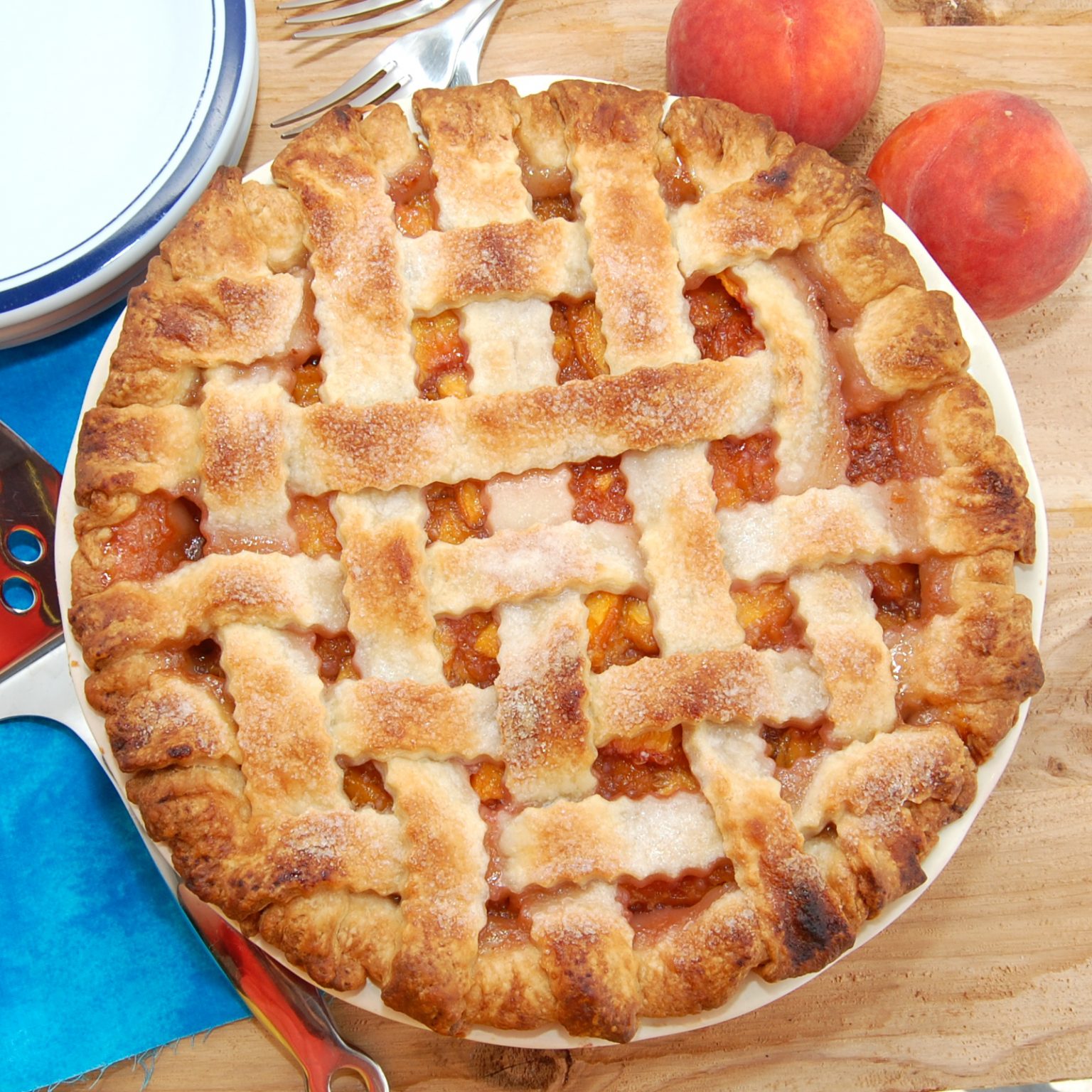 However, if you are concerned about using vodka in this pie crust you can always try the basic pie dough recipe that I used for my Blueberry Pie.
Peach pie is my husband Andrew's favorite type of pie, so of course I couldn't make it through the summer without making at least one! 😉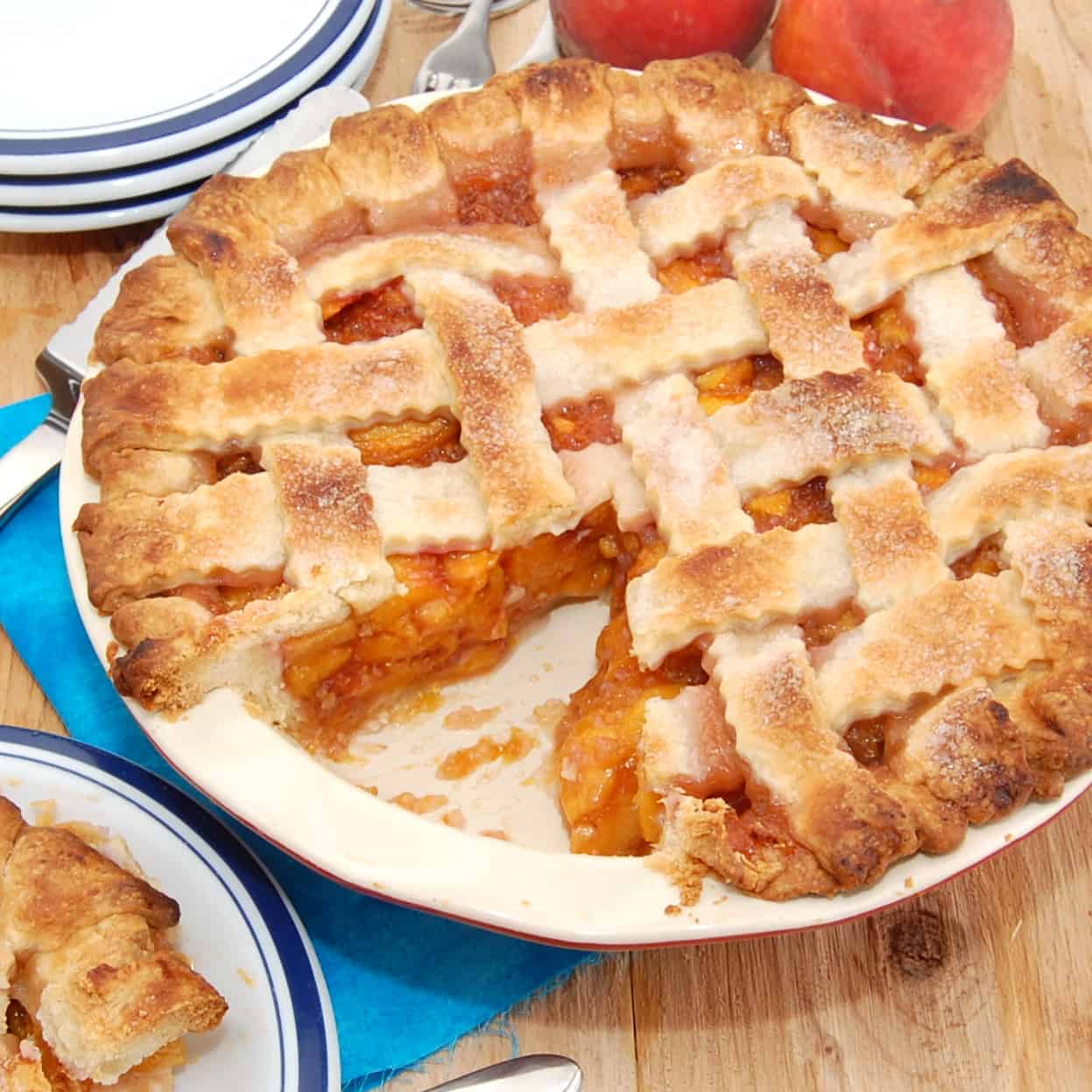 Delicious lightly sweetened peaches tossed with cinnamon, nutmeg, and lemon juice topped with a woven flaky lattice crust. Serve this pie with vanilla ice cream or whipped cream for an incredible summer dessert.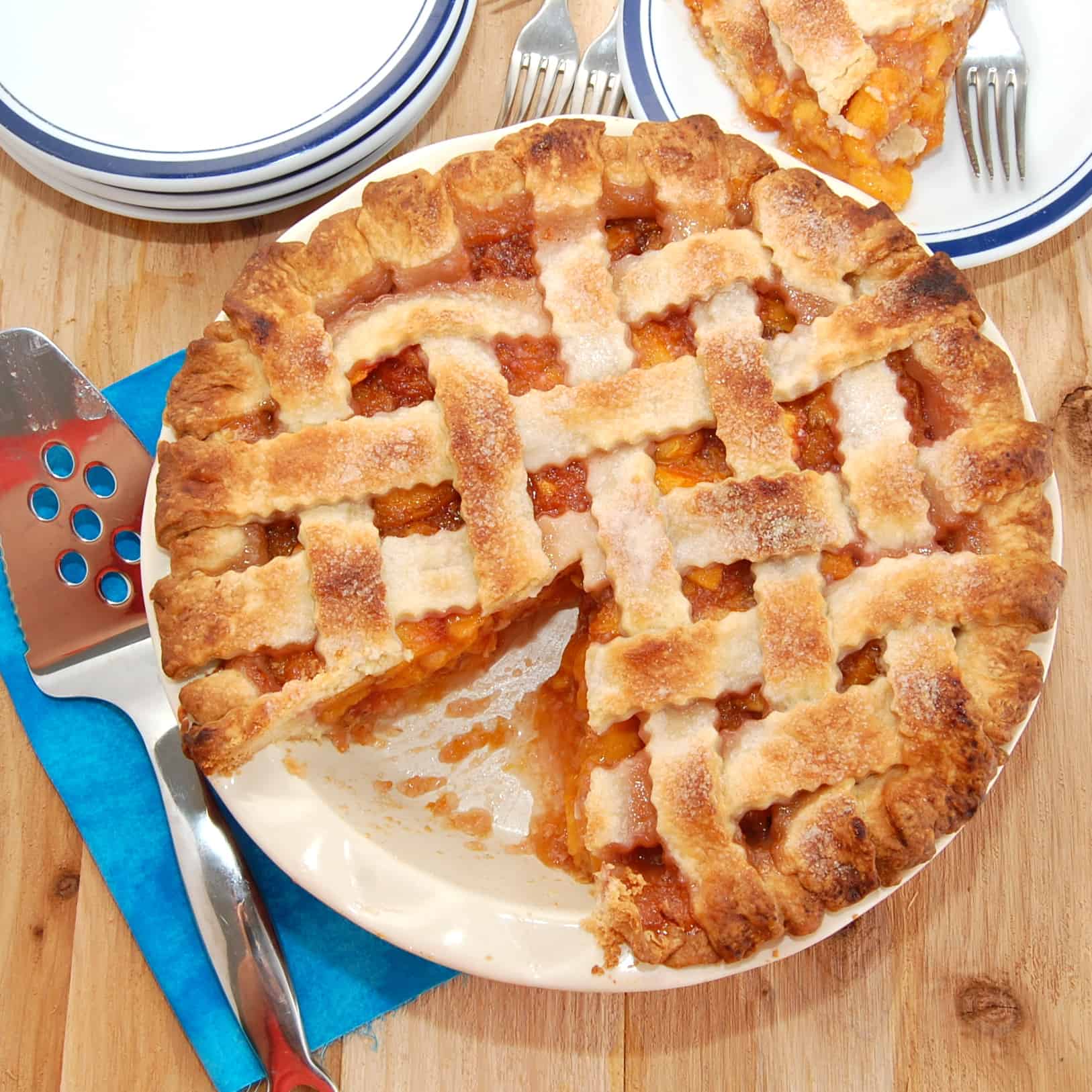 Pin this recipe now to remember it later
Lattice-Top Fresh Peach Pie
Ingredients
For the Crust:
2 1/2

cups

unbleached all-purpose flour

,

divided

12

tablespoons

cold unsalted butter

,

1 1/2 sticks, cut into 1/4-inch slices

1/2

cup

chilled solid vegetable shortening

,

cut into 4 pieces

1

large egg

,

lightly beaten with 1 teaspoon water

1

tablespoon

granulated sugar
For the Peach Filling:
6

– 7 medium ripe peaches

,

3 pounds, about 6 cups, peeled, pitted, and sliced

1

tablespoon

lemon juice from 1 lemon

1/2

teaspoon

ground cinnamon

1/4

teaspoon

ground nutmeg

3

–4 tablespoons potato starch

,

or substitute pulverized Minute tapioca
Want to save this recipe? Enter your email below and we'll send the recipe straight to your inbox!
NOTE: By saving this recipe, you agree to join our weekly recipes newsletter.
Instructions
For The Pie Dough: In the bowl of a food processor fitted with the metal blade, process 1 1/2 cups flour, salt, and sugar until combined, about two 1-second pulses. Add butter and shortening and process until dough just starts to collect in uneven clumps, about 15 seconds; dough will resemble cottage cheese curds and there should be no uncoated flour. Scrape bowl with rubber spatula and redistribute dough evenly around processor blade. Add remaining cup flour and pulse until mixture is evenly distributed around bowl and mass of dough has been broken up, 4 to 6 pulses. Transfer mixture into medium bowl.

Sprinkle vodka and water over mixture. Using a folding motion, use a rubber spatula to mix, pressing down on dough until dough is slightly tacky and sticks together. Divide dough into 2 even balls and flatten each into 4-inch disk. Wrap each in plastic wrap and refrigerate at least 45 minutes or up to 2 days.

Remove 1 disk of dough from refrigerator and roll out on floured work surface to 12-inch circle, about 1/8 inch thick. Roll dough loosely around rolling pin and unroll into pie plate, leaving at least 1-inch overhang on each side. Working around circumference, ease dough into plate by gently lifting edge of dough with one hand while pressing into plate bottom with other hand. Leave dough that overhangs plate in place; refrigerate while preparing filling until dough is firm, about 30 minutes.

Meanwhile, adjust oven rack to lower-middle position and heat oven to 425 degrees, bring 3 quarts water to boil in large saucepan, and fill large bowl with 2 quarts cold water and 2 trays ice cubes. To peel peaches; first, with a paring knife, score a small x at the base of each peach. Next, lower the peaches into boiling water with a slotted skimmer. Cover and blanch until their skins loosen, about 2 minutes. Use a slotted skimmer to remove the peaches to ice water and let stand 1 minute. Finally, cool the peaches, then, starting from the scored x, peel each peach, halve and pit it, and cut into 3/8-inch slices. Toss peach slices, lemon juice, 1 cup sugar, cinnamon, nutmeg, salt, and potato starch or Minute tapioca (3 tablespoons for moderately juicy peaches, 4 tablespoons for very juicy ones) in medium bowl. Transfer mixture to dough-lined pie plate

Roll out the second pie dough disk into a 12-inch round. With pastry wheel, cut the dough into 12 strips 3/4 inch wide. Place 6 strips horizontally across the top of the pie at 1 inch intervals. Weave in 6 vertical strips. Fold dough under itself so that edge of fold is flush with outer rim of pie plate. Flute edges using thumb and forefinger or press with tines of fork to seal. Brush top and edges of pie with egg mixture and sprinkle with remaining 1 tablespoon sugar. If dough is very soft, chill in freezer for 10 minutes.

Place pie on baking sheet and bake until crust is set and begins to brown, about 25 minutes. Rotate pie and reduce oven temperature to 375 degrees; continue to bake until crust is deep golden brown and filling is bubbly, 25 to 30 minutes longer. Transfer pie to wire rack; cool to room temperature, at least 4 hours. Cut into wedges and serve.
Follow me on Pinterest for daily delicious recipes!
Source: Adapted from Cook's Illustrated, July 2000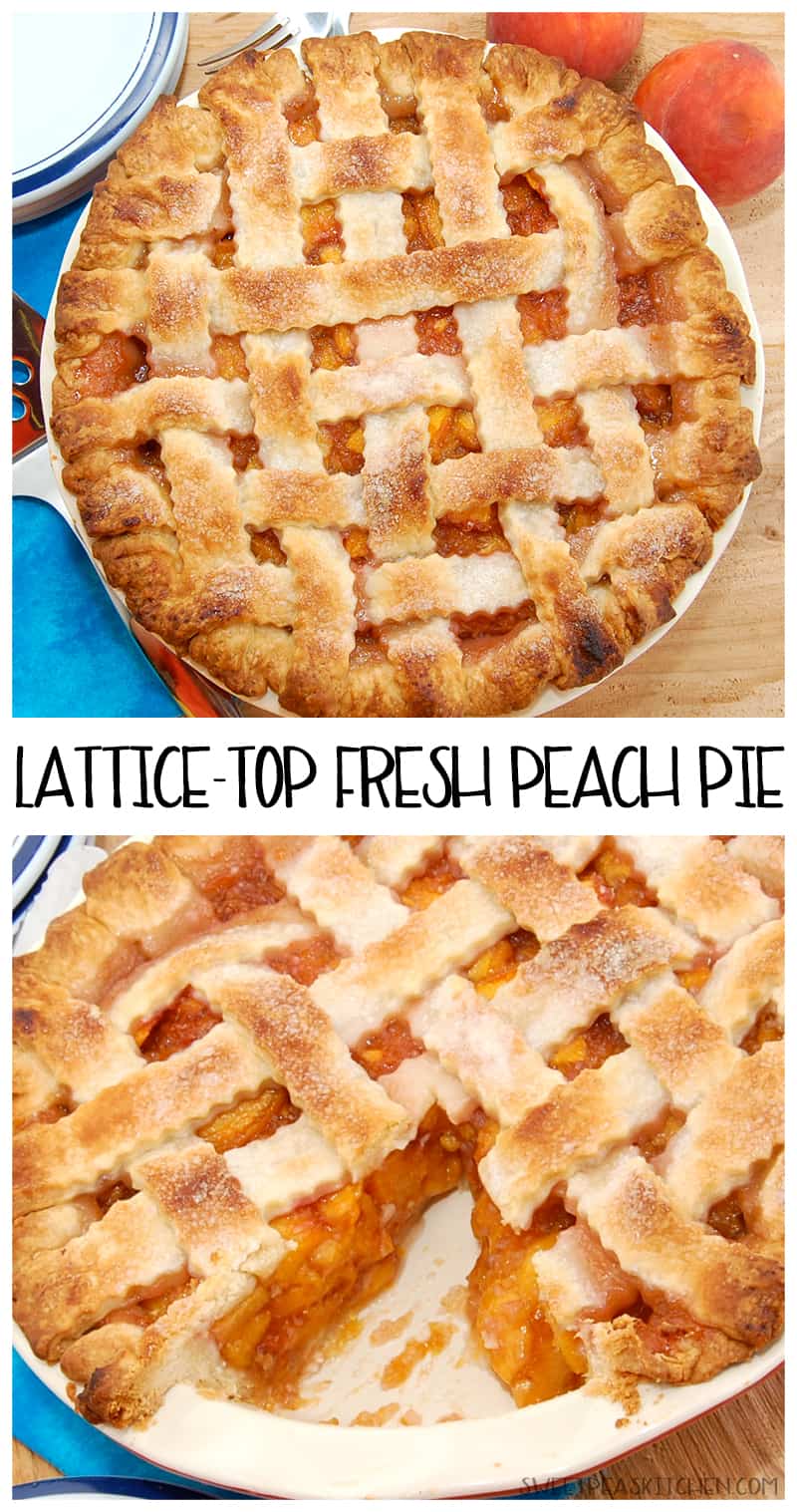 Get new recipes weekly plus our FREE ebook!