These maple cream cookies are old-fashioned shortbread cookies with a delicious maple syrup buttercream filling. This maple cookie recipe is a family favorite because they are so good. I will make maple leaf cookies when I am heading out to a party or event because everyone goes crazy for them. Plus, they are shaped like little leaves, so they are adorable too. Maple cookies have been around a long time, but this is one of the best maple syrup cookies recipes ever.
All you need is 10 ingredients and some prep time, and you will be well on your way to biting into one of these sweet cookies.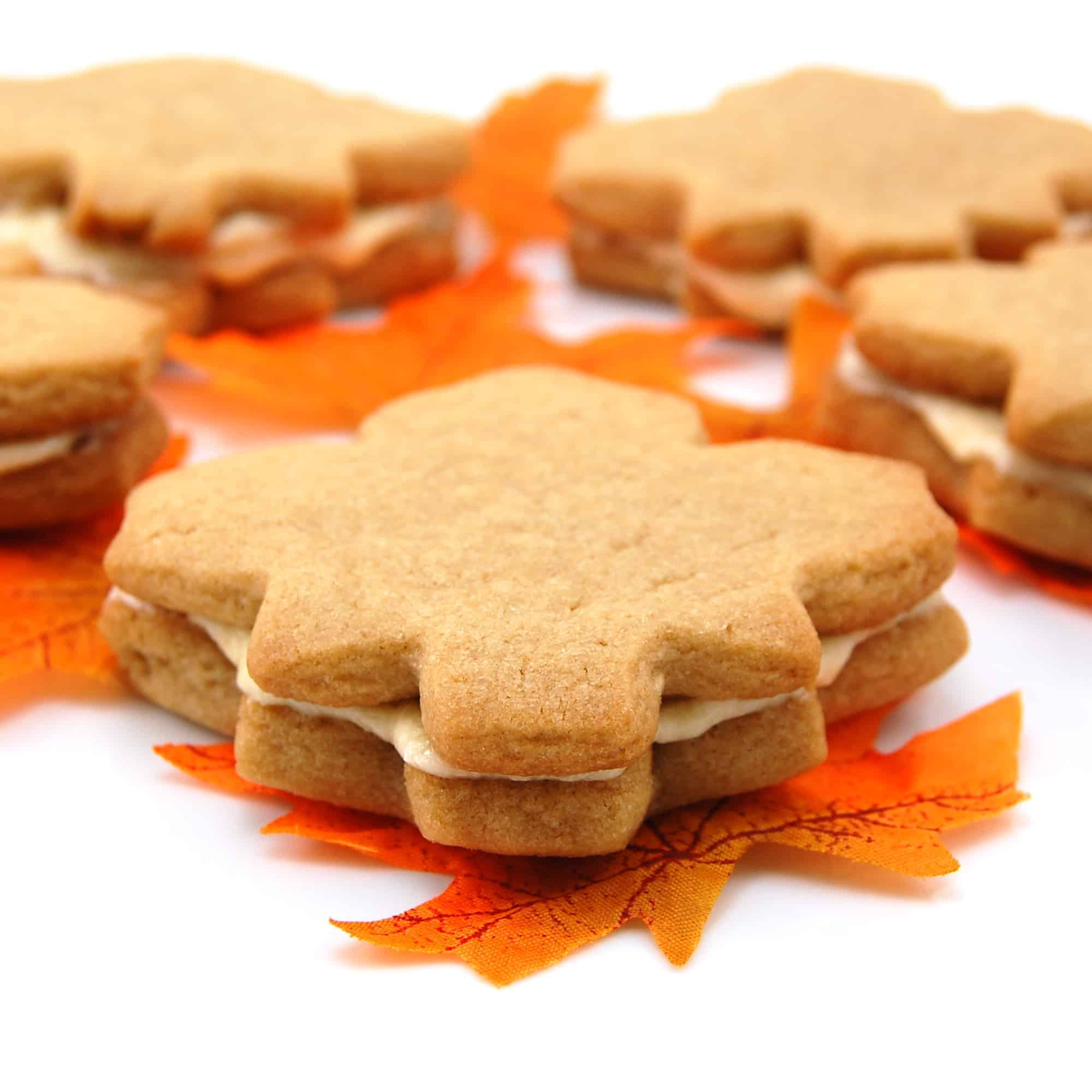 Scroll to bottom for printable recipe card.
Maple Cream Cookies Recipe
Baking cookies is one of my favorite ways to pass the time. I think it's relaxing to be in the kitchen with friends or family and it's an excellent way to get rid of stress. Then the bonus is you get to eat yummy treats like my maple sandwich cookies. What's better than that?
The maple leaf is the national symbol of Canada. So whether you are from Canada or just love all things maple, these creme cookies are for you, so it's time to start baking.
Ingredients Needed For This Maple Syrup Cookies Recipe
For the cookies:
All-purpose flour
Baking powder
Salt
Butter
Sugar
Brown sugar
Egg
Maple extract
For the buttercream filling:
Butter
Confectioners sugar
Maple syrup
How To Make Maple Cream Cookies
I know at first glance these maple syrup cookies look like they would be challenging to make, but I promise they are easy. The part that takes the longest is letting them chill for an hour, but it's completely worth the wait. Okay, let's get started:
First Step: Whisk together the flour, baking powder, and salt in a medium bowl. Set aside for later.
Second Step: Using a stand mixer, attach the paddle attachment, then beat the butter and white sugar, and brown sugar for around 3 minutes. It should be light and fluffy. Pour in the maple extract and eggs then beat for 30 seconds at medium speed. Slowly add in the dry ingredients and beat until they are combined. This will take around 30 seconds and be sure to scrape the sides of the bowl too.
TIP: Don't overbeat the batter, or the cookies will become dry and dense. Mix just until combined.
Third Step: Divide the dough in half. Form each half into a ball then flatten so it's a disk shape. Wrap with plastic wrap and place in the refrigerator for 1 hour.
Fourth Step: Prepare a cookie sheet with parchment paper and preheat the oven to 375 degrees F.
Fifth Step: Using a rolling pin, roll the dough, so it's 1/4 inch thick. Use your maple leaf cookie cutter and cut out the cookie shapes. Place them on the cookie sheet.
Sixth Step: Place the cookies in the oven and bake them for 8-10 minutes. The edges will begin browning, and they are done.
Seventh Step: Allow the cookies to sit on the baking sheet for at least 3 minutes after you remove the pan from the oven. Then using a spatula, move them to a wire rack and let them cool.
Eighth Step: Begin making the buttercream filling by using a stand mixer to cream the butter. After the butter is creamy, add in the confectioner's sugar and maple syrup. Beat until it's light, fluffy, and creamy.
Ninth Step: Spread the buttercream filling onto the backside of the cookies then add another cookie on top. Continue this process until they are all sandwiched. Then enjoy!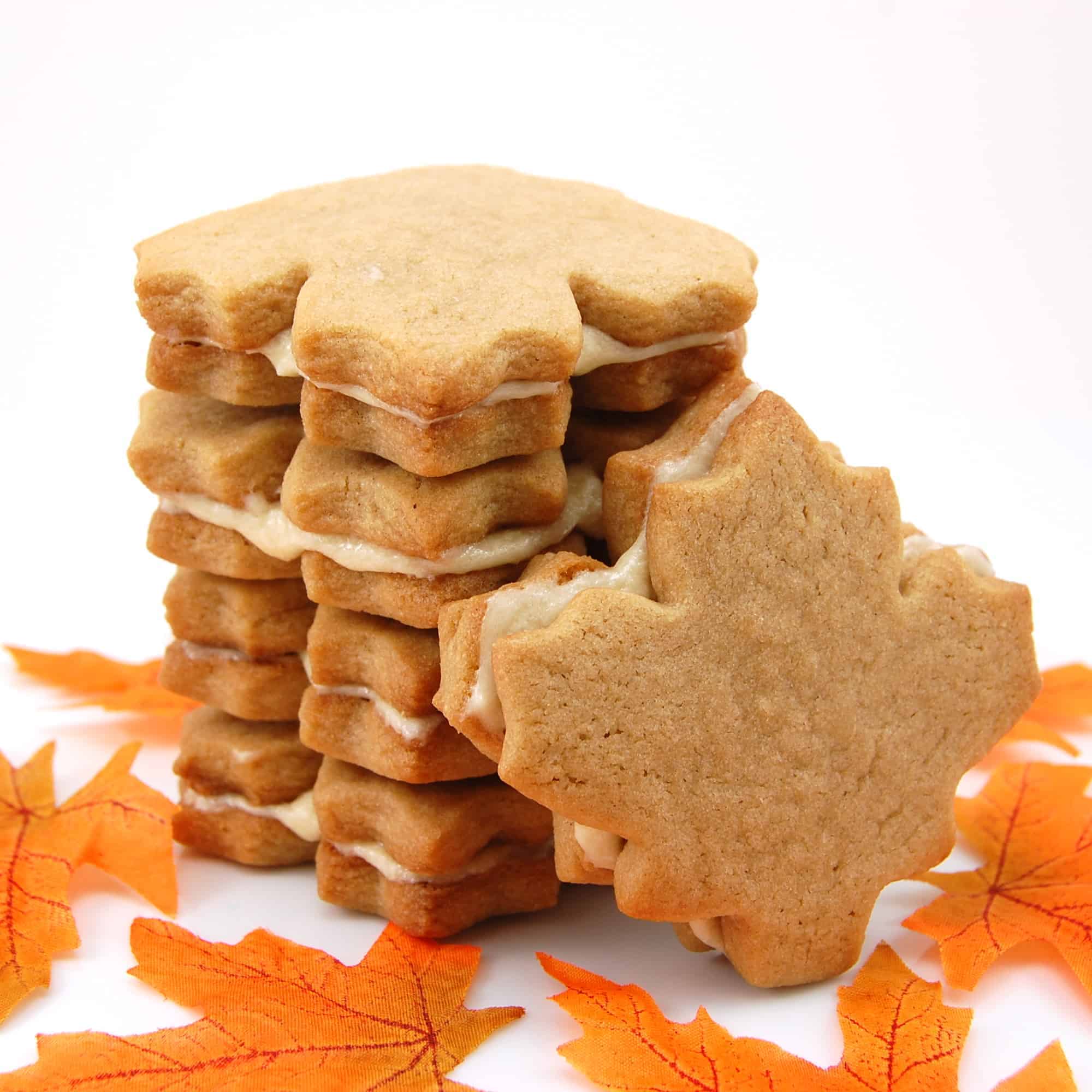 Cookie Cutter Cookies
When baking cookies and using a cookie cutter, there are a few tips that can save your sanity along the way. There is nothing more frustrating than baking a batch of cookies, and they all run together on the pan, and you can't even tell what shape they are supposed to be. These tips will help you make the best cookies possible each and every time.
Roll The Dough Evenly
Keeping the dough 1/4 inch thick is vital to get the proper shape of the maple leaves for these cookies. If the dough is uneven, they are going to bake that way too. This will cause them to look distorted and not as appealing.
Use Parchment Paper
Placing the dough in between 2 pieces of parchment paper will keep it from sticking to the rolling pin. This will help you roll it out more evenly too.
Flour Is Your Friend
Be sure to dip the cookie cutter into flour for every cookie. Don't skip this step or you will be unhappy with sticking dough. The flour acts as a barrier between the cookie cutter and the dough and will help them effortlessly cut the cookie dough.
Don't Skip Chilling The Cookie Dough
I know it's very tempting to skip chilling the cookie dough. I promise that it's worth waiting for, and it will make your life so much easier. Working with chilled dough is much more simple than freshly made dough. It's not near as sticky either.
Use A Cool Cookie Sheet
If you put the cookies on a pan that's warm or hot, they will start baking right away. This will cause them to spread and lose their shape. Always use a cooled cookie sheet for every batch.
Don't Move The Maple Leaf Cookies To Quickly
Allow them to rest on the baking sheet for at least 3 minutes. They will have time to finish baking and set up more. If you try to move them too early, they will wrinkle when you attempt to pick them up. Then all your hard work will be for nothing.
How Do You Store Creme Cookies?
After you have let them cool to room temperature, you can place the cookies into a storage container that's airtight. Due to the buttercream, the cookies taste the best when they have been chilled. They will last anywhere from 5-7 days in the fridge. Once they become hard or overly soft, that means they have started to go bad. You may also notice they taste stale once they've started to spoil.
Can I Freeze Maple Cream Cookies?
Yes, you can freeze the cookies themselves without the filling. The buttercream filling isn't going to do well in the freezer. So it's best to just freeze the cookies and then add the frosting when they come out of the freezer.
Now, remember to save this recipe on Pinterest for later 🙂

Pin this recipe now to remember it later
Maple Cream Cookies
These maple cream cookies are flavorful, gorgeous, and easy to make. This maple cookie recipe is a hit at parties too. Maple leaf cookies are heavenly!
Ingredients
2 1/2

cups

all-purpose flour

1

cup

butter

,

room temperature

4

tablespoon

butter

,

room temperature

1

cup

confectioners sugar
Want to save this recipe? Enter your email below and we'll send the recipe straight to your inbox!
NOTE: By saving this recipe, you agree to join our weekly recipes newsletter.
Instructions
In a medium bowl, whisk together flour, baking powder and salt; set aside.

In the bowl of a stand mixer fitted with the paddle attachment, beat butter and sugars until light and fluffy, about 3 minutes. Add the egg and maple extract; beat at medium speed until combined, about 30 seconds. Add the dry ingredients and beat at low speed until just combined, about 30 seconds, scraping down the bowl as needed.

Divide dough into two balls and flatten each ball into a disk. Wrap each disk in plastic wrap and refrigerate at least 1 hour.

Preheat oven to 375 degrees F. Line baking sheets with parchment paper. Remove dough from refrigerator onto a lightly floured surface.

With a rolling pin, roll the dough out to 1/4-inch thickness. Use a maple leaf cookie cutter to cut out cookies, placing on prepared baking sheet.

Bake cookies in preheated oven 8-10 minutes, or until edges just start to brown.

Cool the cookies on the baking sheets about 3 minutes; using a wide metal spatula, transfer the cookies to a wire rack and cool to room temperature.

While cookies are cooling, make the filling by creaming butter in a stand mixer. Add confectioners sugar and maple syrup and beat until combined and smooth.

Using a knife or spoon, spread the filling onto the backside side of the cookie. Top with another cookie, backside down. Repeat with the remaining cookies.
Follow me on Pinterest for daily delicious recipes!
Once you sink your teeth into these amazing cookies, you will be hooked. Take a look at some of my other scrumptious cookie recipes:
Stuffed Chocolate Peppermint Cookies – These are perfect for the holidays and will put a smile on your face. Yum!
Black Forest Chocolate Crinkle Cookies – When you get a craving for chocolate, it's hard to beat the classic flavors of these cookies. Plus, they look gorgeous too!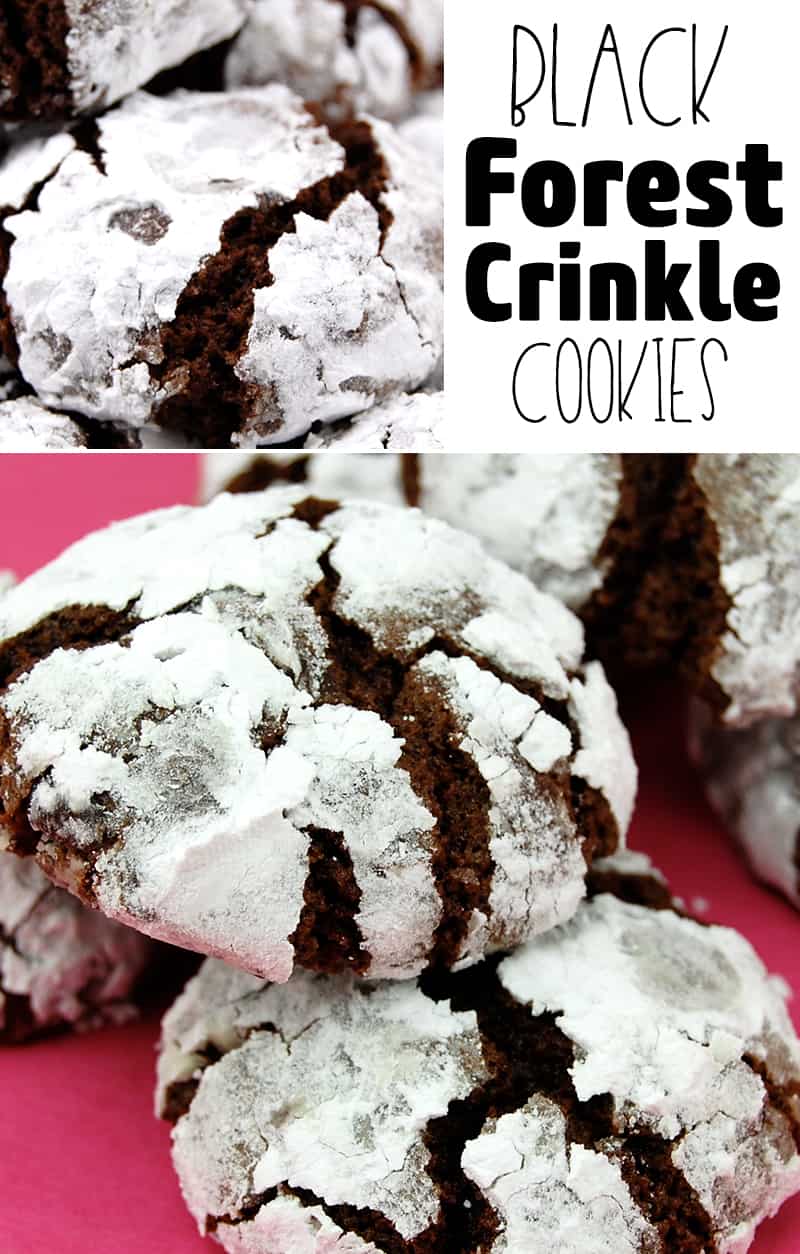 Ginger Cookie Sandwiches With Cinnamon Filling – Holy cow! You're going to fall in love with these terrific treats! Every bite is better than the last.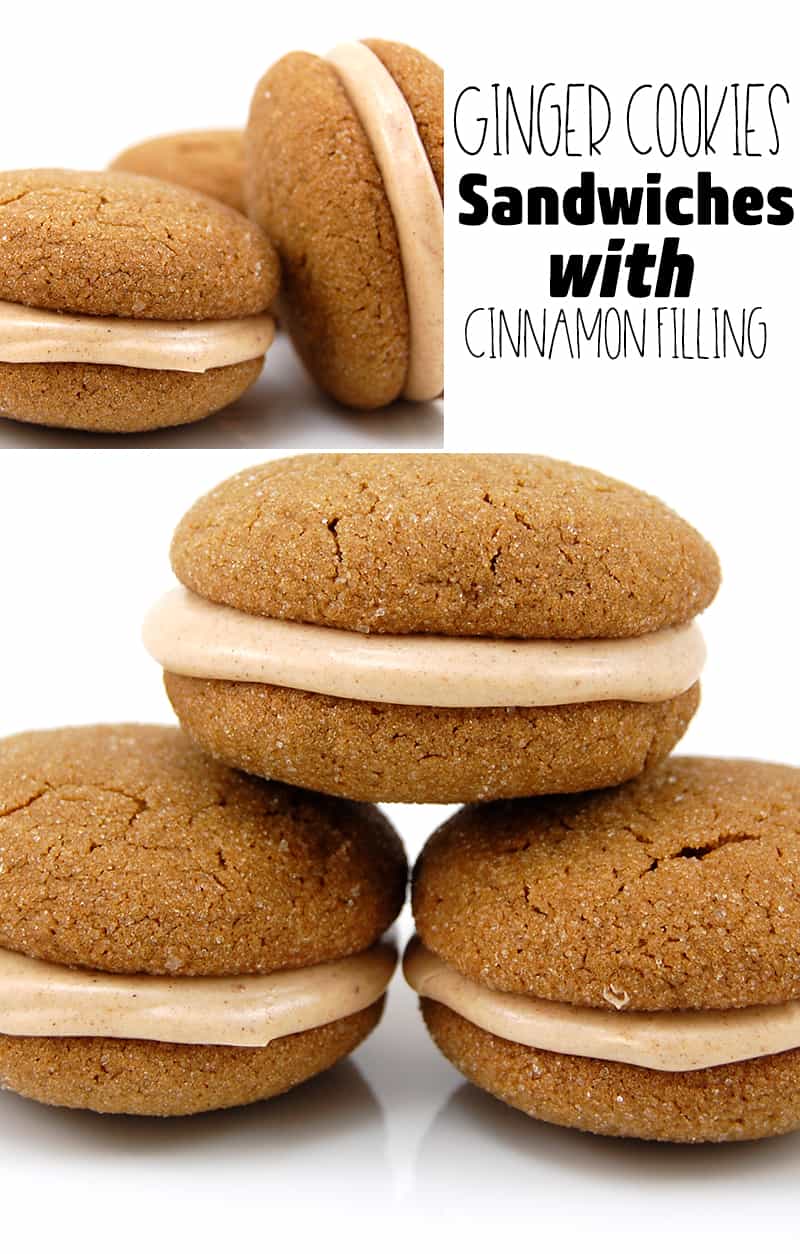 Pumpkin Snickerdoodle Cookies – Just thinking about these snickerdoodles makes my mouth water. Adding the flavor of pumpkin takes them to the next level.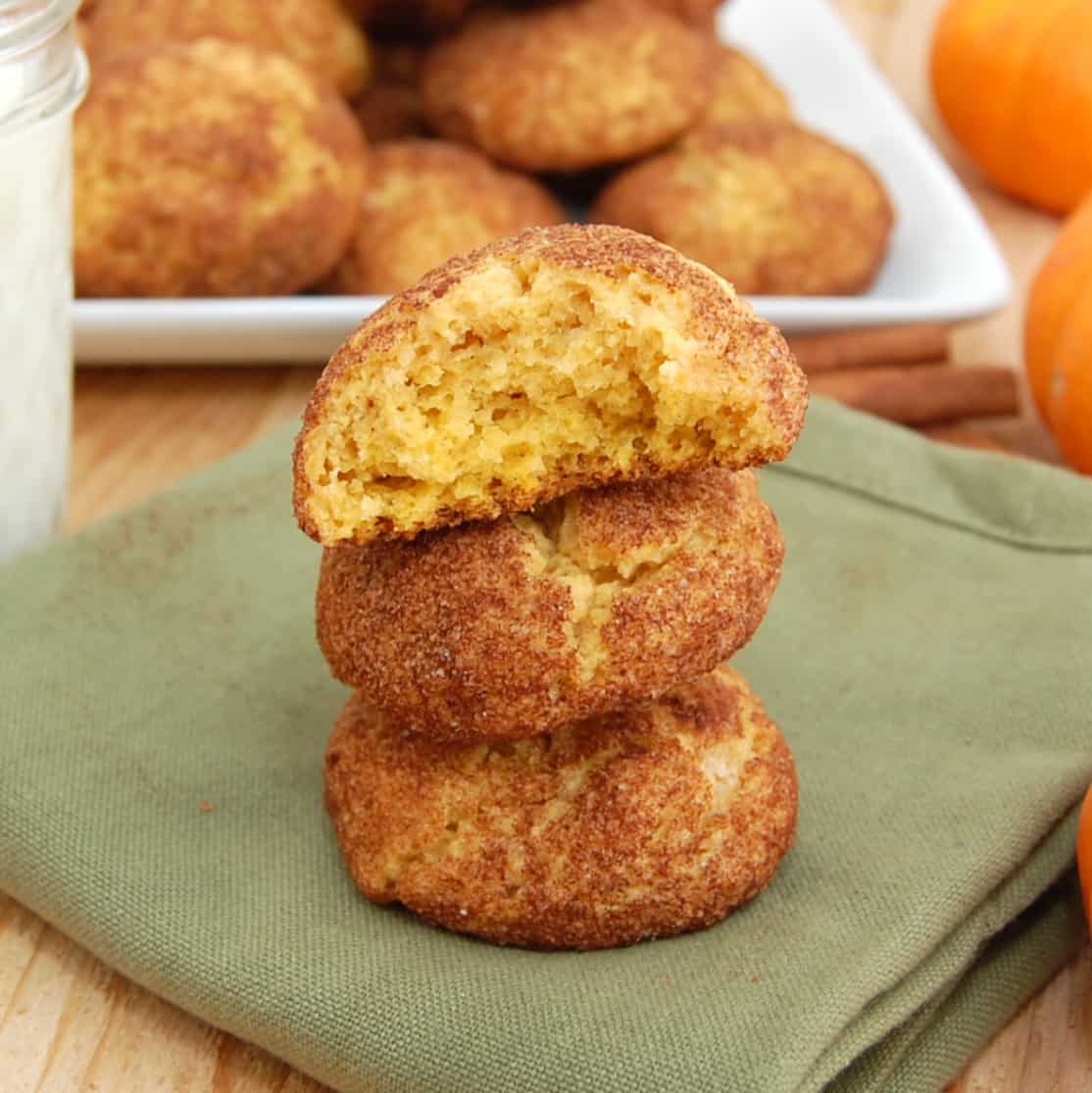 Get new recipes weekly plus our FREE ebook!