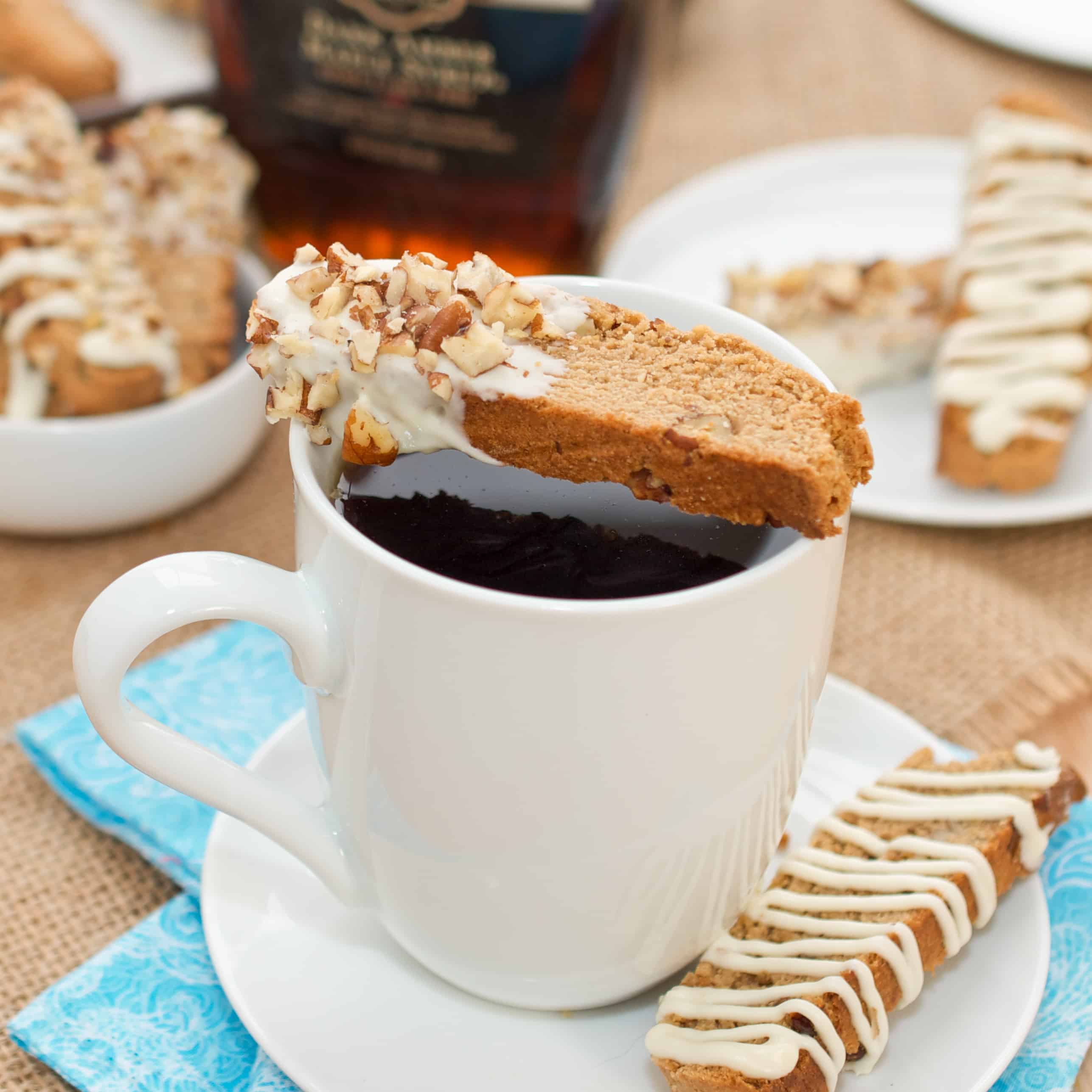 HOLY COW! These Maple Pecan Biscotti cookies are the easy, delicious, and satisfying treat you have been on the hunt for. Crispy maple biscotti cookies are perfect dipped in a hot cup of coffee or your favorite tea: incredible flavors and an amazing crunch in every single bite.
Scroll to bottom for printable recipe card.
Maple Pecan Biscotti
Ever since making those delicious Maple Syrup Pancake Muffins earlier this week, I have been craving maple flavored treats like nobody's business. A large stack of buttermilk pancakes and a double batch of Maple Cream Cookies later, and I still couldn't kick the craving!
That's when I stumbled upon this recipe for maple pecan biscotti. A quick glance at the ingredients and I knew that they would totally fit the bill. Loaded with rich maple flavor and crunchy pecans, this twice-baked biscotti is perfect for dunking in your morning coffee. Because everyone SHOULD have cookies for breakfast! 😉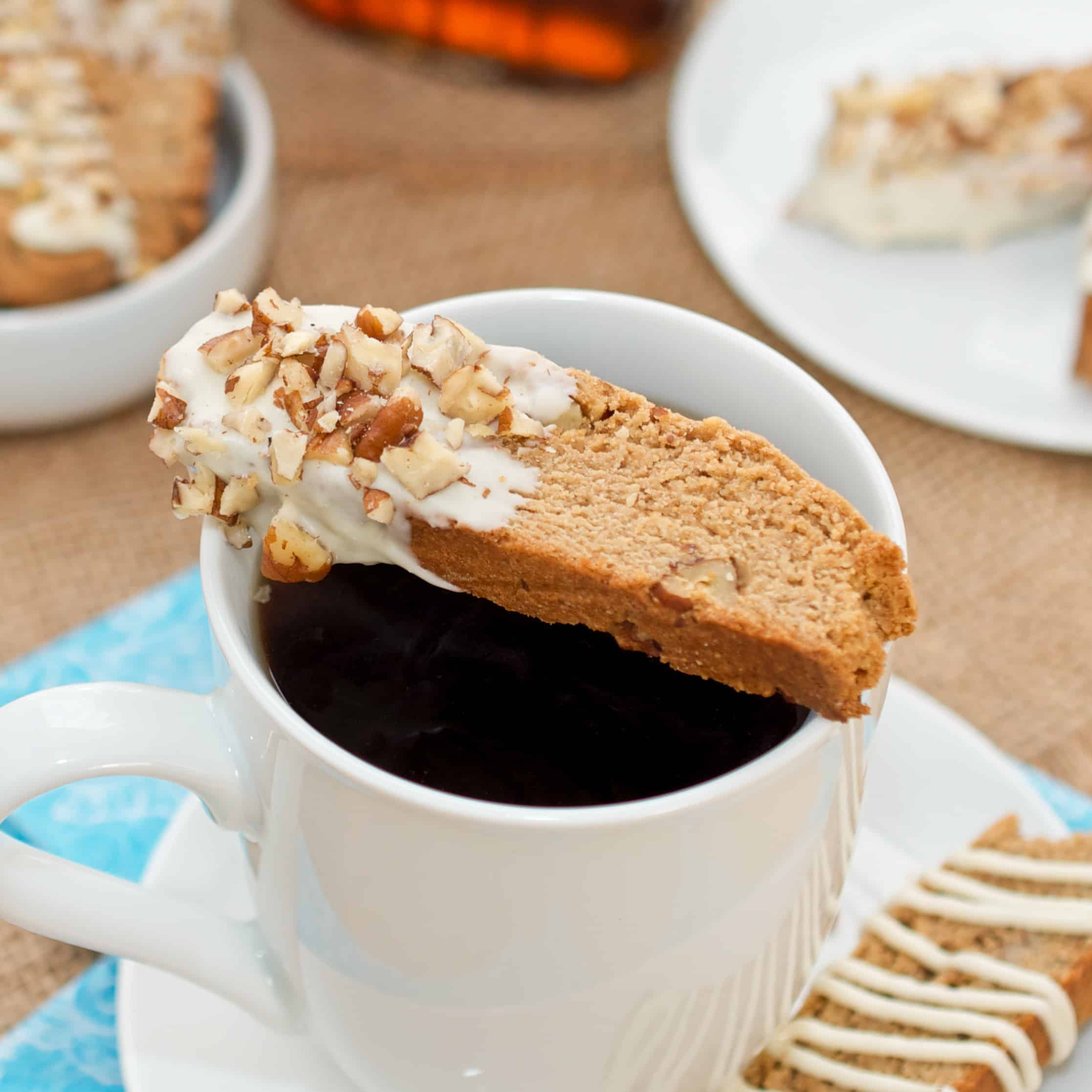 What Chocolate To Use For Dipping
I like to use a high-quality white chocolate for dipping. The white chocolate has amazing flavor combinations that go so good with the maple flavor of the biscotti. You could swap the white chocolate for a semi-sweet, bitter, or even a milk chocolate if you'd rather. This is your new biscotti recipe, so make adjustments as you see fit.
Does The Quality Of Maple Syrup Matter When Making Biscotti
You are going to be shocked when I tell you that there isn't actually ANY maple syrup in this pecan biscotti recipe. It's made with imitation maple extract to give you the perfect flavor. Imitation maple extract is super inexpensive and tastes awesome. You can use pure maple extract if you have some on hand, but I wouldn't purposely go spend the money on it.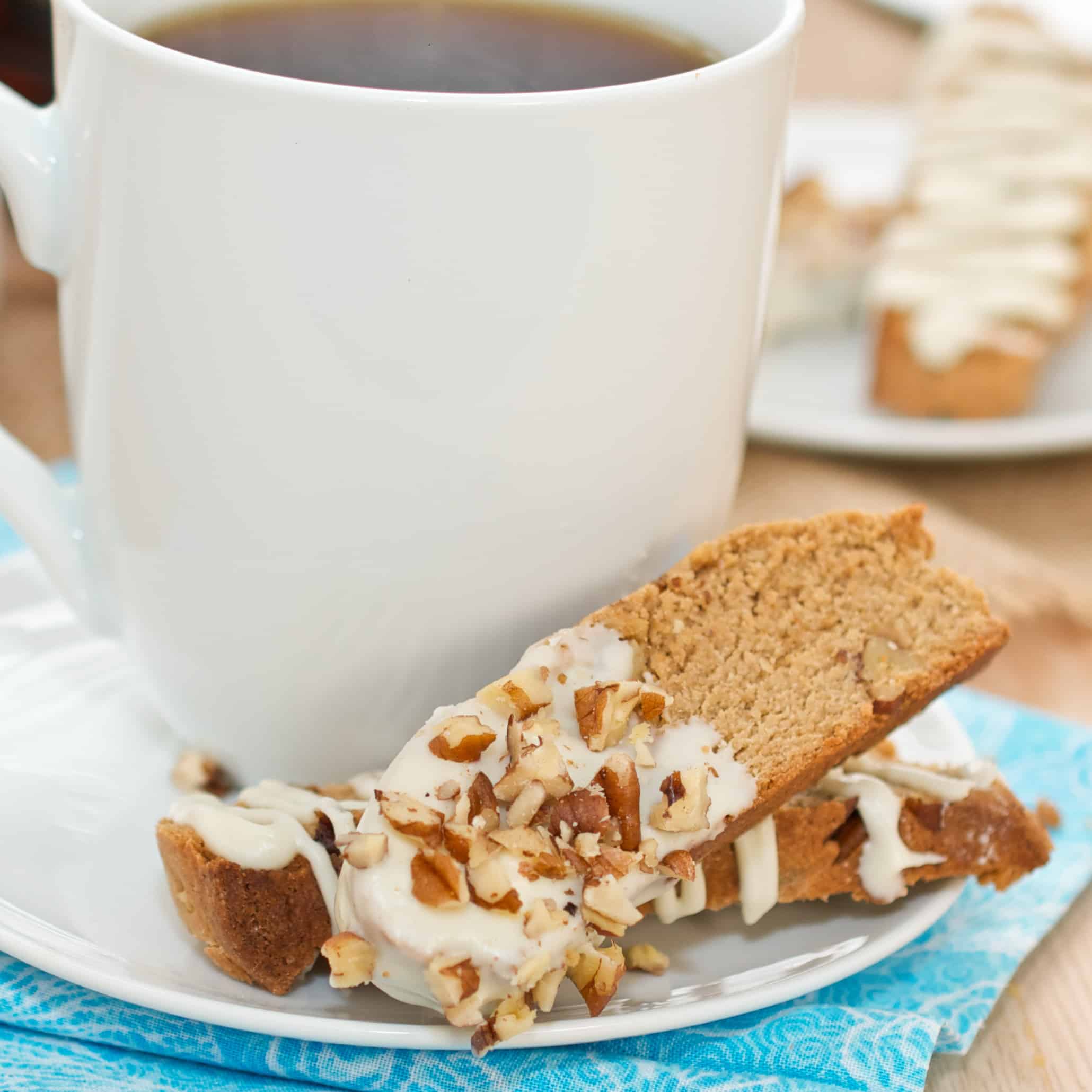 How to Store Homemade Biscotti
You might be surprised to know you can actually save this breakfast biscotti for around a month! Isn't that crazy? Granted, these maple biscotti are always best when they are served within the first day or so fo baking them. However, being able to make them that far in advance is a game changer.
For best results, let the maple pecan biscotti cool down all the way. Once they have efficiently cooled, then you can put them in a food storage container with a tight fitting lid. Keep the pecan biscotti at room temperature for the best results for up to one month.
Can You Freeze
Yep, you can easily freeze leftover biscotti. Naturally, you will need to be sure that biscotti have cooled down. Warm cookies mean that you will have lots of frost and condensation built up. That never results in delicious food!
After the cookies are cooled, put them in a freezer bag or any other container that is freezer safe. The cookies will last 2-3 months in the freezer. You can defrost them on the counter when you are ready to serve them.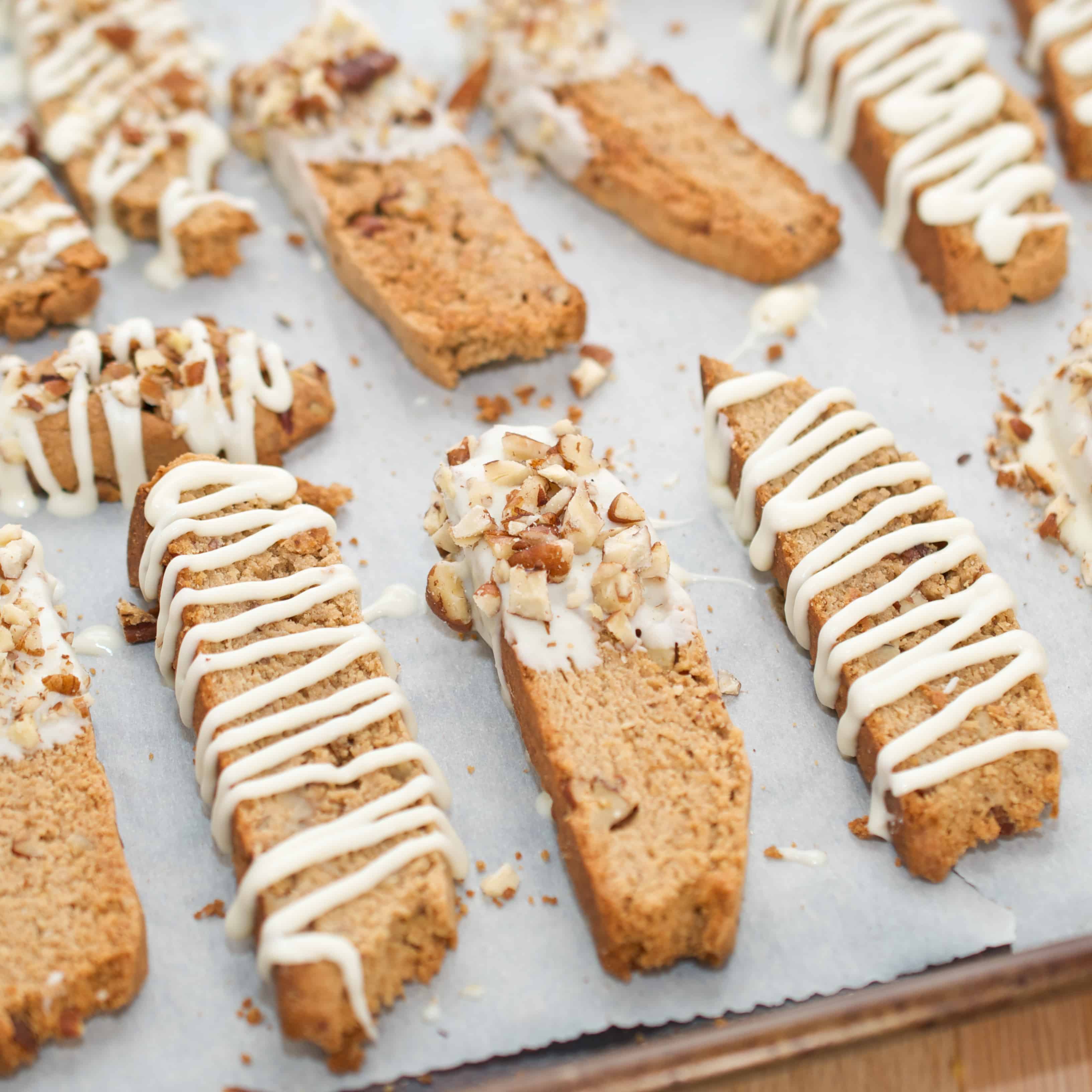 Ingredients
All that stands between you and some of the most incredible biscotti cookies you'll ever taste is a little bit of time and 12 ingredients. Let's take a peek at what you will be needing.
All-purpose flour
Salt
Baking powder
Cinnamon
Unsalted butter softened
Granulated white sugar
Light brown sugar, packed
Large eggs
Pure vanilla extract
Imitation Maple extract
Chopped toasted pecans
Melted white chocolate, for drizzling or dipping
How to Make Maple Pecan Biscotti
I don't think you will find an easier to follow maple biscotti recipe ever. It's practically effortless, and the result is insanely good. Let's take a look at the steps you need to take to make these breakfast biscotti.
First Step: You will need to begin by turning on the oven to 325 degrees F. Then, line a baking sheet with a piece of parchment paper and set aside.
Second Step: Combine the all purpose flour, baking powder, salt, and cinnamon together in a small bowl. Whisk until ingredients are incorporated and set aside.
Third Step: Take the paddle attachment and attach it to your stand mixer. Beat the brown sugar, white sugar, and unsalted butter together for around 2 minutes.
Fourth Step: Mix in the eggs one at a time and beat after each addition. Mix in the maple extract and vanilla. Then slowly start adding in the dry ingredients. Mix and add more dry ingredients until they have all been incorporated. Fold in the pecans.
Fifth Step: Using a floured work surface, divide the dough in half. Then shape each of the halves, so they are in a 3 x 8 inch log. Set the logs lengthwise on top of the baking sheet and keep them evenly spaced apart.
Sixth Step: Bake the logs for 30 minutes or until they are firm to the touch and golden brown in color. Allow the logs to cool for 10 minutes on the baking sheet. Place the logs onto a cutting board and take a serrated knife to cut the logs into slices. Each slice needs to be 1/2 inch thick.
Seventh Step: Put the biscotti cookies cut sides up into a single layer on the baking sheet. Bake the cookies until they are firm for about 15 minutes. Flip them halfway through baking and let them cool down all the way.
Eighth Step: After the biscotti have cooled, go ahead and dip them in the melted white chocolate or drizzle it on them. Add the chopped pecans and enjoy with your favorite drink.
Enjoy!
Now, remember to save this recipe on Pinterest for later 🙂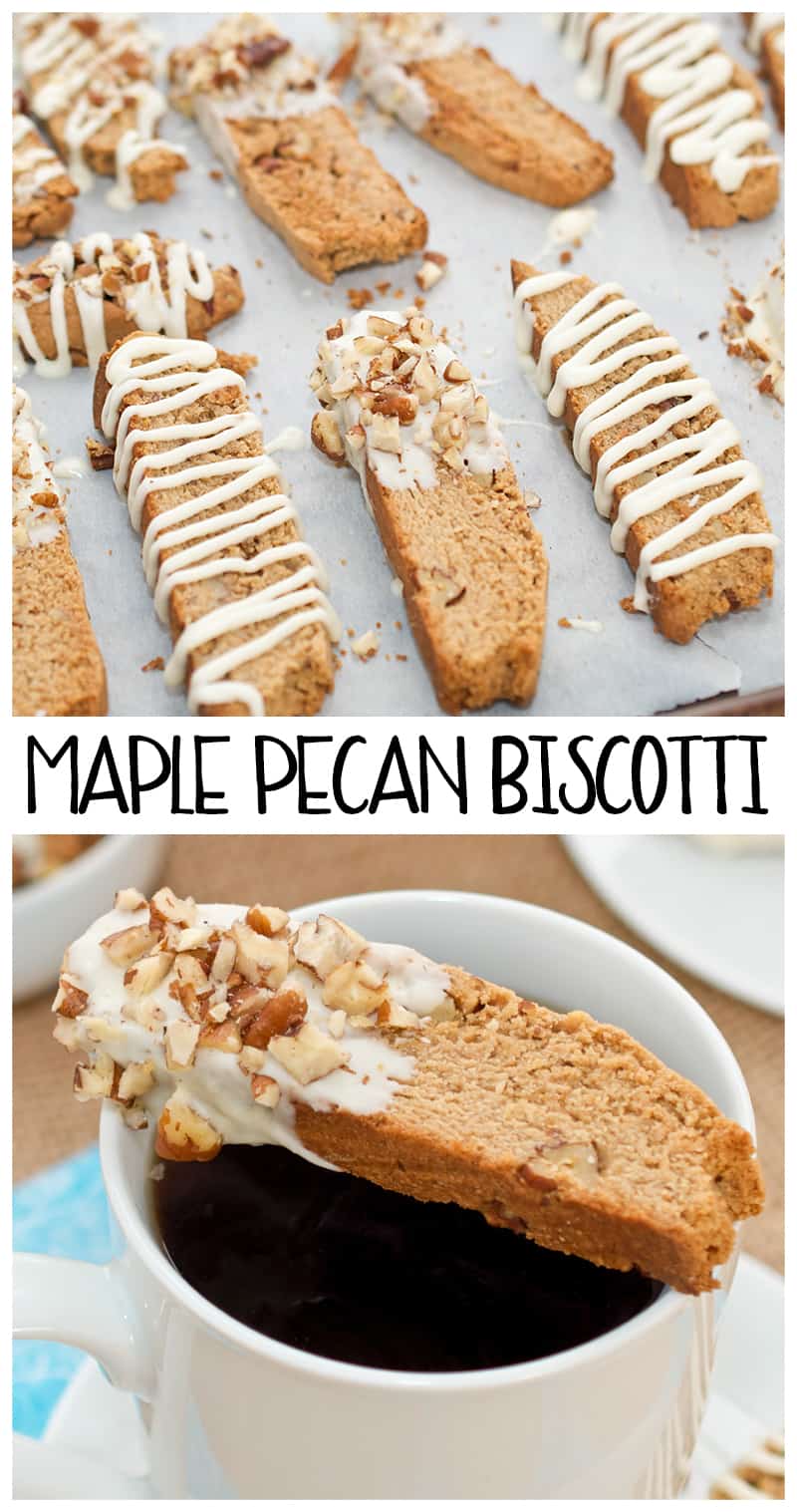 Pin this recipe now to remember it later
Maple Pecan Biscotti
These Maple Pecan Biscotti cookies are the easy, delicious, and satisfying treat you have been on the hunt for. Crispy maple biscotti cookies are perfect dipped in a hot cup of coffee or your favorite tea: incredible flavors and an amazing crunch in every single bite.
Ingredients
2 1/4

cups

all-purpose flour

1 1/2

teaspoons

baking powder

1/2

cup

unsalted butter

,

softened

1/2

cup

light brown sugar

,

packed

1

teaspoon

imitation Maple extract

1/2

cup

chopped toasted pecans

1/4

cup

melted white chocolate

,

for drizzling or dipping
Want to save this recipe? Enter your email below and we'll send the recipe straight to your inbox!
NOTE: By saving this recipe, you agree to join our weekly recipes newsletter.
Instructions
Preheat the oven to 325°F. Line a baking sheet with parchment paper.

In a small bowl, whisk together flour, salt, baking powder and cinnamon; set aside.

In a stand mixer fitted with the paddle attachment, beat together the butter and sugars until combined, about 2 minutes. Add eggs, one at a time, beating well between each addition. Add vanilla and maple extract and beat until combined. Add the dry ingredients and mix on low until just combined. Stir in pecans.

On a lightly floured work surface, divide the dough in half. Shape each half into a 3x8 inch log. Set the logs lengthwise on the prepared baking sheet, evenly spacing them apart.

Bake until the logs are golden brown and slightly firm to the touch, about 30 minutes. Let the logs cool on the baking sheet for 10 minutes.
Transfer the logs to a cutting board. With a serrated bread knife, cut each log diagonally into slices ½ inch thick.

Place the cookies, cut sides up, in a single layer on the baking sheet. Bake until the biscotti are firm, about 15 minutes, flipping them midway through baking. Let cool completely.

Once the biscotti is completely cool, dip or drizzle with white chocolate and chopped pecans.
Notes
Recipe Note: The biscotti tastes best during the first few days, but will keep for up to a month in a sealed air-tight container.
Follow me on Pinterest for daily delicious recipes!
Now that I have biscotti recipes on your mind, I want to share a few more that I think are going to make you drool. Let's take a look so you can see how good they are:
Peanut Butter Chocolate Chip Biscotti – Oh my heavens! The flavors of peanut butter and chocolate are out of this world. You need to try these.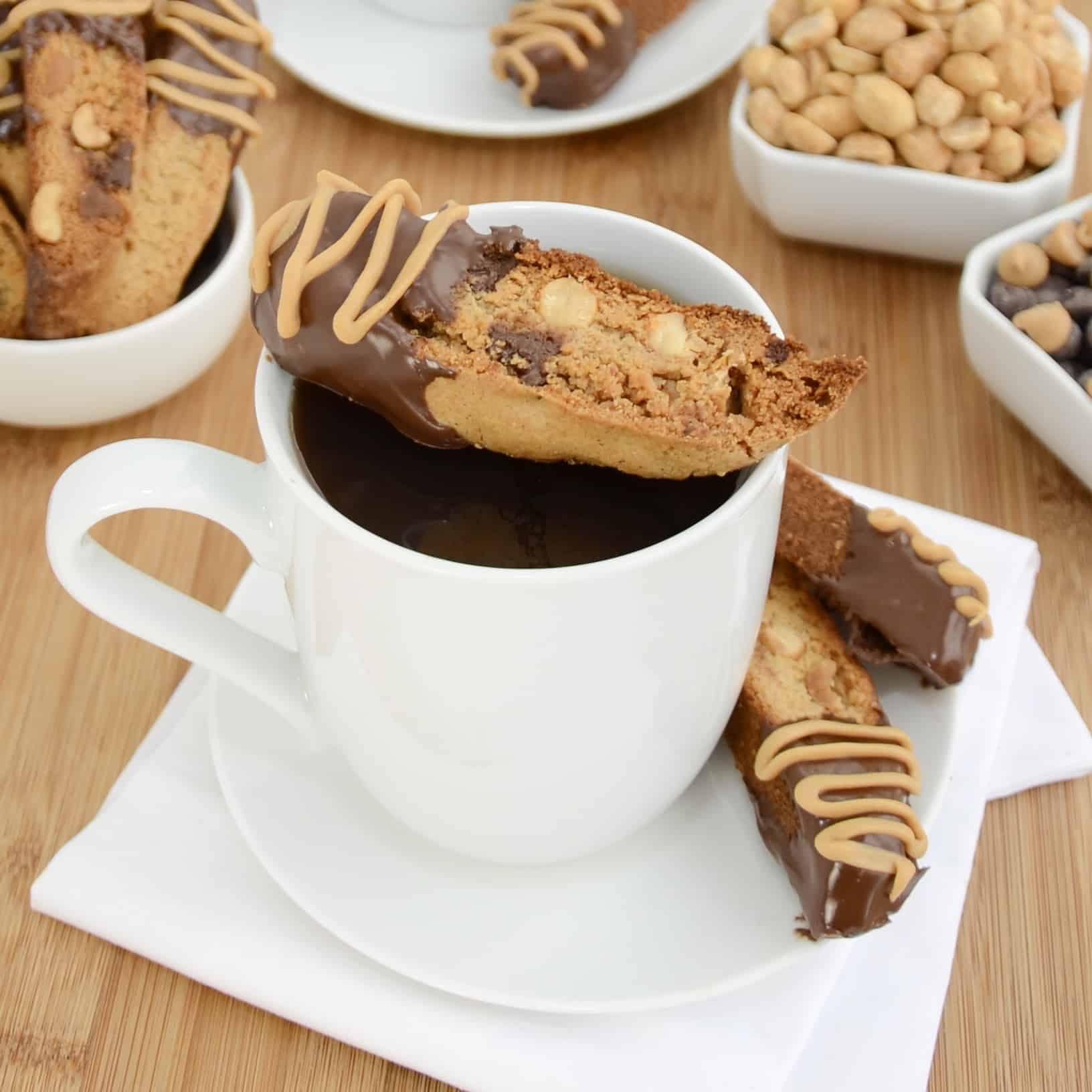 Hazelnut Cinnamon Chip Biscotti – You are sure to be smacking your lips when you bite into these cookies. The cinnamon and hazelnut are perfection.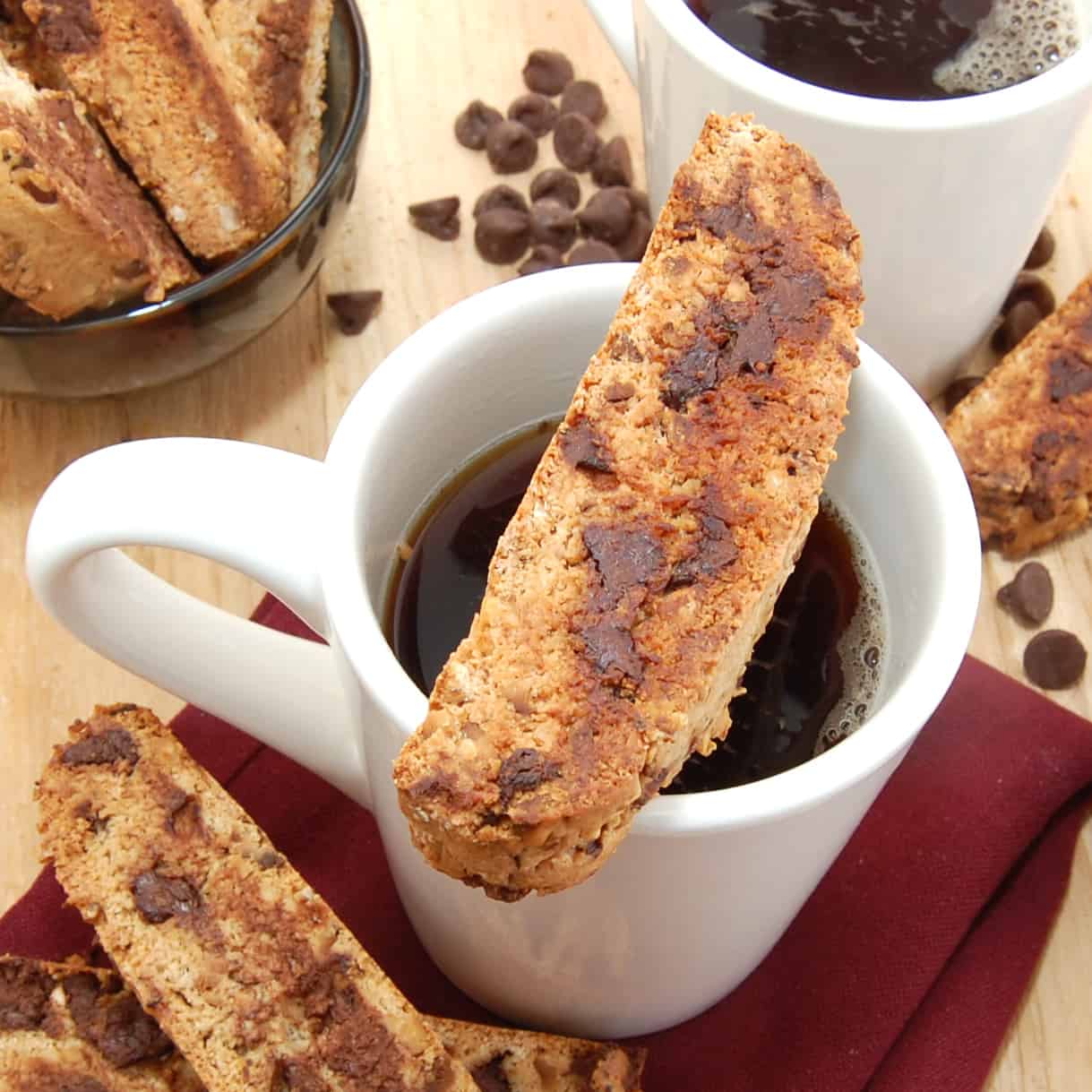 Double Chocolate Walnut Biscotti – Another major go-to recipe for us is these incredible double chocolate walnut biscotti. There is nothing better than dipping them into some mocha flavored coffee. PURE HEAVEN!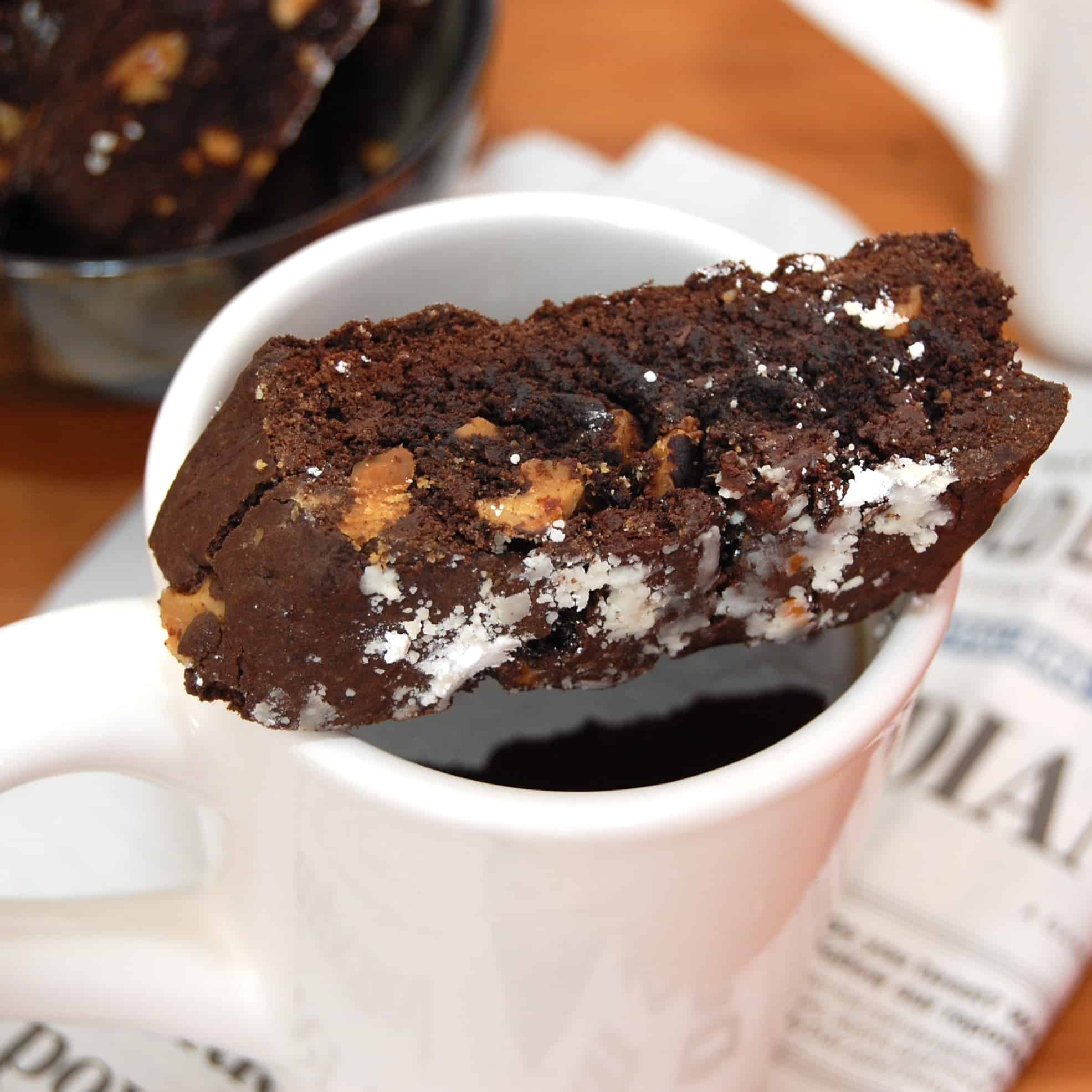 Get new recipes weekly plus our FREE ebook!